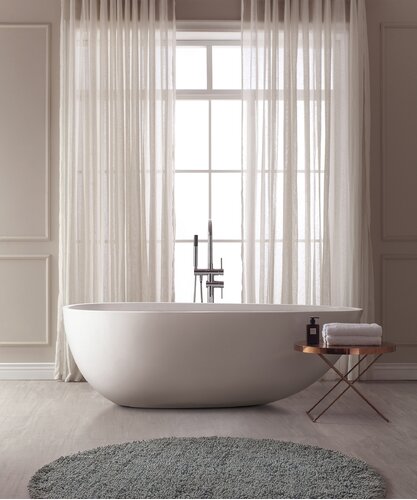 Whether you own a small or large bathroom, picking out bathroom window curtains can be tricky. You're worried if you choose dark curtains, it might make your bathroom look smaller than it already is.
Maybe you enjoy natural light and want see-through curtains. Then again, you worry that your neighbors will see you in your bathroom. Yikes!
If your worries are holding you back, worry no further. We've put together a grand list of several options you can choose from. Check out these neat ideas and find the look that's right for you!
1. Let In Natural Light With Sheer Curtains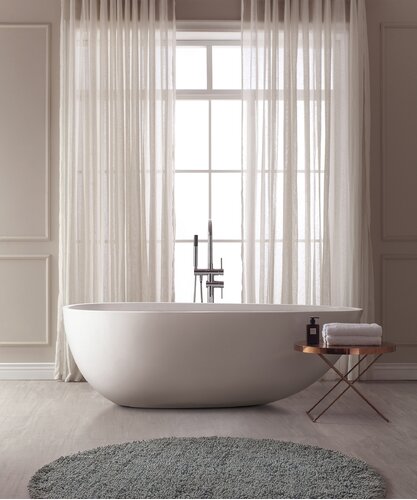 There's something so pure and natural with sheer curtains. It's hard to go wrong with sheer white bathroom window drapes because they are so versatile. They match easily with whichever window rod you choose.
You can use these machine washable polyester drapes for both small, short windows or large, long windows. They easily let natural light in while maintaining the privacy you're looking for in a bathroom.
2. Buy A Matching Bathroom Set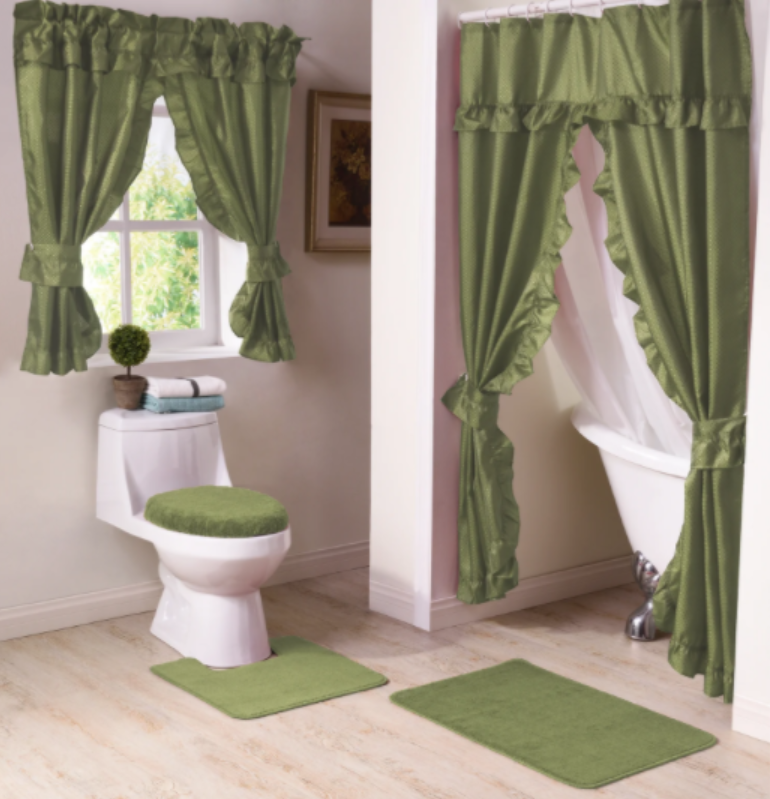 Sometimes it's hard to mix and match shower curtains to window curtains, and rugs to toilet seat covers. Instead of this headache, there's always the option to buy one matching set. Toss your worries of matching out of the window!
Bathroom window curtains like these can turn a mix-matched blah bathroom into an elegant matching bathroom. These ruffled shower drapes with tiebacks are a great option if you like closed privacy one day and open with natural light another day.
3. Go Quiet With This Botanic Patterned Sound-Proofing Curtain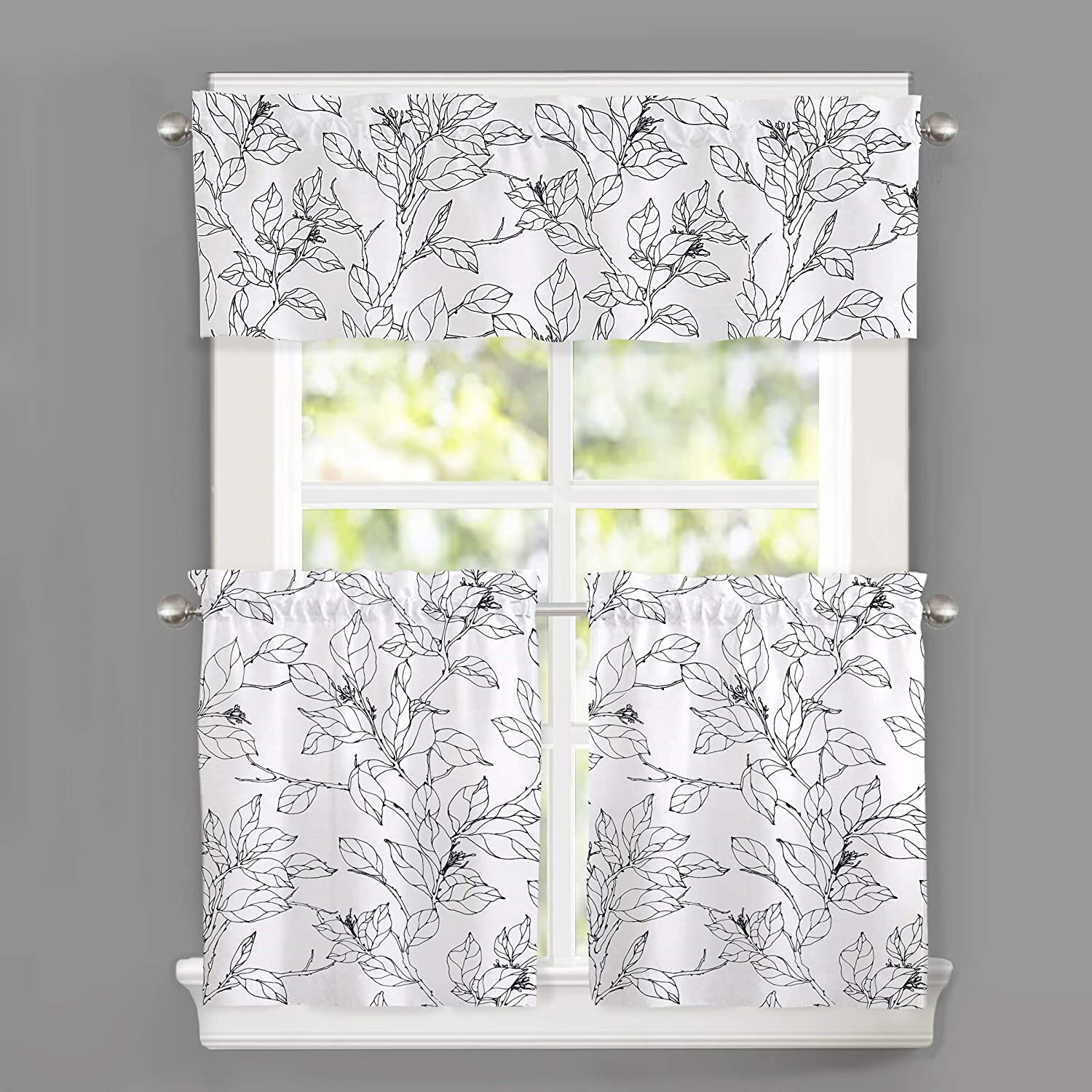 Who said the 3-piece curtain set is solely for the kitchen? This classic elegant pattern look is great for your bathroom too! This curtain style is simple but dainty.
These drapes are simple but patterned, and the innovative fabric quiets outside noises and increases energy efficiency in your home. The 3-piece curtain has a vintage touch to it and is designed for small bathroom windows.
4. Make It Look Coastal With A Bamboo Shade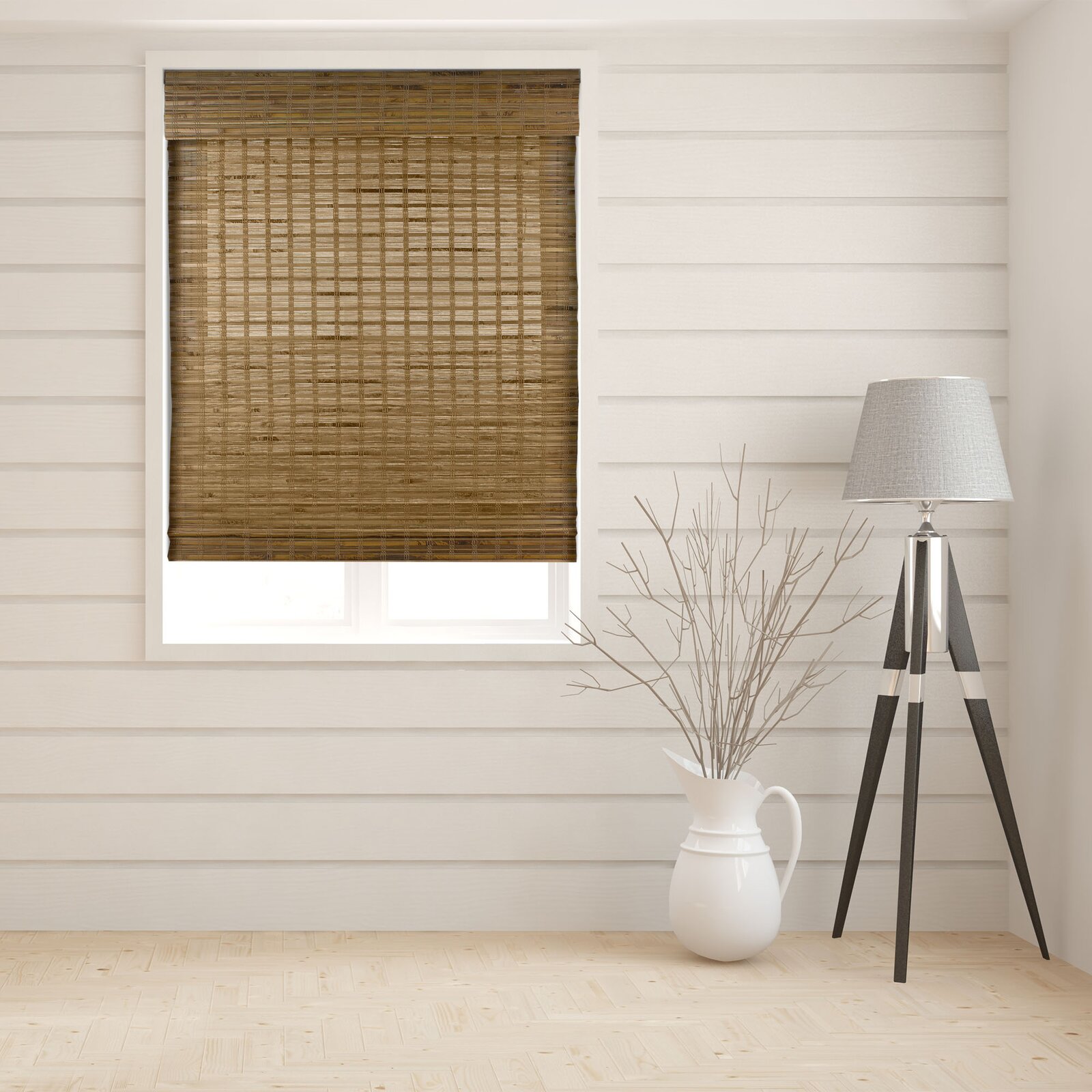 Does your bathroom scream beach vacation? Go with a nice set of cordless bamboo shades instead of curtains. The cordless feature makes it safe for kids and pets.
These bathroom shades come in all sizes, from 22 inches wide to 44 inches wide. The downside to this type of window shade is the requirement to install them. On a positive note, they are easy to clean with a feather duster.
5. Go Dark With Light-Blocking Curtains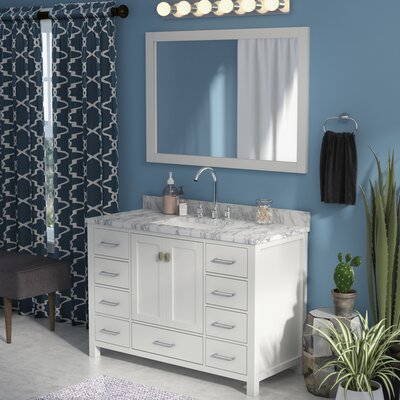 Light-blocking bathroom window curtains aren't for everybody. Though, If you suffer from frequent migraines, this can be super handy for your bathroom.
Depending on how much light you want in, these types of curtains can hang from the top of the windowsill or halfway down the window. They are thermal insulated making them terrific for people who live in cold climates.
6. Choose Bright And Sweet With A Balloon Drape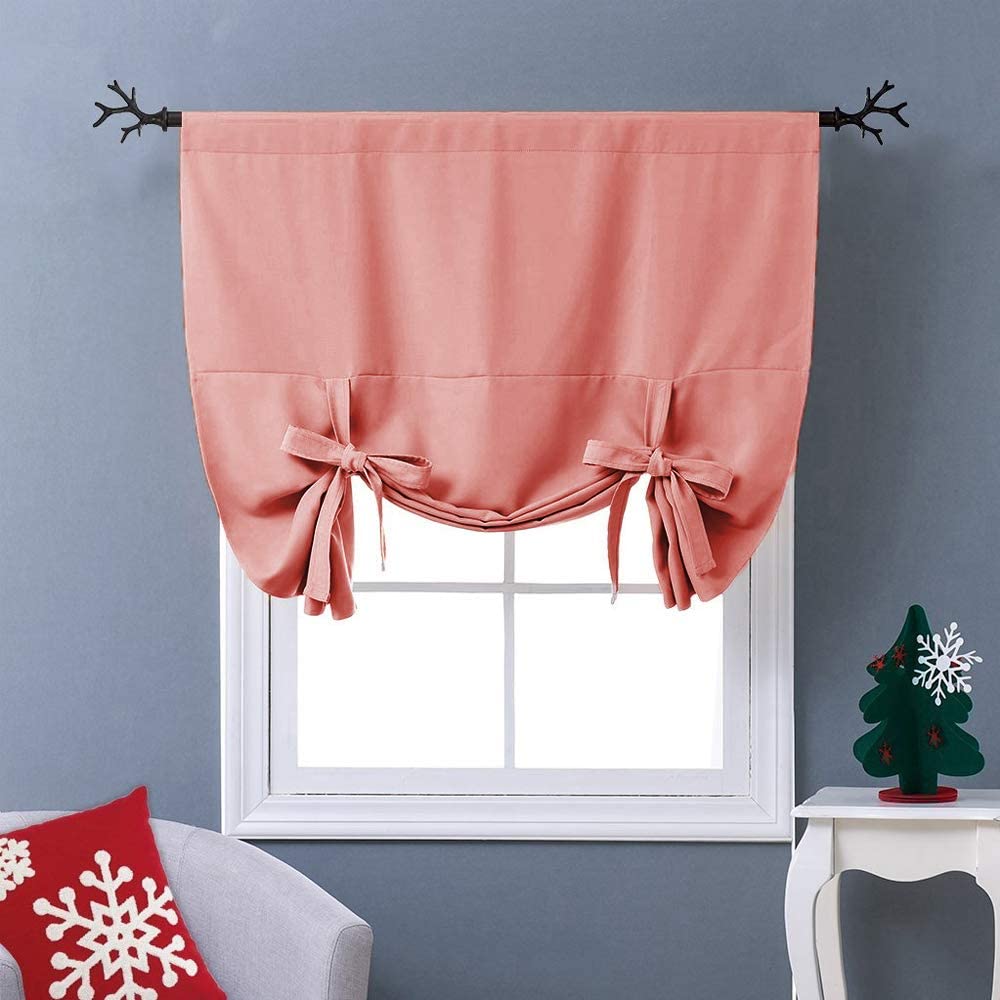 The one-piece balloon drape can hang free or be tied up with two super cute bows. If you are more feminine, the bow tie feature is a must for your bathroom. This curtain is also a great option for parents decorating a small child's bathroom.
The balloon drape can be used to block out light or tied up to let the light shine through the bottom half of your bathroom window. They are perfect for small windows!
7. Go Bohemian Or Contemporary With The Valance Curtain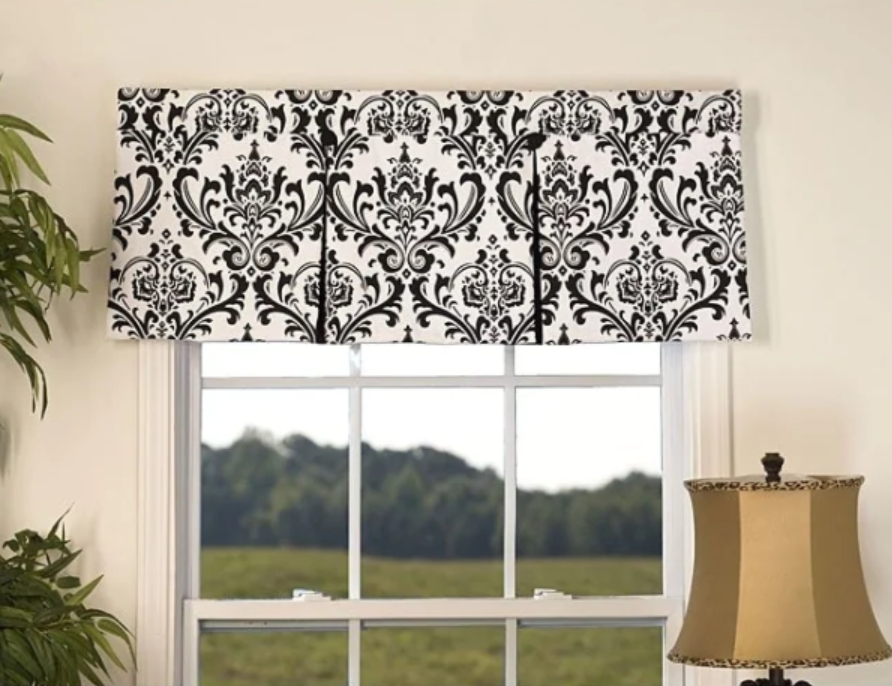 This black and white damask patterned curtain with side pleats adds extra flair to any bathroom. Installing valance curtains is easy but you do have to hand wash them. They are not machine-washable friendly!
These bathroom window curtains are wonderful for smaller-sized windows. The patterned cotton fabric is calling your name if you're into bohemian, eclectic, modern, or contemporary home décor.
8. Make It Simple With Classic Wood Blinds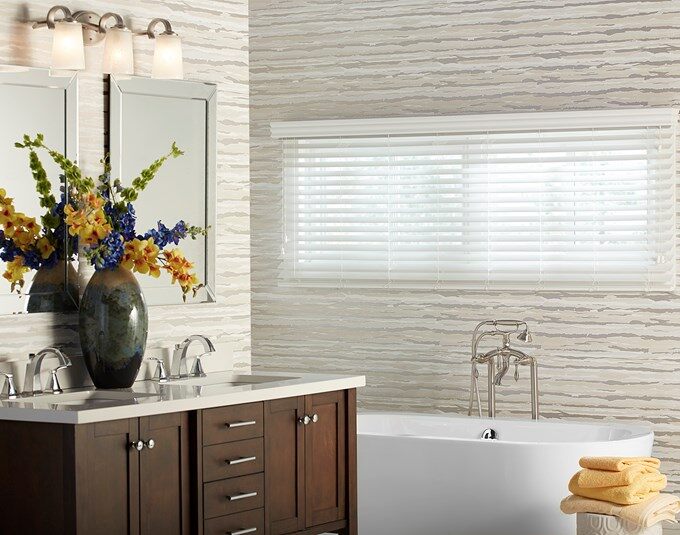 The classic faux wood blinds are a great option for our rustic design fans out there! These chic wood blinds resist moisture making them a fantastic option for bathrooms that might breed high-humidity mold.
Is white faux wood too boring for you? There are several other wood grain colors to choose from like: natural, oak, pecan, ash grey, chestnut, and Mahogany. If wood isn't your look, you can get wood blinds with cloth tape colors.
9. Shop Pleated Arch For Half Moon Designed Windows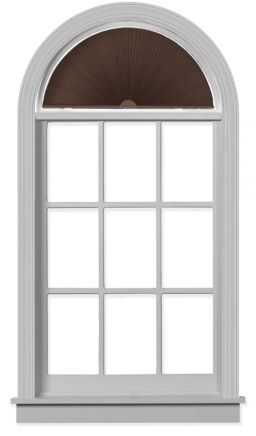 Not all bathroom windows are perfectly square or rectangular. If this is the case for you, the Bali pleated arch UV ray shade is your perfect match. We all know throwing any regular cloth curtain on a half-moon window can look kind of silly.
You don't have to leave your window uncovered and boring. Bali shades come in a variety of fashionable colors and designs. They also give you the option to buy blackout and insulated curtains too.
10. String Some Mood Lights With A Sheer Patterned Curtain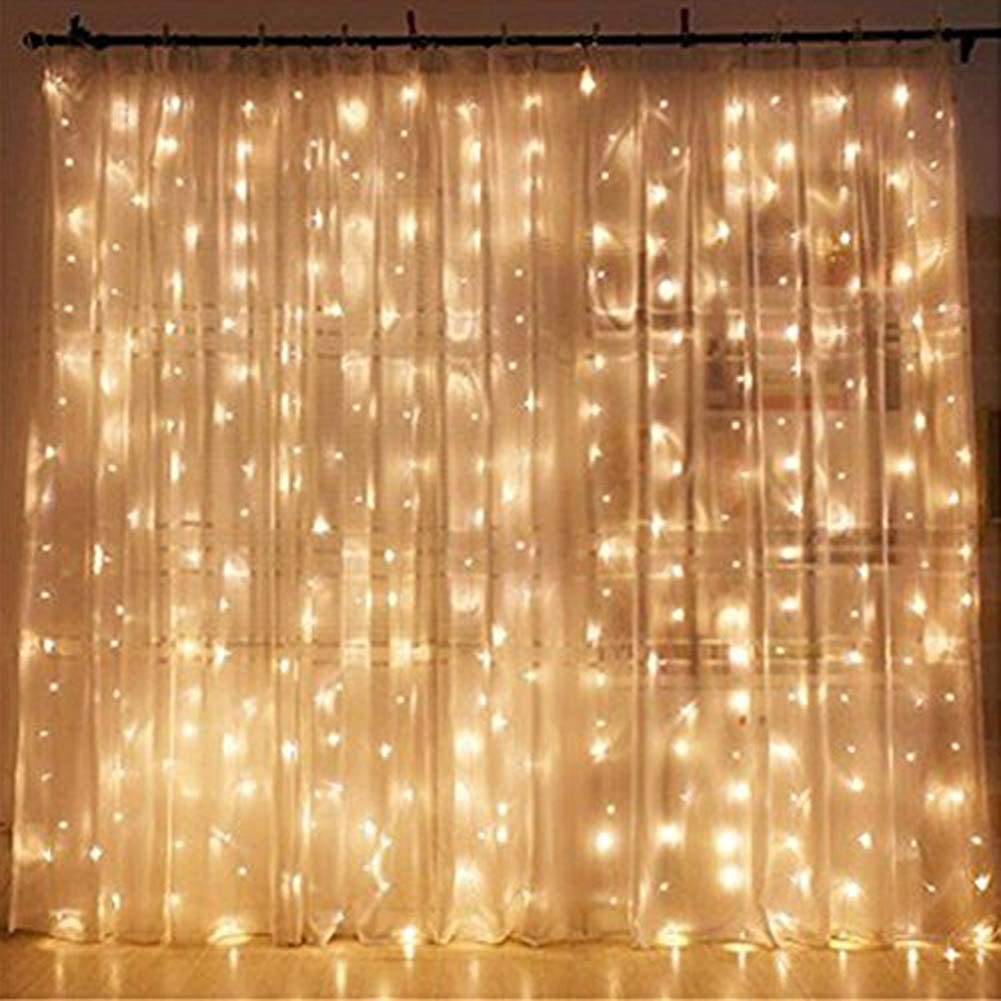 Bathroom window string light curtains give off a warm and calming vibe. If you are someone who enjoys pampering themselves with either a spa day or a simple bubble bath, this is a relaxing addition to your bathroom.
These waterproof lights are easily placed over a sheer curtain and they have labeled voltage-safe curtain lights. You'll still want to take necessary precautions any time you keep electricity and water in the same room.
11. Go Extravagant With A Satin Ruffle Waterfall Valance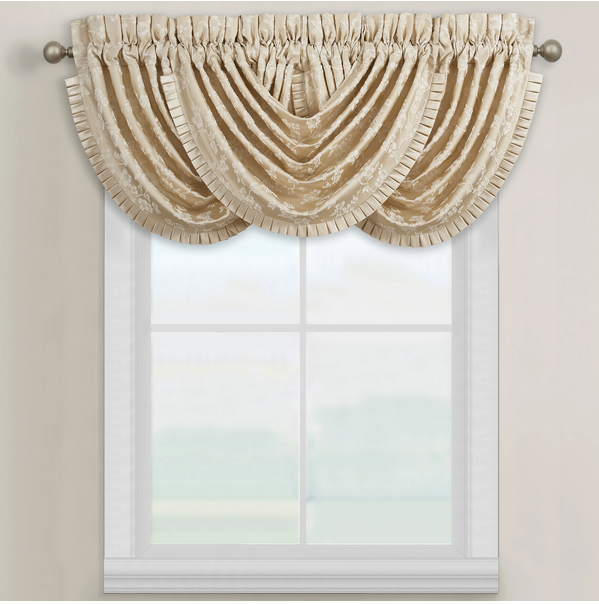 This curtain brings a strong sense of style into a bathroom. There are options to buy just the valance curtain piece, like the one in this photo, or to buy both the ruffle valance and the long waterfall curtains that hang on both sides of the window.
If you have a short window, choose just the valance ruffle. If you have a long window, choose both the ruffle valance and the long waterfall curtains to frame the window. These types of curtains must be dry cleaned.
12. Make A Bathroom Flow Using A Scarf Curtain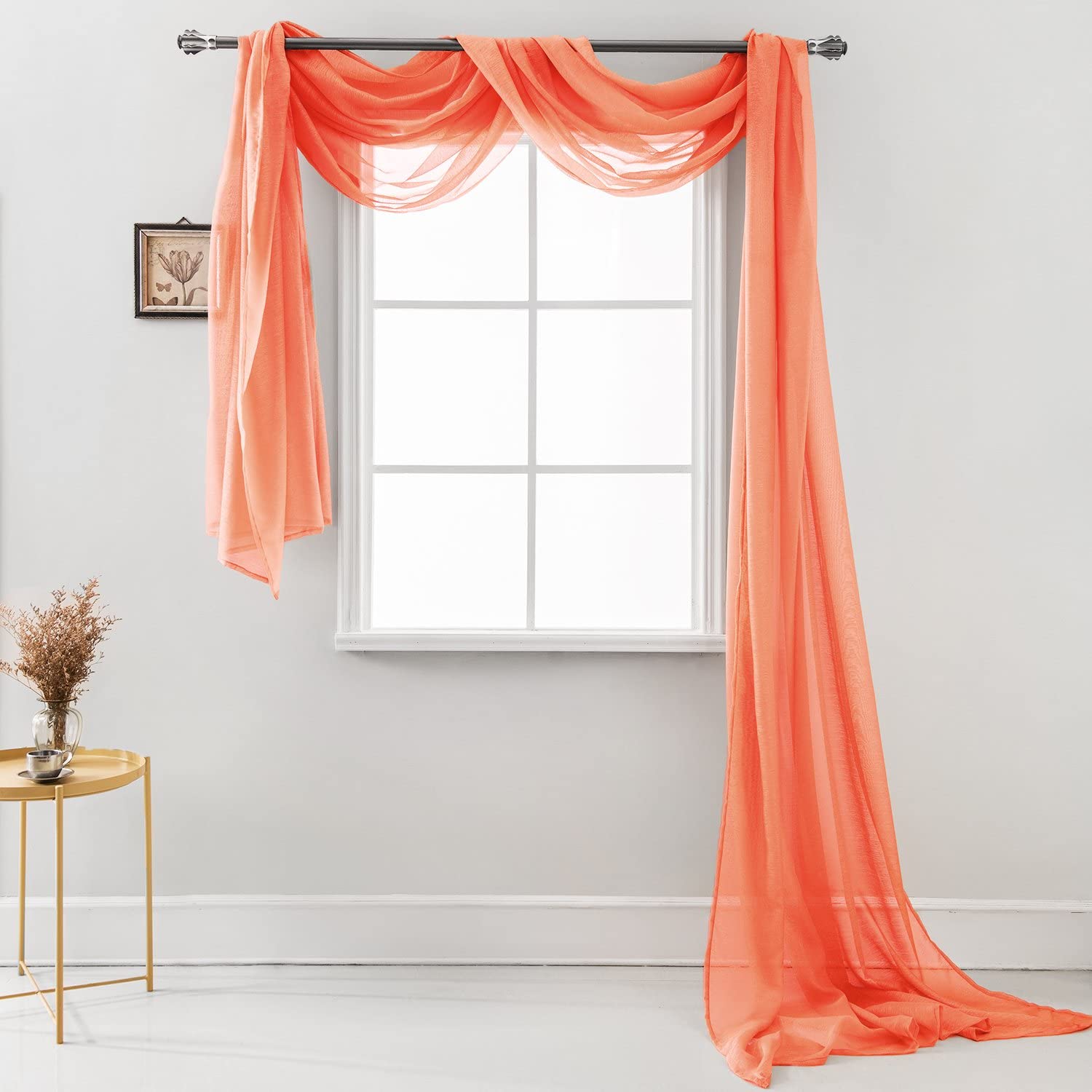 Scarf bathroom window curtains reflect light and add a sophisticated decorative flair to any room. This bathroom drape comes in all sorts of bright colors and it retains straightness even after machine-washing it.
The scar curtain was born in Europe during the Renaissance Era when home décor shifted from middle age modern to simple yet sophisticated design. If you are a history buff and enjoy a good tale with your home décor, the scarf curtain has a great story to its creation.
13. Shine Brightness With A Dazzling Sheer Beaded Valance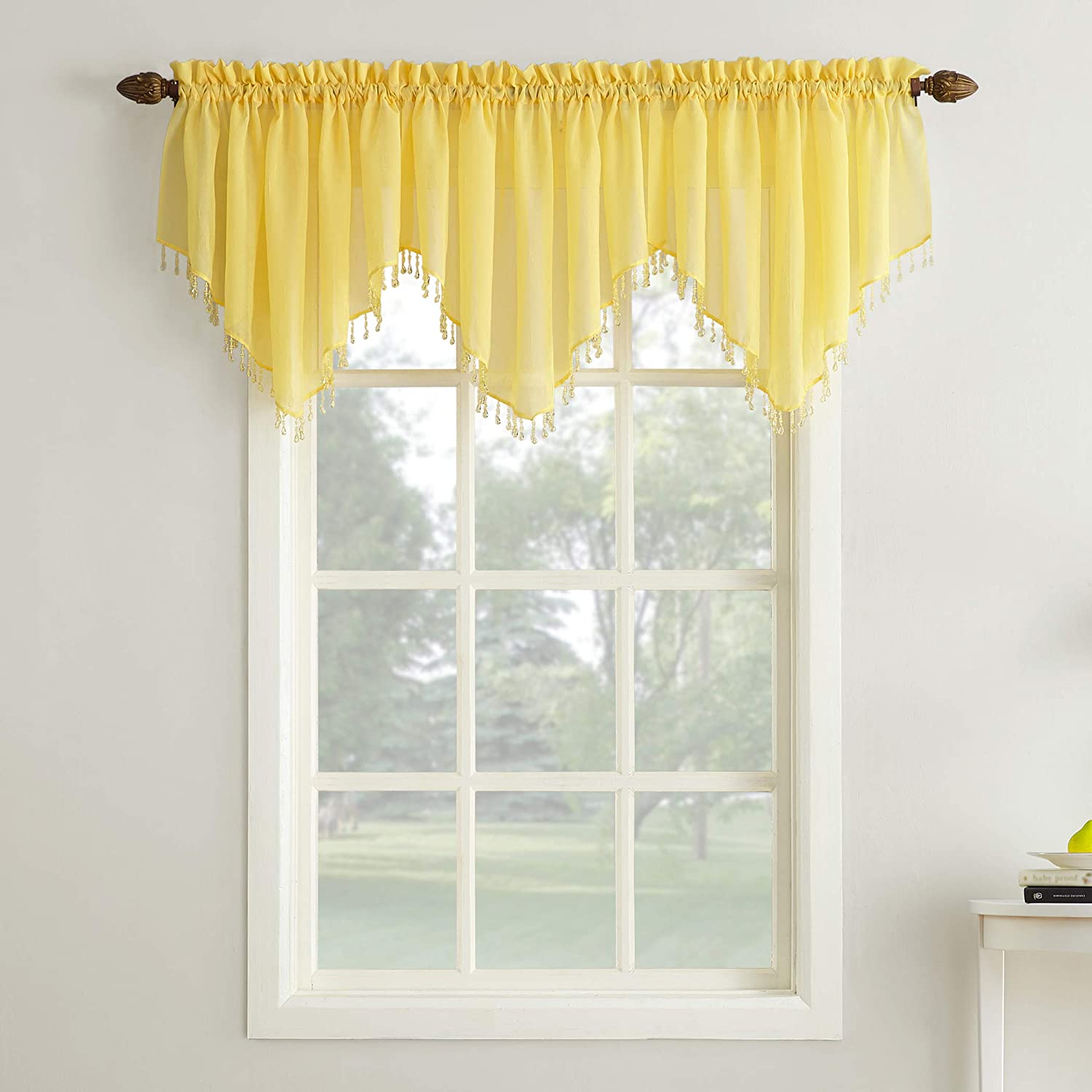 Are you the bright and bejeweled type of person? If so, this curtain is super cute and totally for you! Although this hanging bead curtain is machine washable, you'll still want to place it in a secure mesh bag (you don't want to lose those pretty beads!)
This colorful and playful bead curtain adds some excitement to a bathroom window. The valance curtain does a great job of framing a small window and giving a bathroom a nice glow.
14. Go Country With Some Stunning Plaid Curtains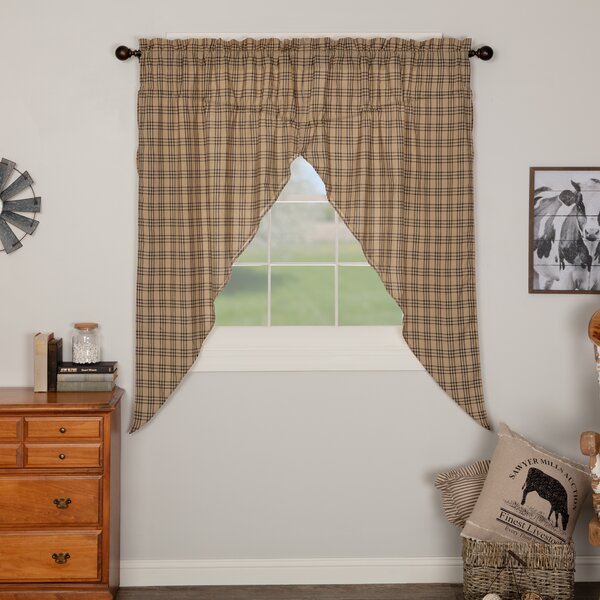 Plaid prairie short curtains are a wonderful way to spice up a farmhouse or rustic-designed bathroom. These unique cotton curtains come with drawstrings to allow the amount of sunlight you'd like in your bathroom.
These plaid curtains are rod pocket designed and come with 2 panels that are machine washable. Now match these curtains with a tan farmhouse shower curtain and you'll be on your way to a fully designed farmhouse decorated bathroom.
15. Get The Best Of Both Worlds With Blinds And Curtains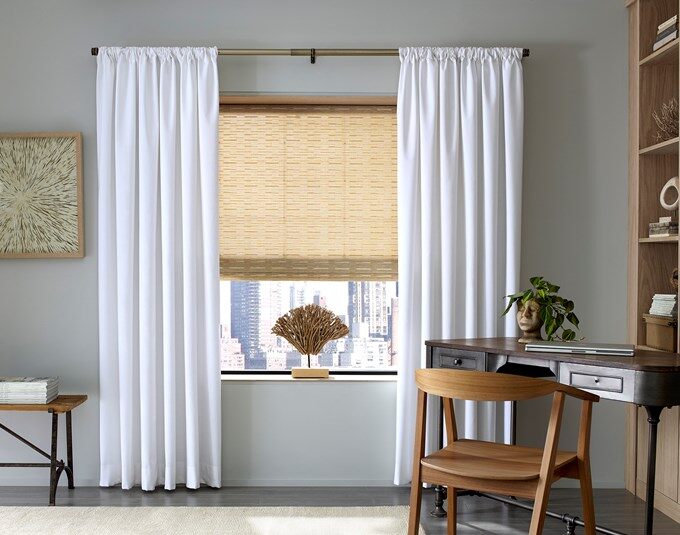 Can't make up your mind? Do a combo with both curtains and blinds. Industrial home décor styled bathrooms that have high ceilings and hanging lights do well with this combo.
The pocket drape and blind combo are perfect for large bathroom windows. It would probably be a bit much to do both the curtain and blind on a tiny window. If you're creative and appreciate the challenge of matching, this could be your next fun project.
Buyer's Guide For Bathroom Window Curtains
The plain white sheer curtains pair well with a brass or copper metal curtain rod. If you want to stay more minimalistic style, then stick to a white plain curtain rod that fades into the back wall.
The matching ruffled bath set fits extremely well into the traditional and modern décor style. If you choose the green-colored set, like the one in the photo, a white or tan slightly patterned tiled floor will flow nicely.
The bright orange scarf or the yellow beaded valance curtain is fantastic for eclectic, Moroccan, and Spanish-styled home décor. Bright colors do super well in these types of bathrooms.
The sweet pink balloon drape is perfect for a feminine touch or decorating a child's bathroom. Match your pink balloon drape to your shower curtain and voila, picture-perfect!
The black and white patterned bathroom window curtain is made for the bohemian and contemporary design style. Add a couple of green indoor plants and a rounded navy blue Boho rug and you're set!
Plaid prairie curtains match well with wood furnishings in a bathroom. If you have the time and money a dark wood stain finish on some hardwood floors would blend in a Farmhouse decorating style.
If elegance is what you are after and you are the glamor home décor type, then definitely choose the satin ruffle waterfall valance as your bathroom window curtain. This look is totally glam!
If you enjoy a coastal and relaxing vibe to your bathroom, then you'll want to choose the faux wood shade or the warm string light curtain. Just add a bamboo bath caddy with a glass of wine and you're ready for a warm and soothing bath.
Final Thoughts…
With 15 beautiful bathroom window curtains to choose from it should be easier to put together your dream bathroom. We hope these ideas spark some creativity!
Once you find the ideal curtain for your bathroom window, you'll be blown away with the transformation! You'll look back wondering why you didn't purchase a bathroom curtain sooner.