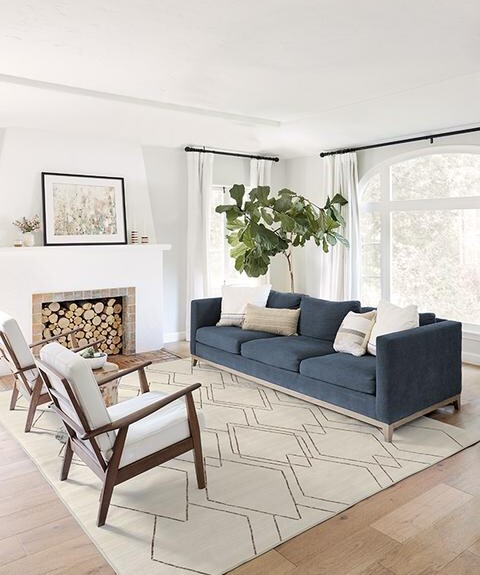 Cobalt, navy, aqua or sky, a blue statement piece injects personality and creativity into a room and establishes a solid foundation for a serene, relaxing oasis. So, now you've settled on your dream blue couch, you're probably looking for something to pull the scheme together.
Let us introduce you to the magical world of rugs. Often undervalued, rugs have a plethora of benefits and uses. A great alternative to wall-to-wall carpet, they add layers to a space, creating a sense of depth, warmth and coziness; rugs create a sense of cohesion and coordination by visually tying together individual elements; or even set the tone of your decor, when lacking. Use a rug to anchor or separate areas and guide the layout of your furniture, or simply to establish a color scheme.
Finding the right rug to complement and elevate your blue sofa may not have turned out to be the easy task you had hoped it to be. After all, there's the shape, size, color and material to consider. But don't worry, we've got you and your floor covered with these expert interior design tips to make your rug search a breeze.
Shape
The shape and size of a rug influence the overalla esthetic of a space, therefore it's not something you want to get wrong!
Rectangular rugs are the most common shape and are great for large open spaces. They are also ideal for narrow spaces, like in a kitchen oras a hallway runner.
Square rugs work best in square rooms, or seating areas, as well as outdoor spaces.
Round rugs open up smaller spaces, making them feel larger. They complement and echo other circular elements such as furniture, accessories, or architectural details but also soften and offset harsh rectangular shapes.
Size
When it comes to choosing the right sized rug,most interior designers follow one simple rule: the bigger the room, the bigger the rug. Remember, the rug must be large enough for the front legs of the room's main furniture to fit comfortably on its perimeter. Ideally, you want to leave 8" from the edge of your furniture piece to the end of your rug for a pleasantly spacious look.
Materials
The most appropriate material for a rug is influenced by how and by whom the space will be used and how much foot traffic it gets. Common fibers include wool, cotton, synthetics (polyester, acrylic etc.), and other natural fibers. Each varies in texture, durability and stain resistance.
Here's a quick guide to the most common rug fibers:
Wool: A natural fiber, popularfor its quality, durability and softness. Stain and water-resistant. Excellent insulating properties. Ideal for high-traffic areas.
Cotton: Affordable and easy to clean. Not as long-lasting as wool, for example.
Silk: Luxuriously soft and lustrous. Not recommended for high-traffic areas. Requires professional cleaning services.
Natural fibers (sisal, jute, seagrass): Renewable and durable with rich textures and earthy palettes. Some varieties can be rough and difficult to clean.
Synthetics (nylon, polypropylene, viscose): Affordable, durable and easy-to-clean. Family-friendly and ideal for high-traffic areas. Available in a wide variety of colors and textures.
Decor Aid is reader-supported. When you buy through links on our site, we may earn an affiliate commission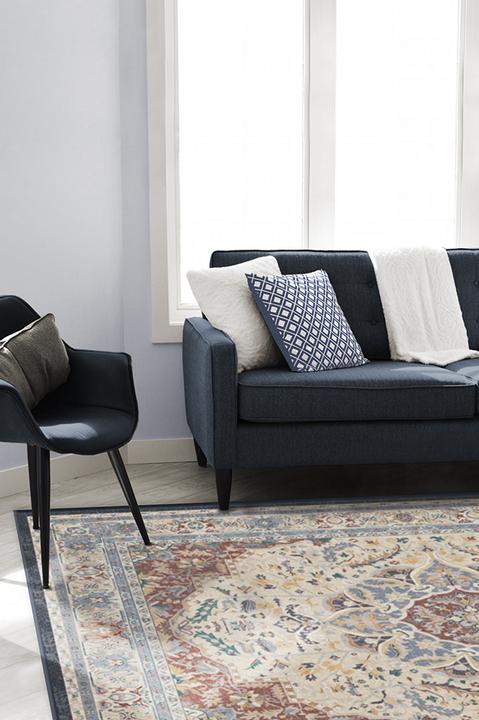 Whether you're looking to add ornamental flair to a modern open-plan kitchen, or a rustic living room, a Persian style rug will do the trick. The timeless design makes an elegant addition to both modern and traditional interiors.
Sporting a faded Heriz motif with sundance red, blue and gold accents, the rug accentuates the navy blue sofa and introduces a warm and antiqued look that brings lived-in character to an otherwise cold modern space. Mix patterns and textures with cushions and throws, making sure to stick to the same color palette for visual coherency.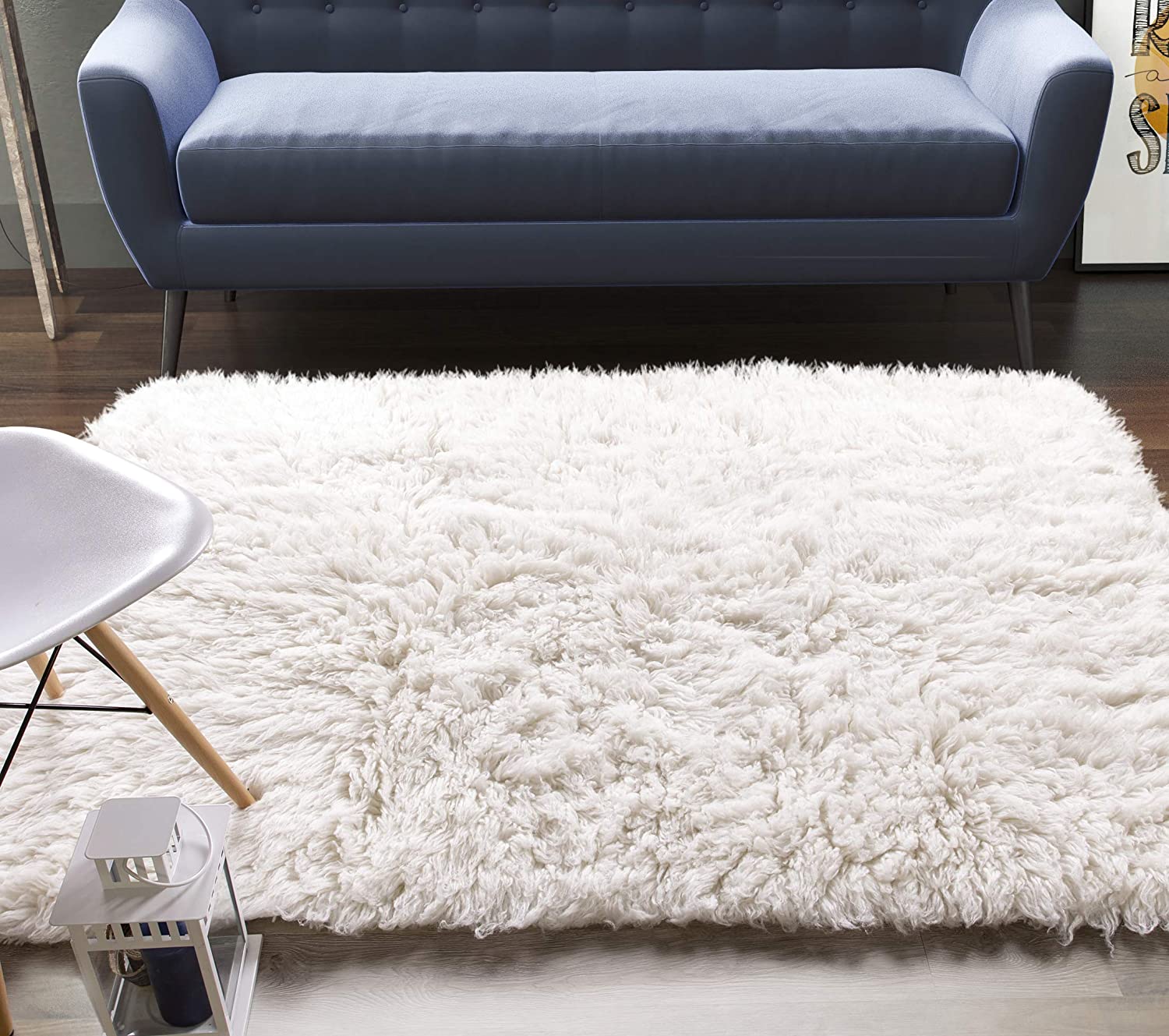 Sustainable, soft and luxurious, this organic wool rug is a definite catch. Revamp your living room with a shabby chic style, or spruce up your rustic abode; white wool rugs are super versatile and effortlessly blend into any decor.
A natural fiber, wool is durable, stain-resistant and easy to clean and maintain. Plus, unlike faux fur, it's naturally flame retardant. Avoid using wool rugs in areas that are subject to moisture, such as a bathroom, as they absorb humidity. Expect some initial shedding but don't worry, this subsides after a few weeks. Simply use the upholstery connection on your vacuum to pick up any loose fibers.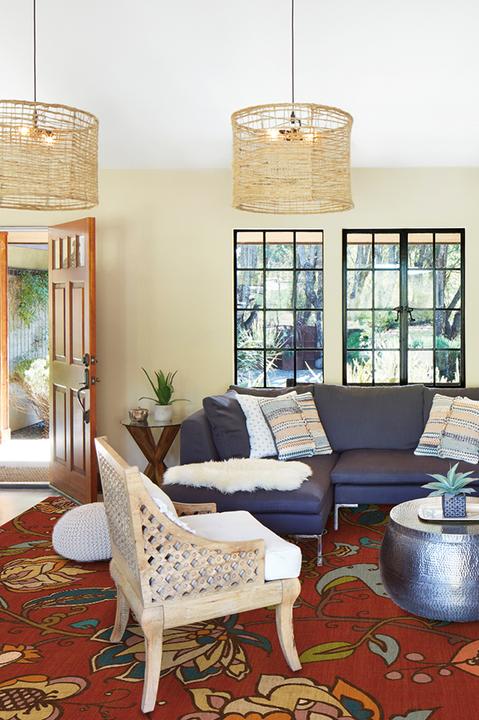 It's bold, it's dramatic, and its vibrancy is contagious. Red and blue is a classic yet striking color scheme that communicates warmth and strength and immediately elevates any interior. Creamy walls and accessories let the blue couch take center stage, whilst the vivid red rug pulls through to anchor the room.
Extract accent colors from patterned rugs and re-introduce them in pops of color around the room, perhaps in the form of a cushion, candle, or throw, for example. Add creamy neutrals to the scheme for a sophisticated look, black accessories for a contemporary style, or warm wood tones for a more traditional aesthetic.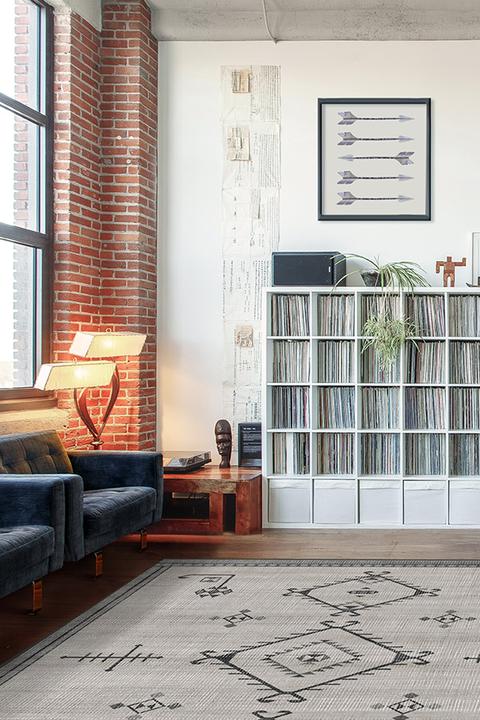 Quiet, calm and understated, a grey rug is a stylish way to compliment a blue couch, without stealing its spotlight. Pair darker shades of blues and greys for a moody, stormy look, or lighter shades for an effortlessly soothing and contemporary appeal.
Too many solid blocks of blues and greys can have a dull and flat affect. The rug's diamond motif and textured surface adds depth and establishes a modern chic vibe. A subdued color palette, blue and grey also tend to create a cooler feel, so introduce warmer tones through accessories such as textured cushions or wooden accents.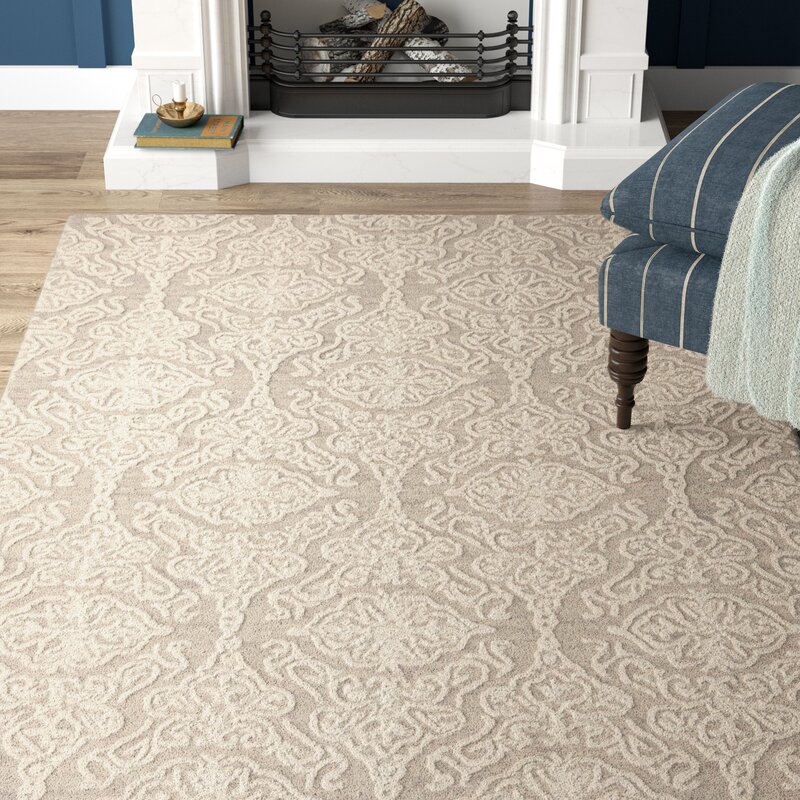 If you want to add a touch of luxury and sophistication to your decor, then this silvertone and ivory rug is the way to do it. Creams and other neutrals beautifully complement darker shades of blue, creating a sense of balance and illuminating elegance. Plus, the subtly distressed finish and Persian-inspired pattern have the charm of a well-loved antique.
Carefully made with hand-tufted wool, this rug is stain and water-resistant and provides excellent insulation. Make sure to vacuum regularly and avoid using a beater bar or rotating brush. In the case of spillage, simply spot clean with a dry cloth and leave the deep cleaning to the professionals!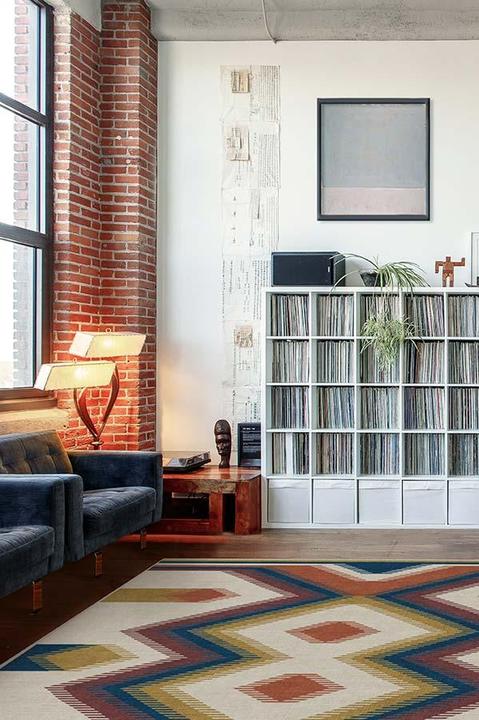 The ever-increasing popularity of geometric rugs is due to their versatility and ability to add visual interest and texture to any interior, from contemporary to eclectic, or even traditional.
Choose a design whose colors not only complement the blue couch but also the rest of the room's features, to create visual harmony. The hint of blue in this geometric design makes the couch pop, whilst hints of terracotta draw out the red brick wall, and the mustard yellow adds a burst of brilliance.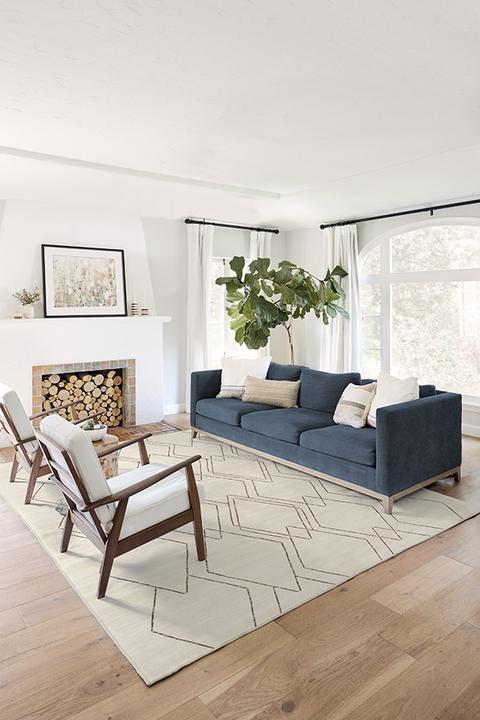 This pared-back design subtly anchors the seating area, pulling together the modern decor. True to Scandinavian style, its soft, neutral hues and clean lineal geometric shapes – creating a subtle illusion of texture – make a sleek, contemporary interior feel warm and inviting.
Large rugs are a great tool to define and separate an intimate seating area in a big open-plan space. Make sure the rug is large enough to fit the front legs of the furniture on top and let its shape guide the layout of the space.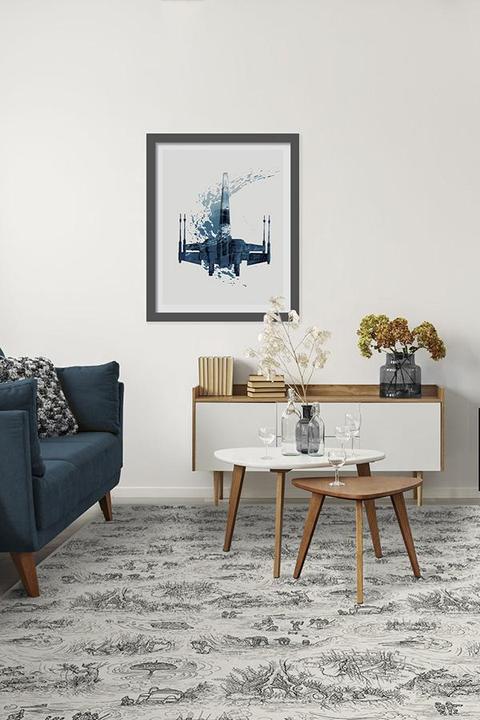 Calling all Star Wars fanatics! Relive the legends of Yoda and Luke Skywalker on Dagobah, or Darth Vader as he reveals his identity, through this innovative representation of George Lucas' masterpiece. A revival of the popular 18th-century French print adapted to contemporary culture, the iconic scenes have been woven into an intricate toile-inspired design.
Often associated with French country style, toile adds classic character to a space, retaining the sophistication and refined panache that made it fashionable among the French aristocracy centuries ago. Use toile sporadically, balancing it out with solid colors. When overdone it can appear gaudy and dizzying.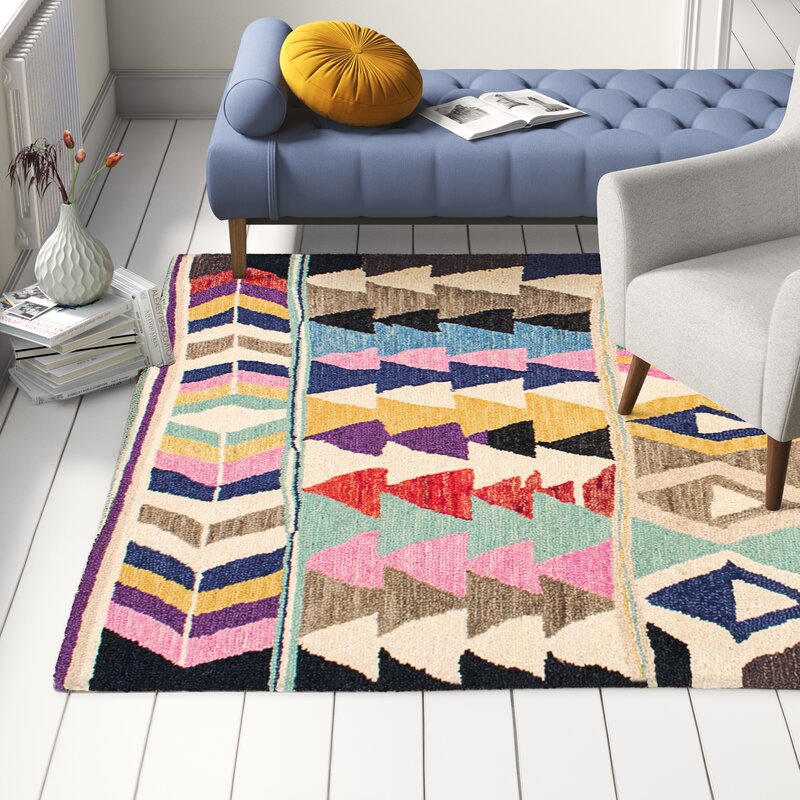 Bring a pop of color to your floor with this abstract area rug. Hand-tufted in India from 100% wool, this flamboyant rug has a low pile making it perfect for spaces with heavy foot traffic. The bright colors and handmade aesthetic create an effortless boho vibe.
Pull together the boho style with natural elements, such as plants and bamboo or wooden furniture, and layers of texture. For a playful, informal look, try layering various rugs across the room with the bold patterned rug on top to direct the eye towards your desired focal point – namely, the blue couch. Alternatively, hang it on the wall above the blue couch, turning it into wall art and a focal point.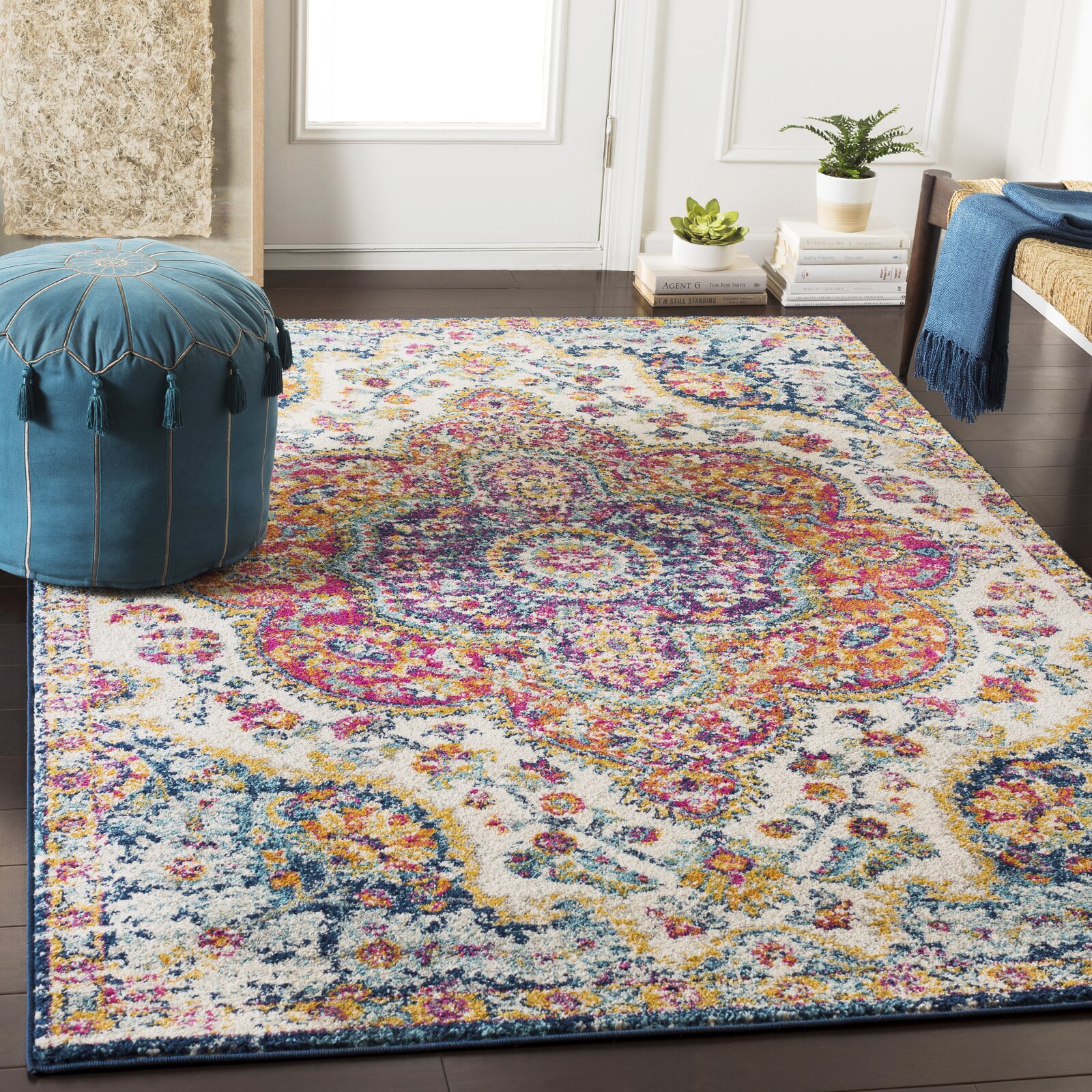 Pair an inky blue couch with fuchsia accents for a bold and eccentric scheme. If fuchsia is too overpowering for you, opt for a more delicate variant such as blush pink or salmon pink. Combined with navy, these lighter tintsooze modern sophistication.
Synthetic rugs are durable and easy to care for making them family and pet-friendly and ideal for high-traffic areas. That said, rug care and maintenance is key to a long rug life and to keeping it looking fresh, and hygienic. Make sure to frequently vacuum and, in the case of spillages, immediately blot them with paper towels or a clean absorbent cloth.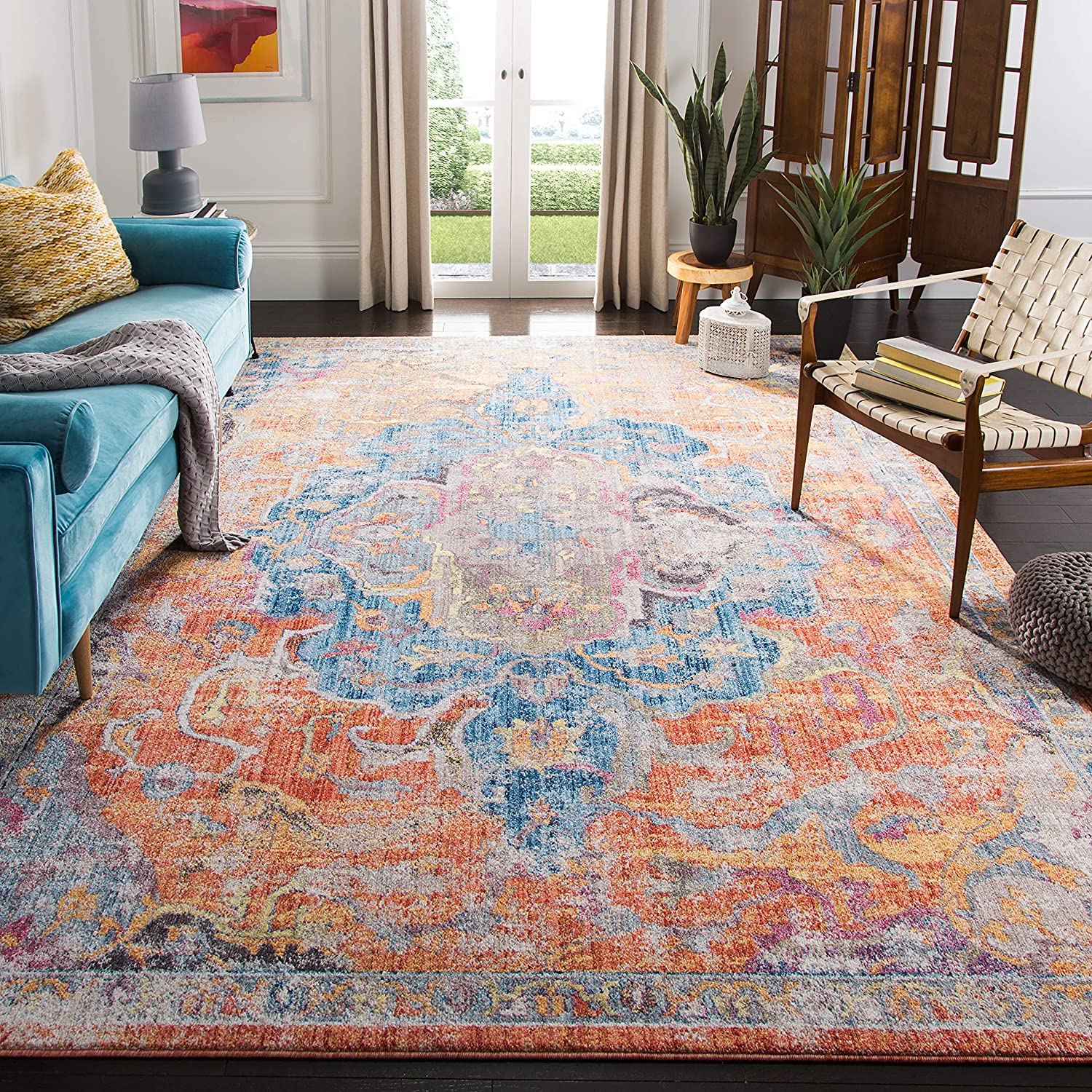 Evidencing the rich visual impact that a complementary color scheme can have on your interior, this vintage style, burnt orange rug highlights the retro blue couch and creates a refreshing and energetic atmosphere.
Sat opposite blue on the color wheel, orange is a vivid and electric color that wakes up any space and works as a great accent to add interest to your decor. Use it intermittently, balancing it out with neutral furnishings, such as white or cream walls and wooden accessories, to avoid an overwhelming effect.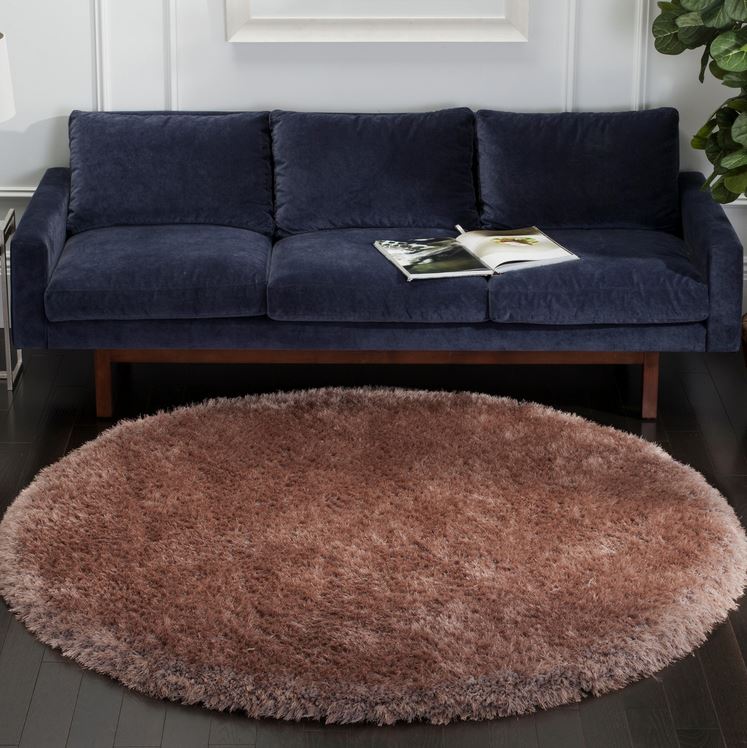 It's plush, it's glamorous and it's softer than you'll ever imagine. Made of hand-tufted silky polyester with a pile height of over three inches, this thick shag rug is a welcoming piece of luxury to sink your feet into after a long day. The earthy brown color makes a particularly pleasing combination when paired with a navy blue velvet couch, adding richness and drama to the room.
Round shaped rugs are a creative way to offset the linear and rectangular nature of walls and furniture, softening the space and giving way to a rich feeling of warmth and intimacy. Give it a go!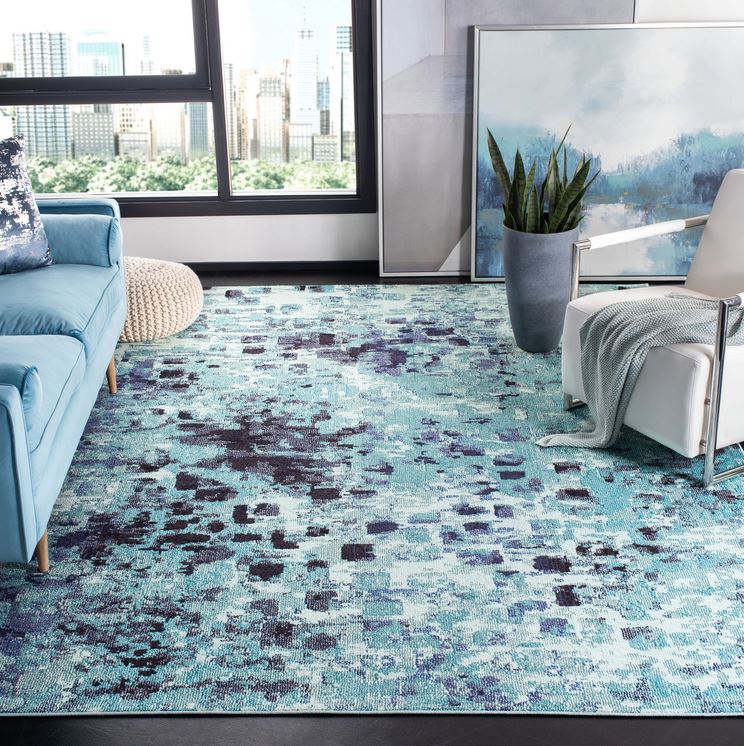 This abstract piece of soft floor art is enough to transport you to a Caribbean island. Light and refreshing blue shades conjure images of clear blue seas and summer skies, creating a calming and serene atmosphere, perfect for modern decor.
Team the rug up with a retro baby blue sofa and punctuate it with patterned cushions in darker shades of blue. A navy couch, in comparison, will create a stronger sense of depth and will be brought to life by brighter aqua hues. For a smart and cohesive look, stick to a color scheme of white – or cream – blue-greens, navy and greys with spots of silver and black detailing.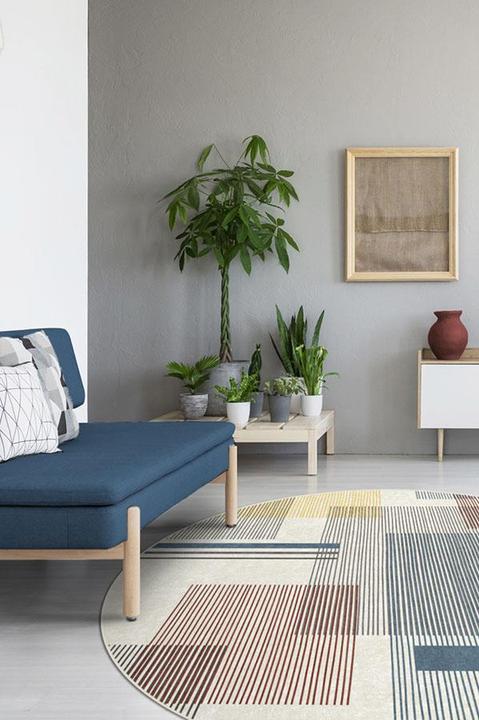 For the art historians among us: a rug inspired by the works of Bauhaus artist Josef Albers. This abstract rug features overlapping lines in primary shades of red, blue and yellow, that together create geometric shapes. True to the Bauhaus style – characterized as a cross between the art and crafts movement and modernism, with a strong emphasis on function – the design incorporates art into everyday life. Stripped back to basics, this rug is ideal for modern minimalist interiors.
Round area rugs are often used to make a small space appear larger. However, if you want to place a round rug in a larger room, try using it to accentuate an area with an additional furniture grouping, creating an intimate space or vignette.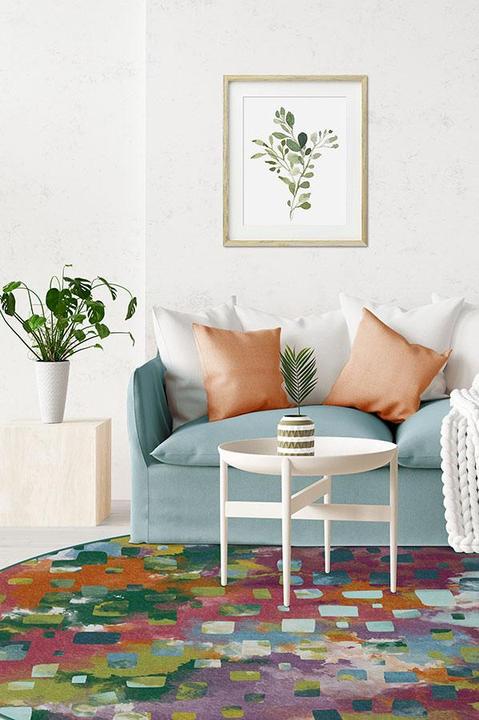 Compliment a light blue couch with this bold and colorful rug, reminiscent of a Monet painting 'en plein air'. The unusual pattern has a painterly appeal, bringing to mind the skilled brushstrokes of an artist's hand. The vibrant nature-inspired color palette brings the space to life and anchors the room.
Take the opportunity to expand your color scheme and add accents through accessories to balance the room and create a cohesive and comfortable space. Made from polyester with a polyurethane water-resistant barrier, this rug is durable and machine washable making it family-friendly and ideal for heavy-traffic areas.