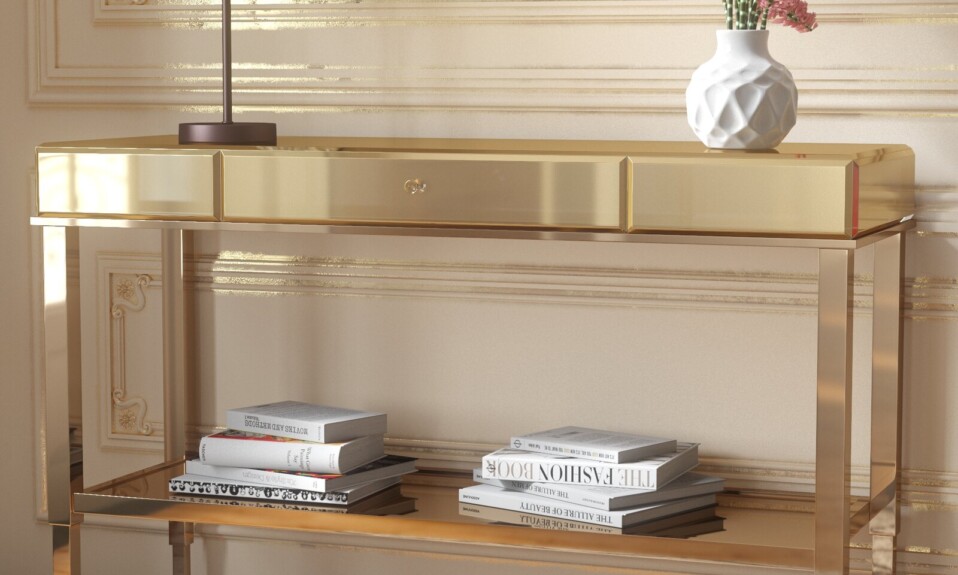 Your entryway is the first thing guests will see as they enter your home, so it's important that it makes a good first impression.
Choosing a beautiful entryway table is the first step to creating an effortlessly stylish design for this often overlooked area of your home. As well as looking good, it can also provide much-needed storage for keys, bags, and even shoes.
Whether you have a large open-plan foyer or a smaller entryway with limited space, these chic entrance hall table ideas will help you create the kind of first impression that sticks in people's minds for all the right reasons.
Decor Aid is reader-supported. When you buy through links on our site, we may earn an affiliate commission
Metal and Glass for a Sleek Contemporary Look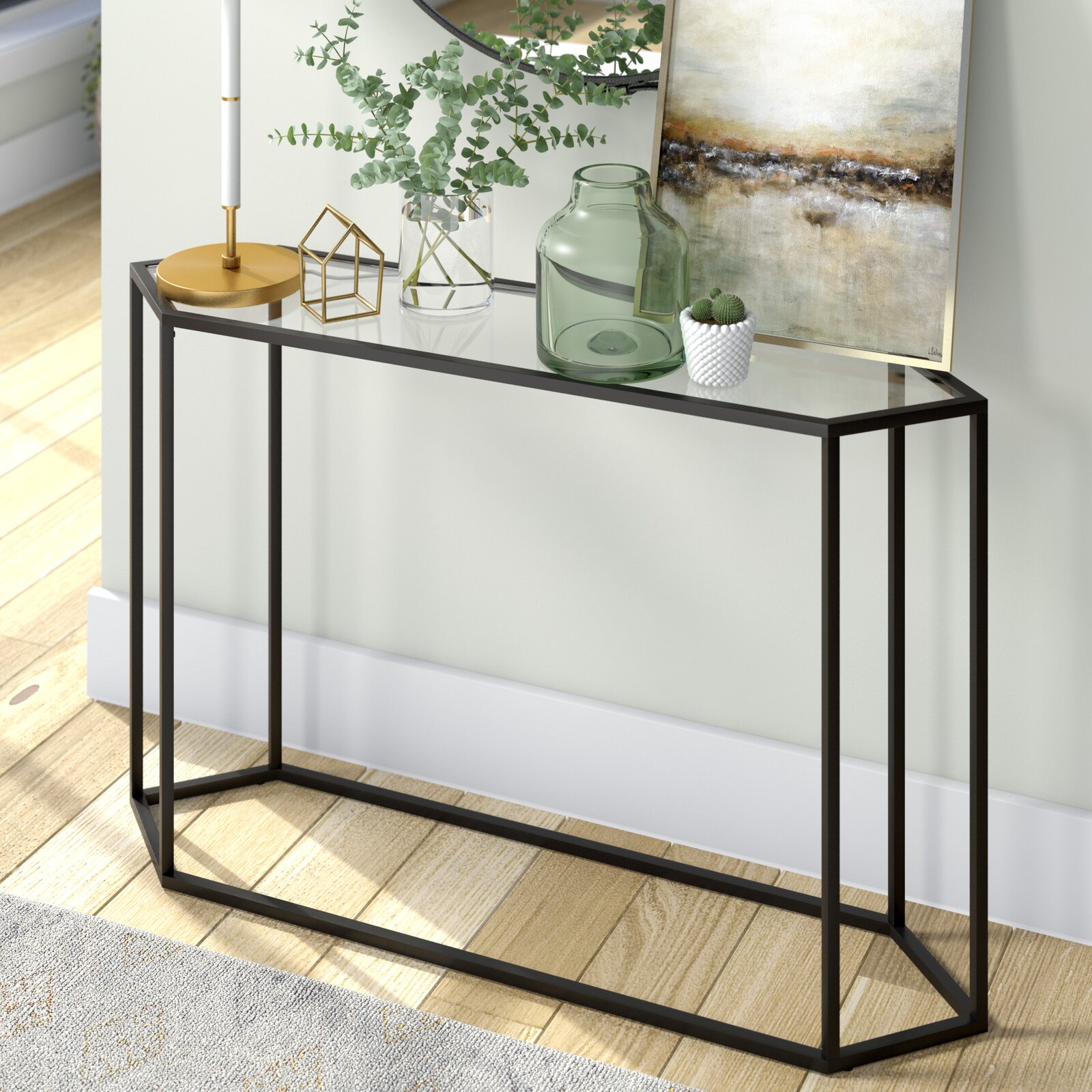 If you want to create a sleek, contemporary look in your entryway, choose a console table made from metal and glass. This table's geometric design and sharp black lines contrast beautifully against the light-colored walls, creating a striking look that really stands out.
Complete the look by styling tables like this with abstract art, unusual glass vases or ornaments, and finish with gold accents to add a touch of glamour. It's worth noting that metal and glass console tables are not ideal for families with small children due to their sharp edges and fragile nature!
Look Out for Classical Hand Turned Legs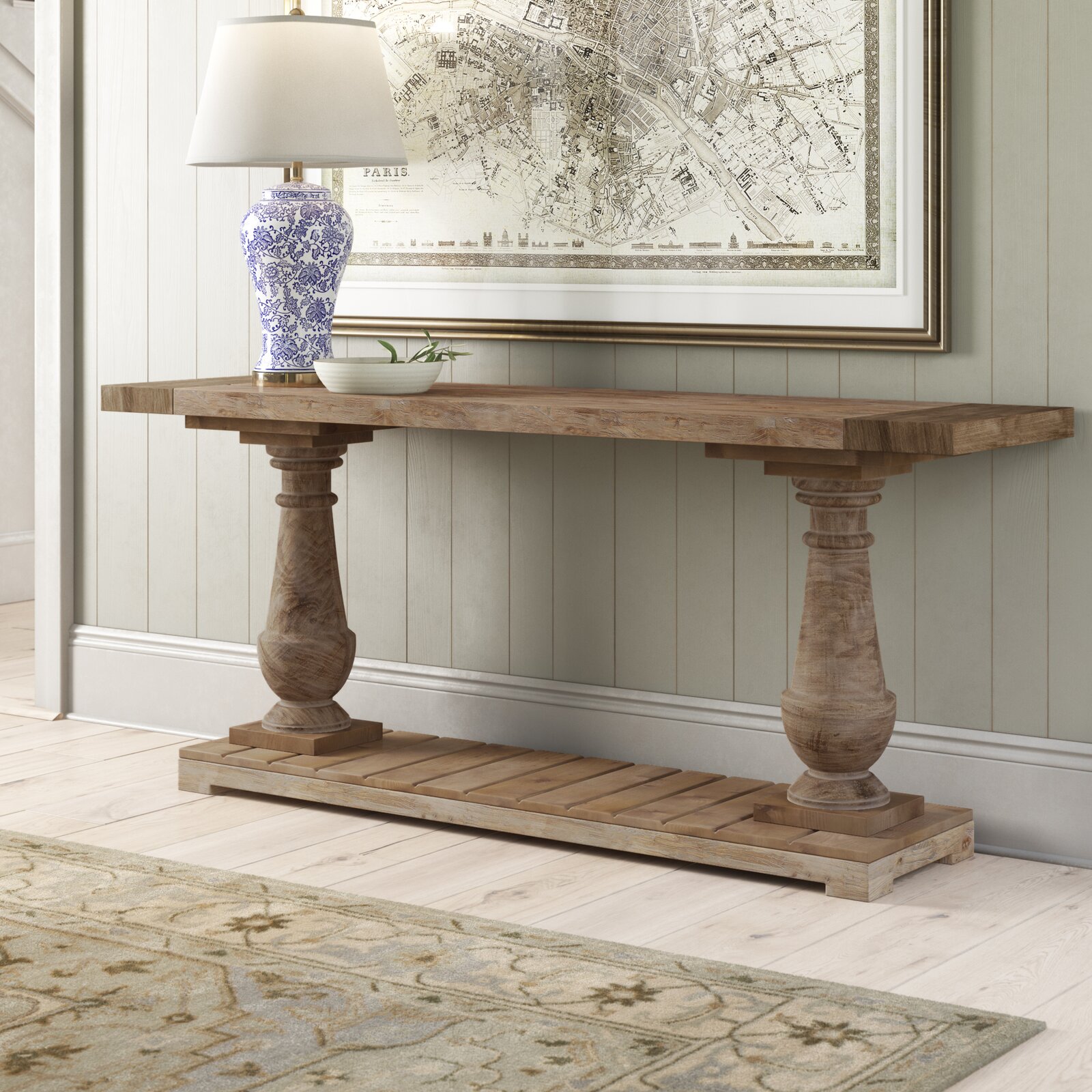 Choosing furniture with wide, hand-turned legs is the perfect way to give your entryway a classical look. This chunky wooden style will work well in modern farmhouse-style homes, as well as more traditional interiors due to its classic shape and features.
Keep it simple when styling a large wooden console table like this, allowing the natural colors and grain of the wood to speak for themselves. A beautiful lamp and a simple ceramic bowl for keys will create the perfect understated elegant look. This table is a great choice for busy homes, as it's unbreakable, and any dents or scuffs will simply add to its character.
Choose a Pine Console With Multiple Drawers for Extra Storage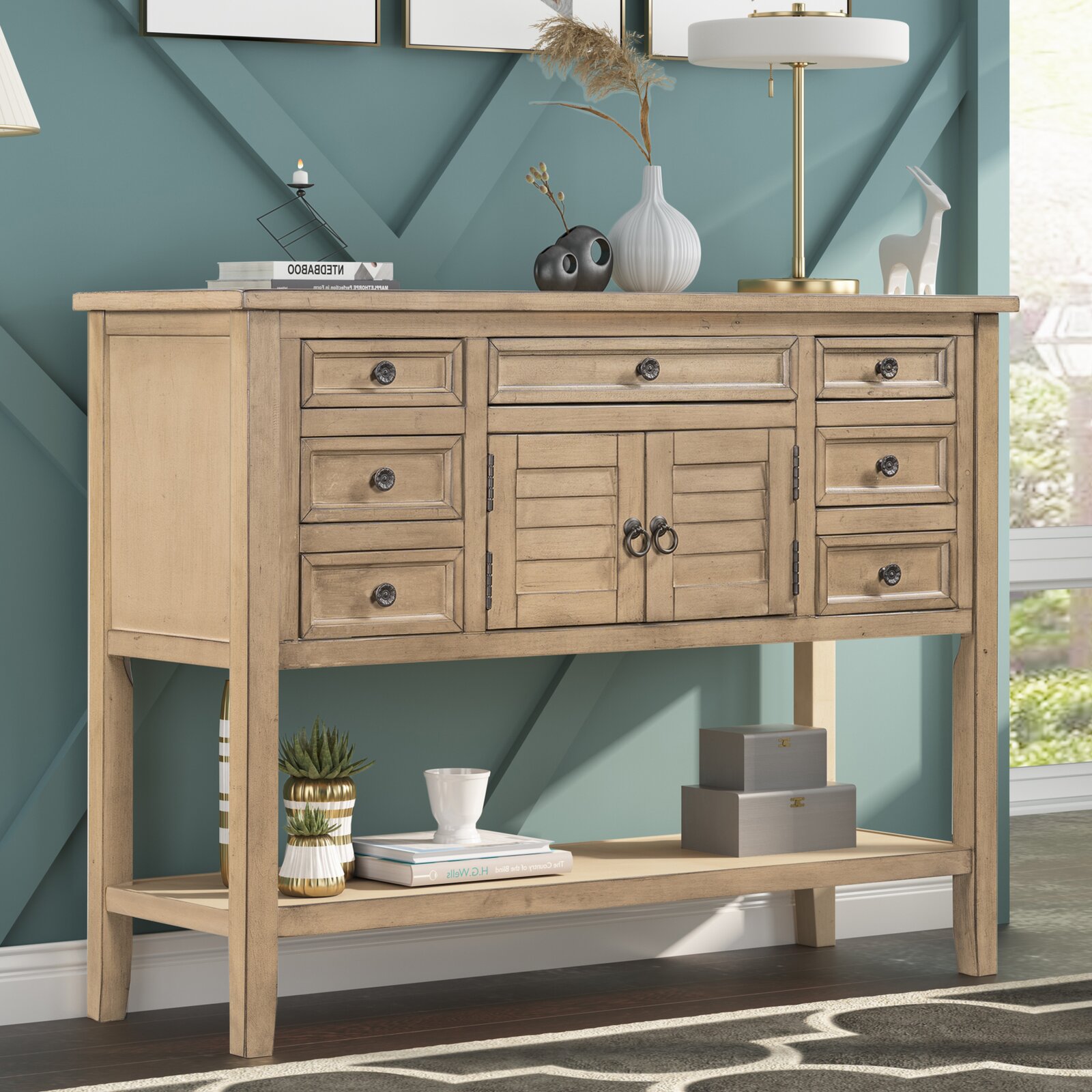 Choosing a console table with plenty of storage will enable you to keep your entryway tidy while still having all of the things you might need to grab while leaving the house (such as hats and gloves) at hand.
This light-colored wooden pine hallway table looks remarkably stylish against darker-colored walls, creating just the right amount of contrast. Style it with simple accessories and ornaments for a chic, on-trend look.
Add Some Glamour With a Gold Mirrored Finish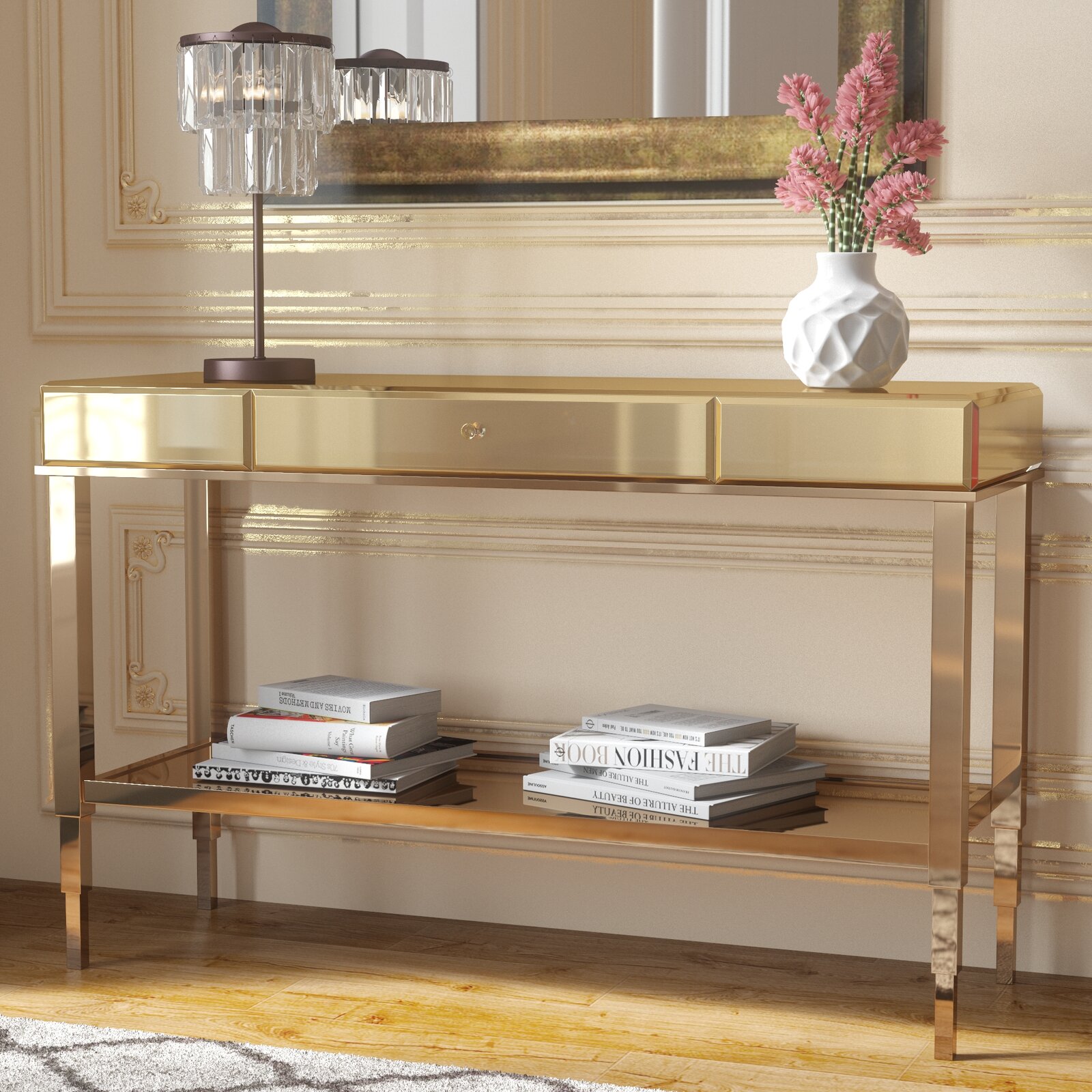 Create an opulent, glamorous look by choosing a gold mirrored console table for your entryway or foyer. Tables with a mirrored finish are ideal for creating a 'Parisian chic' look in your home, so if you are looking for a touch of luxury in your home, this is the way to do it.
A chic piece like this would need a luxurious interior to accompany it, perhaps with some deep pile cream rugs, tonnes of gold fittings, and polished oak flooring. Gorgeous.
Go Minimal With a Clear Acrylic Console Table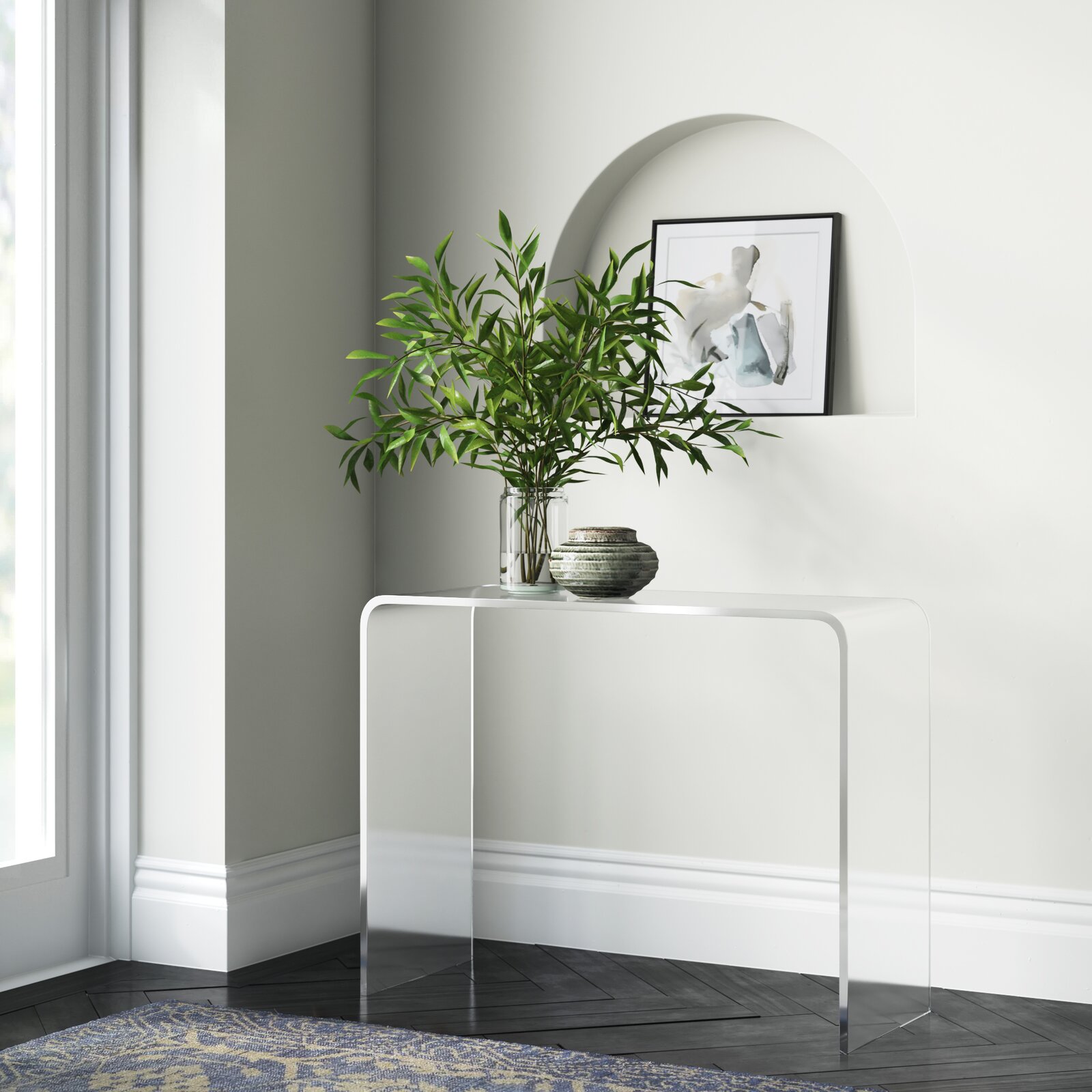 Using a clear acrylic console table is a great way to achieve a minimal look in the entryway of your home. Clear acrylic furniture became popular after the launch of the Louis Ghost Chair by Philippe Starck, and the good news is, this style is here to stay.
Since acrylic console tables are completely transparent, they will work well with any color scheme. This style lends itself particularly well to modern interiors and should be styled minimally too. A clear glass vase with some foliage and a rustic pottery bowl is the perfect finishing touch on this table.
Iron and Marble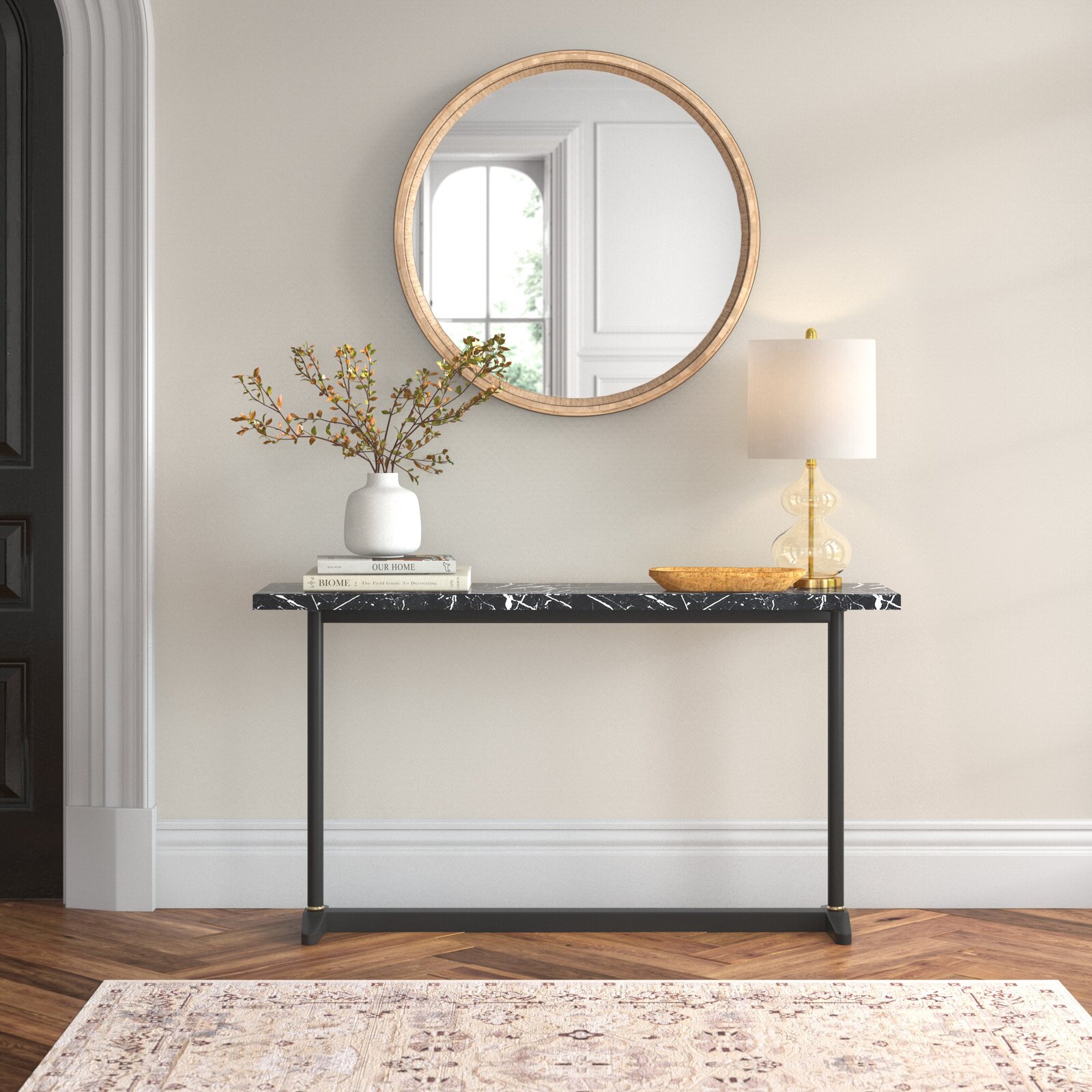 Marble is a timeless material that will look wonderful in almost any interior. A sleek black marble console table like this will work well against lighter colored and neutral walls, creating a strong contrast.
Try styling dark marble tables with lighter accessories, such as white ceramics or gold ornaments. Using light accessories will lift the design and allow each accessory to stand out.
The Perfect Mix of Form and Function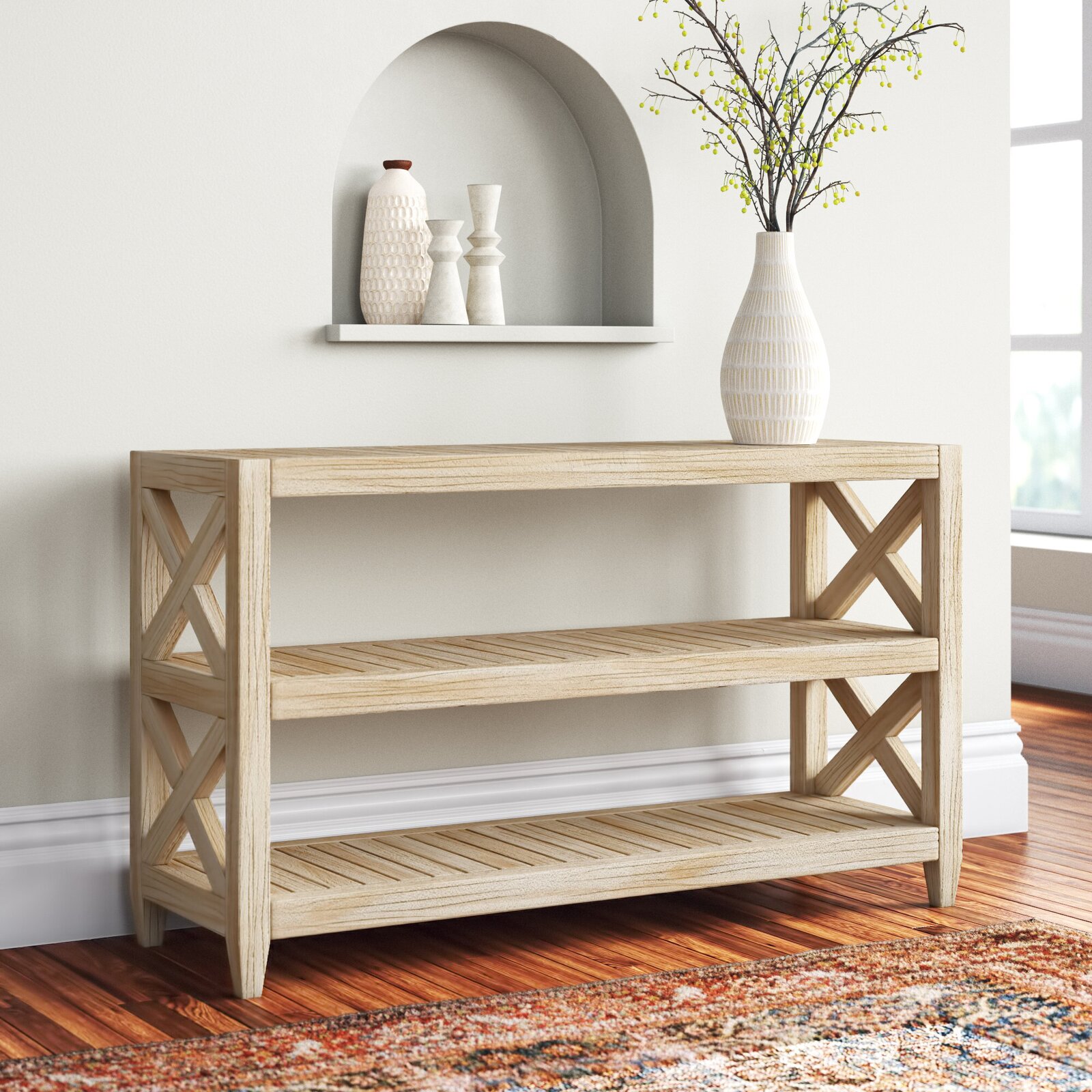 If you're looking for an entryway table that can hold more than just your keys, consider choosing one with built-in shelving. Additional shelves can hold books, ornaments and even serve as a place to keep shoes tidy in your hallway.
These rustic wooden shelves are a perfect example of how to mix style and functionality. If you want to use this type of console table for shoe storage in your hallway, keep the top minimal and style it with a tall decorative vase to add height and draw the eye upwards.
Go Bold With a Contemporary Black Iron Design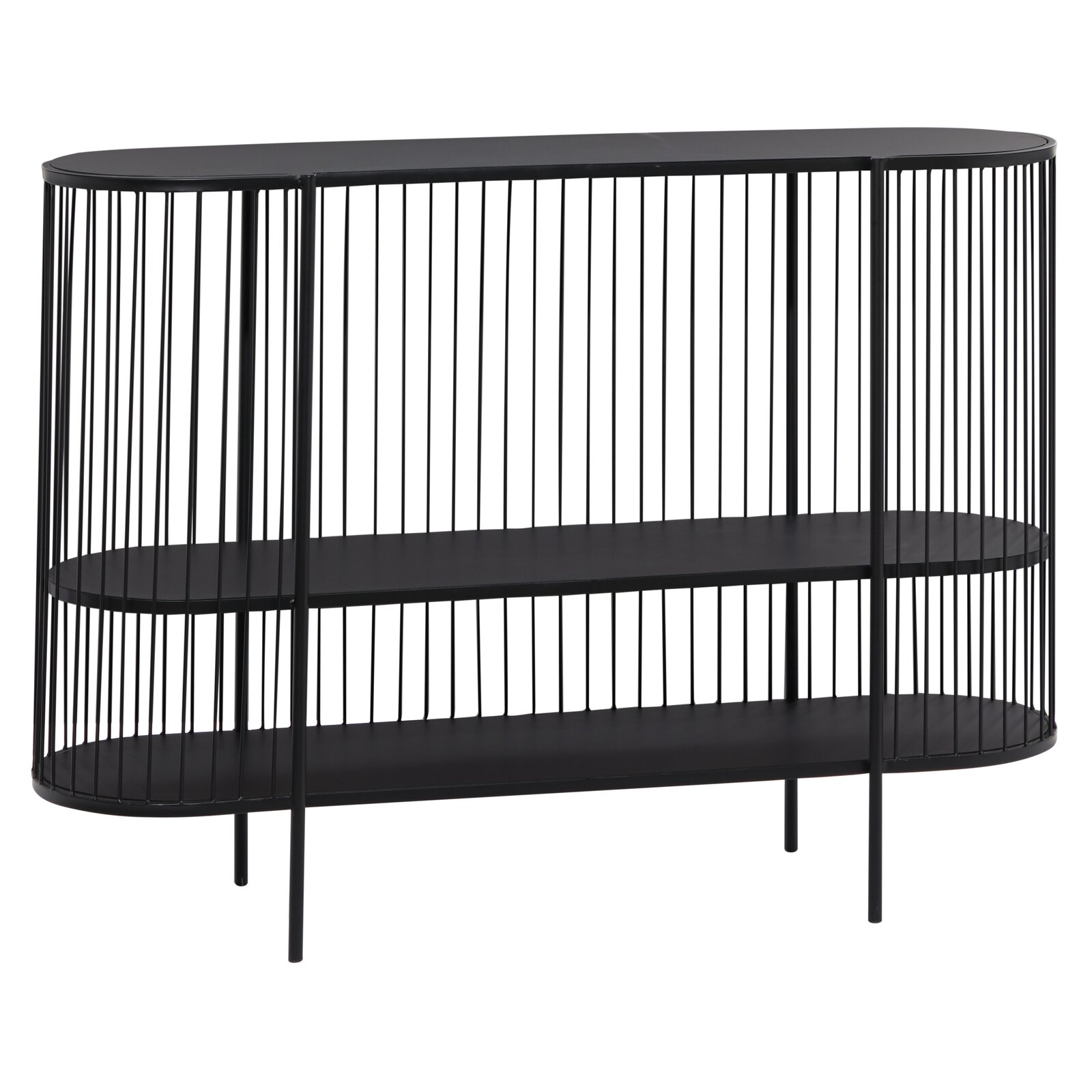 If you want to make a bold statement in your foyer, then consider using a contemporary black iron entryway table. Black forged iron console tables have a more masculine feel about them, but that doesn't mean they should be confined to life in a bachelor pad.
With the right styling, black metal tables can work well with most interior styles and can even work well in more traditional interiors if you like to mix it up.
Add Some Rustic Charm With a Chunky Wooden Console Table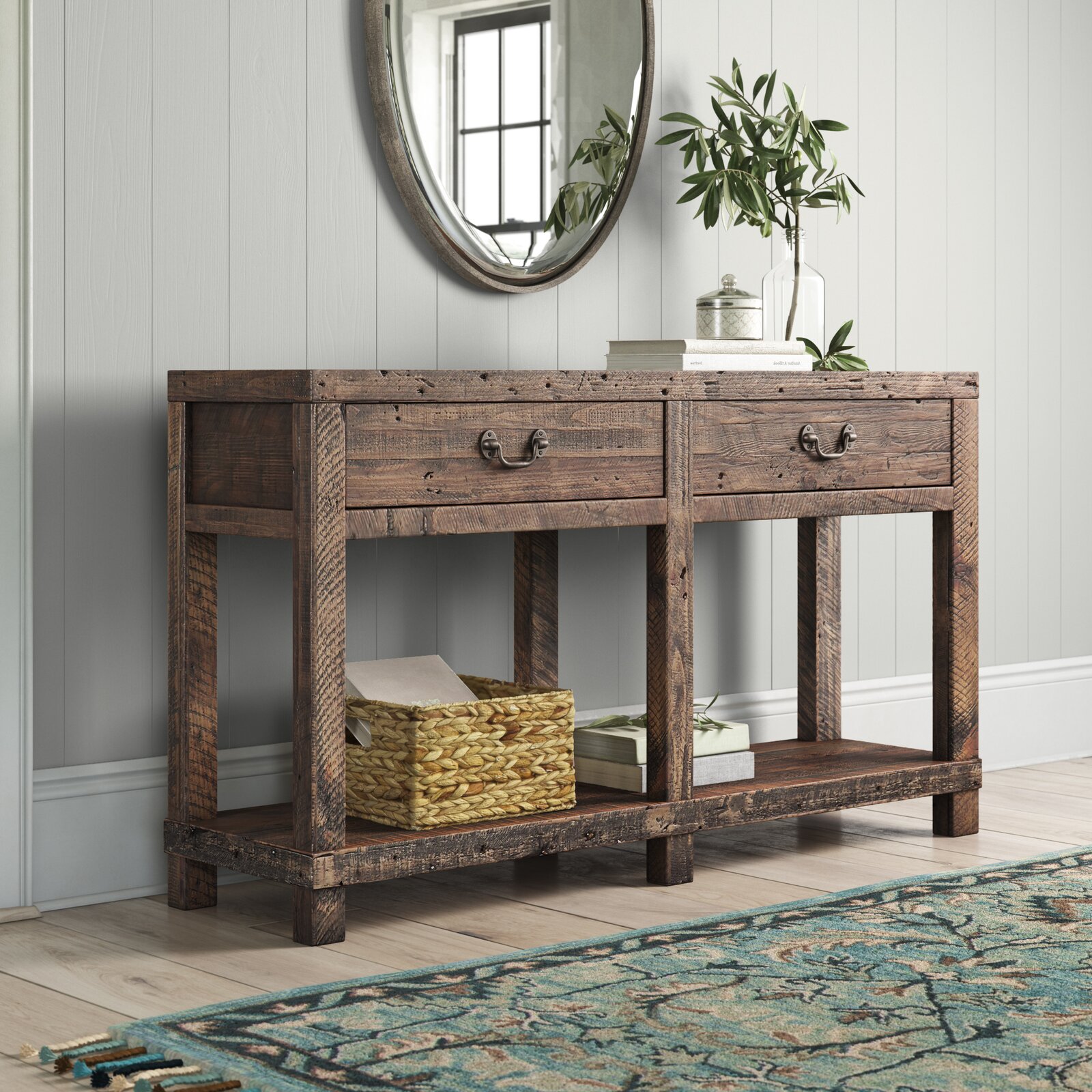 Chunky wooden console tables are perfect for adding a touch of rustic charm to your entryway. Look out for tables with vintage-style hardware for an authentic look. The beauty of chunky wooden tables is that they work well in most homes.
Whether you're a lover of the farmhouse style or you prefer a modern industrial look, this table can be styled in a variety of ways. Try styling a chunky wooden entryway table with a sleek vase, a scented candle, and a stack of your favorite books for a modern farmhouse look.
Create an Industrial Entryway with a Wheeled Console Table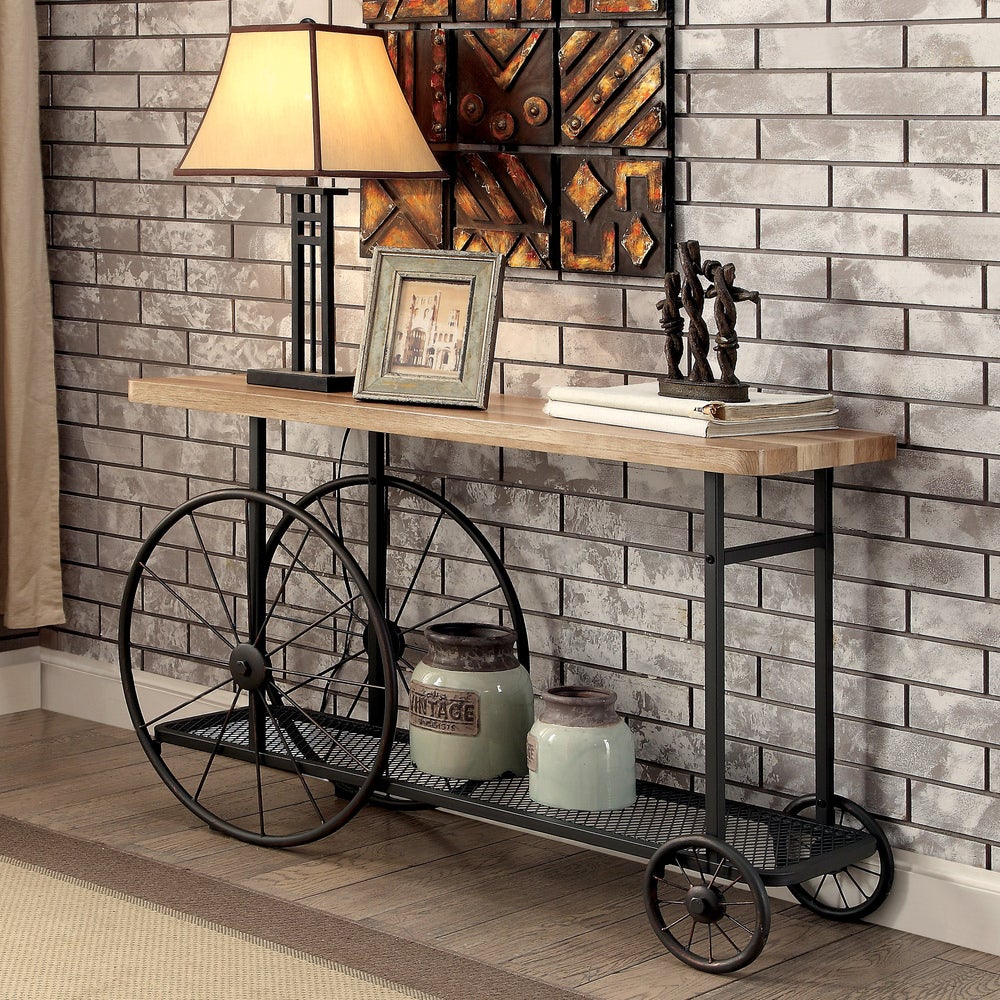 If you love the industrial look, you can create an industrial-style entryway for your home using a wheeled console table. Embracing natural materials is a key element of creating an industrial interior, so wood and metalwork well together on this unusual console table.
Industrial-style tables work well against exposed brickwork, evoking imagery of old factories and warehouses. When styling an industrial entryway, stick to more natural materials, and look for wood, metal, and glass when choosing your accessories.
Stylish Chrome and Glass for a Modern Hallway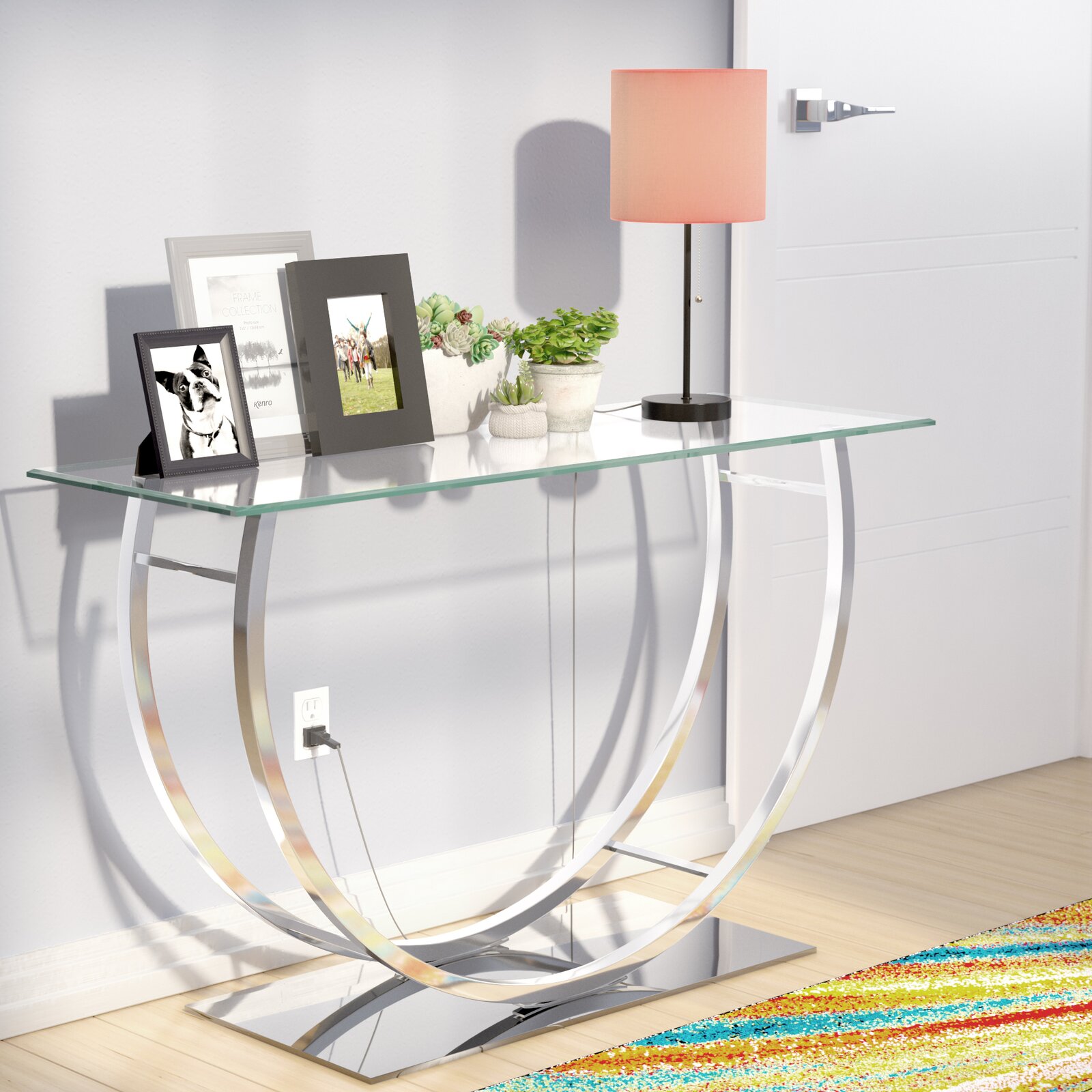 This gorgeous contemporary design is sure to give you entryway the Wow factor. The swooping U-shaped chrome base effortlessly draws the eye, which allows your adornments to almost float on the glass top.
This would suit cream, or light, neutral-toned painted walls and lightly shaded wooden floors. Add some succulents and a glowing lamp to shimmer against the polished chrome to complete the look.
Small But Perfectly Formed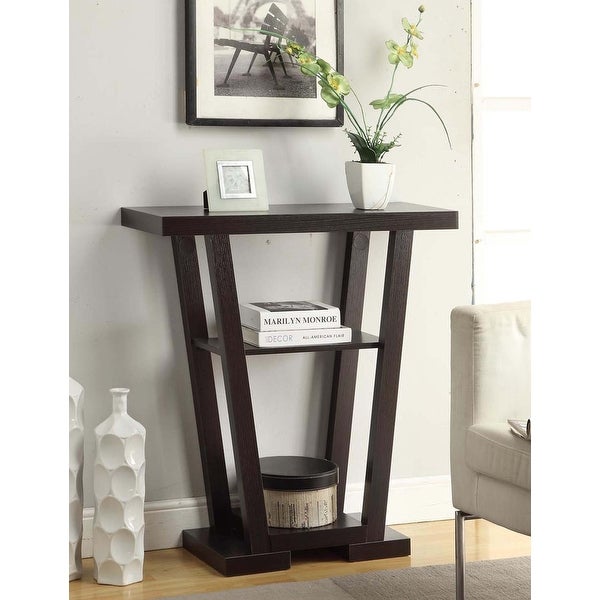 If you've only got a small space to work with, then a smaller 'V' shaped console table can help you get the most from your space. V-shaped tables have a smaller footprint, leaving more space for other accessories or items that need to be on the floor – perfect for narrow hallways.
It can be hard to find smaller console tables that are also stylish, but choosing a sleek V-shaped table for your entryway will tick all the boxes. Dark wood colors are the best option for use against lighter walls and floors, as they will really stand out and create an eye-catching centerpiece for your entryway.
White Wood and Wicker for a Nautical Theme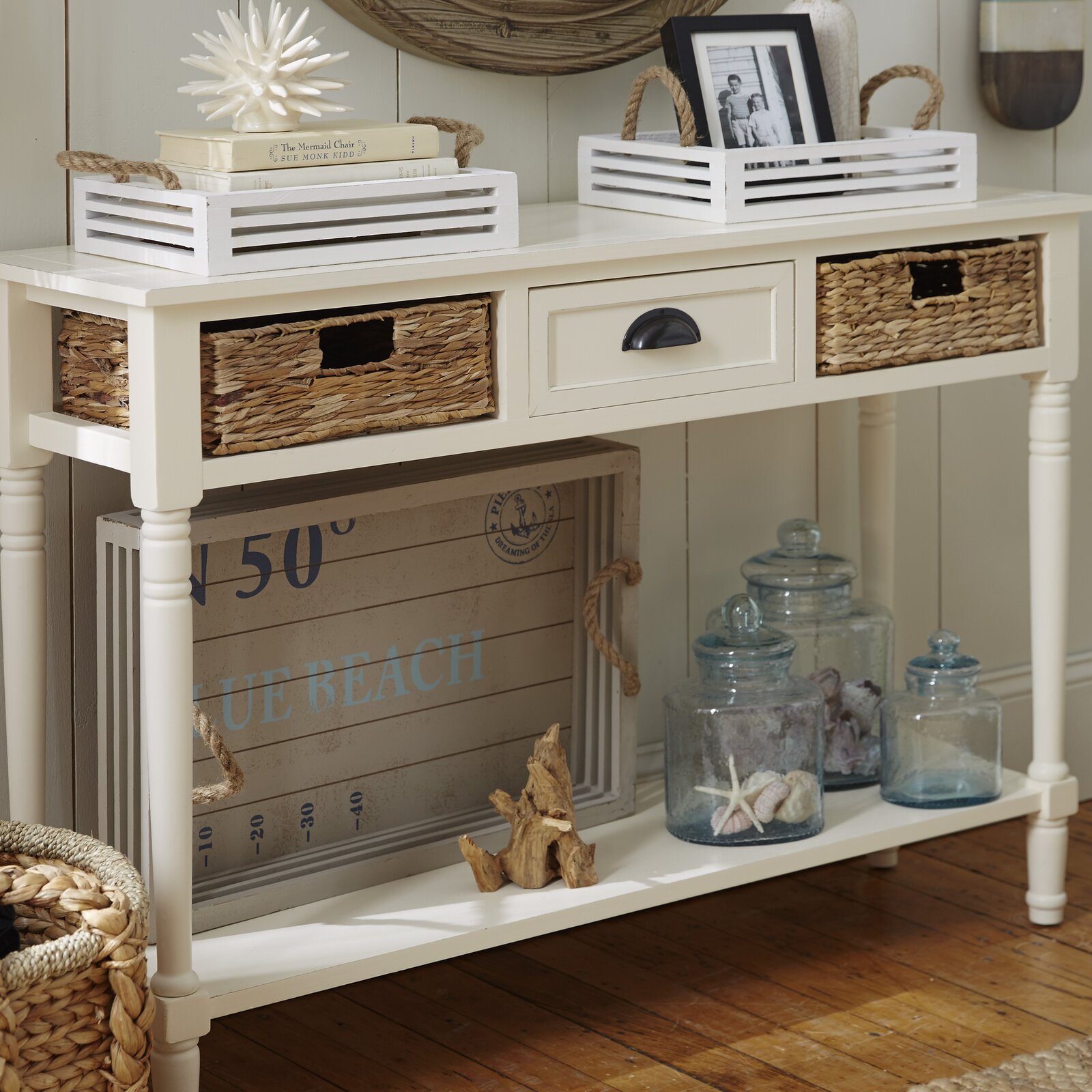 If you're a fan of the nautical look, then you can't go wrong with a white wood and wicker table for your entryway. It sets the tone as soon as you enter the home and ideally should be paired with wooden floors or shiplap paneling to complete the nautical look.
This style is ideal for a coastal residence, second home, or anyone who loves this relaxed, coastal look.
A Narrow Console Table for Small Spaces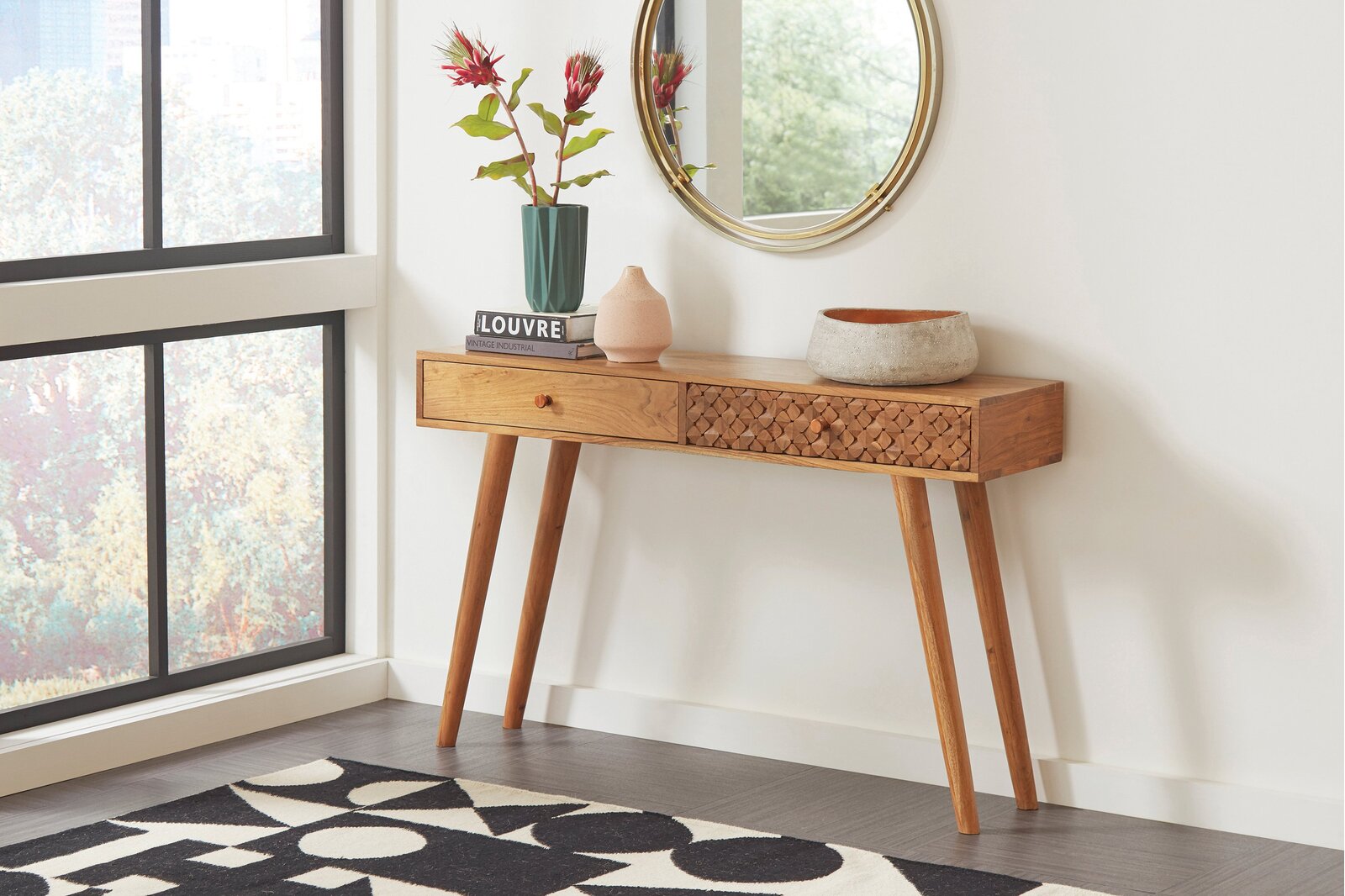 If you're short on space, then choosing a narrow console table will ensure you can still make your entryway look beautiful without compromising on space.
Mid-century style console tables like this are ideal for narrow hallways, enabling you to create an effortlessly stylish design that doesn't encroach into the main space. Style it with a mid-century runner rug, round mirror, and modern ornamental vases to complete the look.
Mid-Century Console Table With Sliding Doors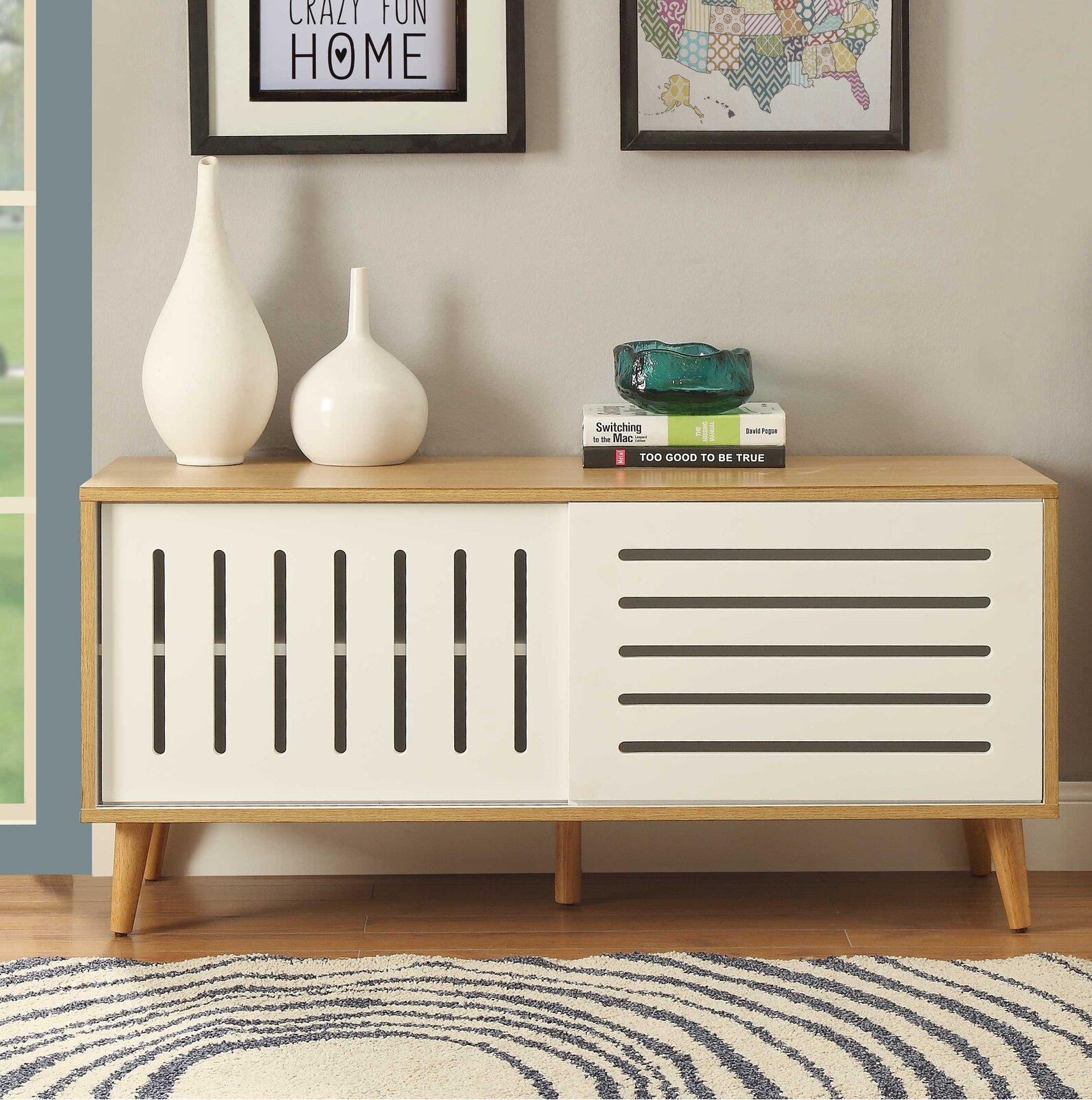 If you have items in your entryway that you would rather not keep on display, then opt for a mid-century style cabinet with sliding doors. This style works well in larger foyers and entryways, enabling you to keep clutter tidied away while creating a sleek, modern look.
Simplicity is key when it comes to mid-century design, so go easy on the accessories. A simple pile of books or magazines along with some shapely decorative vases is the perfect way to style a table like this.
Tips for Choosing the Perfect Entryway Table
Designing your entryway is an exciting task, but choosing the right console table can often leave you confused. Here are some pro tips to make sure it all goes smoothly.
Measuring your space
Take detailed measurements of your space, including the length and width, before making a purchase. Ensure you leave at least 6 inches between the side of your console table and any other walls or furniture.
If your table is destined for a narrow hallway, make sure that you leave a minimum of 36 inches clear to walk through, this will allow sufficient space for wheelchairs or strollers to pass through.
Choosing a style
When choosing a new table for your entryway, consider the style of the rest of your home.
Modern Farmhouse – If you love the farmhouse look you can't go wrong with a chunky wooden console table.
Minimalist – Look out for sleek materials such as metal and glass, with clean lines.
Transitional Design – Mix traditional elegance with contemporary design by choosing a table with a mirrored finish.
Minimalist – Keep it simple with a clear perspex console table.
Scandinavian – Choose a table with clean lines and minimal adornments. A simple mid-century modern console table will work well with a Scandi-style interior.
Industrial – Stick to raw materials, such as unfinished wood and metal for the perfect industrial look.
Styling your entryway table
Your entryway won't be complete until it has been perfectly styled. Here are three easy steps to styling your console table.
Start by choosing either a mirror or a piece of art to take center stage above your table.
Add height by using a tall vase, table lamp, or decorative sculpture.
Layer in accessories such as a decorative bowl, ornaments, and books.
Now that you have everything you need to create the perfect stylish entryway, it's time to start planning!