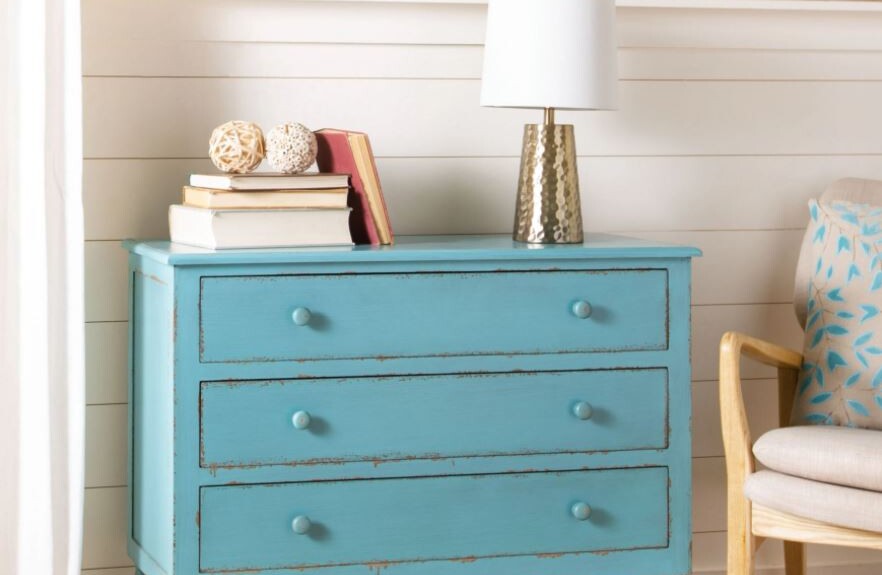 No bedroom is complete without a stylish dresser. It makes the perfect focal point in your bedroom, and there are so many gorgeous designs to choose from that you will be spoiled for choice.
But what if you've only got a small space to work with?
Just because your bedroom is small, it doesn't mean you have to compromise on style! Thankfully, there are loads of gorgeous dressers that are available in smaller sizes. In this article, we're going to be sharing 15 of the best small dresser ideas to give you some inspiration for your own bedroom.
Pair Rustic Wood and Metal for a Modern Industrial Look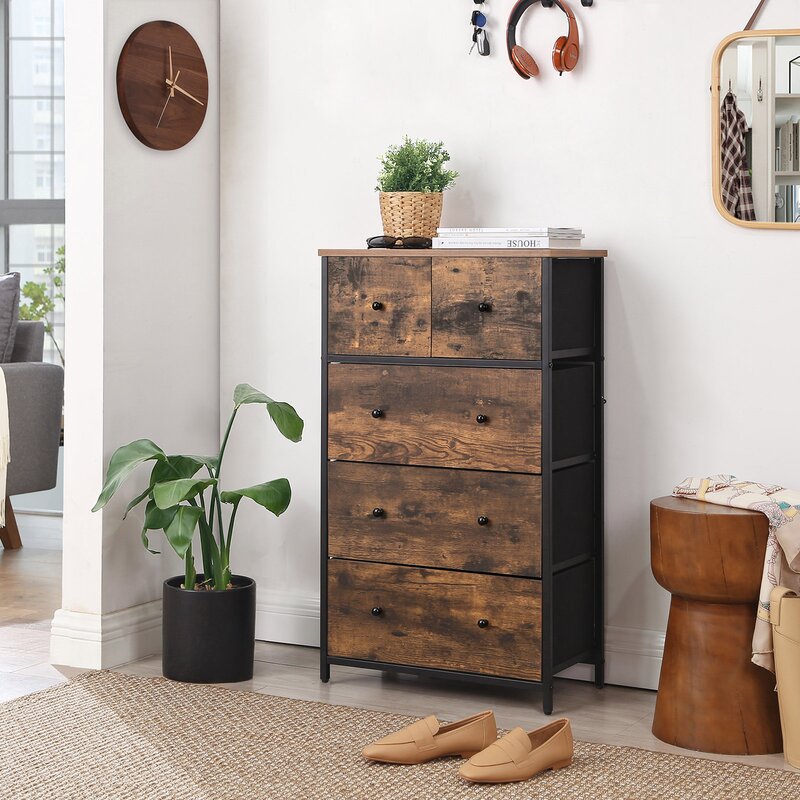 A great way to get a modern industrial look in your bedroom is by choosing a dresser made from rustic-looking wood with a dark metal frame. This style works really well in minimal interiors, with the color and grain of the wood adding warmth and texture to the room.
Although this small dresser doesn't take up much space, it commands your attention as you enter the room, and makes a great focal point. Taller dressers like this should be secured to the wall in homes with children or pets, as they can tip over easily.
Look for a Dresser With Additional Storage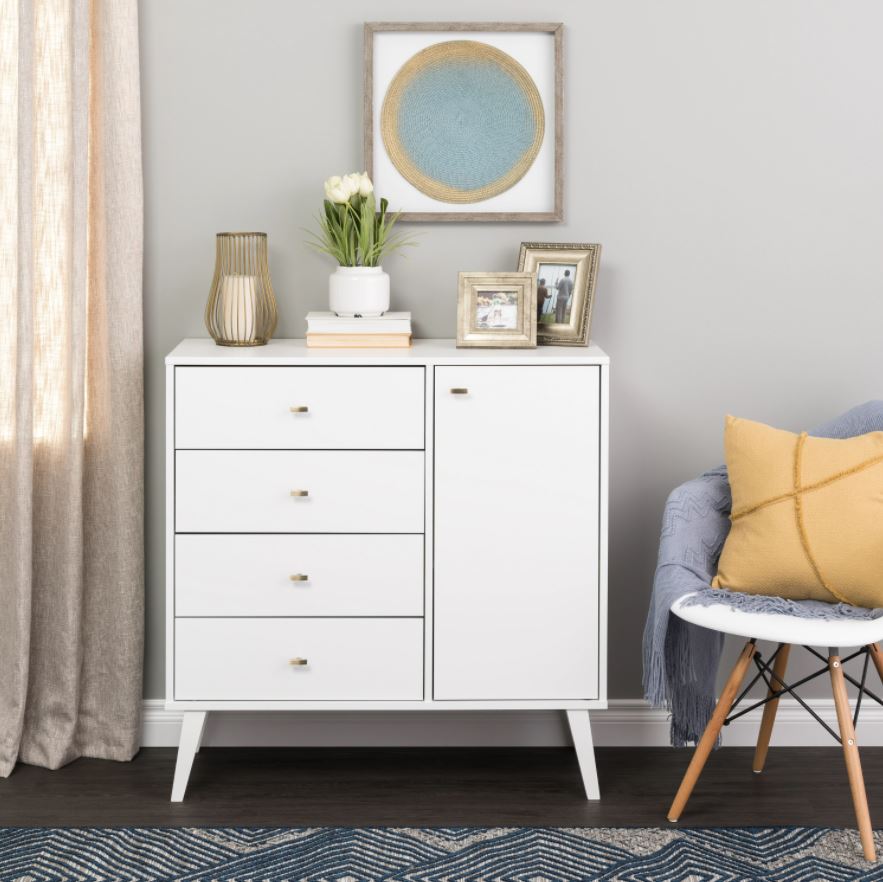 Choosing a dresser with a variety of different storage options can help you to make the most of a small bedroom. This gorgeous mid-century modern style dresser will fit neatly into a small space, while still providing you with plenty of storage space for clothes and accessories.
This style will work well in contemporary bedrooms and can be styled with some abstract art, books, and fresh flowers. Since it's white, it will look best against a grey or pastel-colored wall to allow it to really stand out.
Timeless Classic Pine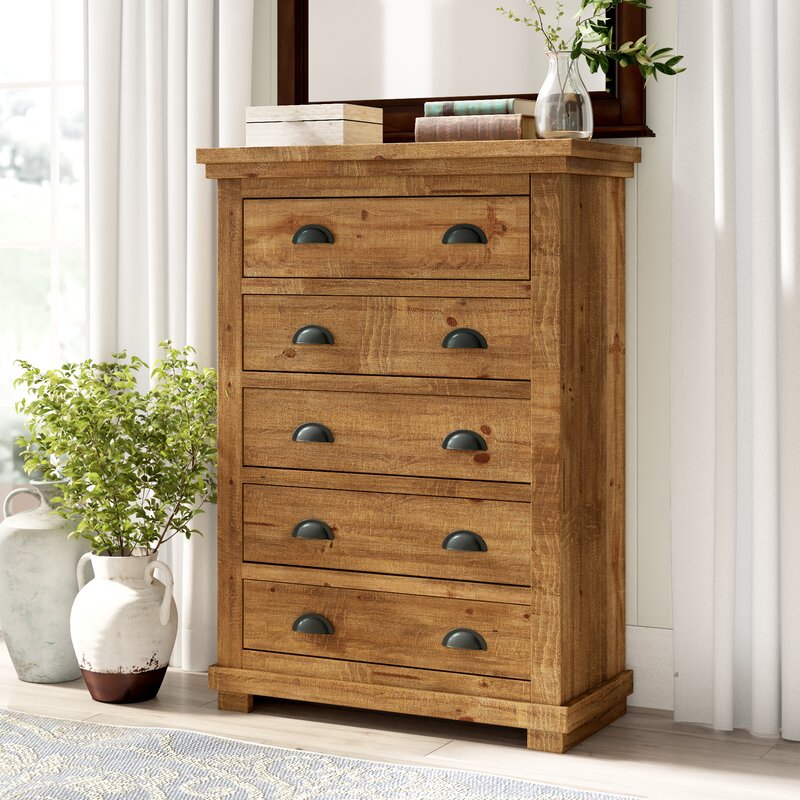 Pine furniture will never go out of style, and choosing a pine dresser will help to create an effortlessly stylish, classic look in your bedroom. If you want a pine dresser with a slightly more contemporary look, you can choose one with chunky metal handles like this, or add your own.
Keep it simple by using lots of white in your bedroom, and style with a mirror and some delicate foliage. This will give your room a natural, airy feel, creating a relaxing space for you to lounge in on long lazy Sunday mornings.
Create an Impact With an Asymmetrical Design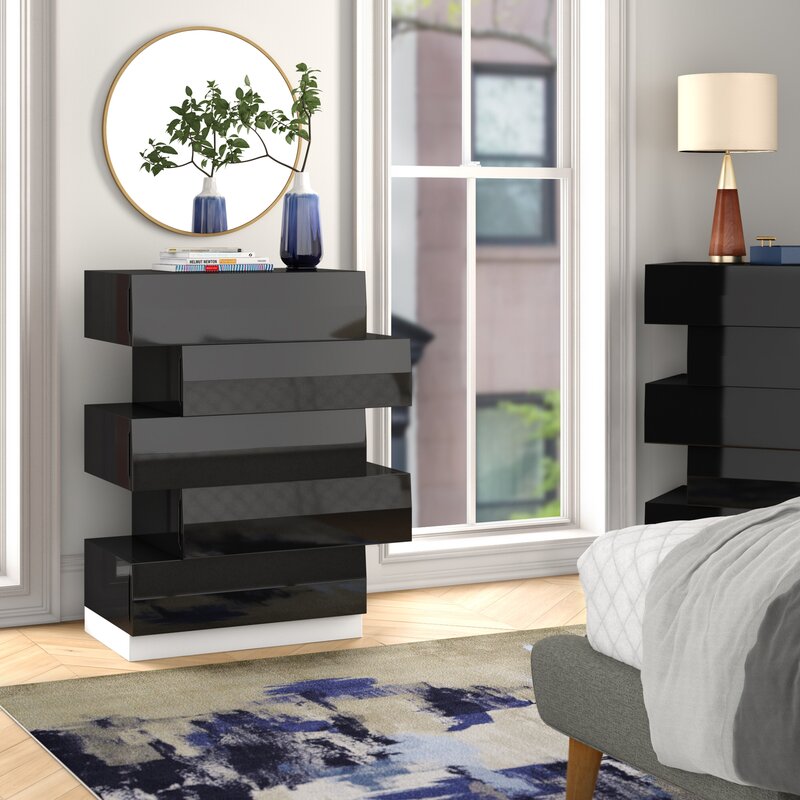 If you want to make a big statement in a small space, consider choosing a dresser with an asymmetrical design. This unusual dresser is almost like a work of art in itself and is a great way to get a designer look in a smaller bedroom.
A black dresser will work well in a modern, minimalist bedroom, and will look best placed against a white wall to create a stark contrast.
Small But Perfectly Formed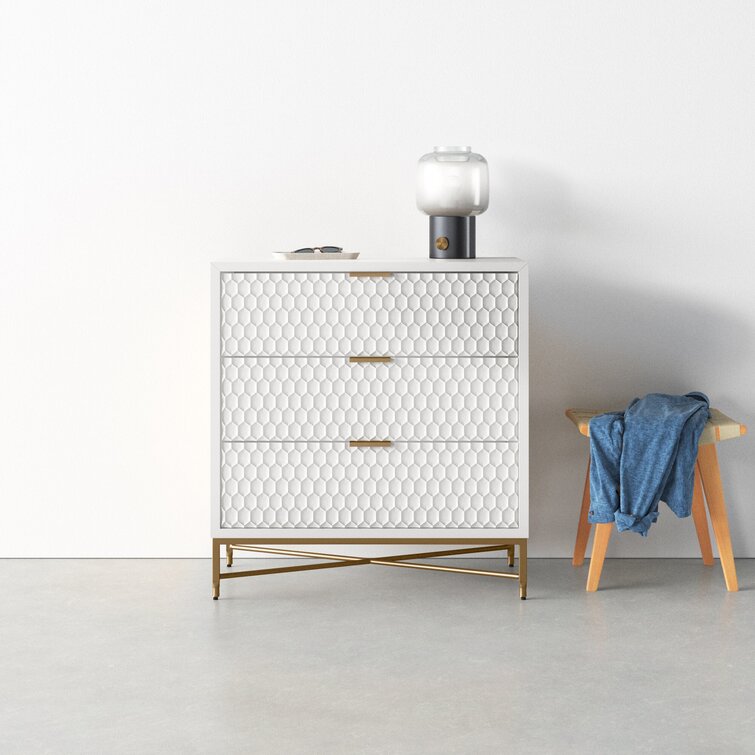 Small dressers don't have to be boring. Choosing a dresser with an unusual texture can bring another element of depth and interest to your room, even if you've only got a small space to work with.
The color, texture, and materials of this gorgeous dresser all work together to create an elegant, feminine design that would be a great addition to any bedroom. Dressers like this can be styled very minimally, with a contemporary lamp and a dish for your jewelry.
Black Metal for a Bold Industrial Look
If you love the industrial look, choosing a metal dresser like this is a great way to bring that feeling into your home. Black metal will contrast well against white walls to create a bold, masculine look.
This style is perfect for teenagers, or anyone else who wants to make a statement with a more unusual piece of furniture. Complete the look with a round mirror to balance out all of the straight lines and an industrial-style table lamp.
Embrace Natural Wood Tones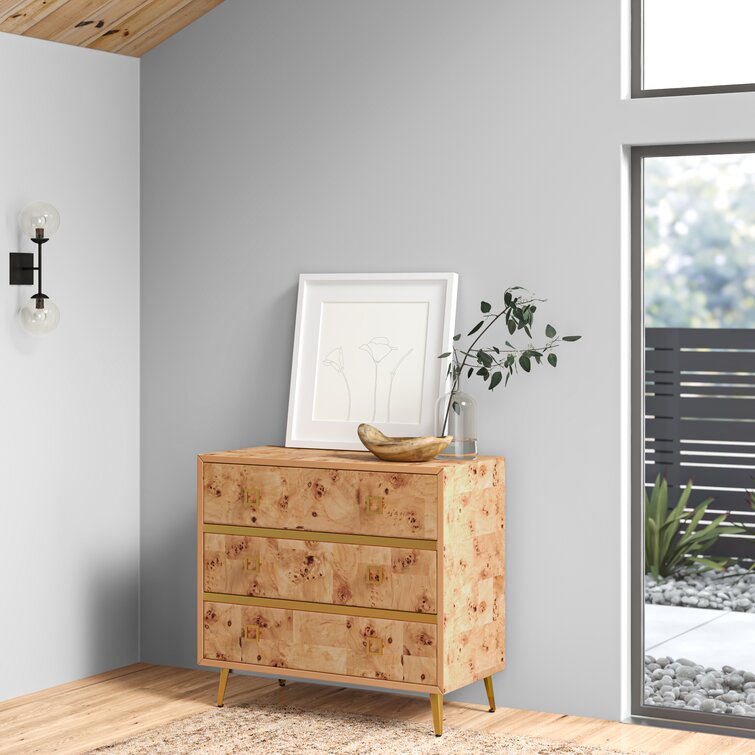 Choosing a dresser made from natural, unpainted wood is a great way to add color, warmth, and texture to a minimal bedroom. The natural knots and color variations in this dresser are what make it such an interesting piece, while gold accents give it just a hint of femininity and glamour.
A dresser like this should be styled minimally. Try using some simple artwork or a round mirror, along with a minimal vase and a wooden bowl for trinkets to finish the look.
Save Space With a Small, Narrow Dresser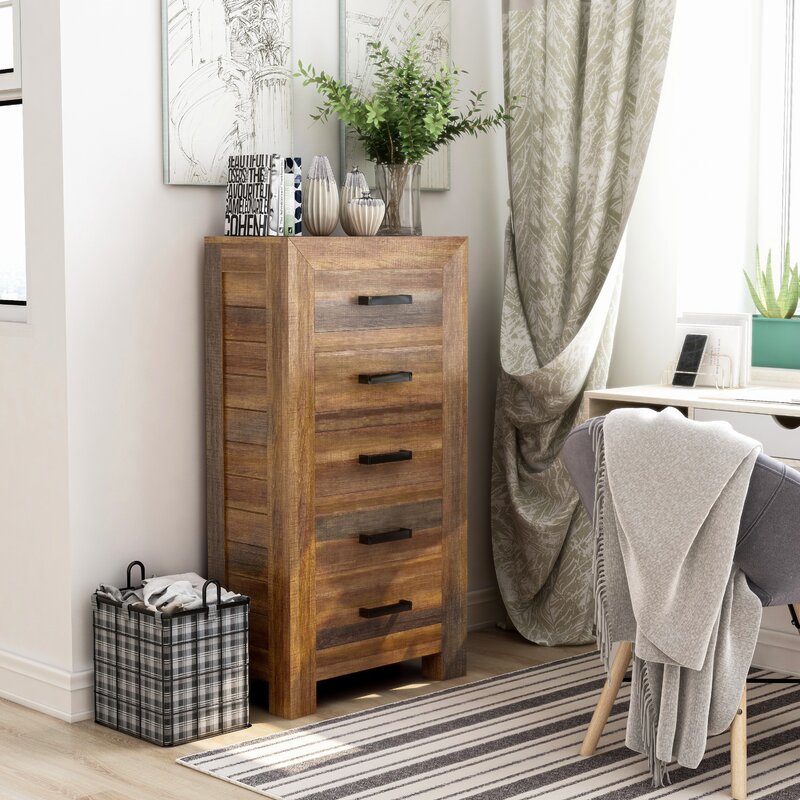 A tall, narrow dresser is the perfect solution for anyone with a very small bedroom. Because this dresser is slim and narrow, it takes up hardly any floor space, but the height means it can still provide plenty of storage.
A small wooden dresser like this one will work well with most decor styles, and the natural wood design is unlikely to go out of style anytime soon, making it a great investment piece. Style with a vase of fresh green leaves to enhance the natural feeling of the wood.
Get a Contemporary Look With a Geometric Design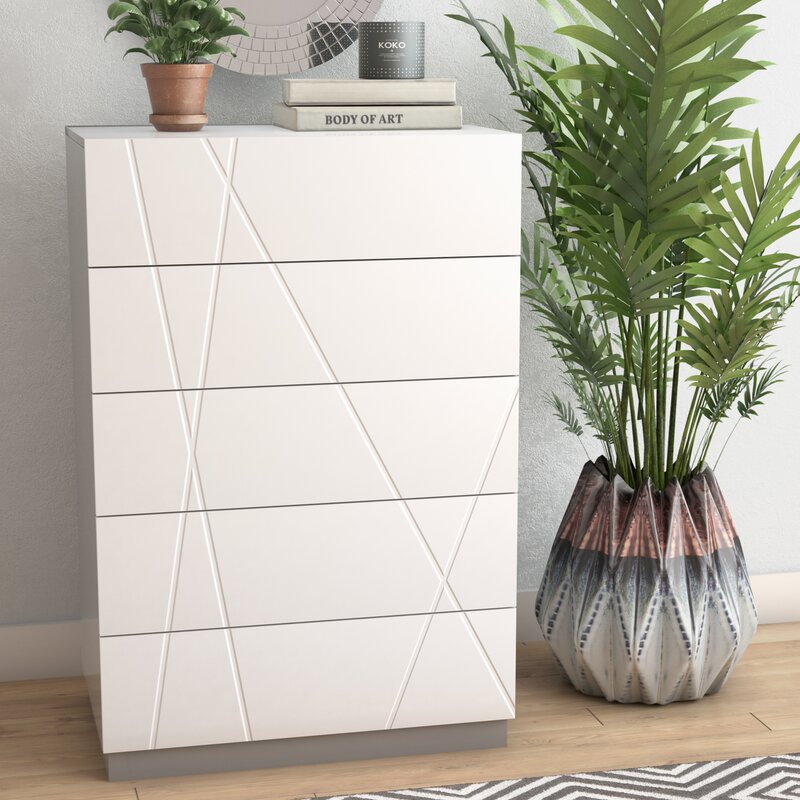 An easy way to get a contemporary look in your bedroom is by choosing a dresser with a geometric design. Clean lines and an abstract geometric design make this small white dresser the perfect addition to any contemporary bedroom.
Keep it simple when it comes to styling a contemporary dresser. A leafy houseplant along with some simple books and a candle is all that's needed to finish off this look.
Choose a Colorful Distressed Finish for a Touch Vintage Country Charm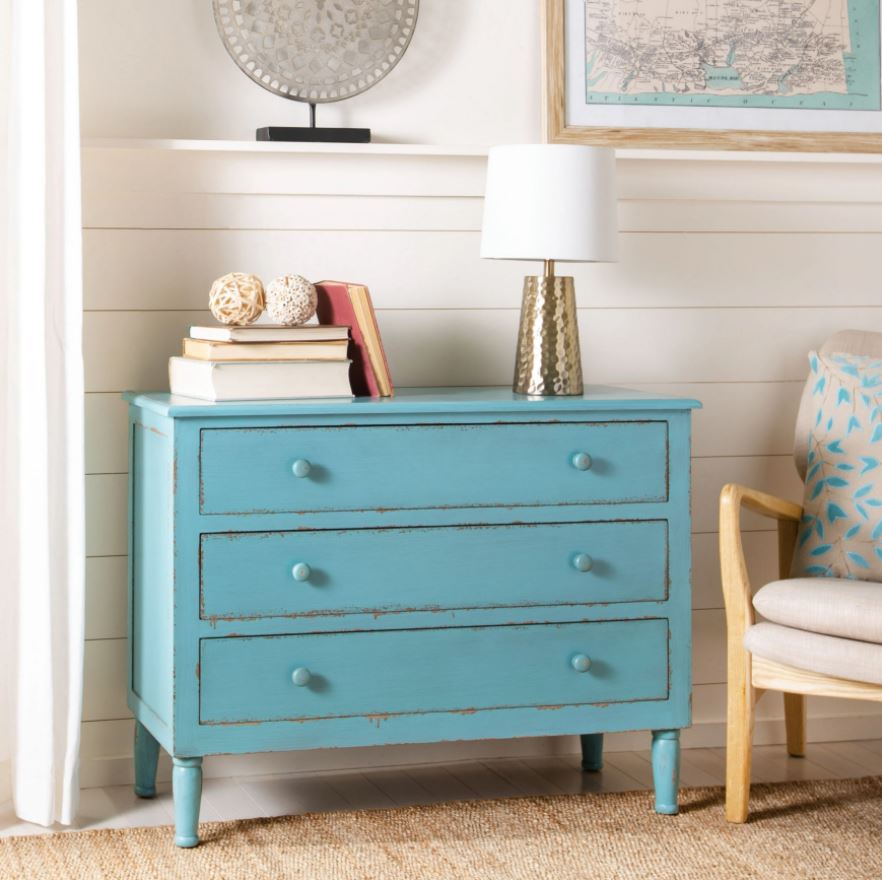 A colorful, distressed dresser is the perfect way to add some country charm to your bedroom. This small dresser is full of personality and fun, and a great way to add a splash of color to your space.
Distressed paint finishes are a great choice for homes with families and pets, as any dents, scratches, and knocks will simply add more character to the piece. Style a dresser like this with an equally interesting table lamp, and an eclectic mix of books and ornaments.
Buy a Tall Dresser to Save Space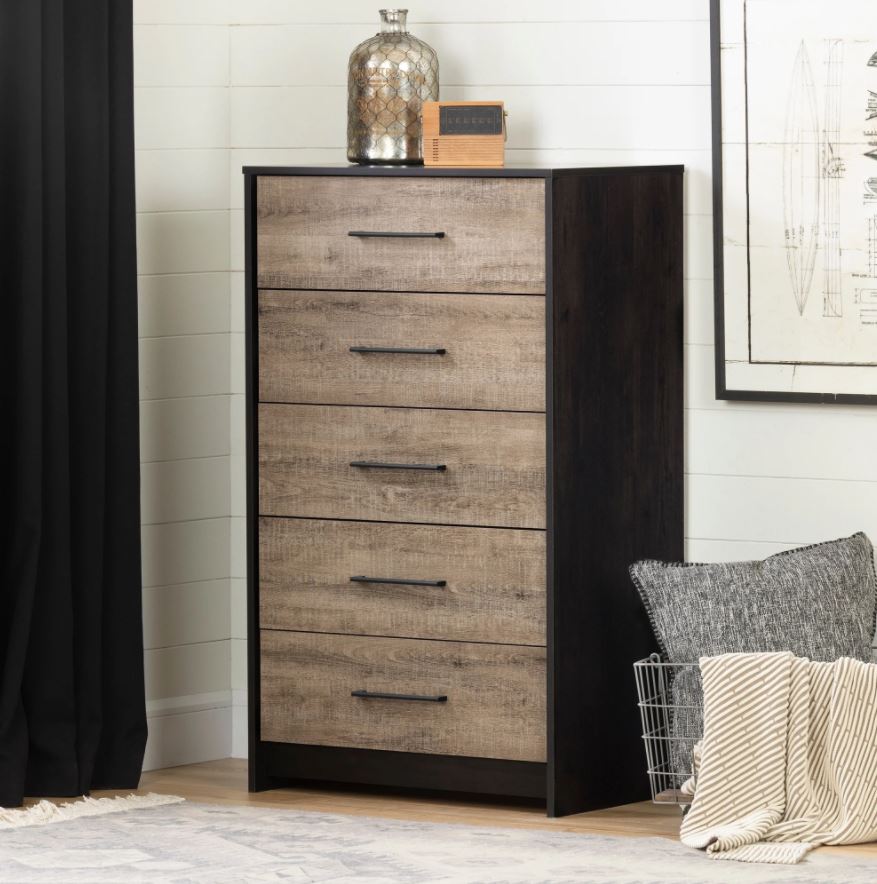 Choosing a taller dresser for your bedroom will help you get as much storage as possible into a small space. The taller the better! It's important to make sure tall dressers are anchored to the walls, as they can tip over easily which could be dangerous for small children or pets.
It may not be practical to hang a mirror over a taller dresser, so you can style it using artwork on the wall above it instead.
Add a Touch of Glamour With a Tall Mirrored Dresser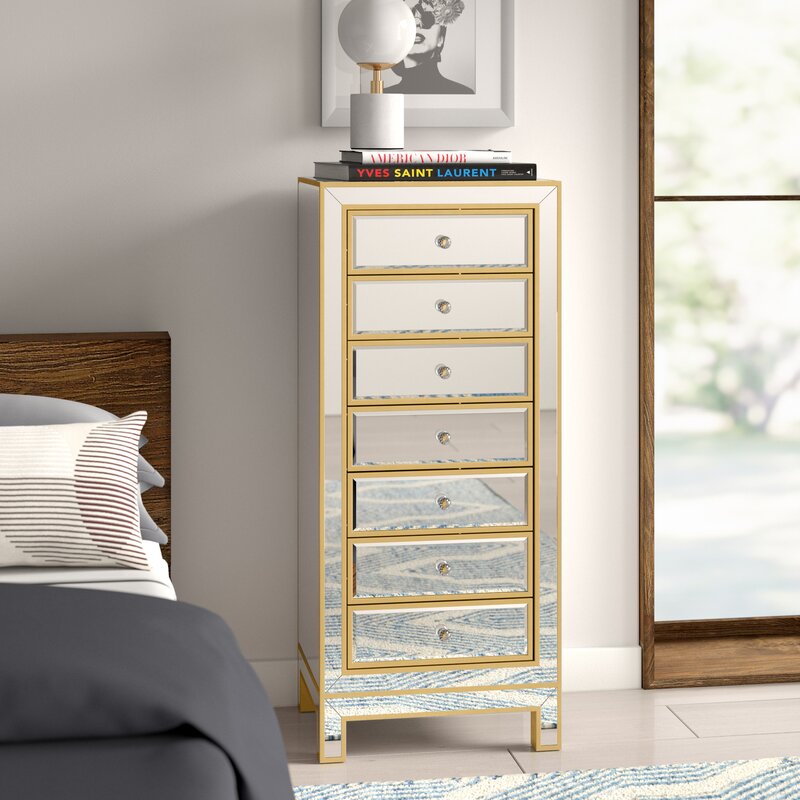 If you want to add a touch of transitional glamour to your bedroom, look out for a tall dresser with a mirrored finish. This gorgeous dresser is actually a lingerie chest, but it can easily be repurposed to make the perfect small dresser for anyone working with a tight space.
Transitional interiors are popular at the moment, creating the perfect balance between traditional and modern design. Styling a mirrored dresser like this with a chic table lamp and some designer books is the perfect way to mix it up.
Keep it Simple and Chic With a Driftwood Style Dresser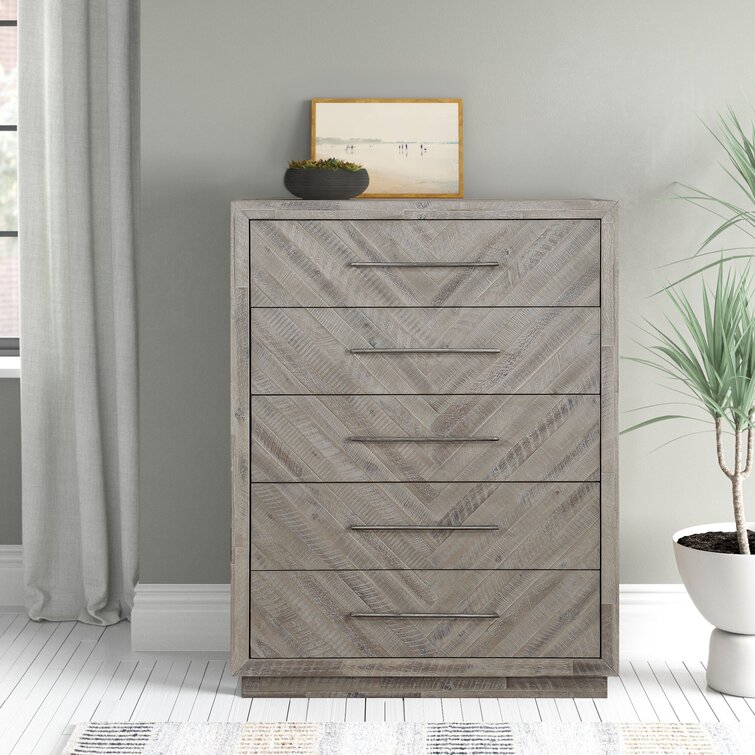 The beauty and simplicity of natural driftwood is a great way to bring a sense of calmness and serenity to your home. If you're on the lookout for a wooden dresser with a more contemporary feel to it, then look out for different finishes, such as this stunning herringbone pattern on these drawers.
A dresser like this will work best in a contemporary home, or even a modern beach house with its distressed driftwood style finish. Keep it simple by styling with a potted succulent and some framed coastal artwork to add to the beachy vibes.
Tall and Slim White Wooden Dresser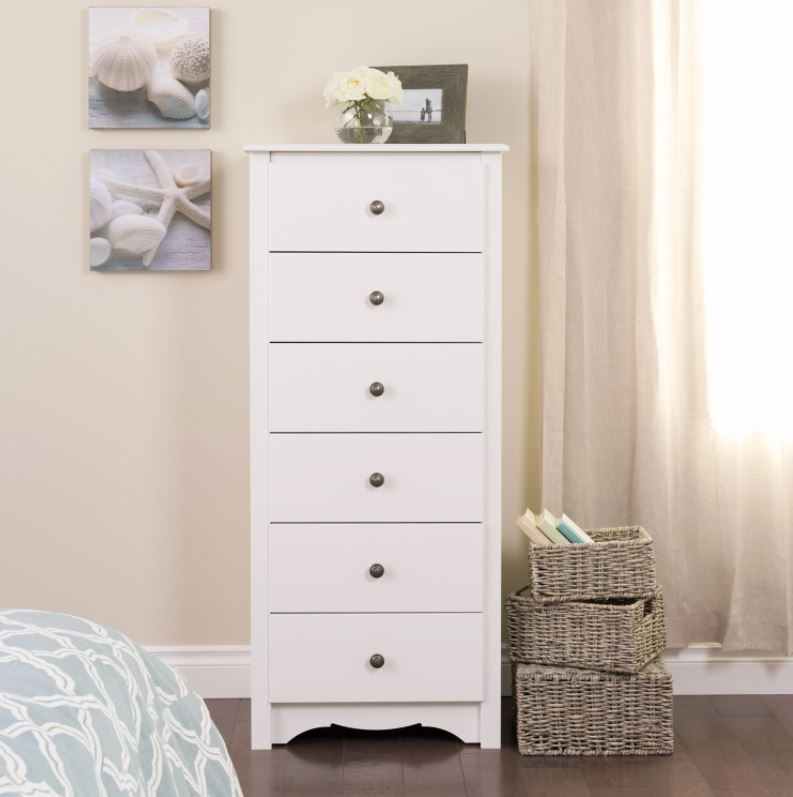 A tall slender white dresser is the perfect addition to a feminine bedroom. A dresser like this won't take up much floor space, leaving you plenty of room for furniture or other items in your room without compromising on storage space.
White dressers will work well with most decor styles, but they work especially well against colored walls, which will allow the furniture to stand out. To complete the feminine look, style with a vase of fresh flowers.
A Stylish Mid Century Modern Dresser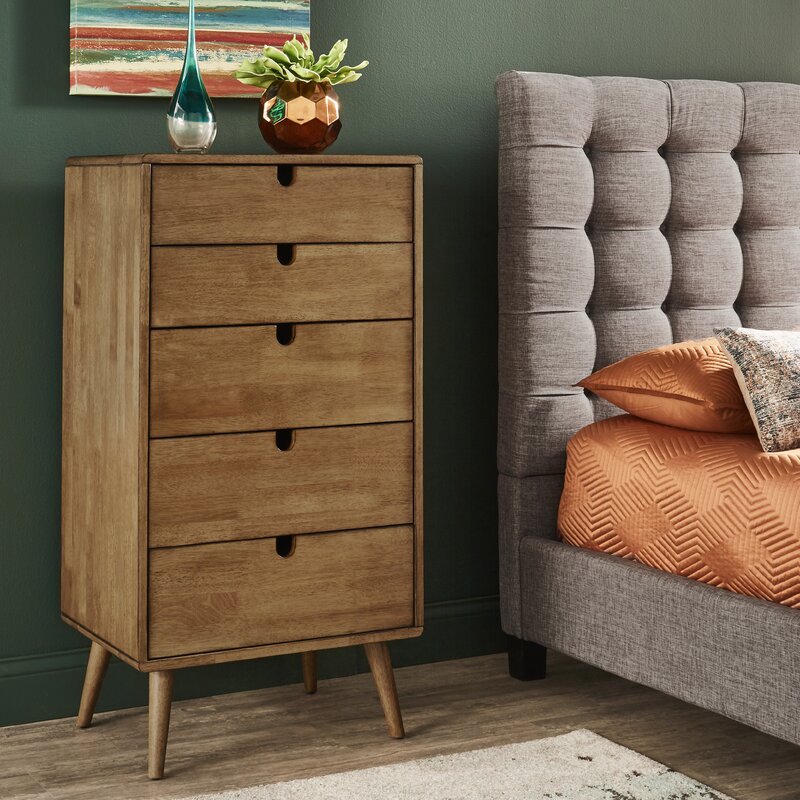 Mid-century modern design is here to stay. If you've been looking for a small mid-century dresser for your bedroom, you will be pleased to know that there are a lot of choices available in this style.
This style can work well with both modern and transitional decor styles, as well as with chic Scandinavian interiors. Quality craftsmanship and functional design are key to this style, so try using lots of beautiful natural materials such as linen and wool in the rest of your room to fully embrace this look.
Tips for Choosing a Small Dresser
Even if you've got a small bedroom, you can still make the most of your space by choosing a stylish small dresser. Thankfully, there are a lot to choose from, but finding the right one for your room can be a little more tricky. Here are some professional tips to help you find the right dresser for your small space.
Measuring your bedroom
When it comes to arranging furniture in your bedroom there are a few key 'rules' you should stick to ensure that the space is comfortable and easy to move around in.
30-36 inches is the ideal minimum space for the entry and main area of your bedroom. This will give you enough room to walk around and reach the things you need. You should also try to leave at least 24 inches clear around your bed. If you want to add a dresser into a room where space is very limited, try to choose one with a narrow profile.
Choosing a style
When choosing a small dresser for your bedroom, you should make sure it is in keeping with the style of the rest of your bedroom decor.
Minimalist – If you have a minimal bedroom, look out for simple dresser designs featuring clean lines and minimal adornments.
Transitional Design – Mirrored finishes and luxurious details are the perfect addition to transitional-style bedrooms.
Scandinavian – Keep it simple. Look out for natural materials and quality craftsmanship. Mid-century modern designs tend to work well in Scandi-style bedrooms.
Industrial – Unfinished wood and dark metal are ideal for creating an industrial look.
Modern Farmhouse – A classic pine dresser will work wonders in a modern farmhouse-style bedroom.
How to style a small dresser
A small dresser can still make a big impact with the right styling. Here are three tips for styling a petite dresser.
Start with a round mirror. A round or hexagonal mirror will sit perfectly over a smaller dresser, creating an area to get ready in the morning.
Add a lamp or vase on one side of the dresser for height.
Add a decorative bowl or dish on the other side to store jewelry and other trinkets you reach for on a daily basis.
Following these rules will help you find the perfect stylish dresser for your small bedroom.