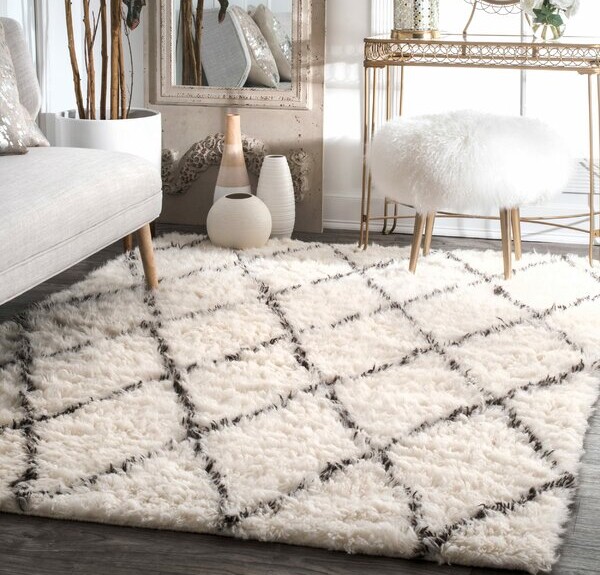 You stare at your gloomy grey couch sitting in the corner of your living room. You don't want to buy a new couch, but your room feels lackluster. It needs something to bring life back into it, but what?
Have you ever thought of adding a rug? Rugs can do miracles with plain and dull furniture!
You might be thinking, "there are so many rugs out there, which one will look good with my grey couch?!" To make it easier for you, we compiled a list of 15 stunning rugs that go with a grey couch.
1. Modern Blue Galactic Battle Rug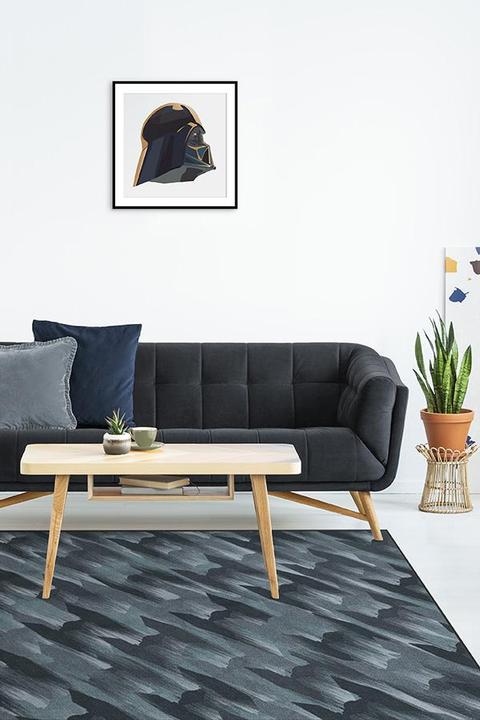 The galactic blue grey rug was made for our Star Wars fans out there for sure! Even if you aren't into Star Wars, this pattern has a smooth flowing pattern that matches well with a dark grey couch.
The houndstooth pattern is incredibly unique! You can buy this rug as an area rug, runner, or round rug to best fit your room size. This rug is easy to vacuum and clean with pets around.
2. Navy Paisley Bohemian Rug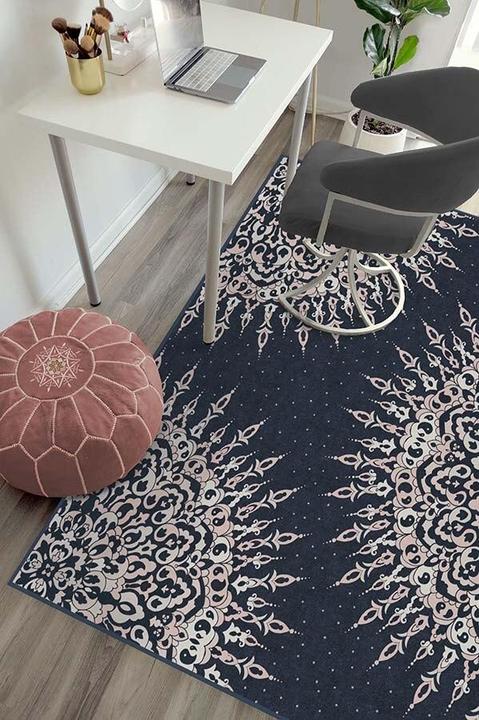 The Navy Paisley rug has a beautiful contrast that can make your grey couch pop. The fun polka dots, paisley, and filigree patterned Boho rug a perfect addition to cheering up any gloomy couch.
A light-to-medium-colored grey couch would match best with this dark navy carpet. If you are into the Bohemian style and have tweens or teenagers, this is a great rug for you.
3. Handmade Shag Wool Beige Carpet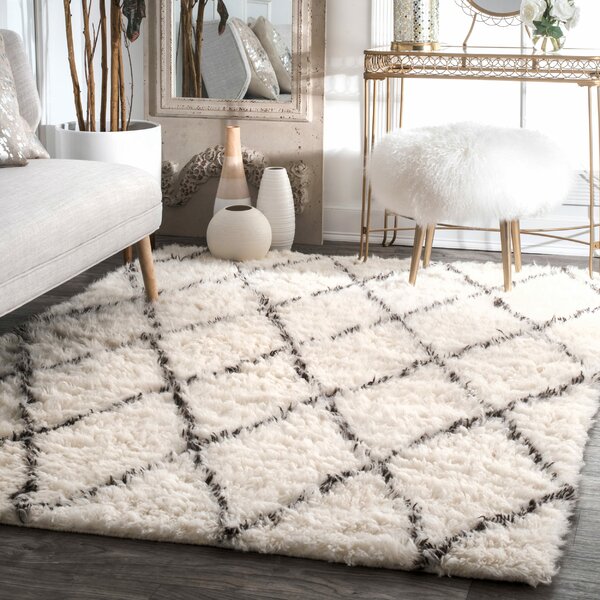 So Soft! If you're all about the soft and warm fluff underneath your feet in the morning, you can't go wrong with the handmade shag wool rug.
Shag wool rugs that go with a grey couch are sometimes hard to come by. Luckily, the colors in this shag carpet will match an in-between grey-colored couch perfectly!
The only downside to owning a shag wool carpet is shedding. If you don't mind vacuuming, the shedding of this fluffy rug shouldn't be a big deal to you.
4. Classic Geometric Plaid Area Rug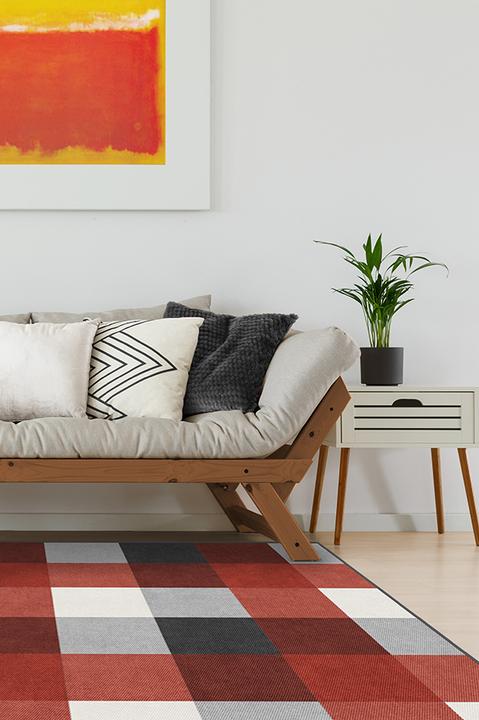 Let's bring back the classics with the vivid red and black plaid rug! This sharp and vivid rug pattern will enhance your dull grey couch in a matter of seconds.
Some of the plaid colors you can choose from are black and red, blue and ivory, black and white, Blackwatch, red and blue, red and white, and green and white. For a rustic-looking room add a black and white plaid rug with your grey couch.
This carpet is easy to wash and set up. People who enjoy bold colors and rustic living do well with this rug.
5. Transitional Persian Steel Blue Rug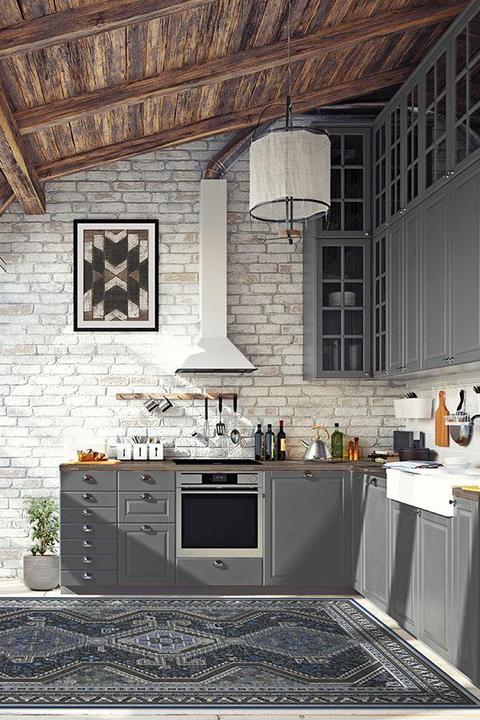 The pattern on the transitional Persian rug jumps out at you! It could pass as 3D.
Rich imagery Persian rugs go with a grey couch extremely well. Besides Steel blue, you can also order this carpet in other shapes and colors such as an Oxblood red runner, a paprika red area rug, or a scarlet red round rug.
Though if you are trying to match a light grey couch to this carpet, you'll want to stick with the blue steel color. The red-colored Persian rug might overpower your light grey couch.
6. Silver Diamond Moroccan Rug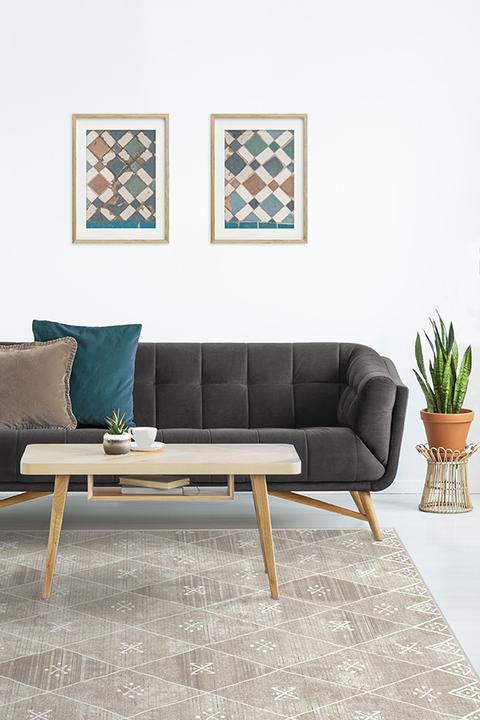 The silver diamond Moroccan rug uplifts a grey couch while keeping a room feeling relaxed. It nails the structured meets unstructured aesthetic appeal.
The light mushroom tone brings warmth to a cool grey couch. If you aren't crazy about busy patterns and you're going for a simpler design, this silver diamond rug will go great with your grey couch.
Rose gold is another color you can choose from that also gives your living quarters a more relaxed feel. If you love the pattern but want a vibrant color, match the polychrome green color with a dark grey couch.
7. Terracotta Southwestern Flavored Rug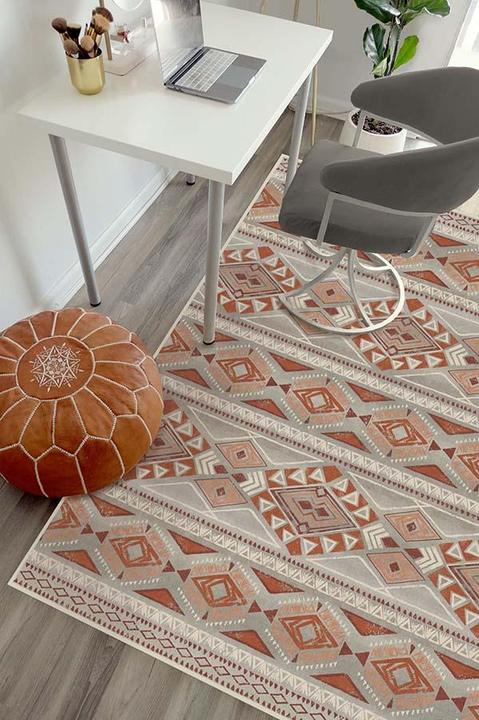 Put your hands up if you're searching for an eclectic style rug. This the rug for you then. The diamond terracotta pattern and sandy orange color tie well with a grey couch.
The dynamic geometric motif and southwestern flavor warm up a cool-toned room nicely. The pattern isn't bold enough to devour the room and it isn't simple enough to fade into a grey couch or cool backdrop.
The blue and grey terracotta rugs that go with a grey couch are also wonderful options to choose from. They will keep a cool tone to your living space.
8. Ivory Glam Tufted Round Rug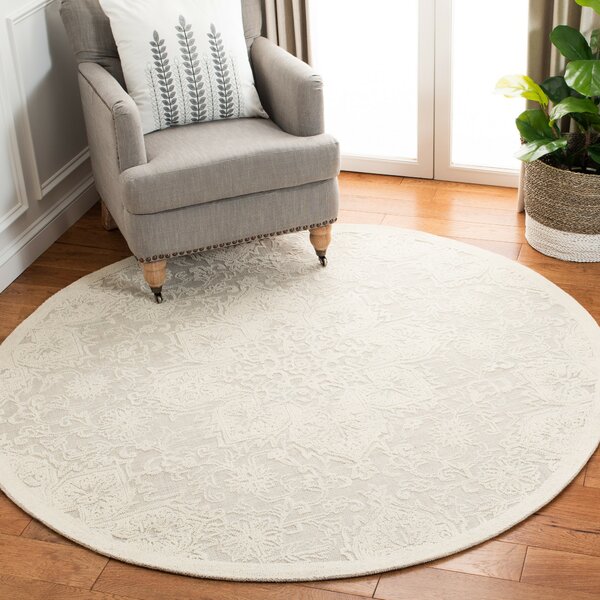 Simple, delicate, but elaborate, the ivory glam tufted rug goes flawlessly with a light grey couch. The round rug gives off a daintier appeal for those of us looking for the "glam wow" factor.
If you own a dark grey couch, then choose a cooler colored carpet like the grey beige rug. Also, if round isn't your thing, there are rectangular options as well.
These carpets are handmade tufted from India. The wool fabric brings a pleasant and welcoming warmth to those chilly toes during the colder months!
9. Contemporary Leopard Print Patterned Rug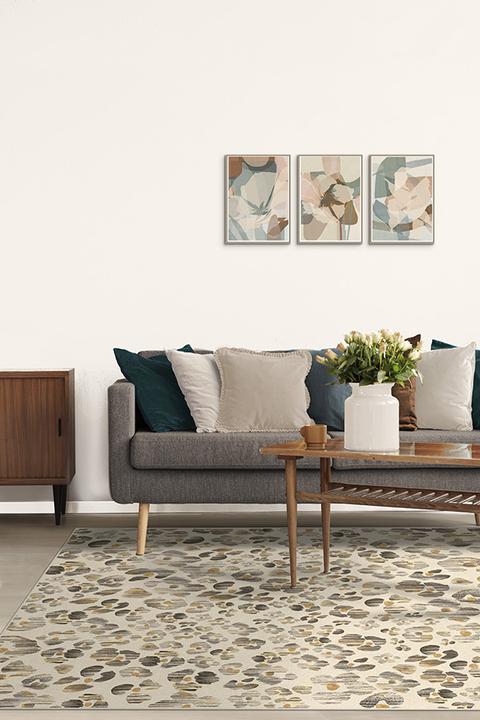 Super fashionable! Where are the leopard print enthusiasts out there?! This carpet is screaming your name.
The contemporary leopard print rug lightens up a room and pairs with a grey couch properly. The color blend consists of light cream, dark walnut, coriander, and goldenrod.
This rug is exceptionally durable and easy to clean because it's made thinner than some carpets. Thought this carpet tends to catch on office chairs wheels, so if your grey couch is in your office, you may want to move it to another room.
10. Vintage Yellow And Grey Floral Rug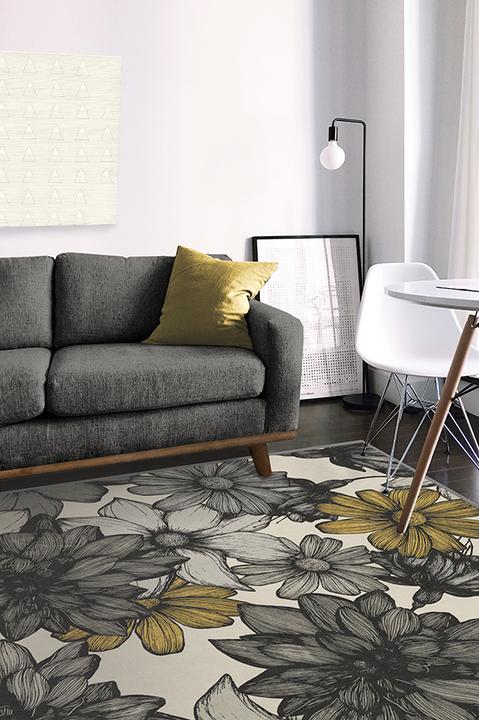 Vintage has never looked so good! The grey, off-white, and deep yellow colors on this floral rug are great for artists or anyone who enjoys vintage.
These rugs stay in their place especially if you add a regular or cushioned pad underneath them. Just like in the photo above, adding a matching pillow to your grey carpet connects the two.
11. White And Blue Striped Wool Rug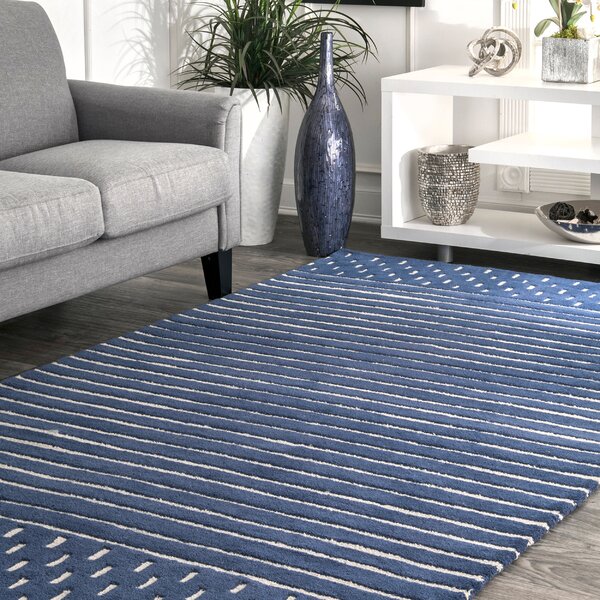 The blue tufted 100% wool striped rug is built for the indoors, so if your grey couch is outdoors, you're out of luck on this beauty. The white lines flowing away from the couch change the energy in a room.
These carpets were made in India and sit higher off the ground than some previously mentioned rugs. Care instructions recommend vacuuming without a beater bar/rotating brush and spot cleaning when needed.
There aren't any harmful chemicals used in the making of these types of rugs. Also, they are latex-free, for anyone who has latex sensitivities or allergies.
12. Victoria Teal Green Persian Rug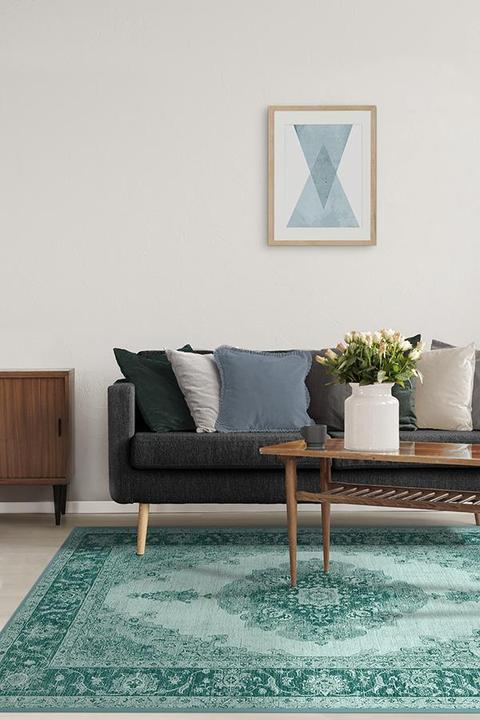 Vintage charm and decorative richness, this teal green Victoria rug are terrific! Now just place it next to your dark grey couch, and it's a match made from heaven.
If you love the Persian and traditional décor style, then this is a dream come true! The other color options are garnet, slate blue, danish yellow, grey, and taupe.
The stylish sophistication of these rugs makes them quite versatile. This means even if your décor style isn't Persian or traditional, this rug may be a good fit with your grey couch.
13. Crosshatch Natural Accent Rug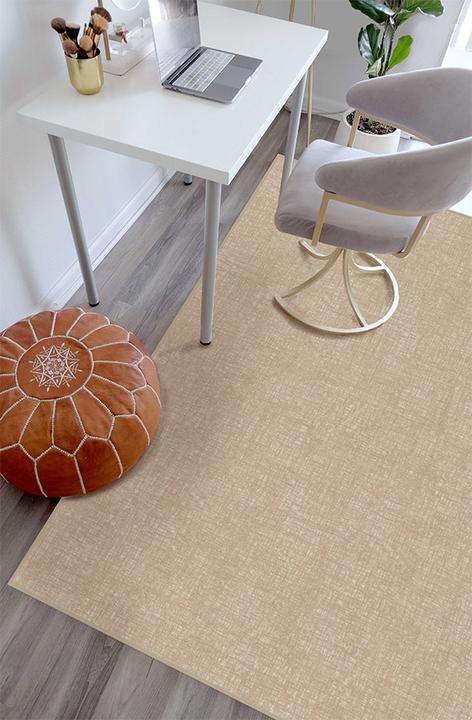 This carpet whispers to the minimalist design style. The crosshatch natural accent rug is simple and clean. Nothing about this rug is excessive or flamboyant.
The neutral hues of dark cream, muslin, and sand dollar pair nicely with a light-to-medium-colored grey couch. Sapphire and light grey are two other terrific rug color options that go well with a grey couch.
14. Modern Wide-Stripe Handwoven Rug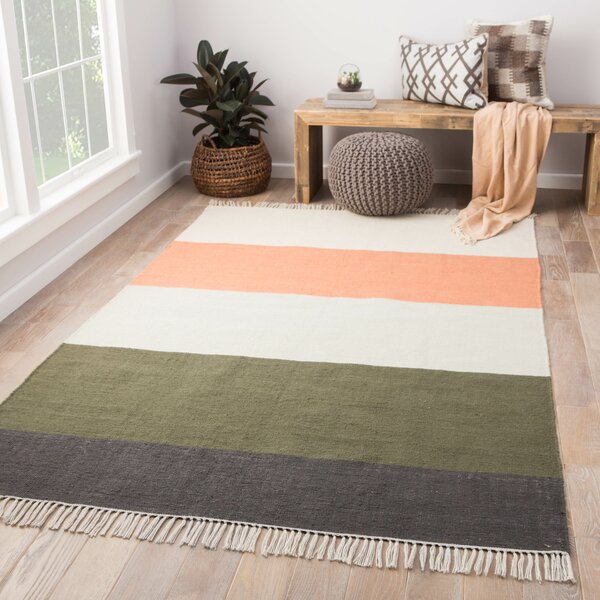 The handwoven salmon and grey carpet only come in a rectangular shape. It's perfect for modern-day living. The wide stripes emphasize space in a room.
It's 100% polyester and weatherproofed for placement indoors or outdoors. This rug is stain-resistant and reversible! These beautiful rugs go with a light or dark couch with no problems.
15. Disney Inspired Trellis Slate Rug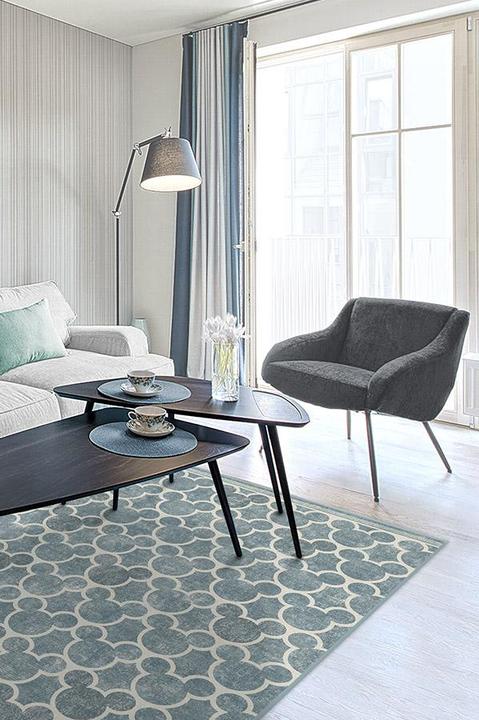 You might be a grown-up but that doesn't mean you have to hide away those happy childhood memories of Mickey Mouse. This rug is suitable for adults who love Disney and/or have kids who watch the Disney channel.
The Disney trellis rug is made well and is super easy to clean. It makes for a wonderful Disney-themed room. Medium-to-dark-colored grey couches match well with both the Mickey outline and color of this rug.
Buyer's Guide For Rugs That Go With A Grey Couch
For the galactic grey and blue rug, you can play with other tones of grey pillows to place on your couch. Choose either a simple designed pillow or plain pillow to highlight that amazing Star Wars rug of yours!
You can probably get away with adding a light faded pink on a grey couch to match the navy-blue paisley rug. Find a Boho chic cotton picture frame to hang on the wall.
Place a salmon-colored blanket on a dark grey couch and match it to the wide striped modern carpet. Add a glass coffee table and your room is brand new!
Grey Couch Design Style Tips
Eclectic Design Style = light grey couch with colorful blankets, pillows, and surprising elements (like ahexagon-shaped mirror or metal antique vase)
Modern/Contemporary/Minimalist Design Style = grey couch with neutral-colored blankets (giving asoft feel-good vibe), pillows, and décor
Moroccan/Turkish/Persian Design Style = bright colored patterned rug, light or neutral toned wall (to prevent busyness), colorful patterned pillows that match the carpet
Rug Sizing Tips
A bigger carpet is always better than asmaller carpet
Echo arooms dimensions (e.g.long rooms, orient arug lengthwise)
Visualize how acarpet will look by using the Painters Tape Mock-Up Technique
Create a high contrast of color with a dark grey couch and pearl white walls. This can make a dark grey sofa stand out in a room.
You can also pepper shades of grey throughout a whole room to connect your grey couch to other furnishings. If you choose this, you'll want to stick to a neutral color scheme.
Conclusion
There are many types, colors, and patterns of rugs that go with a grey couch. Selecting one should come easier now that you have a great list of 15 stunning rugs from different design styles.
Whether you choose bold plaid, colorful boho paisley, or soft shaggy wool, these rugs will elevate your gloomy grey couch. Each unique design will create a new look and charm for your room.
Find the rug that's meant for you, be happy with your new look, and don't forget to have fun while you're doing it!