Here's a look at the best east coast interior designers for your next upgrade…
Katie Ridder Inc
As New York Home observed, Katie Ridder's "trademark is the ease with which she bridges cultures and continents, high and low art, periods and styles. Yet to call her work eclectic is to miss the point, for while it reflects diverse influences, it's recognizably the product of a single sensibility—one with a distinctive take on color, texture, proportion and scale."
Katie Ridder's extraordinary dexterity with palettes of primary and secondary colors, her playful approach to mixing antiques and modern pieces, and her eye for unusual decorative accents have all established her as a leading, and singular, figure in the world of interior design.
Decor Aid
Décor Aid is modernizing the old school art of interior design. As one of the nation's leading interior design firms, Décor Aid is transforming the industry by making luxurious design effortless and accessible.
During your free in-person consultation, your designer will help you define your needs and offer guidance on how to move forward with a detailed proposal with no minimum purchase. Our world-class team of interior designers were selected from the country's most distinguished firms, and they bring an unparalleled level of expertise and personalization to every project.
Clients get full access to Décor Aid's exclusive trade-only discounts, which range up to 50% off retail prices, and these cost savings often exceed our design fees.
Décor Aid's incredible home makeovers have been featured in ELLE DECOR, House Beautiful, New York magazine, and more.
Thad Hayes Inc
Thad Hayes, Inc. is a New York interior design firm specializing in sensitively conceived projects that are functional, livable spaces with timeless relevance. Hayes' design concepts are infused with knowledge of the decorative arts, fine arts, and expertise in architecture. We balance modern, machined elements with warm, textured, historical ones often weaving a story or dialogue of periods.
Thad Hayes thoughtfully combines personal fine art and furniture collections with modern and antique pieces, as well as Hayes' handcrafted custom designed furniture, lighting, fabrics, and rugs. Whether a modern house in the woods on Martha's Vineyard, or a New York City pied-a-terre penthouse, projects are individually designed based on the personality and lifestyle of each client.
Bunny Williams Inc
Bunny opened her own interior design company, Bunny Williams Incorporated, in 1988 after twenty-two years with the venerable decorating firm, Parish-Hadley Associates. Schooled in the classics, restraint and appropriateness are hallmarks of Bunny's style. Objects, patterns, textures and colors, beautifully balanced, have an appealing undisciplined look — the direct result of great focus and meticulous planning. Bunny Williams' passion for design extends beyond interiors into the garden. For 25 years, Bunny co-owned Treillage Ltd., a garden furniture shop in New York, with antiques dealer John Rosselli.
While beautiful rooms are Bunny's first consideration, client service and attention to detail are of the utmost importance. To that end, Bunny has assembled two highly professional design teams, each headed by an accomplished Senior Designer. The Senior Designers and their teams work with Bunny on clients' homes throughout the United States and abroad.
Cullman & Kravis Inc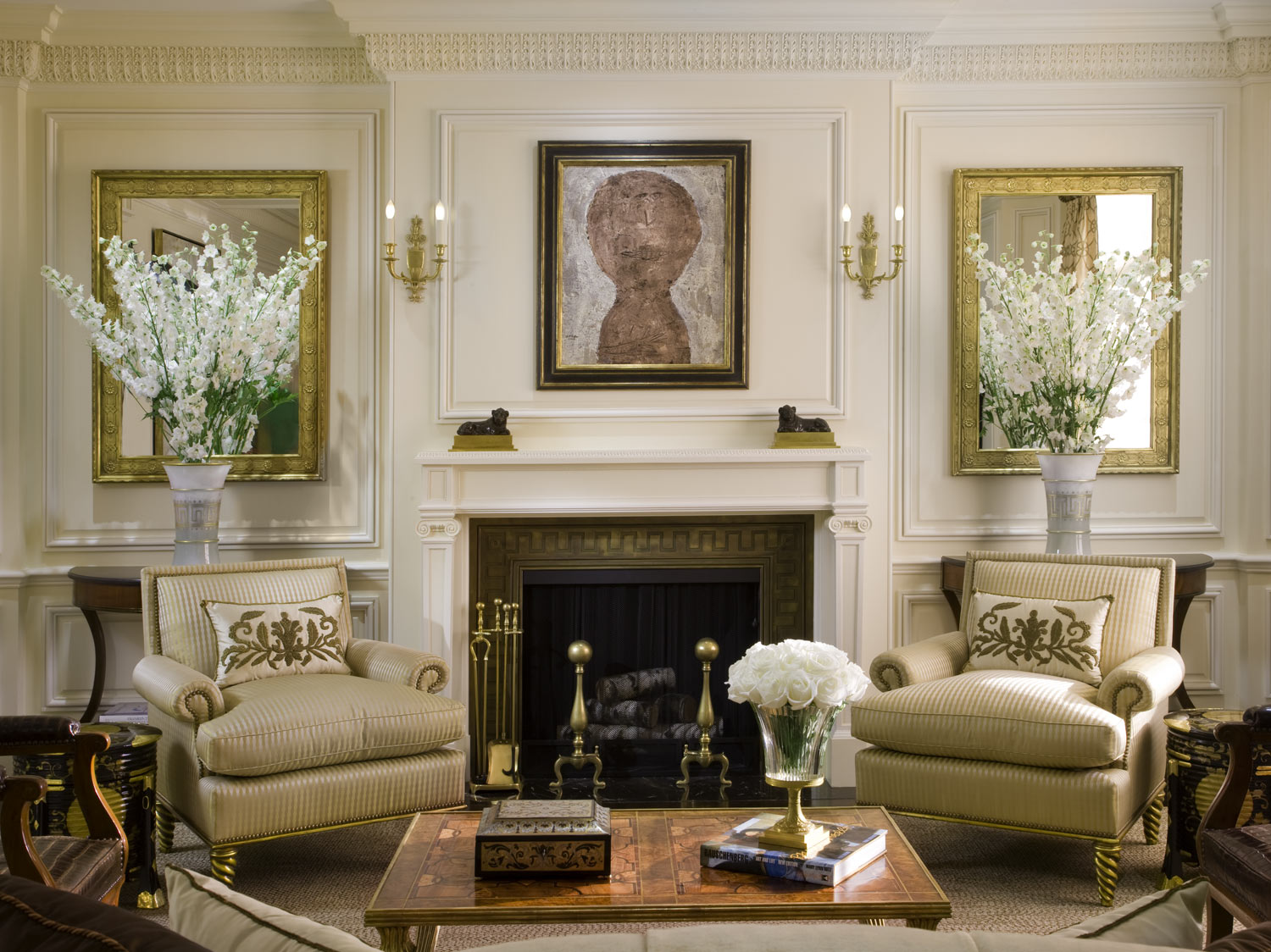 Cullman & Kravis is known for providing the highest quality of design excellence and personal service since 1984. They collaborate closely with their clients to realize their aesthetic ideas and practical needs while adhering to their established budgets. While elegance and practicality is C&K's first objective, their utmost pride comes from the fact that every home they design reflects the personality of the owner, making no two projects the same.
Located in New York City, Cullman & Kravis, Inc. is currently busy working on projects in and around Manhattan, the Hamptons, Connecticut, Massachusetts, New Jersey, Ohio, Florida, Texas, Colorado and Hawaii.
Richard Mishaan Design
The Mishaan touch, stylistically, is an expansive one, which is not surprising—he himself is an expansive person. His combined knowledge of fashion, architecture, and interior design, plus his cultural roots, give him a deep understanding of luxury and quality" Pamela Fiori, Editor-in-Chief, Town & Country.
Born in Colombia, Richard Mishaan began his career by apprenticing in the offices of Philip Johnson after receiving a BA from New York University and attending Columbia University School of Architecture.
Mishaan has authored two books, Modern Luxury and Artfully Modern both published by Monacelli Press, a division of Random House. Artfully Modern was released in November of 2014.
David Kleinberg Design Associates
David Kleinberg Design Associates has been an internationally recognized leader in full-service interior design and architectural renovation for twenty years. The firm has a staff of thirty full-time employees, including five equity partners and is revered for its highly curated and nuanced interiors with a focus on expertly achieved detail and unparalleled client services.
Founded in 1997 by David Kleinberg after a sixteen-year tenure at the venerable Parish-Hadley Design, the firm is widely regarded as an esteemed and invaluable resource for custom interiors appealing to a highly sophisticated and discerning clientele. A signature DKDA interior heralds a careful selection of furniture, art, objects, and materials. These elements are intricately blended to support rather than outshine one another, resulting in rooms that are at once modern and timeless in sensibility and quality.
Carrier & Company Interiors
Jesse Carrier and Mara Miller, the principals of Carrier and Company Interiors, are a husband-and-wife design duo who create rooms that are a confident mix of timeless and contemporary design—both familiar and fresh at once. Always refined and sophisticated, light-filled and airy, the Carriers' work ranges in style from elegantly traditional to luxuriously minimalist to glamorously bohemian. Their rooms feature subtle patterns and neutral palettes punctuated by bursts of exuberance and unexpected mixes of high and low, old and new.
Kenne Shepherd

Kenne Shepherd Interior Design Architecture PLLC (KSI) is a New York based, woman-owned Interior Architectural design firm. KSI is known for creating customized interiors that refine and express the client's unique vision, values and mission into sophisticated, contemporary environments. Combining a passion for design, extensive experience in the construction process and an in-depth understanding of branding and marketing, they take the client from initial concept to the completion of an efficient, memorable interior.
Robin Baron Design Inc
Robin Baron, celebrity interior designer, lifestyle expert, and luxury home-furnishings designer, brings a striking sense of style to everything she does. With an enthusiastic personality and expertise in all things décor and lifestyle, Robin thrives on creating homes that are eclectic, unique and fabulous, while maintaining a warm and inviting atmosphere. Reflecting her motto that "Confidence Begins at Home™", she prides herself on her ability to capture her clients' individual personalities in their homes.
Robin's career took off when she transformed her fashion business into a career in interiors and launched her full-service design firm, Robin Baron Design Inc. The Robin Baron Design team takes NYC interior design projects from pre-construction through the decorating details and finishing touches. Over the years Robin's clientele has grown to include many celebrities including film & TV stars, as well as heads of major corporations such as the Chairman of Reuters and the CEO of DirecTV. Robin feels that the best NYC interior design work comes from the collaboration of her creative vision with the needs and lifestyles of her clients.