Sometimes we can all use a little extra motivation to make it to the office in the morning. When coffee isn't enough, gorgeous desk accessories can help. If a complete home office makeover isn't in the budget right now, or if you just want to add some personality to a soulless work space, adding a matching set of desk gear will instantly perk up your space. Plus, if organization isn't exactly one of your strengths, these accessories make it easy (or easier) to keep your desk in check. Basically, having gorgeous desk accessories will shame you into keeping your desk clean and organized. Whatever works, right? Check out our picks for desk sets that will rock your work world.
Concrete Desk Set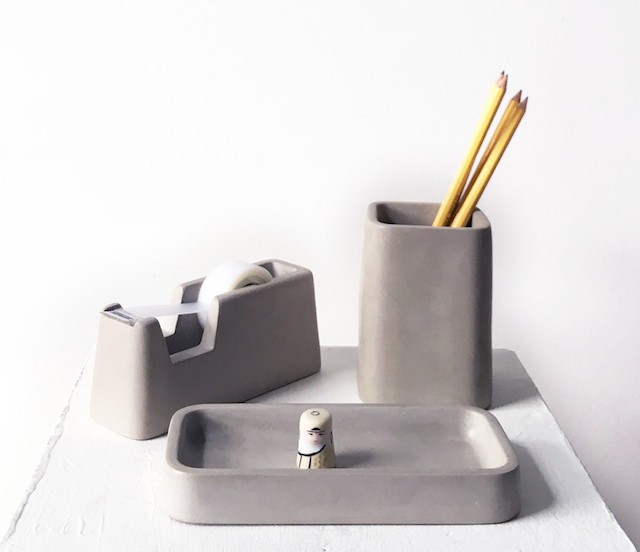 Designed by Magnus Pettersen for Areaware, this solid concrete desk set includes a tape dispenser, pencil holder, and a small tray. This set is ideal for an industrial-themed work space with reclaimed wood and metal accents.
The Drive New York, $50
Abalone Shell Desk Accessories
If you want to think about the beach while you're working, there's a more sophisticated way to do it than displaying a set of souvenir tchotchkes. Instead, consider these elegant desk accessories, which are made of wood composite covered in hand-laid abalone shell.
Desk Accessories Tackle Box
A modern, luxe take on the fisherman's tackle box, this desk set is filled with work day essentials with a girly twist, like pencils, bow push pins and paper clips, sticky notes, and more. These items would fit right in on the Instagram-worthy desk of a style blogger.
Kate Spade, $32
Striped Desk Accessories
You don't have to be a tween to appreciate this delightfully preppy three-piece set of desk accessories, which includes magazine caddy, pencil cup, and tray. The crisp aqua stripes and yellow trim would look great on a modern white desk.
PB Teen, $40
Yellow Starter Set
This glossy, taxi cab yellow desk set comes with a tape dispenser, pen cup, and 12 pens. These cheeky accessories would pop against a minimalist black or white desk.
Poppin, $40