The recent record-breaking lottery jackpot got us thinking, what would it be like to feel blessed enough to sort shopping lists from high to low? With that dream scenario in mind, we turned to Décor Aid designers to tap into their ultimate furniture wishlist for inspiration.
From a rare Persian rug with a jaw-dropping seven-figure price tag to the kitchen of their dreams, here's what would be on our interior designer's agendas if they had a winning lottery ticket in hand.
The Ultimate Persian Rug
'While I would never drop $33 million for a Persian vase carpet like a buyer famously did at an auction in 2013, this Persian Kerman vase carpet sounds like a bargain at $4 million! Plus, it will never lose value if treated well, especially if you layer with it.' – Décor Aid interior designer Lindsey T.
Armani Casa Bar
'I'd take just about anything, any day from Armani Casa if I could, and I've always had my eye on one of their minimal home bars with bold graphic surfaces, that are unfortunately about $20k.' – Décor Aid interior designer Morgan G.
Holly Hunt Sofa
'I fell in love with Holly Hunt's rounded sofas the second I first placed one in a client's home and have been longing for an apartment large enough to house one in ever since, along with everything else I've collected over the years.' – Décor Aid interior designer Hailey B.
Drummonds Bathtub
'The second I moved into my newly constructed apartment in NYC I started missing the idea of having an oversized freestanding tub in my home, and this sweet colored one is just what I need.' – Décor Aid interior designer Michael O.
Smeg Fridge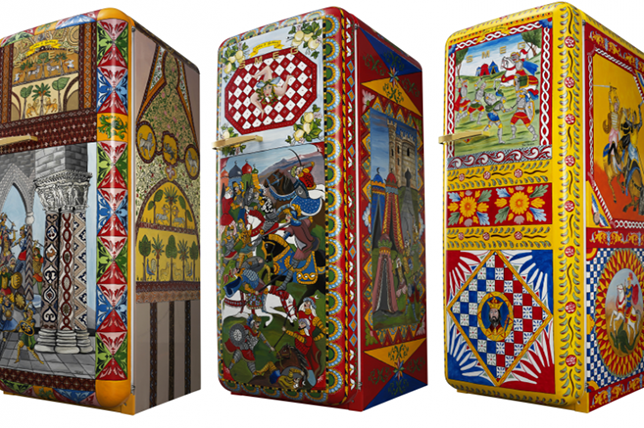 'I've always loved the unique silhouettes and shapes of Smeg fridges, but have yet to place one of these hand-painted limited edition ones by Dolce & Gabbana in a client's home – because they're about 60k! – Décor Aid interior designer Julie C.
Pierre Cardin Furnishings
'Any piece of furniture or accessory from 60's and 70's era Pierre Cardin will always top my list thanks to their timeless, forever-cool factor.' – Décor Aid project manager Ian J.
La Cornue Kitchen
'With its Great Gatsby feel, I've always romanticized the beauty of a La Cornue kitchen with it's over the top glamorous appeal – much more winning than a sleek, ultra-minimal kitchen any day in my book.' – Décor Aid interior designer Elle T.
Built-In Bar
'Sure there are great bar cart options, but if I were to get a new place with a much larger budget, I'd have a custom built-in large-scale bar with a wine cellar to kick back in at the end of the day.' – Décor Aid renovation expert Jon C.
Baccarat Chandelier
'Leave it to Baccarat to lead the way with innovative design with these conversation-starting globe-like chandeliers that will remain forever-cool in any space. That is if they weren't retailing at just under 100k.' – Décor Aid interior designer Natalia P.
Brancusi Sculptures
'As an initial fine-art major, I've been drawn to the spellbinding simplicity of master sculptor Brancusi since my days at college and my appreciation as yet to wane. Plus, they'd make a sound investment for my winnings.' – Décor Aid interior designer Nina G.
Dieter Rams Stereo
'While they may not be the biggest ticket item considered among my fellow designers, electronics of any kind by Dieter Rams have long been on my must-have furniture wishlist as there's nothing else cooler than their minimal, retro charm.' – Décor Aid interior designer Luke B.
Faig Ahmed Wall Hanging
'I've been following artist Faig Ahmed's career explode since his first solo show and have always found his liquified takes on heirloom Persian rugs intriguing and over the top cool. He would definitely be my first and foremost splurge as there is nothing else like his seminal work out there.' – Décor Aid interior designer Carlo M.
Gio Ponti Seating
'With over a hundred monumental buildings completed throughout his career, Italian architect Gio Ponti was also a gifted industrial designer, furniture designer, artist, writer, and publisher, who I've been obsessed with since my early days at design school. What I wouldn't give to have an original!' – Décor Aid interior designer Robert M.
Images via Pinterest