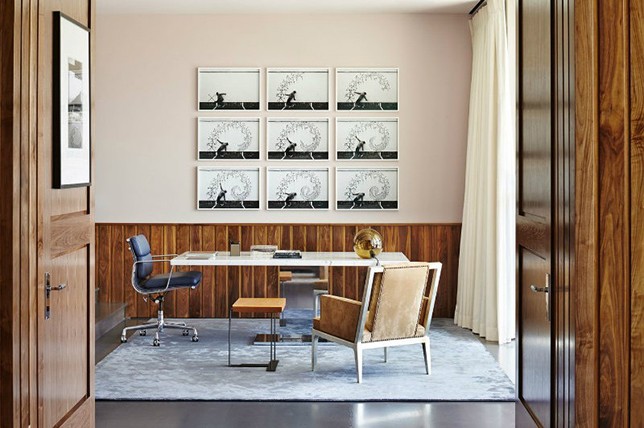 Although the trappings of modern life might allow us to work from anywhere in the home—the sofa, the armchair, curled up under the covers in bed—there's nothing quite like having a dedicated home office. Whether you're writing the next great American novel, doing your bookkeeping, or just updating your Twitter feed with yet another video of hamsters eating things, a home office is the best way to stay energized and focused on the task at hand. A work room of your own is great, but not essential.
Great home offices can be inserted into bedrooms, kitchens, and even that awkwardly-shaped nook in your hallway. If getting some ace office decorating ideas is on your agenda, we've got fifteen beautiful office looks to get you started. For more inspiration, check out this blog post and our Hamptons home office design.
Minimalist Home Office
This minimal Danish home features a home office that nestles snugly inside of a window nook. Excellent for working with natural light! Via Seventy Nine Ideas and Elle Decoration.
Desk Shelving Unit
This French home, designed by Marie-Laure Helmkampf, features a long shelving unit that doubles as a work surface. Via Seventy Nine Ideas.
Office and Living Area
This space, photographed by Derek Swallwell, features an office area that fits right in between the living room and the patio.
Art Wall
This office, photographed by Jonas Ingerstedt, is adorned with art and prints—perfect if you want to work surrounded by beauty.
Slab Desk
This London home designed by Rose Uniacke features a slab desk that cantilevers out from built-in shelving.
Communal Table
This Manhattan loft features a long communal table that doubles as a home office. Photo by Simon Watson. Via Architectural Digest.
Glamorous Home Office
Designed by Kelly Wearstler, this Washington home office has beauty and glamour to spare. Via Elle Decor.
Two-Seat Desk
The home office of Italian fashion designer Stefano Pilati features a two-seat desk, floor-to-ceiling windows, and a cozy Moroccan rug. Designed by Bruno Caron Architectes. Photo by Björn Wallander. Via Architectural Digest.
Parisian-Style Office
The open and airy layout of Laurence and Patrick Seguin's home office is great for letting your ideas float around. Photo by Simon Watson. Via Architectural Digest.
Space-Saving Office
Even a trailer home can have a fabulous home office. Sofie Howard's Malibu trailer features a desk that fits within a hallway nook. Photo by Spencer Lowell. Via Dwell.
Fashionable Home Office
Fashion consultant Andréa Krueger Paris apartment features a corner home office with plenty of light—and beautiful twentieth century furniture. Photo by Brittany Ambridge. Via Domino.
Massimo Vignelli Home Office
The office of legendary design couple Massimo and Lella Vignelli plays with light and scale by pairing dark furniture alongside a large window. Via Noupe.