Whether you live in a cold region or not, there's bound to be a moment when your stuck inside thanks to uncompromising weather that you should use to your advantage. And with temperatures predicted to feel like negative 40 degrees in the Midwest this week, we asked Décor Aid interior designers for helpful interior design updates you should try for when it's simply too cold outside.
From a fresh accent wall to a tidying event for the entire family, here are some inspiring ideas to make the best of your time spent indoors this winter.
Show Your Plants Some Extra TLC
Because they can sometimes go neglected, now would be a great time to nurture and clean your plants and if you have the time and the tools needed, upgrade them to larger pots so they can continue to grow.
And be sure to move your plants a bit closer to windows, and keep them away from drafts and heating vents to keep them alive throughout the winter.
Launder Your Pillows
Another neglected necessity in many a home are pillows that aren't cared for often enough. If you've invested in good quality pillows, instead of replacing them, why not wash them?
This way you'll rest assured that you've freed them of dust mites, allergens, and debris. And if you aren't sure if it's time to completely replace them, test them by folding them in half – if they don't bounce back, they aren't worth cleaning and keeping.
Refresh Storage Solutions
From your kitchen to your bedroom, now would be a great time to refresh your storage solutions for a more organized home. Plus, you never know what forgotten pieces you may come across that you can actually use at the moment.
Re-Edit Everything
If the placement of something has been bothering you for some time now, it would also make for a great time to survey your home and see what needs to go, while taking in what does work for decorative cues.
This will also help in tidying and decluttering your home in a more methodical manner.
Move Pieces Around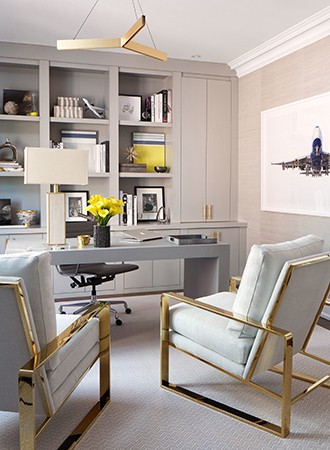 After spending more time indoors than usual, you're bound to feel a little stir crazy and tired of your surroundings. Use that feeling to your advantage and reconsider your existing furniture placements.
Maybe a cherished chair could work better somewhere else, or maybe that table would better serve you in your study. Whatever the case, use this time to explore new takes on your home decor for a quick room refresh that won't cost you a cent.
Frame And Hang Those Prints
We've seen it time and time again, even in our own homes – unframed prints stowed away for almost no good reason. Stop procrastinating and bring your home to life with freshly framed prints that you've been holding off on mounting.
And when it comes to getting around to those interior design updates that you've been putting off, when you're stuck indoors with no other options, why not use the time to your advantage and go for it?
Images via Pinterest