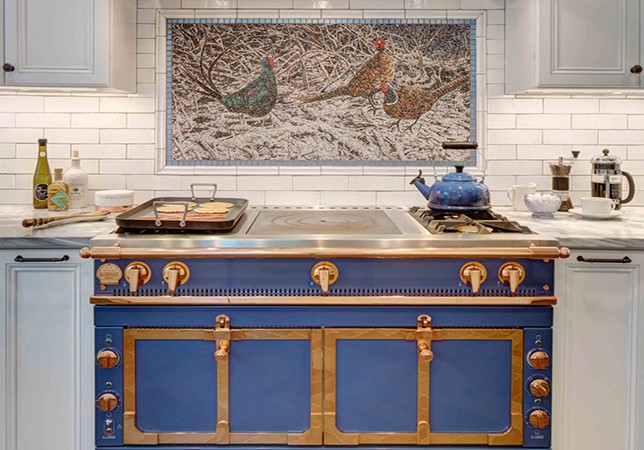 Are you looking to update your kitchen affordably but don't know where to start? Often overlooked, reconsidering kitchen backsplash ideas is a great route for a quick room refresh that won't break the bank. For inspiration, we're illustrating the top kitchen backsplash trends of 2019, style by style so that your kitchen backsplash becomes the focal point of one of your most commonly used and scene rooms, and a possible conversation starter to boot.
Whether you are after something chic and stylish, or something bold and unexpected, consider these kitchen backsplash ideas culled from our renovation experts as the ultimate resource.
Tin Wall

When it comes to unexpected kitchen backsplash ideas that are affordable and easy to install, sometimes it pays to think outside of the box.
For a completely original look with a nod to vintage styling, why not consider a forever-chic tin wall adorned with filigree details? Even better, tin walls are also easy to clean and maintain and can last for years to come.
Shiplap

When it comes to a white kitchen backsplash that's far from common white tiles, inexpensive shiplap has become a viable option as of late thanks to its minimal look and sleek appeal.
And when it comes to unique kitchen backsplash ideas that no one else will have before you, our renovation experts were quick to point to a shiplap kitchen backsplash as a savvy direction to go.
Accent Wall Kitchen Backsplash
Maybe you don't need a kitchen backsplash running the parameter of your entire kitchen, so how about an accent wall in a key area, like behind your stove?
This will allow you to experiment with kitchen backsplash ideas and materials, from wallpaper to tile to shiplap, the options are endless, and you'll still get to highlight visual play, even on a small portion of a wall.
Mirrored Tile
Mirrored tiles make for unique and glamorous kitchen backsplash ideas as they'll work to reflect light, add more depth, and make the space appear larger and more grand in general.
And as an added bonus, you'll be able to double-check your look while entertaining. And they take just a few minutes to clean.
Unique Tile Shapes

Source uniquely shaped tiles when exploring kitchen backsplash ideas for a completely original statement. Shapes that veer away from common squares and rectangles are a great option to make your kitchen backsplash unique to your home.
Molded Backsplash

If you aren't a frequent cooker yet still want the space to feel complete and well-judged, molded panels make for a striking alternative to backsplash tile as they provide a completely different look and feel.
After all, when you don't use your kitchen frequently, who says that your kitchen backsplash has to follow all of the rules? That said, keep resell potential in mind if you are looking to move in the near future as the look is stunning, yet impractical for daily use.
A Brilliant Mural

For a completely original kitchen backsplash, bring in an expert artisan to hand paint an evocative mural boasting an idyllic scene that's certain to boost the value of your property while keeping you and guests mesmerized by its tranquil beauty.
And while this isn't an option when planning kitchen backsplash ideas on a budget, if you do have funds to invest, a custom painted mural backsplash will pay for itself in the long run. That said, we suggest avoiding designs that are too common, themed, or busy as they will age fast and you'll find yourself tired and uninspired in no time.
Penny Tiles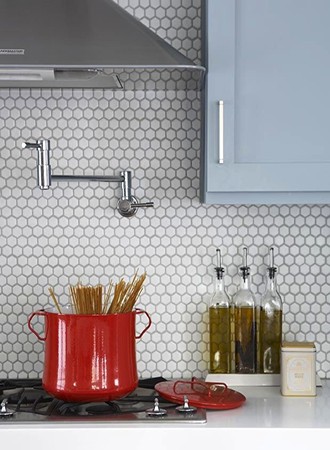 Always popular and easy to source and install, penny kitchen backsplash ideas are great for potential resale value and for those who aren't looking to update their kitchen backsplash every few years.
As far as kitchen backsplash trends go, penny tiles probably rank number one, and our interior designers see no signs of that waning anytime in the near future.
Beveled White Tiles
Beveled tiles are often referred to as subway tiles (as being rectangular doesn't negate regular tiles as so). Beveled edges can turn an otherwise plain white tile into something more defined and attractive, allowing you to create a retro-style kitchen backsplash while keeping the look and feel elegant and stylish. Use them to create an enviable all-white kitchen, or as a neutral contrast against bright or dark kitchen units.
Plus they will never go out of style and are one of the best options if you are looking to resell your home in the future.
Hexagonal Mosaic Tiles
There is something about the geometry of a hexagonal tile that always makes a room look fresh and more unique, and the same is true of hexagonal mosaic tiles. You can mix and match colors if you have a simple kitchen (an all-white one for example) of you can go for just one color if you are looking to introduce texture.
You can also contrast white mosaic tiles with dark grout to create a memorable impact while turning your kitchen backsplash into a key feature. Hexagonal tiles add an intriguing graphic effect to even the sparsest of kitchens and are also easy to source and inexpensive at that. 
Blue and White Tiles
Pretty, timeless, and intricate – a backsplash tile in a pretty Chinoiserie or Moroccan inspired blue and white pattern can lend a rich and exotic touch to any kitchen, even a standard white kitchen. If you're looking to introduce color in your kitchen but want to stick to one color and pattern, printed blue and white tiles are just about the subtlest way to to do so.
A lively blue and white scene will lend your kitchen a traditional feel as well as vintage look – depending on what you style them with throughout the room.
Herringbone Tiles
Arranging your tiles in a herringbone pattern instantly makes a kitchen look more well-judged even if it's just a standard plain kitchen design as the tiles will instantly add more depth and visual interest.
Use dark grout to accentuate the herringbone design and to draw attention to the unique layout of your kitchen tiles. Herringbone tiles also pair well with Art-Deco and minimal design styles as they are subtle enough to send a quiet statement rather than an overbearing one.  
Pale Yellow Tiles
There's joy to be found in the soothing effect a soft muted yellow has on the eye and how cozy and soothing your kitchen backsplash will make the room feel. Pale yellow tiles look stunning in a French-style kitchen; giving it a bright and relaxed feel.
As kitchen backsplash trends for 2019 go, this one does bring with it a slightly retro feel that should be modernized with sleek cabinetry and Art-Deco to keep the look contemporary.
Moroccan Tiles
Moroccan tiles are sure to instantly add a zesty hit of color, print, and vibrancy to any kitchen design and are brilliant when looking to add a statement-making focal point to an otherwise plain, everyday kitchen. You can source Moroccan tiles in an endless variety of colors and patterns to create a custom feel in your kitchen with ease.
A Moroccan kitchen backsplash will always come off as intricate and visually interesting while adding personality and the sense that they were found at a far-flung exotic locale, especially if a white kitchen backsplash just isn't for you.
Stainless Steel
If you spend a lot of time in your kitchen cooking up a storm, then you probably understand how much of a mess cooking can make and how tedious it can be to clean your kitchen backsplash regularly. If you're short on time when it comes to daily cleaning, or you are worried about bacteria, then a stainless-steel backsplash makes for a smart option.
A stainless-steel backsplash is affordable, easy to install, and is super easy to clean as there is nowhere for anything to hide. As the style was lifted from the world of professional gourmet chefs, your kitchen will instantly look elevated with stainless-steel in a way that a backsplash tile won't. Just be sure that you research proper cleaning methods as stainless steel can come off as scratched and streaked when not properly maintained.
Glossed Black Tiles
Glossy black tiles look great with contrasting white grout to really make them pop. They go well with gray kitchen cabinetry as well as with white kitchen units alike. You can also hang stainless-steel pots and pans in front of a glossy black kitchen backsplash to highlight your collection of cherished cookware.
Black tiles are forever chic, on-trend, and somehow still unexpected enough to help your kitchen look like it's straight out of a venerable shelter magazine.
Gold-Veined Marble
If you want to add some essential everyday glamor to your kitchen, then a kitchen backsplash featuring gold-veined marble is a luxe option to consider. Marble is luxurious in its own right, but once you start seeing gold veins, then the lavish feel only intensifies.
That said, keep in mind that marble can be expensive and hard to maintain, especially when you need a lot of it for everyday use, so if you are thinking of kitchen backsplash ideas on a budget, explore faux alternatives that will still visually pack a sophisticated punch.
Harlequin Tiles
For a backsplash tile design that stands out from every other house in the neighborhood, consider an optical harlequin tile design. They look great in a black and white pattern but if you're looking to add some extra color in a tasteful dose, select tiles in three or four different colors and arrange them in a pattern that will feel unique to you and your kitchen.
If you'd like to keep it simple, you can also select two colors and alternate them in rows. Warmer colors will help your kitchen feel cozy and make for a less common direction than traditional black and white.
White Marble
White marble is a savvy and elevated step up from a standard white kitchen backsplash. It's forever on trend and will lend your kitchen a seriously luxurious finish.
White marble also makes for one of the best kitchen backsplash ideas if you have kitchen cabinets in a strong color (say gray or green, as pictured above) as it can tone down even the loudest hits of color with subtle, everyday elegance.
Grey Subway Tiles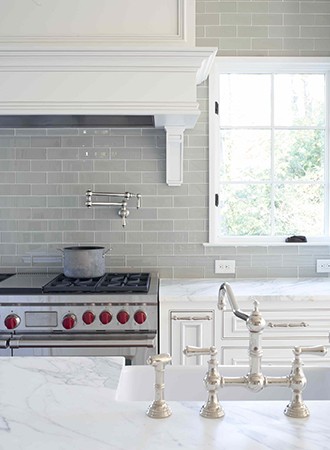 Still very much in style, grey subway tiles are a great alternative to common white versions, though they continue to top kitchen backsplash trends. Light grey toned tiles look great paired with dark grout and darker tiles can be paired with white grout to add needed contrast and visual play.
A gray subway tiled kitchen backsplash tile looks great with white kitchens as well, especially when teamed with similarly hued appliances.
Wallpaper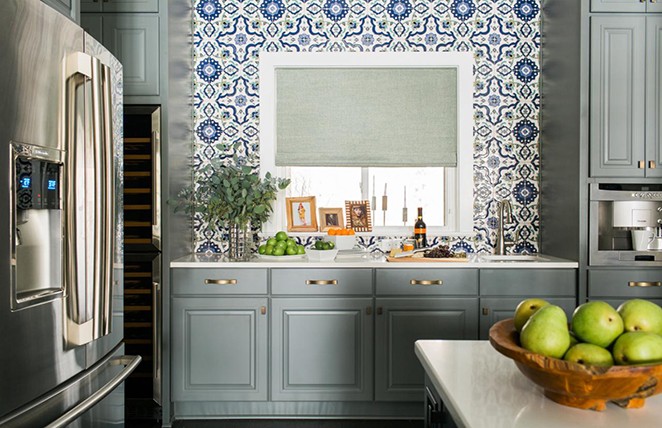 Suggesting you use wallpaper for your kitchen backsplash may come off as surprising initially, but bear with us… Thanks to innovative new processes, you can now easily find stylish Teflon coated wallpaper that's relatively inexpensive. This way, you can introduce glorious color and pattern in even the smallest of doses with a unique wallpaper that will make your kitchen sing while always looking fresh (no more grout to manage).
The Teflon coating will make your wallpaper feature non-stick and easy to clean, ensuring wallpaper to be a great way to liven up your kitchen backsplash ideas with something endlessly inspiring and fun to look at. Best of all, Teflon coating is now available on even more designs, so get papering.
Grey Marble
If you love marble but want something a bit more on the masculine side than white or gold-veined marble, consider a moodier gray for your kitchen backsplash. This way your kitchen will be outfitted with all of the best features marble has to offer, and the color will give your kitchen, especially if minimal, a strong pulled-together feel.
Gray marble looks great with white and light gray kitchen units, but, if you have a kitchen with plenty of natural light, dark gray or black kitchen units will work to punctuate the drama for an endlessly elegant effect.
Scalloped Tiles
Scalloped tiles are certain to add a fun twist to your kitchen thanks to their curved silhouette as using unexpected shapes to create a chic kitchen backsplash tile design will work to keep the area feeling unique and full of personality.
Scalloped tiles can be found inexpensively in an endless variety of colors from standard white, to pink, blue, green, and even black. We love these Tiffany blue ones featured above juxtaposed with a sand-hued grout for added depth and originality.
Brick Tiles
If you're a fan of industrial décor, a brick inspired kitchen backsplash will only work to punctuate your design direction. Their timeless appeal makes them all the more convincing, plus they are easy to clean and can be found inexpensively.
And since they have a trompe l'oeil effect about them, your guests will have no idea they are simply regular tiles. That said, we love how the brick kitchen backsplash featured here boasts a metallic finish to make the look seem more expensive and streamlined. Making them a go-to for perfecting a kitchen backsplash tile feature with a fun industrial feel.
Images via Pinterest