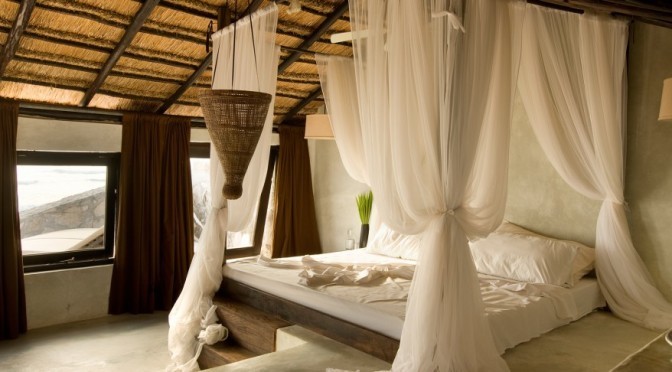 One of our favorite design bloggers, Victoria Smith of SFGirl by the Bay, recently left the hills of San Francisco for the palm trees of Los Angeles. New city meant new house and new house meant new design. And when it came time to decorate, Victoria looked even further south for inspiration — to Coqui Coqui in Mexico.
There was plenty of inspiration to be found — a spa and residence in Tulum inspired by a Mayan ruin and another boutique hotel and adjoining perfumeria in Mérida in a belle époque style, all of which set the gold standard for a luxury lifestyle. See below for tips on how to bring some Mexican decadence home. (And for more travel inspired decor, don't miss our virtual design journeys to Iceland and Peru.)
Minimal Luxury
The bedrooms at the Coqui Coqui Tulum Residence & Spa are breathtaking. The star of the show is the bed and everything else is secondary. Now while you may not have such gorgeous ceilings to highlight, you can create the same peaceful feeling at home by clearing your bedroom of things unrelated to sleep. And of course we're fans of all white bedding.
Luxury Seating: Hammock Style
A hammock inside the Coqui Coqui Tulum Residence & Spa is perfect for lazy Sunday afternoon naps. We've already admitted that we're huge fans of the hanging chair so we're definitely on board with the indoor hammock. Via T Magazine
Don't Forget Scent
Don't forget scent! There's a perfumery on site at Coqui Coqui in Mérida because scent is one of the greatest luxuries at home. It's also something that you don't have to travel to Mexico to get. You can find beautiful candles everywhere from fancy boutiques to Anthropologie stores. Spend some time picking out a scent that says something to you. Via Nomadic Songlines
High Glamour in the Bedroom
Next door to the perfumeria in Mérida, the boutique hotel is more belle époque compared to the minimalism Mayan ruin style of the Tulum property. But even here, the bed takes centerstage (and all white bedding again!) This room is also a great reminder of the power of the unexpected chandelier. Via Paul Costello for T Magazine
Luxury Bath
Lock the door and throw away the key! This a bathroom fit for a king (Louis XIV had two bathtubs in his Versailles bathroom). Even if you don't have 800 square feet for a bathroom, there are still some luxury lesson takeaways. Rather than simply settle for a builder's special mirror in your bathroom, swap it out for something with character, like a vintage find. And don't forget the fluffy white robe, there's nothing more luxurious! Via Nomadic Songlines