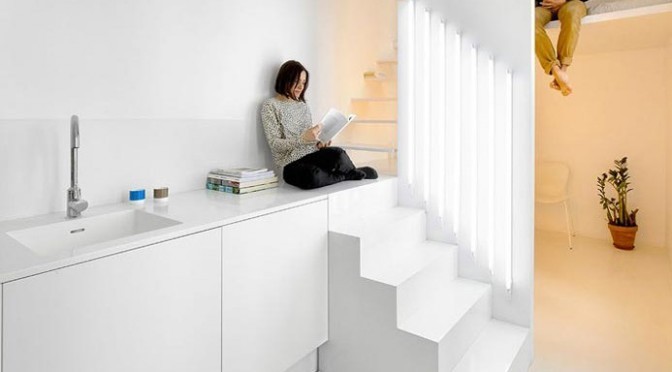 New Yorkers don't really have a reputation for complaining. On the contrary, whether they're piling into a jam-packed rush-hour subway car, climbing up to a fifth-floor walkup on a summer day, or waiting an hour in line for artisanal donuts, inhabitants of the Big Apple tend to take it all in stride. If there is one thing that New Yorkers love to complain about, though, it's the size of their apartments. A sure-fire conversation starter, apartment sizes—especially in Manhattan—have long been a common point of commiseration.
Despite New York's reputation for shoebox living, there are ways to maximize even the smallest of spaces. From ways to increase your storage to brilliant ideas for subdividing your space, these micro homes are packed with tips that are applicable to tiny New York apartments and beyond.
Sao Paulo Micro Living
Brazilian architect Alan Chu maximized space and storage capacity in this São Paulo apartment with a brilliant wall of built-in storage.
East Village Micro Apartment
Portland Micro Kitchen
Parisian Micro Studio
Prefab Micro Living
Barcelona Small Space Living
Micro Apartment Solutions
Madrid Tiny Apartment
Shipping Container Apartment
Scandinavian Small Space Living
Madrid Micro Apartment
Minnesota Micro Home
Micro Beach House
Manhattan Micro Loft
Seattle Micro Loft