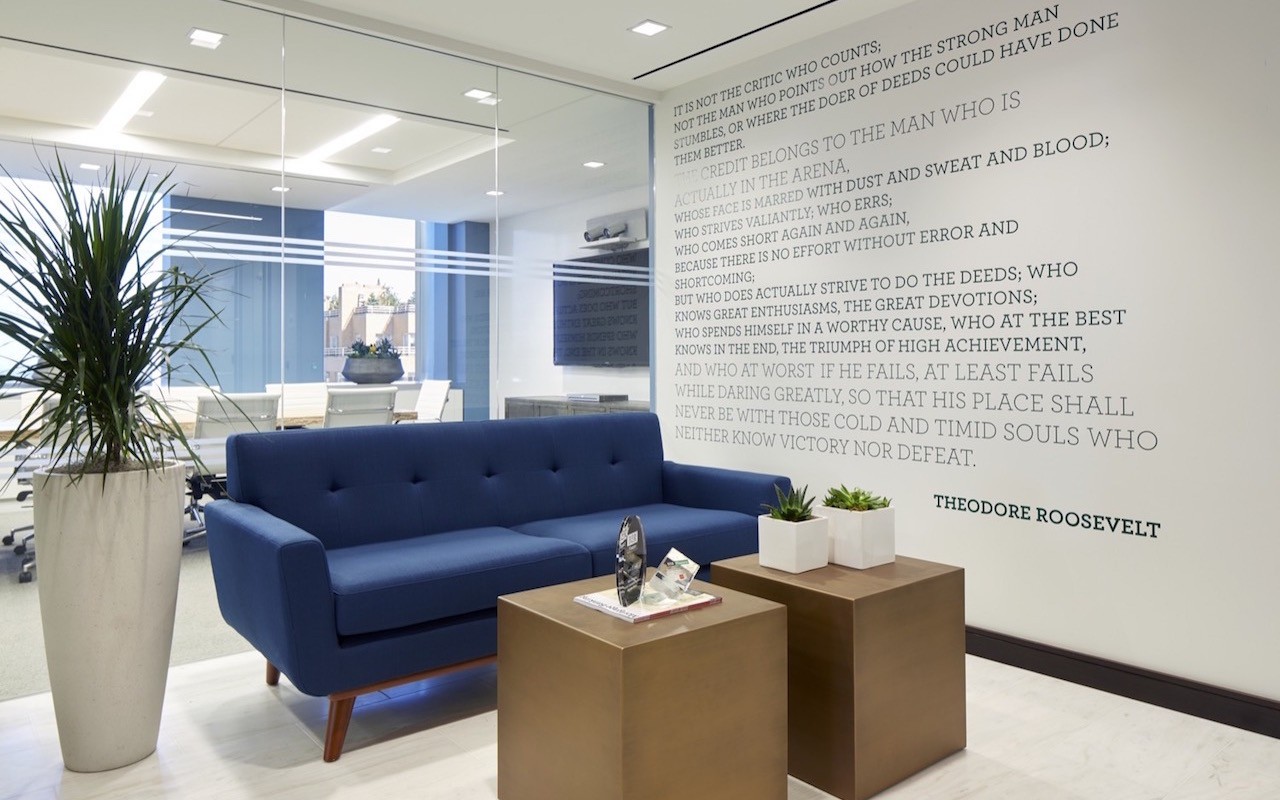 Movies like "Office Space" made going to work look like a punishment, with its cramped cubicles, drab colors and unforgiving lighting. But "Mad Men" glamorized workplace interior design with its sleek mid-century style. And Nancy Meyer's film, "The Intern," took things to the next level with a present-day, dreamy take on office interior design, featuring an airy, loft-like space for its fictional fashion startup. 
Thankfully (for employees, at least), businesses are moving away from soulless, utilitarian offices in favor of bright, vibrant spaces that reflect their company and mission. So, going to work no longer means entering a bleak, poorly-lit design desert for eight-plus hours each day. We're all for inspiring offices, and we strive to make each commercial interior design project as personalized as possible. Here are some tips for designing an office that reflects your company.
Pictured above: Reception area for an office design project by Decor Aid.
Create a Multitasking Common Area
At the Bulldog Gin office, we created a common area that can be used for both team meetings and for hosting events. A mix of classic and modern furniture gives the space a laidback feel (as does the bar).
Add Organic Elements
Conference rooms don't have to be stuffy, so we designed the B2R office around a custom live-edge table, which juxtaposed with the modern white office chairs. Large potted plants sit on every windowsill, and two ferns flank the console at the front of the room.
Stay True to the Brand
It was essential that we create a space that truly fit the identity of our music industry client, SweetSounds Studio, so we worked with art and furniture they already had to create a relaxed, eclectic vibe. There's no such thing as one-look-fits-all office interior design, so it's important that each space reflect the personality of each company.