To get you inspired with fresh outdoor garden ideas we turned to our general contractors and landscape experts to help us compile the ultimate list highlighting top outdoor garden trends to help you in elevating your outside space for years to come.
From modern monochrome takes on bringing minimalism outdoors, to fun and bold bright additions, interesting furniture ideas, and refreshing takes on classic approaches that'll feel new this time around, here's everything you need to know to make the most of your outdoor garden design in style.
Contrasting Fences
If you have had to create extra privacy with an imposing outdoor garden fence, there's no reason for it to look standard or boring. you can easily address its blandness by painting it in a contrasting color or pattern, like dark blue and gray stripes or you can make the space appear larger by painting it all white. You can use your fence to your advantage by making it a feature with hanging plants, beautiful outdoor mirrors, lights, and even outdoor garden tools artfully hung from it.
It will stand out, contrast, and complement your garden while giving it extra visual impact, texture, and the perfect finishing touch. Don't let fencing stop you from using it to your advantage and do use color to make an impact; a brilliant creative outdoor garden idea to make the best of a fence.
And if you're starting a new, our general contractors loved the idea of spending a bit more money and time to create a layered look with contrasting fence types at various heights. This will instantly add needed curb appeal to any home while lending it a much more rich and defined look that a typical approach to fencing would not. Just like in the garden featured above, juxtaposed fencing ideas will make your backyard look all the more dramatic and exciting to stroll through.
Iron Furniture
More and more often, we continue to note that the high-shine metallic trends aren't just staying inside the home, they are making their way into outdoor garden trends as well. And for good reason has wirework furniture instantly conveys a modern edge and cool allure, adding an unexpected touch to what can end up being a practical and masculine space that's neutral.
Traditional wirework furniture also looks forever stylish in cool grays, black, green, blue, and best of all, metallic silver. High-shine outdoor furnishings will lend your space a polished sophistication that's compelling while adding reflective touch point to spark light across the area. Plus, you can easily paint outdoor metal furniture as trends pass for little money.
Take the Indoors Outdoors
If you have the space for it, creating as best of an intimate room setting in your outdoor garden will make for an endlessly enjoyable idea. A dedicated area that lends the feel of a complete living space is sure to be the perfect entertaining space for guests and will surely make everyone feel comfortable and at home.
Create dedicated entertaining zones under an oversized umbrella or tent structure, and a living space with a low coffee table, surrounded by a relaxing sofa and chairs, and a dining area complete with a stylized table and chairs. And if you have extra money to invest, adding a pre-made structure like a gazebo will only help increase the value of your home.
Tropical Twist
If you are looking to add a glamorous tropical twist anywhere in your home, then surely it should be in your garden? Tropical colors will instantly add an exciting punch of riotous energy to your outdoor space, with pinks, purples, and oranges brightening up the area while adding brilliant vibrancy.
A few festive seat cushions, throw pillows, and decorative accessories like sculptures and tableware will only work to strengthen the impact here, making it a great alternative route for outdoor garden ideas on a budget as they won't break the bank when sourced resourcefully.
Monochrome
To conjure the slick sense of everyday glamor of the Art Deco era in your outdoor garden, consider a minimal monochromatic color scheme the perfect starting point.
Whites, grays, neutrals, and symmetrical geometric lines and patterns will keep your garden feeling cool and effortlessly elegant, as well as helping to make the area feel more expansive than it really is. Gray outdoor furniture also looks stunning, accompanied by soft neutral furnishings, a sun umbrella, and outdoor accessories. The key here is to keep furniture framing and finishes a solid matte black for an extra dramatic effect.
Fire Pit
If you love entertaining and are looking to create a beneficial focal point in your outdoor garden, then how about a modern fire pit? Fire pits are great for those long days, where you have had a BBQ and a few bottles of wine with friends – as the evening wears on, it starts to get a bit cooler and this is when the fire pit comes into its own as an outdoor essential.
Not only do they look beautiful, but they are great at keeping you warm too – how about that for practical outdoor garden trends? Plus, there are some seriously stylish fire pit designs available at a variety of promising price-points. We love the quiet drama the cleverly designed fire pit featured above lends the space – making it great for a particularly chic rustic ambiance. 
Nautical Theme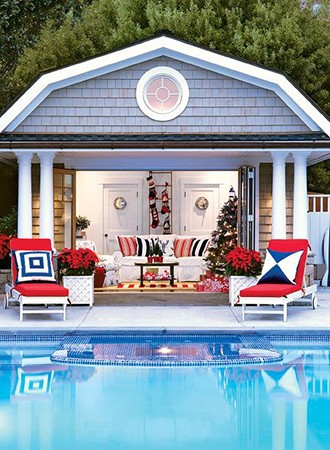 Who doesn't love a nautical theme when it comes to evoking the spirit of the outdoors? And where better to play with this theme than in your outdoor garden. When it comes to outdoor garden ideas, decoration is key, so think about the details and the best routes to employing your theme and color scheme throughout your outdoor space with a pared back hand.
All white garden furniture, accented with deep blue throw pillows, easily hint towards a coastal vibe. Add some rope details here and there, or a circular mirror, keeping it as simplistic as possible. This way, you'll avoid going too far into a trend that could come off as dated and misjudged. To be safe, think old-school Hollywood elegance and stick with solid patterns and updated silhouettes. 
Chimneys
Fire pits are wonderful, but they can take up a huge amount of space and if you are looking for outdoor garden ideas for small spaces, then a fire pit isn't going to work for you. A chimney is an equally stylish alternative to a fire pit as it lets out plenty of heat, allowing you to entertain your guests long into the evening, but without taking up anywhere near the space of a fire pit while pushing smoke away better.
Plus, you can move them out the way when you aren't using them, to clear the space for something else. And you can move them with you if you move homes.
A Country Dining Experience
In every classic British countryside book or film, the family dines on an enviously glorious lawn at some point. But don't let this quintessentially British dining experience pass you by – invest in some pretty, classic outdoor garden furnishings and make this romanticized dream a reality.
Imagine a traditional oversized table and chairs, festooned with gingham seat cushions and matching table linens, the table topped with haphazardly placed fresh flowers and jugs of homemade drinks – the perfect outdoor garden idea for entertaining in the sun if there ever was one. And for even more daytime drama, we love how the homeowners above finished their outdoor table setting with an elegant chandelier pendant light. 
Mix and Match Chairs
Another eclectic and fun outdoor garden idea is to mix and match your chairs for an informal and interesting approach to your seating solutions. Choose a color scheme and source a selection of unique chairs to juxtapose around your garden table for a rich and layered effect.
Go for some traditionally designed garden chairs, some more modern ones, and some completely unexpected ones – whatever works for you. The best thing about this is that it adds an attention-grabbing element to your garden, which is simple and easily achieved. Plus, you can most likely find a complete set of mismatched garden chairs on the cheap. The trick here though, is to ground the setting with one large simple and classic dining table that's timeless in appeal.  
Glass Lanterns
If you are looking for a simple trick to elevate your outdoor garden design instantly without having to part with too much money, then oversized glass lanterns are a great idea for your outdoor garden. Choose a set of glass lanterns with bold oversized silhouettes to brighten up your outdoor space or go for some clear glass ones to create a focal point that isn't too overbearing.
Popping tea lights in them is a soft and intimate way to light your space in the evening and they still look stunning in the day – how about that for creative outdoor garden ideas? But we do love the strength of the symmetry the robust masculine ones featured here boast.
Bright Accent Chairs
If your outdoor garden is full of lush greenery and you don't want to take away from that too much, consider making a punchy impact with some bright accent chairs or chair covers. Simple chairs designed to let the light through and not block out your garden are the best outdoor garden ideas for this.
Mix and match colors, choosing what works best with your garden, to create a focal point in your outdoor garden which doesn't take away from the stunning foliage that you've so carefully managed over time. That said, another trick to let your garden do all the talking is to source glass-topped tables as they won't block valuable square footage and in turn, will keep your outdoor area looking as large and luxurious as possible.
Swinging Seat
Is there a more perfect place to sit and enjoy a good book in the afternoon breeze than on a swinging seat or classic hammock? Swinging seats are perennially one of our favorite outdoor garden trends and for good reason. Your outside space should be all about relaxation and a swinging seat is the epitome of relaxation.
They are available in an endless amount of colors and styles, from traditional white to wicker egg shapes to ornately designed rattan. Our interior designers count cocoon shapes among the most requested by our clients and often look for interesting '60s-inspired Mod silhouettes to create a truly stunning environment in their outdoor spaces. 
 A Charming Bistro Patio
Another great idea if you only have a small outside space to work with and you want to make the most of it, easy to source bistro-inspired outdoor tables are the best route for instant charm and quirk. A bistro patio set in a bright color enables you to create a fun and energetic space in your garden – choose an impactful color like red, pink, green or blue and surround it with complementary and contrasting garden accessories like lanterns and decorative accessories.
Best of all, bistro tables are timeless in style, are inexpensive, are just the right size, and are easy to pack and store – making them a genius essentially for city dwellers in small quarters on the go.
Images via Pinterest