As we look towards the year ahead, we're looking at our most viewed portfolio highlights and favorite projects from 2018, performed by Décor Aid interior designers and renovation specialists for inspiration.
To celebrate, here's a quick recap of our most popular projects ready for you to explore for design cues and more.
1. An Old Greenwich Home Revitalized
With a sprawling home in Connecticut's charming, chic, and historic Old Greenwich neighborhood, our client leaned to Décor Aid interior designer Urszula D. to give her young family home a warm and modern update.
Urszula delivered a well-judged inviting feel that's unique thanks to subtle nuances and an exacting, stylish contemporary design that'll easily endure any passing trends for years to come.
2. A Modern High-Touch Residence At The San Francisco Four Seasons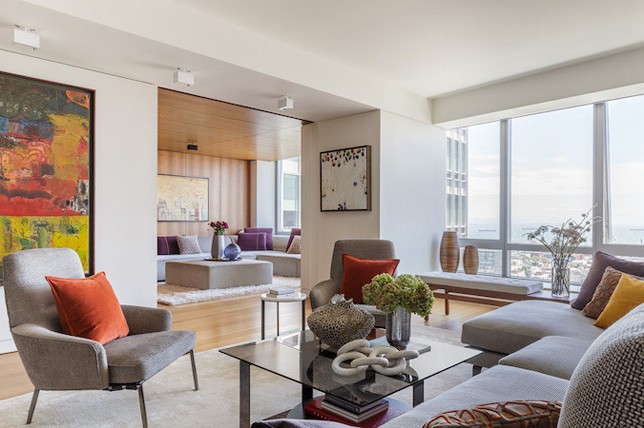 Blessed with sweeping dramatic views and a bright open floorplan, our clients wanted help in creating a highly styled luxurious sanctuary away from the noise of the city below at San Francisco's Four Seasons Residences.
Our client, an innovative developer in the city, was hoping to design this home on his own, but he eventually realized that he needed Decor Aid's wisdom to create a look that riffs on the Mid-Century with elevated updates that are rich and alluring.
3. A Dynamic Redesign In Westchester
When our client's family left Manhattan and moved into a much larger home, she reached out to Decor Aid for help in savvily furnishing and decorating the family's new residence in Westchester.
Although she had already mastered decorating a few of the rooms on her own, she was in need for help sourcing and decorating the entire ground floor of her expansive house, and wanted the family's new home to reflect their tastes and lifestyles while remaining warmly minimal in spirit.
4. A Second Home For A New York Executive On The Go
After finding herself inspired by her San Francisco pied à terre that we reimagined(below), a bicoastal executive came back to Décor Aid to elevate her new second home in New York City.
To keep her busy schedule feel a bit more consistent, we delivered a similar sense of everyday transitional glamor so she can be comforted with great style on both coasts.
5. Adding Enviable Charm To A San Francisco Retreat
With characterless residential buildings being built coast to coast, Décor Aid interior designers are more and more frequently asked to create a rich, visually striking, and inspiring home than ever before.
To lend this bland and spartan San Francisco home a luxurious sense of personality and warmth compared to other generic apartments in the heart of the city, our designer was able to focus almost entirely on aesthetics and comfort since this is a less used third home. Here, the look was kept clean and refreshing with personalized notes thoughtfully introduced throughout.
All images Décor Aid