Ask any interior designer what their takes on the best room decor ideas are, even our own at
Décor Aid
, and they'll be certain to tell you the obvious; it all depends on your taste, lifestyle, and of course, the space you have to work with.
So how do you make a room feel stylishly complete and practical at the same time? Trust us, even for a novice, it can be much easier than you think. All it takes is a little planning and creating a list of key pieces that'll bring a room to life. To start, our interior designers were quick to suggest a thorough survey of your home. What do you own that you can reuse? What's had better days with you? And what would you like to see in its place?
From there, you can go from room to room and consider what from our room decor ideas suggestions here will make sense for your space?
General Room Decor:
From living rooms to guest bedrooms, here's a look at decorative extras and furnishings that no home should go without.
Never-Fail Gray Walls
Sure, white walls are great for maintaining a modern feel without hindering the potential resale value of a home. But for a more sophisticated take that's just as neutral, consider a pale, almost no-color watery gray as an ultra-chic alternative. By going for the unexpected yet just as universally appealing, you'll have an easier time elevating the room decor ideas you do bring in. Plus, a light gray will help to conceal everyday wear and tear and stains better than flat white.
Pops Of Colorful Furniture And Accessories
Even when it comes to room decor ideas for small rooms, a hit of bold and surprising color here and there is certain to add zestful energy to a petite space. This can be via an upholstered side chair, a vibrant piece of artwork, or even inexpensive pillows and
throw blankets
that you can easily swap out from season to season.
Geometric Panels
A DIY project that you can easily do on your own, contrasting graphic panels will lend any room a modern, well-judged edge and needed visual interest. Geometrically painted panels will also make for a striking accent wall as an alternative to a solid color or a printed wallpaper.
A Mural Wall
Perfect for a kitchen backsplash or for covering a major wall in a common area, a custom mural or printed wall decals will also bring any room to life while working as instant conversation starters. Just be sure that you bring in a trusted and skilled artisan or quality decals that are timeless in design, as you don't want to run the risk of your room decor ideas coming off as too DIY or ill-conceived.
Living Wall
For a sustainable take on room decor ideas, a living plant wall will add texture, visual play, a natural feel, and best of all, if you source the right plants for the job, they can also do double duty as they have the power to purify and clean the air around them. Even better is the fact that you can create your own affordably while taking pride in a job well done.
Gallery Wall
No matter the size of the space you have to work with, when it comes to personalized room decor ideas on a budget, nothing beats a striking
gallery wall
. For starters, they can be fun to create, don't have to cost a small fortune, and even better is the fact that they'll lend any room an unforgettable customized feel. Do play with scale, placement, and juxtapose prints for a lively feel. And move pieces around from season to season for a quick room refresh.
Sculptural Mobile
Perfect for a Mid-Century modern and minimal home alike, an intriguing colorful mobile is certain to add a playful and visually striking artful sensibility in any corner. It'll also make for a unique and unexpected take on room decor ideas that most people overlook.
Quirky Extras
If you're on the hunt for stylish room decor ideas for small rooms, nothing beats some affordable decorative accessories and extras like a grouping of small vases and a trio of portraits with a charming spirit.
Textile Wall Hanging
Another effortlessly elegant yet often neglected room decor idea is an embroidered tapestry, or textile wall hanging that will lend a space a charming feel without costing a fortune. You can also get the same feel with on-trend macrame wall art. Just be sure that yours boasts a large scale to make it look more luxurious.
Floating Shelves
Another affordable take on space-saving room decor ideas, floating shelves are a clever way to use dead wall space without imposing on the floor space you have to work with. They'll also do double duty as stylish storage caddies, or you can use them as purely decorative surfaces to display cherished collectibles and artwork.
Large-Scale Art
When looking to add personality and a conversation-starter in a room, nothing beats the alluring and emotional pull of large-scale artworks. Even just a single piece in an entirely empty room can help to redefine it and it give it character.
Statement Mirrors
Another essential when it comes to room decor ideas for small rooms, mirrors are affordable, easy to source, and they'll make a room appear larger, brighter, and more luxurious. In fact, you'd be surprised at how easy it is to find a unique and expensive looking mirror for cheap at local discount stores and secondhand shops.
Plays On Pattern
To use room decor ideas for needed depth, a delightful juxtaposition of playful patterns and color will make for a richly layered look that'll also be on par with today's penchant for all things maximal.
Floor-To-Ceiling Bookshelves
For a dramatic feel in a living room, study, or bedroom, consider a built-in floor-to-ceiling bookshelf the ultimate in grand gestures. From storing books to housing well-judged decorative displays and vignettes, a well-made bookcase will never go out of style.
Metallic Accents
If you're looking for room decor ideas on a budget that feel anything but budget-minded, high-shine metallic accents are sure to get the job done while catching light and reflecting it around a room.
Plants
Unfortunately, most people aren't blessed with a green thumb, but that doesn't mean that they can't add plants to their room decor ideas. Just like we said before, plants are great for uplifting spirits and cleaning the air around them. And like we said, they don't always require a hardcore green thumb as there are scores of styles that require little care or daylight.
Entryway Room Decor:
Since it only takes a few seconds to make a lasting first impression, here's how to revive your entryway so guests can be welcomed in a thoughtfully decorated space.
Striking Rug
A graphic rug is one of the best room decor ideas for small rooms as it often pays to begin with flooring – what interior designers consider the starting point of a room. A sumptuous woven rug featuring a classic pattern will lend even the tiniest of spaces needed warmth and personality while tying everything together.
Console Table
When it comes to any entrance room decor ideas, a slim console table should be considered a requisite. They're great for housing daily mail, keys, purses, change, and catchall trays in one convenient spot.
Umbrella Well
Another must-have for keeping tidy, with an umbrella well you'll never have to hunt around your home for an umbrella the next time it rains, and you'll have a safe spot to store it when you come back home with it wet.
Large Mirror
Just like for any room, mirrors are one of the least expensive and most effective room decor ideas of them all. And don't forget, you can find chic ones just about anywhere, at any price.
Living + Dining Room Decor:
Here's what can make all the difference in making your living room or den, one of your most commonly used rooms for entertaining guests, feel all the more defined.
Curved Sofas
Taking a cue from the fluid designs of the '60s, curved sofas may be on-trend, but there's no denying their timeless appeal. To save them from eventually looking dated, stick to solid neutral fabrications.
Floor-To-Ceiling Drapes
Long, languid drapes pooling along the floor will always instantly evoke a dramatic sense of everyday glamor and will never go out of style. Even better when you layer multiple curtain panels to better control daylight while keeping your windows extra-insulated.
Poufs And Ottomans
If you're short on seating, eclectic poufs and smart storage ottomans will make for effective room decor ideas that'll serve a double purpose.
Console Table
Just like in an entryway, a slim console is a great surface to display prized books and chic collectibles for a nuanced touch in your living room.
Mini-Bar
Ask anyone about the ideal room decor ideas for guy, and they'll more than likely point to the endless appeal of either having a customized home bar or even a mini-mar cart. And if you do opt for a custom creation, it's also more than likely to boost the resale value of your home as long as you keep it traditional in styling.
Conversation-Starting Art
Nothing beats the energy that conversation-starting room decor ideas like oversized art can lend any room. For your living room, take a risk on unexpected statement-makers to keep they eye moving while also doubling as a room-defining feature.
Moveable Side Chairs
When on the hunt for beneficial room decor ideas on a budget, it'll pay off to bring in extra movable chairs that you can position anywhere in your home when needed for extra guests.
Wall Sculptures
Metal, enamel or plaster, no matter the material, just like a hanging mobile, 3D wall sculptures are rarely seen in modern-day homes, which means that yours will look all the more unique for having one as an alternative to framed art.
Comfortable Seating
When it comes to living room decor ideas, it should go without saying that nothing comes before stylish and comfortable seating. Make sure your options are plush and sumptuous yet sturdy to the touch.
Energizing Contrasts
If you're looking for modern room decor ideas for girl, think dramatic juxtapositions like a dark accent wall, an ultra-bright area rug, and plays on pattern and print.
Concealed Television
If you must have a television in your living room like many room decor ideas for guy call for, it would best to either conceal it in a covered structure like an armoire or use it to your advantage when entertaining by playing visually stimulating short art films and clips on a loop.
Large Rug
Like we mentioned before, use a large area rug to better define a room while making it cozier and stylized with a bold pattern or solid color.
Fireplace Display
Punctuate your living room decor ideas by restyling your mantlepiece with decorative items boasting various heights, materials, and scale for a varied mix that will keep the eye moving.
Conversational Seating
Another key component when it comes to essential room decor ideas for guy is to create conversational areas through seating arrangements that'll make entertaining all the more fun.
Bedroom Room Decor: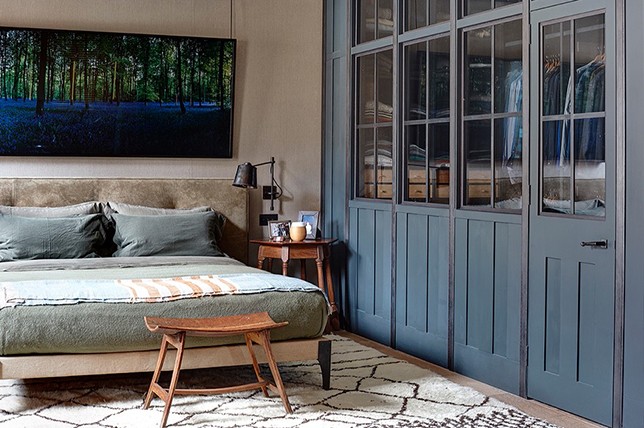 To create your own private sanctuary, stick with these must-know room decor ideas.
Calming Colors
Whether you're looking for room decor ideas for girl or not, there's no denying the relaxing feel calm, sobering colors will lend your bedroom.
Tonal Color Scheme
Along with calming colors, keep the look of your room decor ideas consistent with a range of tonal shades and a generous play of textures. This will also work with room decor ideas for guy since the colors should veer on the classic.
Unique Headboard
If you're looking for statement-making room decor ideas on a budget, a uniquely styled headboard can make all the difference. Think different and unexpected to really pique guest's interest.
Mirrored Dresser
Another great take on room decor ideas for girl is to bring in high-shine reflective dressers and tables to make the space feel larger and brighter, and more luxurious every day.
Cozy Chaise
If you've got space for large room decor ideas, you'll be certain to enjoy the tranquil quality of a stylish chaise lounge in your bedroom.
Stylish Valet
Instead of throwing your clothes on the floor at the end of a long day, bring in a sturdy valet to hold everything and keep your room decor ideas for guy tidy on a regular basis.
Antique Armoire
A beautiful armoire will for sure bring daily cheer when it comes to room decor ideas for girl – at any age.
Vintage Storage Trunk
A vintage trunk will work wonders when it comes to room decor ideas for guy as its handsome facade will be able to easily store items when not in use while double as an extra tabletop or seating when needed.