Choosing the type of coffee table for your space is not a choice for the decision fatigued. Before you get bogged down in the myriad of choices, keep it simple by choosing the shape you want first. Our designers make a strong case for going round. One of the best reasons to choose a round coffee table is that is provides a lot of contrast to the rectangular furniture in a space. From the sofa to the credenza to the books on the table to the rug on the floor, there can be a lot of rectilinear lines in the living room space so adding a round table can provide just the visual break that the space needs. For some round table inspiration, see below.
Pictured: Coffee table from our NYC luxury apartment project.
Living Room Sectional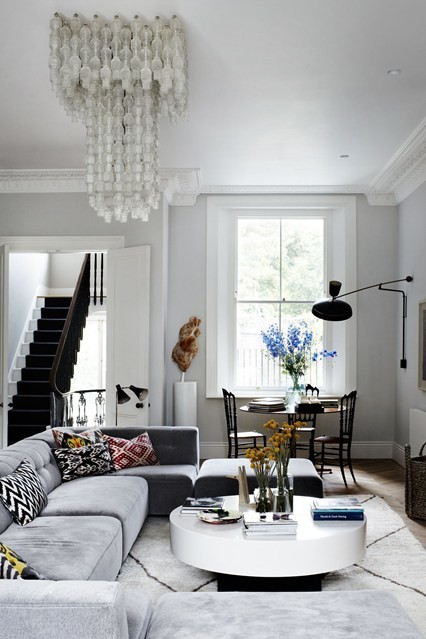 This round coffee table is the perfect foil to the three-sided sectional. It also echoes the shape of the small dining table by the window. Via House & Garden U.K.
Eclectic Sofas
Multiple rectilinear sofas cry out for a round coffee table. Via House & Garden U.K.
Round Modern Coffee Table
There are a lot of rectilinear lines in this space — the hood from the stove, the sofa, even the carpet — the round coffee table is a nice juxtaposition. Via House & Garden U.K.
Small Coffee Table
Create a seating area with a rounded coffee table. Image from our pied-a-terre project. 
Minimalist Coffee Table
With its oversized arms, this sofa needs to be balanced. Matched with airy rattan loungers and a round open table, it feels just right. Via House & Garden U.K.
Saarinen Coffee Table
An oval table is a great choice when you have two matching sofas. A marble Saarinen is perfection. Via Remodelista