Dining rooms are where we enjoy the company of friends and family, sans television. But if you live in a small apartment, then you might find it difficult to design a full-sized dining room. Have no fear. Our senior designers have these tips and tricks for fitting a dining room into a small space.
Circular Table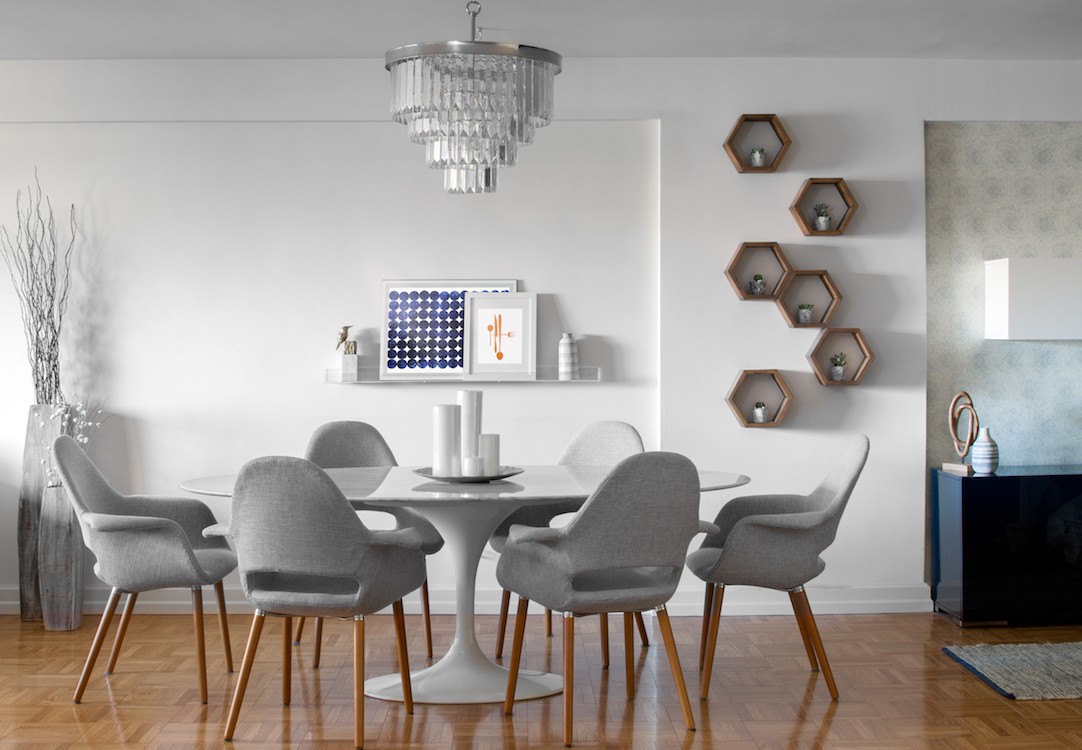 When furnishing a space, remember that circular tables are always more space-effective than angular options. Our client, a family living on the Upper East Side, wanted to include a dining table in their newly redesigned space, but didn't think that they had the space. So we selected a white Saarinen table, which also matches the apartment's mid-century vibe.
Ditch A Chair
A conventional dining table has eight chairs, one chair at each head of the table and three chairs along each side. But if you're trying to save a little bit of space, consider chopping off the heads of your table. In this TriBeCa loft, ditching two of the chairs opened up the space, and shows off the table's intricate iron work.
Slim Console
Dining room consoles are wonderful additions. Not only do they provide a storage space for linens and dishes, but they can also act as a buffet table or a makeshift bar. But don't let a storage console take up your entire apartment. Select a slim console, and place it along the longer side of your dining table. The dining room in this mid-century palace on the Upper East Side is only twelve feet wide. And so selecting a slim teak console was the key to filling this small space with a mid-century look.
Backless Chairs
If you're trying to squeeze a dining table into a tight space, consider going for backless chairs or stools. To match the industrial vibe of this Sag Harbor vacation home, we selected a metal and wood coffee table with attached stools, for a space-saving solution.
When squeezing a dining room into a tight space, proportion is of the utmost importance. So when selecting a chandelier, pick a slim, high-hanging option. In this newly renovated townhouse, we placed a Lindsey Adelman chandelier above the dining room table. It's a sleek and bold statement piece that doesn't take up too much space. 
Slim Chairs
And if you want to design your living room with full-sized chairs, then consider going with slim, low-profile options. In this Upper East Side luxury condo, we reupholstered these pink chairs with a tubular chrome piping. They're a perfect compliment to this personalized and plush luxury condo. 
Minimal Dining Room Decor
Just because your dining room is small doesn't mean that you should skimp on decor. But choose wisely. Follow the rule of threes, like we did in this Central Park West Penthouse, and group your objects in the center of your table.