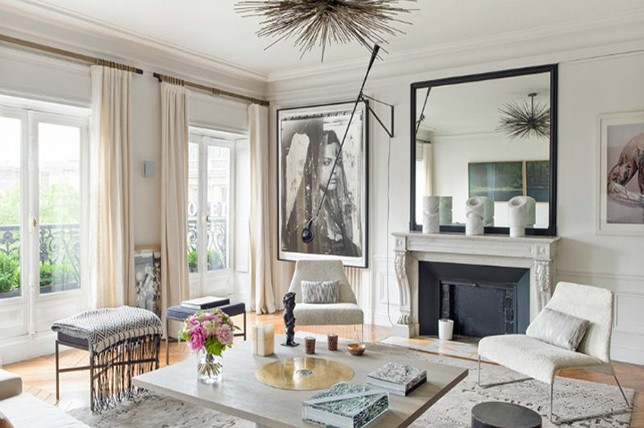 Just as it's known as the cultural capital of the world, denizens of France just might have the best taste in the world. Given their affinity for ground-breaking art, gourmet delicacies and an impeccably cool and unstudied sense of sartorial style, the aesthetic joys the French inject in every aspect of their daily lives has been celebrated for centuries, interiors included – for good reason. Here, we share our take on quintessential French chic decorating tips to give your home a savvy dose of cool allure while evoking your personality.
APPRECIATE AGE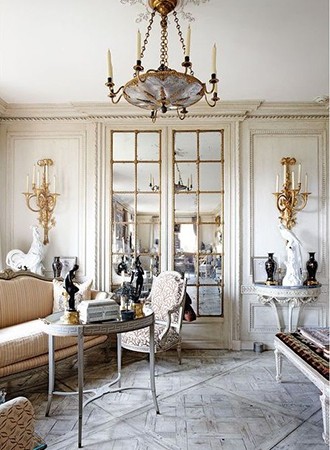 And no, we're not talking shabby chic, more so that they appreciate the beauty of letting things evolve naturally. Celebrate the intricate, heritage of your home. Work around natural architectural blemishes brought on over time.
Unlike many American homes with their white box formulas, it's highly uncommon to find two identical Parisian flats that aren't entirely new construction. Never ones to shy away from scuff marks, imperfections and signs of wear and age, the French use their centuries old, well lived-in home's history as a decorative touchstone. The more lived in, the better to emphasize the charming space's uniqueness.
Image via Eye for Design
HIGHLIGHT ARCHITECTURAL CHARACTER
As homes age over time and various occupants mark the structure with their imprints, its natural for there to be architectural oddities and questionable structural enhancements to make the best use of.
While most homeowners stateside look to gut renovate a space to eliminate that sense of wrongness and start afresh, the French use what's off in a home to their benefit as making a make a space your own shouldn't always necessitate renovation projects. This attitude towards the old world adds to the French decorative instinct of juxtaposing the past with something decidedly sleek and modern. French chic decorating all boils down to keeping things authentic and not just pretty on the surface.
SUBDUED PALETTE
With an eclectic mix being an essential ingredient in any French home, calming neutral walls in shades from off-white and linen to stark gray create a nice backdrop to be filled with just about anything and make a space look bigger and brighter – not too cold. One of our most referred to French chic decorating tips is utilizing art, decorative accents, and textiles to bring in pops of color instead.
MIX AND MATCH
Hi and low-end, old and new, there are no rules. Decorate according to your whims. A foundational element to mastering modern French chic decor is to make any space feel alive by going bold with surprising contrasts that won't limit you to one era or particular style.
A quick search on Pinterest for French chic decorating tips illustrates what the French do best; the mix. From purposely clashing prints and patterns that manage to evoke a sense of balance, to an antique armoire set amongst a mid-century modern grouping, the trick is to use sharp contrasts to make each piece look substantial, without competing with each other. Instead of sticking to one limited aesthetic, creating a mixed visual dialogue throughout your house gives you the freedom to take risks while broadening your range of options. The key here is to practice a hand at minimalism with spots of spare, no-decor space to keep the fusion subtle and friendly.
GO FOR BAROQUE
It's almost impossible to visit a French home without spotting a classic, oversized gilded mirror that brightens the room while highlighting their rich aesthetic history. In homage to Parisian heritage, an antique gilt mirror, a crystal chandelier or something as accessible as a bejeweled throw pillow can lend a room an elevated air of sophistication while incorporating a sense of polished haute decor.
ART PLACEMENT
One foundational French chic decorating tip is to let the eye travel, let it bounce throughout a room with surprising points of interest. Take a different approach to where you place your framed art by leaning them against walls, letting them live on the ground and scattering them about almost randomly for a considered nonchalance.
LET IT SHINE
Rarely flashy, French interiors often boast a sense of lavishness with hints of brilliance via jeweled accents, ornate filigree detailing, antique chandeliers and wall sconces. In contrast to all of the purposely undone, unstaged moments, some of the chicest French homes tend to embrace a touch of dramatic, luminous elegance.
SHOW OFF YOUR BOOKS
Use your favorite books as a decorative advantage and make them conversation starters and a prominent source of entertainment for guests. Take a quick walk through a stylish French home, and you'll see books everywhere. To make an all white space come alive for a recent project, we built an entire wall around housing books to spectacular effect. They make one feel warm and can be sourced from anywhere – even better if through travels or a visit to your favorite art gallery. Mix new art books with your prized well-worn reads for a sense of personality and visual play.
ADD PLAYFUL EXTRAS
It only takes a little accessorizing to express what makes your style unique with small extras that can be easily moved around or changed out. Think scores of your favorite books and records casually piled on top of each other in a prominent, eye-catching area, mismatched candles in a variety of sizes that add a subtle fragrance to a room without being illuminated, tokens from your travels and sprigs of blooms placed throughout without over-thinking their placement.
Lead Image via Revistaad