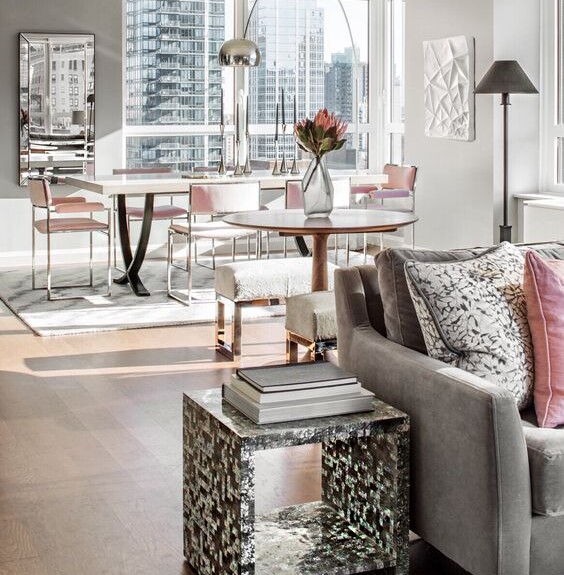 When her expanding family decided to move into a larger apartment, our client reached out to Decor Aid for help in decorating the new space. The new apartment had just been renovated, featured new appliances, and included several luxurious details, including hardwood floors. But like so many luxury condos, the existing space felt sterile, white, and cold. Our client wanted her home to feel warmer, and to reflect her well-defined sense of style, while maintaining the luxurious finish of the existing apartment.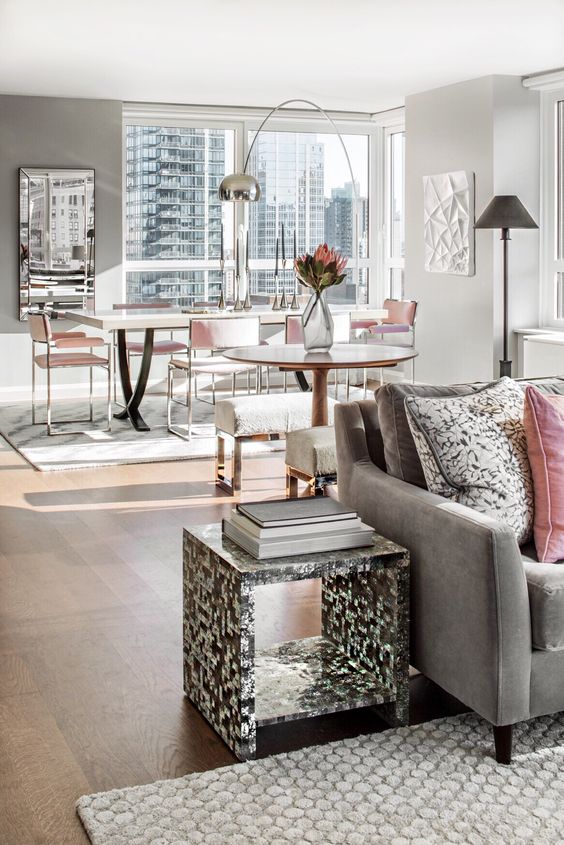 To start, we painted the walls a muted grey color, which gave the apartment a much more subdued vibe. We also included an accent wall in the foyer, to differentiate this space from the rest of the apartment.
One of the challenges in designing this apartment was dividing the living room from the dining area, without disrupting the continuity of the common space. Our client had a few pieces that she wanted to incorporate, but most of the furniture had to be sourced. A large sectional couch faces away from the kitchen and dining area, to section off the living room. Vintage dining room chairs were reupholstered with pink fabric to distinguish the dining area. One of the few existing pieces, a mid-century modern wood table, was placed between the couch and the dining area, to further differentiate the two spaces.
To maintain the home's luxurious feel, without sacrificing any of our client's personality, we installed custom-made drawers in her bedroom, which maximized the room's storage space. We also added a plush tufted bed from RH Modern. A Kelly Wearstler chair and Interlude Home nesting coffee tables were added to the living room, to maintain a continuity with the apartment's luxurious, yet highly personalized interior.
The final step was decorating the daughter's room. Our client wanted the space to reflect the daughter's personal sense of style, while allowing the daughter to grow with the decor. The walls were painted a tasteful teal color, and to maximize the space, a day bed was added. The final effect is a highly personalized, yet luxurious feel that is continuous throughout the home.