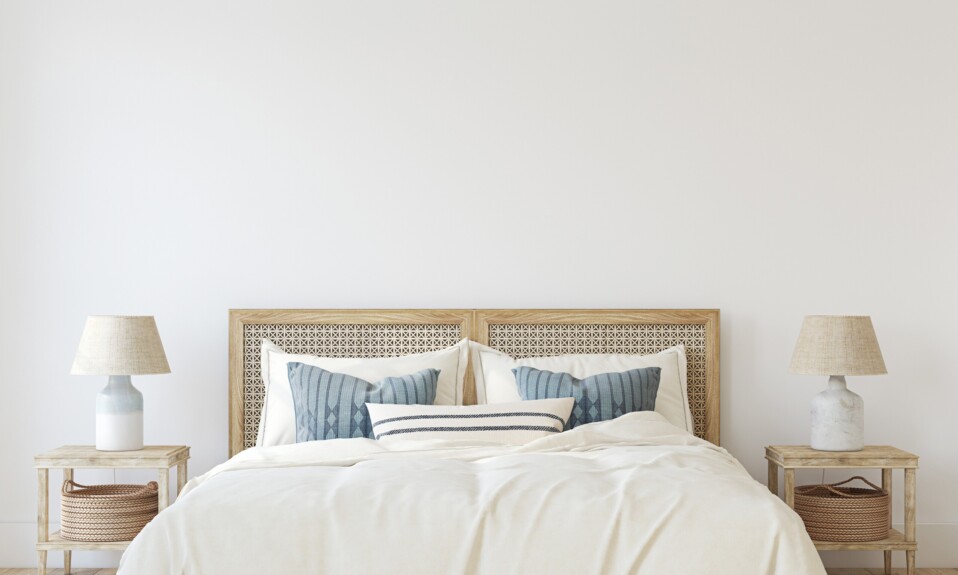 Creating more space in a room can be extremely difficult. Especially when that space already feels as small as a closet!
Did you know just swapping out your current bed for a Murphy bed will free up a room immediately? Not only that but Murphy beds open more square footage in an area which in turn adds value back into your home.
Look no further because we're about to give you the 15-best space-saving beds for small rooms and spaces. Are you ready to add a more breathable expansion to your home?
1. Get A Murphy Wall Bed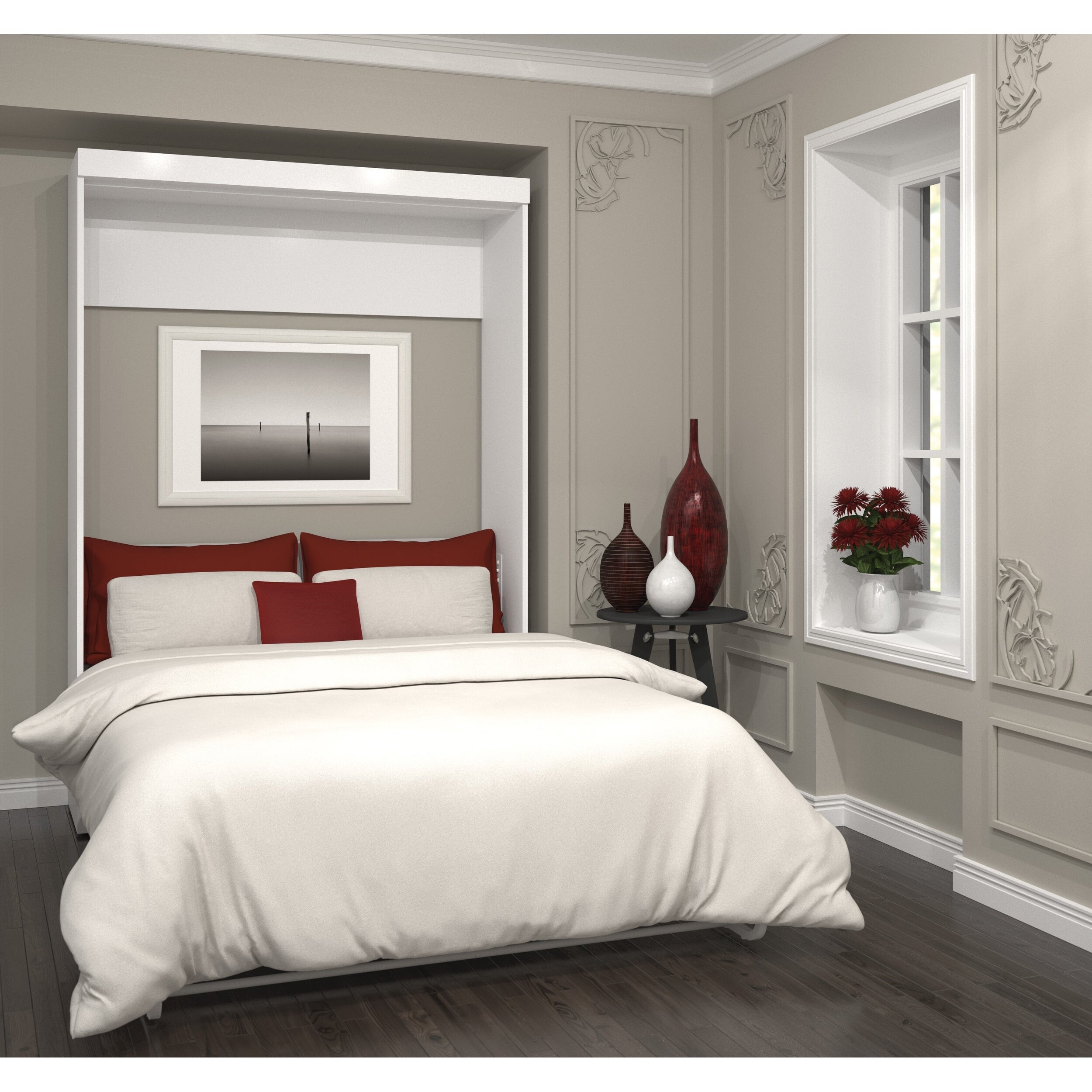 The Murphy bed is often found in minimalist-designed rooms because of its compactness. They come in all sizes and are connected to a wall. Wall beds will appear as an attractive cabinet wall when it's in the upright position.
If this specific Murphy bed is too simple for you, you can always buy a Murphy bed that comes with storage cabinets that line the sides. You'll also want to measure the height of your ceilings before buying the Murphy bed.
2. Buy The Modern Platform Bed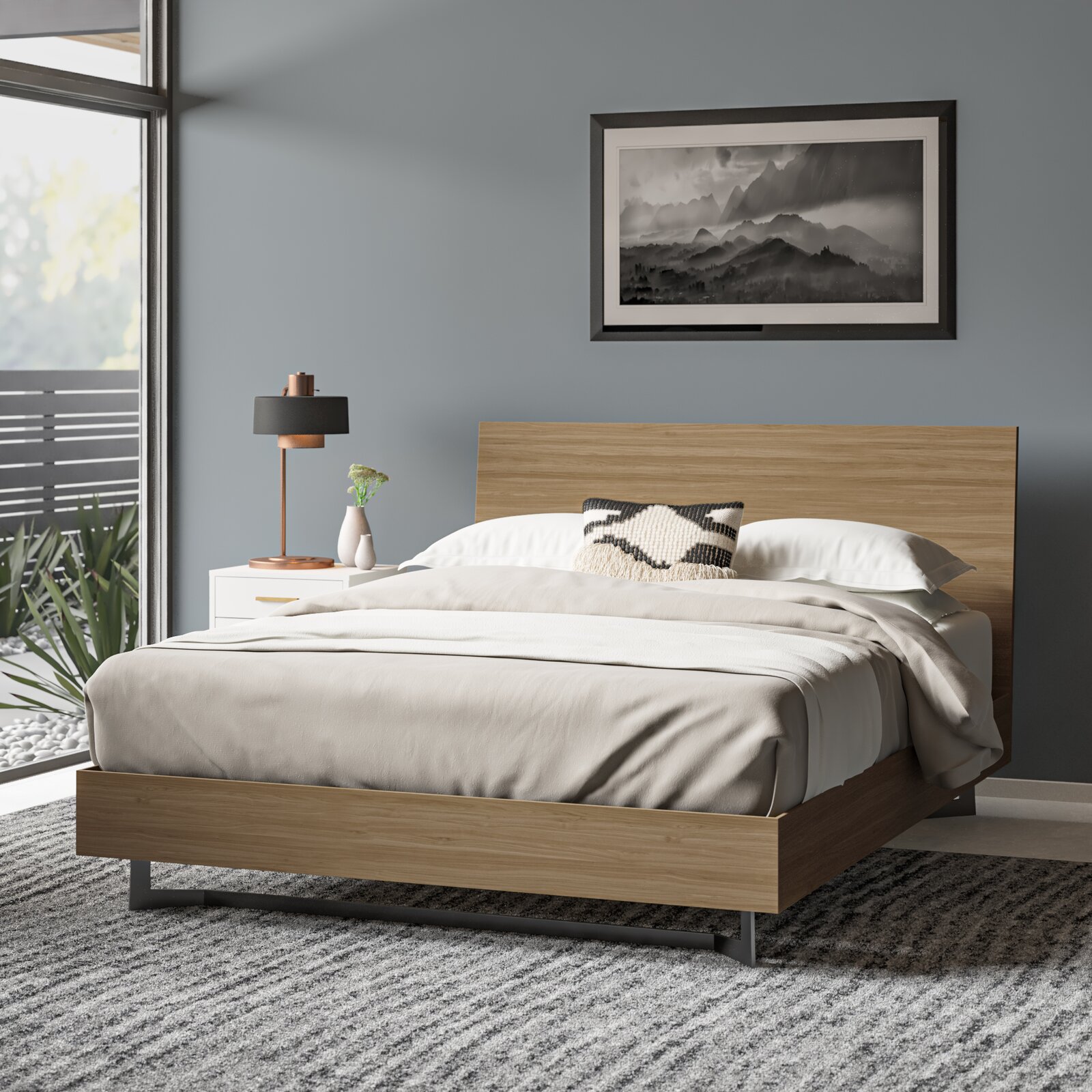 Since the platform bed sits a lot lower to the floor than most beds, it gives the illusion of taller ceilings and wider spaced rooms even though the bed takes up the same amount of floor space as other beds. This modern bed is a simple but sleek design.
Some platform beds are slightly elevated while others sit flat on the floor. You can buy them with more drawers or a hydraulic lift feature for more storage space. This bed is fantastic for minimalist and modern enthusiasts.
3. Find The Hidden Sofa Bed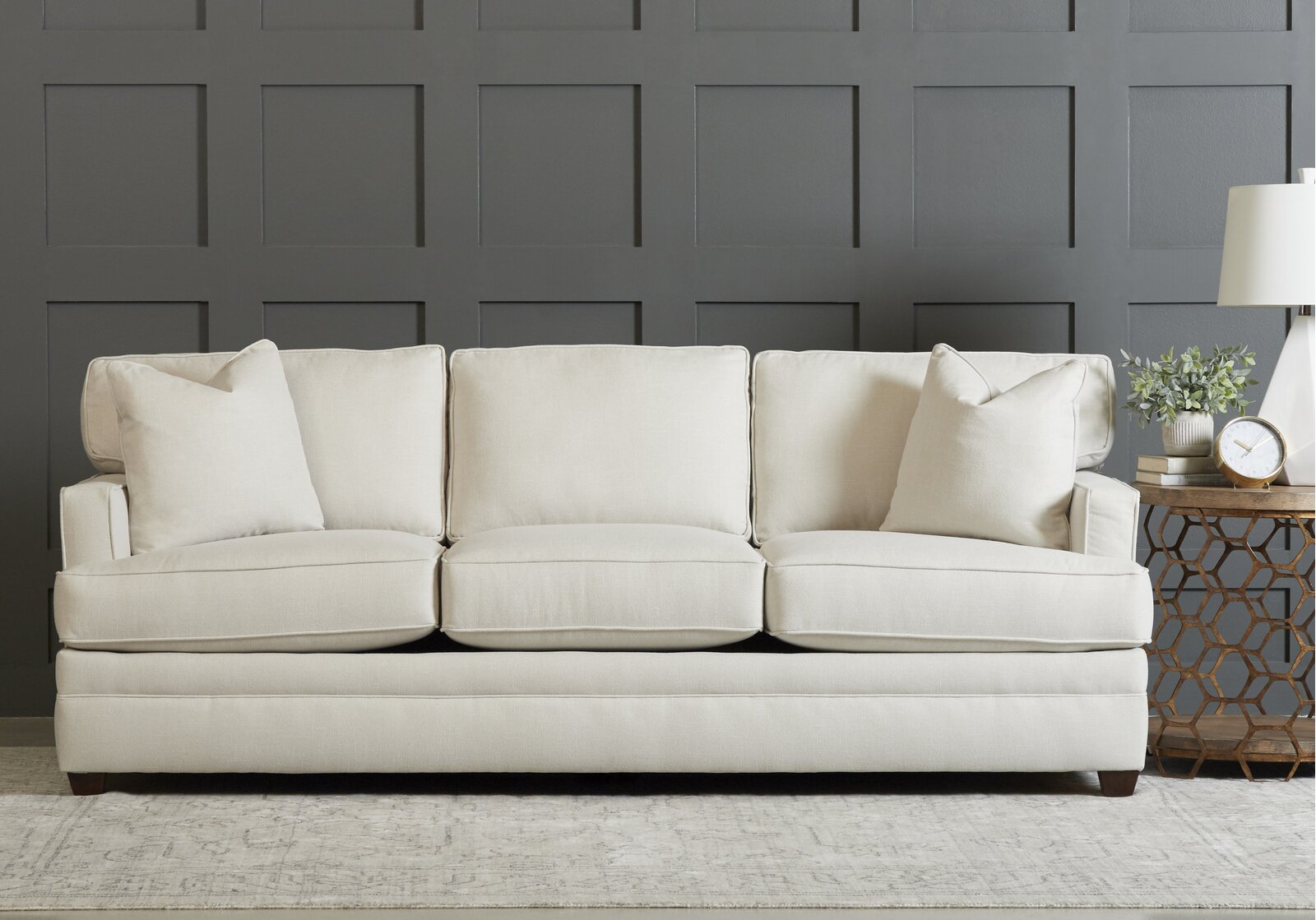 The hidden sofa bed has been around for ages! Today's hidden sofa beds are built more comfortably. This bed is great for people who live in studio apartments.
To turn the sofa into a bed, simply remove the cushions, and pull out the metal-framed bed underneath. The greatest advantage to this space-saving bed is its ability to change and wash bed sheets which increase the lifespan of its cushions.
4. Roll Out With The Trundle Bunk Bed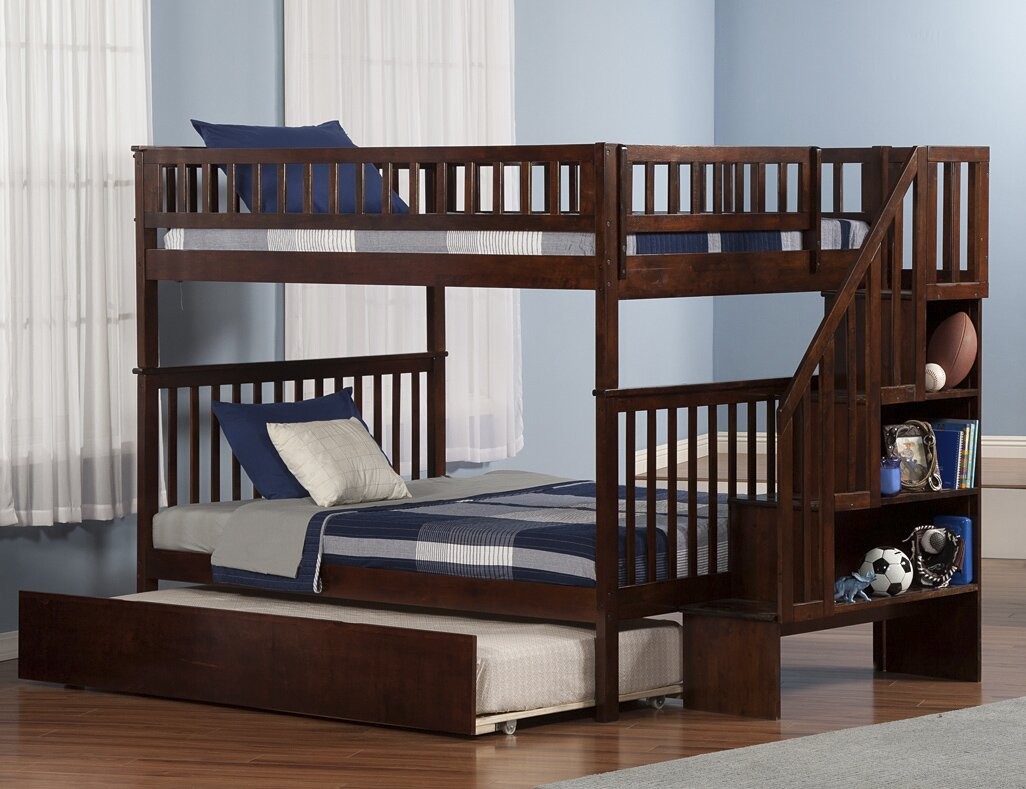 The trundle bunk bed is an amazing kid-friendly and space-saving option. You get two twin-sized beds plus a rollout bed that can be placed on either side of the bed.
A neat feature about this bed is the dual-purpose storage steps leading up to the top bunk. There's no detachable ladder, which makes these beds great for small rooms and spaces.
5. Double Up And Get The Wall Bunk Bed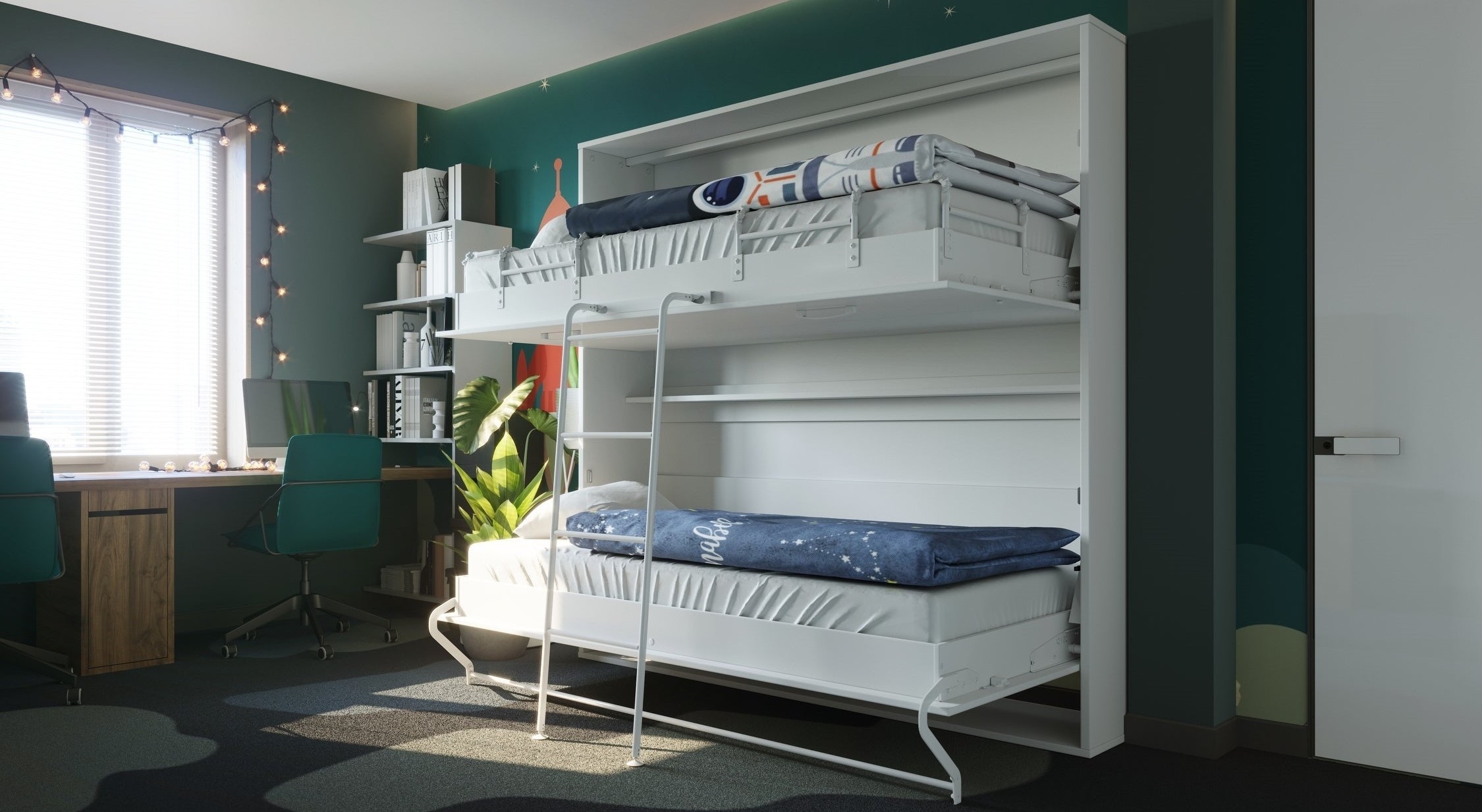 The wall bunk bed is like the Murphy bed, except the mattress size normally comes in twin or twin-XL. This type of bed is great for parents who enjoy small space living but have younger children at home.
This bed comes with a built-in mechanism that keeps them secured against the wall. If you have children who enjoy jumping on beds, this might not be the best option for you.
6. Choose The Loft Desk Bed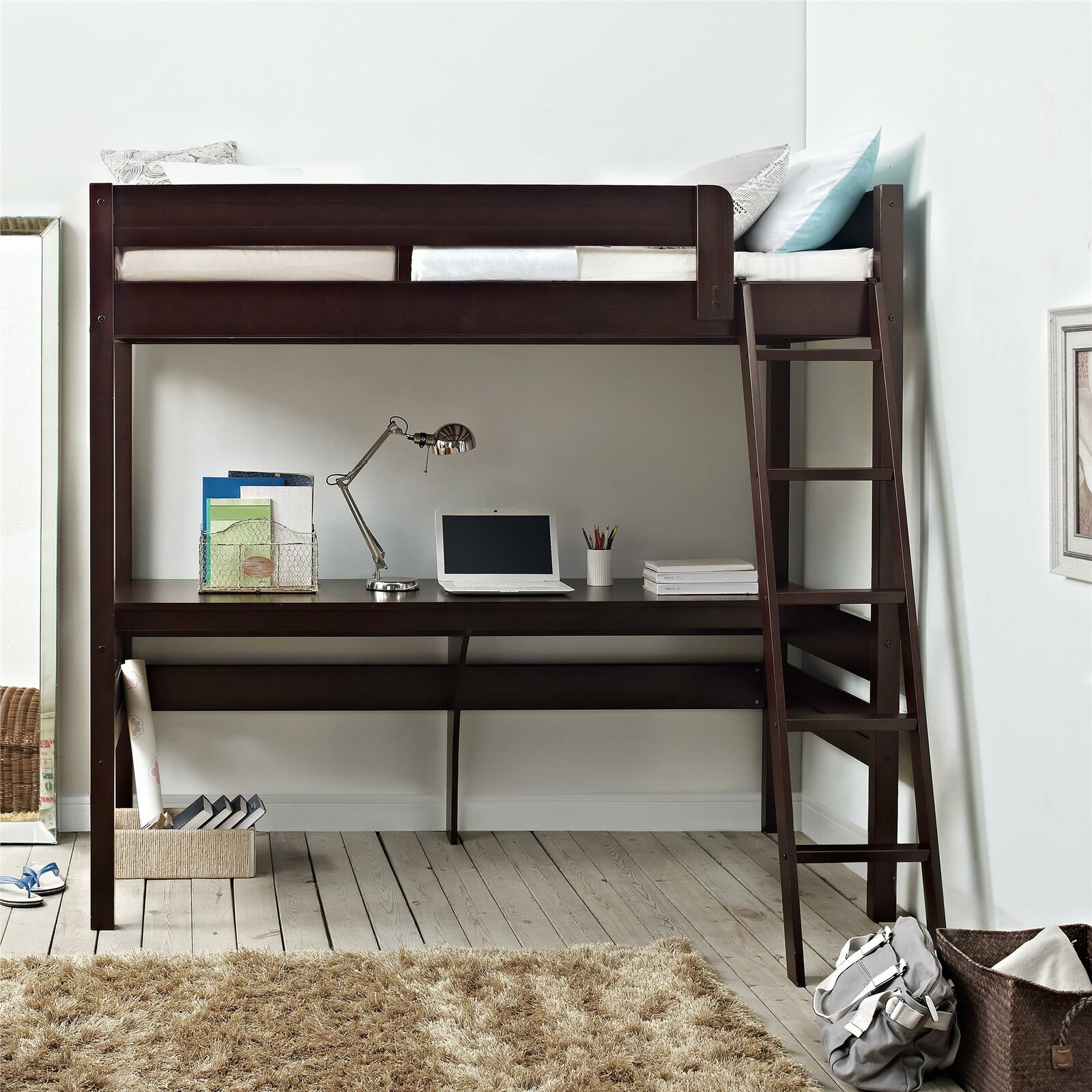 The loft desk bed is a terrific choice for people working from home or young adults going to college. There's no need to worry about tossing and turning during the night and falling out of bed, thanks to the built-in guardrails.
Extremely functional and stylish, the loft desk bed effortlessly combines what could be two rooms into just one room. Who needs an office anymore when you can save space with this well-designed bed?!
7. Shrink A Room With The Foldable Bed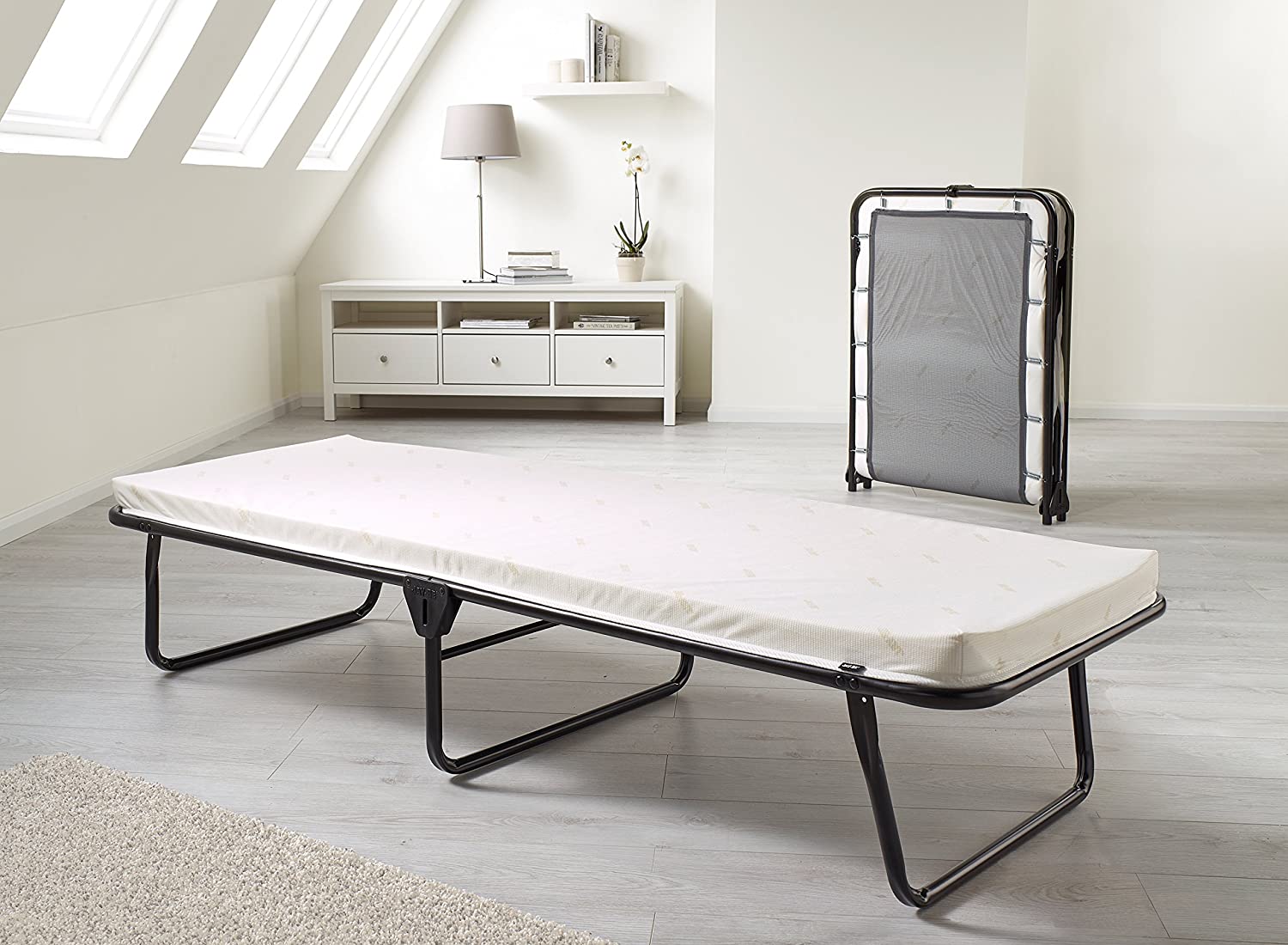 Maybe you are looking for a more budget-friendly bed that you can store easily and set up effortlessly for guests. If you aren't looking for a luxurious appeal, then the compact foldable bed is a good option.
Talk about beds for small rooms and spaces! These compact beds can fit almost anywhere. You can store them underneath other beds, in closets, and even in the trunk of your car.
8. Make It Simple With A Futon Bed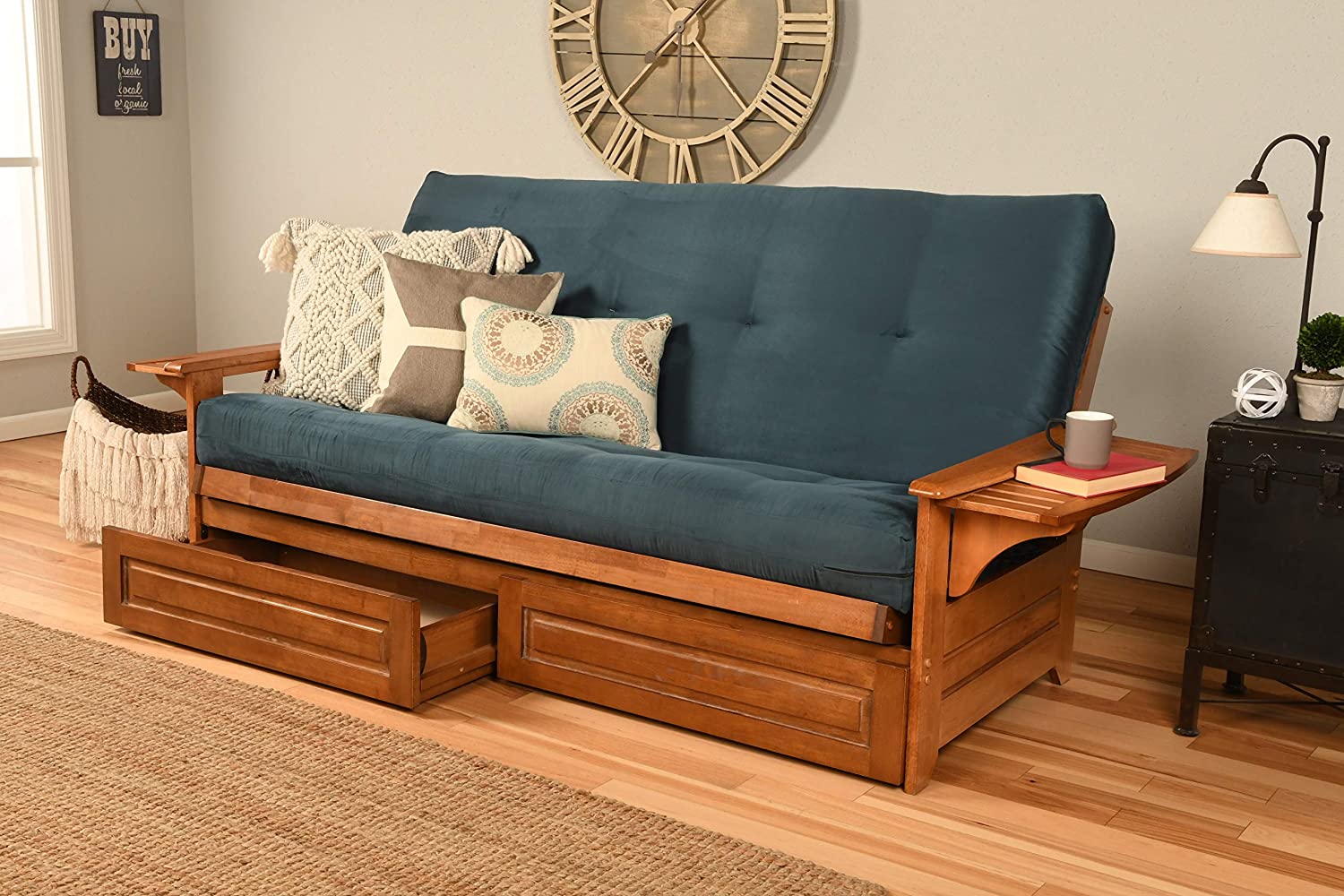 From a couch to a bed, simply push down on the angled backrest of the Futon and watch how quickly it converts into a bed. Some Futons like the one above come with drawers for hidden storage.
Futons give you a wide variety of options when it comes to material. Some material options you can choose from are polyester, suede, velvet, plush, and faux leather. These beds are cheaper, but they also wear out quicker when compared to the traditional mattress.
9. Look For A Storage Loft Bed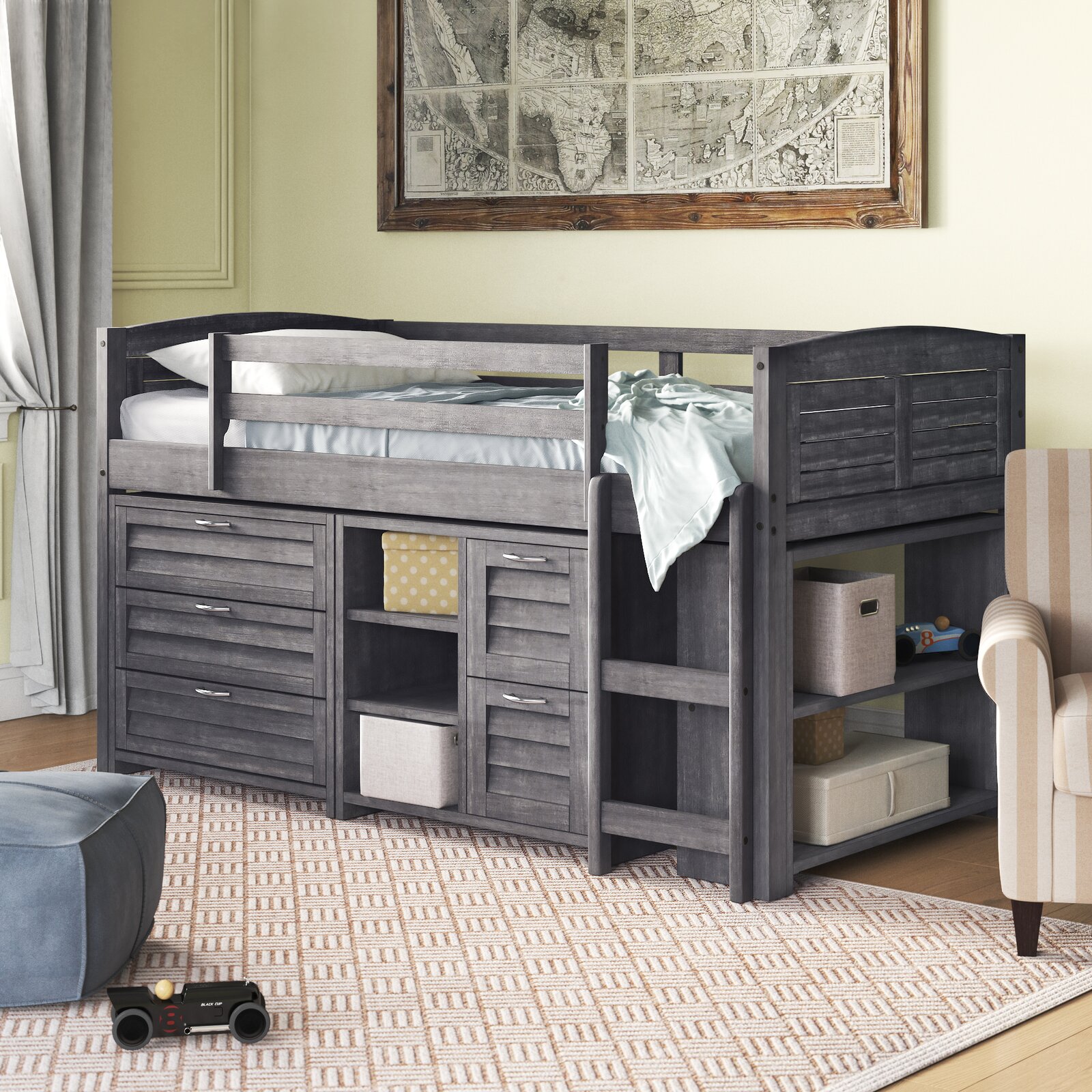 Read a book before bedtime and then climb up to bed for a long night's rest on the storage loft bed. This bed duo is great for the kiddos and it's a space-saving option for parents.
There's plenty of space to stash away small toys while leaving books out for easy access. If you feel you never have enough drawer space for your kid's clothes, there are 6-drawer storage loft bed options as well.
10. Make It Fun With The Stackable Bed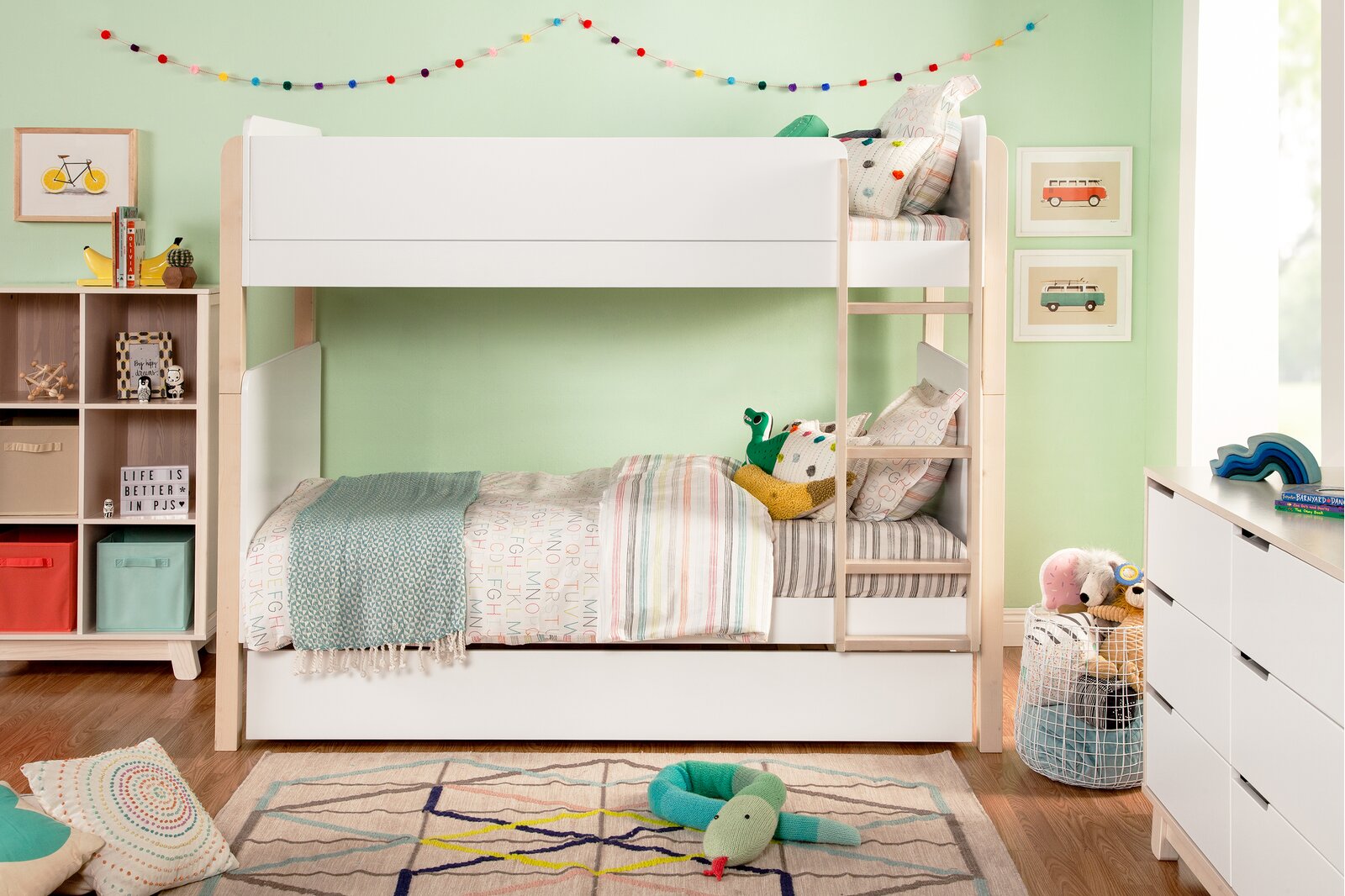 Stackable bunk beds are built for two and with this unique design, you can store items under the bed without it looking messy. A great feature on the stackable bunk bed is the option to have two separate twin beds or a bunk bed.
The built-in ladder feature is easily moved to whichever side of the beds you want it to go on. The smooth and rounded corners add to the overall design and safety. Regarding style, the stackable bunk bed guardrail has a softer feel than the open metal guardrail you find on the classic bunk bed.
11. Take Advantage Of The Bookcase Bed
The bookcase bed comes with so many drawers that you can probably sell your dresser! Not needing dressers makes these beds for small rooms and spaces a great purchase. The headboard gives space to store books and other items easily.
There's also an under-bed storage area that can be accessed from both sides of the bed. For those of us born with shorter legs, this 6-drawer bed is a tall bed and so it may take us a hop or two to get on and off it.
12. Get The Classic Bunk Bed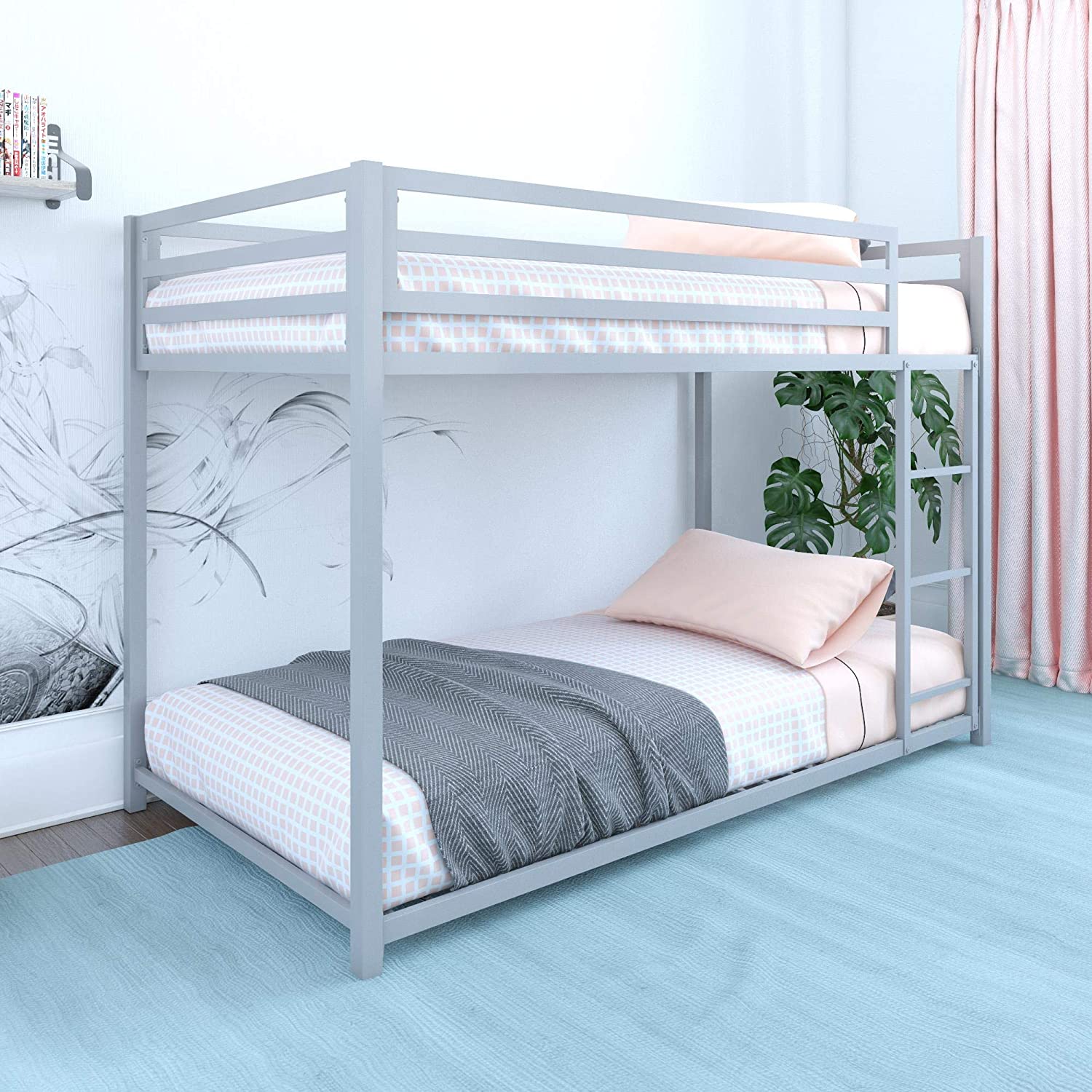 Some people think classic bunk beds are just for kids. Sure, some bunk beds are specifically designed for kids, but you can also find some classy bunk beds made for college students or close-knit roommates.
If you have a close-knit roomie and want to save space, try out the classic bunk bed. Some of these beds give you more space underneath for extra storage. Other bunk beds have a more stylish and platform appearance to them.
13. Look For A Sleeper Sofa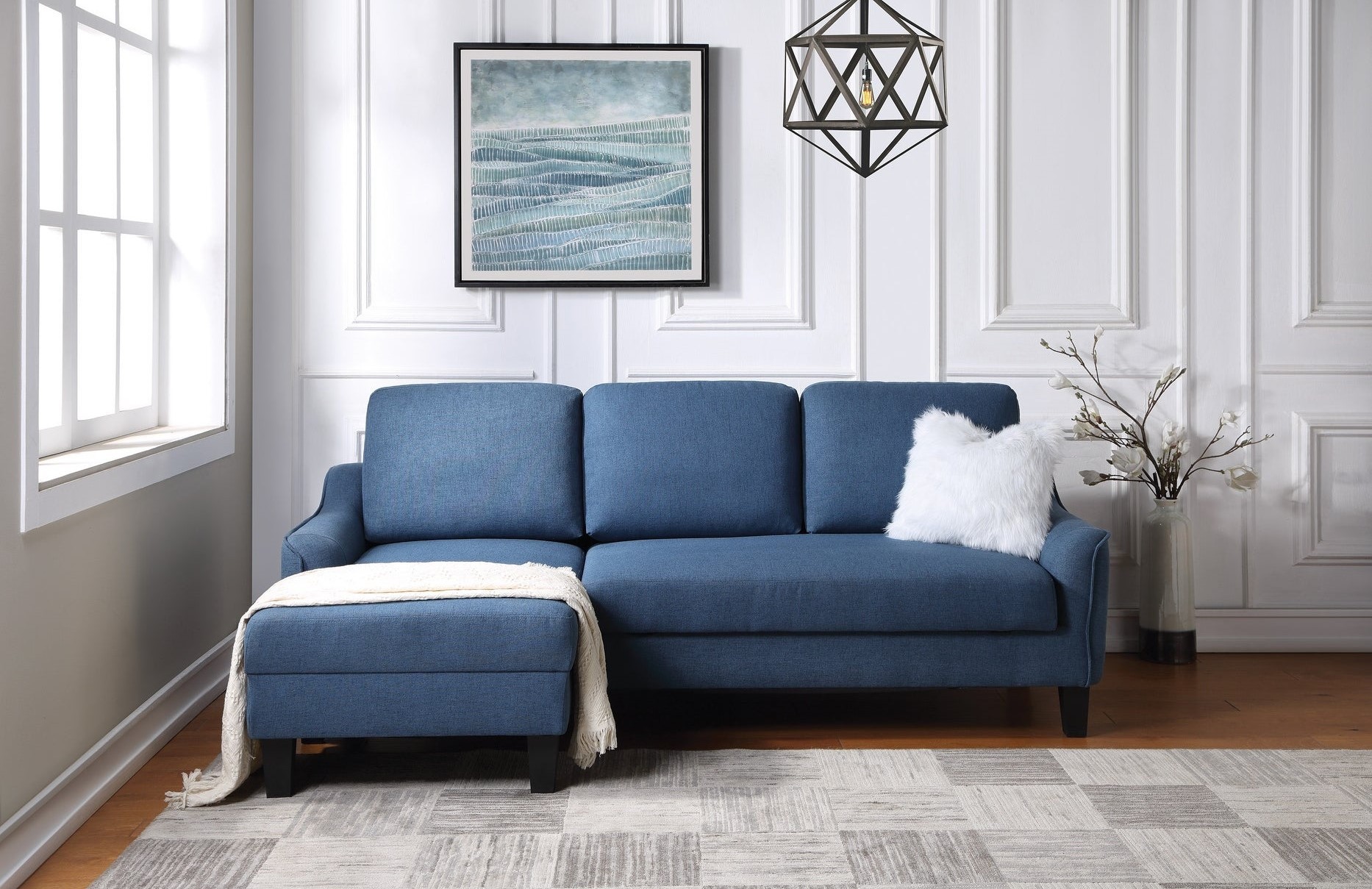 The sleeper sofa gives your living room a contemporary feel and accommodates unexpected guests. These beds are built smaller but there are some that come with storage spaces for you to store your pillows and blankets.
Sleeper sofa's look wonderful when they hug the corner of a room. The piping detail on the edges of the bed help elevate the subtle look.
14. Buy The Functional Trundle Day Bed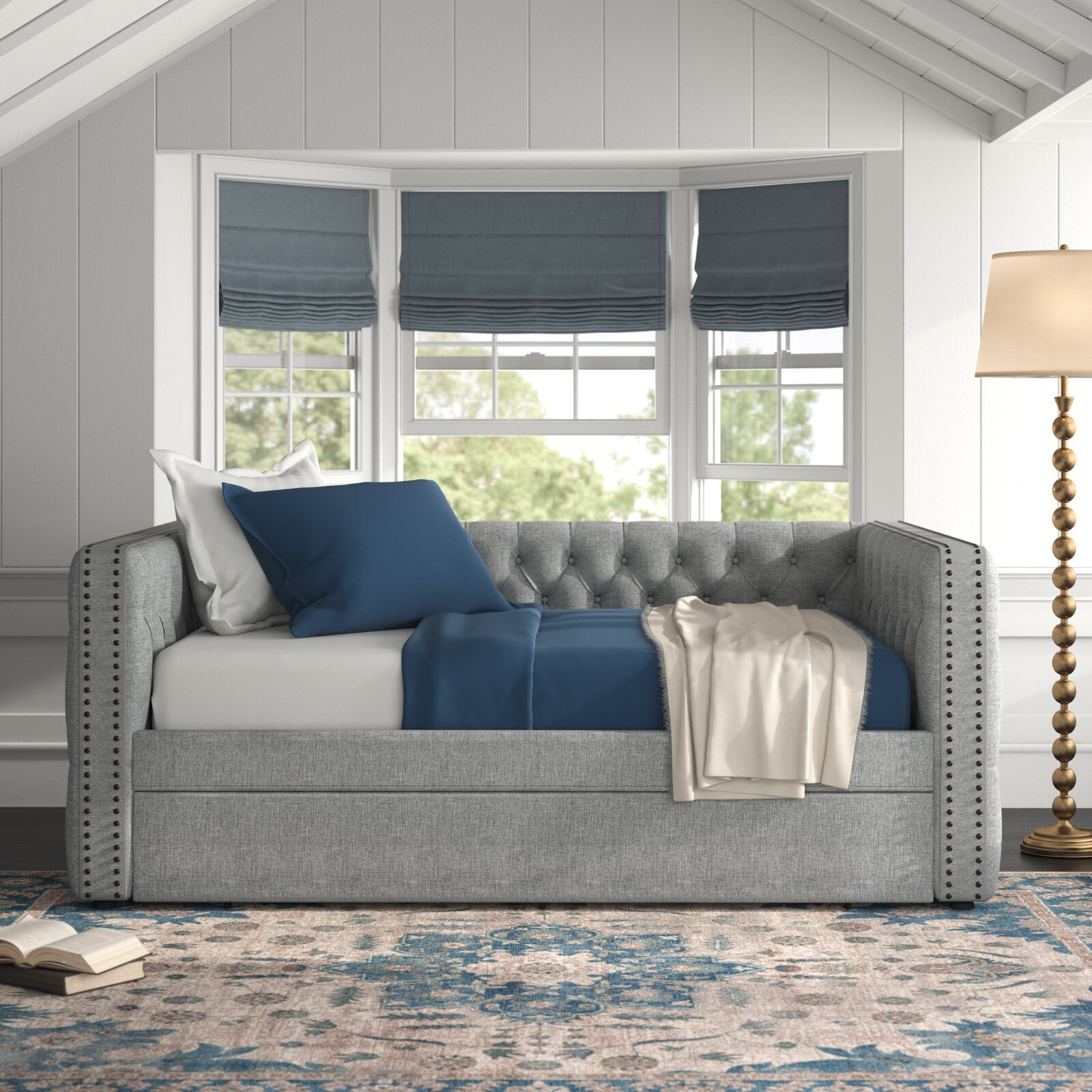 Beds for small rooms and spaces don't have to be bland. This day bed with trundle takes on some flair with diamond button tufting and nail head trimming.
This bed is the mother of functionality! The rollout trundle underneath the day bed is an appreciated addition that allows two people to sleep on it. If you're a college student that reads, eats, sleeps, and breathes, this is another bed for you.
15. Make It Easy With The Inflatable Bed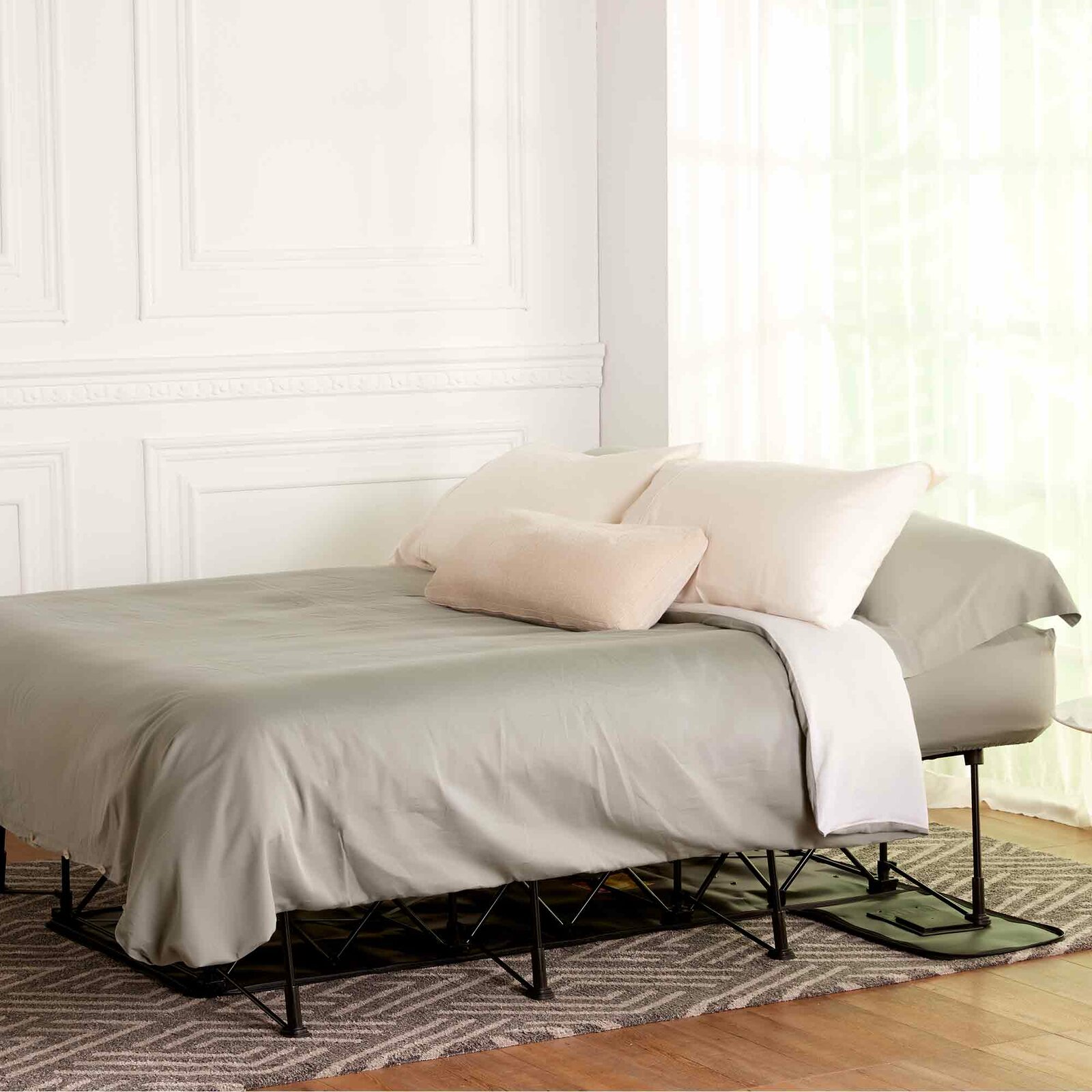 The elevated inflatable mattress is not your typical bed, but if you are a traveler looking for a space-saving bed for a small room, this may just be the perfect bed for you.
These portable beds come in a compact wheel storage case and a built-in pump to easily inflate the mattress. Surprisingly with it being made of air, it can hold hundreds of pounds. It's puncture resistant too!
Buyer's Guide For Beds For Small Rooms And Spaces
A simple way to capture the minimalist design style and the Murphy bed is painting the back wall a neutral and airy color. A light-colored wall can free the space in a room.
If you choose the platform bed and lean more towards modern, you'll still paint the wall neutral, but you'll add a couple of steel-framed paintings and geometric patterned wallpaper for a clean and crisp finish.
Simple fabrics like plush on sleeper sofas, pair extremely well with the mid-century modern and transitional home decoration style. Adding the low seated sleeper sofa to a mid-century modern styled room expands a small space in no time.
Are you more Scandinavian style? If so, buy the white sofa bed to make your living room look simple and understated, and then add a pop of color with art or a natural fur throw.
If you're going for a rustic outdoor look, use one of the bunk beds listed above and make sure it's wood material and not metal. Pairing a wooden bunk bed with stone or reclaimed wood floors will help open a small room very nicely.
Compliment a velvet tufting day bed using the Hollywood glam style. Dramatize your small room and spaces with bold purple pillows and flaunting antiques. Also, swap the floor lamp with a wall lamp and watch the small space instantly grow bigger.
You can get away with a lot if you use a bookcase bed in a Bohemian themed room. Buy yourself a worn-out rug and pair it with some hanging mirrors letting some natural light bounce around to really open that small space of yours.
Final Thoughts…
If you've been searching beds for small rooms and spaces, hopefully you have found some motivating suggestions here!
Whether you go for the modern platform bed or the fancy day bed, you can't go wrong with a space-saving bed. You have plenty of options to choose from, so you'll be able to find the perfect bed based on your home décor preference.
You now have 15 amazing bed ideas and a helpful buyer's guide in the palm of your hands. Now, it's time for you to go find the right bed for your small space.