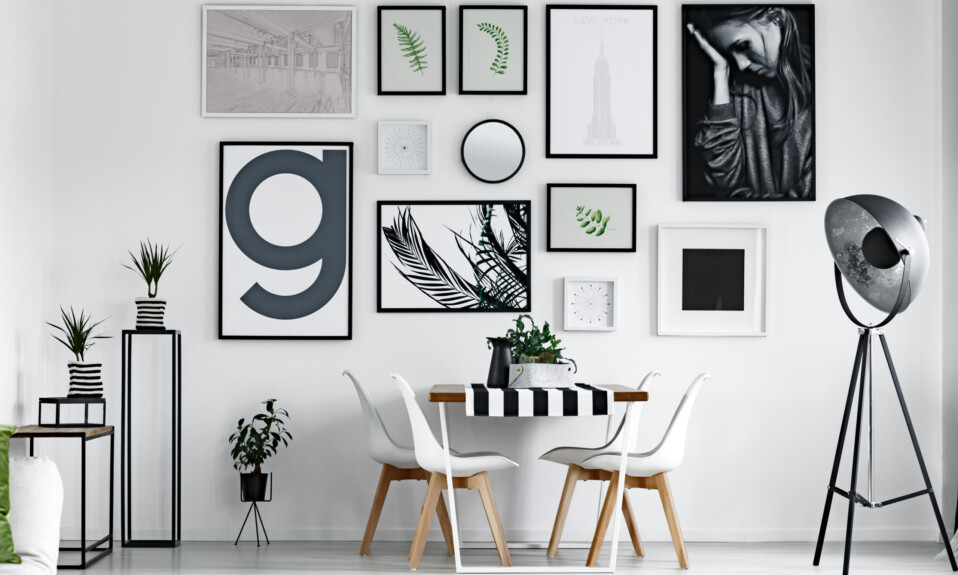 As common as they are, we bet you've come across some good, bad, and simply ugly gallery walls as it's easy to get carried away and over-do a room with the wrong placements and a tad too much symmetry. To help you warm up a room with personality and tie everything together, we turned to Décor Aid interior designers to dish up art gallery wall decor tips for tried & true methods to create striking harmony throughout your home.
DON'T USE PROPS / DO EXPERIMENT
When considering art gallery wall decor tips, our interior designers were unanimous in venting their frustration at clients requesting the use of props to decorate their walls and compliment their artworks.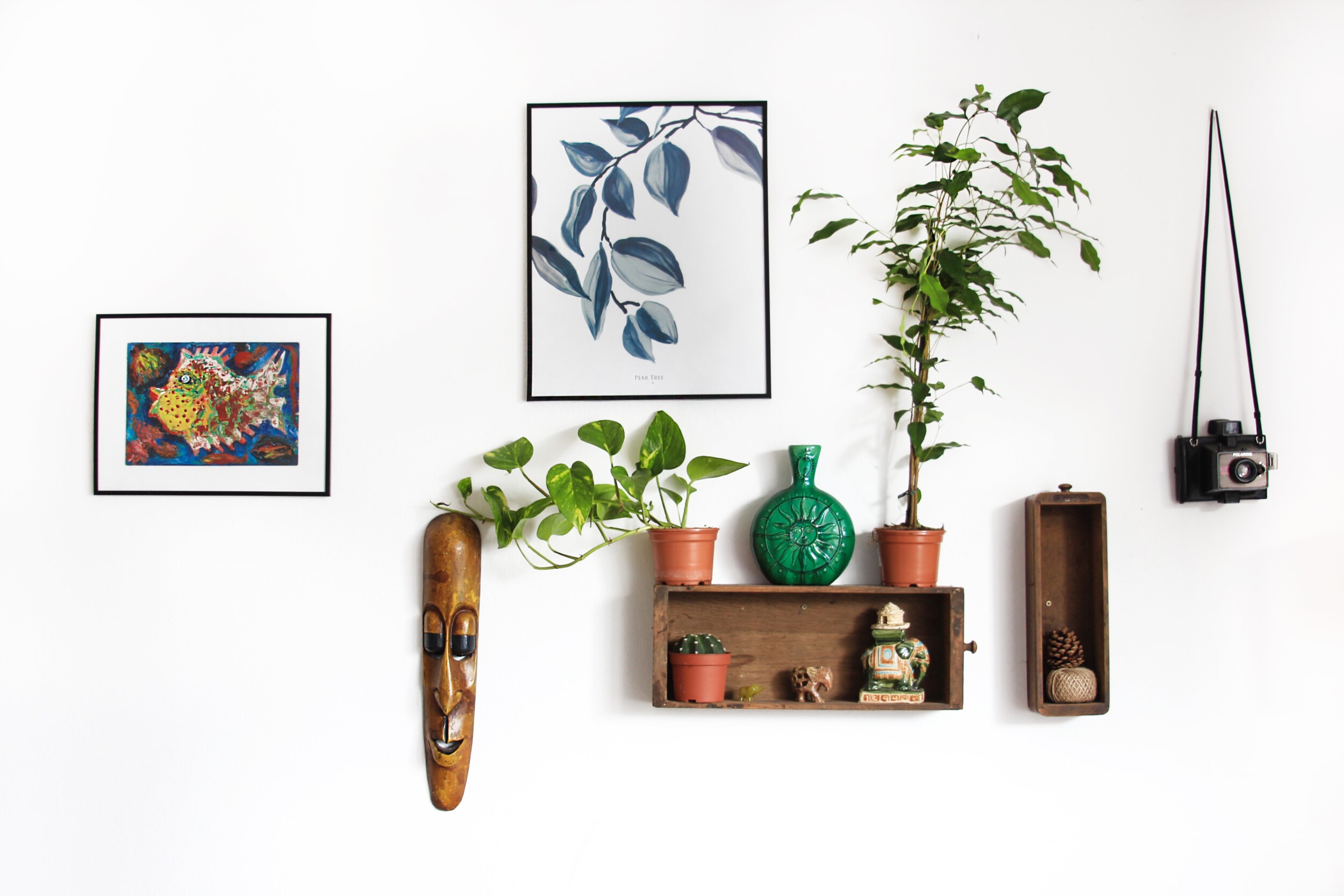 To avoid having your home mirror a TGI Friday's, skip out on the rusty trombone and tricycle you've saved since childhood and do experiment with more sophisticated elements, say an over scaled sculpture or a handcrafted porcelain object. And while the image above does illustrate an appropriate sense of harmony, notice how childish the accessories hung up have you instantly thinking – why?
DON'T BE RIGID IN PLACEMENT / DO MAKE AN INVENTIVE STATEMENT
Just because it's framed doesn't mean that it has to spend its entire life with you on a wall. Instead, consider different approaches when placing your cherished artworks from the floor up.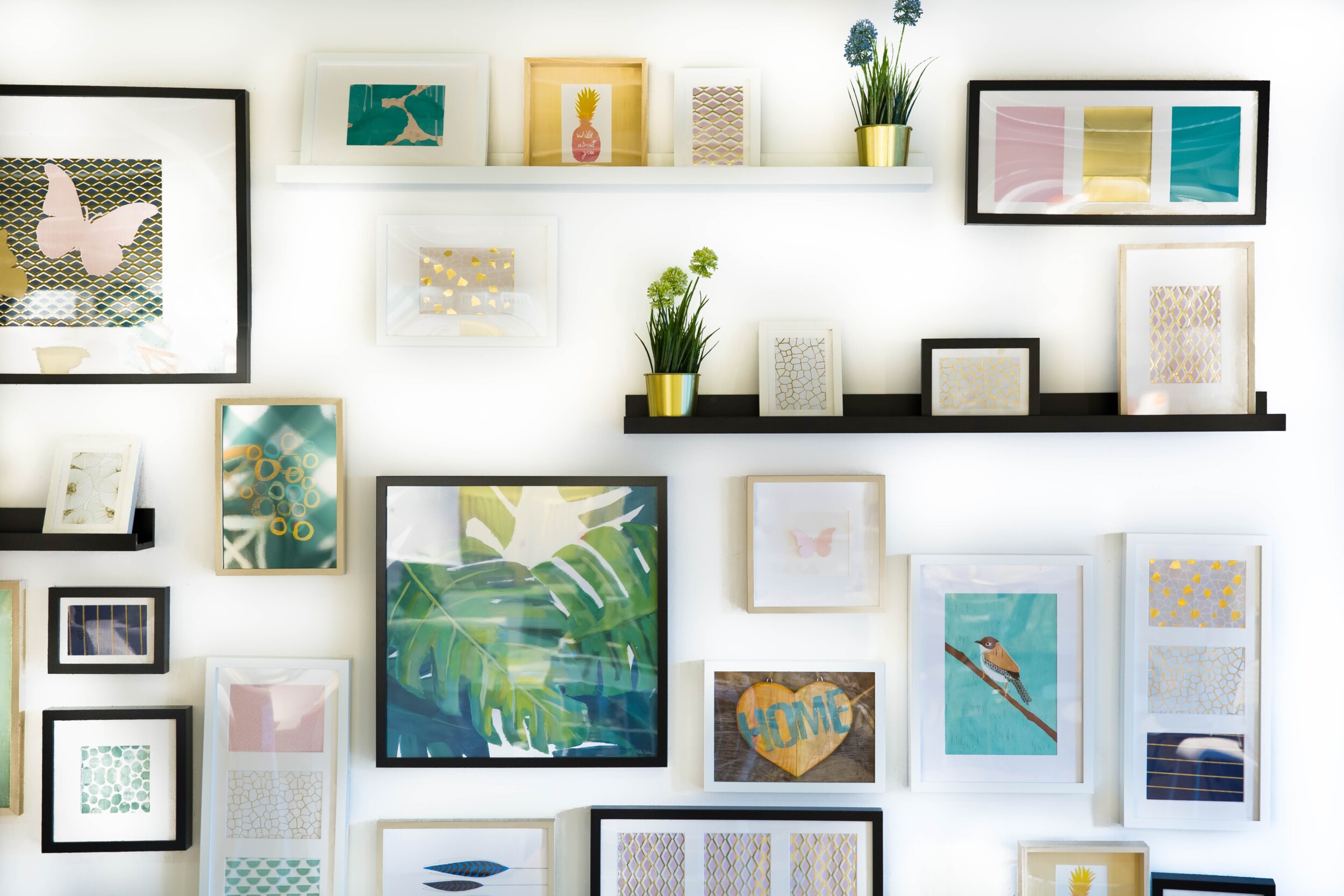 As the room above illustrates, one of our favorite art gallery wall decor tips is approaching placement with an unexpected twist. Though we can imagine the placement above doesn't look that great from the exterior, notice how each piece pops and uplifts the room with a grand, yet casual gesture. While the views may be amazing, the room would elicit a much more bland energy without them. While on a wall, we strictly suggest following art gallery cues by placing everything at eye level but you can also place your works just about anywhere that feels right, from the floor to above a door.
DON'T FORCE SYMMETRY / DO PLAY WITH SCALE
One of the most common mistakes we saw when researching art gallery wall decor tips was the practice of too much symmetry. While in other circumstances, symmetry in interior design can be soothing and balancing, but when it comes to artwork placement, it can look redundant and boring.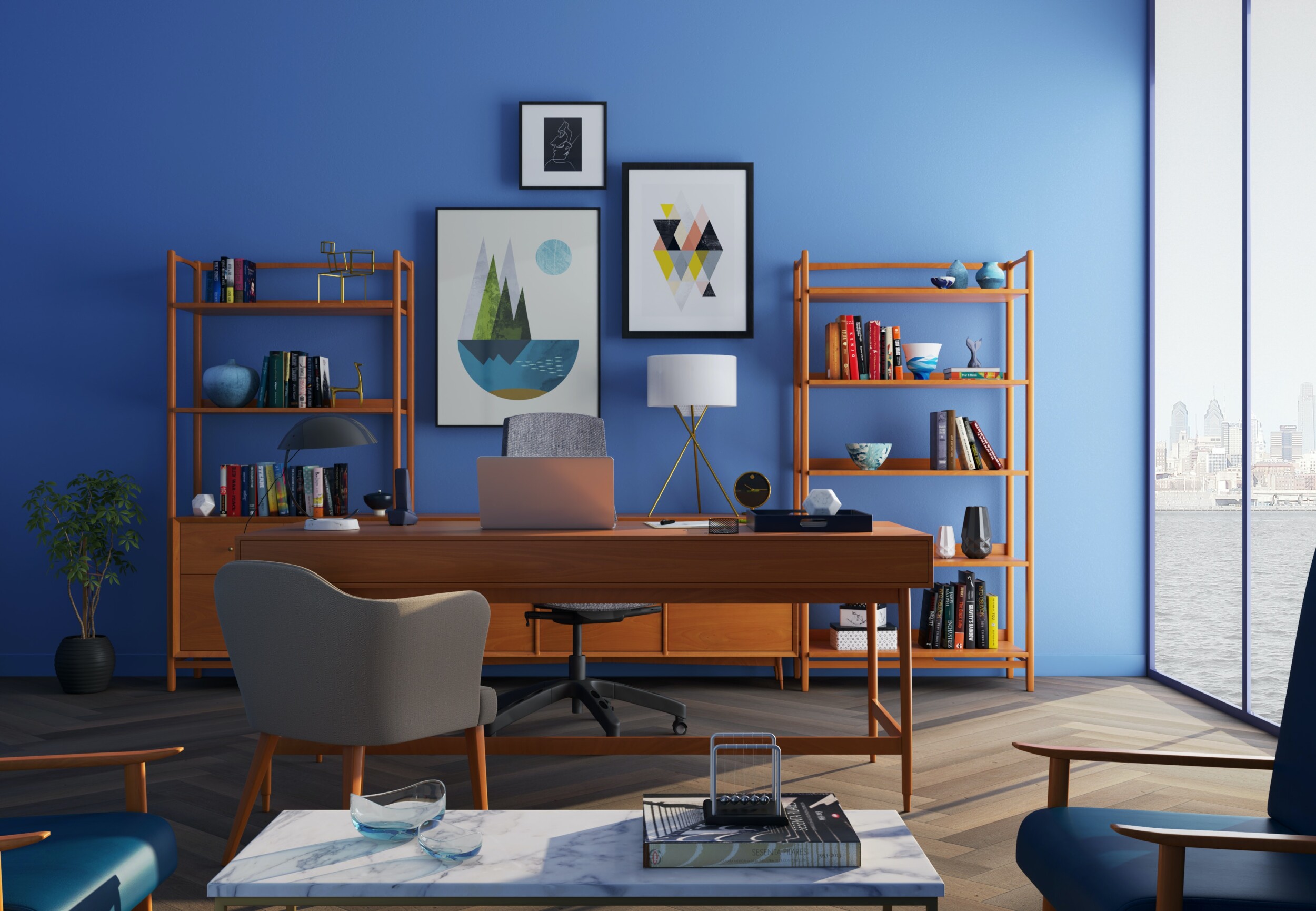 Notice that while the room above may have a lot going on visually, the range of artworks doesn't overpower or compete with any other elements in the room. We suggest a similar approach when looking to create a somewhat cluster of artworks as a varied group of different sized yet complimentary works will help to bring a room to life rather than simply blend in.
DON'T USE A HEAVY HAND / DO CAREFULLY CURATE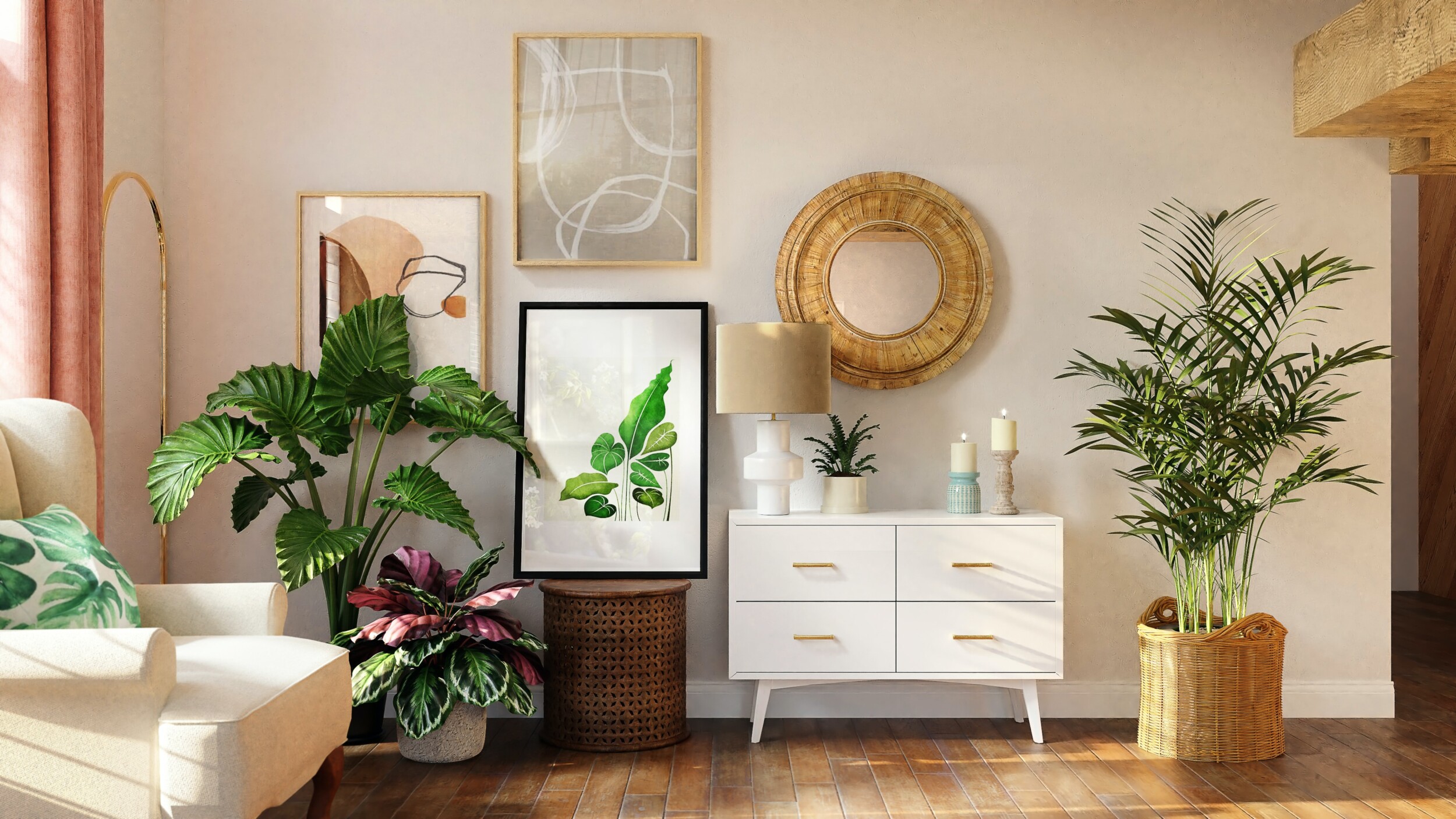 Here's a perfect example of simplicity being key. While the living room above features dozens of great, statement-making wall hangings, you have to admit that all together, it's just too much of a statement. Where are you supposed to look? How much can you love and remember? There's just way too much going on.
Though we admire their maximal collection, the room would feel more impressive if each piece of artwork wasn't so unique. To maximize their collection, it would be best to have mixed more minimal pieces in while switching out the more special works every so often for a quick room refresh.
DON'T GO FOR THEMES / DO CREATE A MIX
When incorporating our art gallery wall decor tips in areas around your home to make a visual statement, we suggest you steer clear of theme's of any kind as you'll tire of them and miss the mark on a sophisticated mix. And while we have to applaud the home above's symmetry and tight colorways, there's something cheap and unremarkable about the effect you should avoid.
Instead, take your time and decorate slowly as creating a stimulating art gallery wall will most certainly never happen overnight and you'll be able to curate pieces that sing to you over time. To create the perfect mix of elements with a sense of harmony, stick to about five complimentary tones as you'll have more options without everything being a tad too random.