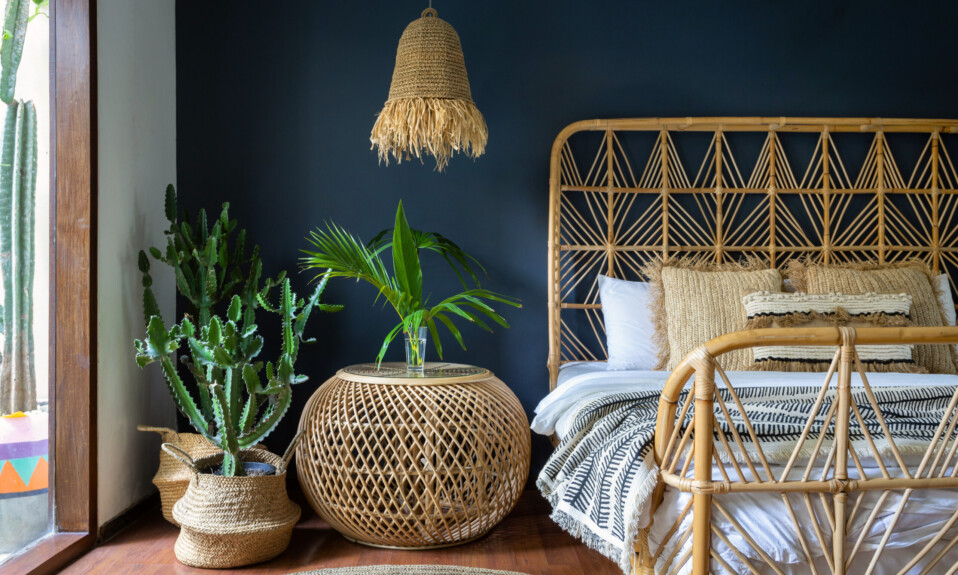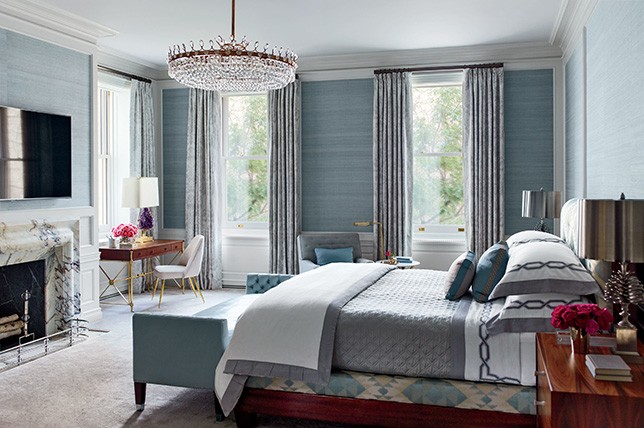 It should come as no surprise that relaxation is key to the perfect bedroom design. To truly relax in your bedroom, our decorators suggest creating an oasis featuring the perfect bedroom colors to help you wind down at the end of a long day. For inspiration, we've compiled a list of savvy bedroom color ideas to help you make the most of your personal retreat.
FOREST GREEN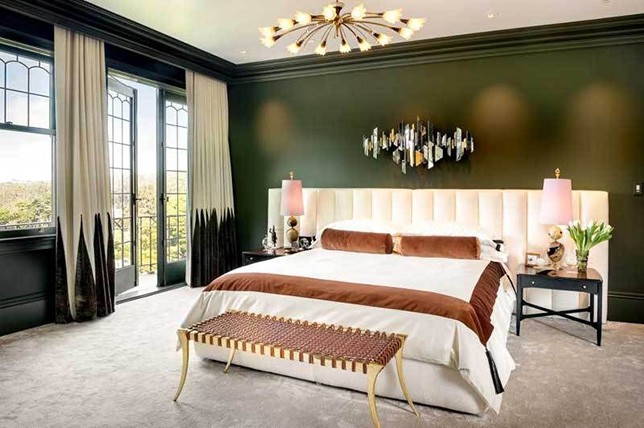 A forest green color is certain to add comfort and strength to any bedroom, or room for that matter. Green is a relaxing color; it's a natural color, making you think of nature while enveloping yourself in a color that's equally representative of financial growth. A dark forest green is about as luxurious as you get when it comes to color spectrums, and as a jewel tone, it still manages to be relaxing.
You will feel safe and nurtured in a room painted this color. Accessorize with natural materials and plenty of wooden furniture for a to add a sense of outdoors.
AQUA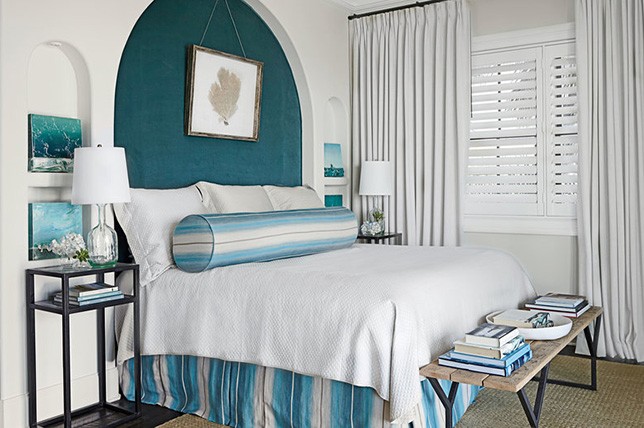 Blue is a traditionally cool color, known for aiding in relaxation. A misty shade of aqua invokes thoughts of the ocean and the seaside; allowing relaxing waves of thought to wash over you. To keep your bedroom colors fresh, introduce some white into the mix through blinds, bedding, and furniture.
You can keep it minimal, with clean lines and no fuss, or you can add some frills, with some more ornate pieces of furniture and more decorative bedding. You can even go dark, with dark wooden furnishings to elevate an aqua bedroom.
SOFT YELLOW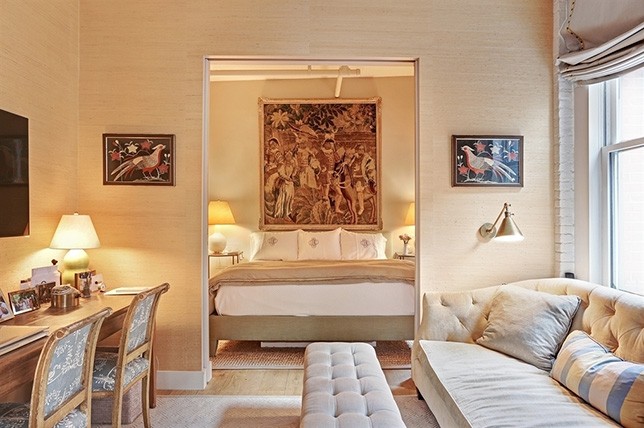 A soft shade of yellow is warming and is the perfect bedroom color if you want to wake up feeling optimistic. You don't want anything too bright here, or it will be way too sunny; choose a soft, buttery yellow with plenty of deep tones in it. Envelop your room in this plush bedroom color, accessorizing with natural and neutral hues to keep the scene calming.
Think rugs made of natural materials and bedside tables and wardrobes made from oak, for a light, natural, and sturdy feel for your room. If you want to keep your room light, bring in white furniture. If you want your bedroom paint colors to feel decadent, go for a darker and more luxurious yellow.
PEACHY PINK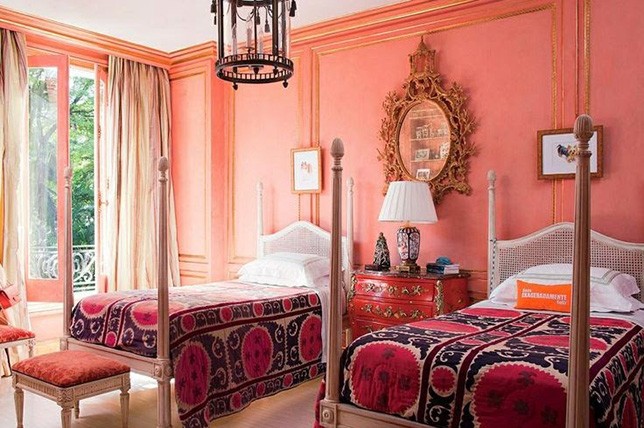 Pink is known for its relaxing qualities, but we aren't talking baby pink here; we are talking an alternative peach. Peach is a soft, luxurious color and is perfect for bedroom colors as it isn't overbearing or overwhelming. Peach is calming, but still adds a punch of color to a room.
It's a stunning and surprisingly flexible color and can be teamed with creams and golds, for a unique bedroom design. It also works well alongside green and darker brown, as well as your standard whites and lighter woods.
ROSE PINK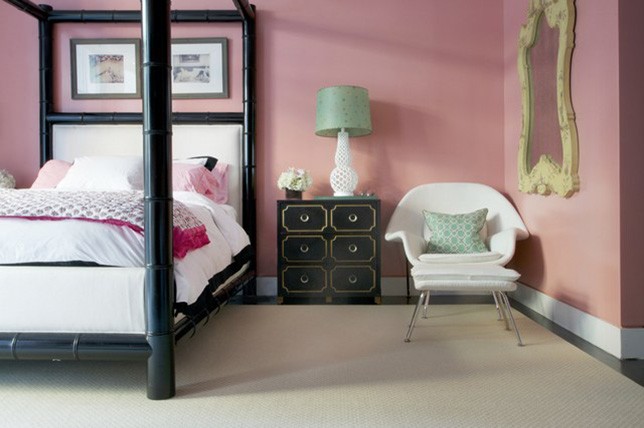 Traditionally pretty, rose pink defines 'romantic' when it comes to bedroom paint colors. If you want something truly romantic and serene, style rose-pink hues with white soft furnishings and ornate French-style furniture.
For bedroom paint ideas which are a little more modern, put your room together with some modern slim-legged bedside tables in a contrasting wood finish, or even a dove gray. If all that pink isn't your thing, go for light gray and white for your bedroom paint colors and accessorize with this dusty pink color.
BURNT ORANGE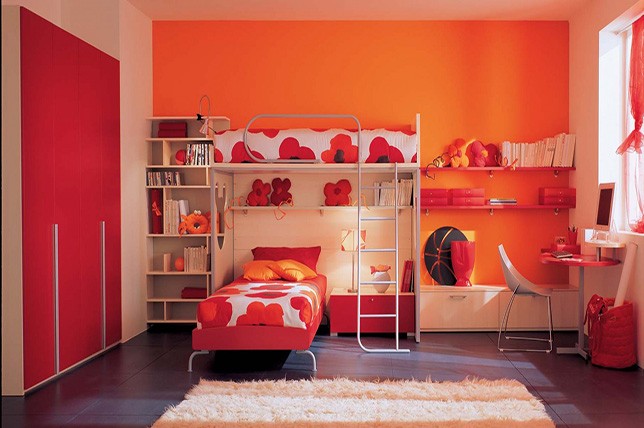 This color is such an earthy tone; it evokes comfort and warmth in a way that no other color can. With deep browns running through it and that bright (yet soft) pop of orange sure to make a statement, a burnt orange hue is soothing and inspiring all at once.
Fiery orange evokes the romantic warmth of a log fire, and the earthy tone of it is deeply relaxing, despite the brightness. Paired with dark wood furniture, you'll have a cozy room like no other.
LOVELY LILAC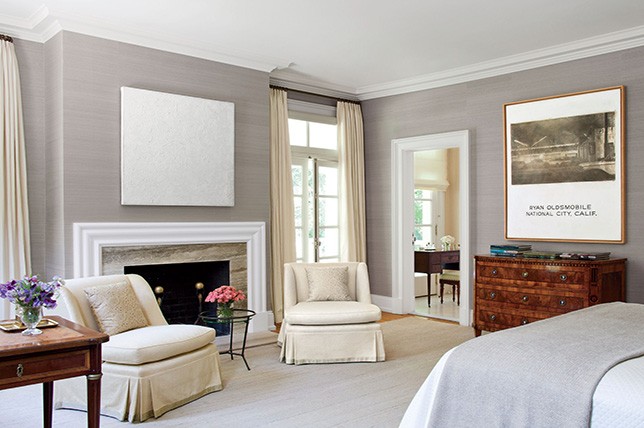 Lilac is a beautifully romantic color and perfect for a tranquil bedroom. The soft sheen of lilac is not only pretty, but it's surprisingly flexible as it looks wonderful with pale yellows, pinks, greens, and blues paired with romantic details (such as pretty cream lampshades and ornate bedside tables), where the color truly comes alive.
Lilac embodies 'pretty' and is one of the best bedroom colors for a romantic and reenergizing space.
GRAY-BLUE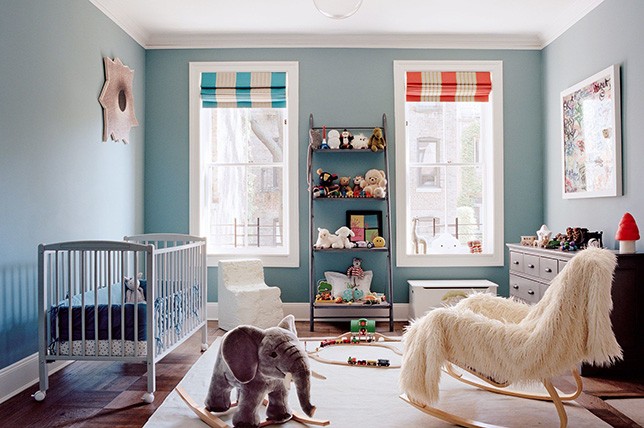 Cooler bedroom colors are relaxing by their very nature – they don't require any concentration, in the way your deeper and brighter colors do. You don't need to pay attention to them or consider them as you are casting your eye around the room, you can just kick back and relax, without a care in the world with bedroom wall colors like this.
Choose some minimalist tones to complement the vibe of your gray-blue color scheme.
EARTHY TAN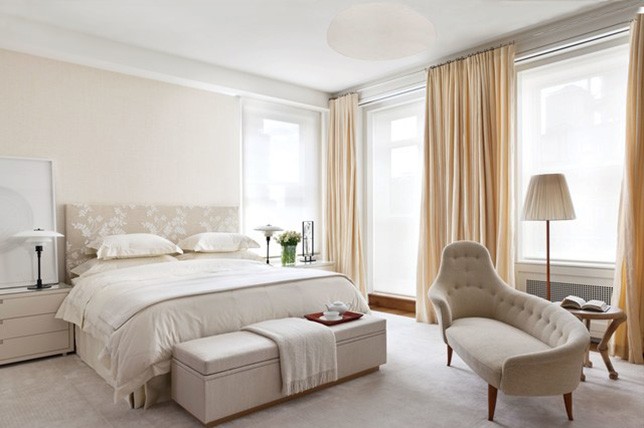 There is something calming about this color scheme and ever so fresh, too. Teamed with light natural woods or white, earthy tan color shades for a bedroom help keep you clear headed and alert.
If you want bedroom colors which aren't cold, aren't bold, and are still warm and inviting, earthy tans are for you. You get the best of both worlds with this color, with warm and cool tones alike.
GRASS GREEN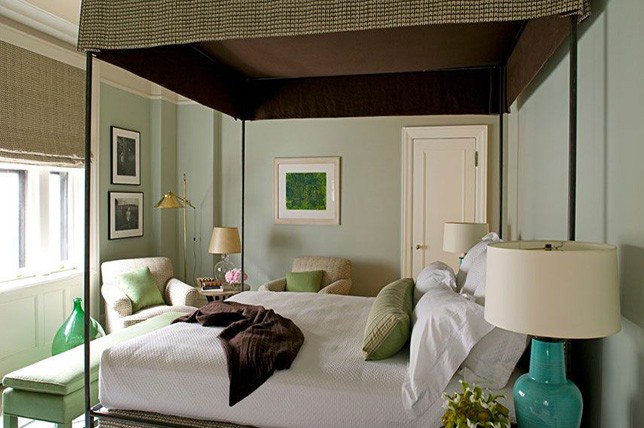 A brighter and sunnier color than your deep forest greens, a grass green is still equally as calming. It works to evoke thoughts of nature and time spent relaxing outdoors in the sun, a grass green is one of the best bedroom colors when it comes to meditation. A lighter and bright color like this, also helps you feel less restricted, in a way that darker bedroom paint ideas don't.
This color also looks stunning paired with white or cream furniture, adding that extra element of brightness that a strong color like this needs to work in a bedroom, as without it, it would be overwhelming. Choose crisp, plain linens and soft furnishings as fuss-free finishing touches.
DEEP BLUE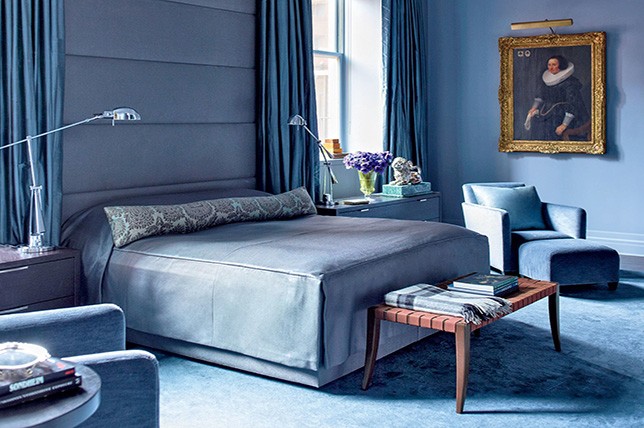 A blue like this has such depth of color, that you can't help but get lost in it. There is something about deep and dark colors that make you feel safe and secure, in a way that lighter bedroom paint colors don't (we think deep blue is one of the best bedroom colors for this).
Don't be shy with dark blue bedroom color ideas – embrace deeper color shades for your bedroom and paint the entire room in it.
MAUVE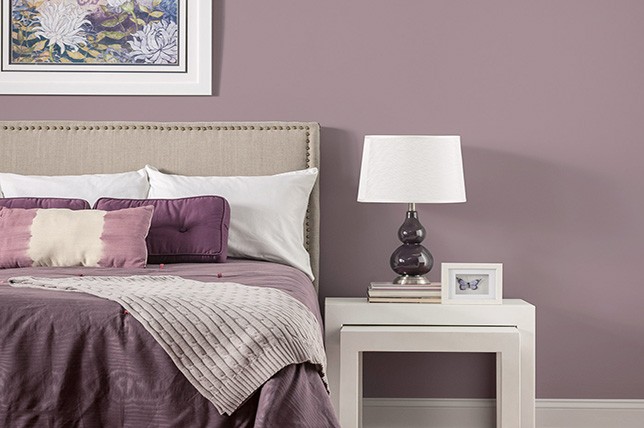 Mauve – a color which seems to confuse the masses. What is mauve? It's essentially a pale purple, but it has plenty of gray in it and it's another one of those colors which is warm and cool at the same time.
There is a lot of depth to this color and you can go as dark or as light as you want with it for your bedroom wall colors as it can work somewhat as a neutral foundation.