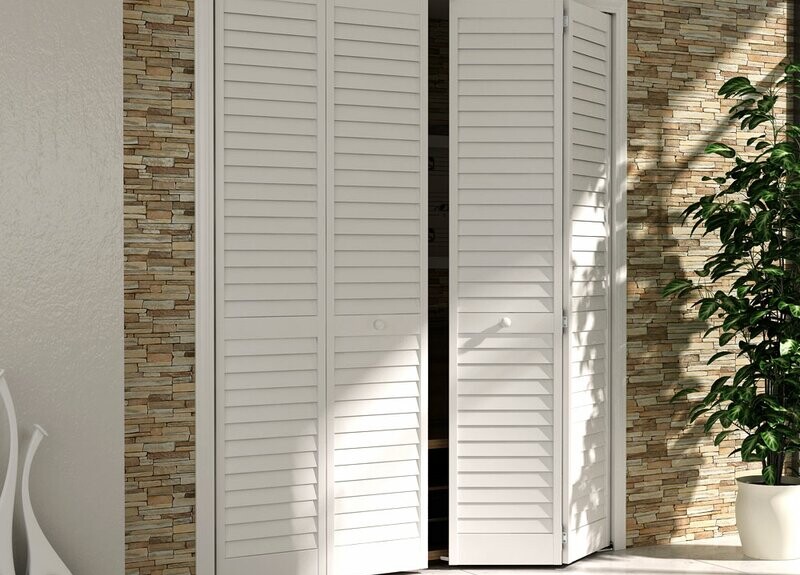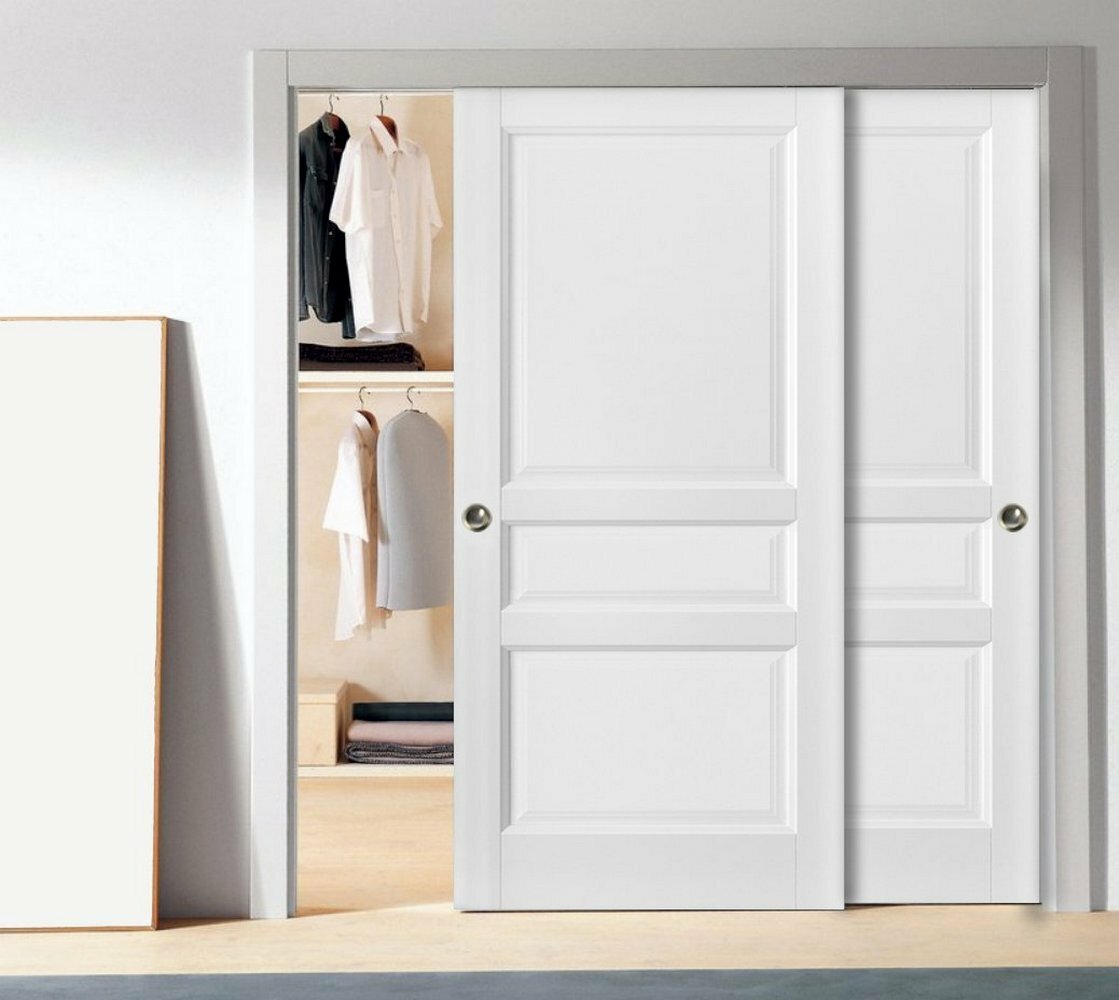 Though closet doors are an absolute essential, they remain one of the often forgotten necessities when it comes to interior design. Sure, closets are more vital in an of themselves as you don't want your belongings out in the open for everyone else to see, so if you're in the process of redecorating your bedroom or any area in your house, consider these stylish closet doors for inspiration.
To make it easier for you, we created a handy list of the best closet doors for every room in your home, as recommended by our renovation experts.
Bi-Fold Closet Door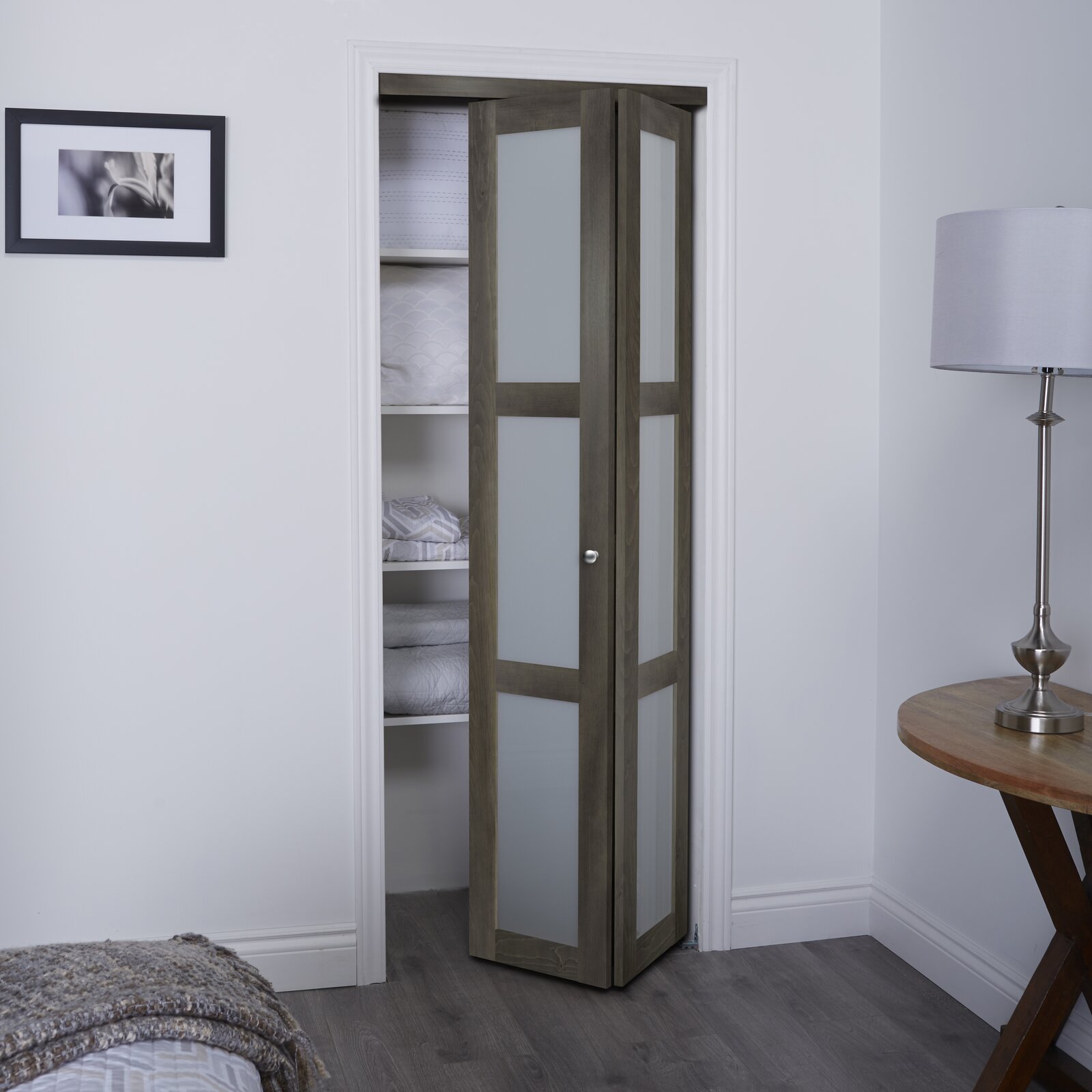 A bi-fold closet door is one of the most popular closet door ideas. These are space-saving doors that you can decorate or paint to come up with a personalized door for your closet. There are many ways to personalize the door. Our designers suggest installing wood molding in geometric shapes to create a modern contemporary look.
Another savvy idea is to add wallpaper coverings with attractive prints to give them a unique look. The best thing about using bi-fold doors is that they are space saving as they don't take up too much floor space. Furthermore, these double doors are affordable so they're certainly a practical choice.
Chalkboard Paint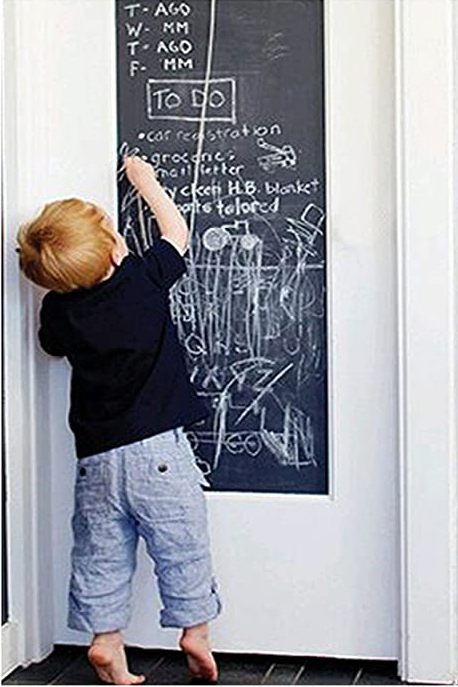 Kids and adults can both benefit from closet doors covered with chalkboard paint. By simply applying paint on the doors, you'll be able to transform them into a chalkboard, which you can write on after 48 hours of applying.
This is one of the best closet door ideas for kids' room, especially if your kids love to doodle. Chalkboard paints can be bought from your local hardware store and it can be applied easily in only a few hours. It's certainly a fun way of updating the look of your kids' room.
Curtains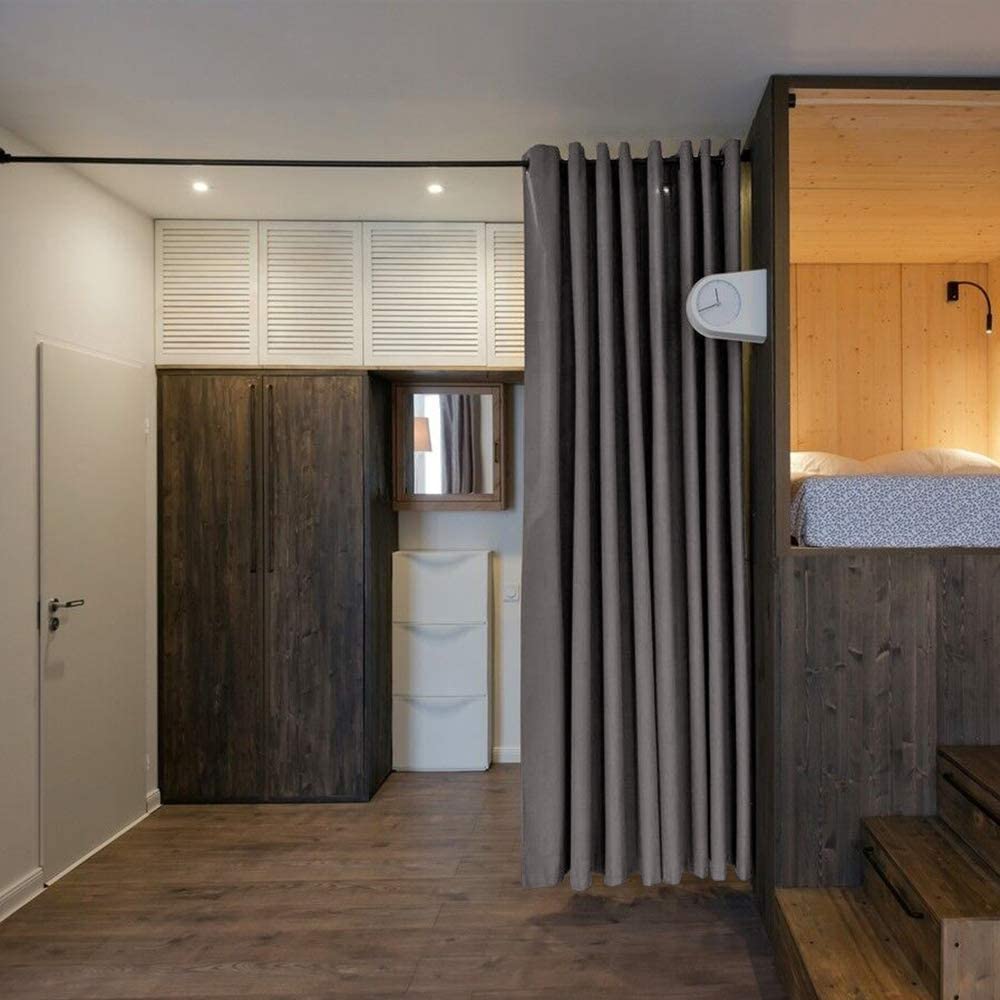 Some homeowners may prefer not to have a door built in their closet. Perhaps, in order to save some space or they just love the versatility of style. Regardless of the reason, curtains can also make for great closet door alternatives. A simple curtain in white fabric, which you can hang wide and high can provide a pared-down natural look to any bedroom space.
You can also opt for a thicker fabric that could conceal your need for storage. This idea is very easy to achieve. You only need to hang a rod across the closet and then attach a curtain of your choice.
Industrial Chic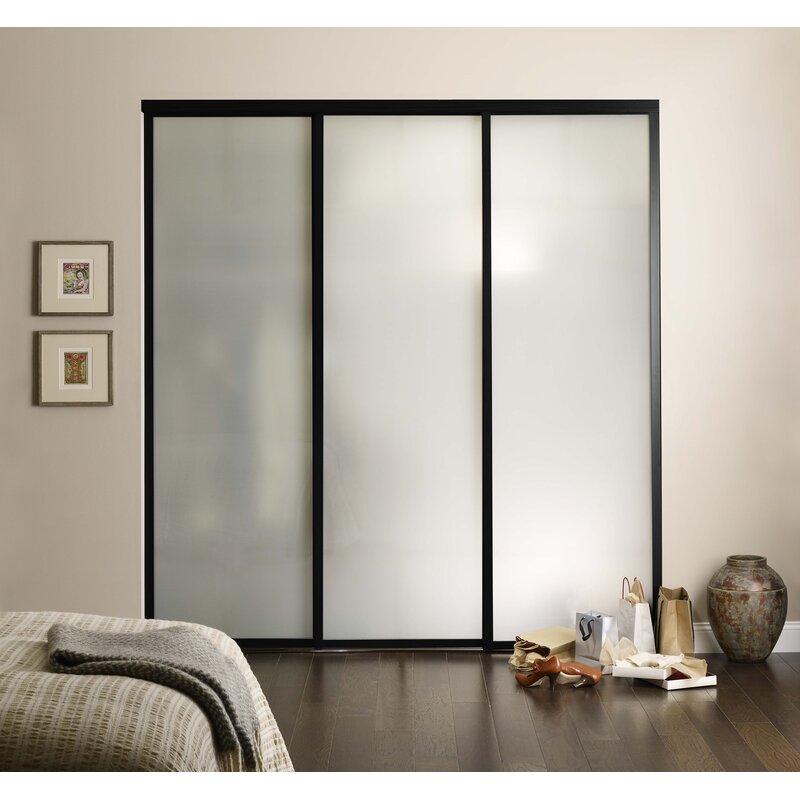 Double closet doors that slide are a great choice for small spaces because they only take up a small amount of space. For a more masculine look, opt for metal sliding doors that give off an industrial vibe.
These modern closet doors will add a cool and contemporary look to the space. This is one of those closet door ideas that can work well for men who prefer a simple but hardwearing door for their closets.
Louvered Door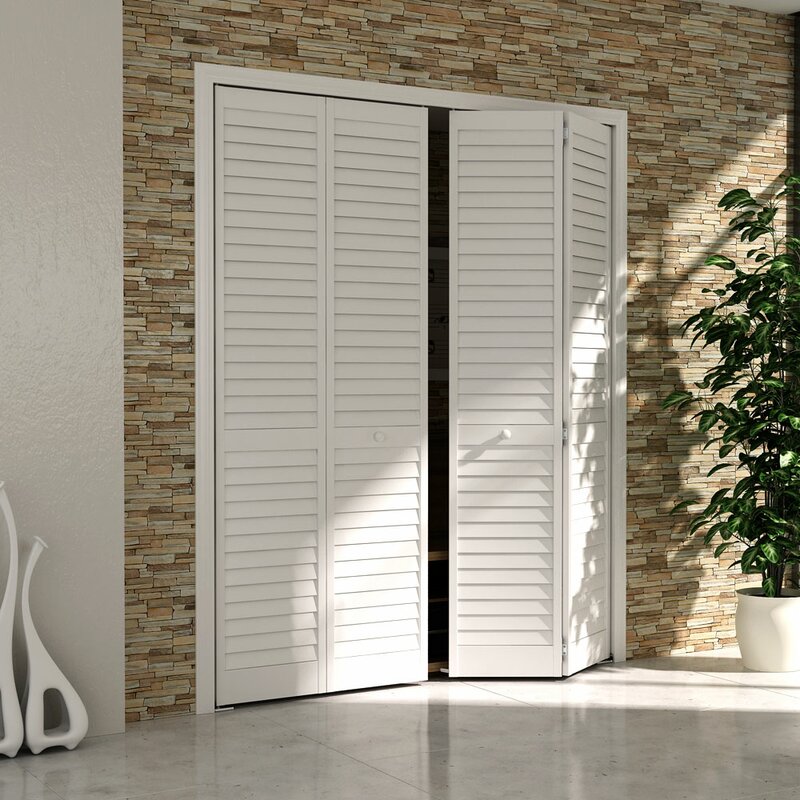 This type of door resembles that of a shutter, similar to accordion closet doors. These doors allow enough air and light to flow through the closet, which helps keep your clothes to fresh. If you want more detail, opt for designs that come with decorative panels.
Choose louvered closet doors made of wood if you want to add more warmth in the space. These doors are also easy to maintain. All it requires is to dust spray them or you can use a duster to dust them off.
Mirror Doors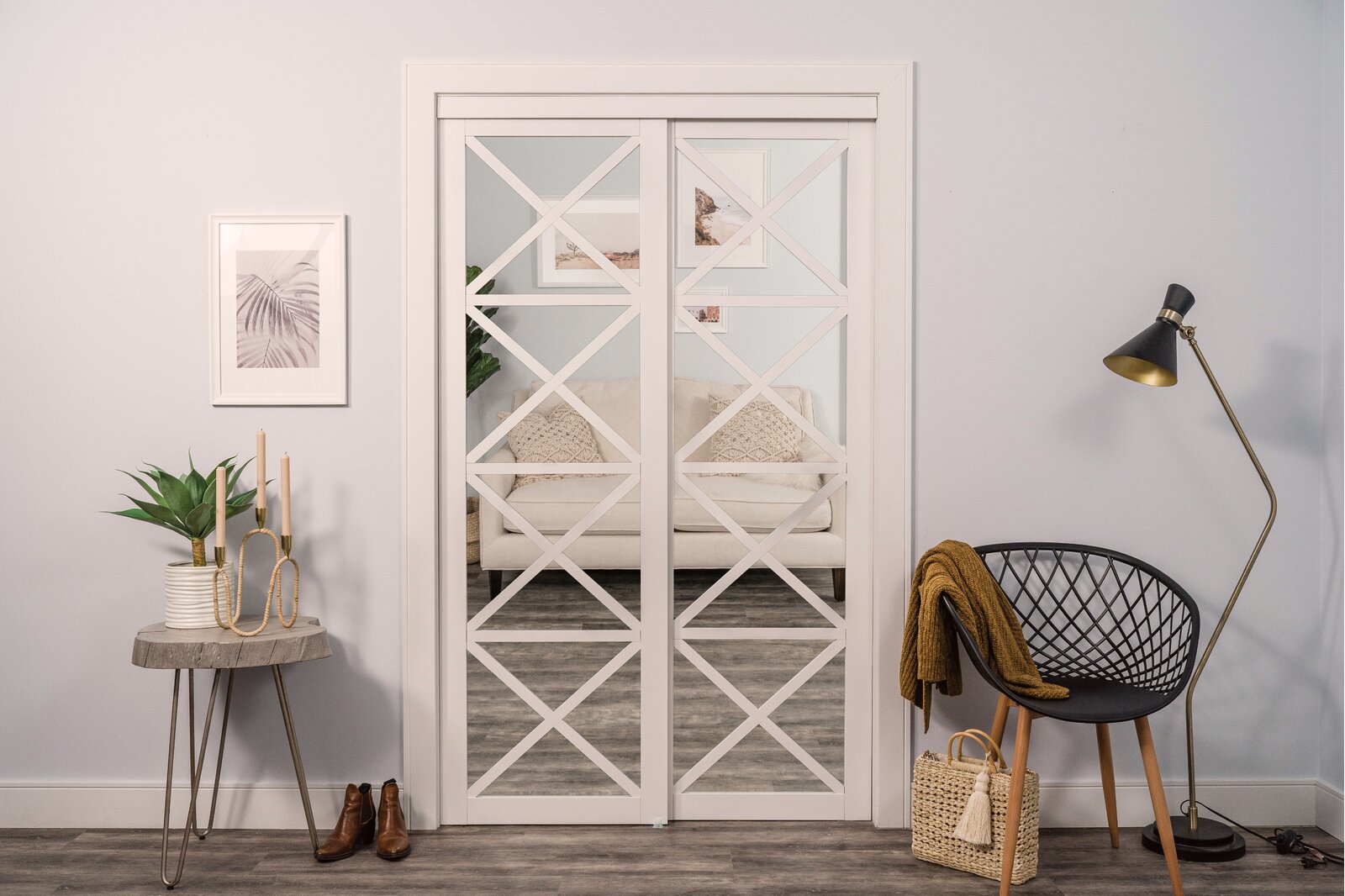 A mirror closet door can make your bedroom look more stylish and chic. In fact, this door has a double purpose – a closet door and a mirror in one. So instead of buying a full-length mirror, consider installing a mirror door instead.
These bedroom closet doors can help make your room appear brighter and bigger. Opt for closet doors that include mirrors in their woodwork. They are practical, trendy, and chic while adding the right amount of light into your bedroom space.
Modern Glass Doors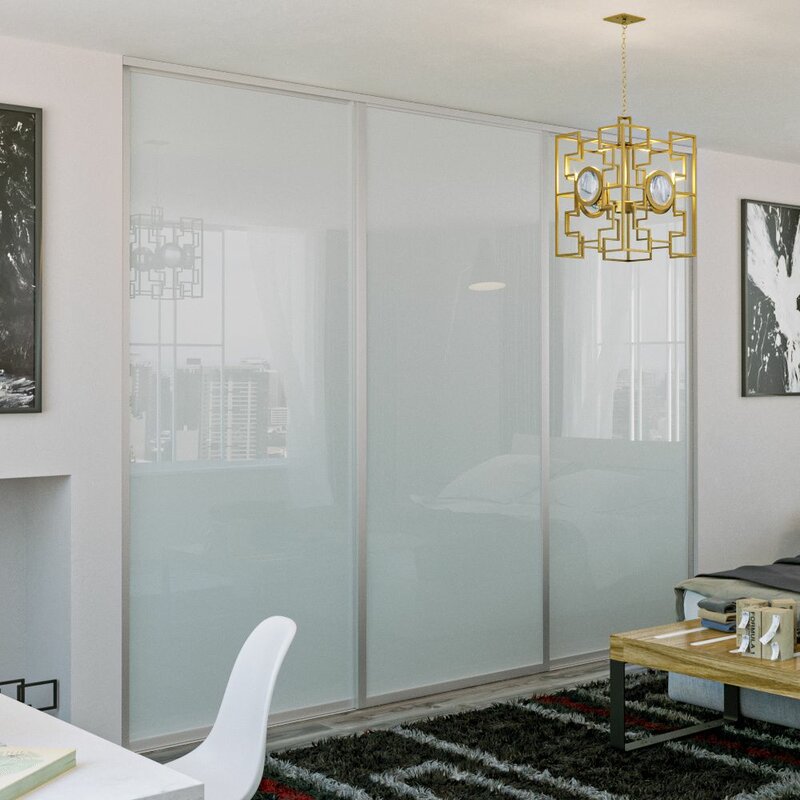 Modern closet doors made of glass can work well for rooms with a contemporary design. Frosted glass double closet doors are a popular choice for those who prefer to conceal storage spaces while creating a fresh look in their bedroom.
Layered glass panels can work well for this idea and can be framed with wood similar to traditional doors. If you are worried about the door getting damaged easily, you can go for an acrylic option, which has a similar look but is available in various styles so you can find one that can work well for you.
Closet French Doors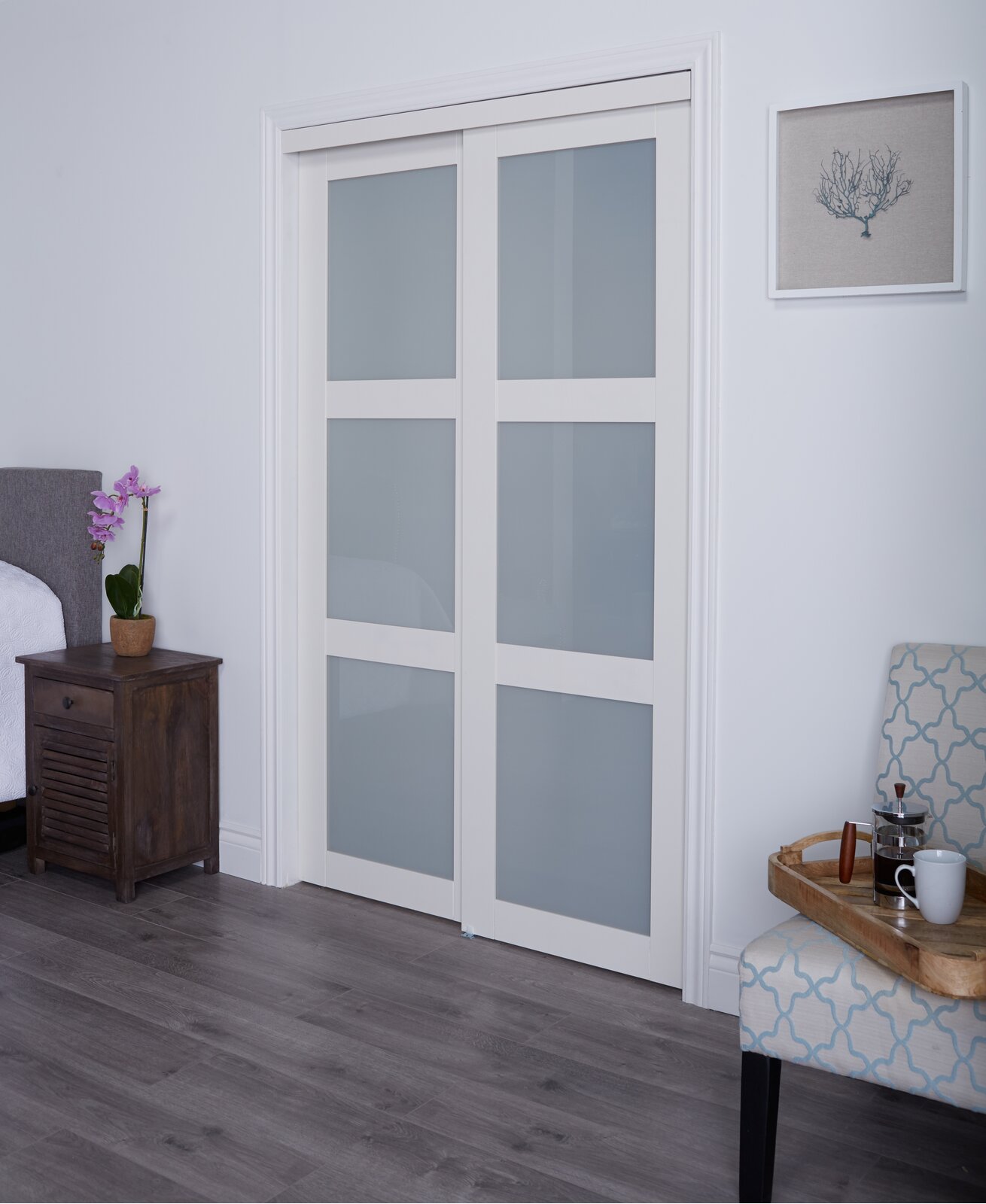 If you want to give your bedroom a new look that will never go out of style, consider installing French closet doors. These doors open outward towards the room and will leave a large enough space for you to be able to look into your closet. Our designers suggest adding molding on the closet door in order to frame them even further.
Make it look stylish and chic by painting it with a glossy white color. That can also help keep your French closet doors look clean, classic, and timeless.
Pops of Color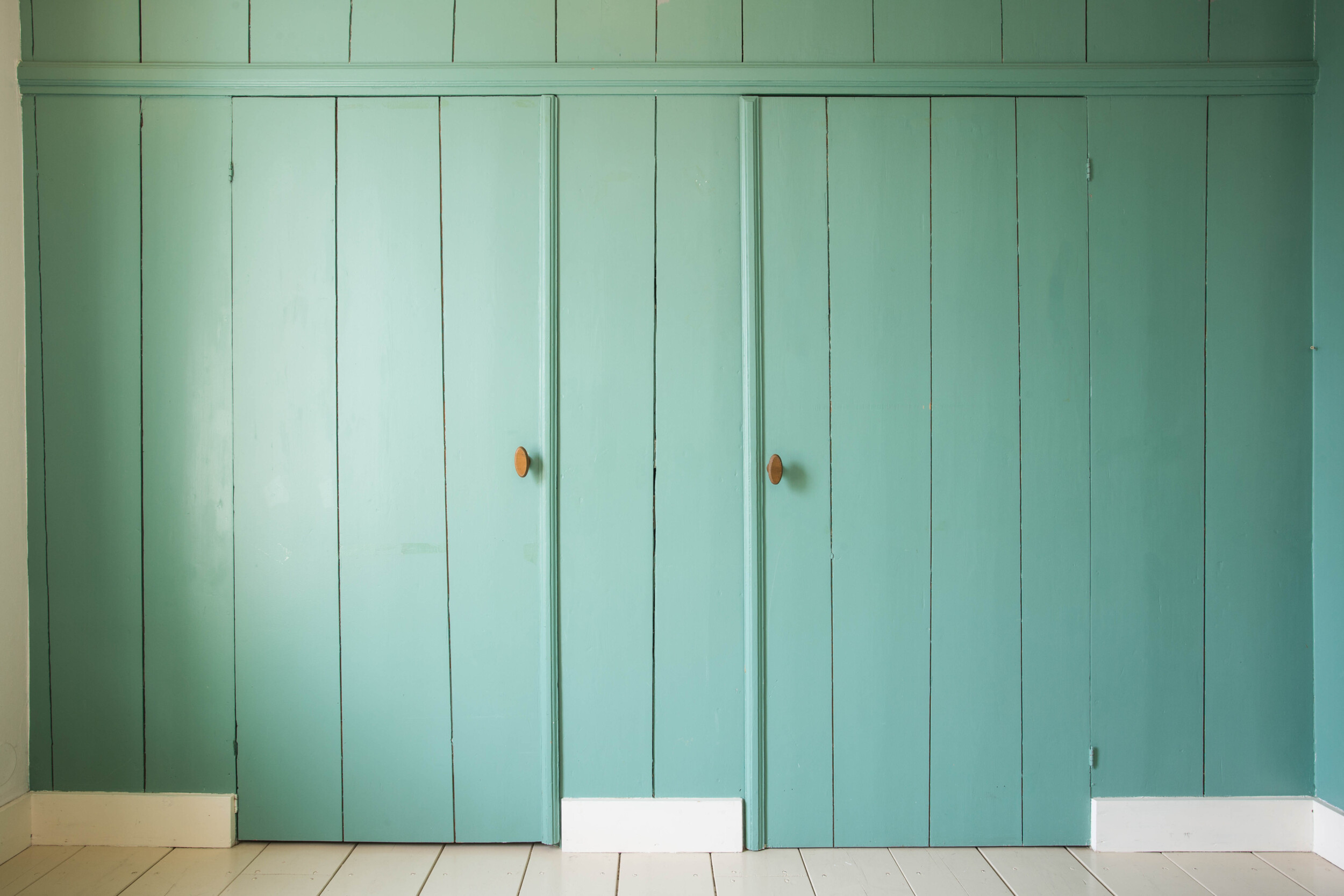 Simple white doors are the most common closet doors. You can take the look to the next level by painting them with some pops of color. Consider the door as your canvas. Grab a paintbrush, have some fun and get creative with your own pattern and art.
For instance, painting your white door with an oversized bloom is enough to give it a whimsical look and enhance the ambiance of the entire space. Do not be afraid to experiment with unique patterns, bold geometrics, or colorful stripes.
Single Panel Door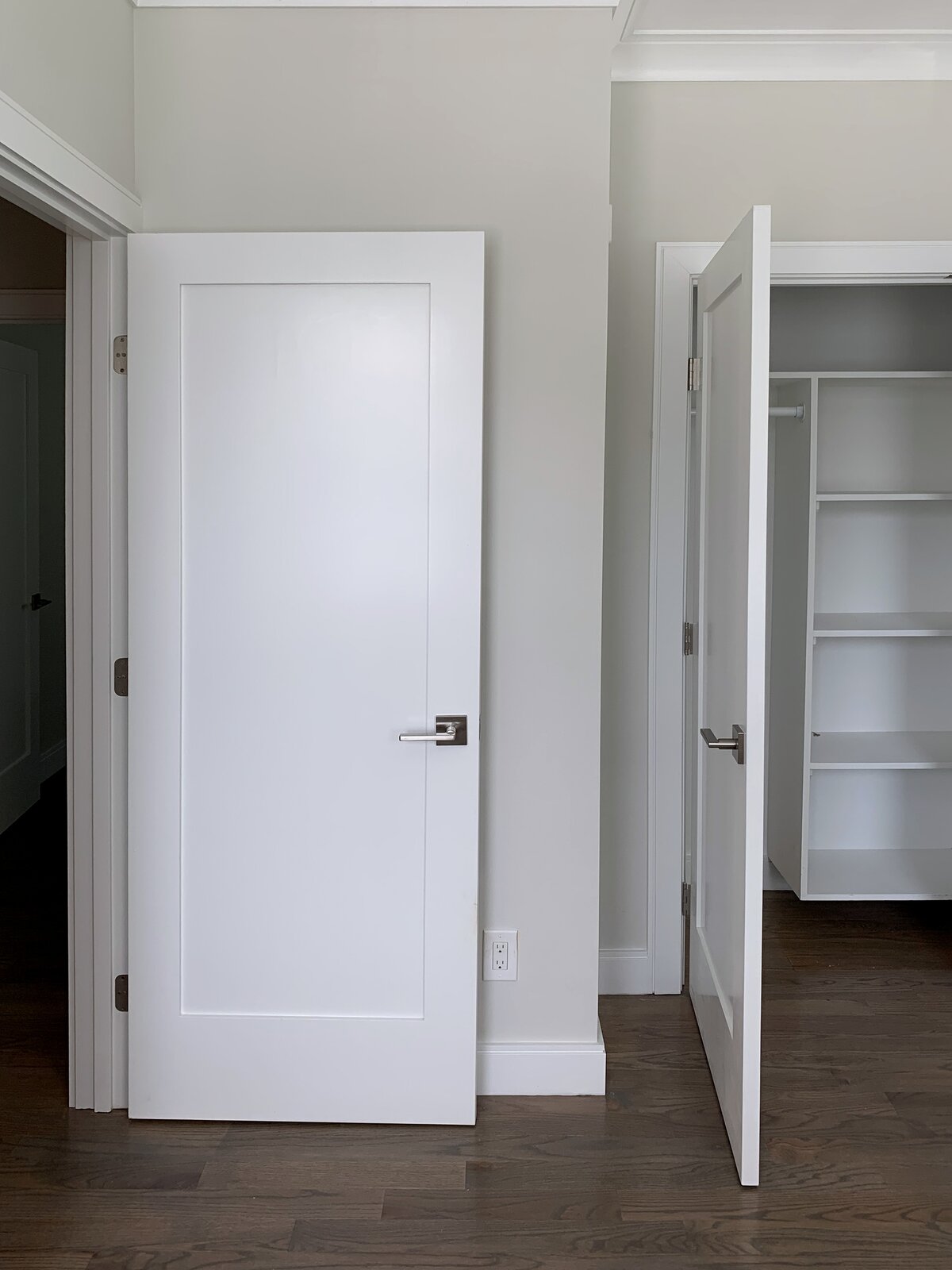 Although double closet doors are great, a single panel door may work well too. This type of door is similar to the typical door in your house and resembles that of a regular bedroom door. However, this door could take up more space each time you swing it open to access your closet.
Nevertheless, you can use the door as a decorative surface to amp up the look of the room. For instance, you can hang a mirror on it to brighten a small room and make it appear bigger than it is.
Sliding Barn Door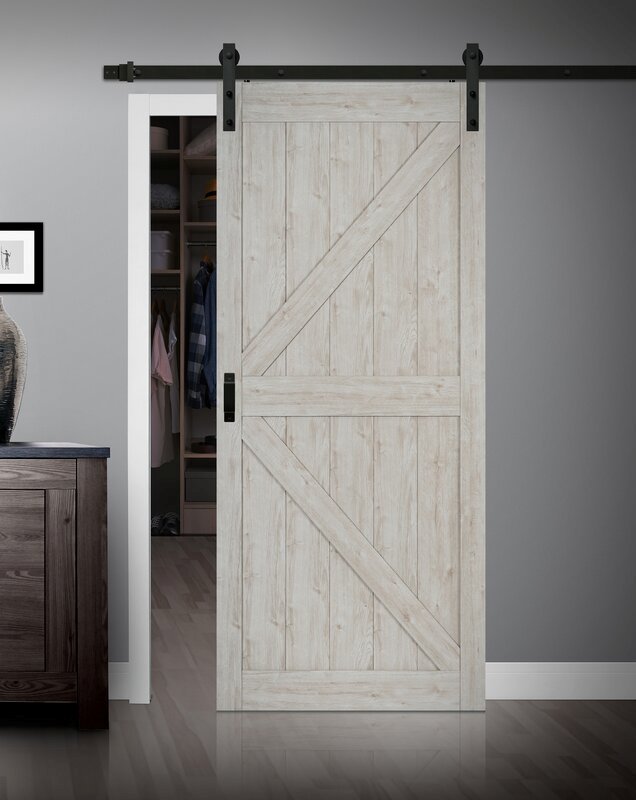 If you love to infuse a rustic vibe in your bedroom space, a sliding barn door can help you achieve just that. These double closet doors come in two styles. One is to have the door to slide through the wall, also known as the "pocket door." These disappear into the wall so they will be completely out of the way when needed.
But this design may require the restructuring of the wall so it has to be done by professionals. Another version is hanging the door with the use of a closet door roller kit allowing the door to slide out of the wall. You can purchase the kit from your local hardware store.
Wallpapered Closet Door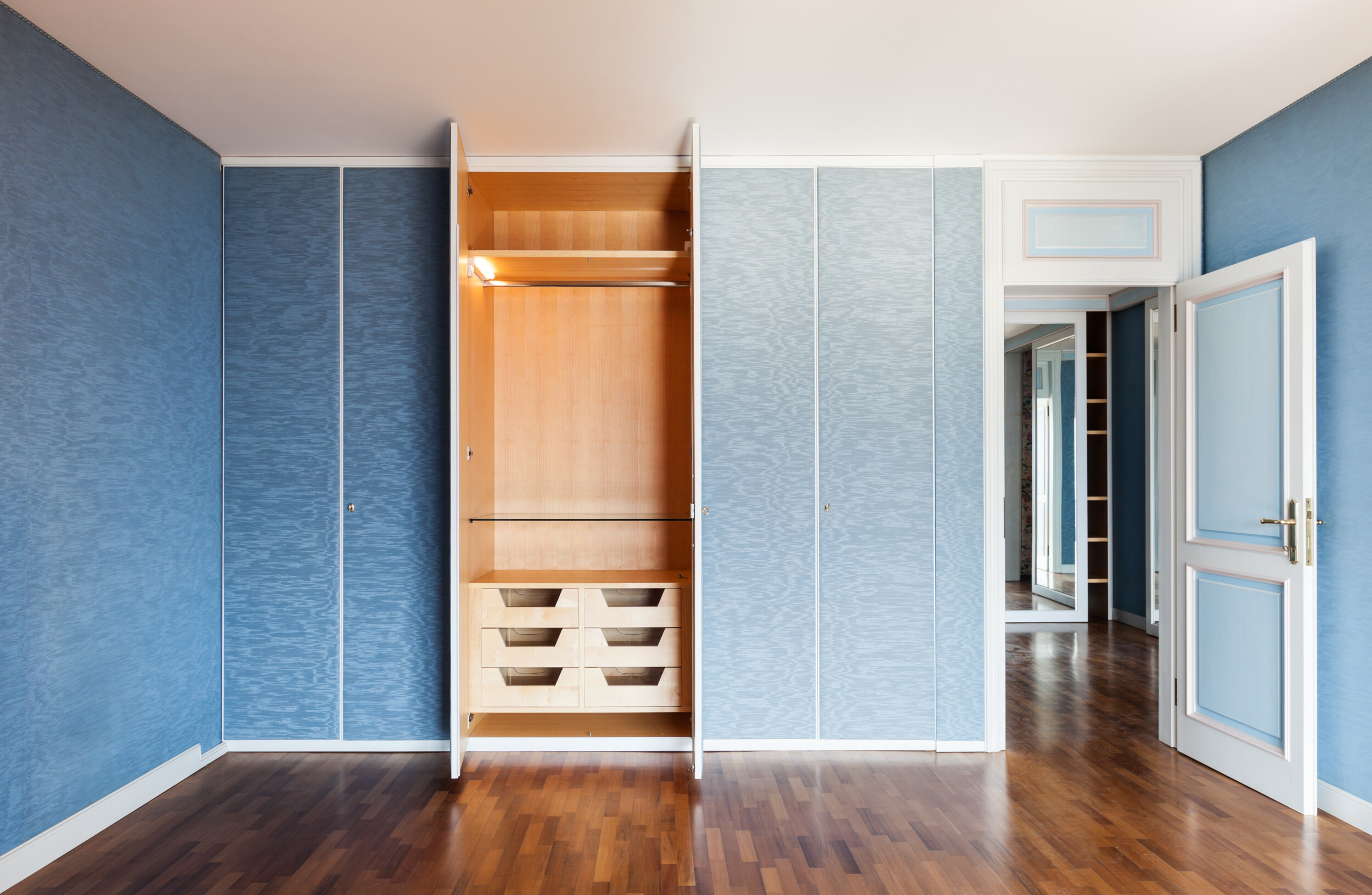 Looking for an inexpensive and easy way to enhance the look of your closet door? Use wallpaper. Wallpapers these days are available in endless patterns, colors, and designs. They are easy to apply and remove, which makes them ideal for people who are renting a space and don't have the freedom to restructure their closets.
Hopefully, these closet door ideas will inspire you to update the look of your bedroom closets. By updating your closet, you'll also be giving your bedroom a new look.