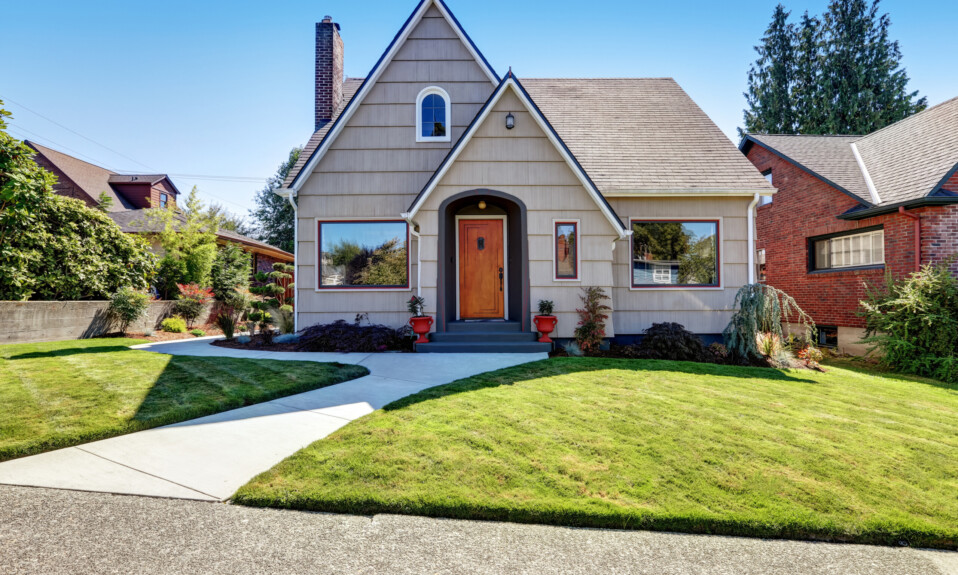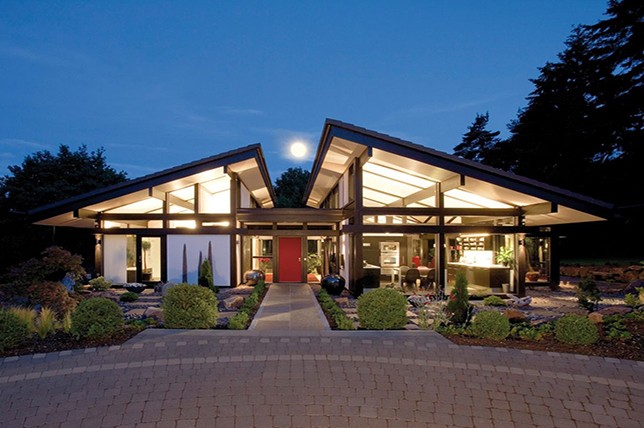 The craftsman house is celebrated for its attention to arts & crafts details, which is usually found in small and economical bungalow-style houses. It's the charming kind of place that feels like home even before you walk in.
A true craftsman house is one that exudes personality in every aspect, enticing you to sit on its stone steps for a while as you admire its idyllic architectural details. But what does it really take to build a craftsman house? Here, our designers at Décor Aid let you in on the most important elements of a craftsman style house.
ARTS & CRAFTS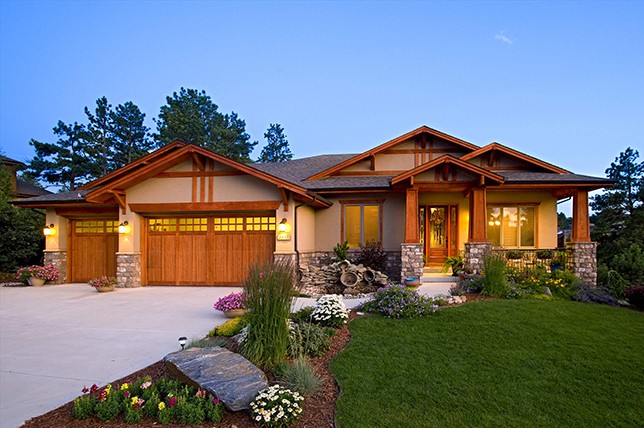 So what is a craftsman house? Craftsman style homes are houses that first appeared during the late 1800's and remained popular until the early 1900's, with the advent of the Arts & Crafts Movement.
One of the most important elements of a craftsman home is arts & crafts. A craftsman style house refers to a house that's built in accordance to the American Arts & Crafts tenets, which include chalets and bungalows, as well as Tudor style houses and houses with bungalow-style details.
BUILT OF NATURAL MATERIALS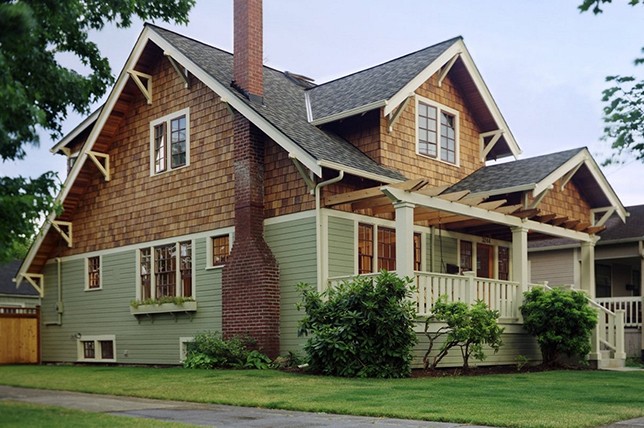 A craftsman house is typically built from genuine wood, stone, bricks, and other natural materials. Everything about its exterior design expresses natural beauty. Because of this, most craftsman style homes are ecologically sound.
With a smaller footprint and less interior space unlike most modern homes today, a craftsman house tends to use fewer resources for building and requires less energy for maintenance as well. If you want an eco-friendly way to build a house, then a craftsman style house is a great option.
BUILT-IN FURNITURE AND LIGHT FIXTURES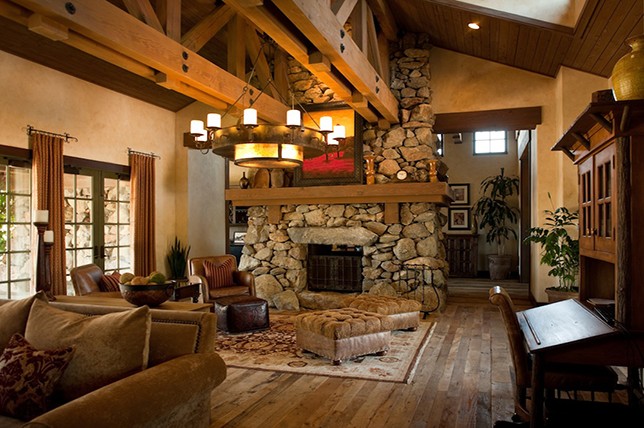 Built-in furniture has already been a part of domestic architecture for many years, but it's not until the Arts & Crafts movement that they reached their full potential. Built-ins are an important element of a craftsman house and are among the reasons why even though these bungalow style houses tend to be small, they seem to "live largely."
Built-in furniture and light fixtures are common in craftsman style homes because they have low-pitched roofs, making it possible to fit all sorts of amenities within small spaces.
FIREPLACE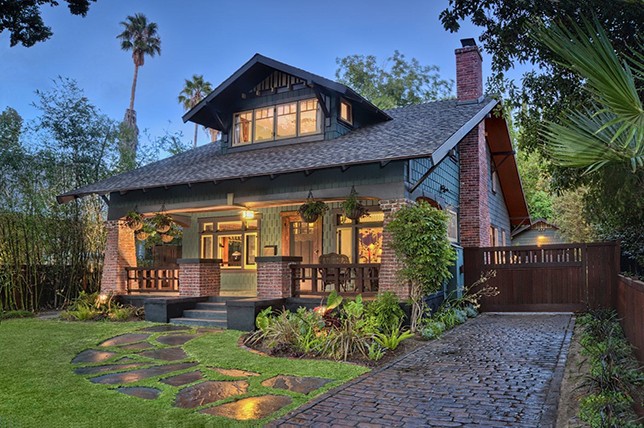 The fireplace is often the center of attention in a craftsman style house. Most of the time, these fireplaces are flanked by built-ins, such as cabinets, bookshelves, etc. Our designers suggest playing up the entire wall by the fireplace to make it stand out.
In fact, most craftsman style homes today feature a grand fireplace that is often the major selling point for those who live in areas with harsh winters. These grand fireplaces usually stretch up to two stories high and create a great impression while highlighting the natural elements of a craftsman home.
PORCHES WITH PILLARS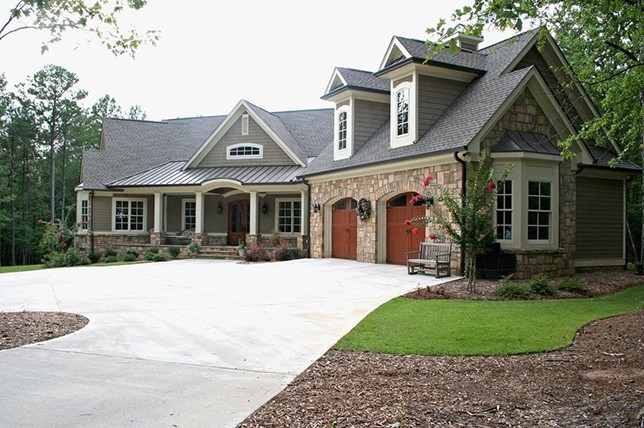 Another craftsman house signature is a porch with pillars that bracket the front steps of the home while providing support to the roof from the front porch. These covered front porches also allow families to mingle with neighbors more easily.
The columns of a porch with craftsman design style are usually square, and although they tend to look as though they run right into the ground, these columns are usually half-height and rest on pedestal bases clad by stucco or stone. Its shape is what distinguishes a Craftsman house from bungalow style homes.
LOW-PITCHED ROOFS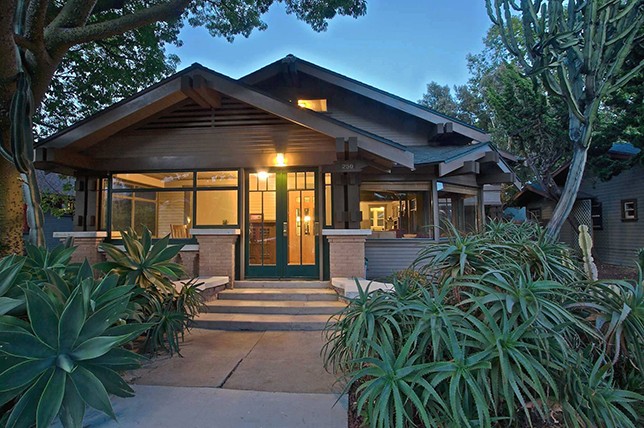 One of the most distinctive features of a craftsman style house is a low-pitched roofline, which is usually installed in a hip or gable style. The low-pitched roof may also come with wide-open eaves that overhang from the front façade and usually incorporates a spacious front porch.
The roof rafter tails are left exposed and it is for this reason why the gutters are impossible to install. Decorative braces and beams are also added beneath the gables.
EXPOSED BEAMS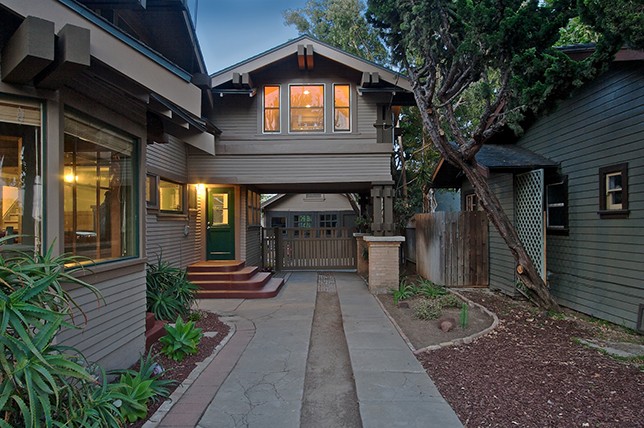 Exposed beams or rafters are common on Craftsman style homes, both in the interior and exterior aspect of the house. The best thing about having exposed beams is that they can help to make the space appear larger.
They also help make the attic look even cozier and give the space an old world charm, which is what a craftsman house easily channels. Regardless of the purpose they serve, an exposed beam is a great way to add a hint of rusticity to a craftsman style home.
OPEN FLOOR PLAN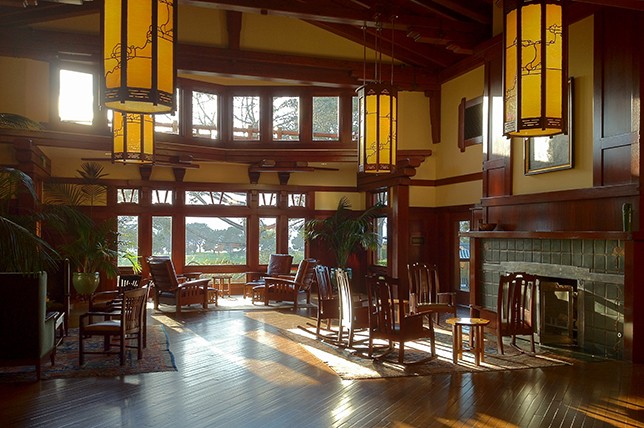 Open floor plans originated from craftsman houses and are now very common. These plans provide better traffic flow and make the space look more spacious than it actually is. In a craftsman style house, rooms tend to be open.
Life usually revolves around the living room, kitchen, and dining area. The master suite is often placed on one end of the house and the other bedrooms are on the other end.
WIDE, OVERHANGING EAVES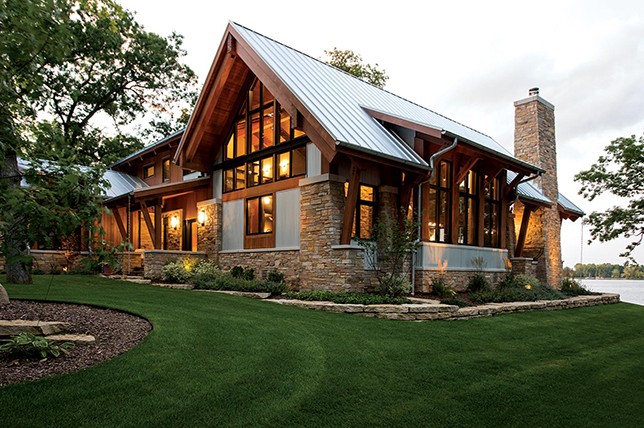 Overhanging eaves are one of the most common characteristics of a craftsman house. There are many ways in which the overhanging eaves are built in a house. However, for most craftsman style homes, the eaves are usually made of natural stone or other natural materials that coordinate with the exterior.
Historically, wide overhanging eaves perform an important function, especially for those who live in wet areas of the country – the eaves help to keep the water off the walls and away from the foundation of the house.
DOUBLE HANGING WINDOWS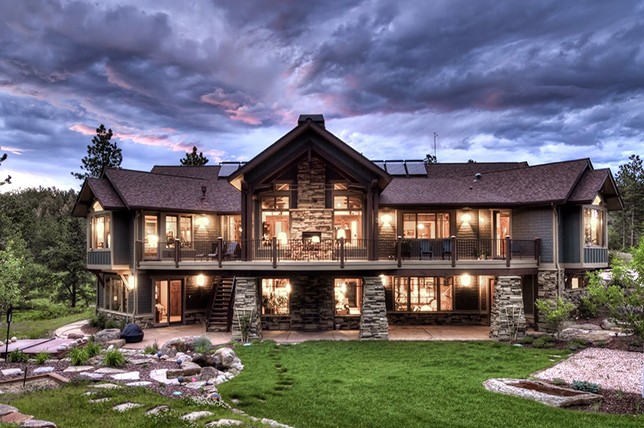 Most craftsman style homes have double hanging windows that come with separate panes, made of glass on both the bottom and the top. These windows are also common in most historic homes. Aside from looking stylish, these windows are also functional.
Since both the panes slide up and down, you'll be able to achieve optimal ventilation whenever needed. Unlike other types of windows, double hanging windows don't crank out nor do they project outwards. Thus, it minimizes the risk of accidents especially in high traffic areas like patios, decks, and walkways.
SINGLE, PROTRUDING DORMERS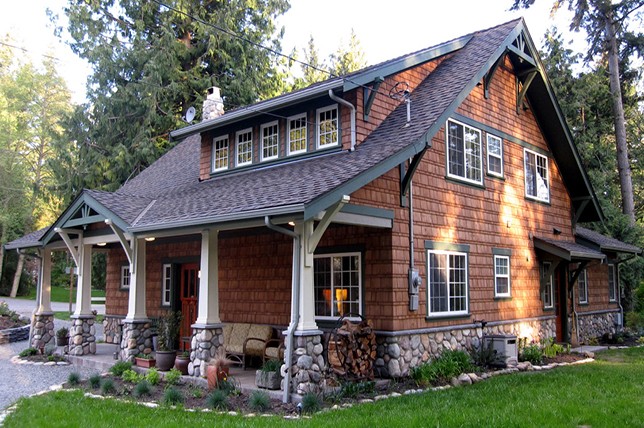 A dormer is a protrusion that juts out of a sloped roof and usually comes with a mini roof of its own. Aside from enhancing the look of a home, the dormer also creates an added space and headroom.
A craftsman style house usually features single, protruding dormers. Also known as the shed dormer, these dormers are horizontally proportioned and cover a large portion of the roof, while opening up the attic for more usable space.
NOOKS AND WINDOW SEATS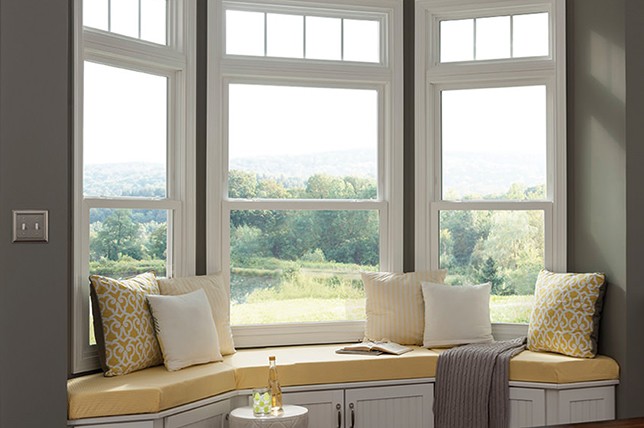 Houses that feature craftsman design style come with nooks and window seats. This is also one way of maximizing the space of the home. Since most craftsman homes come with extra-large windows, homeowners can take advantage of this by creating window seats that can double as a reading nook.
These nooks are usually cozy and comfortable, especially when a thick cushion is placed on it. The large windows also allow for plenty of natural light while opening up the beautiful views outdoors.
BUILT-IN STORAGE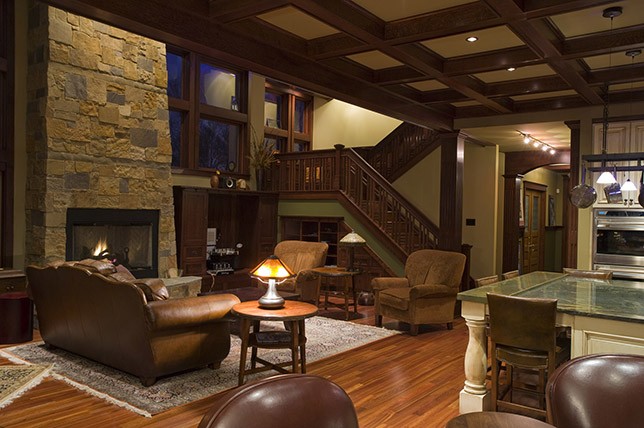 Another clever way to maximize the space of a craftsman house is with built-in storage. Corners are among the most frequently overlooked areas in a craftsman home, but smart homeowners can make use of this small area by incorporating a built-in storage unit. You can install readymade built-in storage in one corner of your home where toys, books, and other seldom-used items can be kept.