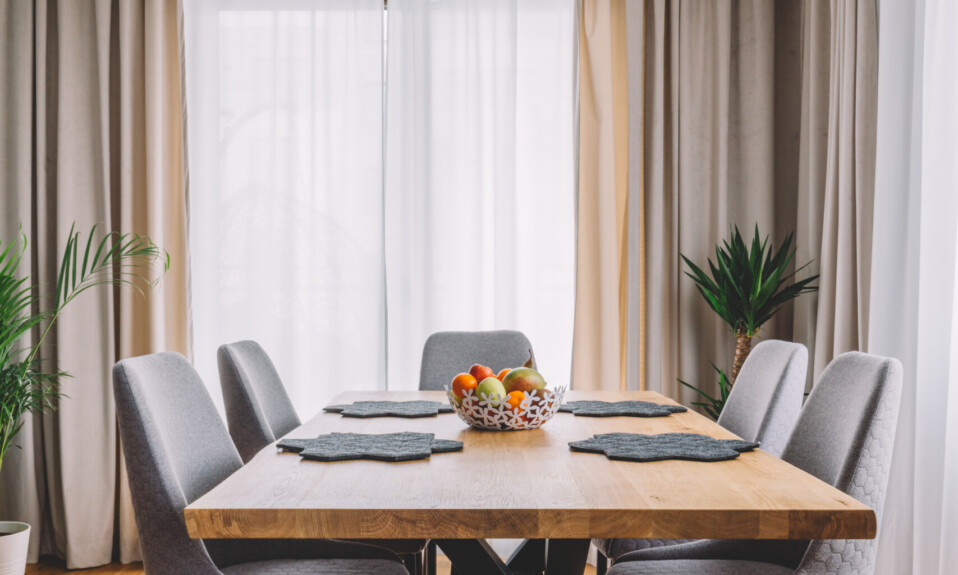 Because there's an endless wealth of kitchen, living room, and bathroom interior design guides and articles, we're looking at one of a homes most forgotten rooms; the dining room. As a gathering room often used, it's odd that there's little to no talk when it comes to dining room interior design and how to get it right in a contemporary residence.
And while redecorating a room is a fun challenge to take on, it can be a puzzle as where to start and how to decorate effectively can be trying in the least. To help inspire you to make the most of your dining room, we're sharing 12 easy to manage elevating cues to consider from Décor Aid interior designers for your homes dining room interior design. If your room doesn't need a major overhaul, these are still tried & true, resourceful practices to take in to easily transform your dining room.
TRY A DIFFERENT LAYOUT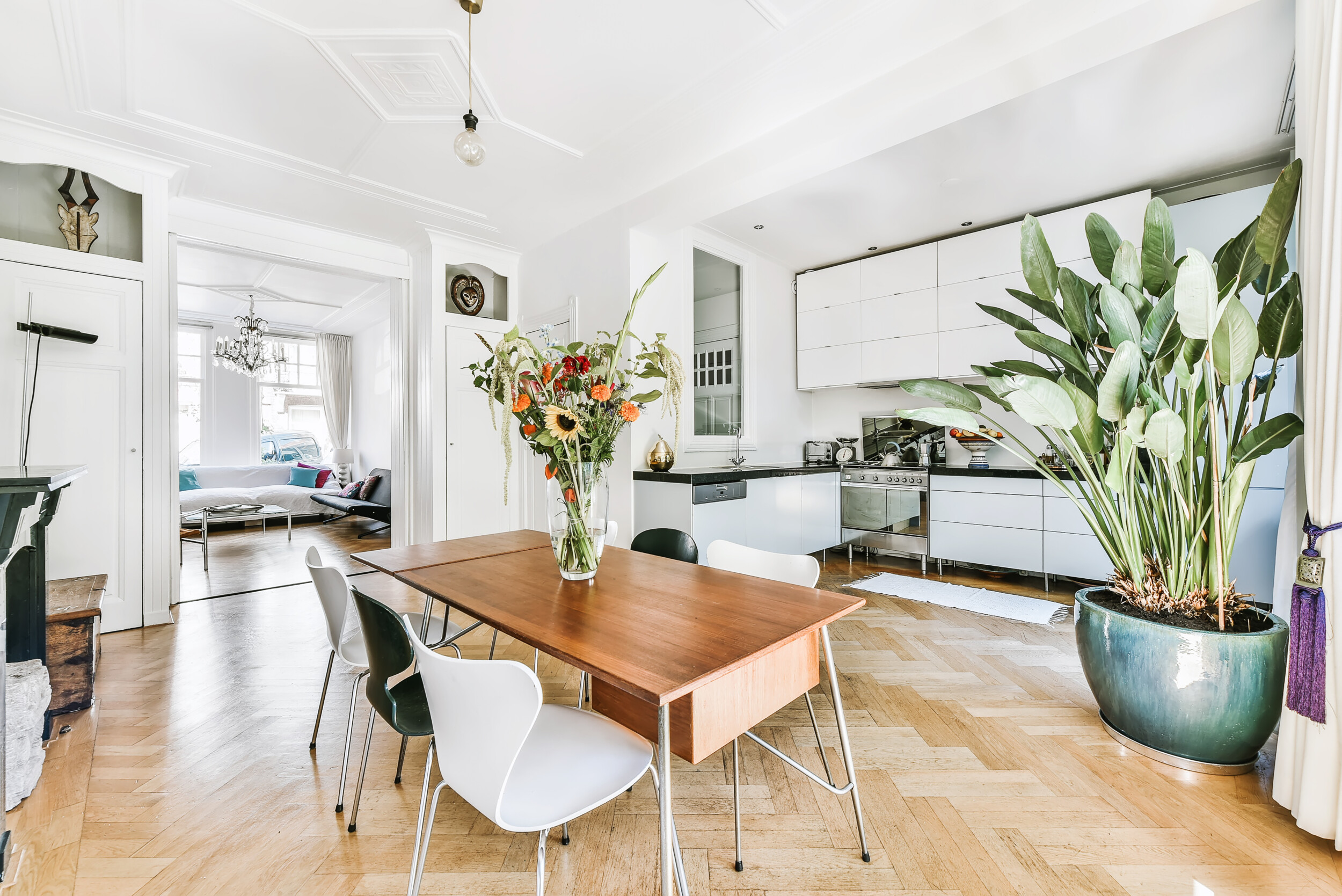 There's something to be said about how the dining room aboves unique table arrangement is a refreshing surprise and completely unexpected – but, not too daring as the simple tables can be easily arranged together. That said, do try your hand at thinking out of the box when it comes to exactly where you place your furnishings and how you can make them stand out objects.
ADD NEW TABLETOP DÉCOR, OR REARRANGE WHAT YOU HAVE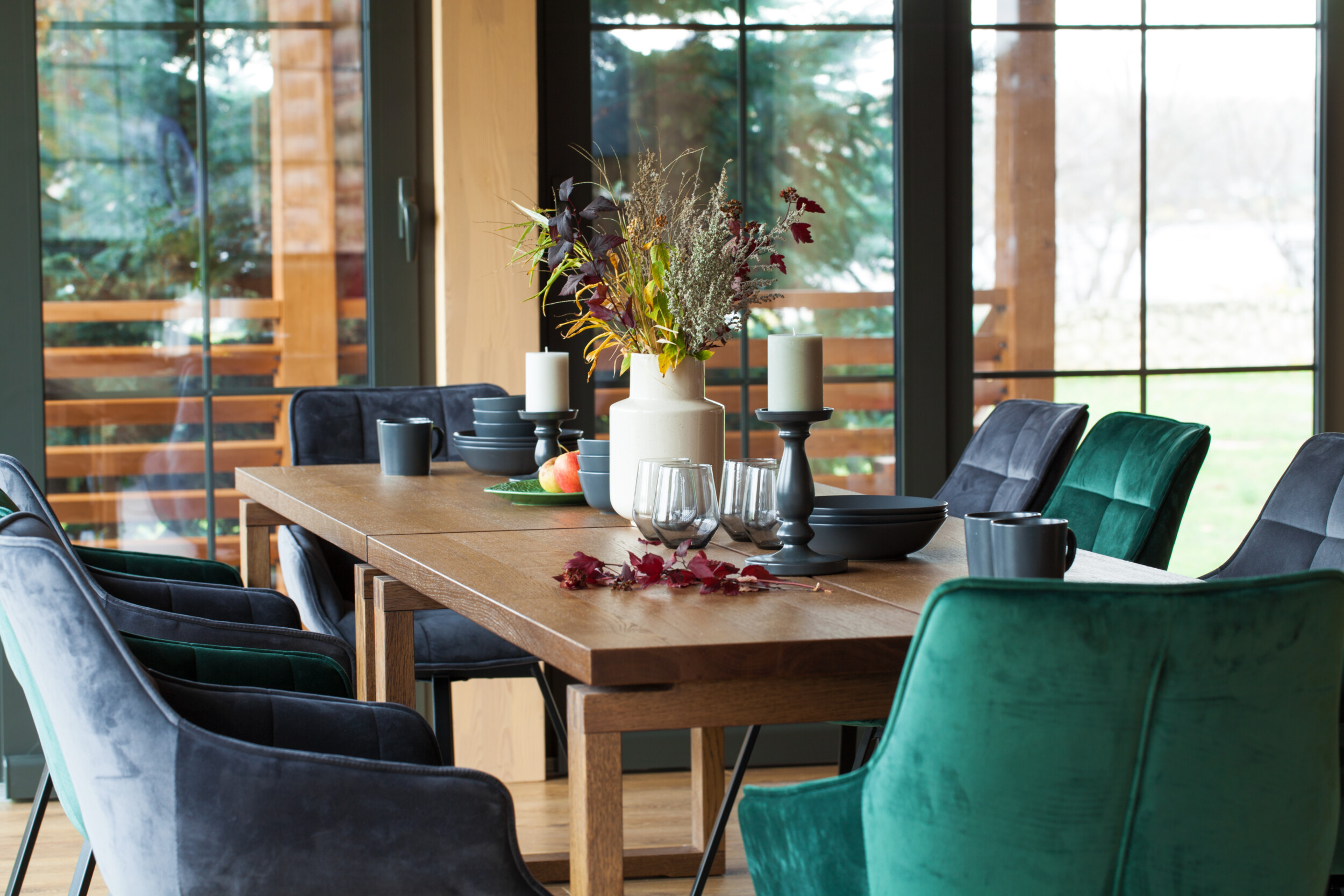 Inexpensive and easy to source and decorate with, consider different approaches for the items that live on your dining room table and or console daily and move them around, rotate them, or add new items with little to no effort.
BRING IN ART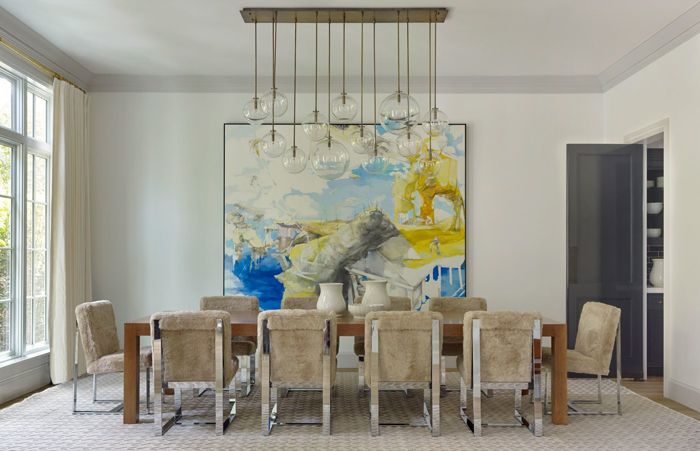 Image via Pinterest
Though the plush, unexpected seating and simplicity of actress Molly Sim's dining room lends her home a relaxed elegance, note how the vibrant painting gives the room depth and a sense of drama with just one piece.
BUILD A MIX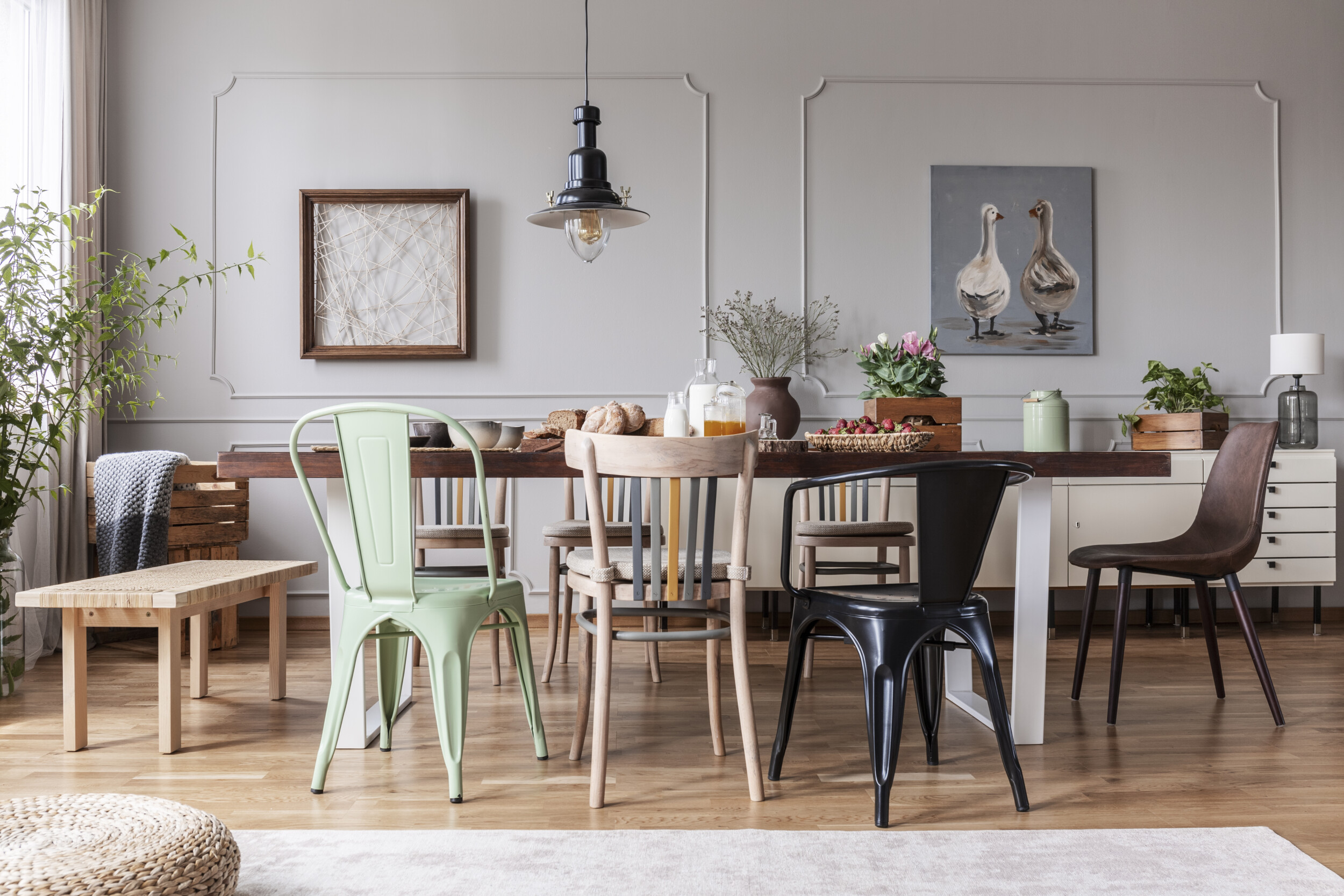 Do create a masterful mix of various furnishings and objects as you'll never tire of a beautifully mixed environ and neither will your guests.
DON'T OVERLOOK LAYERED ACCESSORIES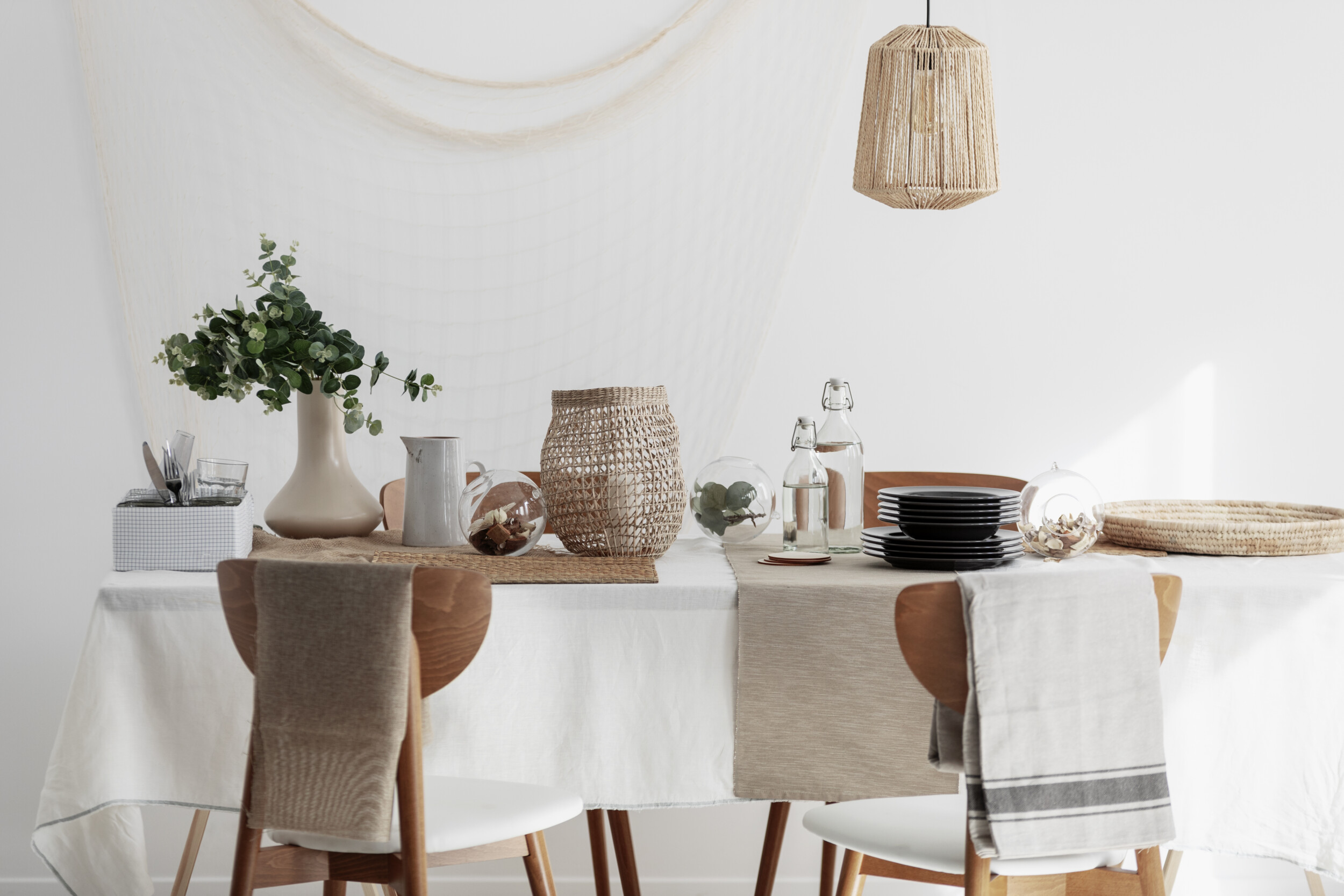 From place settings to art and rugs, do create a layered environment so your family and guests can feel at home and at ease while delivering plenty of beautifully designed objects for the eye to inspire.
CREATE AN INTIMATE ATMOSPHERE
The more relaxing and comforting your dining room interior design is, the more you'll want to entertain in it. Think a small grouping of furnishings that boast plush surfaces, relaxing hues, and what would make you feel at ease in an intimate setting.
USE WARM WOOD TONES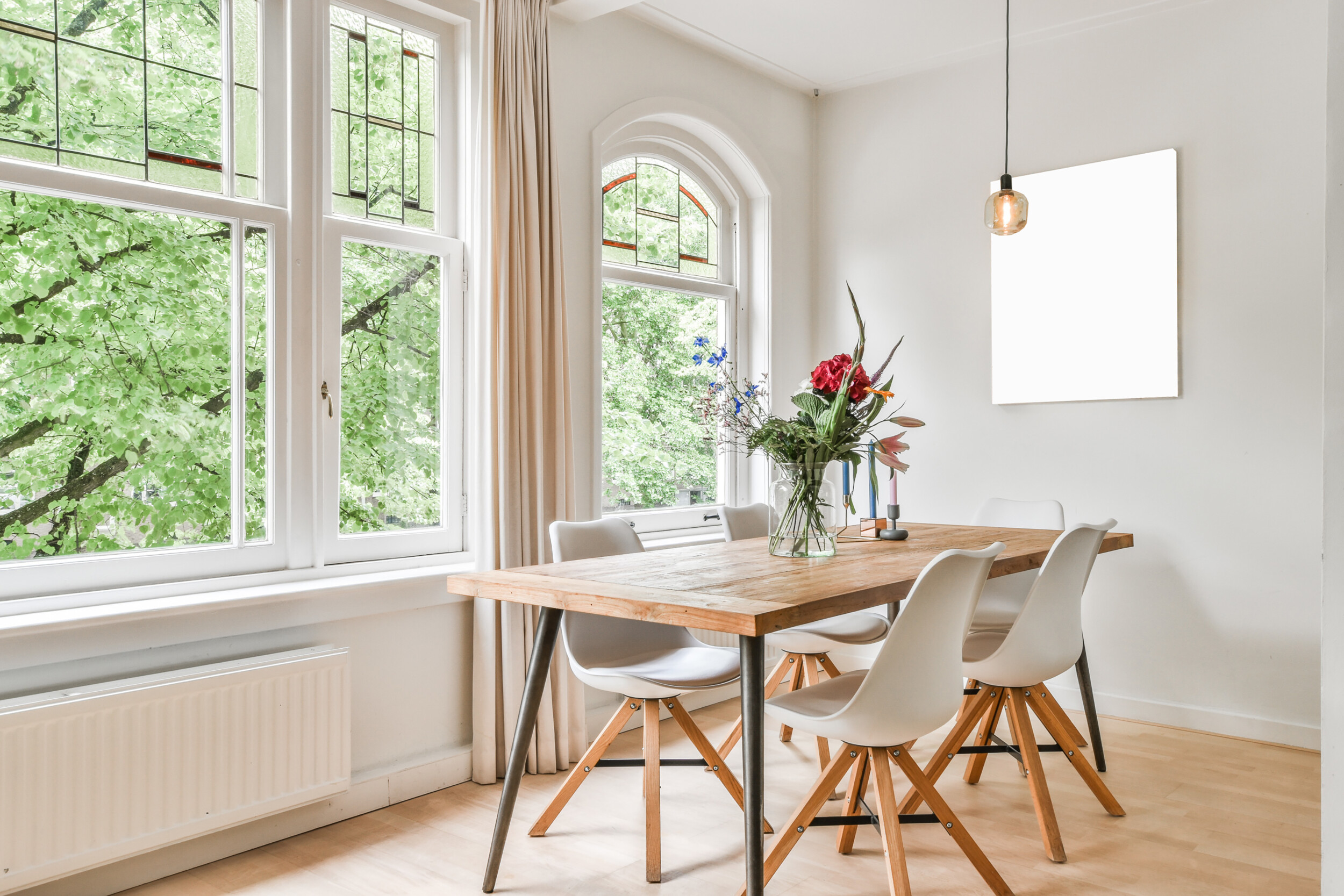 Wood tones can add a polished, warm vibe to a dining room of any size, even for small dining room decorating ideas. That said, our interior designers were unanimous in suggesting that you don't need to worry too much about matching wood tones as subtle nuances between flooring and furnishings allow the eye to travel.
GO OLD SCHOOL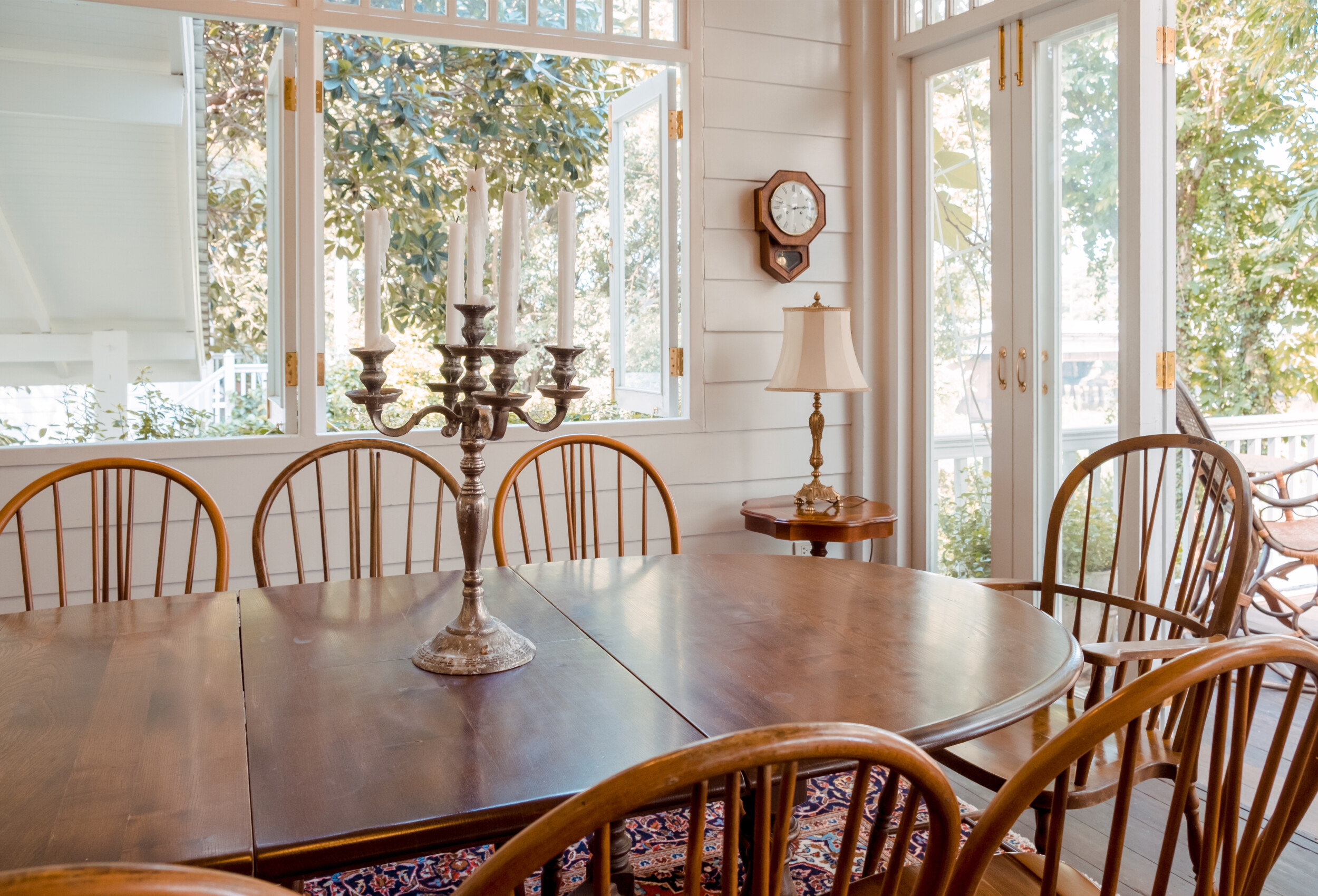 As memories and culinary experiences are deeply linked, do transport your guests to moments from your past. Though we aren't recommending a completely traditional overhaul, there's comfort to be found in the familiar, so consider injecting your dining room interior design with elements that hint to the past whether through vintage quirk or a grand gesture.
LIGHTING IS KEY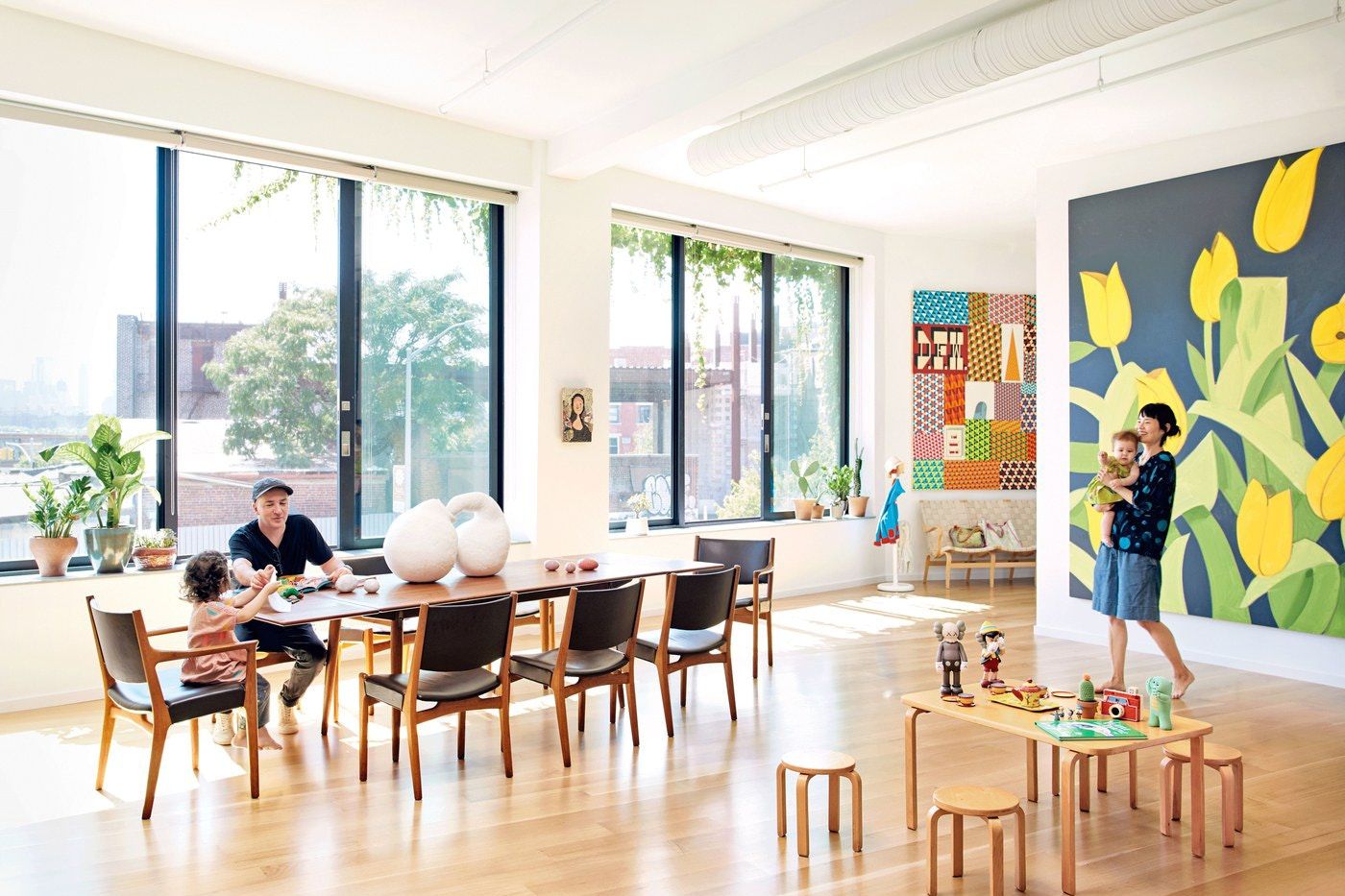 Image via Pinterest
Just look at the glowing natural light of artist Kaws' Brooklyn dining room and the radiance it lends to the simplicity of the mid-century modern furnishings. The same goes for the lighting elements of your dining room interior design – do think mood enhancing, romantic, and ultra-bright takes for your dining room throughout the day.
GET DRAMATIC
Whether traditional or contemporary, adding drama to your dining room interior design can be easier than you thought. From large scale floral arrangements to oversized palms fronds to sculptural decorative objects, it's easy to add a sense of drama in even the smallest of doses.
STICK TO SYMMETRY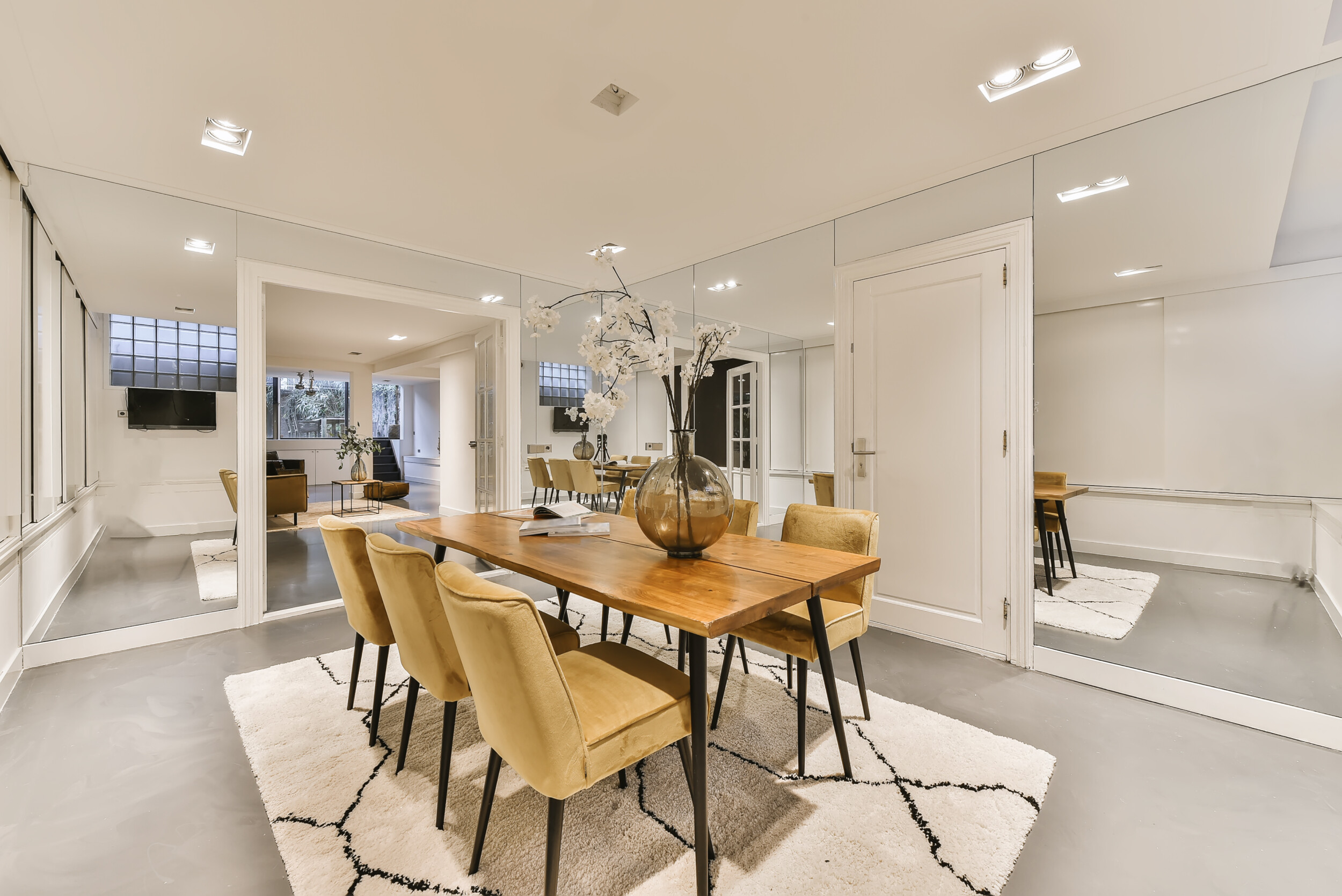 Though mismatched chairs still have a fresh, contemporary feel, there's something to be said about the relaxing energy a symmetrical dining room interior design can lend a home. The dining room above boasts a disciplined formality that still feels lush thanks to striking matching chairs that ground the subtle mix in the room.
AT LEAST ONE MIRROR IS ESSENTIAL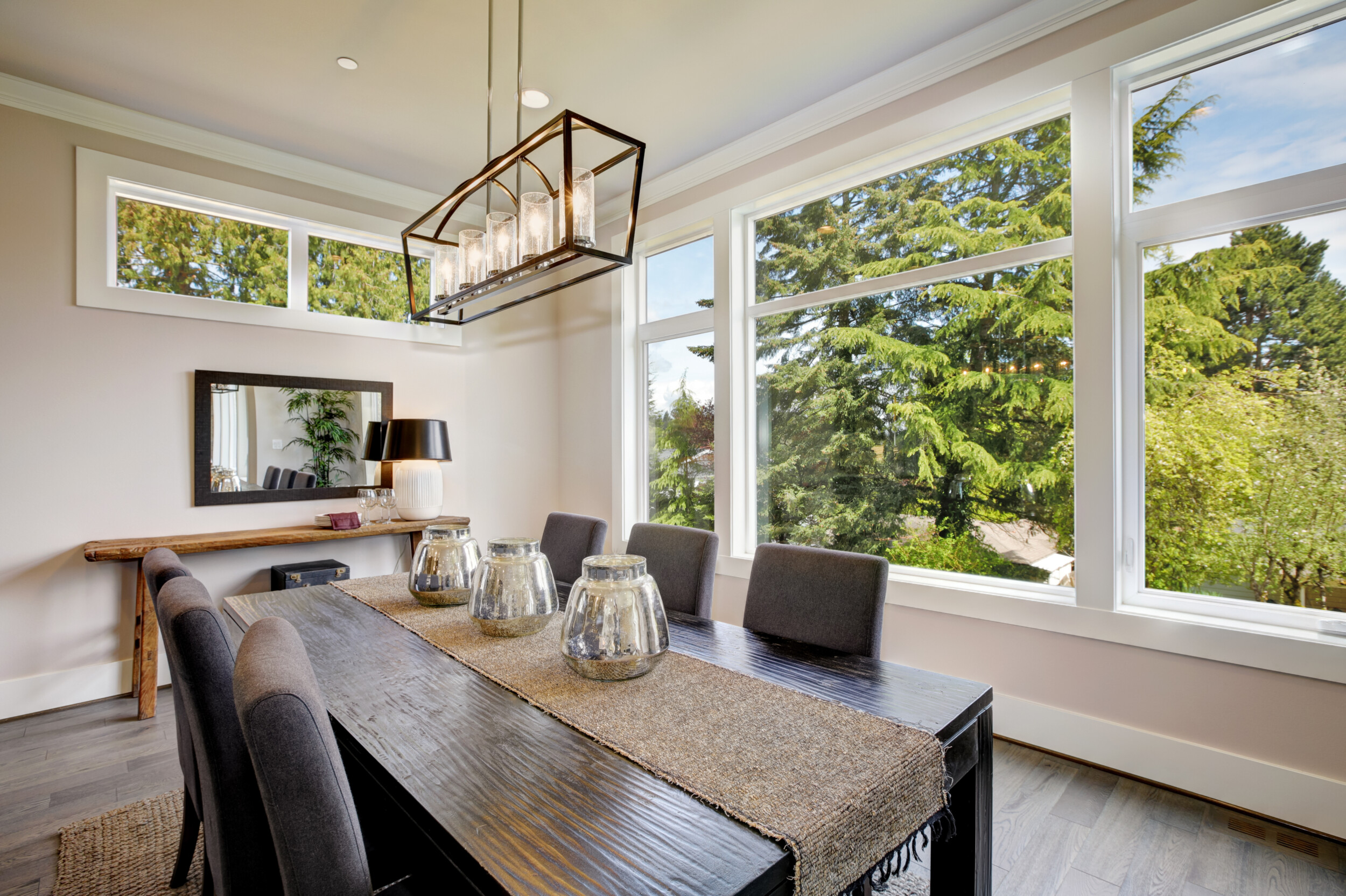 Note how the room above is sleek and simple, yet polished brass chair legs and a minimal round mirror lend this dining room interior design a polished elegance that's certain to be timeless. Take a similar approach and bring in at least one statement-making mirror to quickly add a grown-up sense of glamor – easy as that.