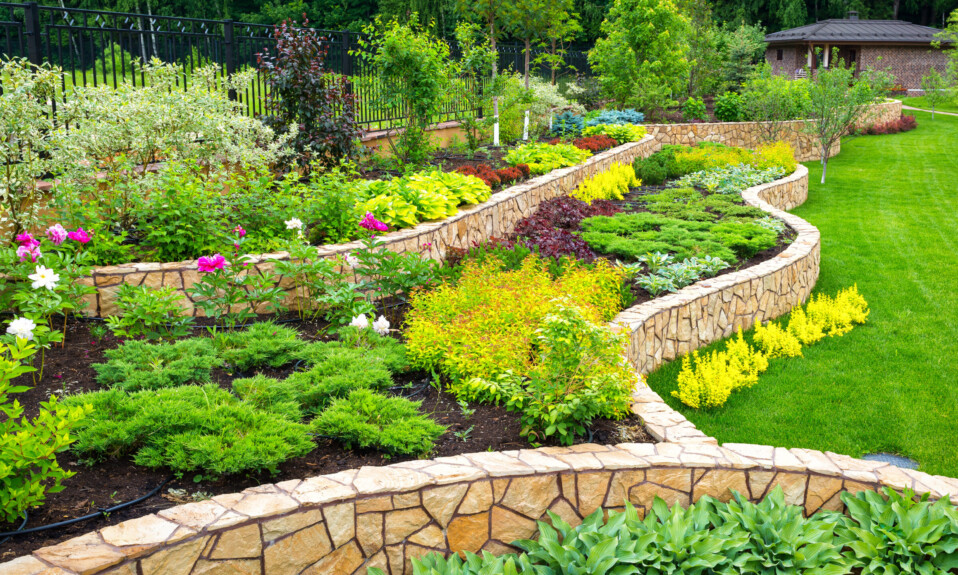 It goes without saying that the less garden you have to tend to, the lower maintenance there will be and there's a ton of clever options when it comes to landscaping ideas to achieve this.
Who has time for pruning, weeding, and watering? If a garden needing little to no care is your dream and you're in need of tried & true landscaping ideas, consider these pro ideas to keep your yard as low maintenance as possible.
Paving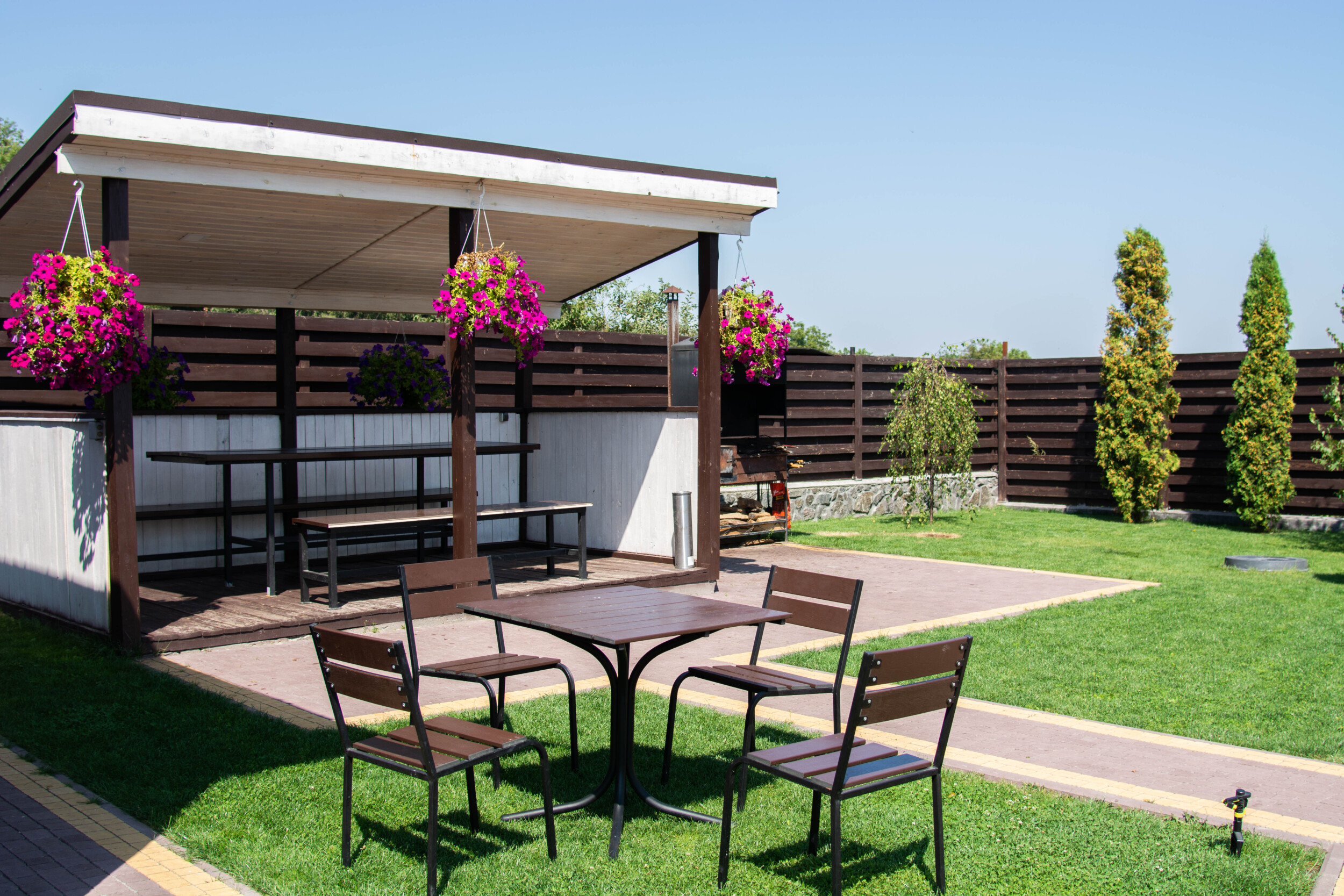 Adding paved surfaces to your yard is a smart way of getting rid of some of high-maintenance grass and flora you need to look after while keeping the area functional including an entertaining space for summer BBQs events.
Fuss-Free Plants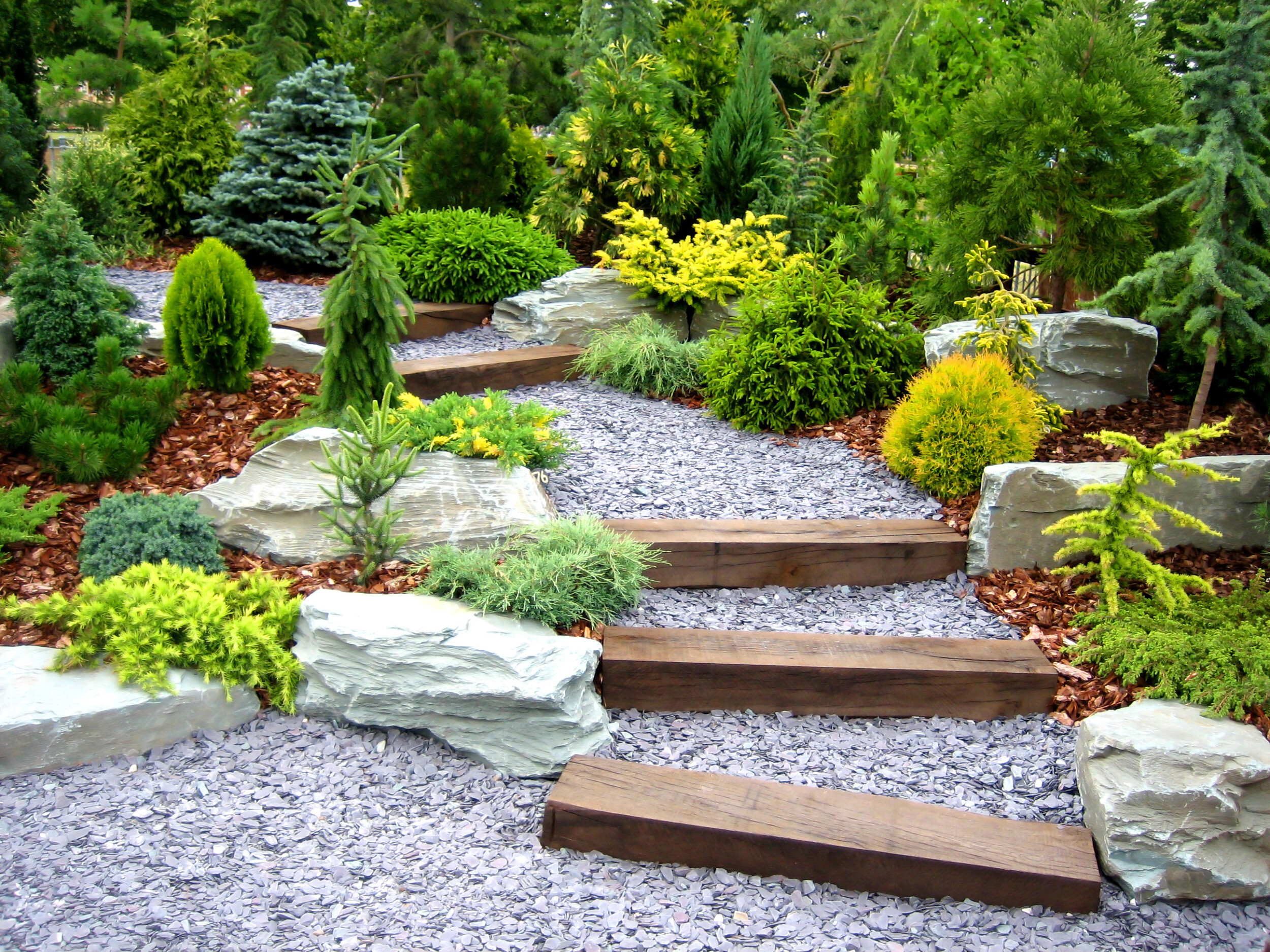 It should be a no brainer to fill your garden with plants that are easy to maintain as people often make the mistake of choosing riotous blooms, without realizing how tricky and time consuming they are to maintain; whether its watering, feeding, or pruning – some plants take a serious amount of care.
Go for perennials rather than annuals so you won't need to replant your beds each year. For an easy front yard landscape idea, opt for evergreen shrubs that don't require much attention and look great year-round.
Raised Beds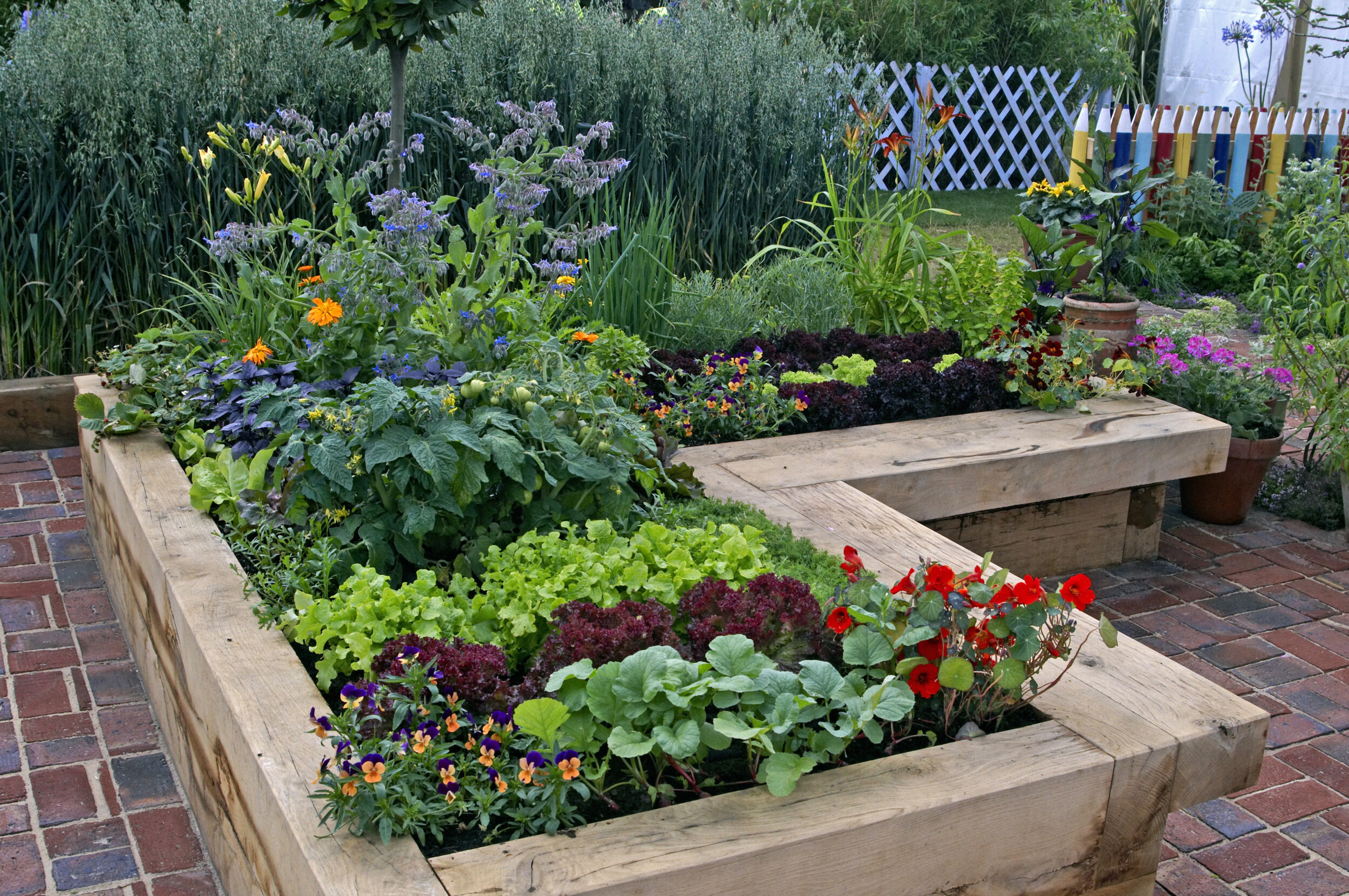 Raised beds create less work and are the perfect addition for modern backyard landscaping ideas. Compartmentalizing planting space means there's less chance of flower beds getting out of control, and because they're raised, any weeding and dead-heading that you do have to do, is less strenuous.
Raised beds are one of the more simple landscaping ideas to consider, but so effective. And as far as easy to maintain landscaping ideas go, they'll also break create structure in your garden and become a feature in a way that normal flower beds won't.
A Painted Fence
If grand backyard landscaping ideas are out of scope because of time, maintenance or cost- fresh paint will work wonders for your garden if you're looking to create a beautiful, relaxing space and introduce some color, without the landscaping work. Painting fences, sheds, and summer houses in a delightful shade will liven up your garden, without much maintenance afterwords.
Pastel shades (like soft greens and blues) look great, but don't be afraid to go bold with black, or a more vibrant, unexpected moody hue. This is a great route for landscaping ideas on a budget – which incidentally involves no extra landscaping.
Relaxation Space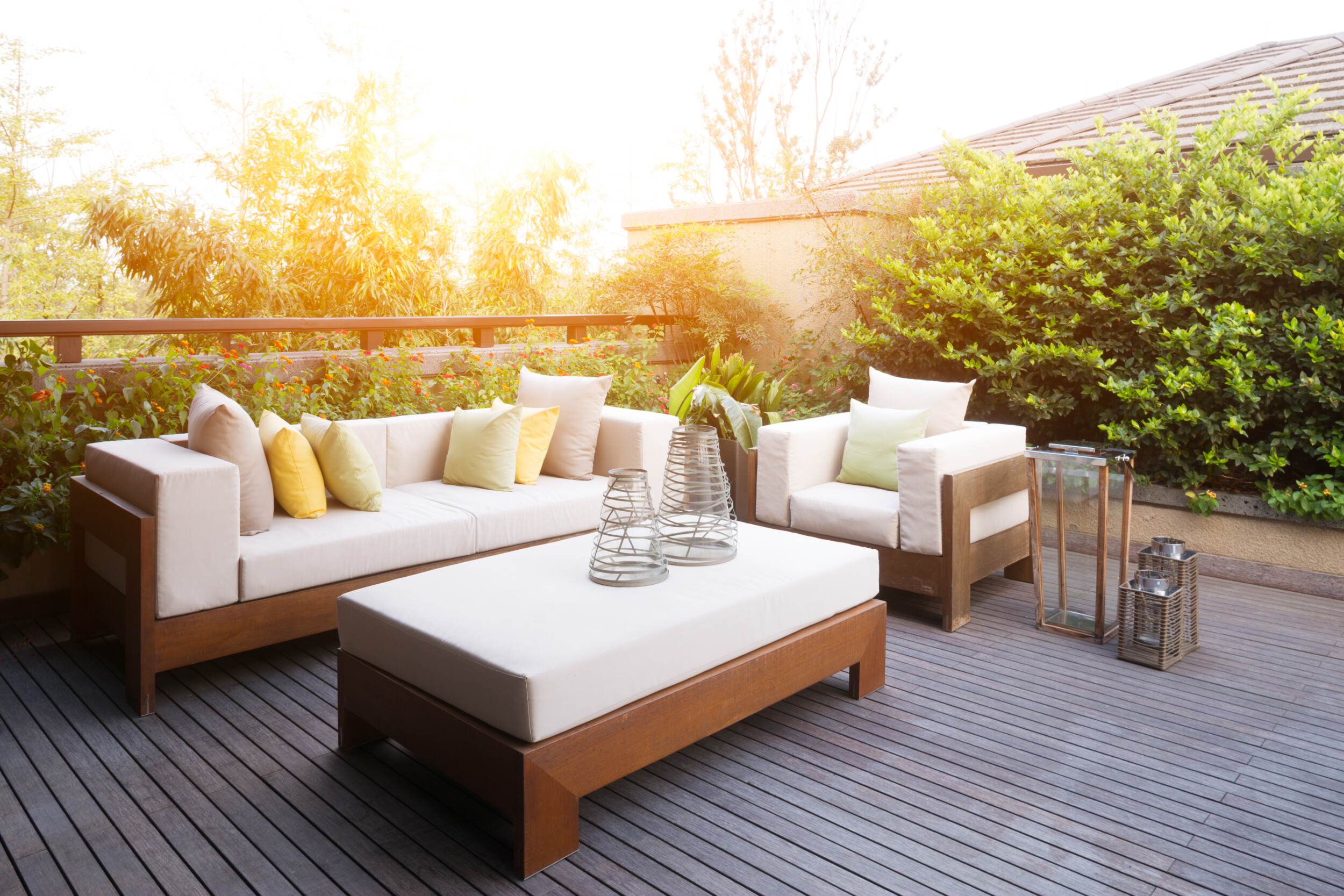 Garden maintenance can be less stressful when you have the perfect relaxation space to relax at the end of the day. Gardening is all about the end result, so be sure to create an enticing area where you can sit back and enjoy the results.
String up a colorful hammock between two trees for the ultimate oasis or invest in comfortable, durable garden furniture to rest on at the end of a hard day.
Potted Plants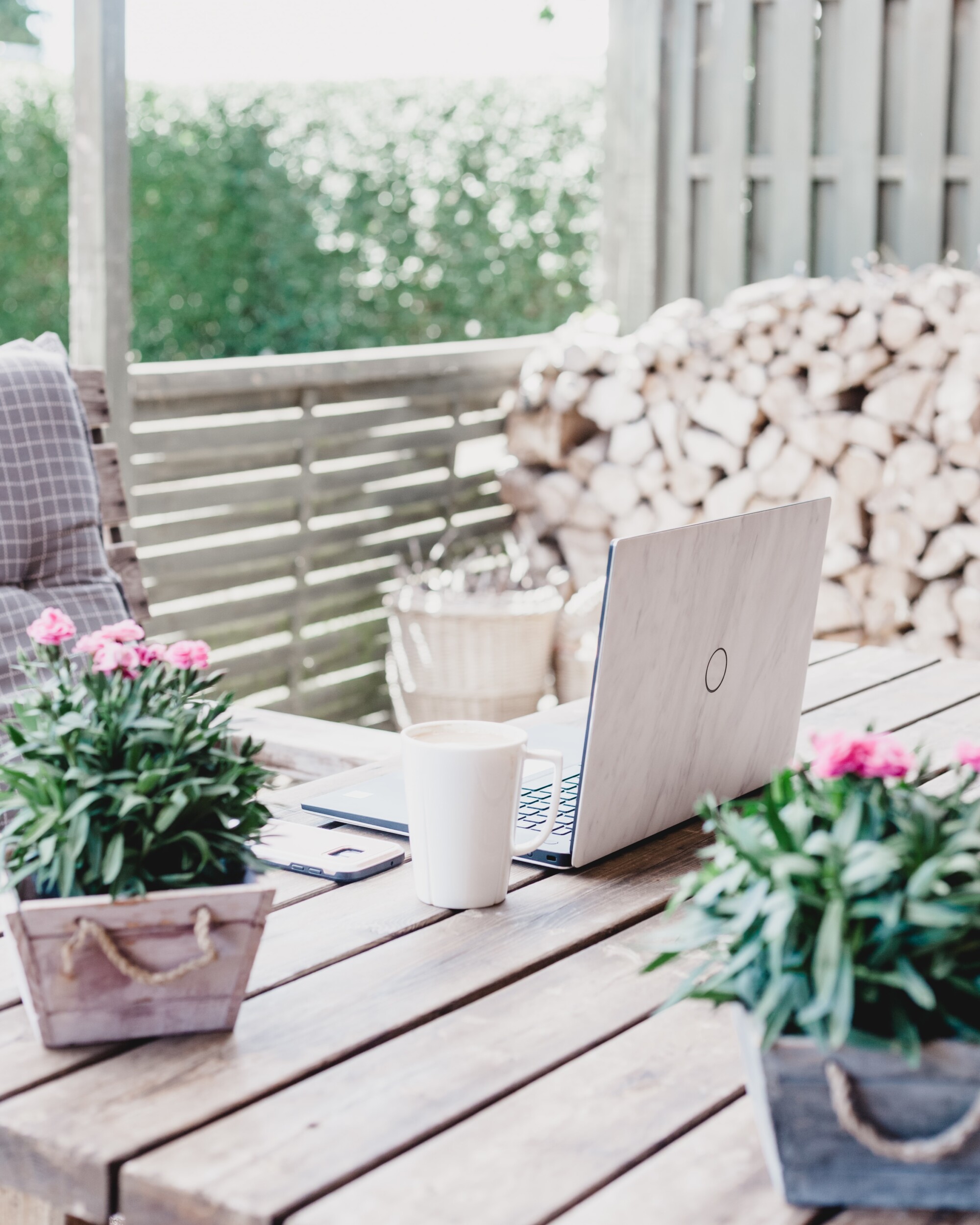 Pots are lifesaving landscaping ideas – there's minimal weeding to do and you have control over how big your plants get. You can also move pots around for a new layout making them a flexible planting option, and you can use them to brighten even the smallest of spaces as well.
As many low-maintenance plants don't produce colorful blooms, introduce splashes of color with some striking pots dotted about instead. Pots are also perfect for adding life to your yard for simple and cheap landscaping ideas.
Go Native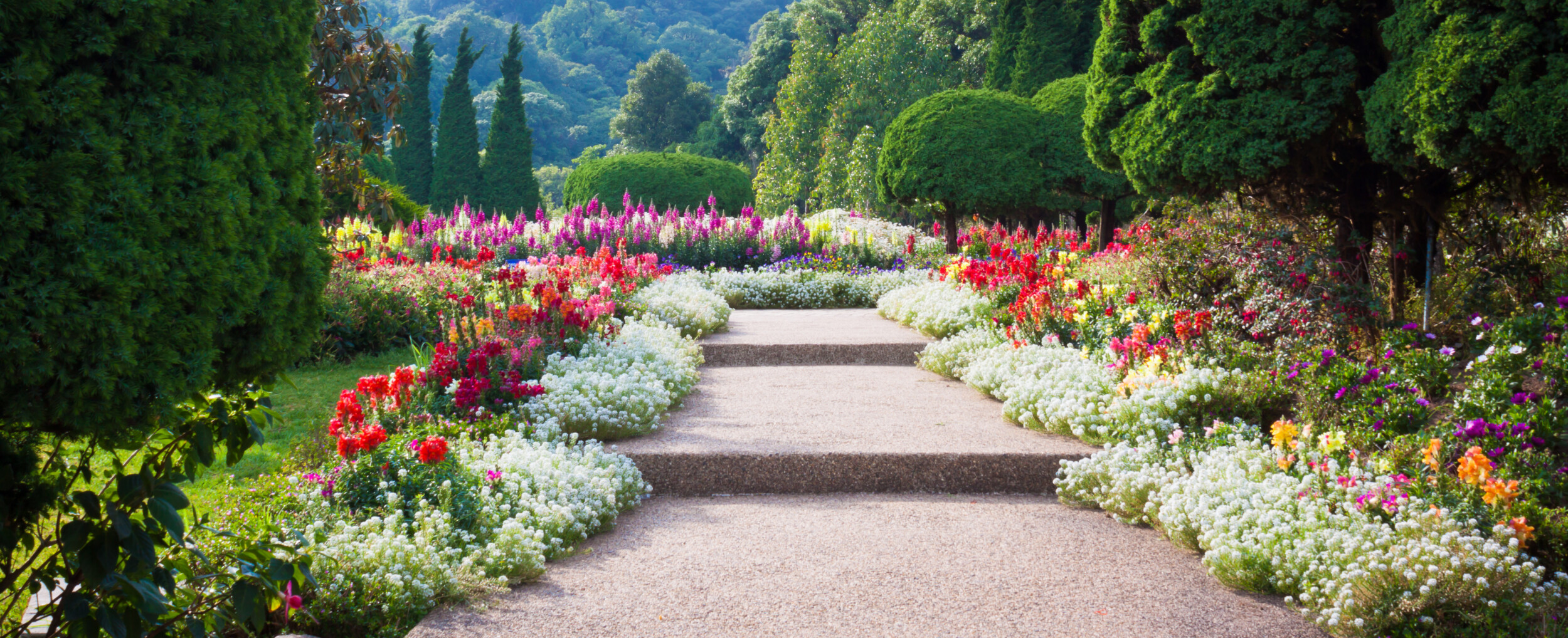 Consider native plants as they won't be difficult to maintain. Plants native to your area are accustomed to the climate, meaning you don't have to worry much about watering, light, and temperatures.
If you're opting for more exotic options, you'll be sure to find that they take a huge amount of care. To go low-maintenance, choose plants that work perfectly with your native climate for residential landscaping.
Mulch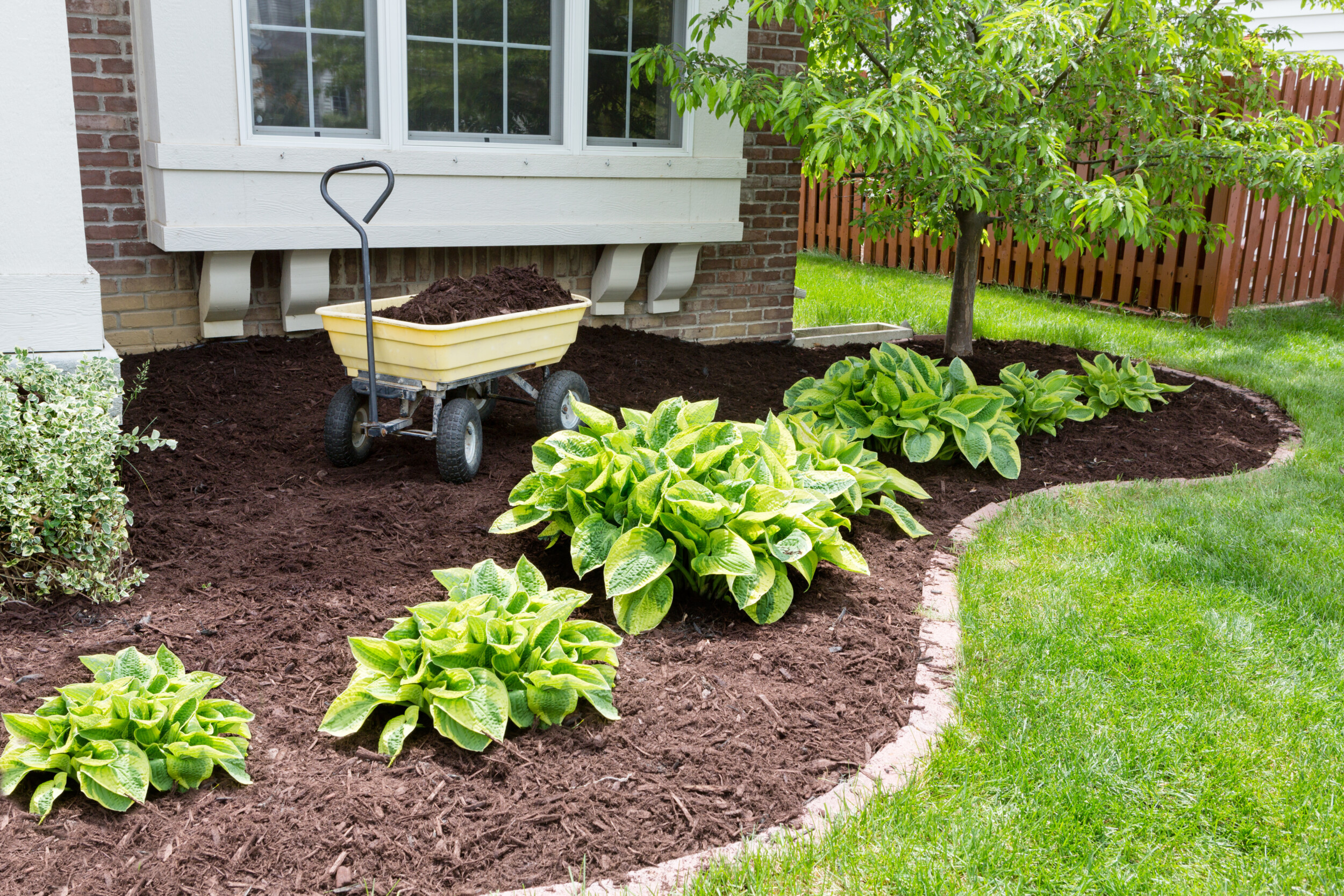 Mulch is an excellent way of covering up a multitude of gardening sins, it saves you time as well, and it's an easy alternative for low cost landscaping ideas. Covering the ground between plants with mulch also prevents weeds from rearing their heads and fighting your plants for light and water.
It also helps to feed your garden as it breaks down, as well as keeping the outdoor space looking neat and organized. Go for natural mulch landscaping ideas as they're also eco-friendly.
Artificial Grass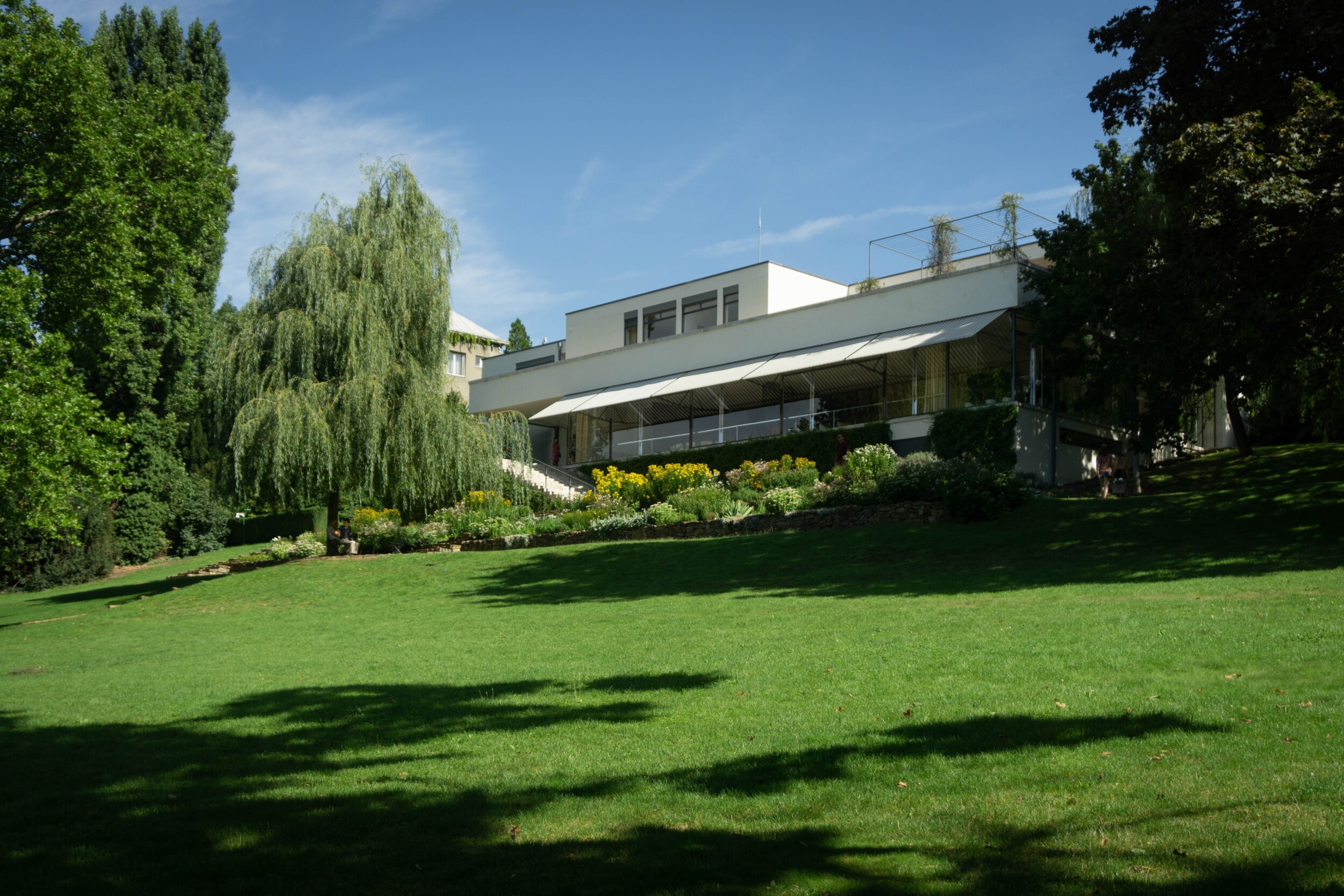 If you're short on mowing and maintenance time for your lawn, how about artificial grass? There's no need to mow it, there's no need to water it, and once its properly placed, there's no maintenance moving forward. And you don't have to worry about it drying out in the sun, bald patches, and having to re-seed it.
Though visually deceptive, this is the easiest of all landscaping ideas. Artificial grass comes at a price (it's certainly not on the list of cheap landscaping ideas), but if you need low maintenance care and want the effect of grass, this is a smart way to go.
Build A Deck + Plant Around It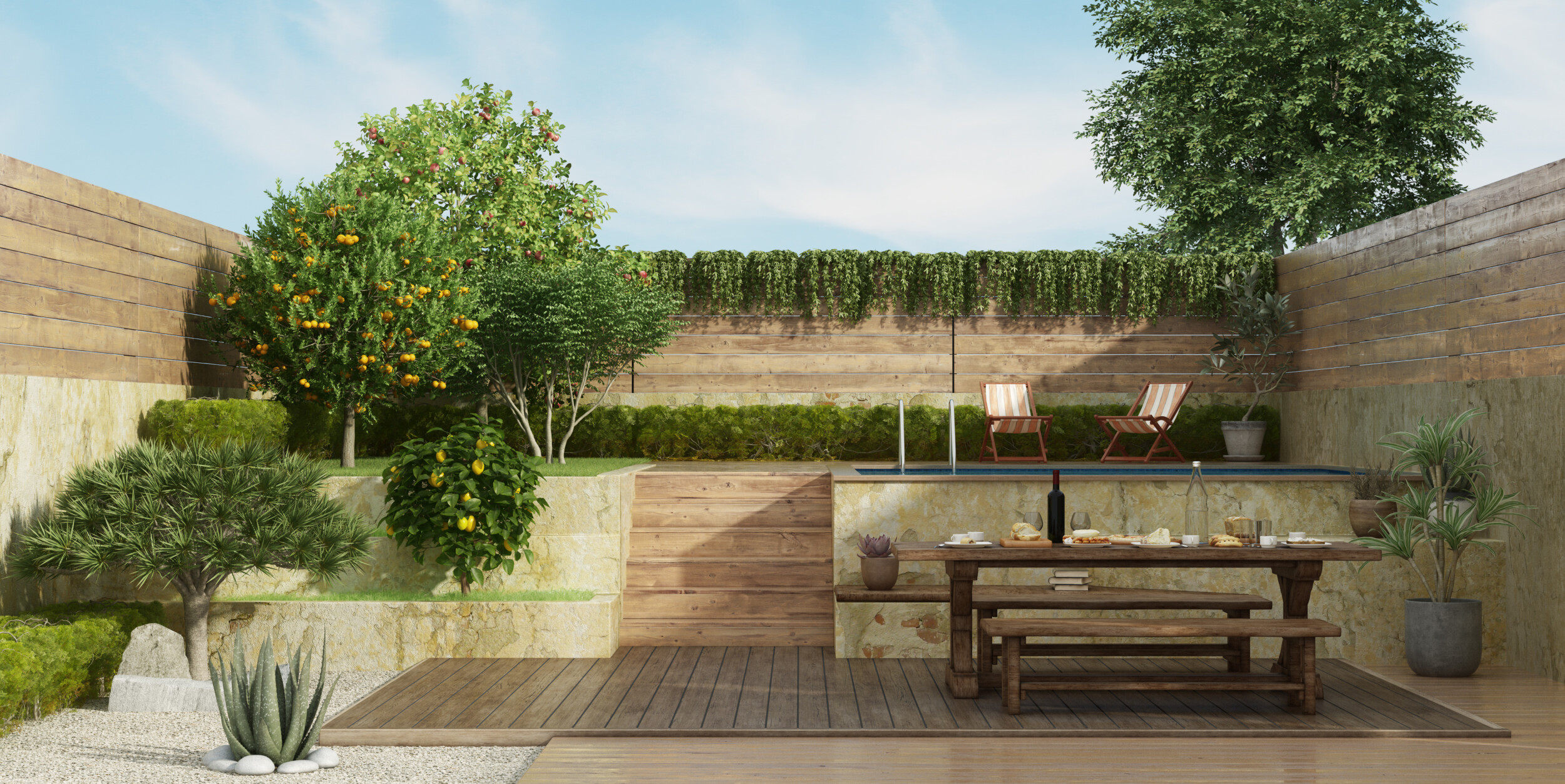 Decks are great for entertaining and for extra solid seating areas and is are easier to maintain than grass, however, they can be much more expensive of an investment.
Granted, they require painting or staining upkeep, but that's nothing in comparison to mowing a lawn each week overtime. Paint it a contrasting color or keep it neutral, so it blends in with the rest of your yard working as the perfect backdrop.
Cottage Garden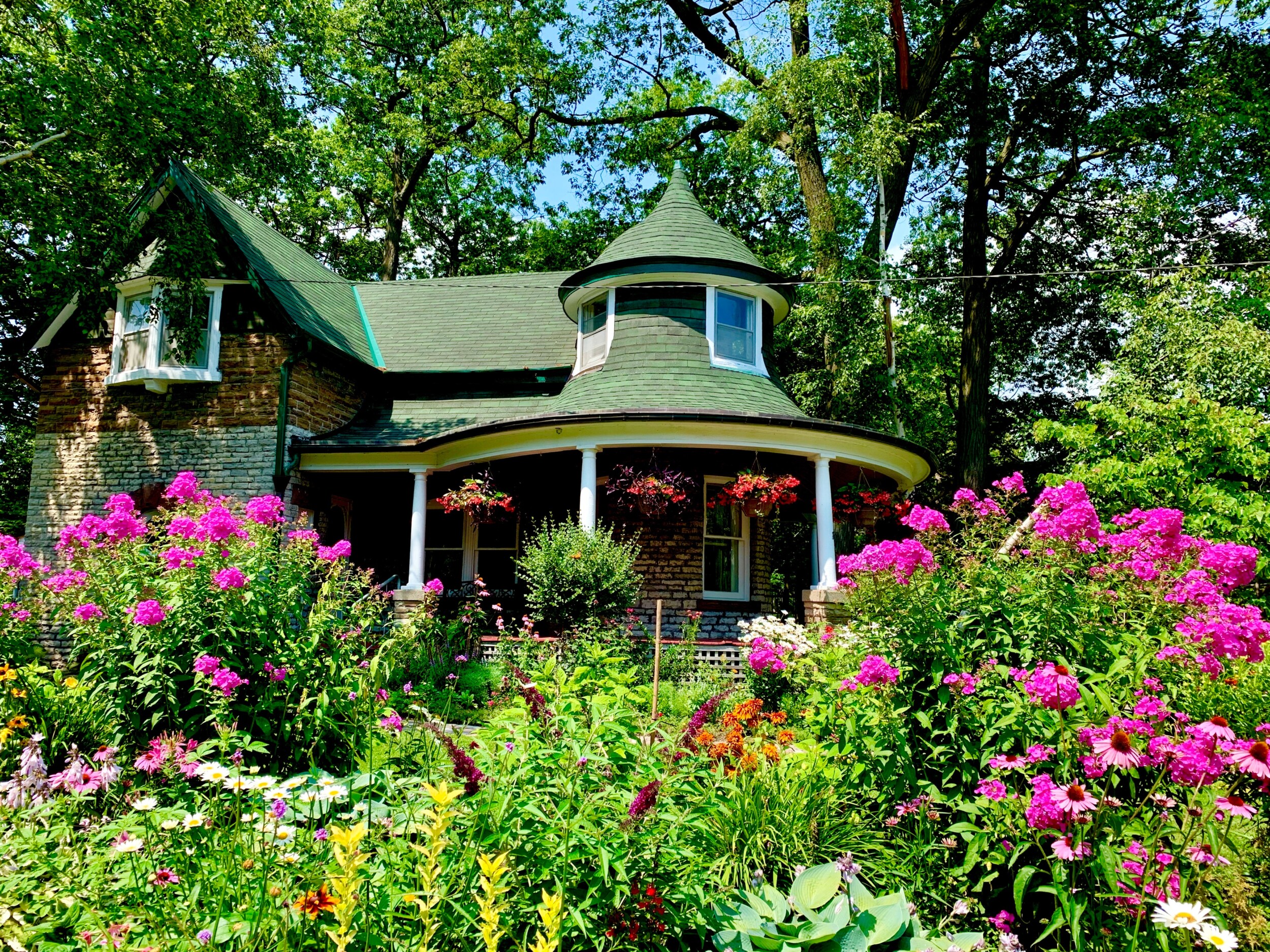 Embrace a natural look with a wildly lush cottage garden. Allowing your garden to run free (within reason) enables you to achieve a sweet British cottage garden look certain to be envied. To get the look, haphazardly plant large amounts of contrasting grasses and plants of different scales throughout your yard.
The more natural and unattended it looks – the better. Plus, letting your yard run its course is the ultimate for low cost landscaping ideas and is the epitome of simple landscaping ideas on a budget with spectacular effect.
Gravel + Stones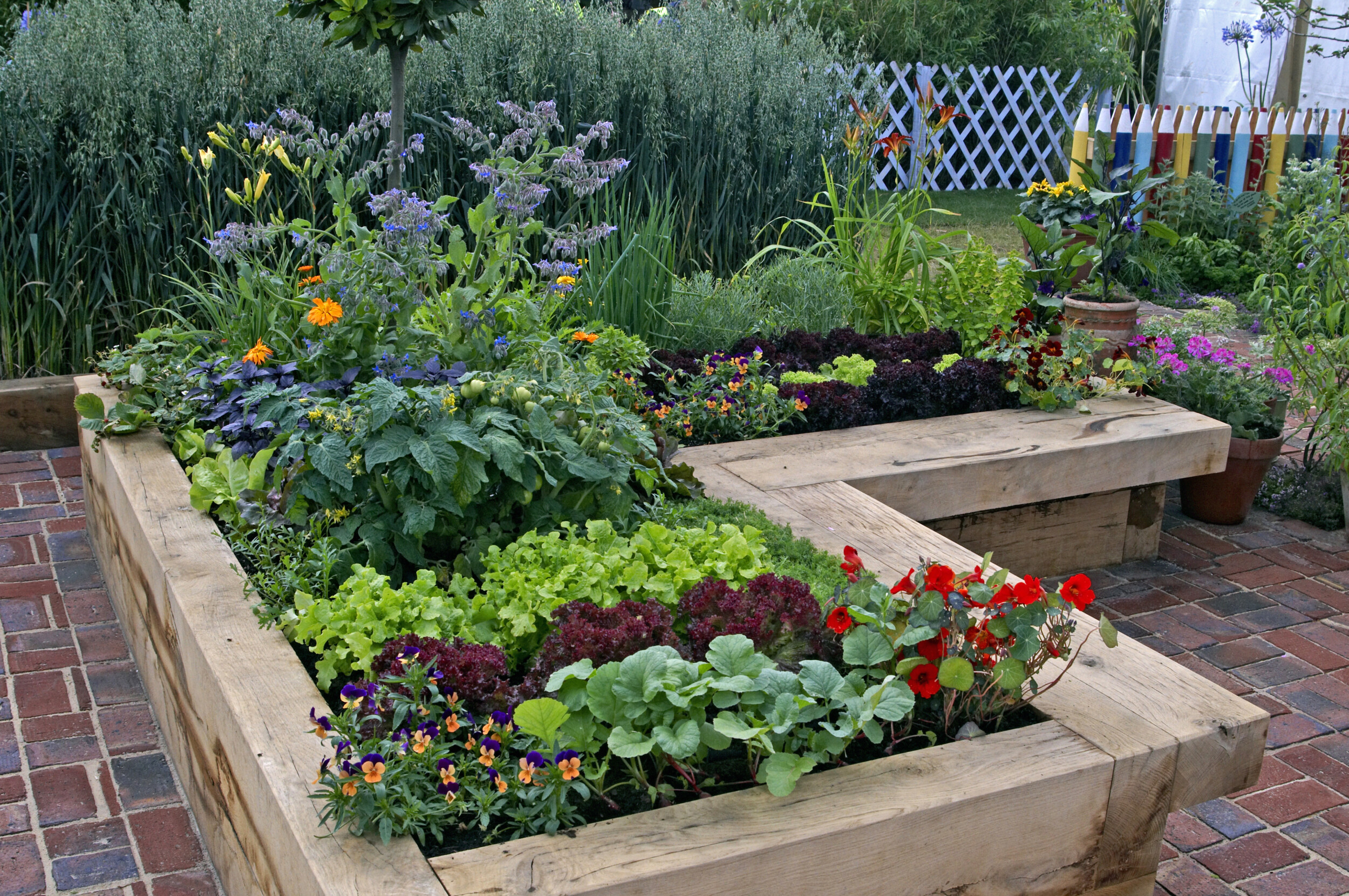 Gravel and mismatched stones make for good ground cover and are low maintenance and sure to add brilliant texture for any landscaping ideas you're considering. Plus, it's an easy front yard landscape fix for those pesky areas you can't seem to get around. Create a minimalist garden feel with gravel and raised beds dotted about for a rich, layered backyard landscaping idea.
Whether you're after backyard landscaping ideas or front yard landscaping ideas, loose stones are inexpensive and look great anywhere. Everyone will be envious of your modern and minimalist garden, and you'll be raving over how easy it is to maintain. Just remember – you'll always need more than you think to cover an area.
Outdoor Artwork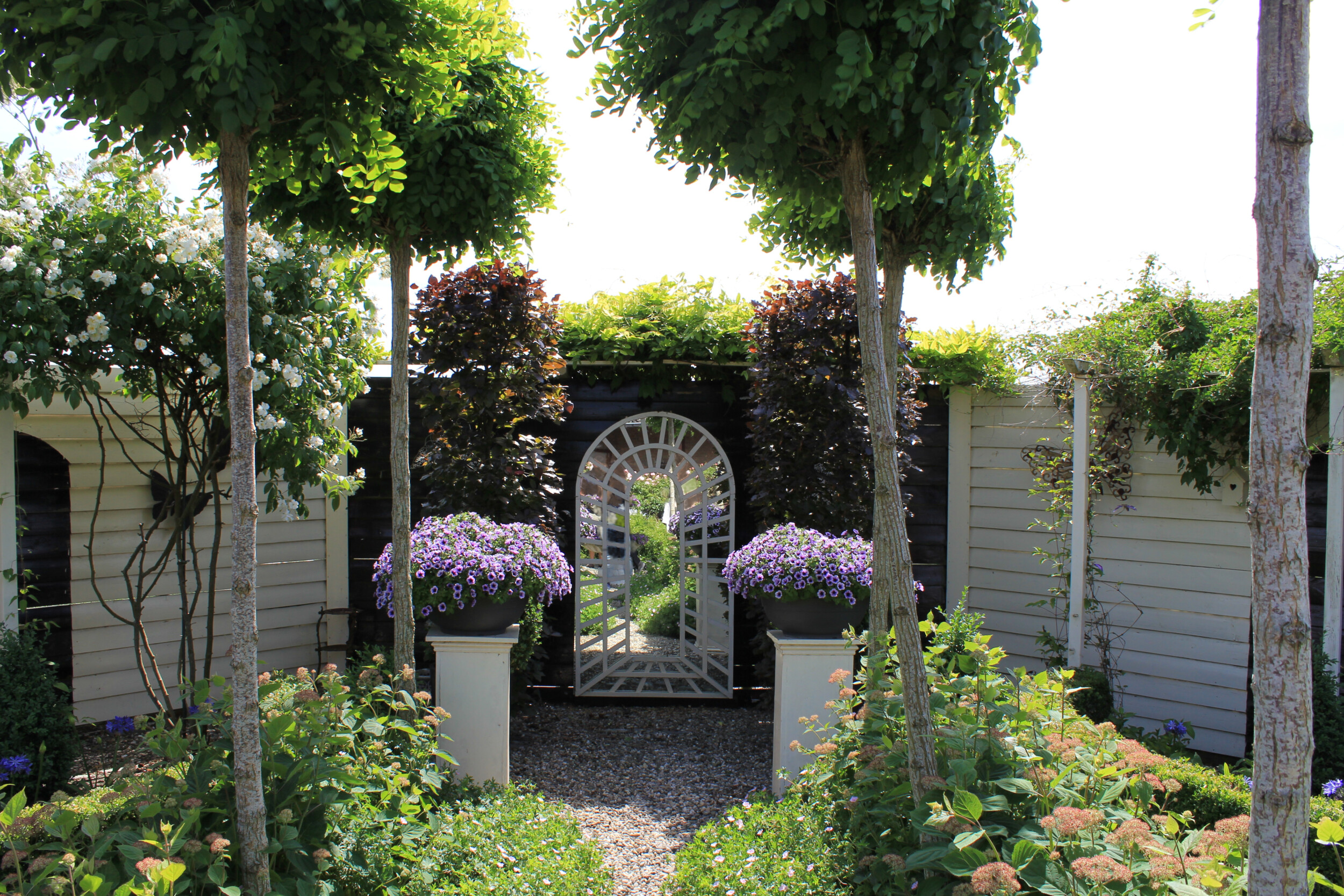 Ever considered outdoor artwork or even mirrors? Outdoor artwork is a great zero maintenance feature to bring your yard to life. By choosing framed prints, mirrors, and sculptures wisely, you'll be able to enjoy them for the long haul as they'll always live outside weather permitting.
How about an interesting metal art installation on a wall for extra visual texture? Or a pretty mosaic or a painted mural? Mind you, these needn't be major splurges requiring careful time and consideration as they'll spend most of their lives outdoors and needn't be expensive nor precious.
Garden Arbor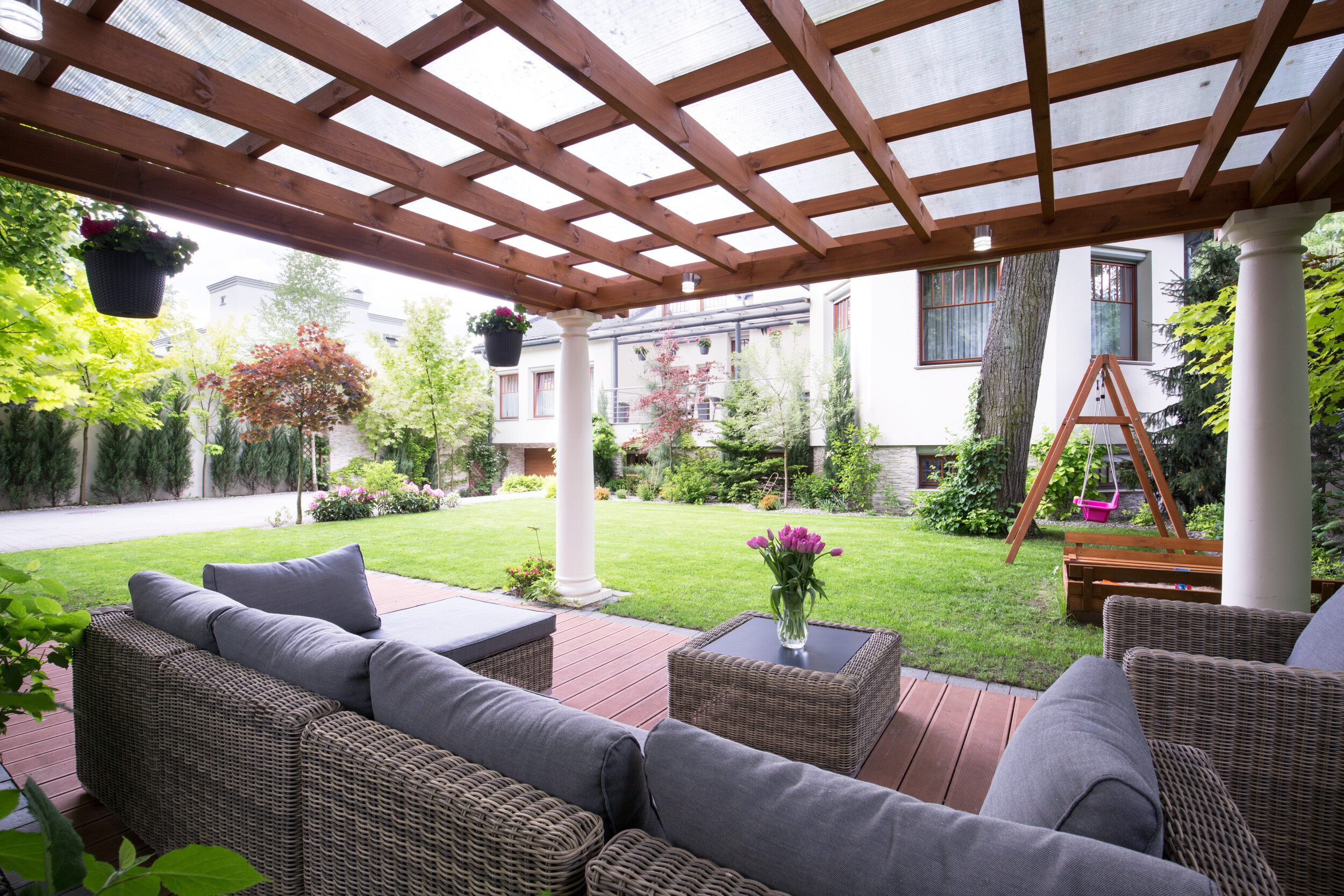 When it comes to life-enhancing landscaping ideas, sometimes it pays to be as creative and dramatic as you can be. Transform your backyard by designing a stunning walkway boasting an arched arbor festooned with vibrant blooms and vines.
You can create one bold arbor or make a statement with a series of arbors working to create a romantic walkway while highlighting the gorgeous landscaping ideas you've introduced throughout your backyard. Plus, arbors can be inexpensive to build and quite easy to manage – even without a green thumb in tow.
Topiaries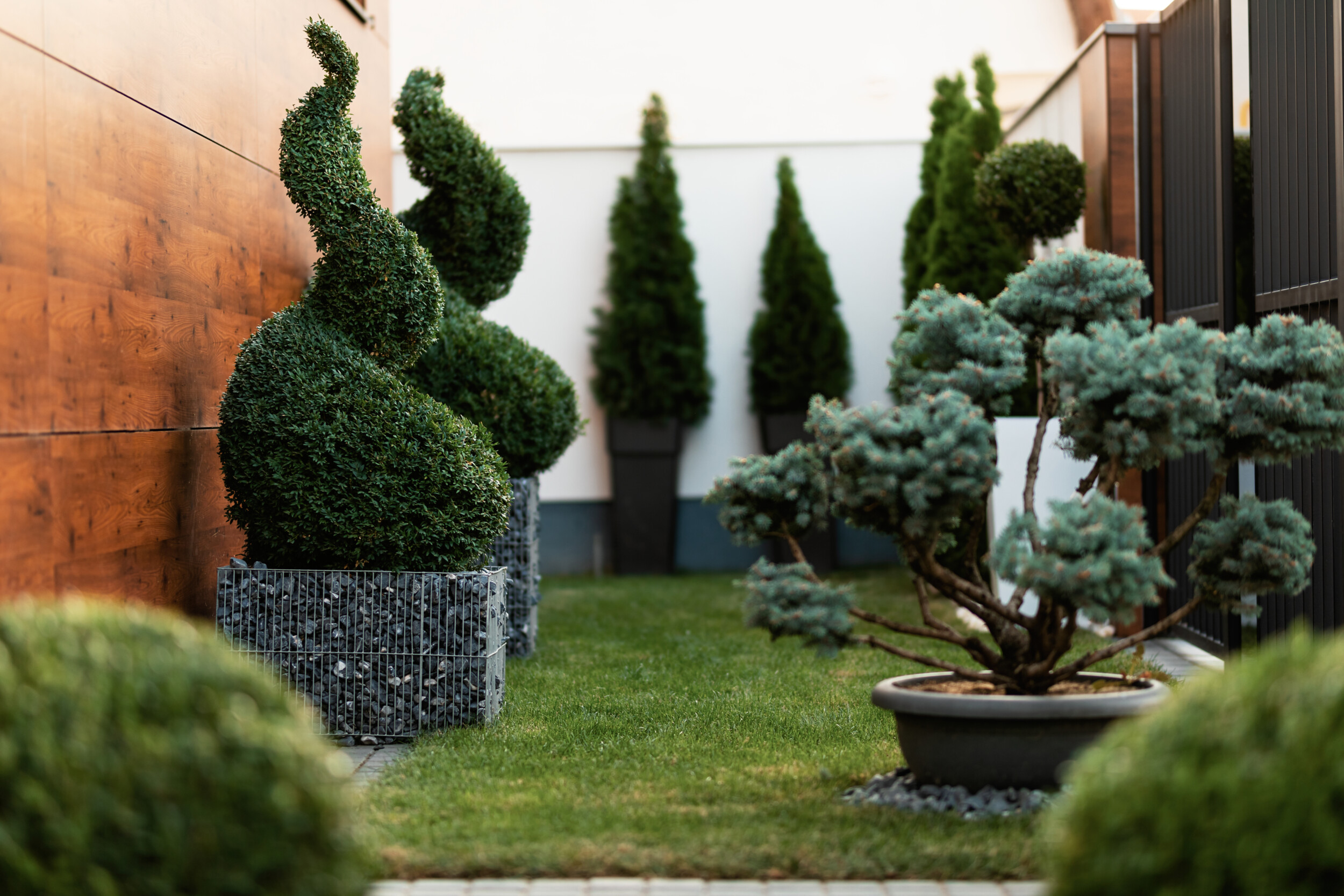 Add a sense of old-world everyday glamor to your landscape design with beautifully manicured topiaries scattered about as they'll instantly add a luxurious sense of elegance and a well-judged imprint to boot.
Visually striking and unique on their own, topiaries will work to help evoke a richly layered effect while giving the eye something to focus on. The trick here is to pay attention to scale as you want them to be just the right size for brilliant effect.
Lined Paths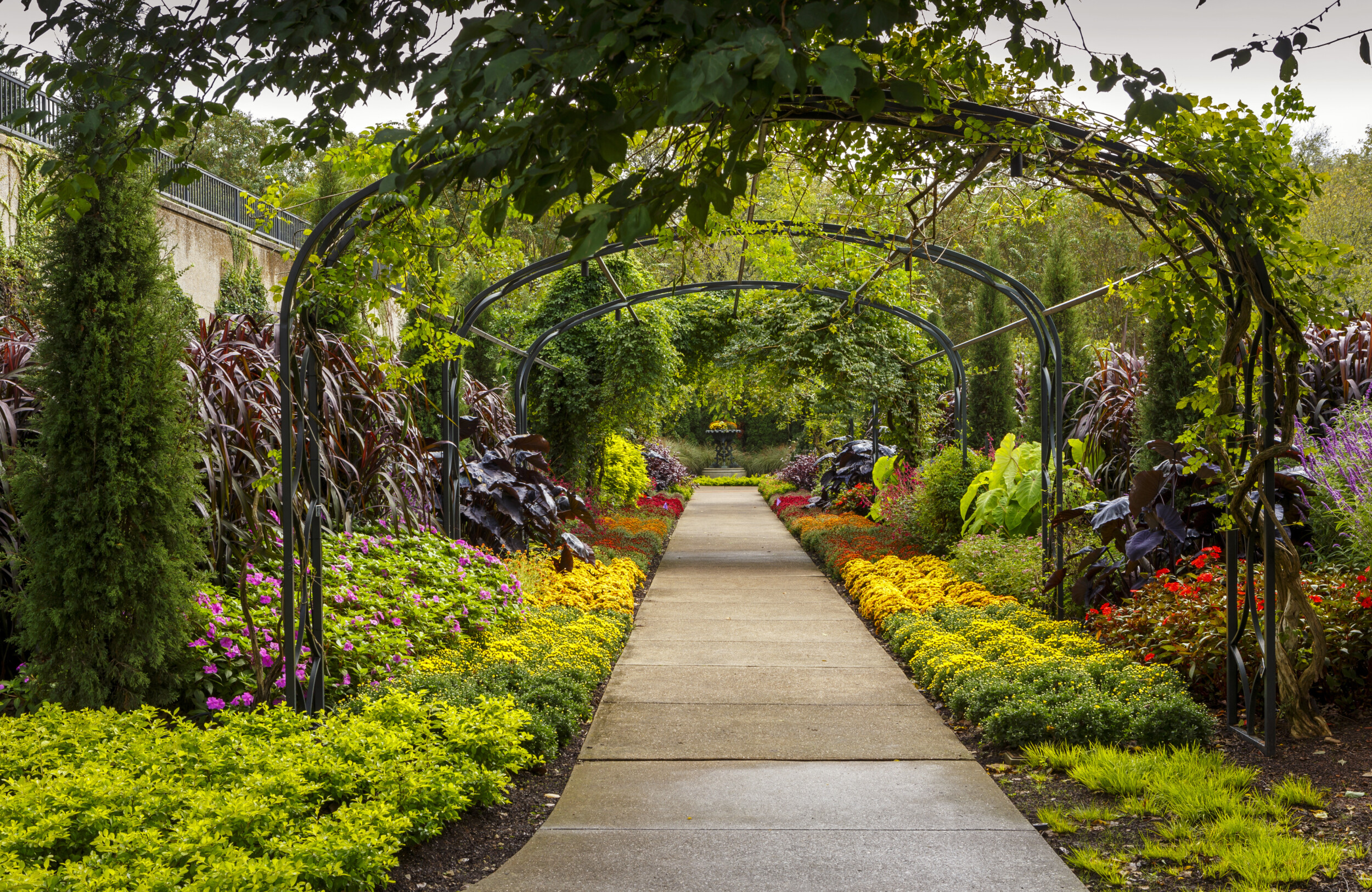 Another route to defining romantic backyard landscaping ideas, lined pathways are the ultimate in English countryside chic and don't require a ton of space of care. By lining a simple walkway you'll help to define it better while creating anticipation in guests for what lies ahead.
Though plants and botanicals lining your walkway can be added in any height, our interior designers suggest going for a low-lying look to avoid taking up too much visual space with noise.
Climbing Vines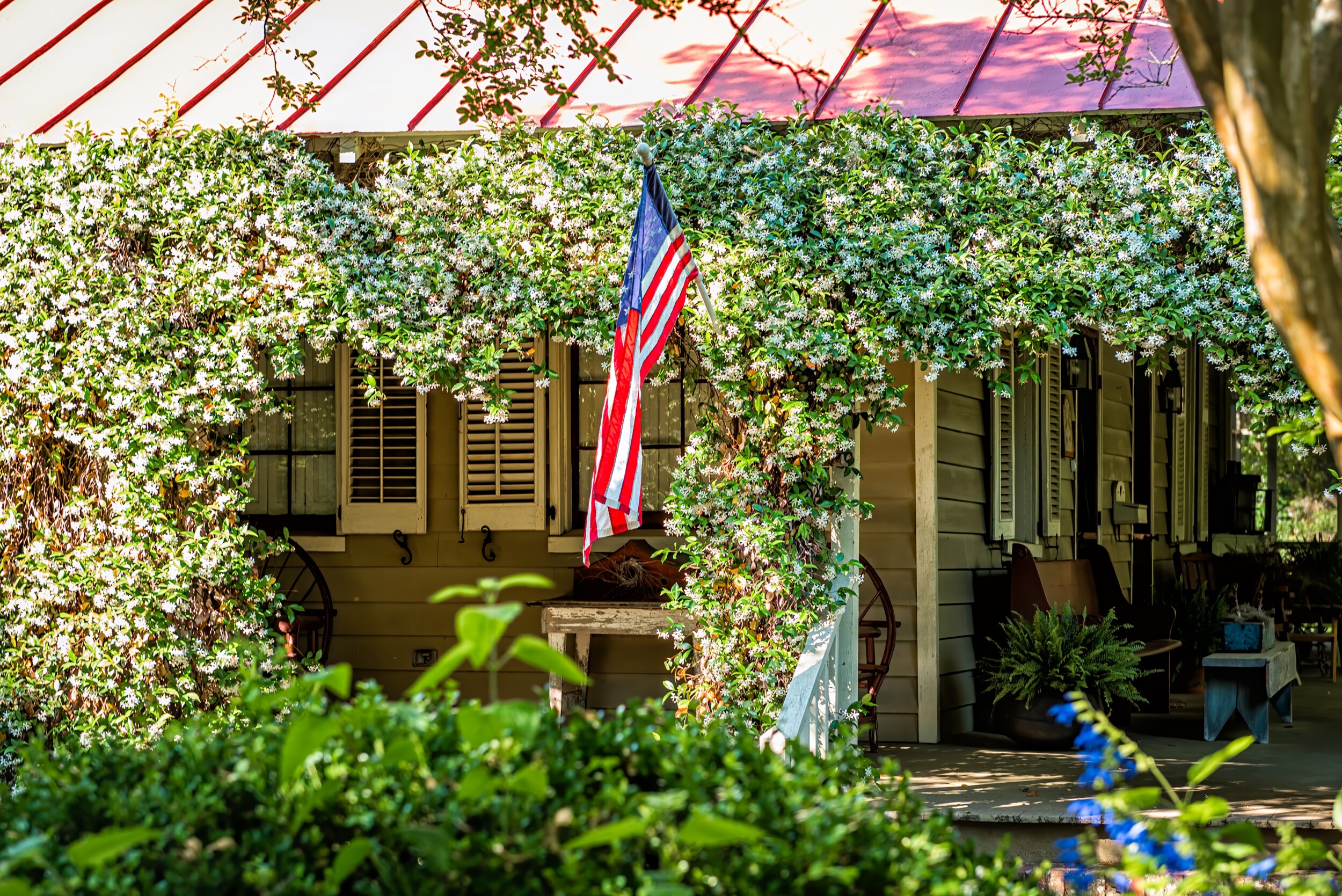 If you're looking for dramatic front yard landscaping ideas, a flowing order of vines and ivy may just do the trick thanks to their sumptuous scale and drooping nature. If you're home's facade can handle the wear and tear that comes from watering and maintaining plants, vines will make for a gorgeous option.
From all green vines to delightful pops of color, it all depends on how full they can grow and how well you manage them as they'll require more maintenance than other landscaping ideas will.
Kitchen Garden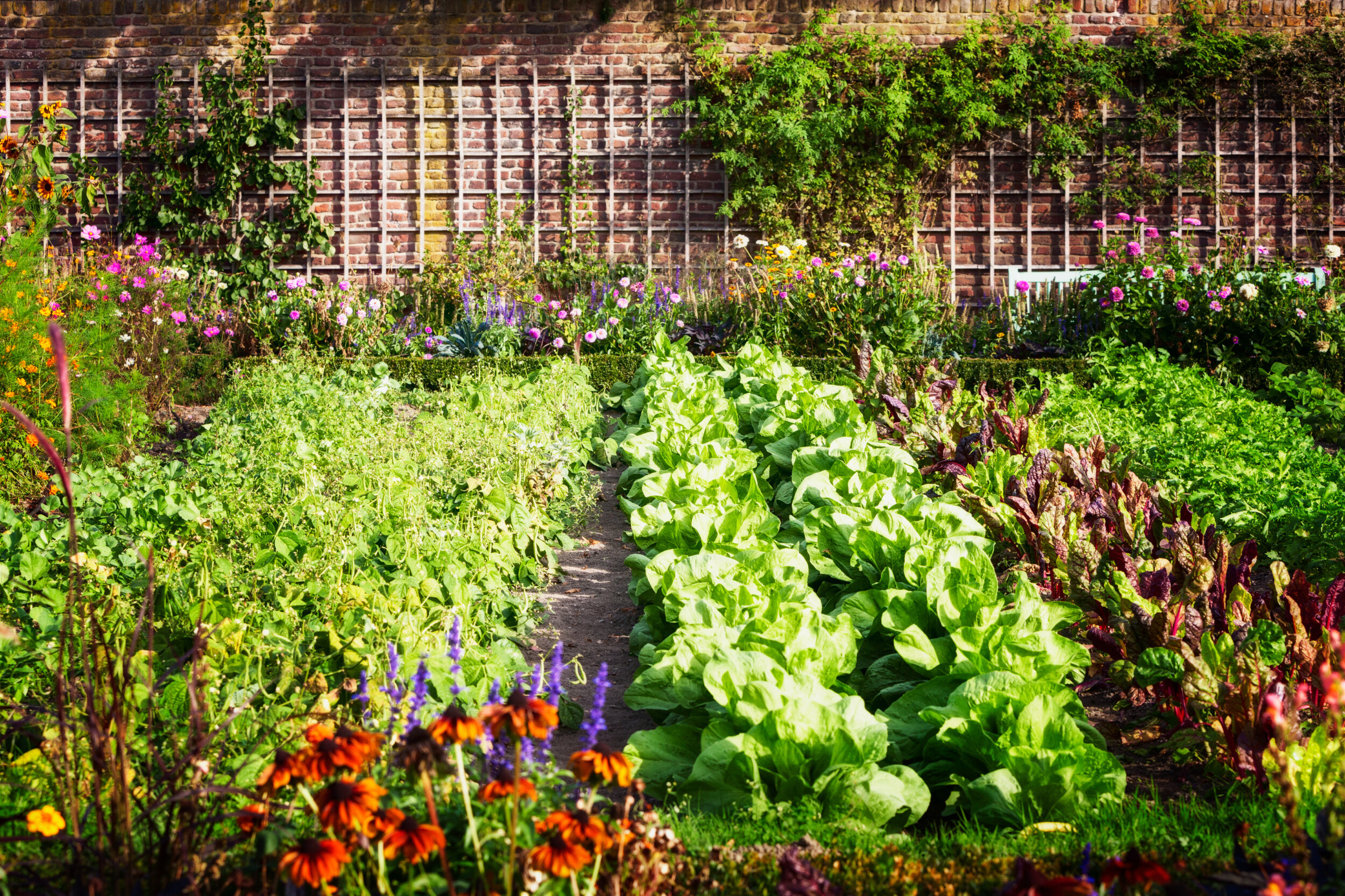 Looking for sustainable landscaping ideas that go beyond your average compost kit? Why not create your own vegetable garden as you'll save money on groceries and relish in pride once you take in how fruitful the yield is on your returns.
Outdoor gardens are wonderful for unwinding and being at one with nature while getting in extra exercise as you plant and maintain your garden. The key here is to do your research before purchasing seeds as you'll need to know what will grow best in your area and exactly how much work it will take you to grow and manage everything.
Sitting Area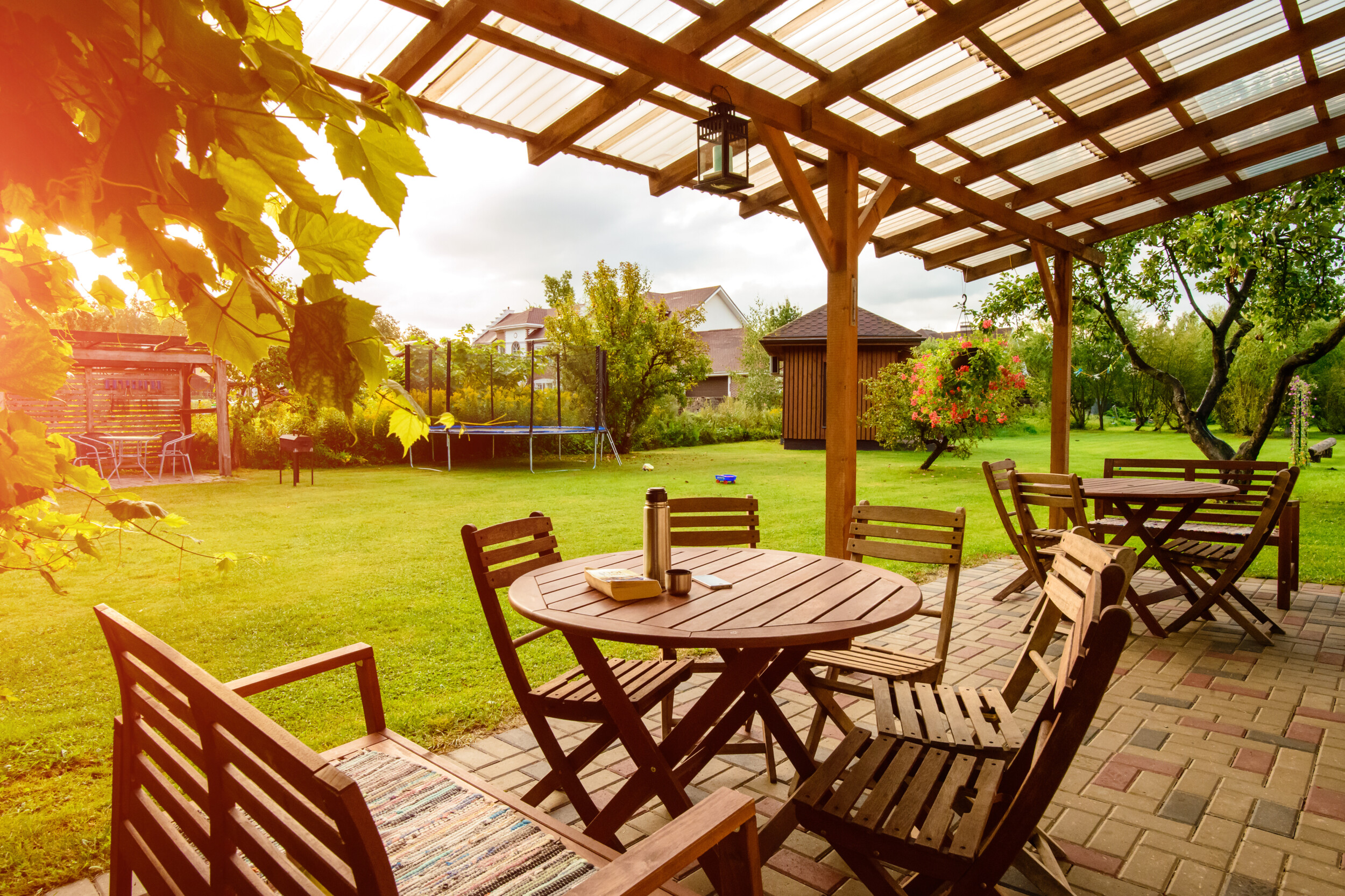 To make the most of your backyard landscaping plans, consider the best area to create a dynamic sitting area so you can take in the beauty of your yard and all of the commendable hard work that went into perfecting it.
No matter how small the space is, position seating and tables facing each other parlor style to really spark conversations. Even better when there's a fire pit housed centrally to really amp up the spirit of the outdoors.
A Secluded Courtyard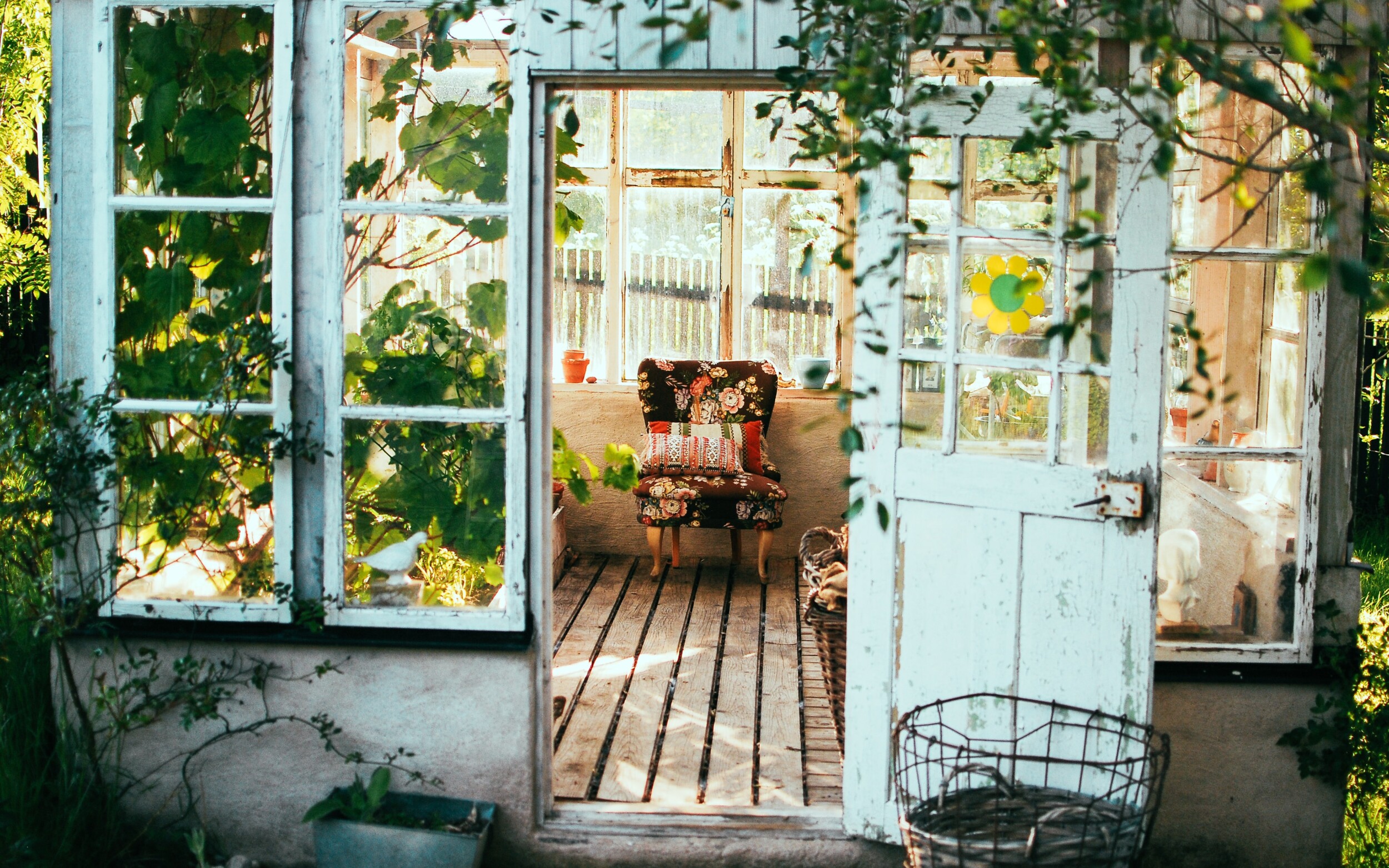 Nothing evokes the discreet charm of the outdoors like courtyard landscaping ideas as they always evoke the feel of an elegant private oasis that's cut off from the reality of the real world.
If you've got the space available or are planning new construction, a courtyard will only work to boost the value of your home like no other landscaping ideas can. But if you're on a budget or have limited space, you can channel the feel of a courtyard with arbors installed to mimic one.