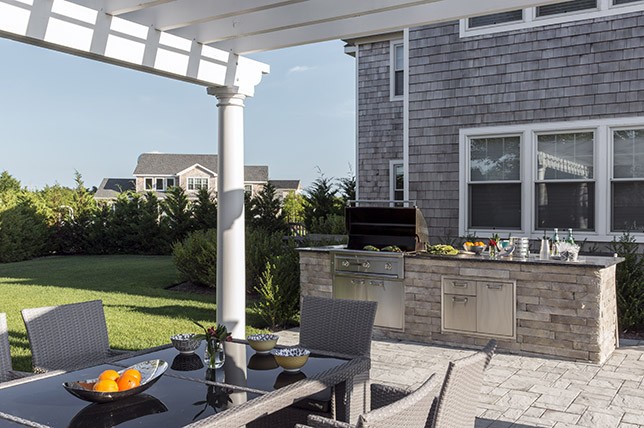 Balcony and terrace outdoor spaces are game-changing amenities we all gravitate to, but often take for granted and neglect. Big enough to relax, and small enough to take little to no care, there's something to be said about a beautifully realized outdoor space that reflects the design direction of your home. When planning our client's homes, our interior designers are often tasked with the best practices for creating enviable terraces, balconies and even backyards. For those of you not taking full advantage of the joys of your outdoor space, we've compiled a short list of easy, effective, and budget-friendly ways on how to decorate your terrace.
Limited Color Palette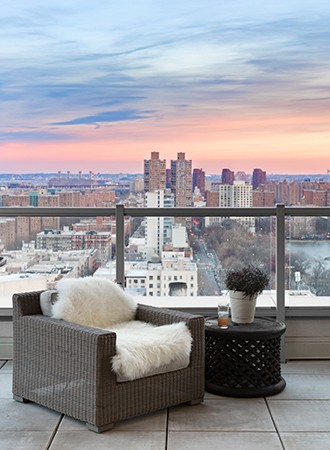 Whenever we approach an urban home renovation or interior design that features outdoor spaces, we always work on the view from inside the house first. And as city dwellings often boast breathtaking views, we tend to favor sparse layouts and a color scheme that extends to no more than three hues. This works to keep the eye undistracted and ready to take on the horizon.
Geometric Shapes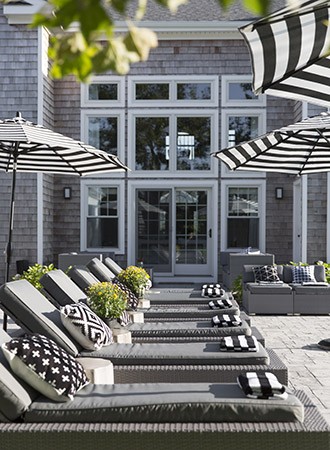 For this Manhattan family's weekend retreat, we took full advantage of their oceanside views and expansive lawn by reflecting the homes symmetry with a series of outdoor chairs and lounges in handsome gray tones complemented with graphic pillows and throws in classic black and white motifs.
If you're blessed with a large backyard, we suggest sourcing extra's that you can easily stow away when the weather becomes a challenge. They'll work to add personality to usually minimal outdoor furnishings and are an easy finishing touch to evoke the character of your home.
Focus On Privacy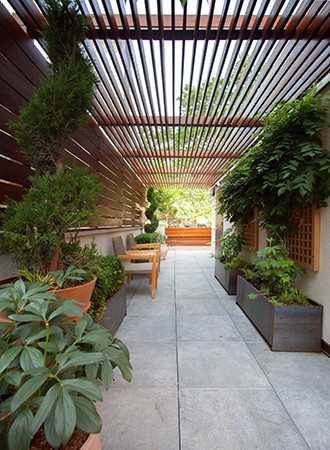 Though this was a challenging gut renovation, we made sure to utilize this Upper East Side brownstone's mesmerizing yard with a sense of privacy in an otherwise cramped, building to building zone.
When considering the best routes on how to decorate your terrace or yard, simple wooden frame structures are cost-effective, easy to build, and will allow you to take full advantage of your outdoor space year-round. Though we don't suggest a D.I.Y production as you want the structure to last, a local general contractor could accomplish similar results in less than a day on a home renovation project that's simply money well spent.
Simplicity Rules

A quick browse through an outdoor furniture retailers selection is quick to prove that the best outdoor furniture options are frequently minimal and sleek.
While considering options on how to decorate your terrace or outdoor space, the key is to keep furnishings simple and focus on bringing your homes decorative direction outside through extra's that are functional yet still evoke personality. By keeping the look of your outdoor space symmetrical, you'll easily feel a sense of tranquil harmony anytime you look outside as clean lines and linear features will never go out of style or disappoint.
Keep It Consistent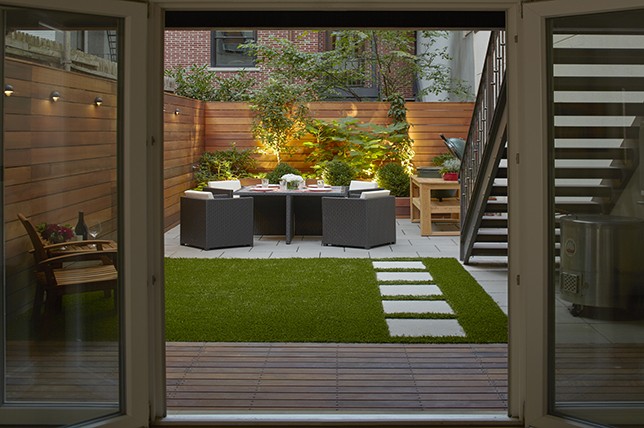 Another view from an U.E.S project of ours maintains that symmetry is key, and that a thoughtful approach on the same level as we cared for the interior enhanced this home with a backyard that is statement making and memorable.
Notice how the offset stone path and easy to replicate wooden walls work together to create a pragmatic balance that mirrors our modern update to this otherwise classic New York structure. Like you would do inside, think of directions to make your space unique in easy to replicate approaches for extraordinary results.