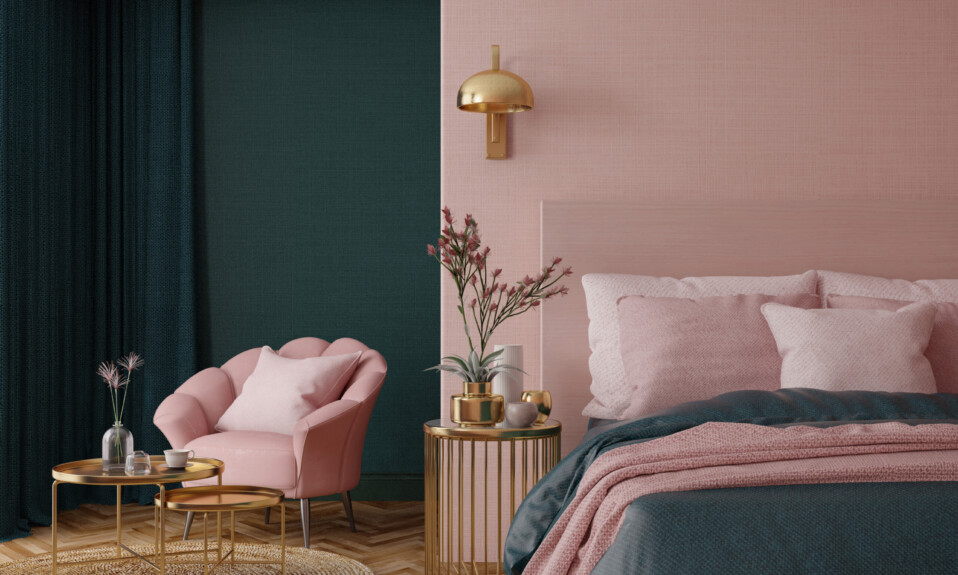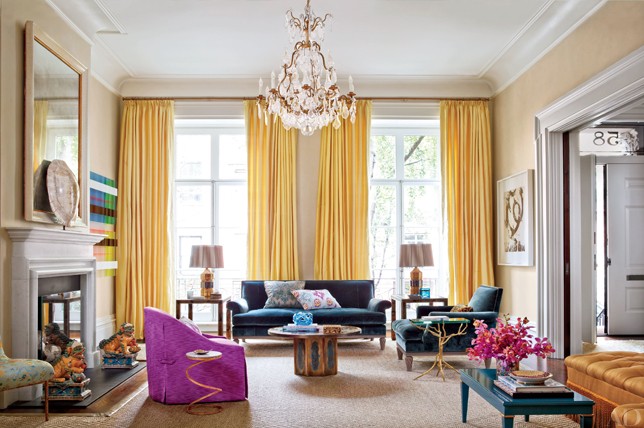 If your taste veers towards the ornate and jewel-like, this 1920's design style throwback might just be your best option. Art deco interior design instantly evokes opulence; elegant, glamorous and sleek, this style was popularized as the epitome of chic in the 1920's.
The bold and sweeping statements of geometry, symmetry, and metallics bring visions of Great Gatsby-esque design to mind, with a sleek and shiny patina providing the most sumptuous of excess. And today's take on updated art deco style is decidedly playful and modern for a standout look. For inspiration, we've created a handy guide with everything you need to know to master the look culled from our decorators.
OPULENT MATERIALS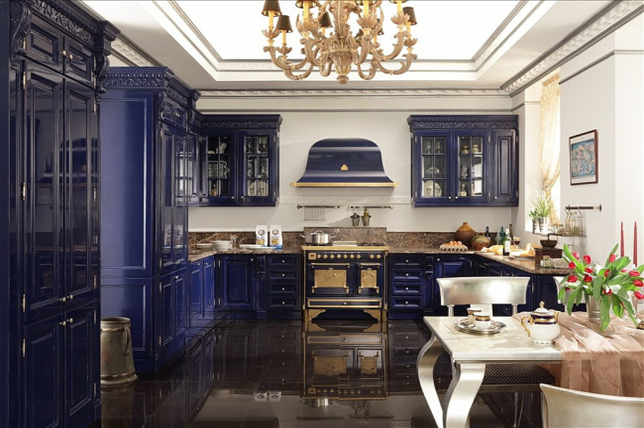 Materials used in art deco interior design are slick and reflective for everyday glamor in the home. Plenty of metallics are present in this style; from gold to silver, stainless steel, and chrome. They lend any room an elegant and luxurious feel, and they can be used everywhere. Imagine a modern art deco living room with a glass topped gold coffee table, chrome lamps, and a bold geometric patterned rug in black, gold, and white. Glass is also a frequently used material in art deco design; whether that's through mirrors, glass-topped tables, sculptural elements or an art deco vase or lamp, as glass adds to the elegant feel of an art deco room.
When considering this style, you might not immediately think about wood being a frequently used material, but rare and dark woods like ebony were often used for furniture and flooring. Inlaid wood furniture was used to celebrate traditional art deco patterns that are signifiers of the movement. Deluxe materials like marble are also prevalent in rooms of this style; don't forget, this era was all about lofty extravagance and materials used in your room design were a perfect way to display prestige.
ART DECO THEMES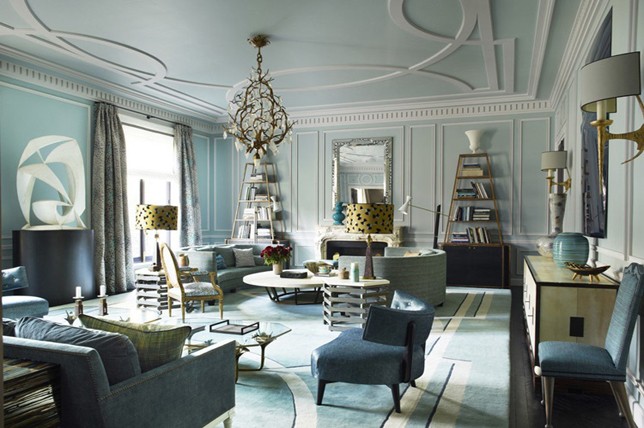 Natural and geometric themes feature heavily in art deco interior design ideas. Modern art deco interior design should be filled with designs featuring laurels of leaves, branches, feathers along stylized animal elements whether a bird sculpture or a Chinoiserie fish. White or cream wallpaper with a black feather print would look stunning in an art deco living room and a tiger or zebra print rug wouldn't look out of place in an art deco bedroom. These are both bold statements, and this style is all about making a statement and pushing boundaries.
Geometry is also abundant in art deco design, 1920 saw increased production and geometric shapes represented the changing times. Geometric shapes, trapezoids, chevrons and zig-zags should fill your room; popping up obviously and discreetly throughout your design. Sunbursts are an elegant and bold addition to an art deco room and you'll see plenty of jagged and pointed edges – art deco fan-shaped mirrors are a perfect example of this and the symmetry they provide is clear.
USE OF COLOR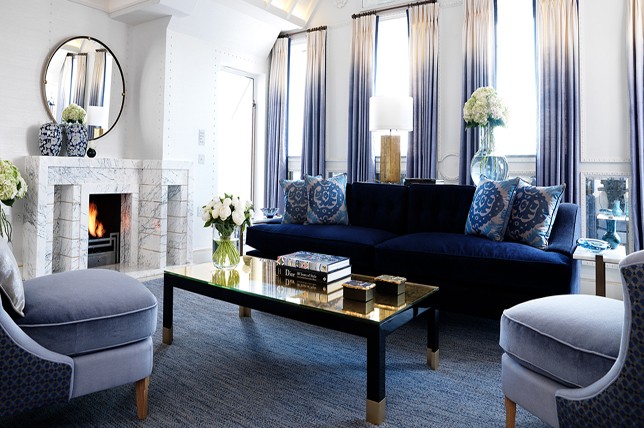 When you think of classic art deco, Great Gatsby style looks, you may immediately think of black, white, silver, and gold color themes. Bold and deep jewel tones also have a place in modern art deco interior design. They are rich and comforting (key for art deco interior design ideas) and these deep hues make for perfect soft furnishings, in contrast to the black and white you first think of.
Think bright and deep yellows, reds, blues, greens, pinks, and purples, accompanied by softer creams and beiges to soften up your art deco look. Softer colors are perfect for bedrooms and dining rooms and will enable you to use any pieces in these colors you already have if you're art deco decorating on a budget.
FABULOUS FABRICS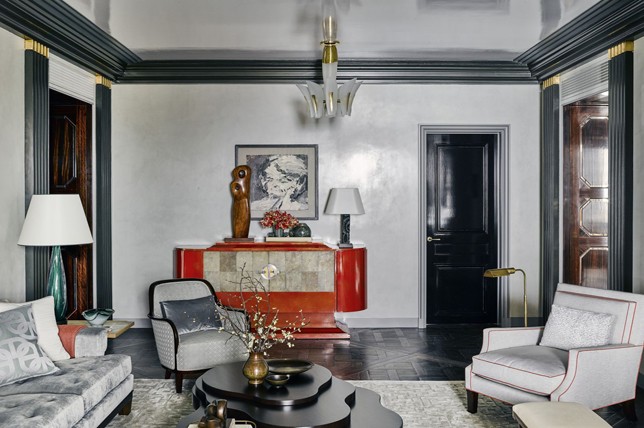 Fabrics of a solid color or in a geometric design are the most used textiles in modern art deco interior design. All of your soft furnishings should be bold – opt for a sofa upholstered in a bold block color and accessorize with throw cushions in a geometric print or vice versa.
Black white and gold fan pattern fabric are also a great option for soft furnishings or a diamond pattern with pink or red accents. Frame windows with glamorous curtains in a gold-bronze silk blend, adding a real touch of luxury to any room.
BOLD FURNITURE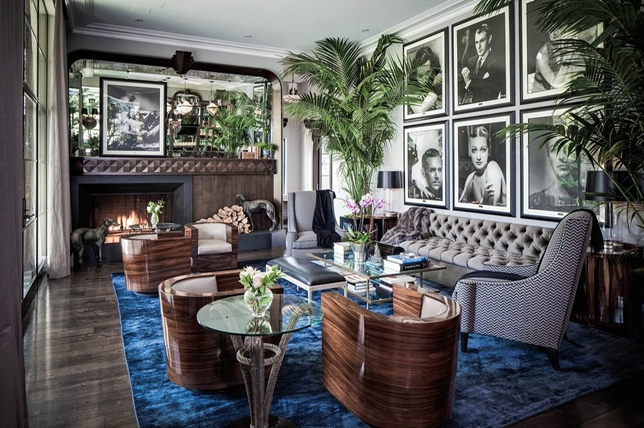 As with everything in art deco interior design, 1920's furniture was fiercely unique. Pieces were on a large scale, so don't be surprised to see imposing side boards in ebony and pieces which really take up floor space.
Curvaceous furniture with smooth lines is also prevalent; armchairs in pink velvet in a scalloped design would look captivating alongside your art deco interior design ideas. Wooden furniture with boasting an inlaid wood art deco design, sporting the classic geometric and symmetrical designs and Grecian key patterns are requisite art deco features as well.
FLOORING
No art deco home is complete without a beautiful set of black and white art deco tiles – these would look stunning in a hallway, bathroom or even an art deco kitchen. Lacquered flooring with a high shine is the perfect addition to art deco interior design, and highly polished parquet flooring in a dark wood will also look stunning and in theme.
If you don't have the option to replace flooring in the art deco style, cover your floor with large rugs in geometric patterns to spice it up a bit.
ACCESSORIES AND LIGHTING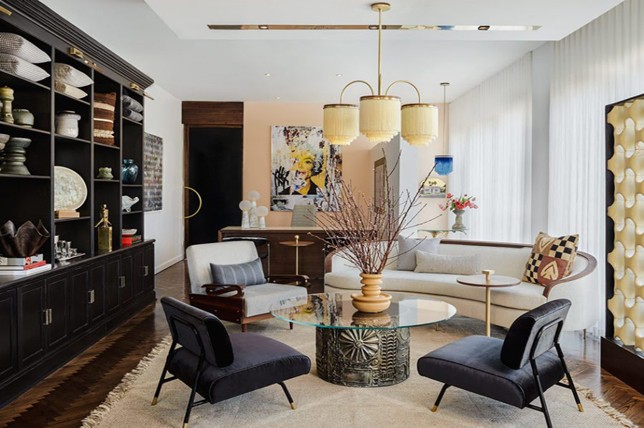 Accessories complete an art deco room – small elements like fixtures and fittings will make a huge difference too. You can source great replica light fittings, door handles, switch panels, and all manner of furnishings online, which is great if you are on a budget and can't splurge on genuine art deco period gems.
Mirrors look great featured in an art deco style home and art deco style options can be found relatively inexpensively. Ornate mirrors make any room look polished and larger even, do make a statement with one. And do source art deco style prints and art for your walls, along with personal finds like vases and figurines for a finishing touch.