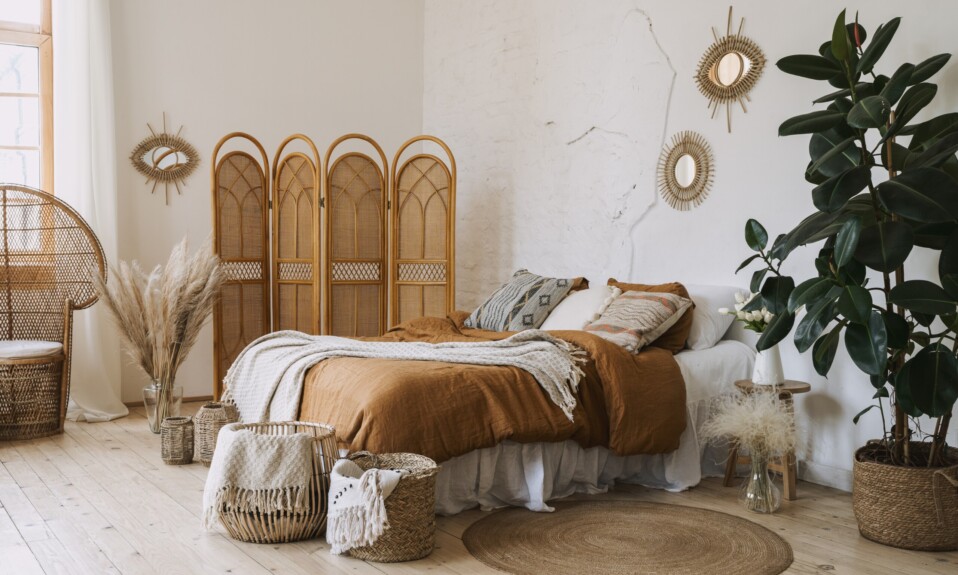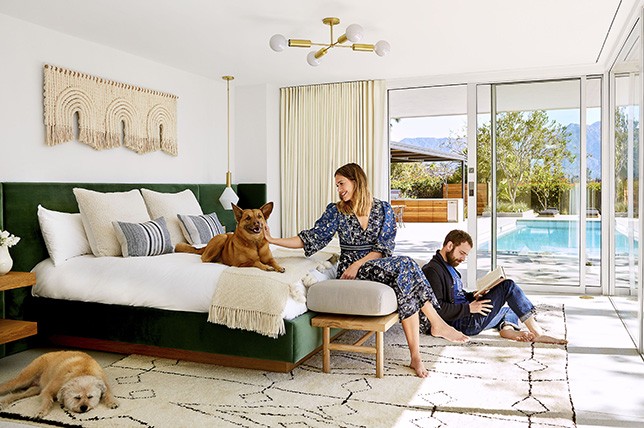 At some point or another, we bet you've come across bohemian design; it's a bright, patterned, multi-cultural melange of memorable layers and elements you simply can't miss or forget for its uniqueness. The word 'bohemian' refers to someone who is socially unconventional and often involved in the arts, making it a great interior design option for a rich and heady space full of visual interest and a relaxed spirit. But what makes bohemian style so distinctive and viable, and how do you get the look right in your home without coming off as heavy handed?
As we continue our Design Style series breaking down the essentials of different movements to consider for your home, we're looking at tried and true routes to create your own perfectly curated bohemian style space with advice culled from Décor Aid designers.
Simple Base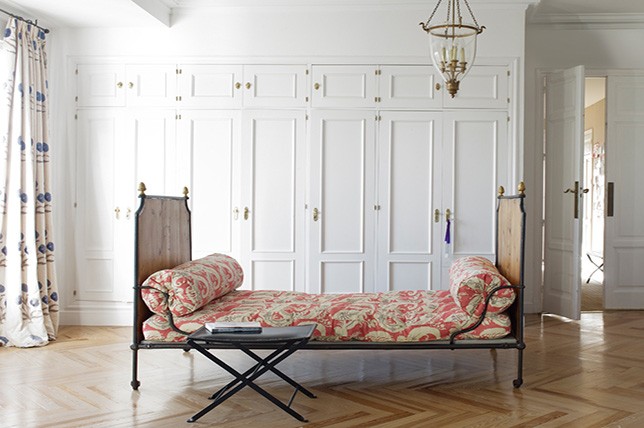 To create a solid foundation, start with a simple base color for every bohemian style room. Warm and earthy tones make the perfect canvas, and opting for a neutral base allows you to pile up expressive color and pattern for the perfect mix without it being painfully overbearing and loud.
Saturate neutral tones with color by keeping the base tone muted to create a harmonious, soothing oasis boasting modern bohemian décor. If you do go for a bright base tone, it may be too rich and you're certain to find yourself bored quickly with a somewhat chaotic starting point. When it comes to longevity, a neutral color palette is always wise.
Botanicals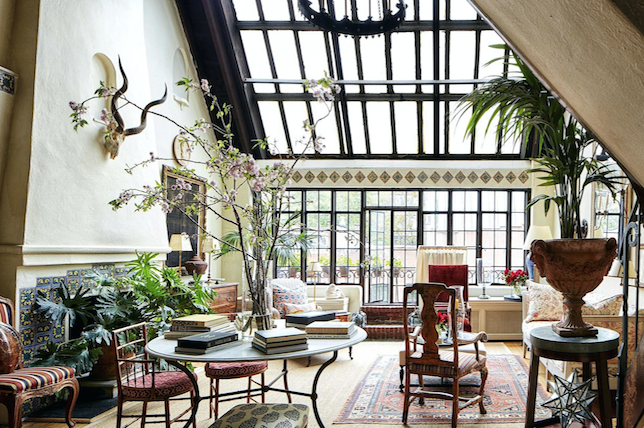 Botanicals fit perfectly with bohemian style as plants are an affordable and easy to source method in creating a relaxed vibe while adding dimension to a room. Plants also do double duty of purifying air while adding a pop of color without interfering too much with the rest of your design and confusing the eye.
Hanging plants are also an excellent bohemian addition in any bohemian space, and are a beautiful and fun way to add interest and depth. Get creative with planters and keep those featuring personality and great design in mind.
From a simple woven hanging basket, to something more ornate and sculptural – a variety of different plants in different scales are an effective way in bringing your bohemian style home to life.
Plays On Pattern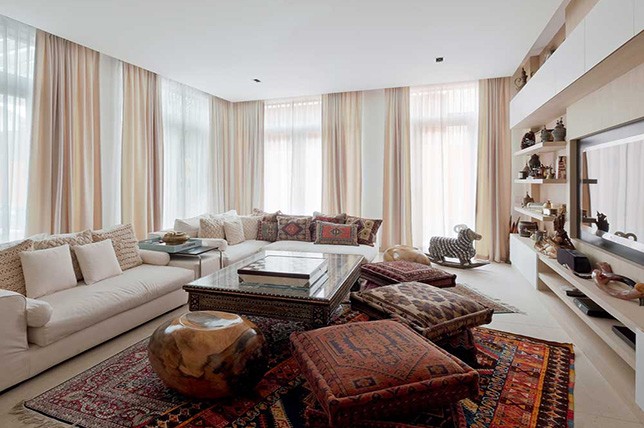 Layering similar patterns has to be one of the easiest and most cost-effective methods of mastering bohemian style while adding a decadent note to any area. From contrasting patterned rugs, to colorful cushions and throws, injecting various pattern is key here.
Do have fun with the mix and contrast different patterns, shapes, scales, and styles to easily create a lush bohemian vibe. That said, do keep a consistent color theme running throughout for consistency and to prevent a disjointed feel.
Choose a selection of hues you can keep coming back to and that you can keep present with all of your elements – especially in darker, more luxurious colors like burgundy, emerald green, or a deep purple.
Low-Lying Furniture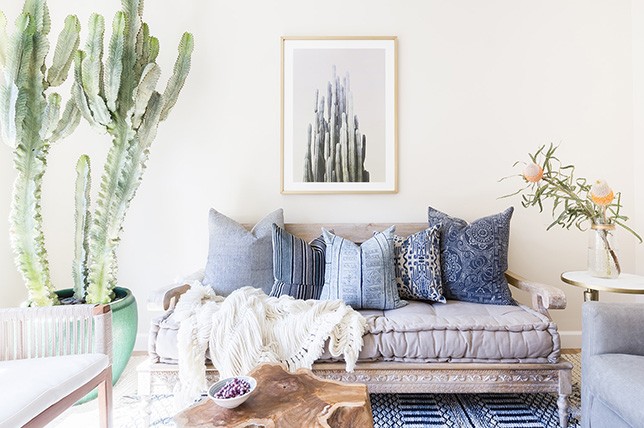 This might sound strange, but the closer to the floor you are, the closer you are to creating an authentic bohemian style house. Think low-backed sofas, scattered with plenty of plush, comfortable throw cushions, with neighboring poufs for extra seating.
And if you're considering floor seating, to get the look be sure there's a comfortable rug as a starting point topped with cushions of different sizes and styles, to ensure comfort. Scour local antique stores and markets (which are great for eclectic decor ideas on a budget) for comfortable, time-worn, and well loved furnishings to complete a smart bohemian style living room that's perfect for entertaining.
Go For Distressed Finds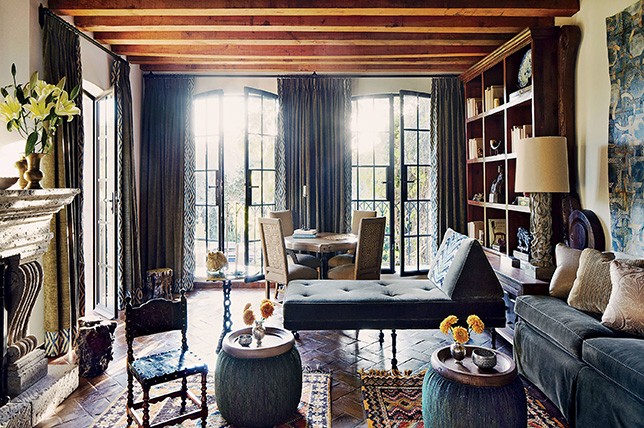 Materials and furniture should look as if they've lived a life before coming into your home for added charm as bohemian style is all about well-loved pieces that look as if they were sourced from a far-flung market in an exotic locale.
Choose pieces that appear to boast personal history to them (even if you picked them up in a local sale and have no idea where they came from), the more alluring bohemian design feels, the better – even in the smallest of eclectic spaces.
Shy Away From Minimalism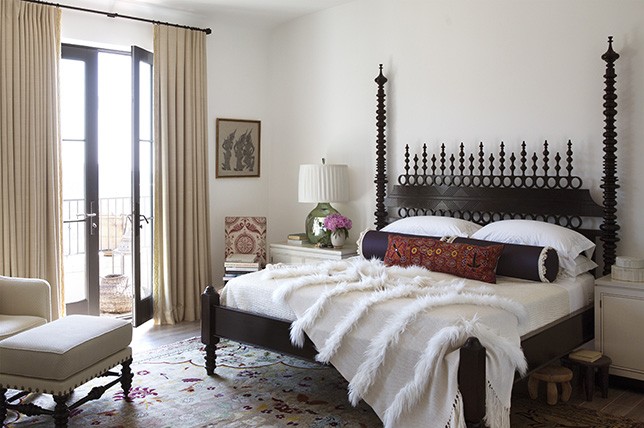 With bohemian style decor, more is more as this design style isn't about empty surfaces and blank spaces – the look is all about indulgent maximalism. That said, keep your bohemian living room decor full of curated finds, but for a bohemian style bedroom, our designers suggest a more pared-down take.
Do inject personality throughout your bohemian home and be sure that everything you love and have collected over the years is prominently on display. Bohemian style is all about layering trinkets and treasures to tell a story, just be sure you have enough surface and wall space to highlight decor and display artwork.
Bohemian home decor shouldn't evoke a similarity to the home of a hoarder, however. Everything should have place and a purpose, yet you don't have to be rigid with placement.
Bright Colors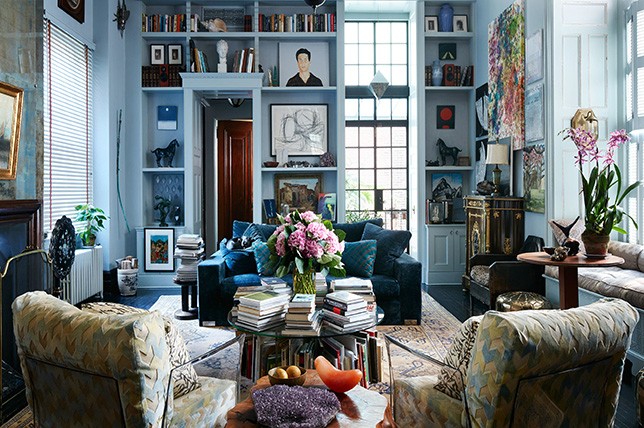 When we think about bohemian decor, bright colors and bold hues often come to mind. From pinks, to purples, to oranges, and greens – the bolder the better when it comes to luxurious bohemian interior design.
Jewel tones work particularly with bohemian decor and the deep, deluxe tones instantly make a space feel comforting in a way that's exclusive to bohemian home decor. Consider sourcing a deep hued Moroccan bed spread for bohemian style bedroom decor and contrast it with bright linens for bohemian style bedroom decor that sings.
Metallics And Mirrors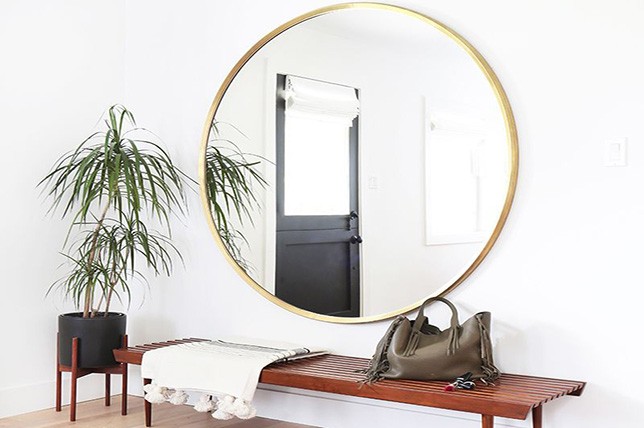 Metallic and mirrored surfaces are hallmarks of bohemian interior design, especially for making a modern bohemian living room appear brighter and larger. Metallics and mirrors also add focal points to your room, along with a sense of everyday glamor.
For a DIY challenge, how about trying your hand at making your own mosaic tiled mirror and decorative extras? Lanterns and lights featuring Moroccan design are also sure to add an interesting bohemian style focal point, and when hung low, they'll also work to add comfort and visual interest for your bohemian house decor.
Layers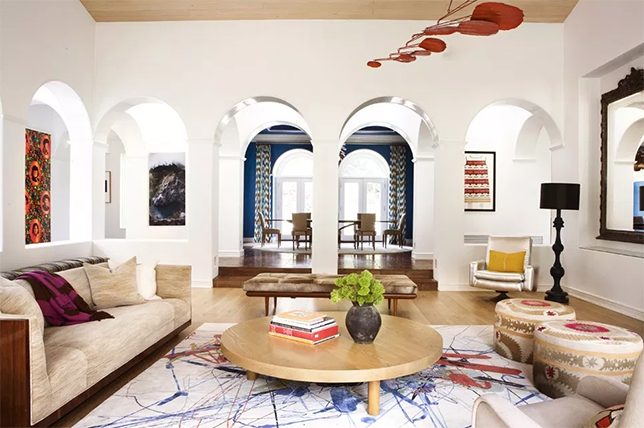 Layer up on bohemian style decor decorative items and textiles; whether rugs, cushions, or throws, as bohemian style is all about layering. Layer one, two, or even three rugs in different styles and patterns for a rich statement. Layers of cushions and throws will also punctuate the relaxed vibe of bohemian style perfectly.
Layering is also a terrific way to conceal furnishings that may not be in the best condition as you can cover them with multiple textiles for a clever, stylish, and textured take on bohemian decor. Bohemian decor should reveal more on a second, third, and even fourth look than it does the first as layering colors, textures, and patterns is sure to add playful visual impact.
Accessorize Artistically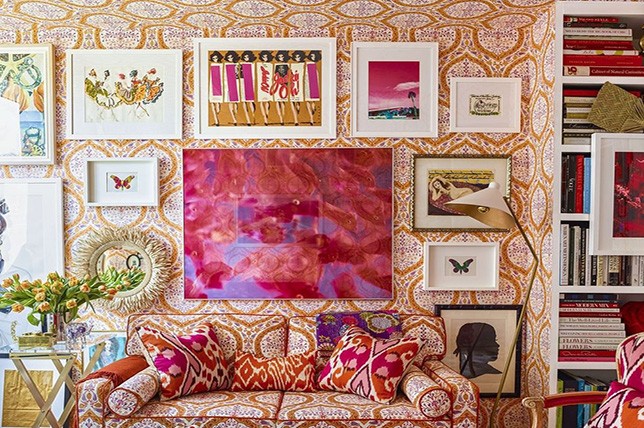 Again, accessories should give the impression that you are well-travelled (even if you're not). Artistic accessories will add further interest to your cozy spaces and make for cultured talking points. Go bold with artistic pieces which stand out and are less than ordinary.
If you aren't blessed with the luxury of having traveled the world collecting trinkets and keepsakes from every corner of the globe, take a trip to the local antiques store and shop for some interesting treasures to display.