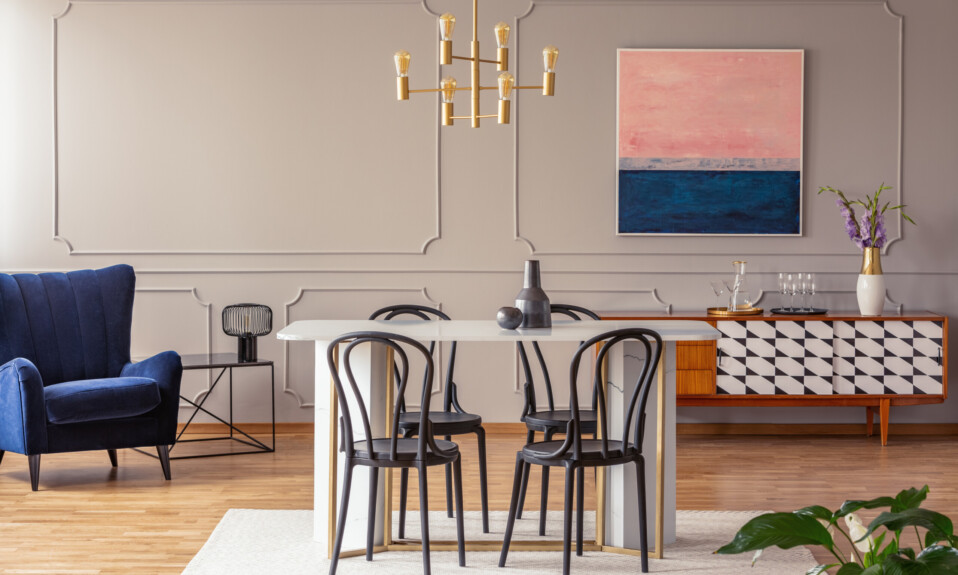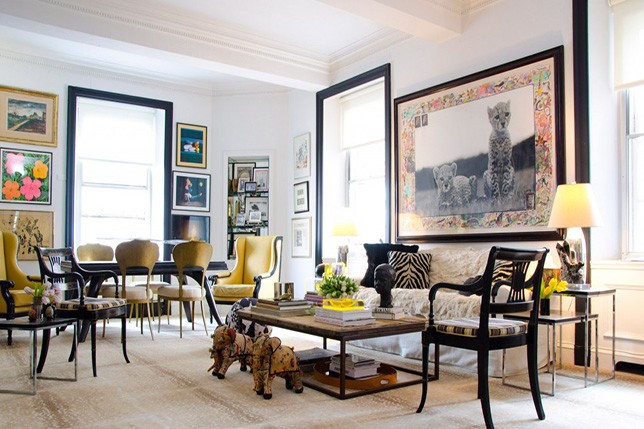 If you're into rich, layered interior design highlighting a series of era's and movements, eclectic style interior design might just be the right direction to consider for your home. But why eclectic style?
Eclectic style is all about harmony and the coming together of disparate styles, juxtaposing textures, and contrasting colors to create a cohesive, beautifully realized room that wouldn't be out of place in a home décor magazine as this is one design style that takes verve and a great eye. And since eclectic interior design is all about experimentation and play, do have fun with the freedom it allows.
But if the thought of pulling together a brilliant mix of eclectic style furnishings with a confident hand seems daunting, we've compiled a handy guide with advice from Décor Aid interior designers to help you create your own eclectic space with authority.
SELECT A CORE PALETTE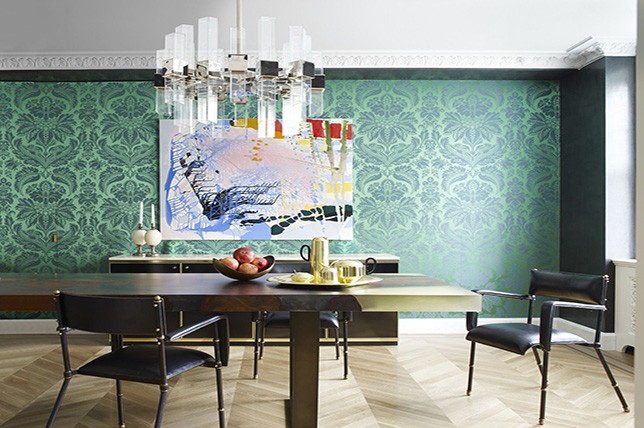 Choosing a series of core colors to compliment your eclectic design is a great starting point and will double as a guide to help you edit and home in creating a cohesive look. It will also aid in pulling elements of eclectic design together for balance to boot. We suggest you choose one neutral hue and one accent color to get started. Using a calming neutral throughout will allow for a smart base color to layer over, and prevent the room from feeling a tad too overbearing.
That neutral will work wonders along side your chosen accent color especially when applied to different aspects of a room to create a harmonious space instead of a mismatched and erratic one. As you go along add to and expand your core eclectic style palette by starting off with two classic tones for a studied yet nuanced take on eclectic home decor.
SIMPLE WALL COVERINGS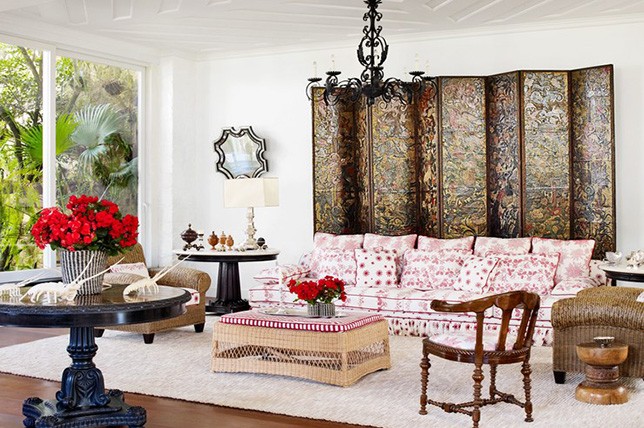 When charting your route to perfecting eclectic style decor, it's best to keep your walls simple and straightforward – elaborate wallpapers can make it difficult to bring in other patterned elements without coming off as heavy handed. Simple painted walls will create a solid foundation to bring in eclectic decor and add interest elsewhere. Adding vibrant accessories to a plain backdrop is far easier than adding plain accessories to a busy backdrop; you'll have far more alternatives.
Plus, painted walls require less work than applying vibrant wall coverings. However, this doesn't mean you only have one option – being white – dark and light colors work equally well. Darker colors add warmth and depth, while light colors will work to make any space appear larger and brighter to better highlight eclectic bohemian decor.
TAKE PLEASURE WITH PATTERN PLAYS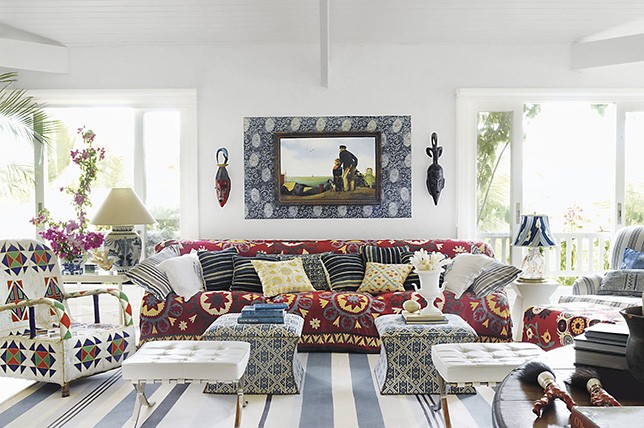 This is where the personality starts to come through and you get to be more daring when creating an eclectic interior design vibe as you can play with expressive patterns and mix and match styles to see what fits together and what doesn't.
Continue using similar tones and colors throughout your eclectic decor scheme while keeping in mind your two core tones. However, do disrupt the space with unexpected combinations of patterns that don't necessarily go together. Pair items together that usually oppose one another and be bold with it, don't shy away from clashing patterns and color as they'll help you create a one-of-a-kind feel.
TOY WITH TEXTURES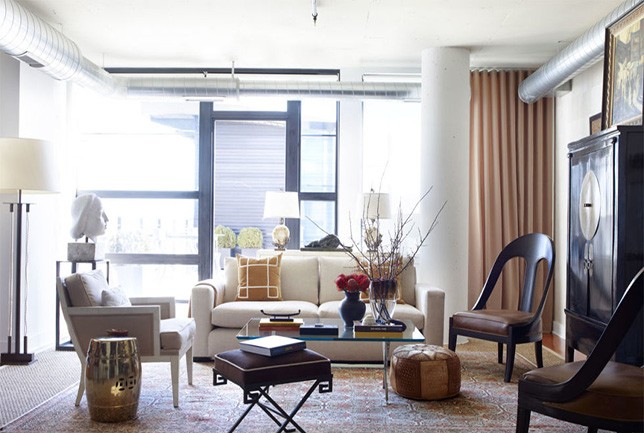 The same goes for texture – have fun with textural plays and bring in different textures to make your eclectic home decor sing. Contrast textures against one another for a memorable eclectic feel in your home. You want there to be enough going on visually in your space to keep the eye interested. A smart way to do this without being overt is to introduce different textures throughout the room in small doses.
Place smooth textures alongside rough, nubby ones (think marble surfaces against wood grains), and the soft with the hard (luxurious sofas and throw cushions next to an industrial coffee table per se).
GALLERY WALL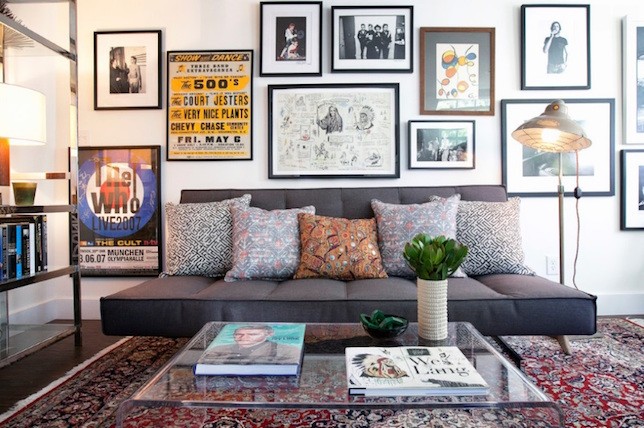 There is no more perfectly styled space to include a gallery wall in than in an eclectic style living room. The combination of mx and match frames suits the spirit perfectly and you'll have great fun creating a gallery wall while playing with color, dimension, and style to create the perfect personalized eclectic bohemian living room. A gallery also looks great on simple walls as here's where you can introduce plenty of personality and interest.
A gallery wall also allows you to create distinctive focal points. Having something to focus on and concentrate on in a room boasting a riotous mix allows the eye to move about, which is great for the heavy feel an eclectic style room can evoke. Choose different frame styles to complement the pieces of art you're putting in them. And for the budget-conscious, sourcing frames from a secondhand shops and customizing them in similar tones is a great idea for cohesive creating bohemian decor on a budget.
DIFFERENT FURNITURE STYLES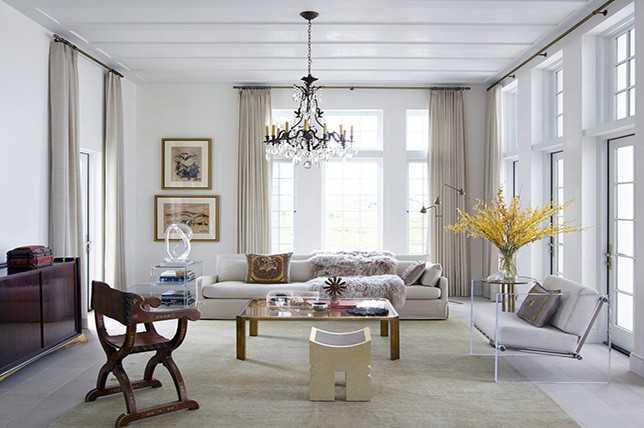 Mixing and matching different furniture design styles is another fun and clever way to master beautifully realized eclectic living room decor, eclectic bedroom decor, and eclectic house decor in general as there's no room a joyous assortment of goods won't accentuate. In essence, this is what eclectic style decor is all about – mixing the old, the new, the modern, and the classic.
Think wingback chairs next to an ultra-modern coffee table, or an Art-Deco mirror above a Victorian mantel. Do take advantage of features you already have in your home and contrast these with new pieces to make the most of what you already have.
STATEMENT OBJECTS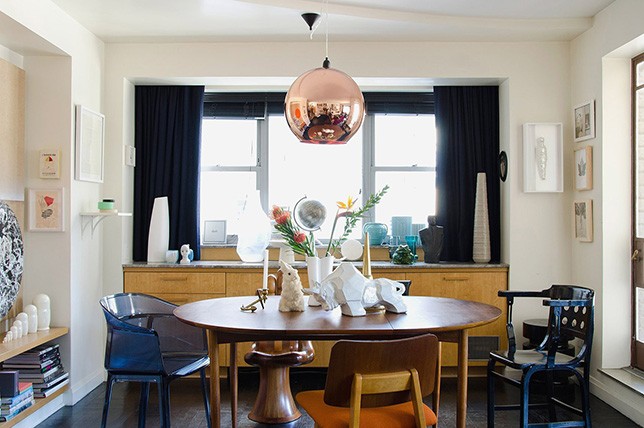 Whatever your statement object is and however it is making that statement, it needs to be bold. That being said, you don't want too many statements in one room. Depending on the size of your room, one statement piece or maybe two (if it's a large room) will be more than enough to get people talking.
If you have too many bold conversation starters, they'll eventually compete with each other with both losing after overwhelming the viewer and dismissing the eclectic edge you were aiming for.
DON'T LET IT GET MESSY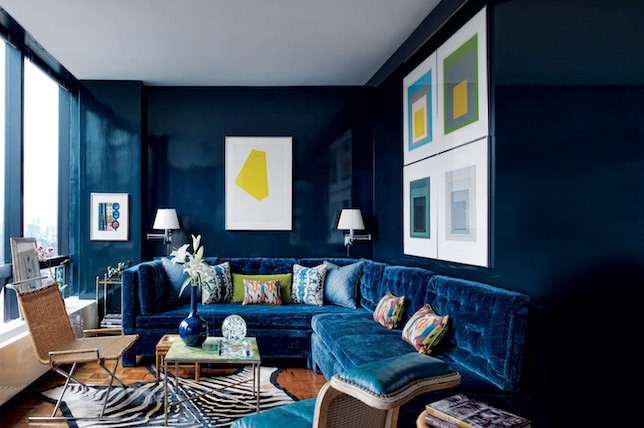 Do use caution as it can be easy to let eclectic design flow into a messy, cluttered, and overly busy room. Everything must have a place in the room and each piece should have a point to it. Allow items and accessories to speak for themselves without burdening your space and surfaces and make sure important items don't get lost in surrounding décor.
If you aren't sure if there is too much in a room take a step back and look at it from a different perspective, or take a photo to survey it in detail.
THERE ARE NO STRICT RULES – HAVE FUN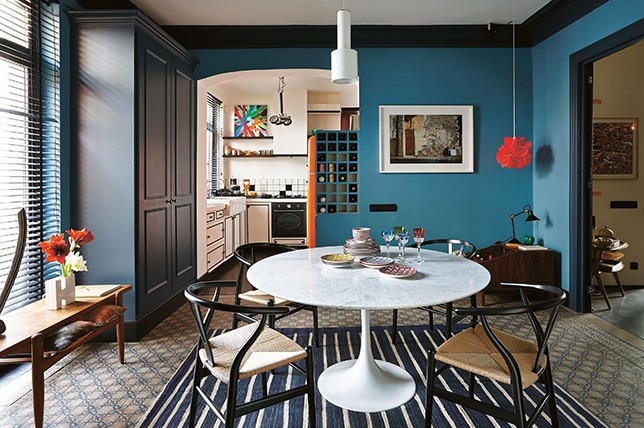 Eclectic interior design is all about presenting your personality in a room. Don't give yourself too many boundaries for your eclectic style house; free yourself from the hard and tired rules associated with traditional interior design. Allow your imagination to run free and have fun with experimentation.