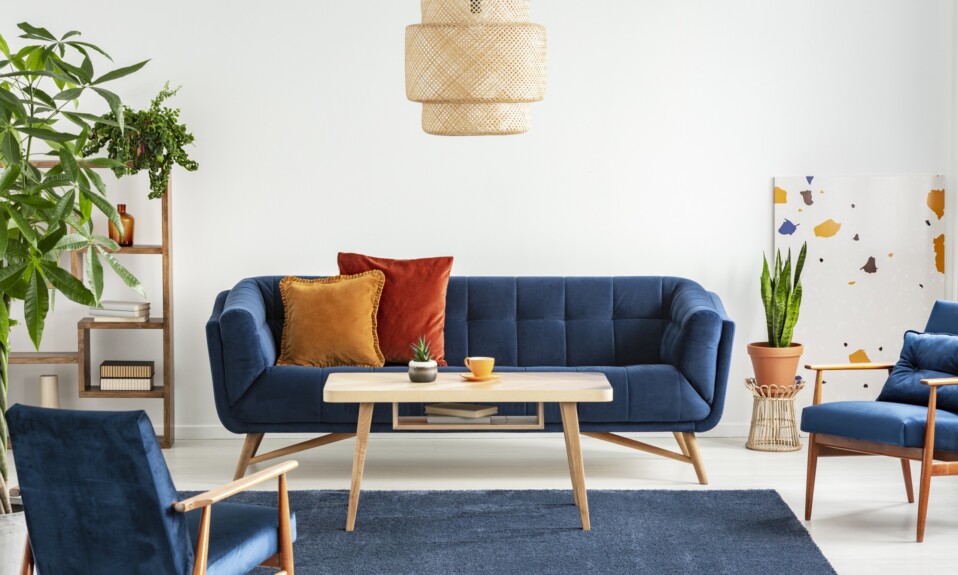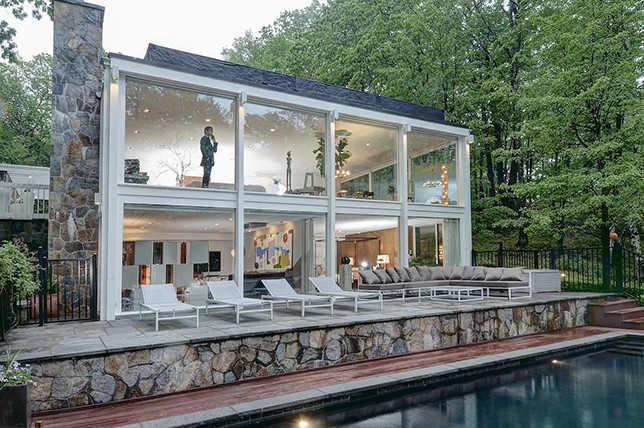 Even if you're not a design aficionado, chances are you've heard of mid century modern design and have most likely been in a room featuring the design style at one point in your life or another. And for good reason as this is one timeless, forever-chic design direction that never seems to lose traction or covetability. But what does it mean?
To help you better understand this go-to design movement's popularity and it's endless resonance across generations, we set out to highlight what makes mid century modern design a standout among every other design style, why it could work for you, and how to make the best of it with ease.
WHAT DOES MID CENTURY MODERN MEAN?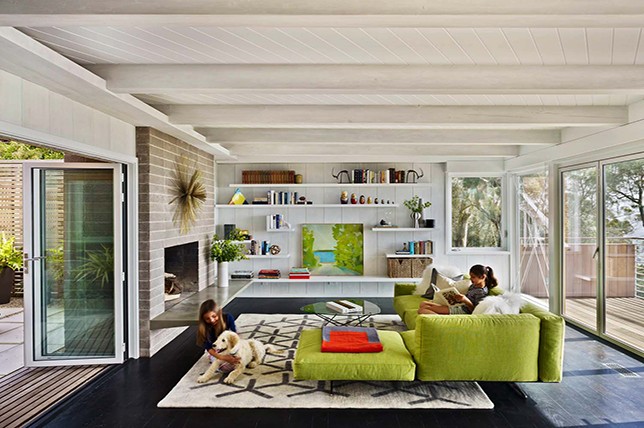 Though the term mid century modern wasn't coined until the mid-80's, and though no one really knows it's true timeline, the era represents a combination of post World War II practicality, 50's era optimism, 60's era earthiness, and 70's era tones and textures neatly wrapped up in a stylish ode to Scandinavian simplicity.
Call it a reaction to the decadence and gilt adorned stuffiness of interior design and architecture through to the 40's if you will, as at the time of its inception, mid century modern decor was a complete rebuttal and restart for the senses.
The vibe is fresh and poppy, retro-tinged, and completely alluring with its dedication to comfort and practicality wrapped up in beautiful design that never goes out of style. Unlike other aesthetic movements, mid century modern decor is streamlined in design, as form follows function while highlighting the materials used, rather than making them something they aren't.
WHY YOU'LL LOVE MID CENTURY MODERN INTERIORS?
Mid century modern design is great for those looking to add authentic vintage styling in their home without having to go full force as today's iteration is much more subtle in nostalgia.
Creating mid century modern homes is fun and a great way to see even the smallest of spaces come to life with quiet design quirks.
The perfect mid century modern house boasts charming decor that's for sure, but it also features practical, durable, easy to source at any price design – that's easy on the eye.
The era also allows for more freedom and is less restricting than say minimalism or traditional interior design.
HOW DO YOU CREATE MID CENTURY MODERN STYLE?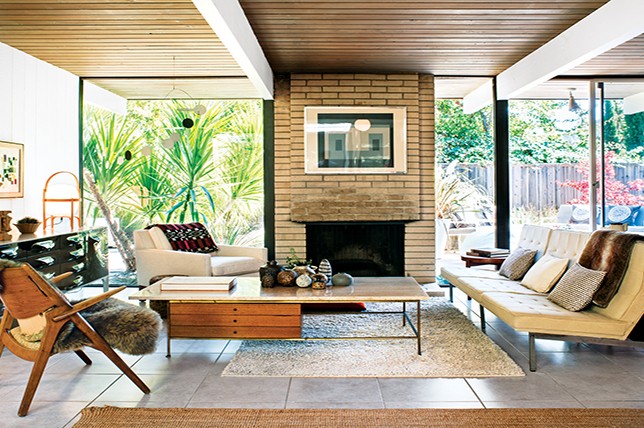 Since mid century modern design has its roots in architecture and its furnishings were originally created to highlight the era's design sensibilities, here's a quick rundown of the architectural details you'll want to highlight to inject your home with mid century modern interior design effortlessly:
Born after WWII, mid century modern design stripped away the superfluous to keep things true their original essence. Take a similar cue and keep everything structured, practical, and durable with slight design flourishes for added interest.
Take advantage of natural elements in a room from exposed beams to wood panels to untouched brick walls to bring the outdoors in.
Add character via abstract prints, patterns, and art that are free of cultural references and can be more easily associated with the arts & crafts movement of the era instead.
Unpretentious to the core, one of the main reasons people continue to praise mid century modern decor is its overall casual, lounge -ready vibe, so have fun with it and keep it relaxed – just don't go overboard.
MID CENTURY MODERN COLORS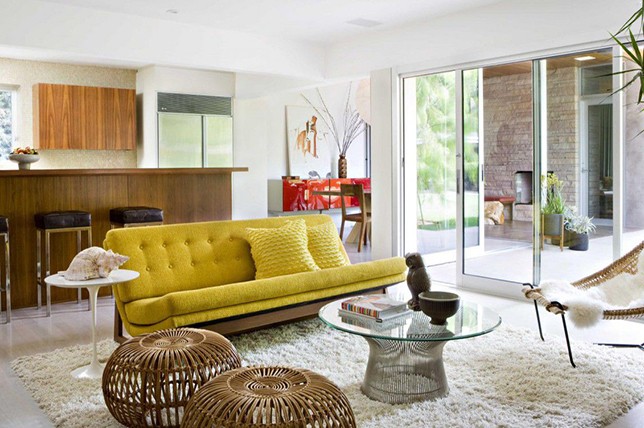 Like in fashion, the way we decorate our homes at the moment often tends to reflect the era's energy and direction and mid century modern design happens to do just that as its kitschy, kicky bright hues that touch on the optimism of the 50's while natural woods, greens, oranges, and earthy tones riff on the sophisticated spirit of the 60's and 70's.
If you aren't blessed with an original mid century modern house, you can work the style into your home by making your color scheme work as a foundation starting point.
Think moodier hues like burnt sage, orange, and rust for a decidedly mid century modern living room, while every other room allows for a more playful take on hues including turquoise, sunny yellow, bright orange, and primary colors scattered about. Just be sure that each room is grounded with sobering neutrals to keep the mix heady and not oversaturated.
MID CENTURY MODERN STYLE FURNITURE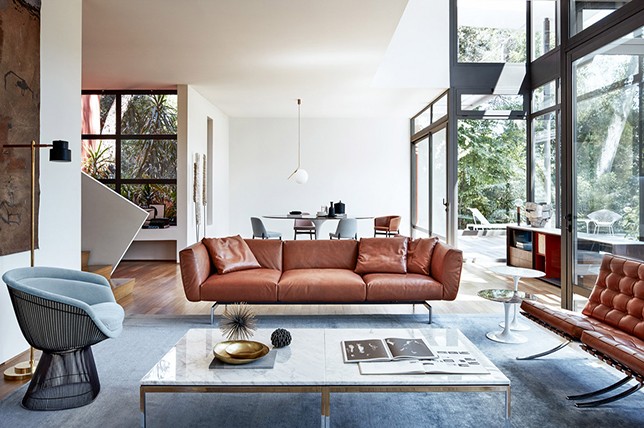 Anti fuss and formal, mid century modern design is all about clean lines, simplicity, practicality, and sumptuous silhouettes. Think new to the era materials like plastic, acrylic, and even formica when considering furniture materials.
Other hallmarks include hairpin legs, low streamlined seating, plastic shell chairs, cocooning lounges, matte finishes, and consoles with plain surfaces punctuated with facades radiating personality via design flourishes.
MID CENTURY MODERN TEXTILES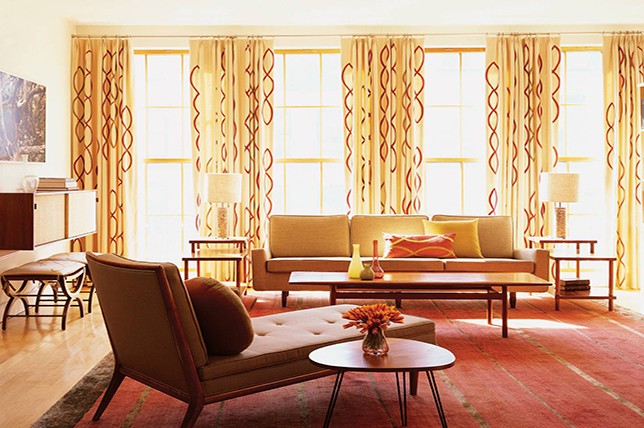 A quick look through any mid century modern home decor reference is sure to point out the obvious: the movement's major print direction is naive, playful, abstract, full of geometrical graphics, and unfortunately a tad childish and overtly retro.
To bring your mid century modern home design into the now, source similar to the era fabrications and textiles in small doses to avoid a heavy-handed kitsch approach. Take the room above, save for the statement-making curtains and single throw pillow, the room is almost print free while homing in on just the right, concise color scheme to keep everything fresh and timeless.
Our interior designers suggest doing the same with pillows, throws, linens, and drapes as to not overwhelm the eye or appear trapped in a time warp.
MID CENTURY MODERN STYLE ACCESSORIES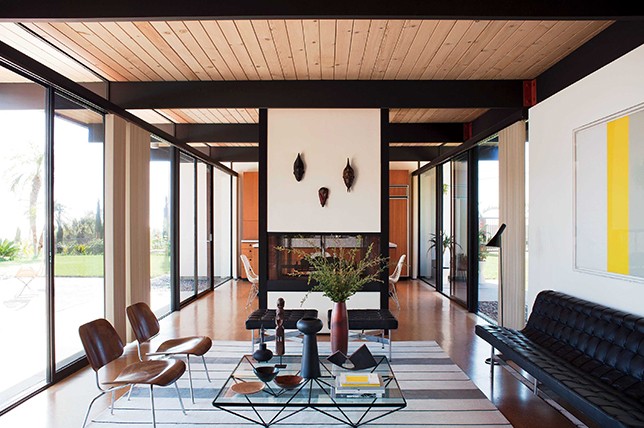 Accessories are where you can have fun with mid century modern design without having to commit too much space or overextend your budget. Take a quick survey of any of the rooms featured here and you'll notice that all well-considered mid century modern homes share a common thread of spare surfaces and simplicity. Follow suit and bring in just a few decorative pieces that are unique enough to stand on their own.
If you're looking for tips on how to decorate mid century modern on a budget, scour local flea markets, secondhand shops, and online auction houses like 1st Dibs for rare, one-of-a-kind finds that are sure to bring your mid century modern house fantasies to life.
For a mid century modern living room and common areas, source decorative extras that evoke the 50's and 60's in saturated colors, like a trio of porcelain vases with naive patterns, sculptures in varying sizes for added drama, and wall hangings and mobiles boasting graphic shapes in vivid hues for unexpected jolts of color.
MID CENTURY MODERN WINDOW TREATMENTS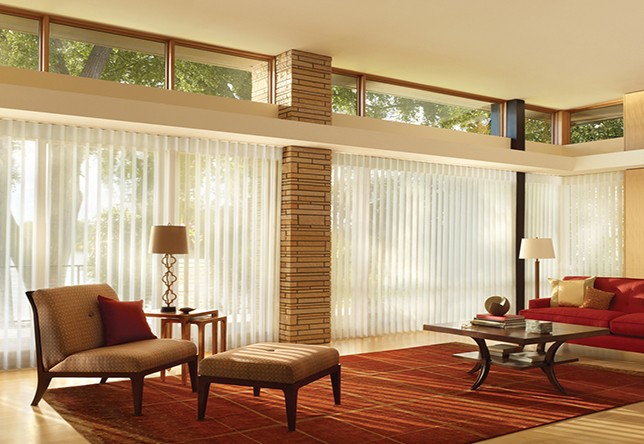 With natural elements and an emphasis on the outdoors being hallmarks of mid century modern design, take advantage of every window you have and let the light in. Source sheer solid drapes, blinds, and window treatments that you can easily retract to take in the sights outside.
And though mid century modern home decor is all about clean straight lines, and playful pops of color and print, Decor Aid's interior designers suggest going for neutral window treatment fabrications that are simple in design and symmetrical for a modern take on mid century modern home design as you should never want your decor to be all out vintage – its all about the mix.
MID CENTURY MODERN STYLE ROOM BY ROOM:
By now you probably get the gist of what makes mid century modern decor so enticing, but how to make it come alive in your home from room to room?
To help you master mid century modern design with aplomb and authority, we'll take you from room to room and break down what you'll need to create a remarkably distinct mid century modern kitchen, a snazzy living room and dining room featuring highlights of the design movement, and a comfortable oasis of a mid century modern bedroom.
Mid Century Modern Kitchen: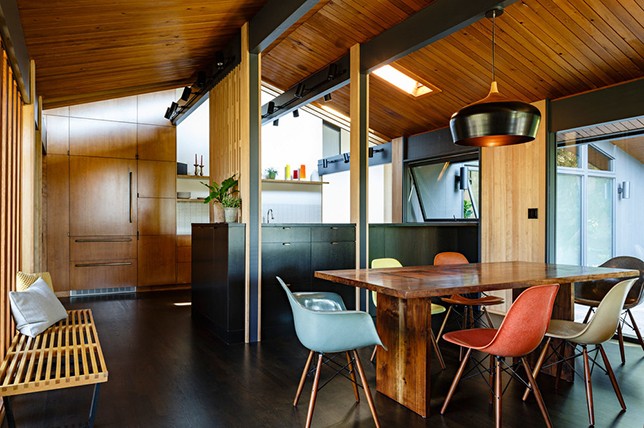 When looking to inject heady doses of mid century modern decor in your home, the kitchen can be one of the most challenging rooms to complete with an authentic hand. For one, updated appliances create a stark contrast with mid century modern design, and the scale of new appliances is often much larger.
To create an up to date mid century modern kitchen that's warm, inviting, full of personality, and practical, think of ways to add bright pops of color, small vintage appliances and decorative extras throughout. And lucky for you, there's a slew of well-made appliances styled after retro kitchen gadgets available at a variety of prices.
For a mid century modern design kitchen color palette, go for either high-shine or matte finishes, and cheery primary colors grounded with dark natural wood for extra impact.
Mid Century Modern Dining Room: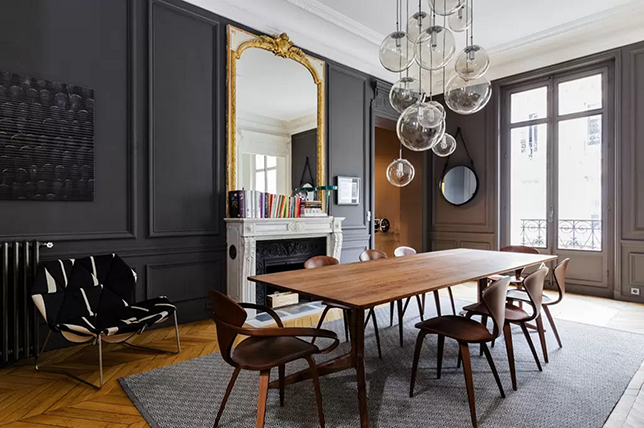 Though we've done a pretty good job of sourcing inspiring images that highlight mid century modern home decor and architecture, we included the Parisian dining room above as a great example of how you can bring in the era into your home no matter what its structural styling is like.
In fact, it can make for quite a heady mix as shown above. For one, the sturdy Danish inspired dining table and matching chairs give off a strong vibe that compliments the rooms moody hues and slightly feminine curves. But best of all, we like that the overall appeal of the room marries the best of mid century modern home design with a playful sense of off-kilter quirk thanks to such an unexpected mix – that still feels totally connected.
Mid Century Modern Living Room: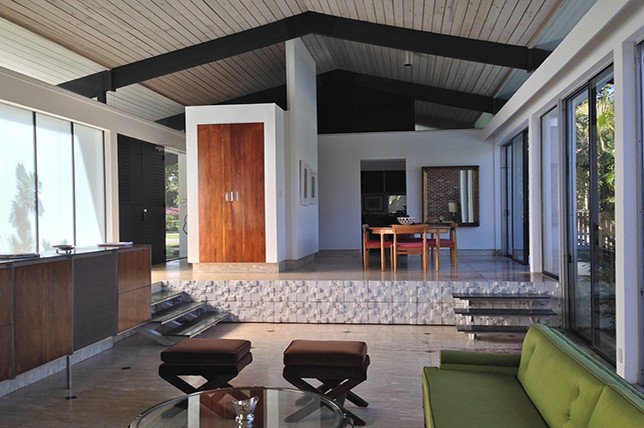 Like with any style, communal rooms are key gathering and decorative spots for mid century modern homes interior design. And as you can imagine, for good reason as these are often the largest rooms in a home and work as conversation areas to showcase a rich collection of furnishings while boasting comfortable furnishings and brilliant design.
For your own take on a mid century modern living room, go about by focusing on the harmony furnishings and objects share with each other while bringing in statement-making pieces high and low for depth and subtle nuances. Note that while this mid century modern house featured here may seem soothingly simple at first, there's plenty for the eye to hone in on and bounce off of throughout the room.
Do bring in surprises that aren't from or devoted to the era yet do share a similar aesthetic and silhouette as they'll help to make your home unique to you and give you more freedom.
Mid Century Modern Bedroom: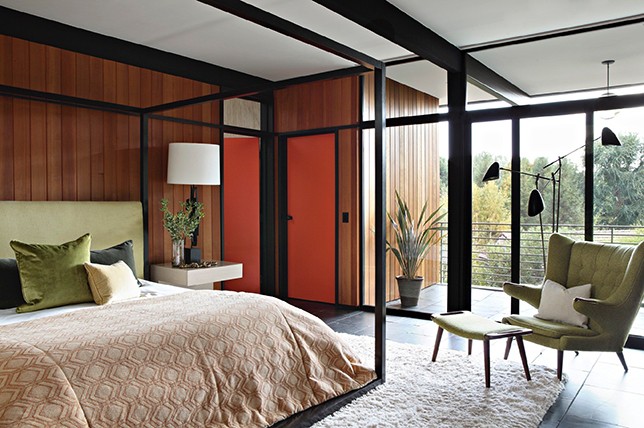 Tour any vintage and antique showroom and you'll be sure to find a bevy of timeless and handsome nightstands, headboards, and bedframes that look timeless thanks to their clean, straightforward Danish inspired design and durable construction.
And because the best of mid century modern interior design is all about classics with a decidedly genderless spirit, you should be able to create a perfectly viable mid century modern bedroom with confidence and ease. Again, the trick here is to stick with simple lines, muted tones, and plays on texture.
Note how the bedroom featured above does just that while sumptuously echoing the architecture of the home for a subtly stimulating take on mid century modern style. Follow suit and go for extras like the oversized chair and multi-arm floor lamp to introduce flashes of playful silhouettes in any room in your home.
Mid Century Modern Bathroom: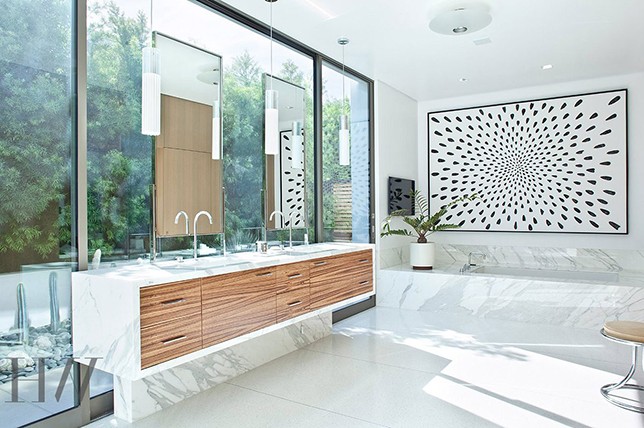 Though a bathroom isn't necessarily the right room for mid century modern home decor and the styles vintage inspired zeal and dark woods, there are still plenty of approaches to peppering the room with takes on the style in small doses for a thoroughly mid century modern home design.
The bathroom above, for instance, features minimal marble and sleek lines for a timeless appeal, yet for a more rich, layered look, a custom vanity featuring juxtaposing wooden drawers, a simple yet oversized black and white canvas wall hanging, and a mid century modern stool were brought in for a marvelous, easy on the eye effect. Take a similar approach in small rooms in your home by adding even the smallest of details and extras to channel the era in style.