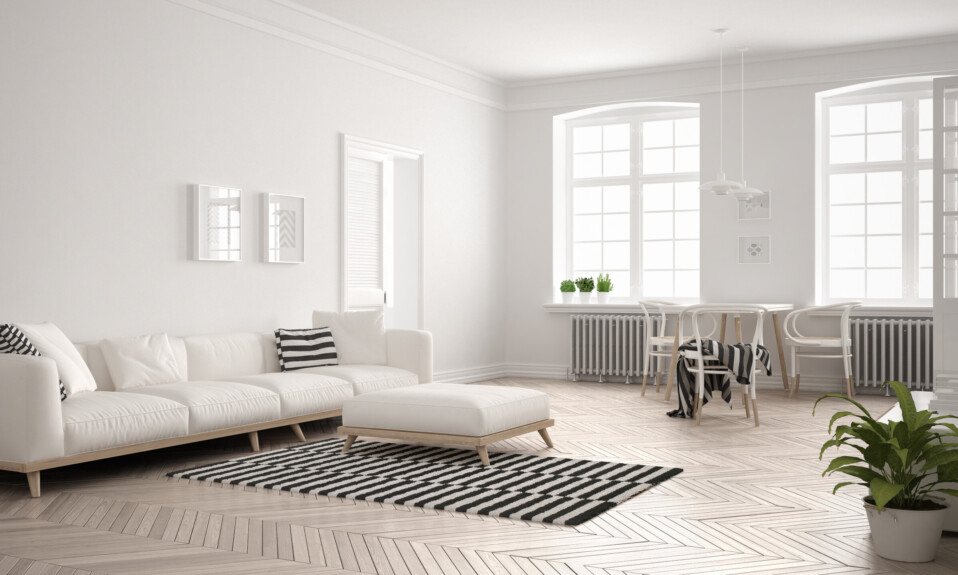 After making its mark on the design scene and understandably never fading as a major design style moment in the early 90's, minimalist interior design is often a foolproof route in creating a warm and nuanced home that's worth the investment and certain to never go out of style or off-trend thanks to practical, well-judged approaches.
But what exactly does minimalist decor even mean and how do you master the look with confidence and maintain it for that matter? To get you inspired, we're sharing essential techniques to make minimal decor work as the best interior design style for your daily life. From brilliant ideas for minimalist decorating on a budget to a room by room break down, here's everything you need to know.
WHAT DOES MINIMALIST STYLE MEAN?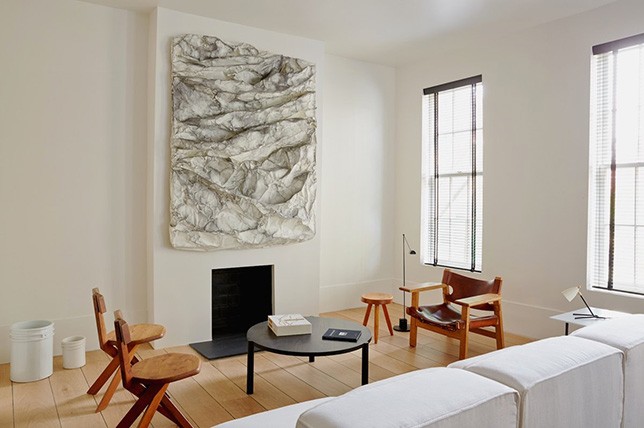 The main mantra of minimalist home decor is simplicity through and through. Keep it spare, tone decor down, pare every aspect back, and live by a "less is more" and "everything needs a place and a reason" approach.
Think clean, modern lines, a tight edit, a concise color palette, and pared down silhouettes, yet don't shy away from creating a layered, warm, rich, and inviting minimalist home with a gallery-like setting from room to room as this is, after all, a place of comfort and refuge.
WHY YOU'LL LOVE MINIMALIST STYLE?
Minimalist room ideas are great for making small spaces appear larger.
Minimalist decor and practices almost never go out of style when done well.
Because minimalist interior design is all about the beauty of the refined and the well-judged, you can save on bringing in too many furnishings and features that you simply don't need.
Highly attainable and easy to source, minimalist home design pieces are easier to manage to your liking, unlike other design styles that come with more puzzling variables to creatively mix.
HOW DO YOU CREATE MINIMALIST STYLE?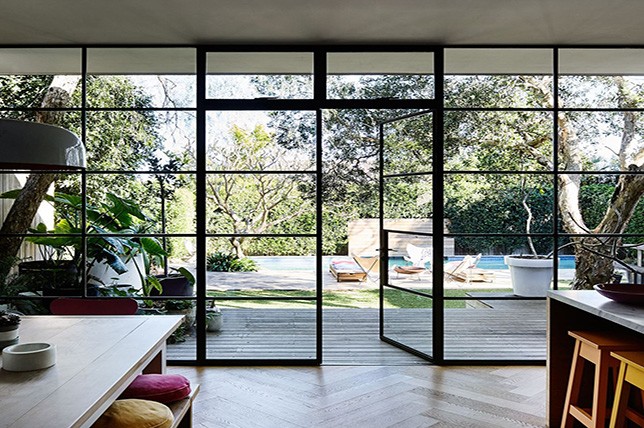 To embrace minimalist room ideas, here's a brief look at everything you'll want to highlight to inject your home with minimalist interior design instantly:
Since minimalist design is all about bare-boned beauty, celebrate your homes architectural details by using them to your advantage by designing around them rather than concealing them.
Simplicity and need go hand in hand with minimalist home design aesthetics with one never outweighing the other, as you'll need to justify each elements existence when bringing in new items to keep a tight edit in check.
Declutter as much as possible, invest in stylish storage and devise quick daily cleaning routes to keep with the design styles harmonious and practical spirit.
Practice less is more, and live by it as this will always be the most trying yet rewarding aspect in mastering minimalist decor.
MINIMALIST STYLE COLORS

From a comforting oasis of a minimalist bedroom to common areas featuring stark simplicity, stick to a trio of hues per room that are just a few shades apart from each other for smooth consistency and a tight edit.
By creating a concise palette, you'll have a better sense of direction in creating a well-edited, modern minimalist house grounded with neutrals that are easy to work with including whites, creams, blacks, and grays.
MINIMALIST STYLE FURNITURE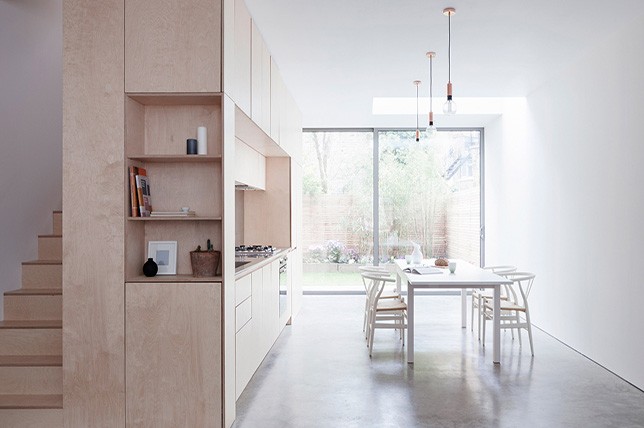 Create a mesmerizing minimalist interior with a thoughtful and considered assortment of furnishings to forge a well-balanced space that no one will want to leave. Do invest in quality minimalist home decor to get the most for your budget and as this is an utterly simple approach to interior design, you need each piece to stand on its own without attracting negative attention due to inferior construction or low-quality materials.
Skip trendy pieces that you'll easily tire of and go for classics and future-heirlooms that will stand the test of time as the challenge with minimalist room decor is how little you have to work with, making each essential piece you do bring in all the more judged.
MINIMALIST STYLE TEXTILES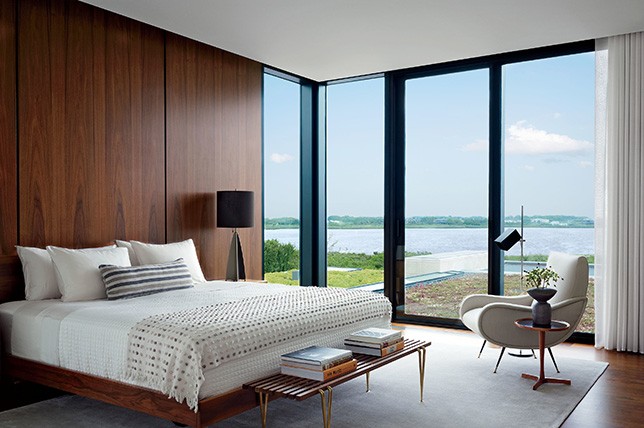 Every modern minimalist house should feature an array of tonal textiles and fabrications for quiet visual plays and for added warmth and richness throughout. Take in how the minimalist bedroom above may be utterly sparse, save for an alluring dotted throw and quilted duvet to catch the eye without coming off as heavy-handed.
For your own take on mastering minimalist interior design, stick to a core range of complementary hues and bring in the unexpected with furs, hides, and textured textiles for added interest. And when it comes to minimalist decor prints and patterns, opt for graphic extras in concise color schemes with ample negative space to keep the look light and fuss-free.
MINIMALIST STYLE ACCESSORIES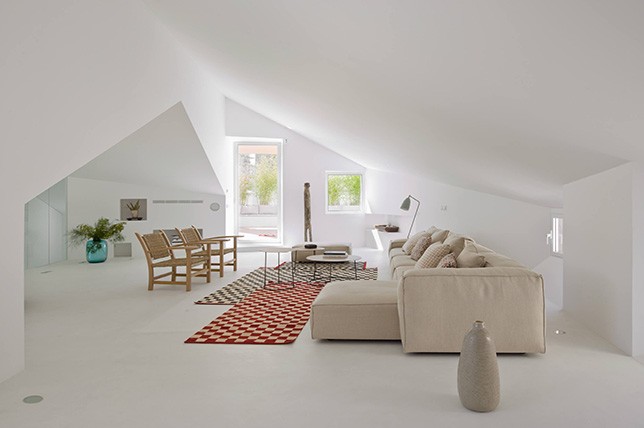 Just like with any design style, any modern minimalist house should boast its fair share of covetable, collectible accessories for shots of personality from room to room to ultimately make the space unique to you and unlike anyone else's.
To get minimalist interior design right, use the less is more tactic and routinely edit pieces and swap them out from season to season to avoid a heavy, overstuffed and overstimulating effect. We love the gallery-like effect of the den above's display of oversized vases set about as if they were bonafide pieces of artwork requiring a dedicated place in the spotlight, as nothing should come off as random.
MINIMALIST STYLE WINDOW TREATMENTS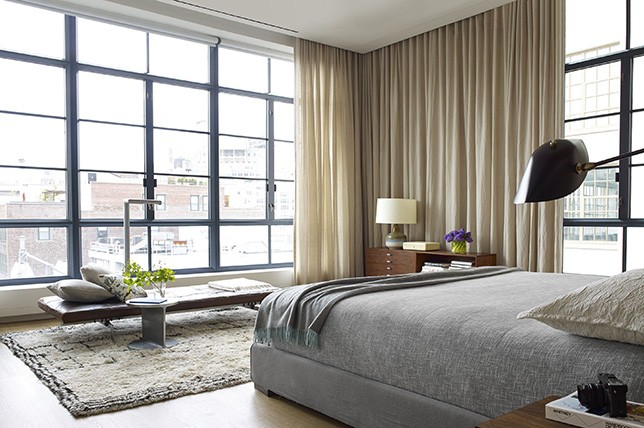 The minimalist bedroom featured above has curtains so universally appealing that they'll add a sophisticated note to almost every design style possible.
Since they're semi-sheer, dramatically floor to ceiling, in a warm neutral, and feature the simple, fluid lines central to minimalist design, we'd suggest giving similar options a go as they'll work to add easy sophistication in any minimalist home while making each room appear larger.
MINIMALIST DECORATING STYLE ROOM BY ROOM:
From an envy-inducing minimalist bedroom to what it takes to create warmth with confidence, here's everything you need to know to create pitch-perfect minimalist interior design broken down for you to take note of.
To embrace minimalist design, avoid the challenges of having so little to work with by buying quality over quantity and invest in classics that are both eye-catching and certain to keep their appeal for the long haul. The rule being that if an item doesn't have a dedicated space for it then it must be deemed unnecessary.
Minimal Style Kitchen: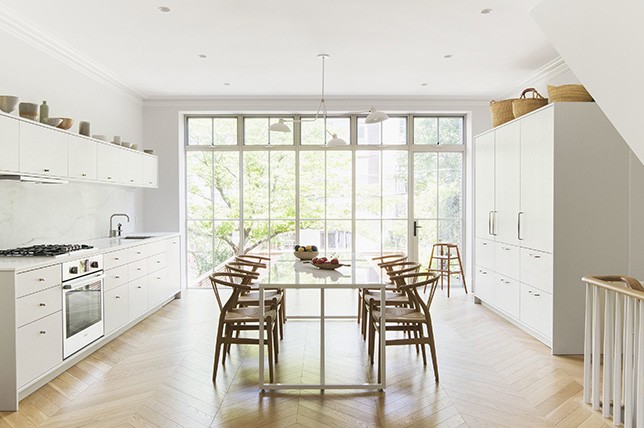 Because no minimalist home could be complete without a subtly sophisticated and distinctively modern kitchen, we'd suggest allocating a large portion of your minimalist interior design budget for this essential common room as it's not as simple as it looks to get it right.
For starters, the spare simplicity of minimalist home design tends to highlight lower quality and poorly made features like no other so you'll need to be sure that you source the best cabinetry and hardware you can for your budget. Once you've got bones of your minimalist design together, you can be more expressive with decorative touches to create depth and a studied sense of warmth.
To keep things bright and airy, Décor Aid interior designers swear by – you guessed it – a simple, black and white color palette with pops of color brought in through appliances and dishes while steering clear of superfluous clutter and unneeded prints and patterns. And along with well-crafted cabinetry, smart storage solutions are vital to keep surfaces organized and clutter-free.
Minimalist Style Dining Room: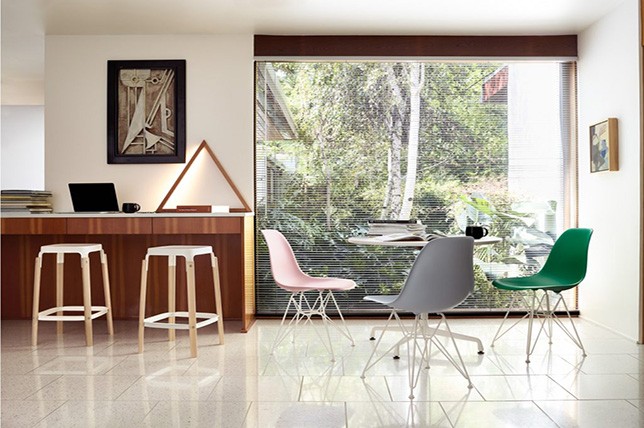 Not to be confused with on-trend yet tired takes on hotel style living, minimalist interior design calls for personality like any other design style, however in smaller doses for the right amount of quirk. We love how the minimalist design of the dining room here boasts a laid-back spirit with subtle design notes left to two simple pieces of graphic art, and colorful, mismatched seating.
Go a similar route and consider minimalist room ideas by injecting clever statement-making alternatives for seating, place settings, and accessories while keeping major furnishings like a dining table and buffet classically simple – standard, even. This will allow you the freedom to experiment without taking much risk as you can easily play with and switch out smaller items from time to time for a quick room refresh.
Minimalist Style Living Room: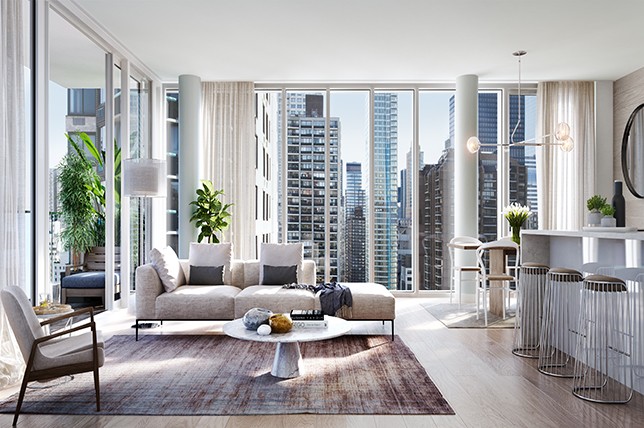 Create a feeling of laid-back luxury with a living room highlighting expertly curated minimalist decor and smart furnishing investments that are certain to never go out of style. For a maximal approach to minimalist interior design, don't skimp out on necessary pieces to keep things spare for spare's sake.
Instead, the real trick to creating a layered take on minimalist living lies in no-decor spots throughout a room such as the area behind the sofa above as another design style may call for taking full advantage of every spot possible. But when it comes to minimalist decor, the real beauty lies in the unspoken to let the eye home in on conversation-starting finds that'll do all the talking.
Minimalist Style Bedroom: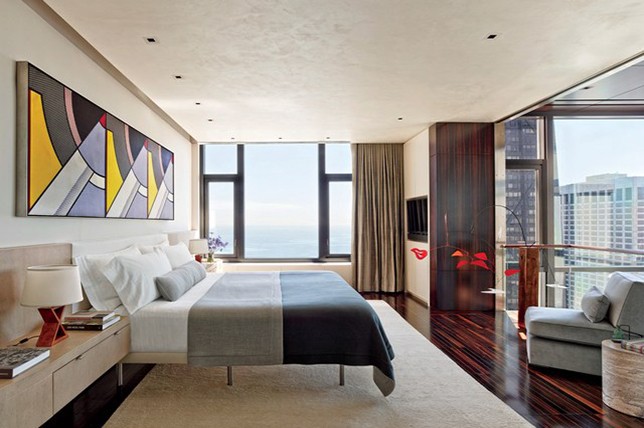 Create a masterful minimalist bedroom by sticking to symmetry, clean lines, simple silhouettes, luxe bedding, and again, just because the design style calls for minimalist interior design, that doesn't mean you should be clinical with your approach.
Go ahead, have fun and experiment with a variety of unexpected elements not often associated with minimalist interior design so you can make it yours with your own unique stamp. Notice how the room illustrated here features a series of parallel lines and rectangular shapes that are in sync with one another while quick shots of expressive color are injected with playful art pieces for the ultimate gender-neutral statement.
Minimalist Style Bathroom: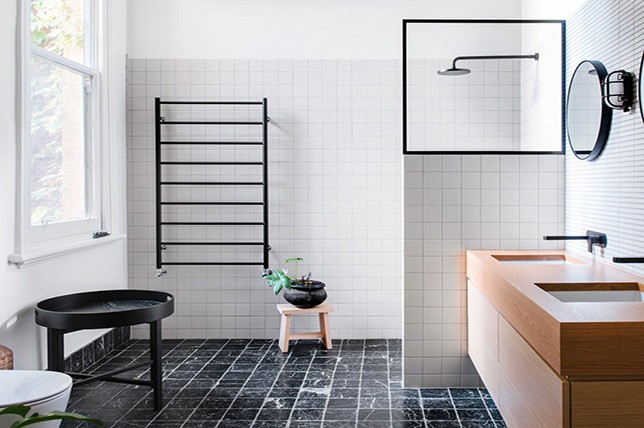 Just like a kitchen, when it comes to high traffic areas, storage is king when looking to create cohesive minimalist interior design throughout your home. And like we mentioned before, create a foundation for minimalist decor with a tight color palette of tonal shades kept to a maximum of three hues.
Note how straightforward yet full of charm the minimalist interior of the bathroom featured above comes off as via coordinating matte black accessories, clean, straight lines, and a black and white color palette with natural wood brought in for a sense of the organic. Follow suit and keep surfaces as unadorned as possible for a calming sense of cool.