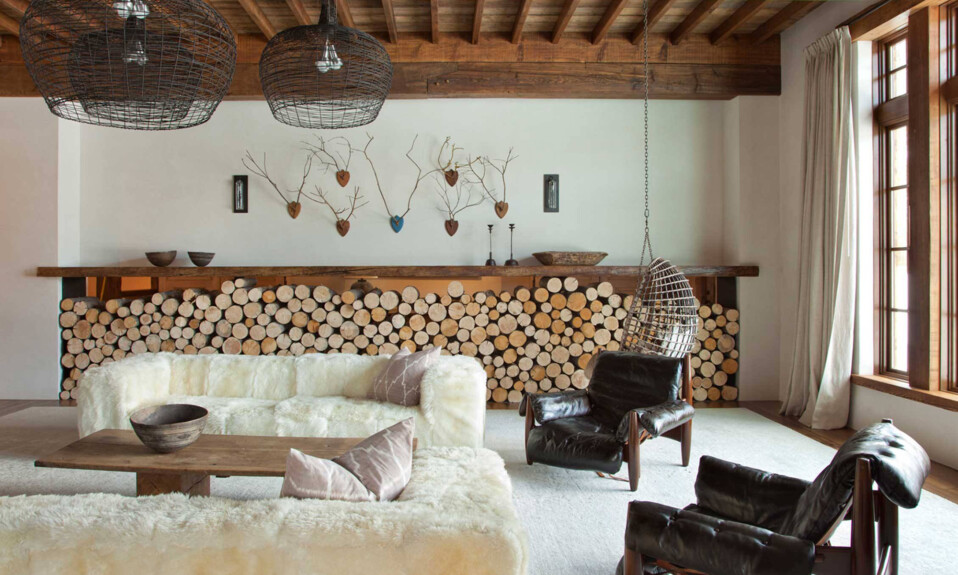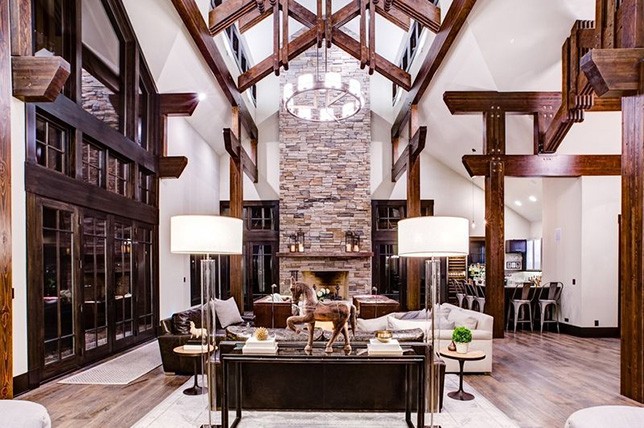 Rustic decor provides the perfect combination of comforting, fuss-free design and practical, functional decor, put together to create a warm rustic interior. Natural materials work as the foundation and starting point for creating enviable rustic home decor celebrating the authentic beauty of natural materials to create a cozy, beautiful space. Think open fires, oak beams, and comfortable furnishings; rustic farmhouse decor is all about creating a relaxed and organic vibe where rustic decor ideas serve a dual purpose.
You're stripping back your home to celebrate the existing beauty of it, exposing the features and making the most of the existing quirks; if you have an awkward alcove – celebrate it by adding shelving to create your own library. If you have old rustic kitchen cabinets, work them into your new design. Whichever room you're recreating with a rustic spirit, Décor Aid designers are here to help you create a rustic room to remember with sage design wisdom.  
COLOR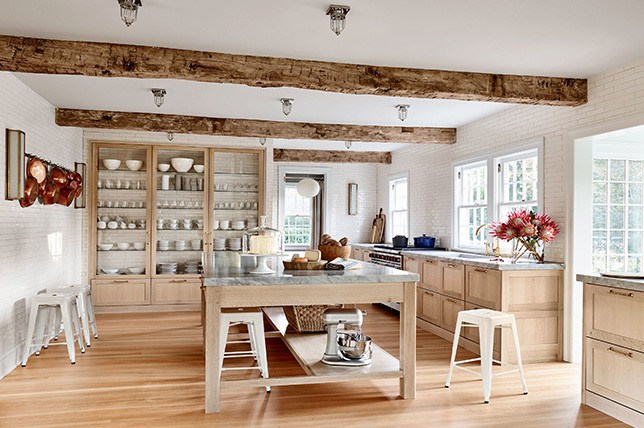 Start off with neutral tones to compliment rustic wall decor. From there, add color and vibrancy as beginning with a neutral color palette will allow you to make the features of your room stand out. Whitewashed walls look outstanding paired with natural wood features; the white allows the wood to speak for itself and become a focal point of your room, whereas bright wall decor would fall short. When you're applying neutral shades around wooden elements, ensure they aren't too close in color – allow them to enhance one another, not blend in together and get lost; ensure they contrast enough against one another.
Don't worry about your rustic wall decor being too dull – color will come in with rustic home furnishings; from upholstered furnishings to furniture and accessories to bring a room together. Jewel tones work particularly well in a rustic house. They add a bold and bright touch of unexpected color, as well as a feel of luxury – think pinks, reds, purples, greens, and blues – the deeper the tone, the better.
NATURAL MATERIALS
Wood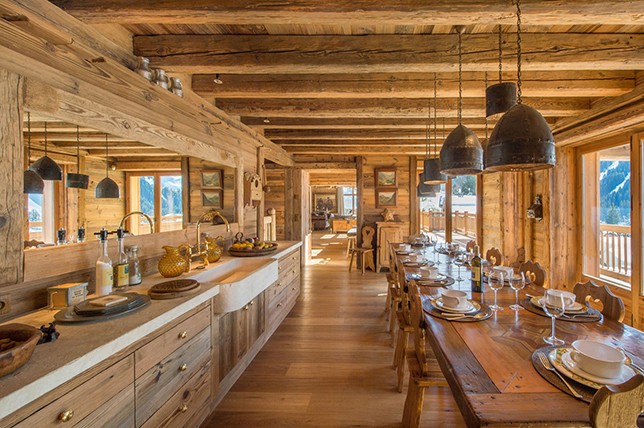 Embrace wood as one of the main natural materials in your rustic living room, rustic bedroom or any room you are giving a rustic revamp. Pick out some reclaimed wood flooring for the perfect rustic inspired design (if that's out of your price range, choose a reclaimed wood effect laminate instead, as an alternative rustic decor hack).
Wood paneling will also provide a hint of luxury, or, if you opt for a light colored wood, you'll feel as if you're in a log cabin in the woods. If you have beams in your home – don't hesitate to embrace them in your design and highlight them.
Stone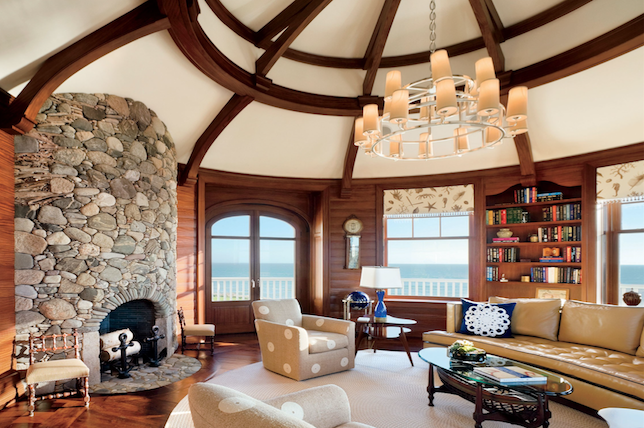 Flagstone flooring is a great look for rustic kitchen decor and it also looks terrific in a rustic bathroom. It's natural and durable and provides you with a warm and cozy feel while boasting practicality and durability.
Stone fireplaces look great for updated rustic living room ideas. Don't have a fireplace or the option to install one? A great tip for creating that warm fiery glow is to use soft yellow/orange lighting around your room; it elicits the same inviting feel at a fraction of the price.
Metals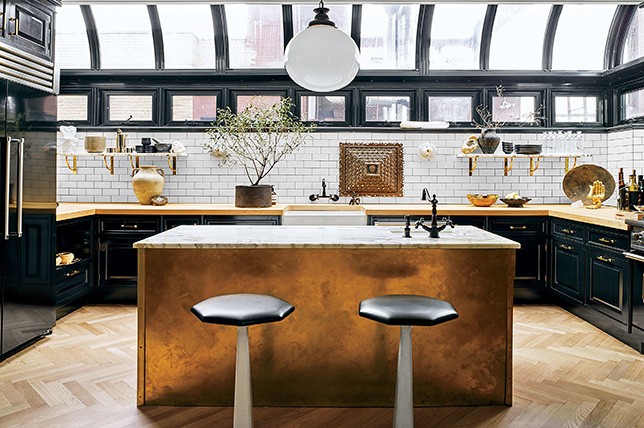 Iron, copper, and brass are all great natural metals perfect for rustic farmhouse decor accessories. If you're on a budget, imitation versions of these still look amazing so you can achieve rustic interior design goals without going over budget.
There are also stunning lighting options featuring rustic metals, which will add the ultimate finishing touch in any room, along with hearth accessories, such as fire surrounds and fire baskets, which are ruggedly chic.
Fabrics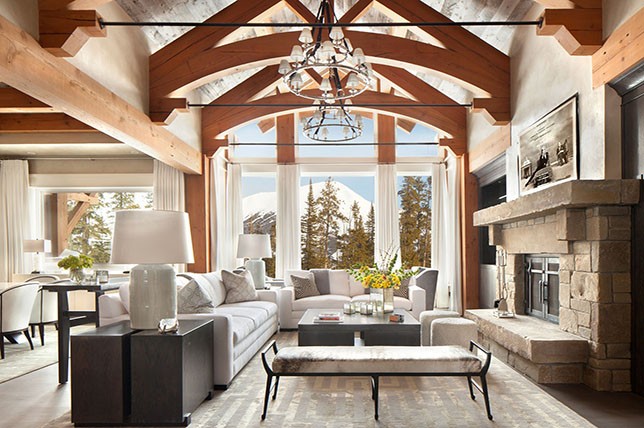 Source comforting fabrics in warm hues to make your rustic decor feel even more inviting. Think cozy blankets, checked fabrics, and chunky knits to create a comfortable and relaxed environment. For added luxury, select a faux fur throw for a sofa and a patterned woven rug to compliment the room and add a splash of color (rugs are great if you have a wood floor and need warmth in colder seasons).
Heat from a fireplace can easily damage a wooden floor over time, and if that fire spits, you can end up with singed floorboards. A hardy rug will protect your floor, as well as add vital color and play. For a feminine touch, think about including floral soft furnishings. With rustic interior design, you run the risk of your room feeling too utilitarian and masculine; you can easily counter this with a traditionally feminine touch.
AVOID STRAIGHT LINES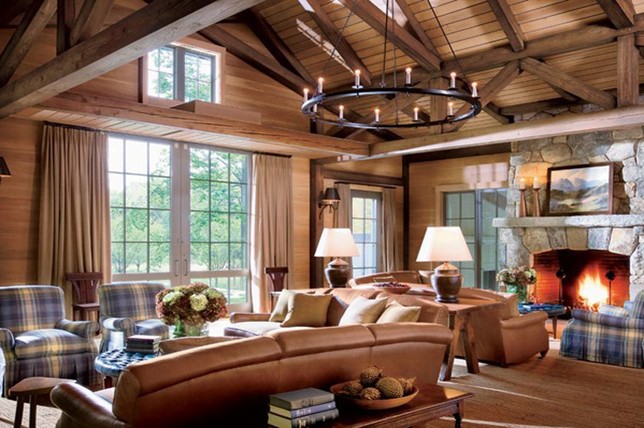 Straight lines don't have a place in rustic home decor. Embrace organic and abstract imperfections for a unique take on rustic interior design. Allow natural flaws to be highlighted – whether its knots in wood uneven grain, or notches and scratches in your furniture.
A timeworn piece of furniture won't be out of place when considering rustic decor (in fact, it will add to the feel), which is great if you are seeking rustic interior design on a budget as you can source secondhand finds for next to nothing and they also make for perfect rustic bedroom furniture. Think wonky shelving and uneven flooring as this look is all about character. Natural materials don't always conform – embrace the organic imperfections in your approach to rustic home decor.
MISMATCHED FURNITURE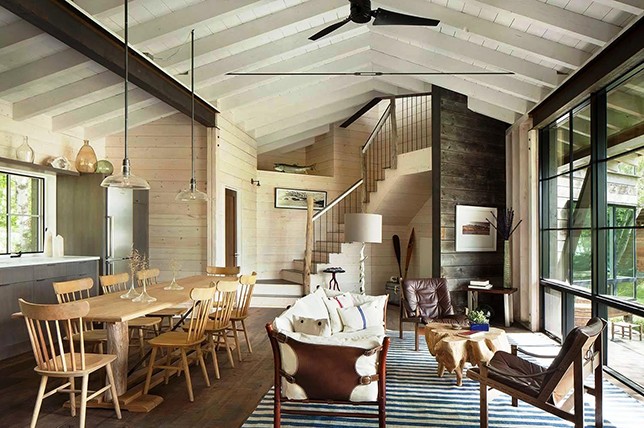 Rustic decor is often about curating an eclectic mix of items, which look as if they've been thrown together in a room at random, each with a function and purpose. Mismatched dining chairs situated around a well-loved dining table if often a great look to go for.
You want furnishings to look as if they've been collected over time to form a beautifully realized, friendly space. Think outside the box and create a charming side table out of a stack of old books or use an old trunk as a coffee table as a central feature in any room. Having your room layout centered around a focal point (such as a fireplace, TV or coffee table) will give the space a purposeful feel and bring everything together.
PRACTICALITY AND PURPOSE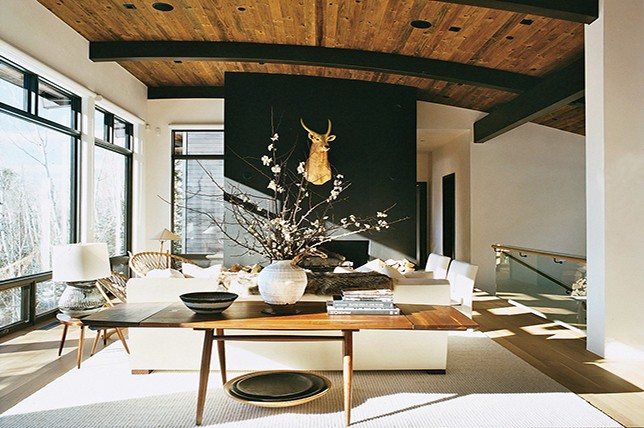 You've probably noticed that with rustic interior design, everything has a purpose; all the items have a reason for being there. This isn't to say you can't lovingly accessorize, but keep rooms practical and functional. If you over accessorize with pieces that don't evoke the functions of a room, you're certain to create a confusing rustic decor feel.
Decor ideas for living rooms often include playful accessories, art and trinkets, and rustic decorating ideas for living rooms should also include plenty of places to sit and blankets keep cozy. Rustic rooms have everything you need in them, but they don't have unnecessary clutter and there aren't items without a purpose in the room.