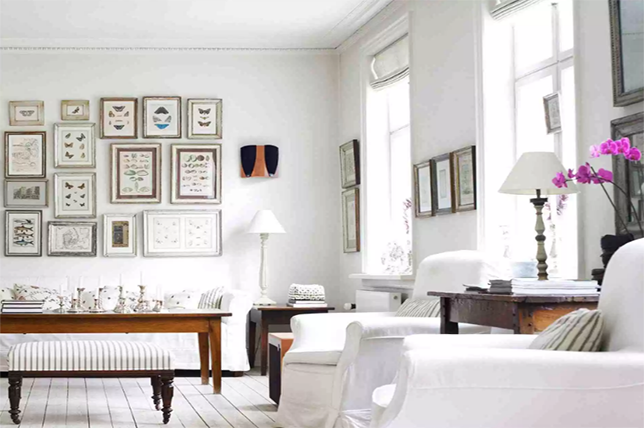 You'd be surprised to know that shabby chic decor no longer evokes its earlier 90's era rustic, relaxed spirit that was so popular with older generations at the time.
Today's take on the design style comes with modern approaches to shabby chic style that encompass traditional elements brought into the now with updated add-on's for today's lifestyles. If a casual, comfortable, chic, and lively look is on your agenda, we suggest you bookmark this modern shabby chic style guide for future reference.
To begin, we'll start by defining the basics of shabby chic decor room by room to help you develop a personalized shabby chic style for you and your home.
The Basics of Shabby Chic Style:
Muted Background Colors
Start with a neutral background when planning the foundation of your shabby chic interior design process. Paint walls a neutral color (white and creams work brilliantly) and stick to wood and natural colored flooring and details. Why? Because a subdued background will enable you to fill the space with charming, lively finds, without the look coming off as overbearing.
And while this shabby chic decor is often vibrant, remember that it's a relaxed decor style that should be easy on the eyes with subtle harmony.
Natural Materials
The more natural materials you introduce the better to complete a beautifully realized shabby chic decor aesthetic. Select wood pieces with a natural or rough stain; and vintage and antique pieces are a must for extra depth.
Go for cotton or woolen rugs and linen cushions and throws for an au natural comfortable feel.
Clutter
The shabby chic decor look toes the line between relaxed and cluttered. You want plenty of personal items around, such as artwork, trinkets, and keepsakes, but you don't want every surface to be chock full of stuff.
You still want to be able to maintain an element of cool minimalism and keep that modern feel in your space.
Embrace Haphazardness
Shabby chic decor is all about an impromptu approach and should appear effortless, relaxed, and look like everything was just thrown down where it is with an almost accidental harmony by chance.
This isn't an easy look to create, especially if you're more accustomed to more linear and modern styling. To make it yours, place pieces at angles – such as your coffee table off-center and house a rug laid out diagonally under it.
Shabby Chic Decor Ideas by Room:
Shabby Chic Bathroom
Tiles and Flooring
Go retro for a shabby chic bathroom boasting warmth with soothing pastel tiles or choose a more modern white subway tile to contrast with the rest of the room's furnishings.
Patterned and mosaic tiles are great for floors, as are wooden floorboards or painted floorboards (grey and white are best for this look).
Bathroom Suite
If you've chosen white tiles, bring in subdued color with a pastel bathroom suite. And alternately, if you do go for pastel tiles, create a clean, white bathroom suite. Clawfoot tubs are a requisite with shabby chic decor, as are old-fashioned shower heads and taps.
Accessories
Hang a vignette or mirrors in the bathroom boasting character or hang artwork on the walls to add small doses of personality for a memorable bathroom.
Select an ethnic inspired woven bathmat in bright hues or bold graphic patterns and bring in plants of varied scales, and punctuate the design styles bohemian nods with mismatched towels, linens, and storage baskets.
Shabby Chic Bedroom
Furniture
Metal canopies and bed frames are also a common thread in shabby chic bedroom decor as they are elegant and substantial without being too imposing.
Source a distressed armoire for a more traditional feel or opt for a brightly painted dresser or dressing table for a more eclectic and statement-making feel.
Bedding
With linens, there are two shabby chic bedroom ideas to consider. Choose less aggressive white or cream bedding and accessorize with colorful cushions and a patterned bedspread or quilt, or you can go for a wild combo of mismatched bright bedding for added character.
Whatever route you decide on, amp it up with different patterns and prints and introduce as much color as possible – even if it's muted as the freedom this design styles offers you is far beyond clean lines and simplicity.
Accessories
Woven rugs in a natural materials paired with modern furnishings here and there are certain to create a layered and enviable take on shabby chic decor that'll look like no one else's.
Set rugs at an angle away from the bed, leading towards the door to make the path to your bed appear larger. And add a rustic chair in the corner for a conversation and reading nook and scatter trinkets, keepsakes, and artwork casually about the room.
Shabby Chic Kitchen
Furniture
Mismatch dining chair styles around a well-used wooden table, with a bit of personality, or cover a table you already have in a bright, patterned tablecloth. White units and wooden units look great in a shabby chic kitchen and are a pleasant move away from everything pastel.
Cookware and Dining Ware
An eclectic mix of different pots and pans and contrasting tableware from here, there and everywhere really brings this look together in the kitchen. Embrace the mismatched and use this to add color and texture to your kitchen.
Shabby Chic Living Room
Furniture
Wooden coffee tables and vintage sofas make for an inspiring combo for a thoroughly modern shabby chic living room. A neutral sofa (even better if slipcovered) can be elevated with throws and pillows in virtually any color or pattern for unimposing comfort in your living space.
And for added texture and dimension add a bold velvet armchair to cozy up and read and place your coffee table at an angle for a relaxed effect.
Accessories and Soft Furnishings
When it comes to shabby chic decorating ideas, living room interior design is where you can let your imagination run free with expression. Hang a varied selection of art and bring in sculptural pieces along with a mismatched range of mirrors to add dimension and light.
Layer rugs and place cushions and throws casually around for a homely, comfortable, and inviting feel. And do bring in greenery with plants, like palms and cacti for a fun color pop against the room's otherwise earthy tones.
Lighting
If you love natural light and are lucky enough to be blessed with it, go for sheer curtains to let as much light in as you can. 
And for lighting, source vintage lamps of various scales and materials and add a touch of glamor with an understated chandelier, or juxtapose your decor with minimalist pendant lighting.
Shabby Chic Office
Go for the unexpected and bring the outside in and select an outdoor table as your workspace – maybe a marble-topped garden table or something a little more ornate and well-worn?
Create a contrast to your vintage tabletop with more modern and traditional features for a versatile take on shabby chic office decor (like linear shelving for books and storage files) and finish off your workspace with a contemporary light fixture.
Shabby Chic Decorating on a Budget
Shabby chic decor is notoriously easy to achieve on a low budget. Because of its unstudied and relaxed feel, anything goes when it comes to shabby chic interior design which is especially great when you're challenged with a budget as you can source furnishings high and low from anywhere at any cost. Even better if they are hand-me-downs you've repurposed and updated.
To create your own stamp in your home, research effective ways to create DIY furniture reflective of shabby chic style. You can also update current pieces to elevate your shabby chic decor with nothing more than paint and sandpaper.
Another great way to highlight your shabby chic interior design skills on a budget is to get resourceful. Head to local antique markets and estate sales for well-loved pieces of furniture in traditional silhouettes and peruse online marketplaces for scores on second-hand items boasting historical provenance.
Images via Pinterest