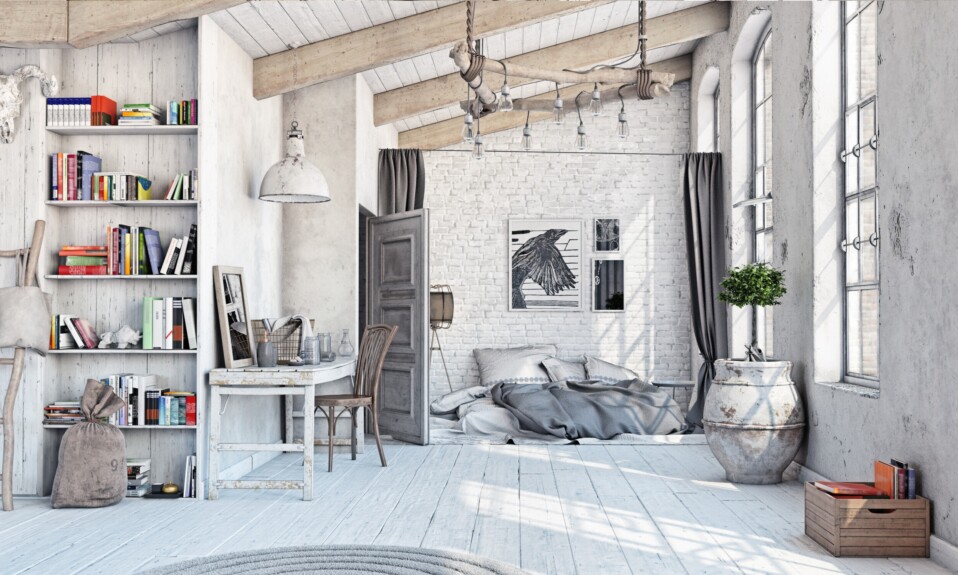 With its calm palette, delightful vintage charm, and harmonious lines, shabby chic décor is a fantastic choice if you were hoping to turn your interiors into a whimsical triumph of both coziness and timeless elegance.
This style was particularly popular in the second half of the 80s and throughout the 90s, but it has since then been subject to common misunderstandings.
So, before diving into the main features that characterize it, let's first make sure that we're on the same page!
What is shabby chic decorating style?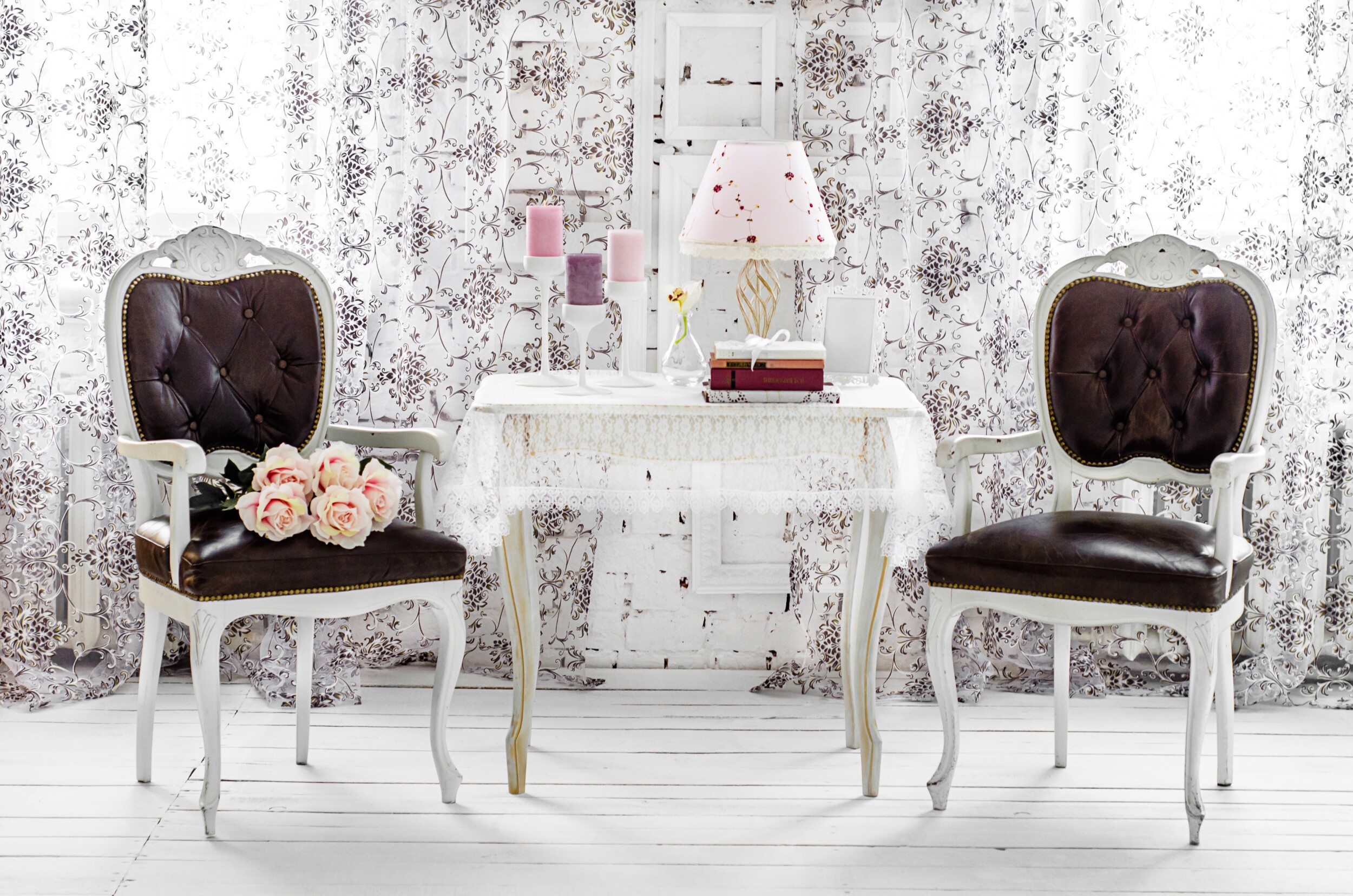 Shabby chic is an interior style that focuses on anachronistic vintage furniture with a distressed or wear-and-tear feel, an abundance of white, floral prints, and natural textures.
It's a delightful balance between the rustic appeal of cottage or country décor and the nostalgic elegance of vintage-inspired elements.
Shabby chic décor draws inspiration from antique French design, but, unlike period styles, it doesn't focus on a specific century or decade: on the contrary, it encourages an eclectic mixture of vintage-looking pieces of furniture and items from different ones.
Is shabby chic still in style?
Yes, grab a bucket of white paint and start looking for the most decorative vintage-inspired furniture, because shabby chic has come back in style! It even reappeared on the screen thanks to adorable shabby chic settings like Mary Margaret's apartment in Once Upon a Time.
Nowadays, there are two main ways to revamp your home in a shabby chic fashion:
Incorporate the main signature elements of this décor in its most traditional way
Add a more contemporary feel by choosing a less cluttered approach and more streamlined shapes
It really depends on what you personally prefer.
Most importantly, try and think beyond current trends and what is or isn't in style, as you'll hopefully get to enjoy your new shabby chic home for many more years.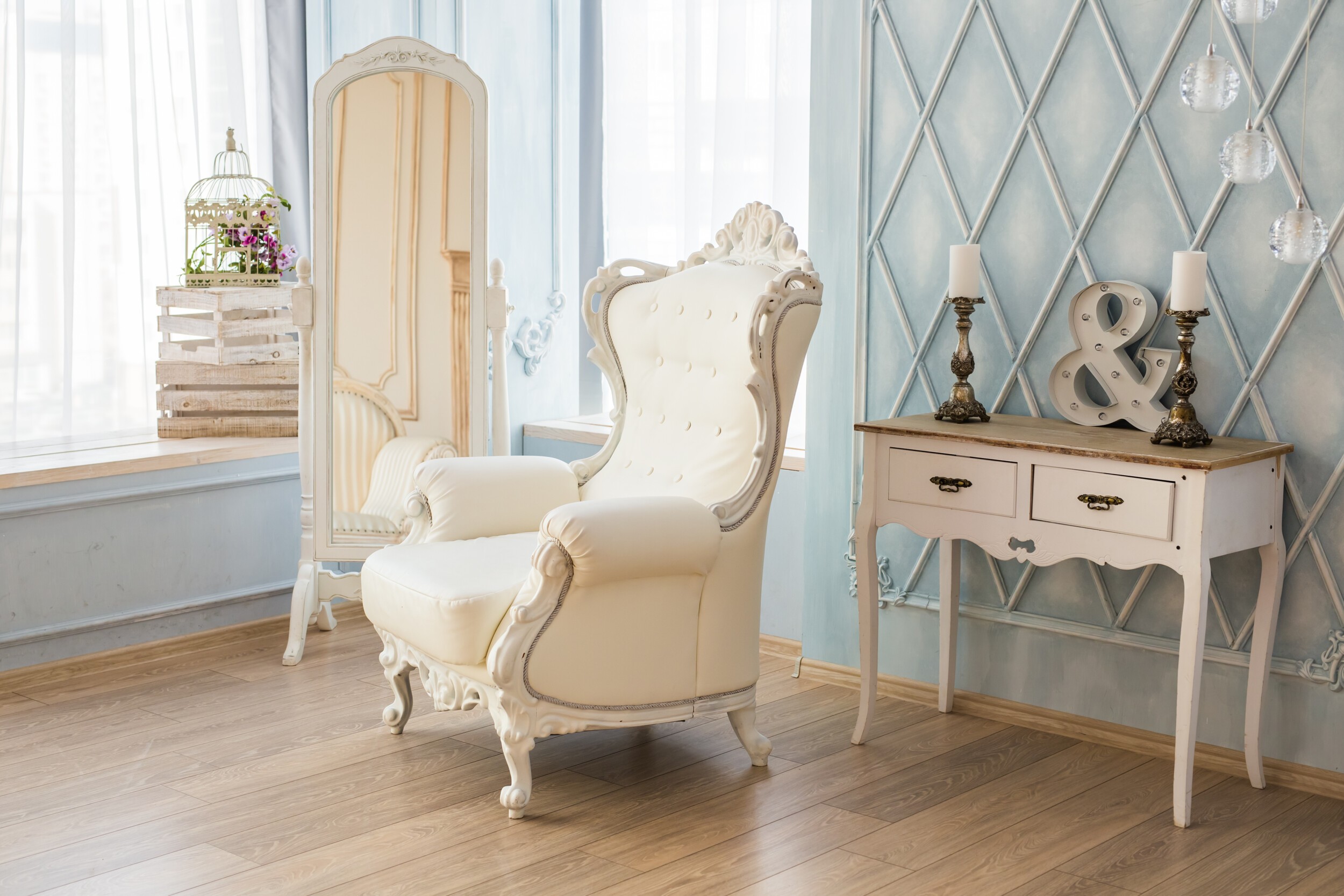 What you'll love about shabby chic interiors:
Shabby chic décor combines the comforts and coziness of more rustic interior styles and the whimsical elegance of French and vintage-inspired charm
It results in a calming and airier feel thanks to its focus on white
It's a delicate and delightfully feminine style that's bound to result in the most aesthetically pleasing rooms
How to create the perfect shabby chic interior design
To create the most instagrammable shabby chic home, here are the points that we recommend focusing on.
A delicate white & pastel palette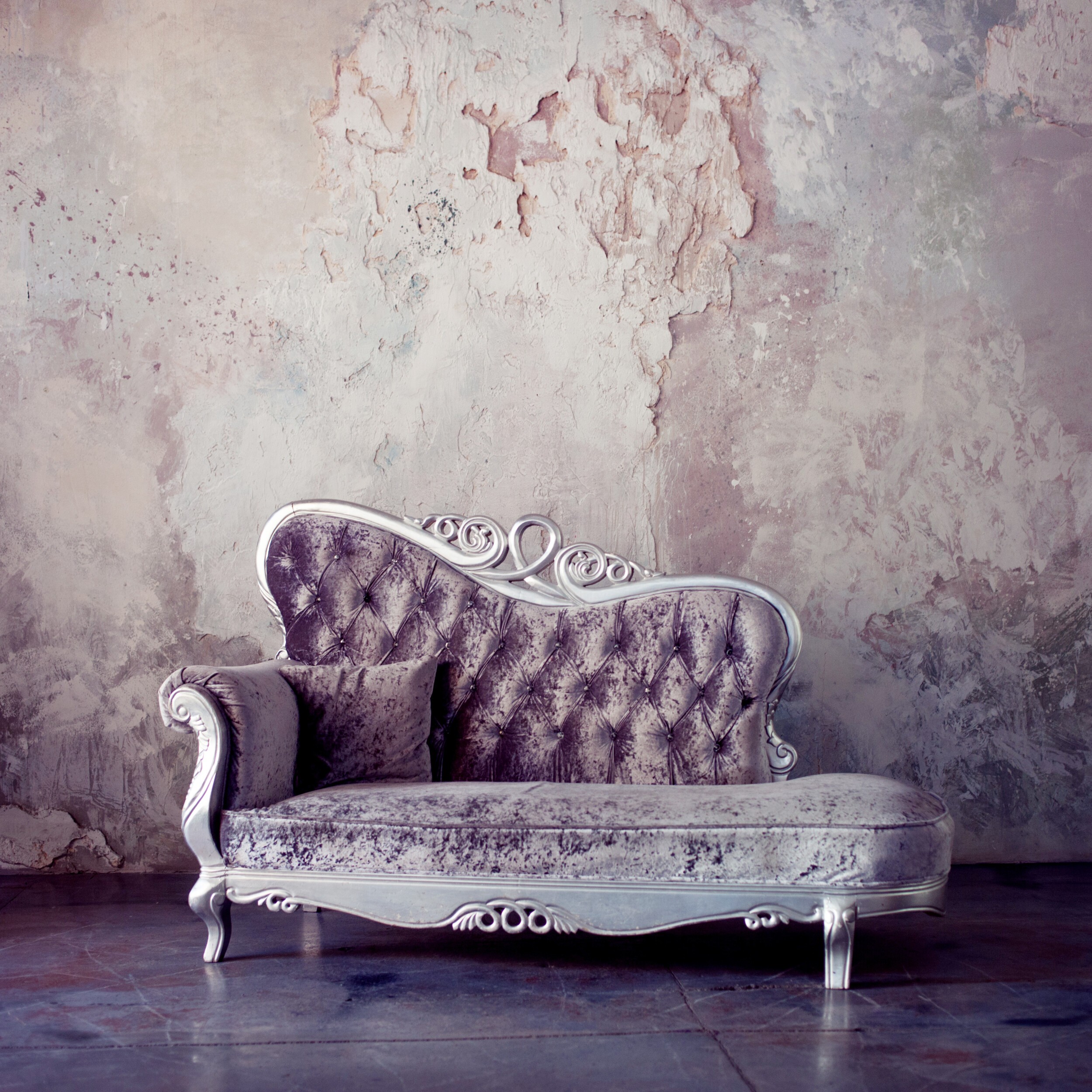 The right palette will give away your décor choice even before your or your guests' eyes have had the time to focus on specific elements and features.
Forget about dark and saturated hues! Shabby chic décor is predominantly white, from ivory to cream and chalky white hues. This will also result in an airier feel and help you make smaller corners or rooms appear wider than they actually are (always a plus!).
Obviously, an entirely white room would end up feeling overwhelming, which is why it's vital to balance it with other shades that characterize this style. More precisely? Pastel colors.
Experiment with delicate hues such as pink, mint green, and lavender or powder blue.
The lightest wood finishes are another smart way of keeping your palette delicate while reinforcing a natural influence (more tips on that later!).
Antique, upcycled, or distressed-looking furniture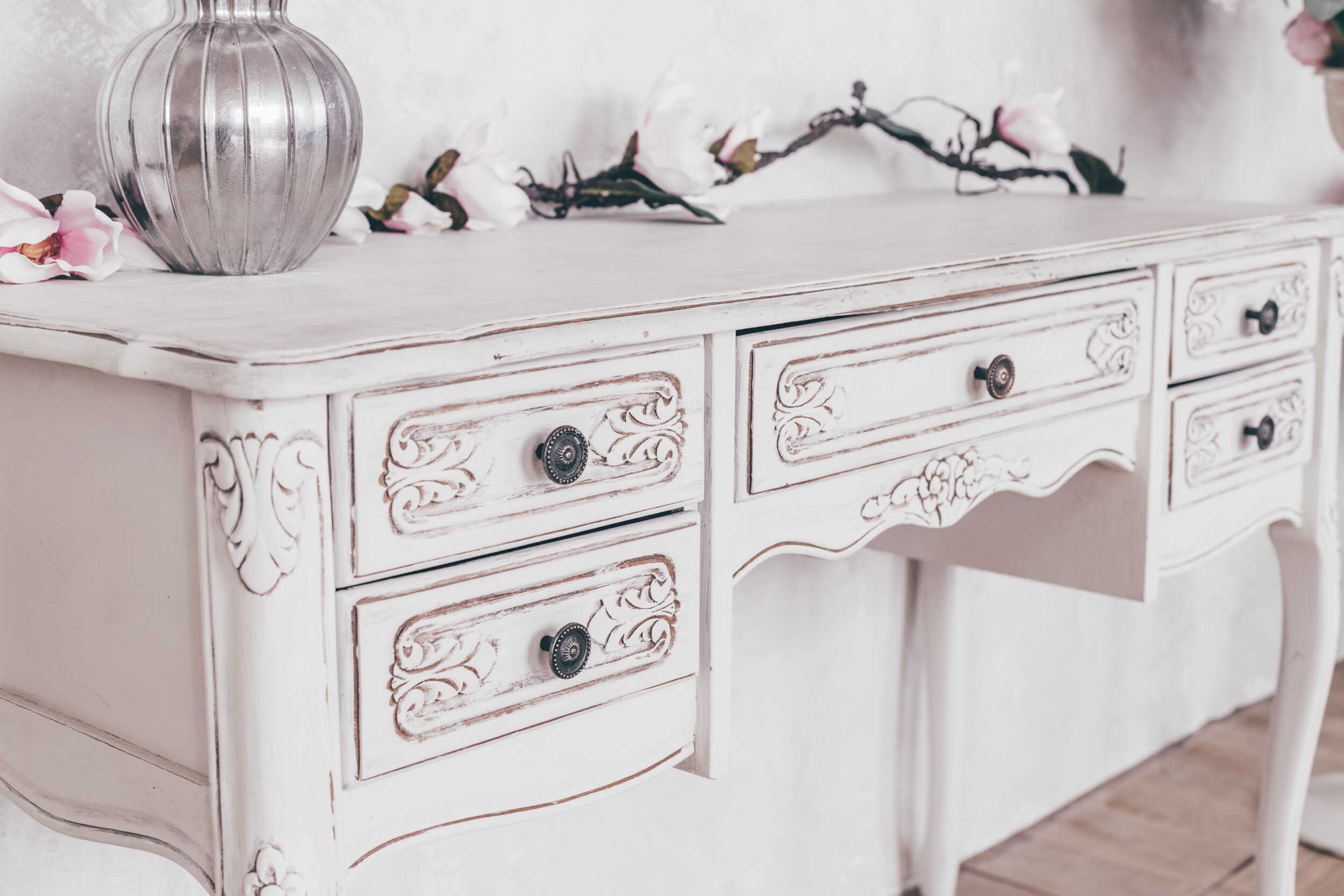 While shabby chic furniture isn't tied to a specific decade or century, it should look vintage. Even better? Weathered. Distressed. Timeworn, we could say.
With this style, you also get to celebrate imperfections, whether that's a chipped edge or a discolored door.
This means that you can decide to opt for an eclectic collection of authentic period and vintage pieces, find new items that are made to look that way, or give your existing furniture a shabby chic feel with the right paint.
Elegant & harmonious lines
As well as timeworn, shabby chic furniture is distinctively decorative: after all, it does draw inspiration from antique French homes!
The most recognizable shabby chic element is undeniably the cabriole leg, and you can incorporate it through several different pieces of furniture, from chairs to tables and even armoires.
Overall, try and look for models that include spirals, curlicues, engraved carvings or flourishes to add textural charm, and harmonious lines in general.
Floral accents & a touch of nature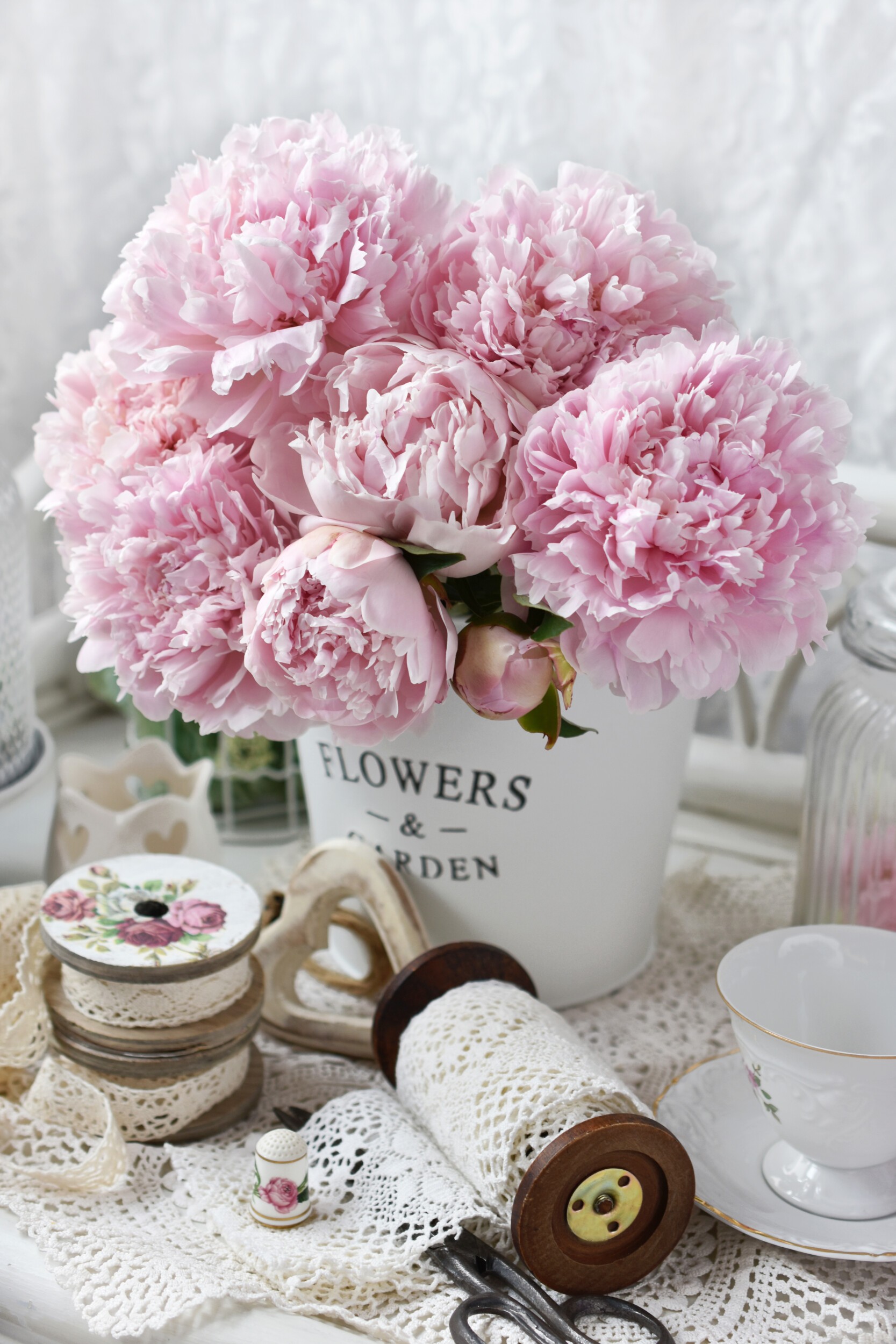 With shabby chic décor being partly influenced by country interiors too, it won't come as a surprise that this style often includes natural elements.
Flowers, in particular, are a shabby chic staple, both when it comes to freshly cut bouquets and floral prints. From your curtains to throws and pillows or beddings, you can use them to add a delicate contrasting touch against white and neutral backgrounds.
To emphasize this natural element, consider choosing natural fabrics like linen whenever possible.
Other natural elements that you could incorporate are shells (once again, either real or as depictions) and vine carvings on wooden furniture, but don't be afraid to add your personal natural touch to make this style even more personal.
White, pastel, or wallpapered walls

Furniture and accent elements are key to a brochure-style shabby chic room, but don't forget about the walls surrounding them.
There are three main ways of giving them a shabby chic vibe, and it mainly depends on your personal preference as well as the colors of the rest of your furniture and larger items:
White walls are perfect to emphasize an airy feel. Versatile and bright, we mainly recommend them if your main items of furniture are in a different color, as too much white on white would disappear and feel a bit overwhelming
A light and delicate pastel hue is a good compromise if you already have white floors or lots of white furniture. You can always add a few white frames and decorative pieces to maintain a touch of this staple color on your walls
Wallpaper is another traditional shabby chic choice, especially when it involves flowers or other natural elements and decorative patterns. While the first two monochrome options are a safer choice if you already have tons of patterned accents, a busier wallpaper is ideal if you mainly rely on monochrome pieces in the rest of the room
Combine comfort, elegance & calm
The winning recipe for a home that immediately conveys a shabby chic style is the combination of these three feelings. You can obviously choose to focus on the one that matters the most to you but without forgetting about the other two:
Inspire the comfort of rustic vibes by choosing cozy pieces of furniture (e.g. upholstered chairs) and items, such as inviting bed sheets, fabrics, throws, and cushions
Add a touch of French and vintage elegance with harmonious lines and tasteful accents
Keep a calm vibe with your palette's soft tones
Signature shabby chic items & elements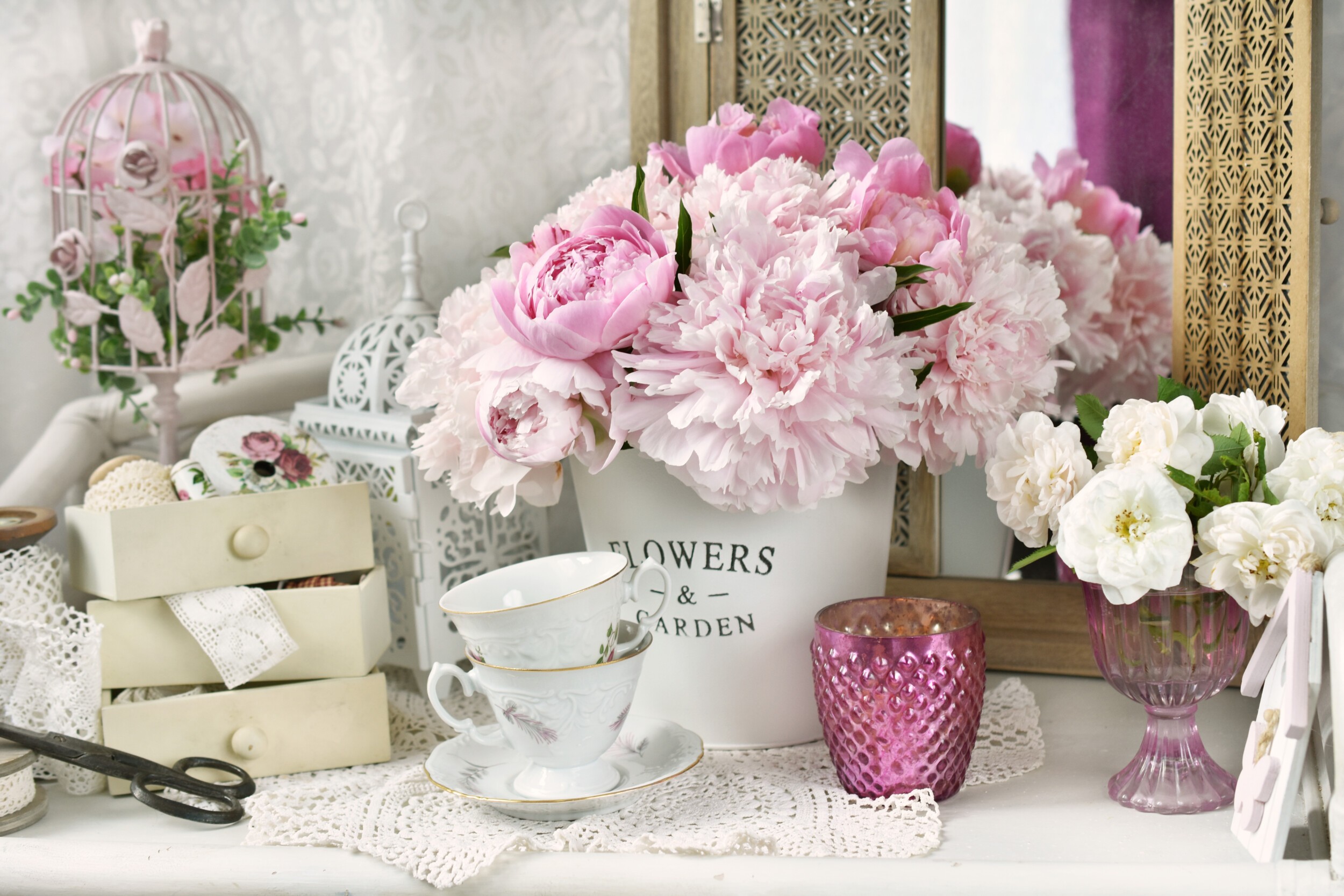 While you now have a good overview of this type of décor and several ideas to incorporate it, we thought we'd also share a few signature elements that are extremely popular.
That way, your home will easily score some bonus shabby chic points:
Large and ornate chandeliers with harmonious lines
Decorative bird cages
Ladders
Rose prints
Trunks with a distressed feel
Breezy lace or sheer curtains
Heart-shaped decorations
Harmonious and heavily ornate headboards
Cute small tables and/or nightstands with a combination of flowers and other decorative elements