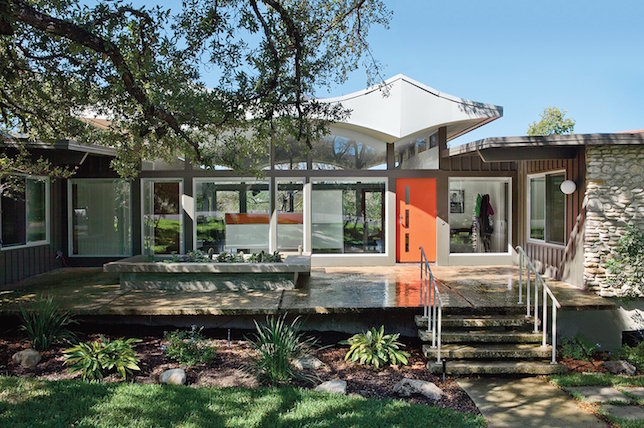 Thanks to technological advancements and changing tastes, today there are so many more options when it comes to roofing than there ever was even just a few years ago. Thus, making property owners with roofing needs overwhelmed with choices as to which durable roofing type to go for that will satisfy their needs, meet their budgets, and last the longest. A popular roofing material that's been trending as of late, metal roofing is one of the most popular roofing choices for many homeowners and commercial property owners alike. Hence, it's likely you may want to consider the material for your next roofing project or update. To get the look right and keep the process seamless, you'll need to equip yourself with some metal roofing ideas the will help enable you to weigh in on the pros and cons of this roofing type compared with other materials on the market. Whether you are a homeowner, general contractor, commercial building owner or architect, these metal roofing ideas for your home will serve as an indispensable tool for deciding which type of metal roofing choice to make for your roofing project.
All in all, there are five common materials used for metal roofing projects that include classic copper, a moody zinc, affordable aluminum, stainless steel, and Galvalume. Of course, each of these metal roofing types has its unique advantages and disadvantages. And it should go without saying that you discuss these metal roofing ideas with your contractor before settling on one.
An excellent way to start before choosing any metal roof type for your roofing needs is to find out the cost, qualities, pros, and cons of each kind of metal roof material so you can make an informed decision. We created this guide with sage advice from our general contractor and renovation teams so you'll know everything about each roofing material and type – as roofing is a costly investment that you'll want to get right the first time around.
GALVALUME ROOFING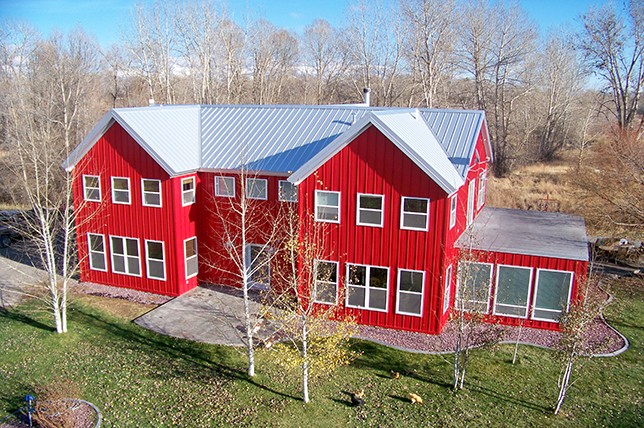 Galvalume provides one of the best metal roofing house ideas for any kind of structure thanks to its minimal look. This roofing material is made from three metal materials combined including zinc, aluminum, and steel. It is also often produced using a carbon steel based sheet immersed into zinc, silicone, and an aluminum alloy concentration. The advanced process ensures that each roofing material produces the best quality with these three chemicals — little wonder why it's always among the top metal roofing ideas and materials and is highly sought after in the market.
PROS
It is available in an endless array of pre-painted colors that give users the flexibility of choice when buyers try to compare roofing types with their roofing needs.
Galvalume is the least expensive among all roofing types. You can easily find the roofing material in a price that ranges between $75 to $250 per square foot, and this depends on the desired panel, thickness level, and color or finish choice.
It's also the most durable roofing type on the market today as it can last for several decades without yielding to corrosion or weather-related damages.
CONS
The high-shine and unique shades of colors you see on a Galvalume metal roof will fade away over time which is a major drawback.
Galvalume is durable and can perform well when it does not come in contact with other materials like concrete, iron, brick, and copper – making it more challenging to work with and maintain.
ALUMINUM ROOFING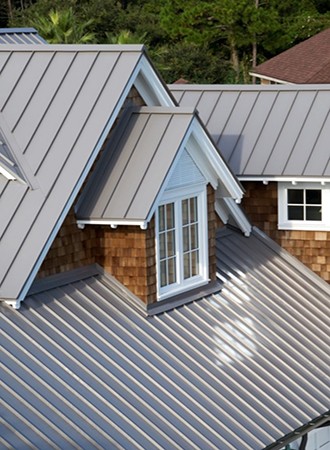 Aluminum is classified as the third most abundant metal on earth. And it's a popular roofing choice for homeowners the world over and worthy of consideration when thinking of metal roof decorating ideas. It can resist extreme and tough weather conditions and always looks clean. Aluminum roofing is also perfect for finishing off an ultra-modern structure.
PROS
Aluminum roofing is reliable and can endure all kinds of weather, making it a smart choice for building owners.
There is minimal corrosion effects as aluminum roofing ages. It has a super durable quality and can last for generations without corrosion.
An aluminum metal roof is a vital aspect of metal roof shed ideas because of its light weight and superior strength.
It's more affordable and has a general price range of $200 to $575 per roofing square depending on the thickness level.
Aluminum roofing contractors are not hard to come by, and the installation process is not too cumbersome.
CONS
Aluminum roofing ages and sheds off its natural color over time.
It can be profoundly affected by bad weather conditions over time. This can be averted when the roof installer uses roofing panels that don't change it's color much due to aging or bad weather.
Aluminum roofing is easily prone to dent due to its lightweight nature compared to other metal roofing types. If you are building a structure underneath trees, for instance, aluminum roofing may not be the best option as the branches and wood that will inevitably fall off the tree may dent your aluminum roof.
Aluminum is also not that compatible with wintery weather that includes snow and ice.
ZINC ROOFING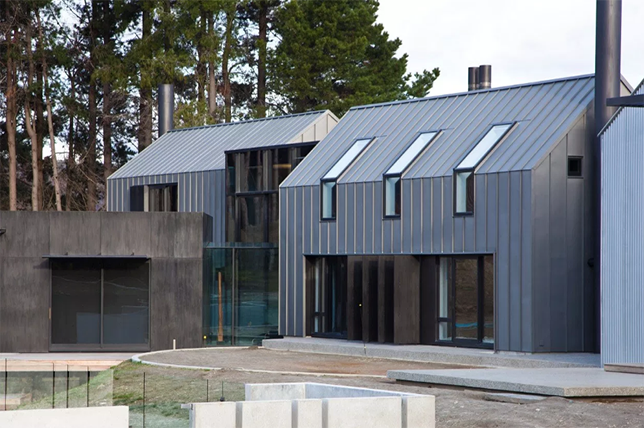 Still searching for the perfect metal roof decorating ideas? Then zinc roofing also makes for another exceptionally great choice to consider for covering your structure. Recently, zinc has become increasingly popular as a top roofing choice for many contractors and homeowners thanks to its timeless appeal and sturdy feel. The material is also not hard to come by, making it a celebrated stalwart in the metal roofing industry.
PROS
Zinc metal roofing can last up to a hundred years which makes it an ideal choice for commercial roofing buildings and industrial factories and homes alike. Which should make zinc materials a top choice to consider when contemplating metal roofing design ideas for any structure.
Zinc is known to be completely eco-friendly and contains lower toxins even after undergoing fabrication than other roofing materials. It can also be produced with a lesser amount of energy compared to other metal types because it's a non-ferrous material, which would make it the perfect match for a solar roof.
Zinc roofing also cleverly boasts self-healing properties because it has an outer protective layer which helps to prevents dents, corrosion, panel leakage, and other things that tend to reduce the quality and longevity of a roofing material.
Zinc is a perfect choice for any building owner looking to make the most of available resources while searching for quality metal roof house ideas that are built to last. Its low maintenance requirement also ensures that you won't have to spend too much time or money maintaining it after installation.
CONS
One of the major drawbacks of zinc metal roofing is its relatively high price as a single roofing square can cost upwards of $600 to $800. Aside from this, it's also subject to oil canning just like other prominent metal roofing types often can succumb to.
COPPER ROOFING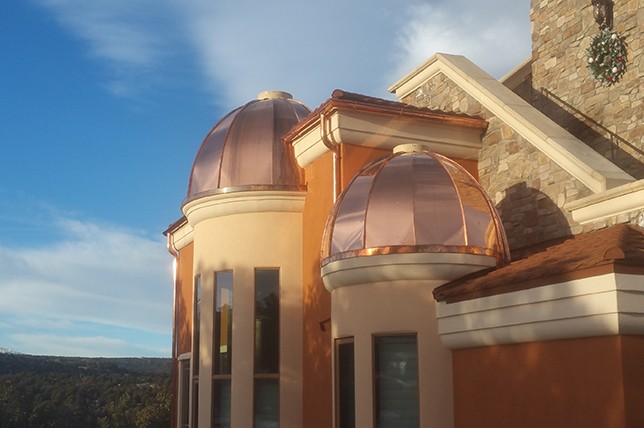 Copper roofing has been included in many contractors lists of the top metal roof design ideas for ages, in fact, its one of the oldest and most celebrated roofing materials in history. For many centuries, copper panels and coils have been used to elevate residential homes and commercial buildings, and the quality of the roofing material has been displayed repeatedly to the extent that there is no valid point doubting the efficiency of a copper roofing material. Copper roofing is elegant and ages well and is less seen paired with more a modern home. And it also makes a great addition to a structure as trim and for detailed work.
PROS
Copper is lightweight when compared to other roofing materials such as wooden shingles, tile or concrete. This unique quality makes it easy for an installer to lift and handle as desired, while having no negative effects on your structure over time since other metal roofing materials can be much heavier and damage your homes structural integrity over time.
Copper roofing metal can withstand adverse weather, pressure, and other factors that could affect its quality over time. In other words, it's wholly durable and safe for residential projects. Little wonder why many consider it as a go-to choice when searching for metal roofing ideas online that are classic and evoke a charming sense of grandeur.
CONS
Copper is a costly roofing material, and its availability is scarce. Also, it requires individual installers who have undergone the needed training for copper roof installation.
It looks sharp when freshly installed but will age over time with a darker, uneven patina. So if that naturally aged look is not for you, you should consider a different roofing material as this option will be expensive to update and replace.
STAINLESS STEEL ROOFING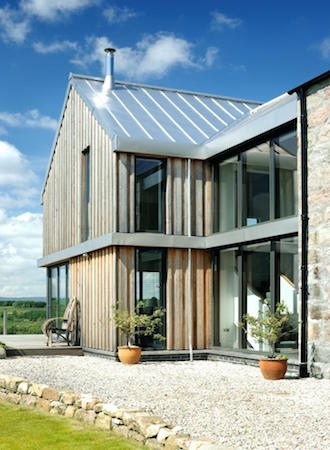 Stainless steel is a common roofing choice among many homeowners and commercial real estate owners as well. It contains 10.5 chromium and has long been considered as the perfect choice for architecturally unique buildings. And its timeless appeal and sturdy feel continues to rank it as one of the best metal roofing ideas for your residential and commercial roofing projects.
PROS
Stainless steel can withstand adverse weather and does not rip out or crack under extremely cold temperatures or fierce winds. This is why stainless steel is excellent for any location with extreme climates of any kind.
Another unique aspect of this popular metal roof type is that the material usually boasts a gracious warranty. Most stainless steel roofing manufacturers provide several years of warranty since they trust that their product will last for years without needing to be repaired or completely replaced.
CONS
Just like zinc and copper metal roofs, stainless steel can be a major investment to consider.
As you can see, metal roofing is one of the most celebrated roof types popular among homeowners because of its uniqueness, strength, and versatility. Aluminum, stainless steel, zinc, and copper make for the best metal roofing ideas for home, especially if you are look for a roofing material that you won't have to spend time maintaining too much after installation. You should consider metal roofing ideas if you need quality roofing sheets for your residential or commercial roofing needs that will look crisp and stylish for years to come. Plus, since metal roofing is less seen paired with residential structures, it will also make your home a standout on any street.