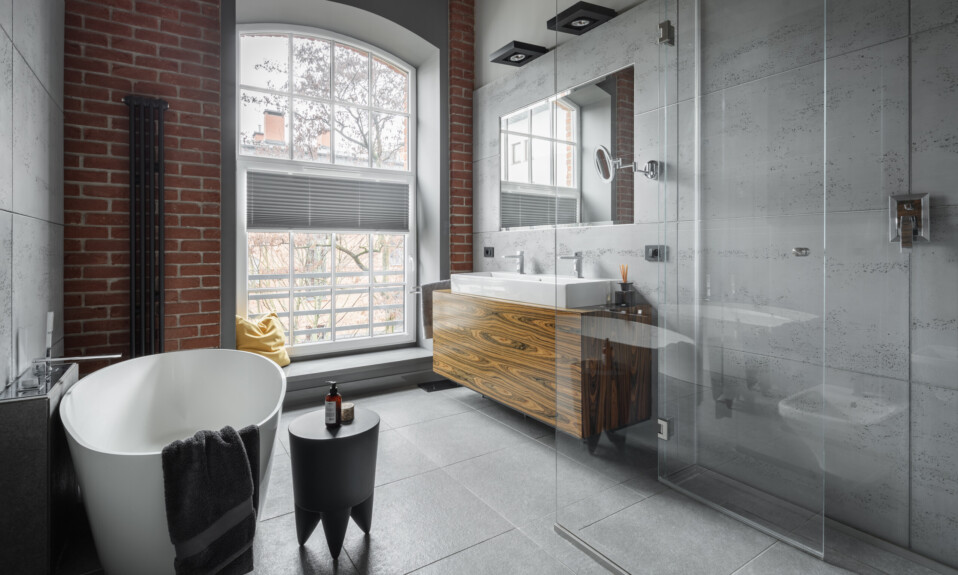 When designing a modern bathroom, keep simplicity and minimalism a main ingredient of your modern bathroom ideas. Whether you are considering new bathroom furniture, fixtures and fittings, a bathroom suite or accessories, making an effort to keep every aspect simple and minimal will put you on the right track in achieving the modern bathroom design of your dreams. Clean lines and minimal fuss are what you want to see in a modern bathroom; there are no frills here.
To help you better explore modern bathroom ideas, we've culled a series of savvy tips from our renovation and bathroom experts.
Built-In Cabinets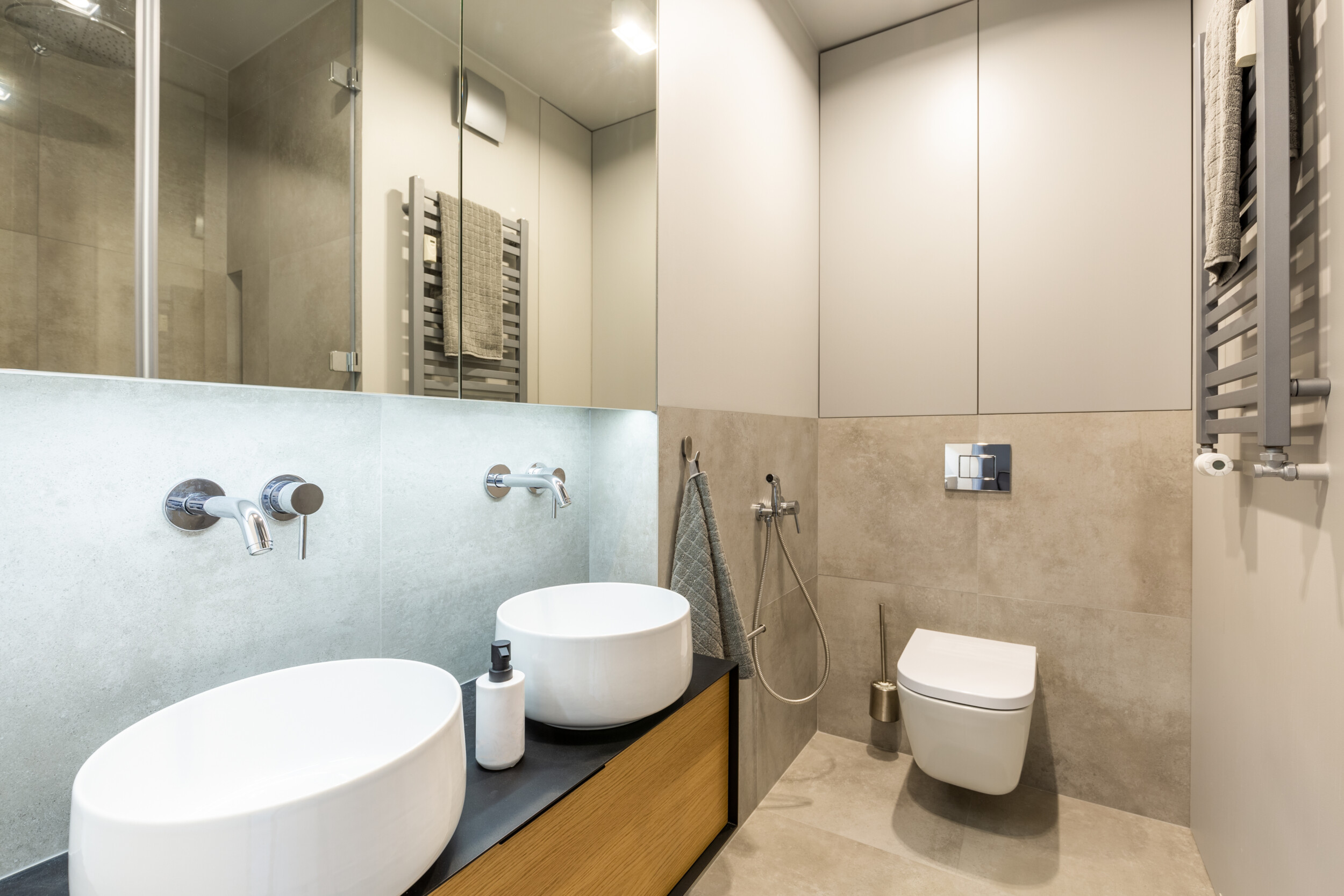 Use built-in cabinets to hide personal bathroom clutter like perfume, toiletries, and toilet paper. Bathroom clutter is inevitable, and you need somewhere to stash necessities and having them out of sight reduces the amount of noise in your bathroom and helps you achieve a minimalist, modern look.
There are some really cool designs to inspire that blend into your bathroom and aren't obvious; helping to make your modern bathroom décor sing.
Floating Cabinets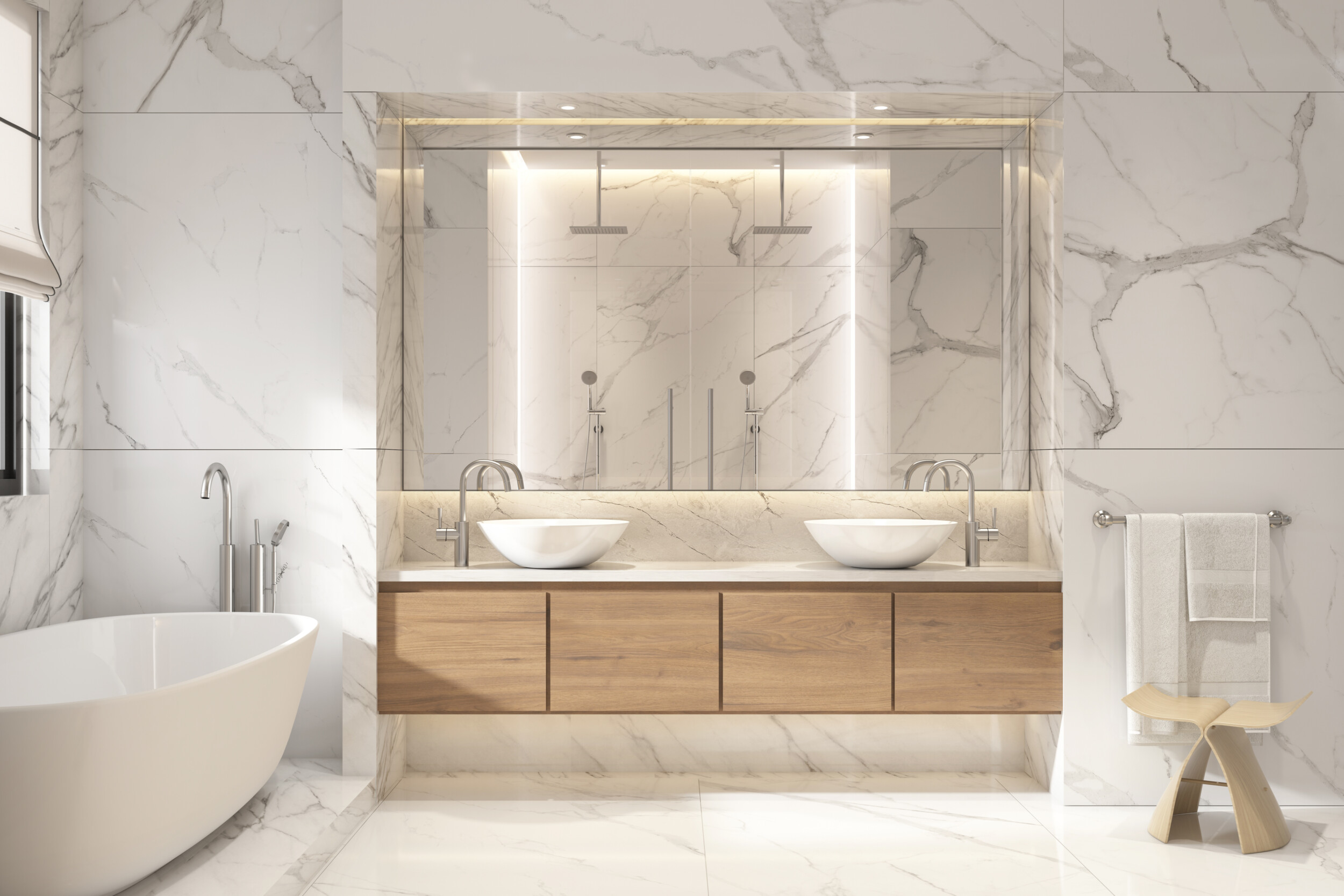 Legs make a bathroom look cluttered. Having floating cabinets as part of your modern bathroom design will help the space feel much less cluttered and busy, and these units are often less imposing and obvious, in comparison to traditional bathroom cabinetry.
Floating cabinets are also great if you have a small bathroom and want to help the space look bigger.
White Theme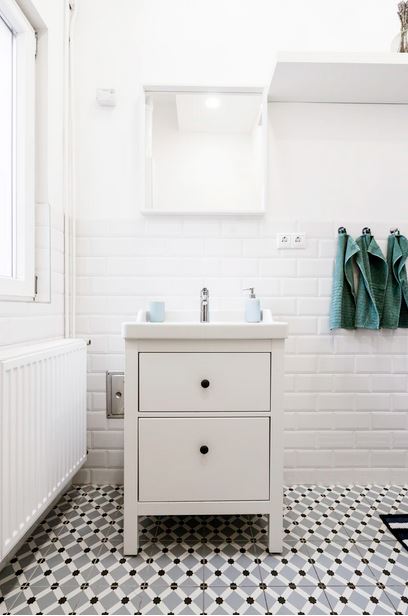 What is more modern than an all-white bathroom? A white walled, white floored, white bathroom suite with white tiles easily evokes minimalism and simplicity. An all-white bathroom will feel more like you are taking a trip to a luxury spa than bathing in your family bathroom.
You can choose different sized tiles for the walls and the floor to break it up a bit, or choose a different material, like painted floorboards to contrast with your tiled walls. Or, use the same style of tile all over, keeping the lines of your bathroom clean and flowing, for a modern bathroom design which is simple, yet exquisite from end to end.
Gray Theme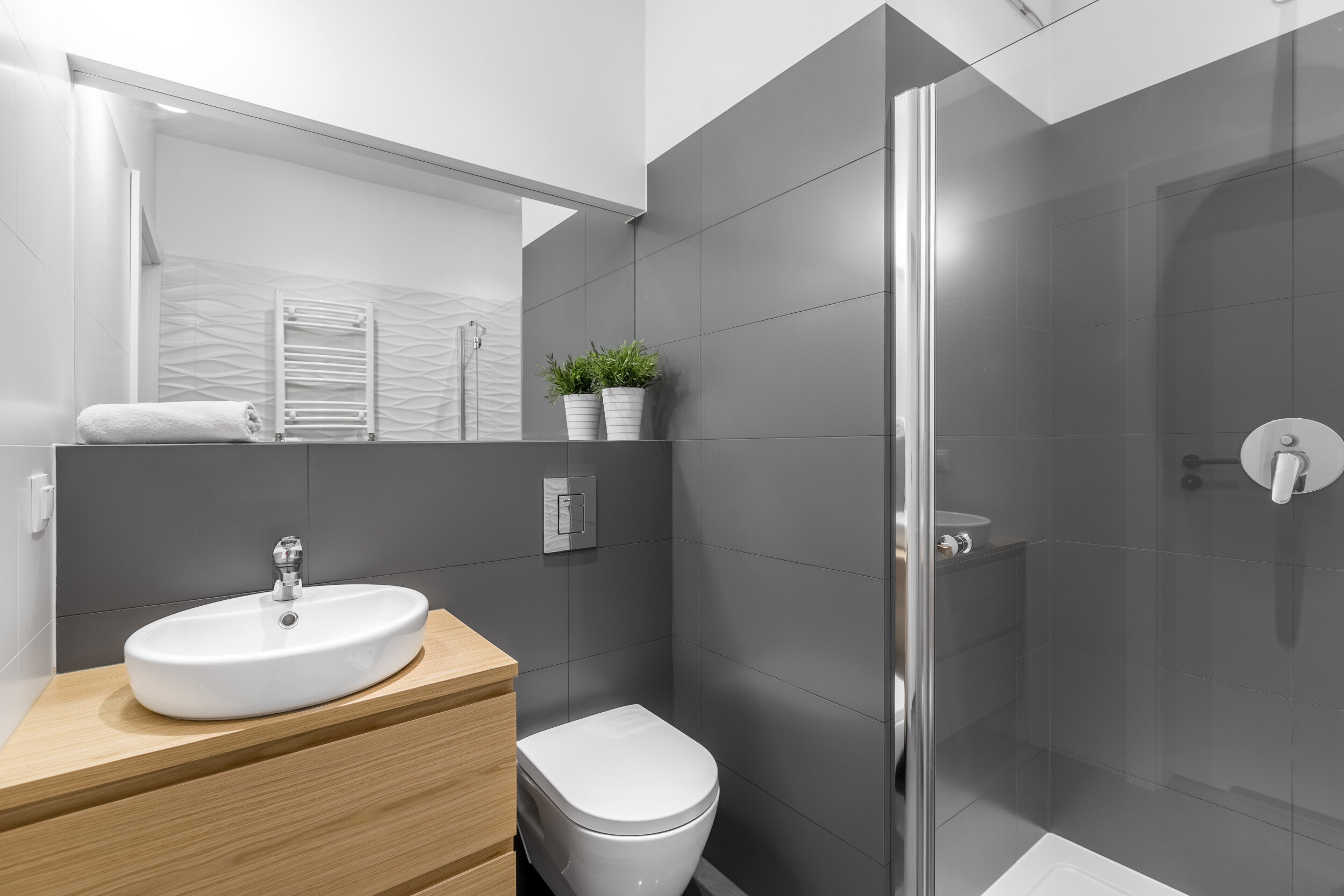 If all-white modern bathroom décor is too much for you, or white just isn't your color, how about going for gray? Light gray, medium gray, and dark gray are all in-keeping with a modern bathroom look and are just as minimalist as white is, when done well.
Pair your gray tone with a white bathroom suite for a delectable modern bathroom.
Shun Pops of Color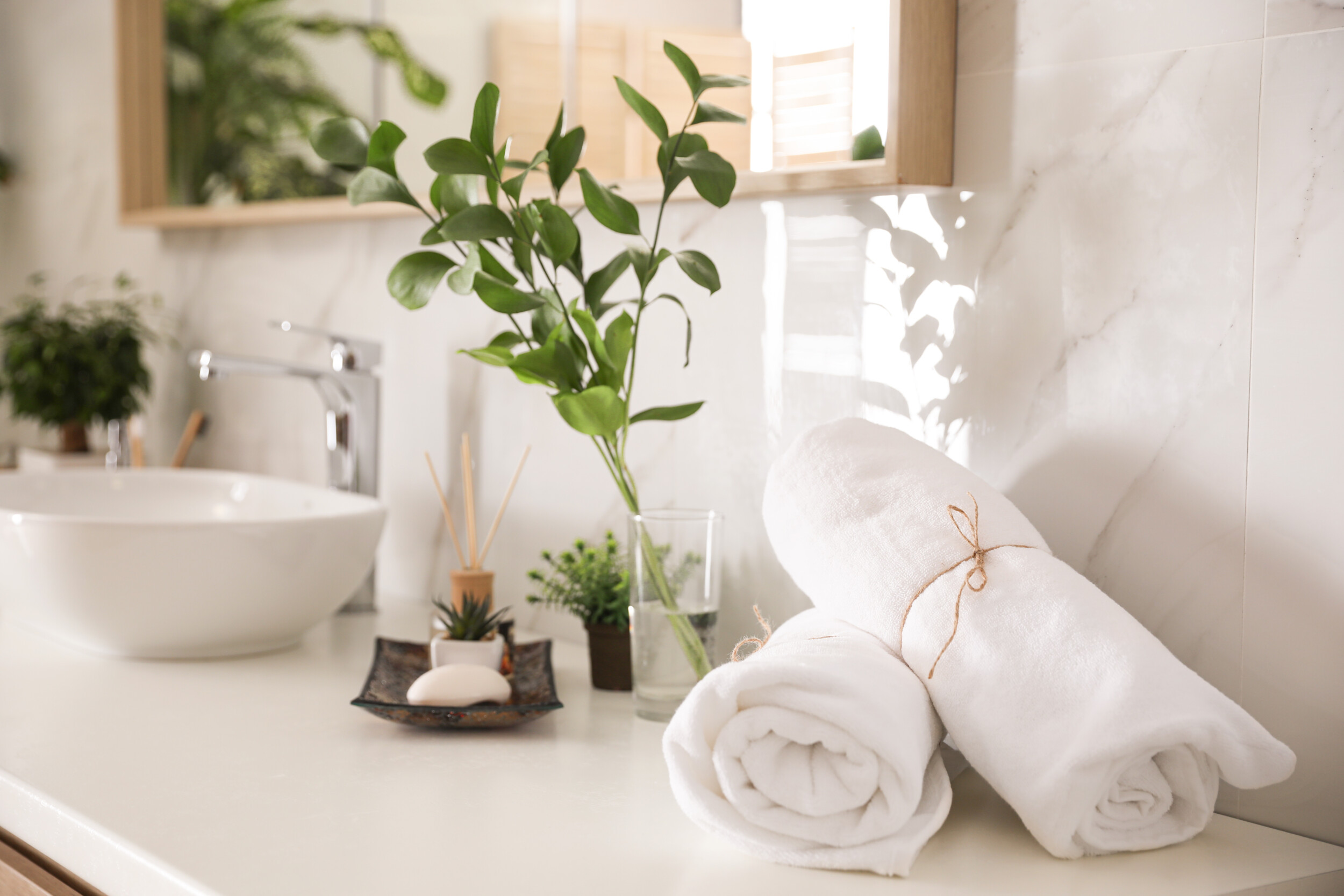 A bathroom often gets its color from brightly colored towels hanging neatly on a towel rail – and frankly, there is no need for more saturated color. Keep it cool and simple with gray, white or neutral towels.
These color pops only take away from a minimalist and relaxing space and are more likely to make your bathroom feel out of date than modern. If you already have a white bathroom, then a simple towel change is an easy way to achieve modern bathroom designs on a budget.
Freestanding Bath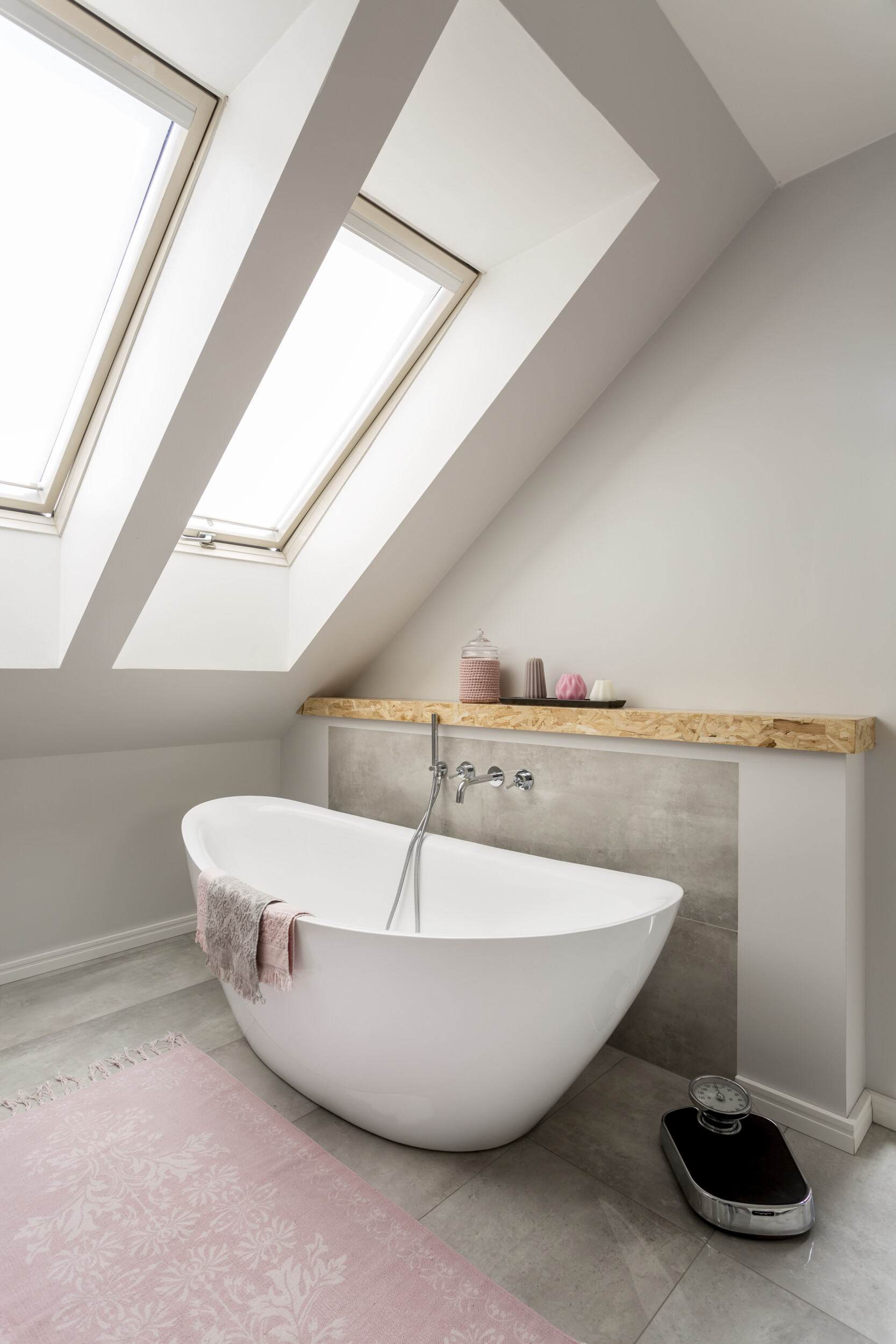 A freestanding bath is what bathroom dreams are made of. Forget traditional roll-top baths when creating a modern bathroom design; choose a freestanding bath with a modern geometric design instead.
These baths are stunning and will become the focal point of your room, but not by drawing attention to themselves because they are ornate, but because they are stunning, powerful pieces of engineering.
Introduce Plants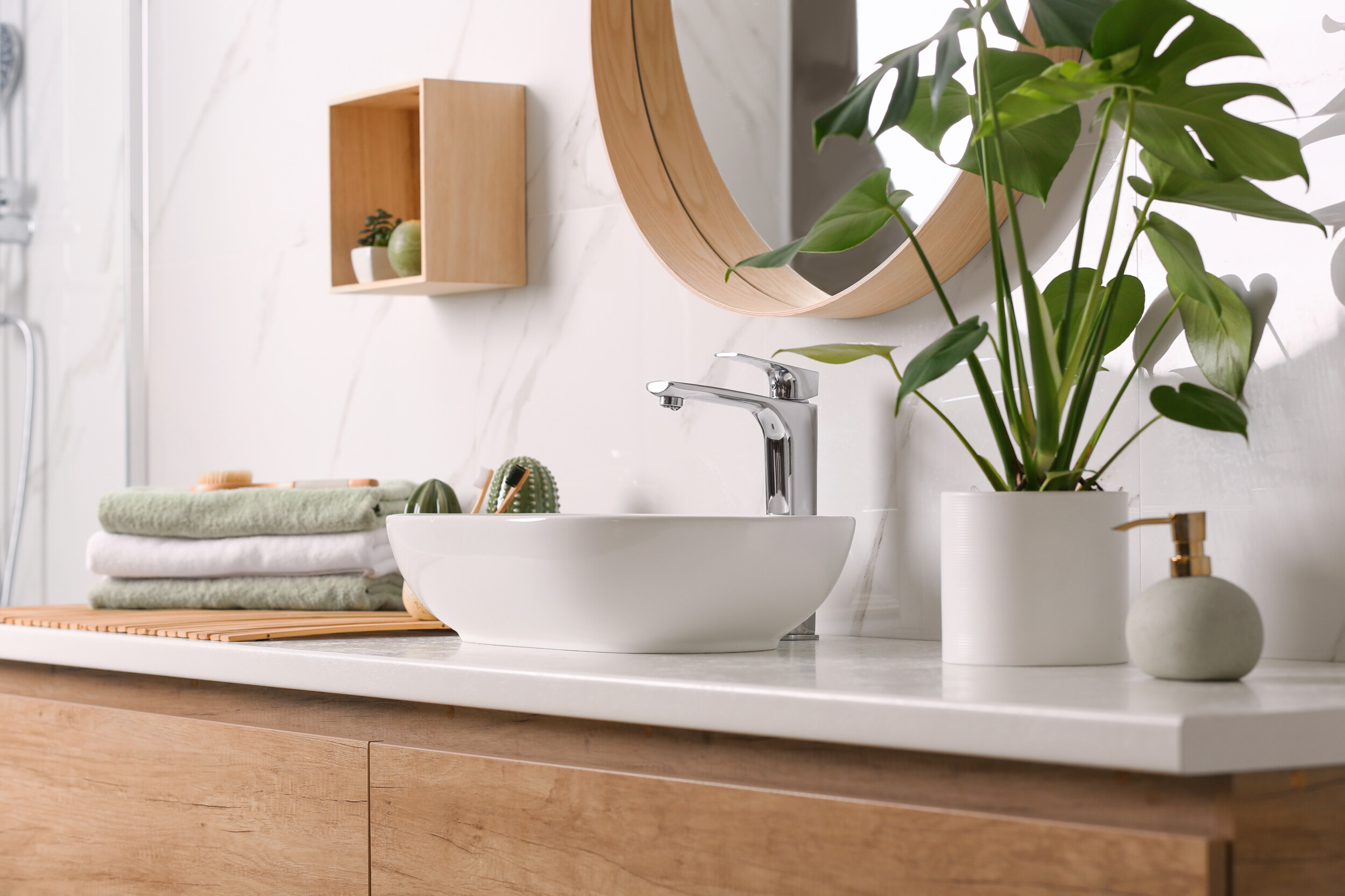 If you can't forego color completely, add some plants to your bathroom for an organic touch to modern bathroom decor. Make sure you choose plants which will thrive in a bathroom, which can be a wet, warm, and steamy bathroom, often with limited natural light (depending on the room).
Aloe Vera is a great bathroom plant option as it has low water requirements, meaning that the humidity of the bathroom might just cater for all its needs. Bamboo is also another good option for bathroom plants, as it doesn't need much natural light.
Industrial Theme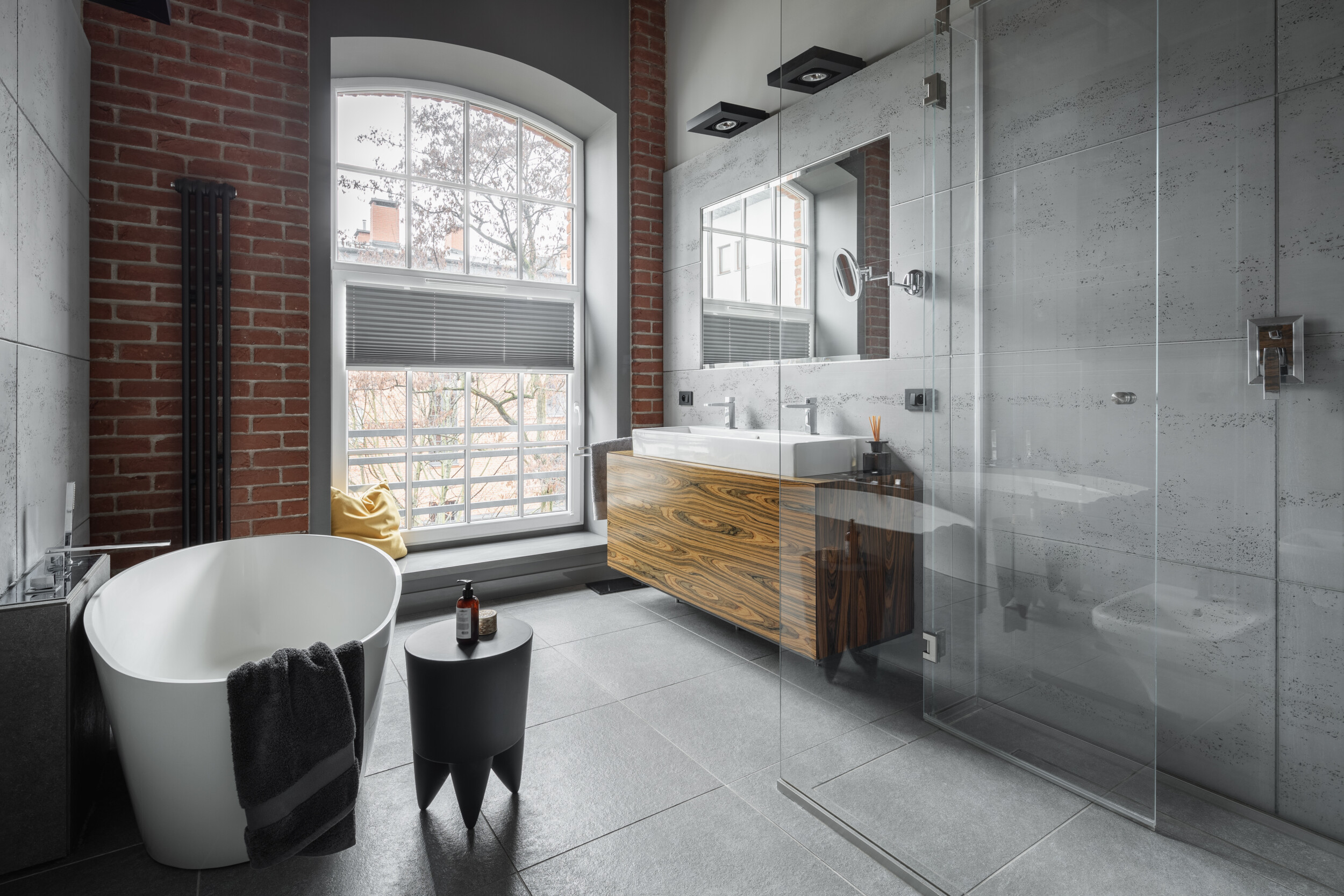 An industrial themed modern bathroom is a good way to introduce different textures while keeping the whole look modern. Use industrial materials such as concrete and wood and exposed brick to your advantage.
Industrial modern bathroom ideas will probably be a little darker than the bright white bathrooms which spring to mind when you think of modern bathrooms, but that doesn't make them any less modern or minimalist.
Natural Light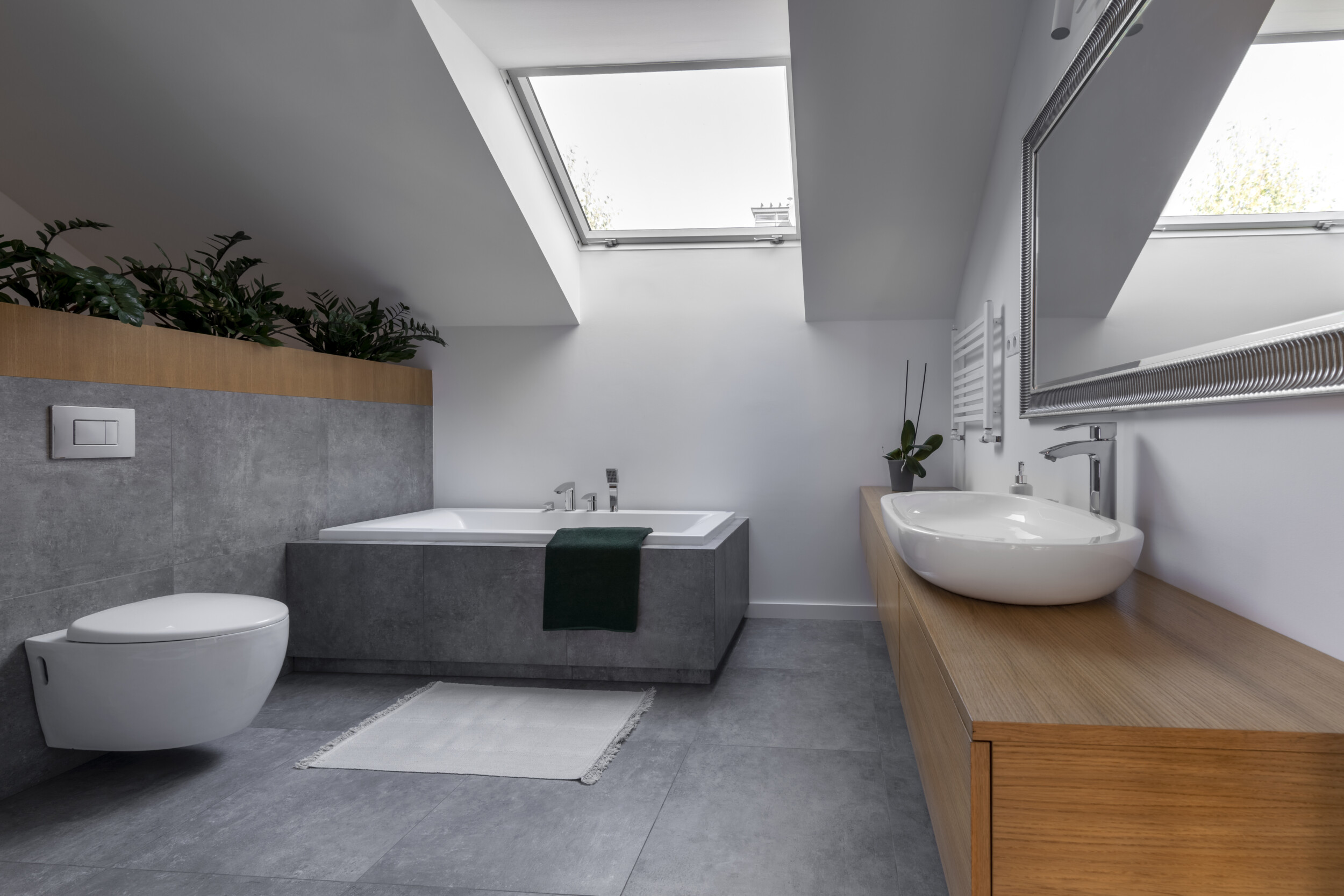 It's amazing what natural light can do for a modern bathroom design (especially a small modern bathroom) – the more of it the better. It can transform a functional space into a relaxing one and it's all the better for getting ready in. If you have a window in your bathroom, make sure you are letting in as much natural light in as possible.
Reduce the severity of your window coverings by having light, adjustable blinds, or maybe no blinds at all (but make sure the neighbors can't see in). If there isn't a way you can get natural light into your bathroom, choose lighting that mimics natural light as closely as possible.
Subway Tiles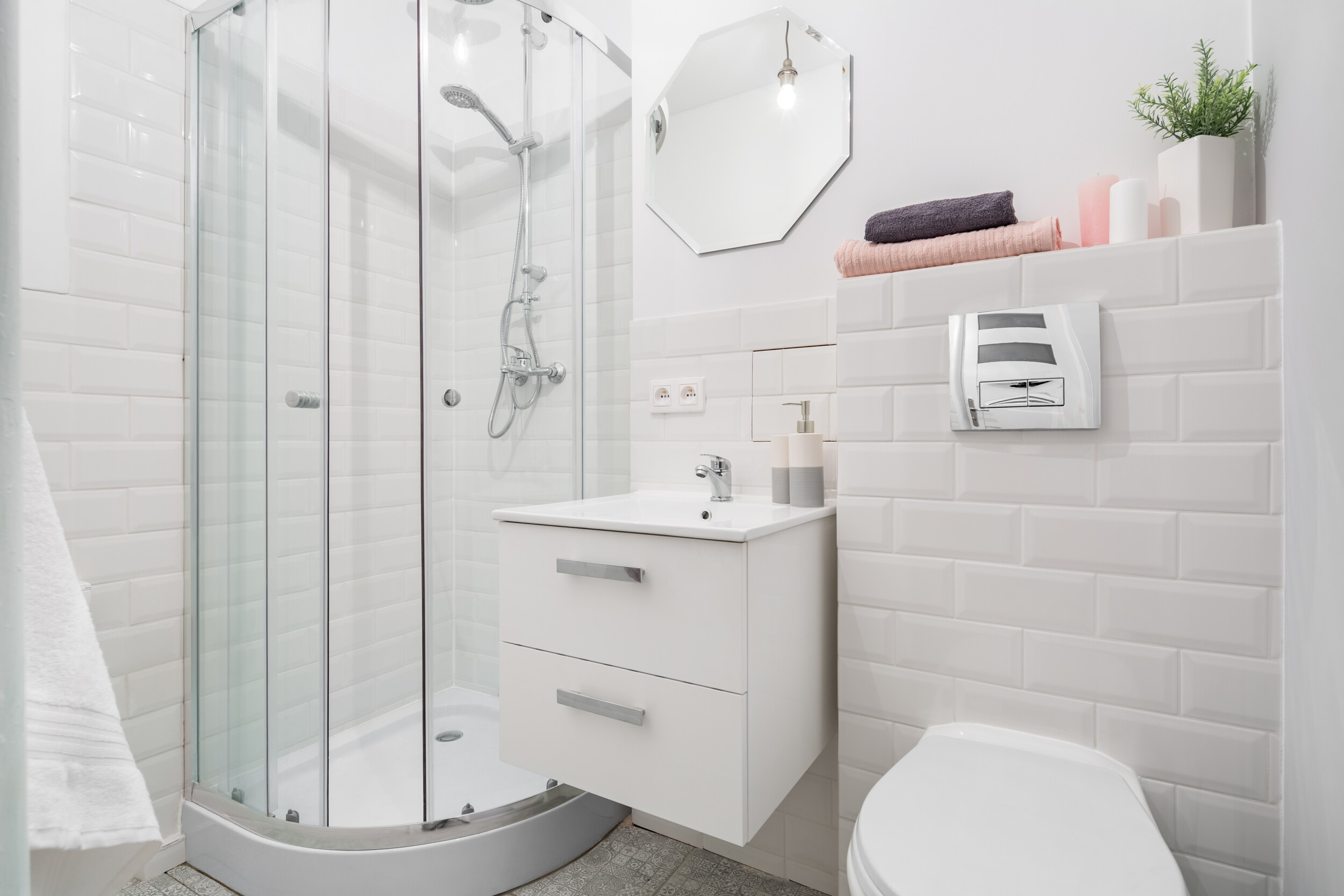 Subway tiles are all the rage at the moment and it looks like they are going to stick around for a bit (modern bathroom design in 2019 continues to feature these timeless tiles). For a bright and clean look, grout white tiles with white grout, and for something a little more industrial, grout white tiles with dark grout instead, to really embrace the subway feel.
These tiles are a little more interesting than larger white tiles and they will keep your modern bathroom right on trend.
Mirrors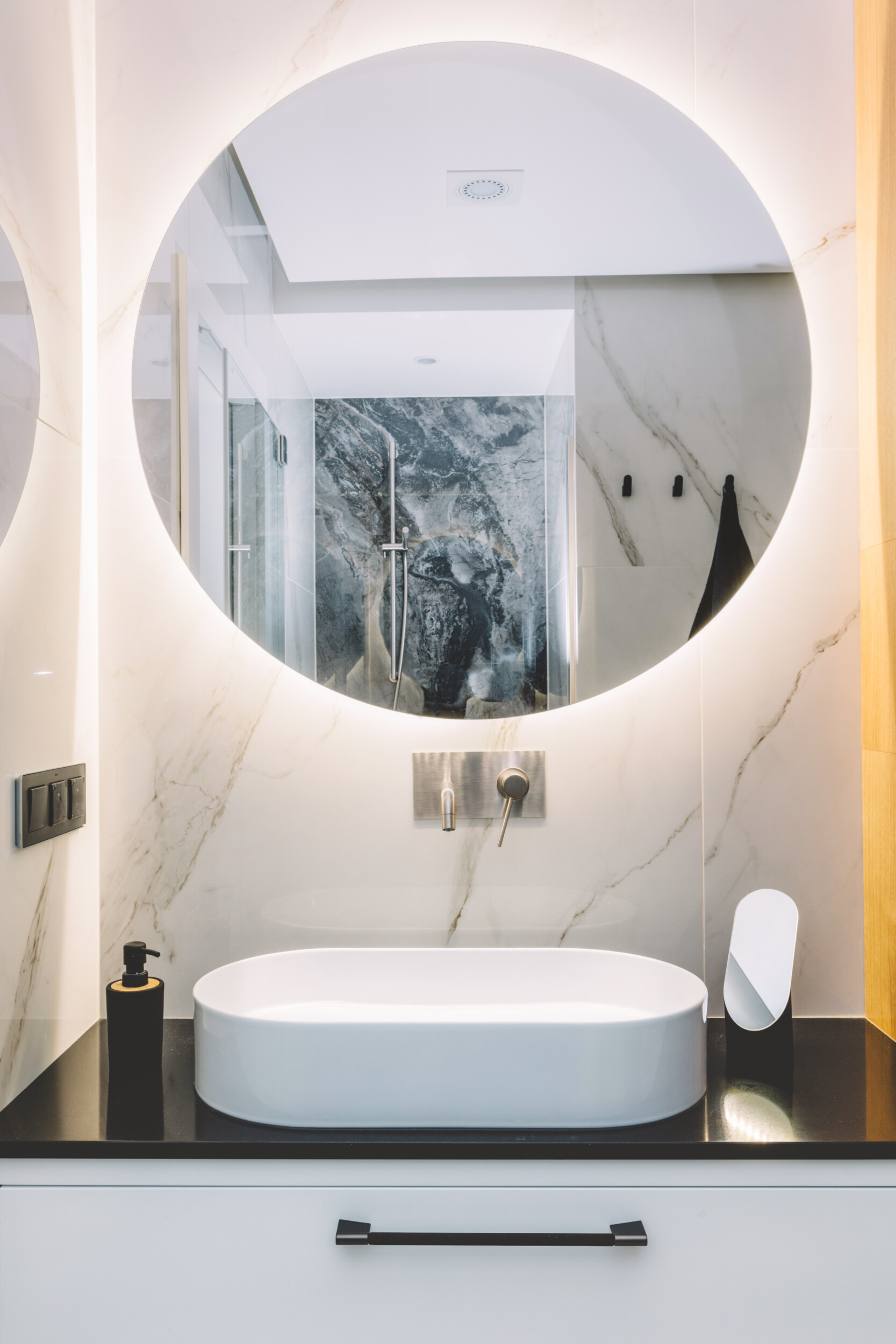 Reflect, reflect, reflect. Mirrors reflect natural light around your bathroom, help your bathroom feel larger than it is (great in a small modern bathroom), and give you the perfect space to attend to that beauty regime.
Choose large mirrors in geometric shapes and don't feel you need to limit yourself to one mirror in your bathroom, how about two or three instead? The geometric shape will be in-keeping with the simple and modern vibes, and still do what mirrors do best; reflect.
Ladder Shelving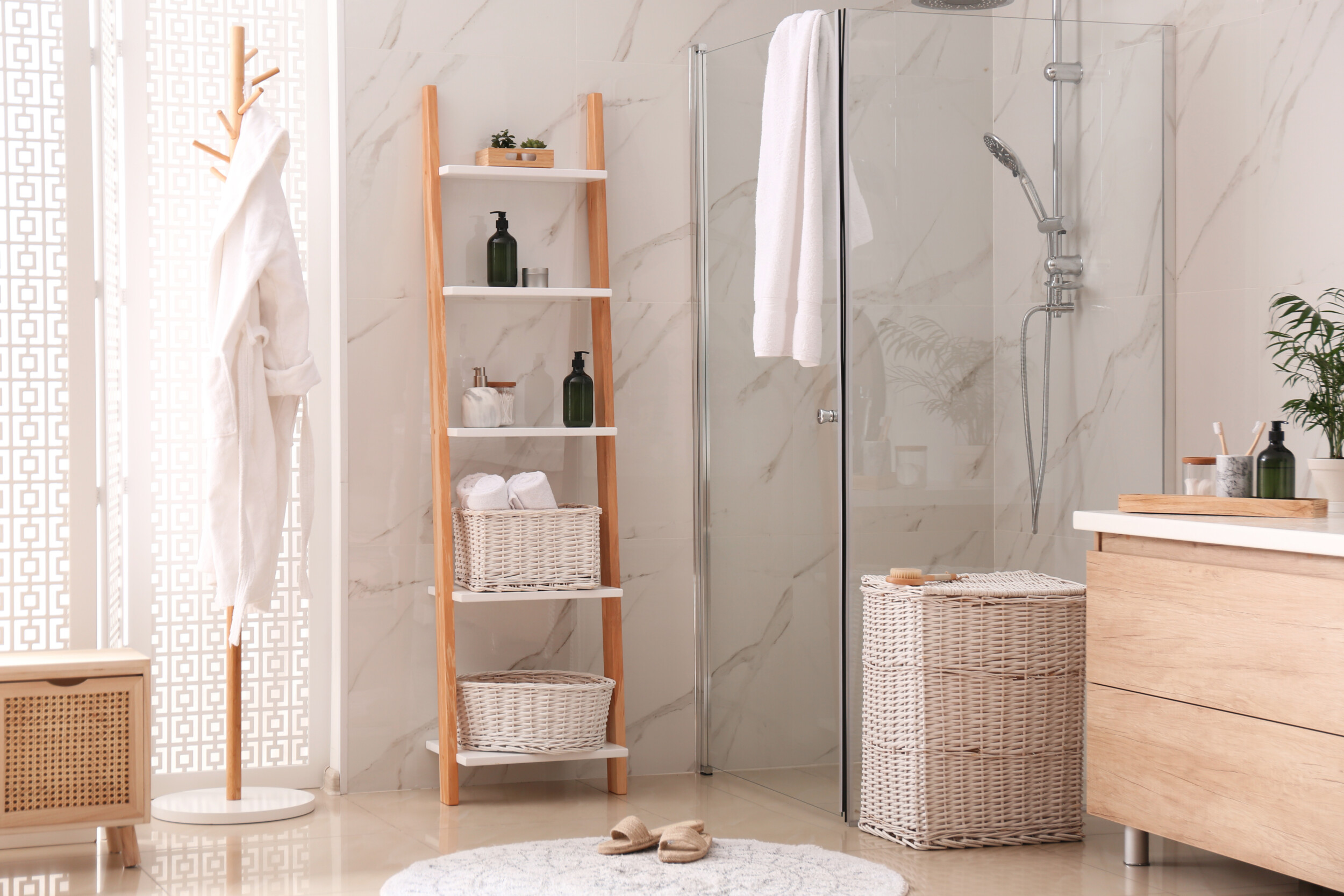 Ladder shelving is a cute and simple way of displaying the accessories in your bathroom that you want people to see; whether this is a set of towels, select toiletries or some plant life, ladder shelving is minimal to its core.
You don't want to clutter ladder shelving as it loses its impact; only display the bare necessities. We've seen these a lot in modern bathroom ideas of 2018 and they are so essential.
Pebble Floors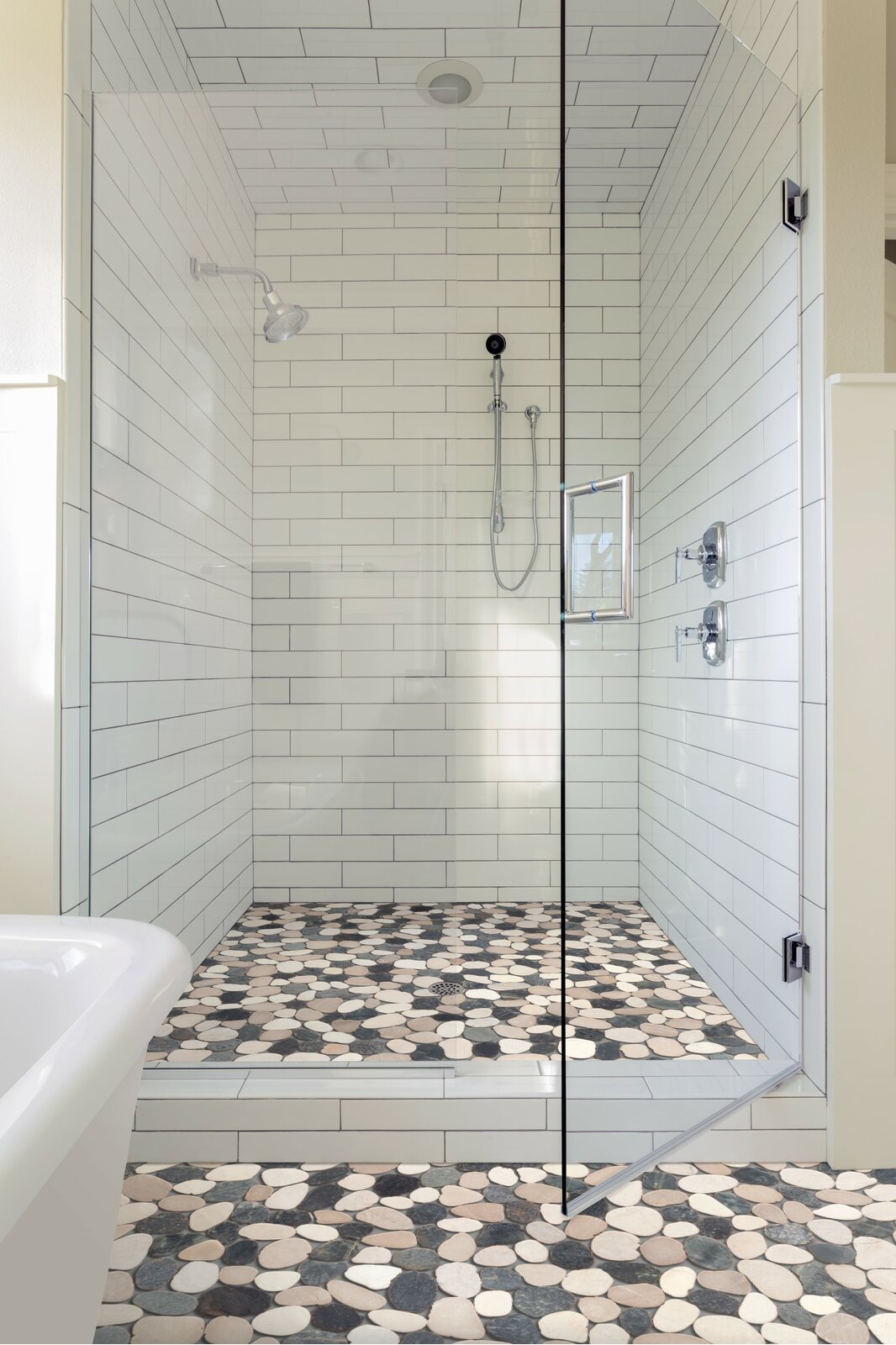 A pebble floor will add much-needed texture to a minimalist bathroom. It's also a good way of introducing a different neutral tone, without having to paint a wall a bold color. This will look stunning against white, grey or neutral walls and will make a feature out of a normally forgotten area – the floor.
You can choose different color pebbles so the color is in-keeping with the rest of the design, so whatever color scheme you have chosen, the perfect pebble flooring it out there for you.