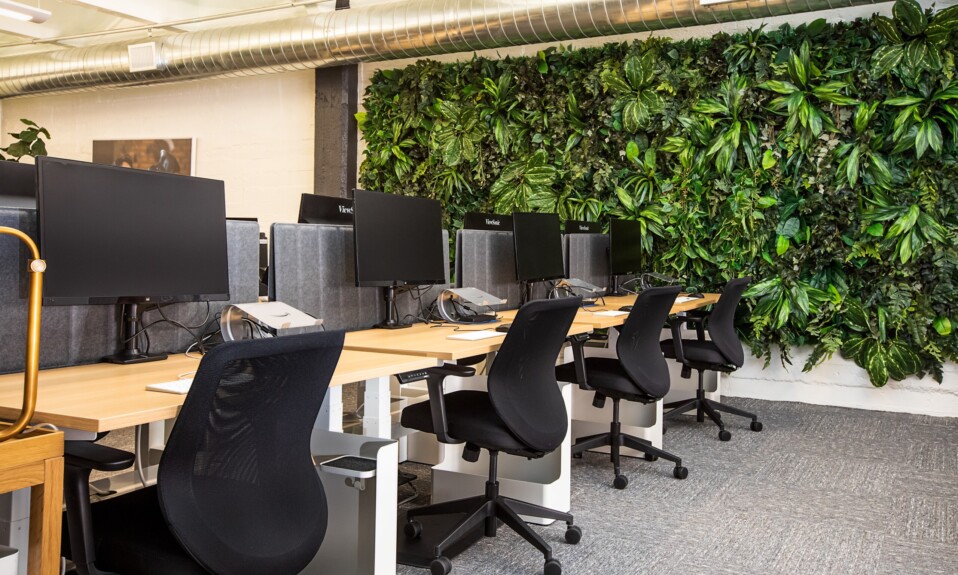 When you think about it, there's nothing less inspiring to productivity than a generic office design, or even worse, an outdated, unkempt, and cluttered office design that's an unorganized mess throughout the day. And with office design trends becoming more and more important to the spirit of a business, it only makes all the more sense to update and elevate your workspace in hopes to deliver a comforting and energetic atmosphere. Now, more than ever before, the value of beautiful and beneficial office design is an essential part of turning every business effort into a success. That said, even our own team of interior designers were quick to point out that office decor has even become a part of the decision-making process when future employees are considering whether or not to accept a job offer, and with office hours no longer being your traditional 9 to 5, it's hardly surprising.
Along with lifestyle, employee wellness is going to become even more of a focus when it comes to modern office design trends for 2019 and beyond, along with creativity-boosting office decor ideas and building an environment designed to breed success. If you want to be ahead of the curve with your workplace interior design and create the best beneficial space for the people you have around you, you're certain to discover key inspiration from these on-trend office designs for 2019 and beyond.
COMFORTING OFFICE DECOR IDEAS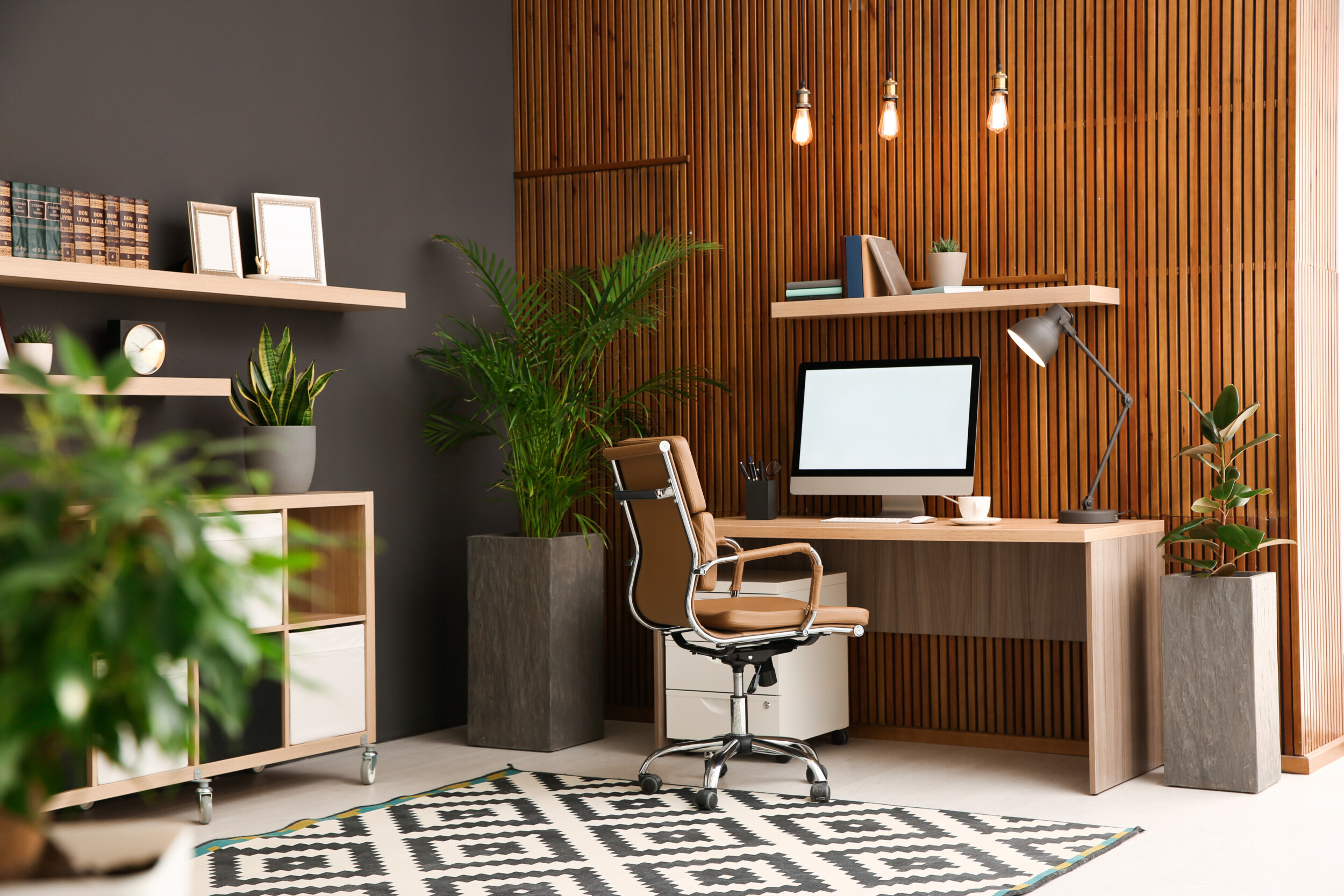 Creating a home away from home is featuring heavily in office design trends at the moment; with more and more time being spent in the office, creating inviting, comfortable, and relaxing spaces is key. Creating areas which evoke the feel of a thoughtfully designed living room at one's home is becoming a popular route to achieve such a comforting feel.
Think a plush and relaxing coffee area with low lying coffee tables, plants, comfortable sofas, throw cushions, and soft lighting. Making more intimate spaces like this a feature in your office design will make all the difference, whether people choose to relax here or use the space for an informal meeting.
NATURE TO NURTURE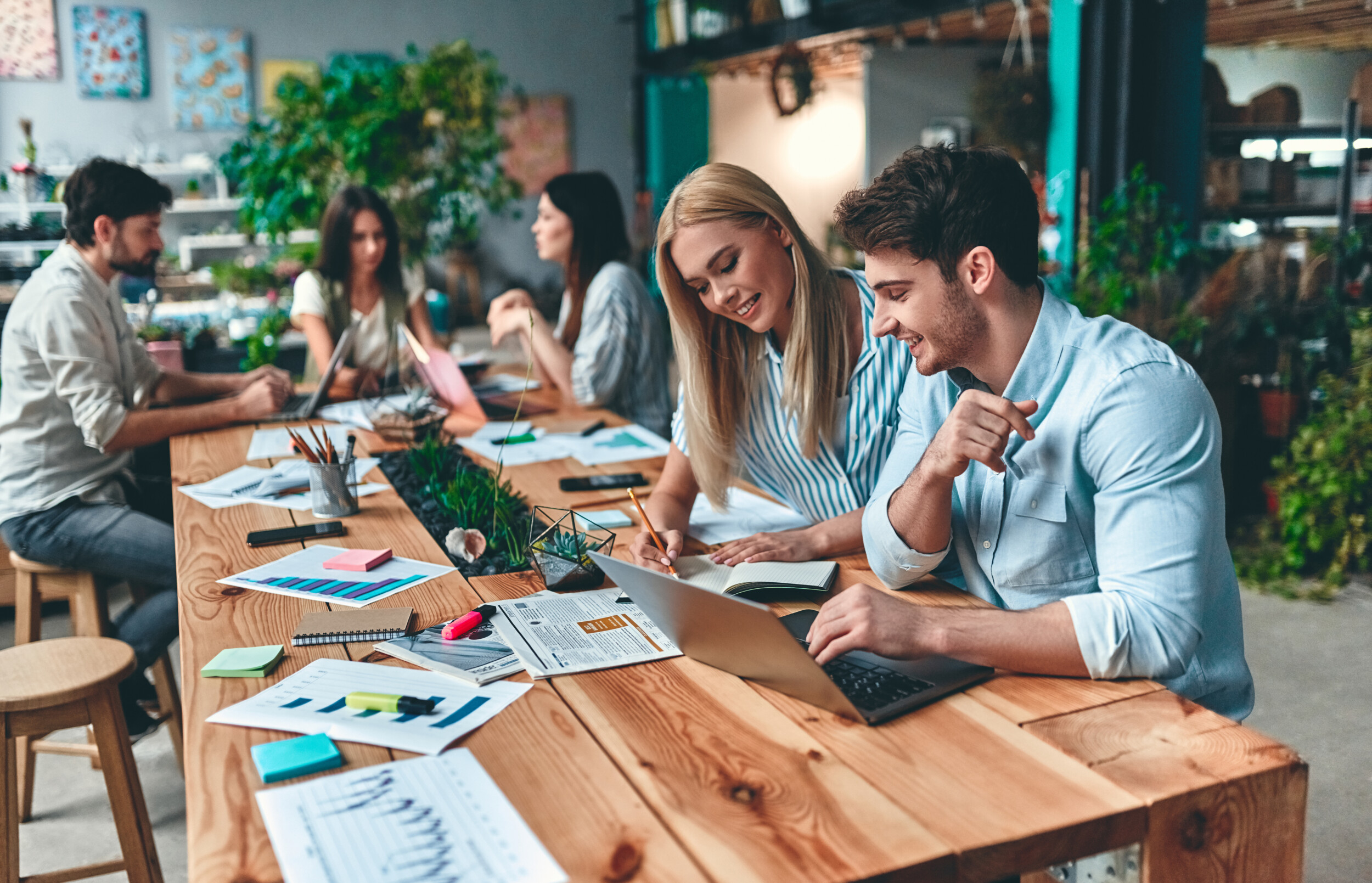 Modern office decor ideas are taking full advantage of natural elements and organic vibes, whether that is through natural materials, plants or simply inspiration taken from the great outdoors. Color schemes are heavily featuring browns, oranges, greens, and lighter neutral tones, emanating the feeling of a comforting and familiar woodland.
Materials like stone, dark wood, and natural fibers are being used for furniture and soft furnishings that deploy simple yet thoughtfully designed silhouettes. Add some genuine or faux fur and leather for a plush and luxurious statement to evoke a warm and handsome autumnal feel. And do add plenty of plants throughout about to keep the air clean in your office space while adding some vibrant life and energy.
AMPLE STORAGE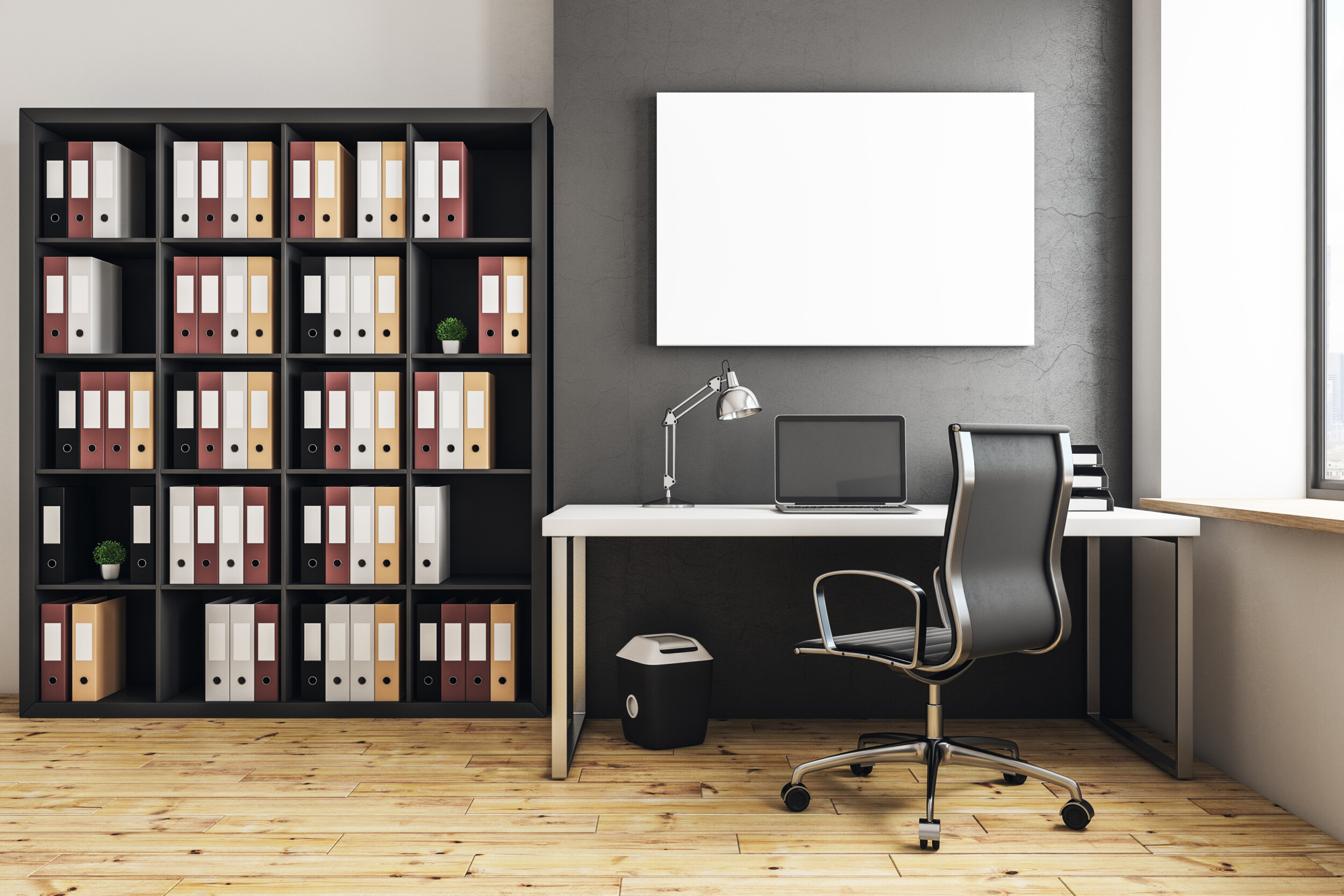 When it comes to office design trends and refurbishing the space to not only look better but to also be better to work in, bring in as much concealed storage units as you can to create a sleek and minimal workspace that boasts easy to retrieve document holders and the ilk.
Keep your work office decor minimal in styling to let the main ingredients of your day take center stage like the tidy workspace featured above. Only taking up about 10ft of wall space, the built-in unit above should work as clever inspiration for small office ideas as it hardly takes up any visual space while color, life, and the necessities shine through on straightforward shelving and a must-have bulletin wall.
PLANTS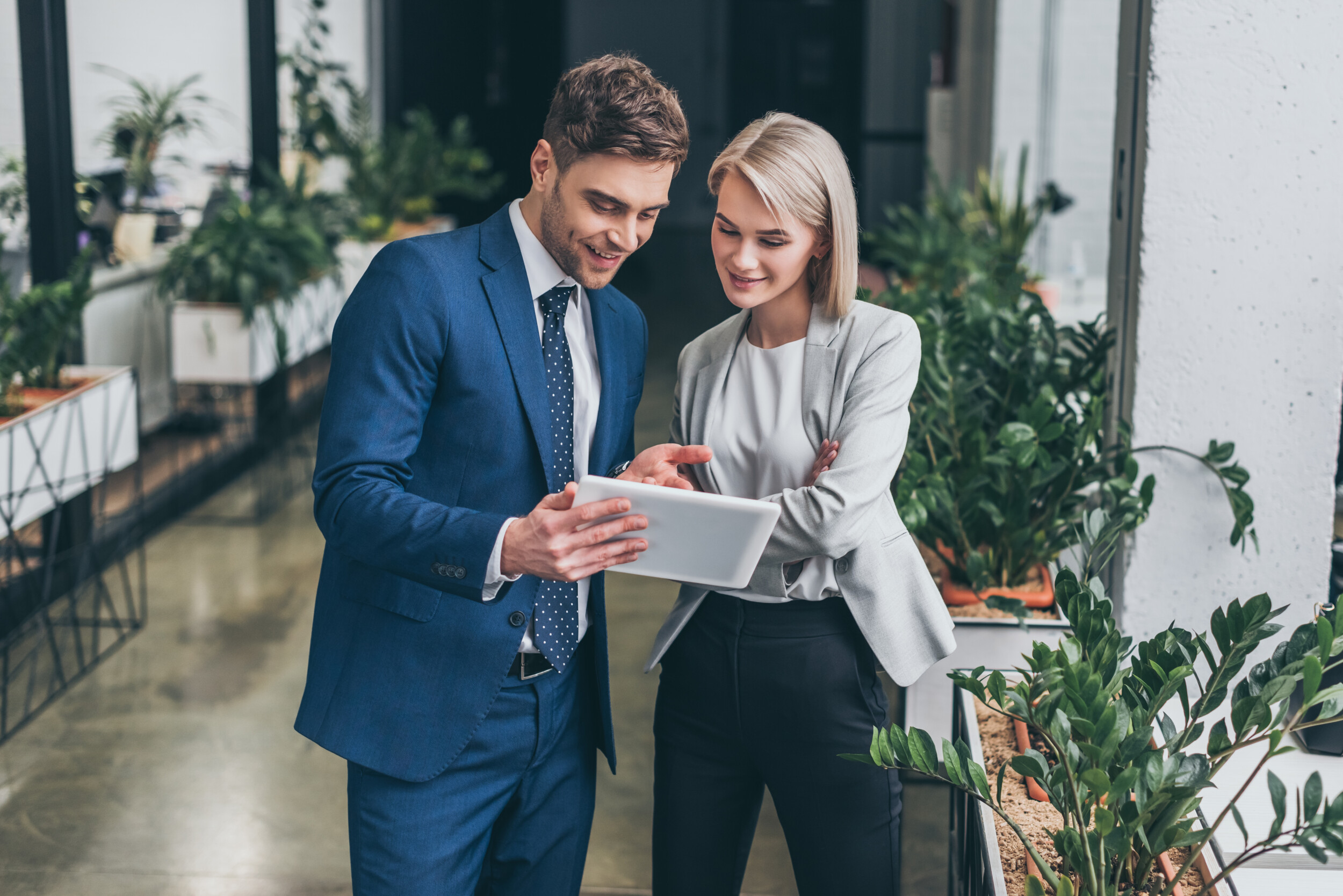 There are plenty of benefits to having plants as part of your office decor; studies have shown that they can help reduce stress levels in any space and effectively increase productivity. If that wasn't enough to get you interested into introducing plants and vibrant blooms into your office design, how about the fact that they help you achieve an affordably visually-enhanced office design, leading to happier and healthier employees?
Many plants can also work to effectively clean the air of pollutants and help increase air quality, as well as helping to regulate humidity levels and odors inside. A mix of mismatched plants and succulents will brighten up your office decor and make for a happier and healthier office space all around. And if you'd really like to make a statement with a nod to sustainability, living walls make for an architecturally savvy approach to incorporate as much plant life as possible, without taking up valuable square footage.
LAYERED TEXTURES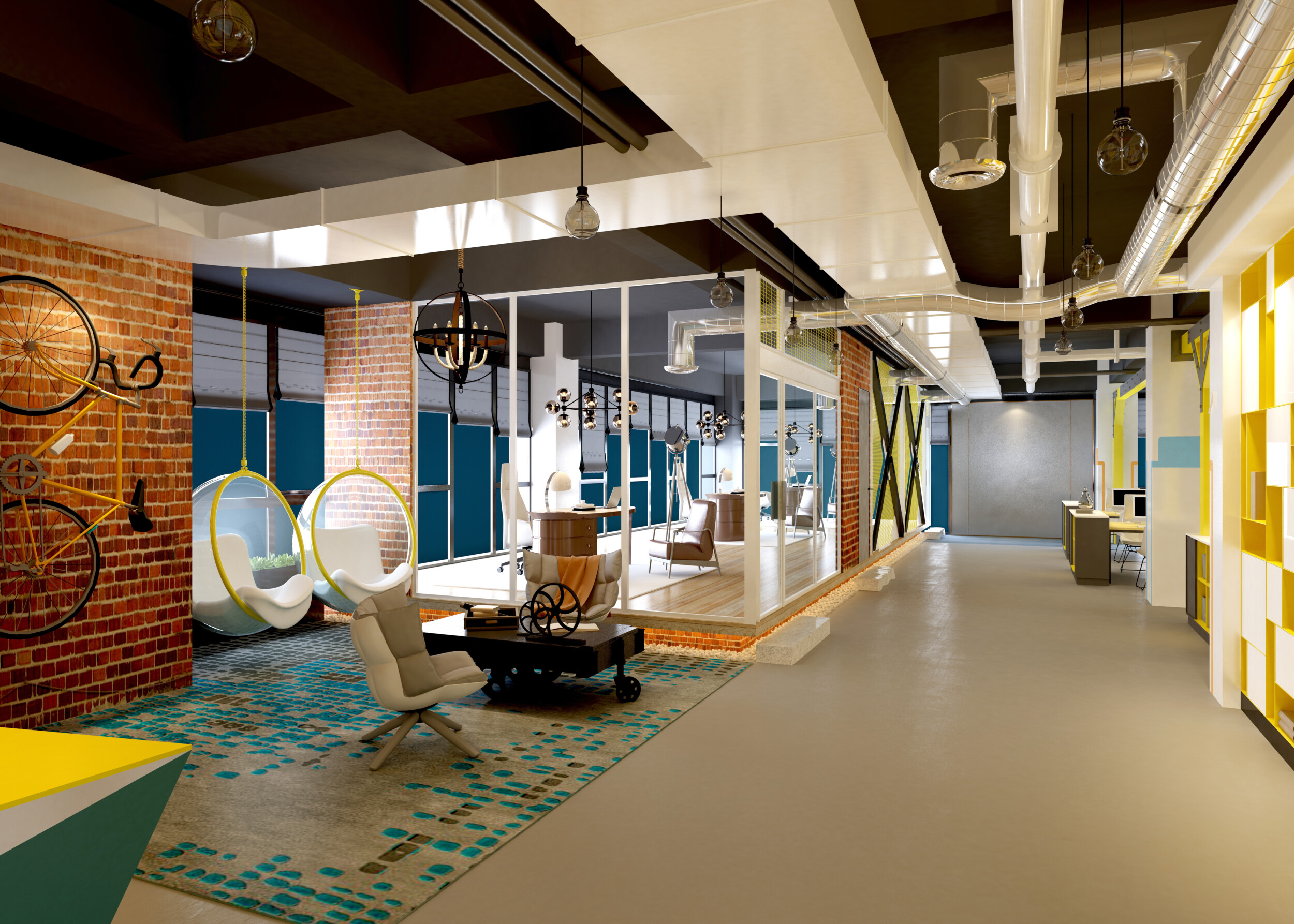 Cold and spare office designs will always evoke a lifeless energy, while layers and layers of texture and color feel right at the moment, and bring with them mood-enhancing elements. Office decor is no longer about cool minimalism as we are seeing plenty of textures being introduced to make any office space much more inviting. Introduce layers of texture via rugs, soft furnishings, juxtaposed prints and patterns, and an array of transitional furnishings help to add depth to an office design and create interesting focal points that these spaces often unfortunately lack.
Try layering different textured throws and cushions, from leather to sheepskin to a sturdy wool-blend or accompany a warm neutral sofa with a metal and stone side table in your reception area to really make it pop. Choose opulent, vivacious colors and finishes and select different tones and shades to make your space all the more inviting.
REPURPOSE AND RECYCLE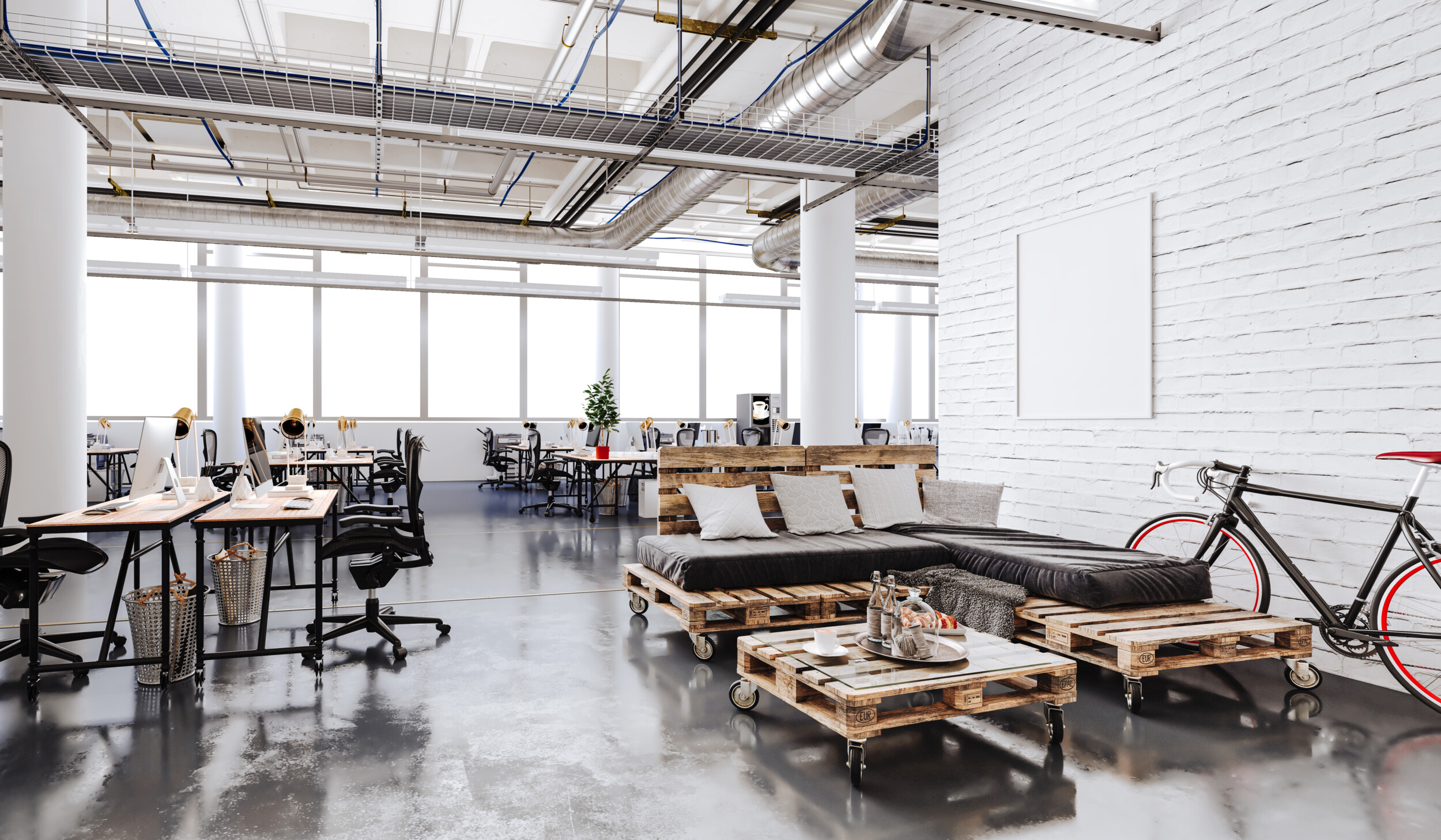 The use of recycled materials and the repurposing of previous furnishings and accessories is featuring heavily in 2019 interior design trends, so it only makes sense that it's popping up in office design ideas as well, and for good reason. Being environmentally conscious about your office design not only helps you create a special and one-of-a-kind office space, but it also helps lessen your impact on the environment too.
There are so many clever office design ideas out there for making the best use out of recycled materials, from reclaimed wood furniture to wall coverings made from recycled materials to upcycling the old office furniture you were thinking about getting rid of. If you are environmentally conscious in your office, allow that to influence your work office decor. To do this without coming off as heavy-handed or too crafty, keep the look minimal and practical without being too creative as you want your workspace to come off as well-judged and professional.
STRIKING COLORS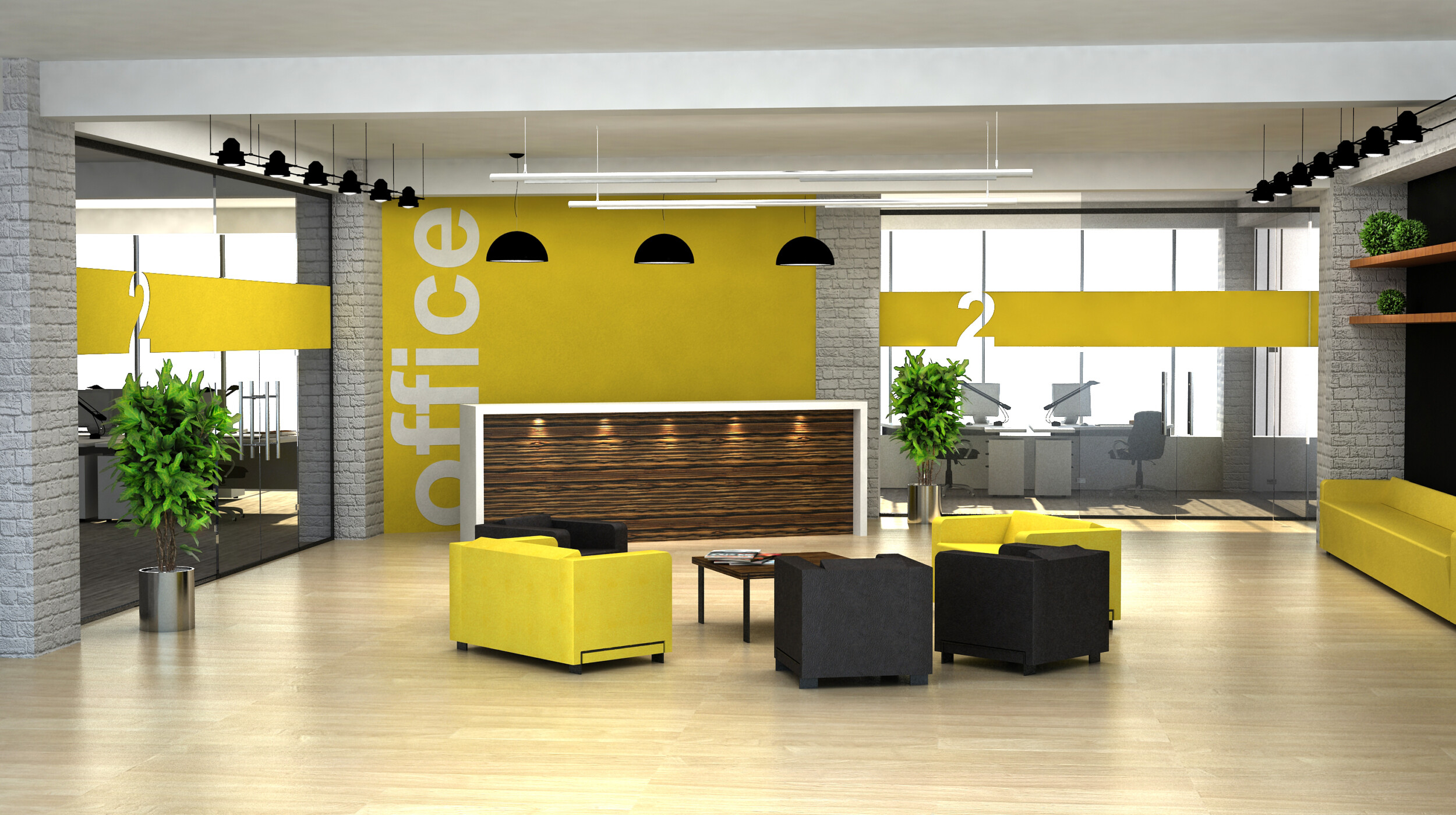 Forget tonal offices where the entire space is devoted to only one or a handful of neutral colors. Single color office decor ideas are thoroughly dated and uninspiring, to say the least. Instead, introduce striking color palettes and mesmerizing patterns to take their place. Cold and austere, all neutral office decor color schemes do nothing for comfort or creativity levels, so embrace bold colors in your office decor so it doesn't come off as seriously clinical.
Many of the colors we are seeing trend when it comes to a home's interior design make for great alternatives when considering office design trends as well. Especially if you are on the hunt for ideas on how to design a productive office space. Think jewel tones; deep greens, blues, and purples, as well as autumnal shades like orange, burgundy, and browns for a touch of low-key everyday glamor. Use colors with plenty of depth to them and don't be afraid to go big – from paint colors to rugs, your office decor should invite curiosity and spark interest instantly.
MARVELOUS METALS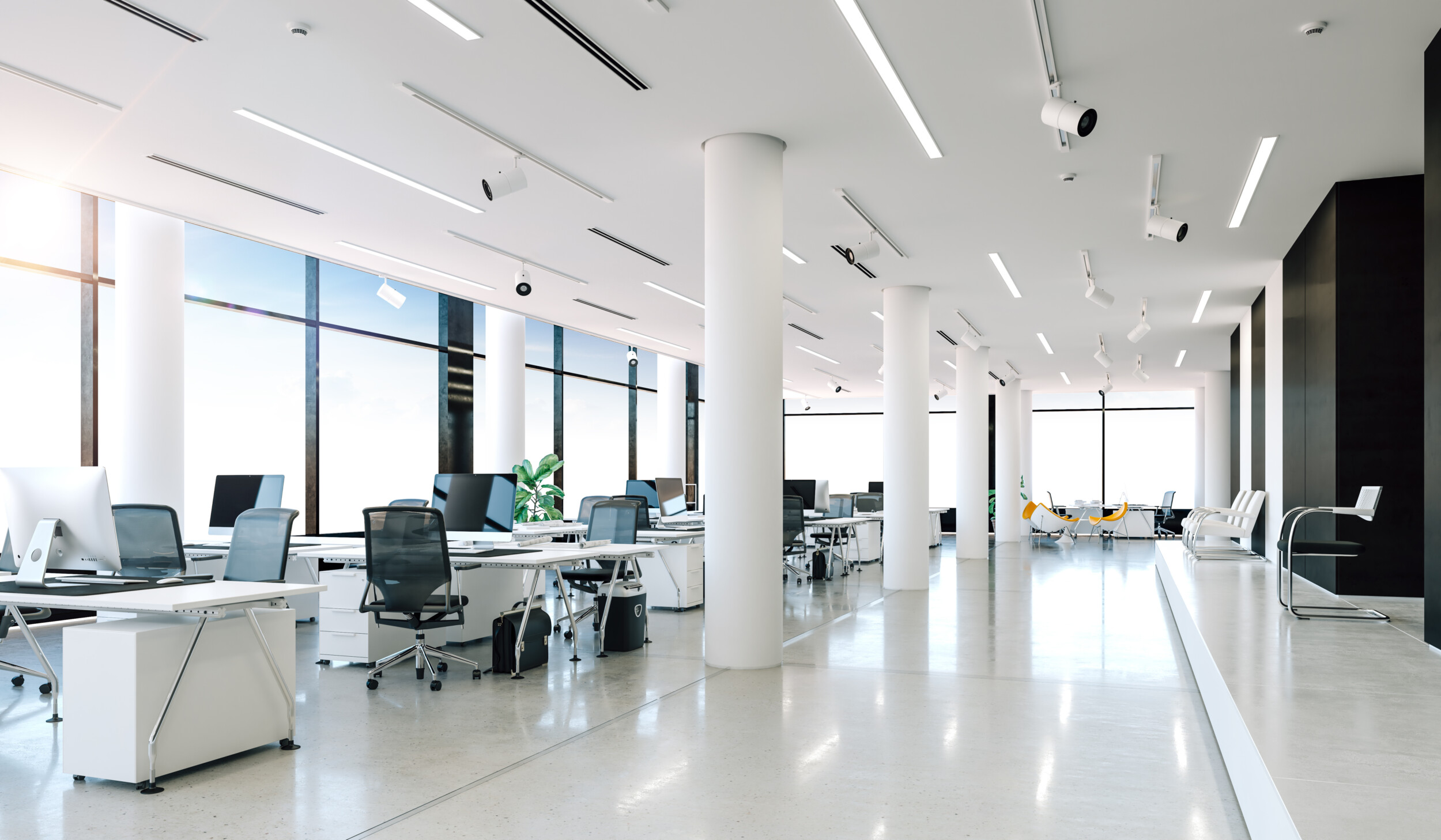 We aren't suggesting you plate your office in gold but allowing high-shine metallic influences and matte metal surfaces and furnishings to revive your office design will do it a world of good. Metallics are featuring heavily in the best office design trends 2019 for boosting both creativity and productivity – from wall coverings with an added bit of metallic shimmer, to framed wall art in metallic shades, they'll also work to reflect light and make the space appear larger – just like mirrors and reflective surfaces do with ease.
Gold, bronze, and silver tones work well for scattered furnishings and as metal legs on coffee tables, side tables, and seating to add some everyday elegance to your work office decor. Metallics are also great for small office ideas, as you don't have as much space to play with and need to create an enviable wow-factor in a different way. That said, all white office desks and workspaces will keep the area looking larger, cleaner, more modern, and best of all, timeless.
OLD VS NEW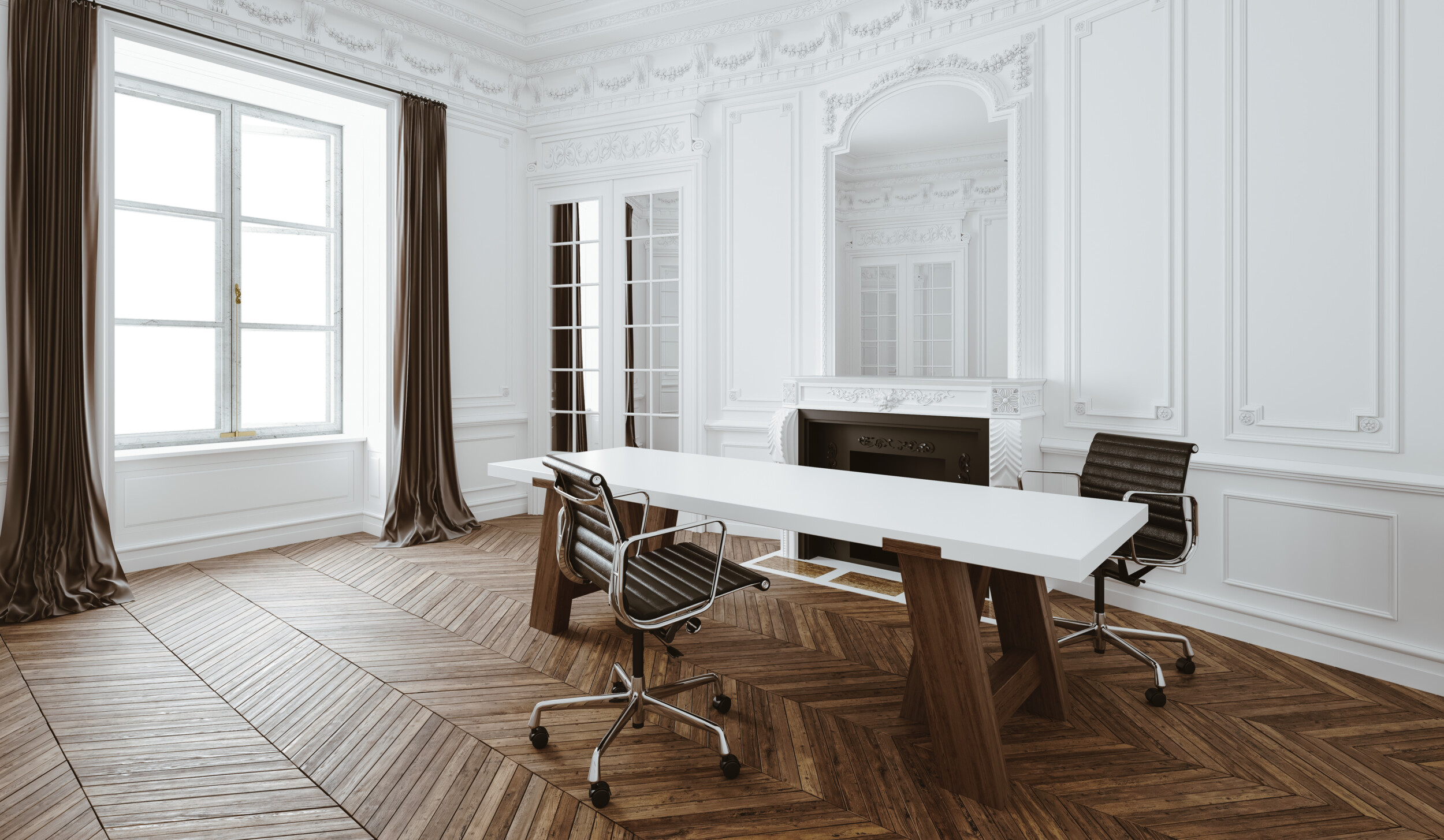 One of our favorite office design trends of 2019 is the return of juxtaposing both vintage and new furnishings for a totally unique, layered, and well-judged look. If you have older office furniture that's timeless in appeal, embrace them, while keeping your vision open-minded so you can incorporate some modern additions to create a stark contrast that will keep the eye moving. On the flip side of that, if your office space is architecturally modern and up to date, bring in some vintage and antique items and accessories to add depth and much-needed character throughout the space.
Ultra-modern glass buildings can be softened with brass, bronze, and gold influences, along with comfortable leather sofas with an aged look, and ethnic-inspired prints and patterns to really make it feel alive. An older office space can be brought into the 21st century with high-tech pod seating and living walls. Contrast makes for a creative and interesting space, so don't shy away from marrying both the old and new together for the ultimate office design trend.
GEOMETRIC PATTERNS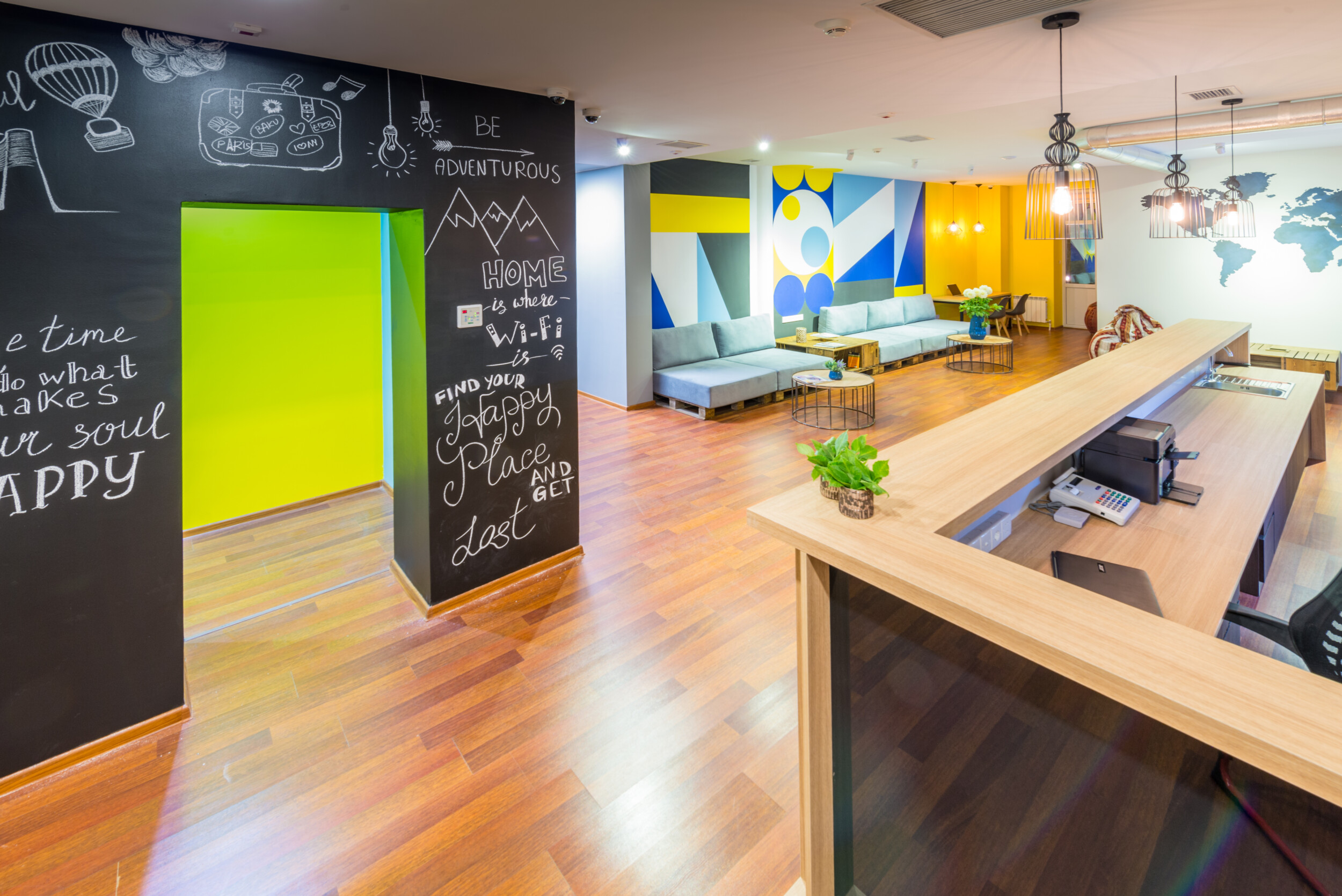 When it comes to the most modern of office design trends 2019, geometric patterns were all the rage at the latest interior design shows as they beautifully aid in the creation of an interesting space while banishing plain walls all at once with a more intriguing graphic set of print commands. One of our favorite uses for geometric pattern in an office design is by using it on glass room dividers.
Ditch the dull fabricated partitions you are used to seeing and open up your office decor with a geometric pattern across glass panels (ideas like this help create depth and interest in your office design). How about geometric planters in the coffee area or geometric side tables in the reception to keep the look consistent and not distracting? Glass partitions also work well in not only defining your office design, but they also help make it appear larger, don't block needed daylight, and they are thoroughly modern while making the entire office space appear more up to date, unique, and best of all, luxurious.
GO SLIM AND SLEEK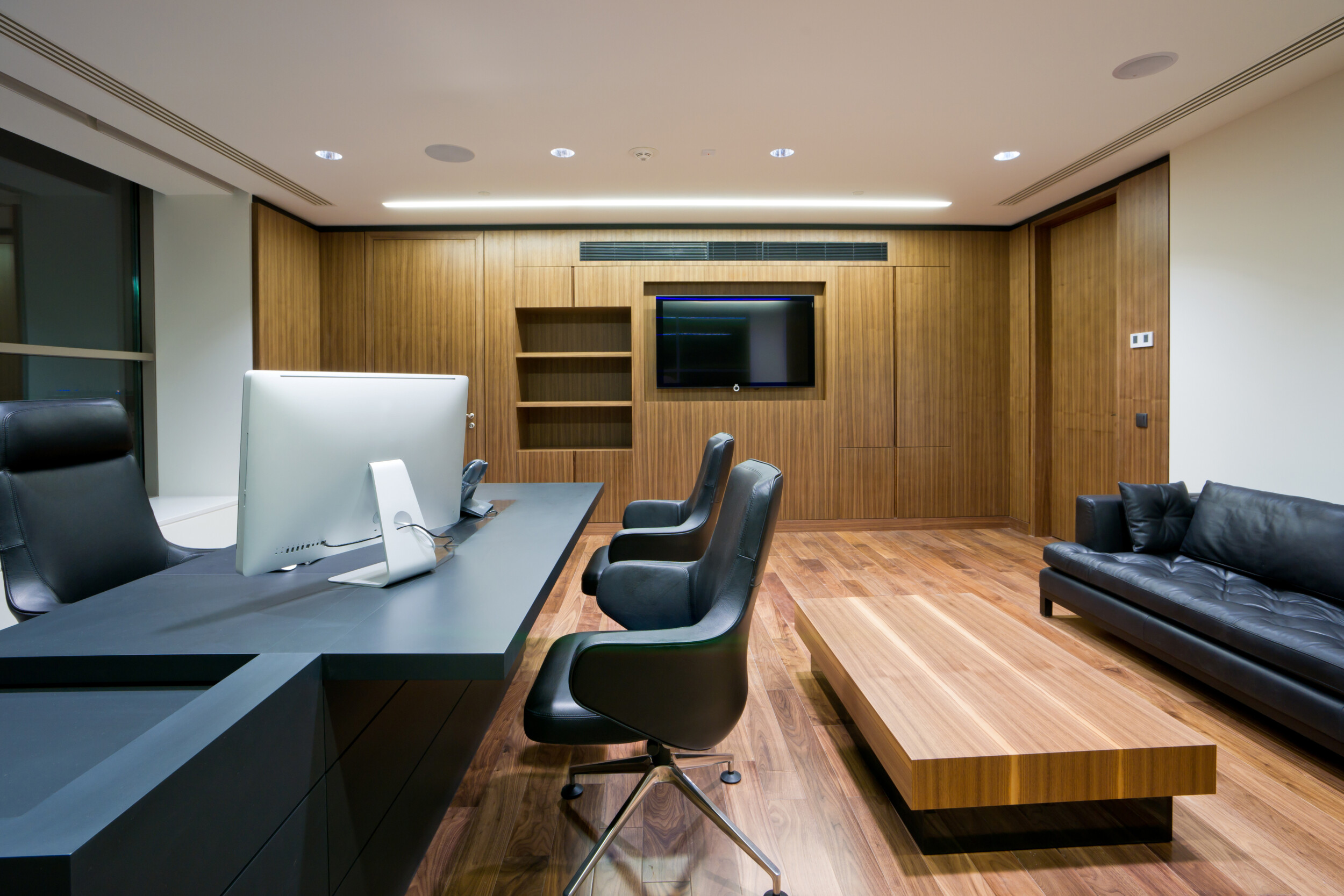 By opting to go for an almost barely there office design concept, you'll ensure that your office space is timeless and completely free of any kind of clutter or distractions. Plus it will give you much more floor space especially if your are looking to make the best use out of a combined artist's studio and workspace or need expansive space for future meetings around a large conference table.
As when it comes to brilliant office design trends, sometimes the most subtle styling cues can make a much larger statement than you ever would have thought when they boast smart office design ideas, look entirely unique, and boast clever storage solutions like no one has ever seen. Take the office ideas featured above, sure the space is endlessly inspiring with its oversized angular glass wall and ultra-cool built-in workspace, but without careful consideration and an eye for genius design solutions, the room could have gone an entirely uninspiring design direction.