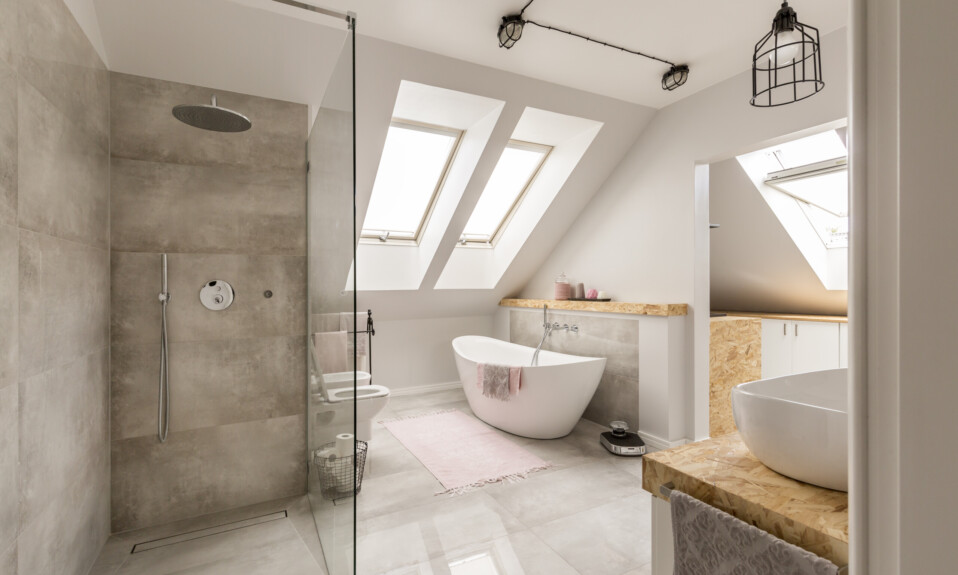 If you're considering a bathroom remodel, it's essential that you survey the best shower ideas that will benefit you and your space with practicality, comfort, and great style. And when it comes to space saving options, a walk-in shower is a great option. Its lack of obstruction provides for a seamless transition from your shower area to the rest of the areas in your bathroom while keeping it airy unlike a closed off shower stall.
Plus, a walk-in shower is also safer and is highly recommended for those who have small kids as well as older people at home. To help you home in on which shower ideas can work best for you, we turned to Décor Aid renovation experts to share clever bathroom shower ideas for your home.
Alcoves and Eaves
If you've got a small bathroom, then there's a good chance that your shower has some awkward dimensions and layout in it. But you should not consider those unwanted eaves and alcoves as a problem.
Instead, our designers suggest using them to your advantage. For instance, one of the most effective small shower ideas is to build your walk-in shower into an alcove.
Blue & Gray
When it comes to a modern shower, blue and gray are timeless color options. The best way to incorporate these bathroom shower ideas is to combine it with plain white bathroom fixtures.
You can have a white vanity, sink, and toilet. Or paint the ceiling in white. The white tone will help brighten up the look of a modern blue & gray shower.
Blue Green Shower Tiles
Create a subtle geometric effect in your shower by installing gorgeous blue-green ceramic tiles on the walls. This modern shower design creates a sleek and fresh look to your overall bathroom space. You can also opt for jade green tiles paired with pale blue tiles.
Built-in Storage
Vanity units and furniture can sometimes clutter your bathroom unintentionally. Therefore, look for a good storage alternative such as built-in storage units or shelfs.
This look is applicable if you've got a small space in your bathroom and you are looking for smart and effective small shower ideas. Aside from a built-in shelf, you can also add a tiled bench for storage, which should not take up a lot of space.
Gray Brick Walls
Installing gorgeous gray brick walls in your shower is a great way to create a fusion of rustic and contemporary style in your bathroom space. This shower design is also a great idea if you want to add a touch of a retro or industrial look in your shower.
Compact Corner Showers
When it comes to small shower ideas, a compact corner shower is a great way to save some space. Corner showers are compact and practical and will leave plenty of room to accommodate more fittings and furniture into your bathroom.
Metal Frame
One of the most unique bathroom shower ideas celebrates the addition of a metal frame. This is actually an economical alternative to the usual shower door.
It's also perfect for creating a chic and ultra modern shower in your bathroom space. For this unique shower design, consider a bare concrete floor.
Compact Vanity Units
The use of built-in storage solutions and compact vanity units are some of the most effective shower ideas for small bathroom.
They are space saving and will not dwarf the rest of the areas in the room. Just make sure to fit the furniture in such a way that it will not steal the spotlight from your gorgeous walk-in shower.
Creative Tile Patterns
Getting creative with your tile patterns is another way to make your walk-in shower unique to you. It's also a great way to trick the eye into creating more visual space. This idea may also be applicable for small showers in small spaces.
For instance, you can lay the tiles in a vertical brick or in a block pattern at the shower wall to elongate the room and make the space look larger than it really is.
Elegant Shower Trays
A shower tray may just be an accessory of your walk-in shower but it has the ability to also make or break the overall look of your bathroom. In fact, investing in an elegant shower tray is an effective way to create a luxurious modern shower design.
Be sure to avoid large square trays and go for smaller and longer trays that can also help save space.
Glass Shower Doors
Natural light can instantly make a small shower room look more spacious. When it comes to small shower ideas, installing glass doors is a great way to offer a see-through barrier in the bathroom that will allow for the natural flow of light where it's needed the most.
Marble Shower
Marble has become the number one choice of material for homeowners who are looking for a property boosting modern shower design. Instead of the usual light marble, make your bathroom unique by opting for a black natural stone marble for your shower wall.
Minimal Use of Color
Clean and simple interiors can work best for small shower ideas. A minimal use of color can make your bathroom look more visually spacious.
White rooms, for instance, can make a bathroom appear light and airy while giving plenty of opportunities to accessorize with different colors and textures.
Shiplap Shower Tiles
Shiplap shower tiles are among the most popular shower design ideas. You can also make your bathroom stand out by opting for a Corian sheet, which looks similar to shiplap.
These bathroom shower ideas are perfect for a beach-inspired theme and will give any bathroom a modern touch by installing gray hexagonal tiles on the floor.
Open & Airy
A modern shower design should be bright, open, and airy. This is also one of those bathroom shower ideas that you can follow if you've got limited space in your bathroom. The idea here is to allow plenty of natural light in.
Aside from installing huge windows, keep the space free from furniture and fixtures.
Walled Shower Partition
If you've got a small bathroom, you may benefit from the use of partitions that can help to keep the water from splashing into areas and crevices. This shower design also provides you with the privacy that you need while keeping your bathroom space open and bright.
Statement Tiles
Statement tiles can work well in any type of bathroom. In fact, these tiles can make even the smallest bathroom to stand out. The key is to use tiles sparingly and coordinate bold patterns and colors.
When done well, statement tiles can work wonders by drawing the eye towards key areas of the shower room.
Small Stones
A smart way to create a warm and cozy feel in your shower area is to install small penny tiles on the walls. You can also use natural stone, although it is best to stick with stone tiles or slabs and choose slip-resistant tiles for shower floors.
The only catch is that the stones must be regularly sealed and it can sometimes become a challenge to clean especially if it's highly textured.
Taupe Tile
A modern shower design looks great in calming, lighter shades of color such as a taupe subway tile. While you can use several other light colors, taupe is a shade that's universally appealing in resale value when considering for a modern shower.
It's neutral ease allows for both wood and marble bathroom fixtures to also coordinate well.
Ditch The Tub
For small shower ideas, removing the tub might be the best your approach. Aside from saving you precious space, it also gives you more room to play with when it comes to accessorizing your walk-in bathroom shower.
Extending the shower area to the entirety of your bathroom's rear wall will lead to a bigger than the usual shower experience without taking up too much space in your bathroom.