In honor of the birthday of surrealist artist and provocateur Salvador Dalí, known for his striking, bizarre images that evoke a sense of magical madness and taste for the macabre, we're looking to his eccentric surreal landscapes for inspiration and artistic interior design ideas.
Unforgettable and inimitable, whether or not you're an art nerd, you've probably taken in the Spanish artist's work — which included everything from melting clocks to dreamlike worlds. Dalí was a little bit of everything: a painter, sculptor, and filmmaker and is one of the most celebrated artists of all time. His fiercely unusual paintings, sculptures, and life-size interactive art remain pinnacles of imaginative expression.
To celebrate his 114th birthday, we're saluting his legacy with seven visionary design talents that are also dedicated to the creation of out of this world, unique home décor objects that are far from traditional aesthetics for artistic interior design ideas to create mesmerizing spaces in your home.
Kelly Wearstler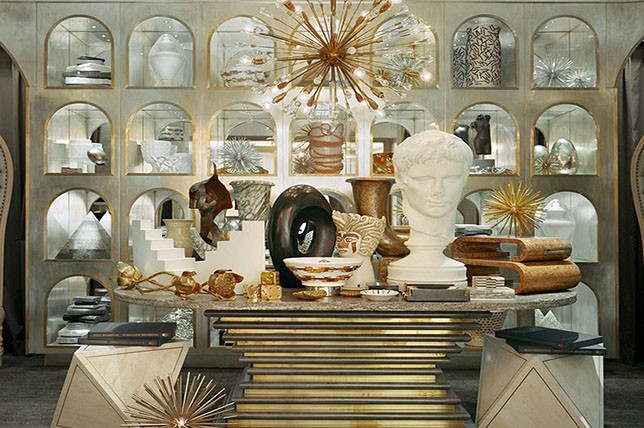 The brains behind her eponymous lifestyle brand and interior design firm, Kelly Wearstler's decorative objects, lighting fixtures, and furnishings make a strong case for adding hints of the surreal for a well-appointed interior with a sense of drama.
Large in scale and unique in construction, Wearstler's collectibles are envy-inducing add-on's certain to become lifelong conversation starters. Bring her design features into your own home by sourcing pieces that play with tradition with gorgeously rendered iterations.
Image via McLain Wiesand
Jaime Hayón
Based in Spain, creative genius Jaime Hayón takes characteristically playful approaches to interior design and decorative objects that are unique in every way. From a roster of high-profile collaborations with Lladro and Ceasarstone to commercial projects including Barceló Torre de Madrid (above), Hayón's childlike takes on classic extra's are a great starting point when looking for artistic interior design ideas.
His blank-faced zebra-striped bear statue (a symbol of Madrid) at the Barceló Torre greets guests with puzzling amusement – truly the epitome of gorgeous surreal design come to life.
Image via The Spaces
Maison Margiela
Known for avant-garde deconstructed fashion, Maison Margiela has been quietly crafting genius thought-provoking objects and wallpapers reflective of the fashion house's minimal store interiors.
Think stark white, sparse grays, muted silver and fresh takes on vintage home furnishings reimagined with an initially DIY feel yet constructed with expert craftsmanship, making their homegoods future-heirlooms with a jewel-box like preciousness about them. We're big fans of their trompe l'oiel wallpaper (above) printed to look like Victorian-era molding.
Image via My Domaine 
Johnathan Adler
A household name for the design-minded known for his colorful kitsch takes on Hollywood Regency and mid-century modern, Johnathan Adler also specializes in surreal, high-design objects that pack a cerebral punch.
And though an extra-large foot sculpture or hand may not be in the cards for you, Adler also creates a vast selection of small decorative objects and trinkets that you can incorporate in small doses for a touch of surrealism.
Image via Pinterest
Gucci
Though it's had a line of homegoods since the 70's, Gucci Décor has recently been relaunched under the helm of creative director Alessandro Michele with a series of decorative objects and furnishings boasting the Italian house's popular design motifs featuring tigers, snakes, and iconic Gucci Garden florals with a touch of the surreal.
While thoroughly maximal in their approach to artistic interior design ideas, Gucci makes a strong case for going bold and dramatic with pieces that can easily bring a room to life. And lucky for you, vintage Gucci Décor pieces are easy to source on eBay for under $100.
Image via Gucci
Seletti
Established in 1964, Italian firm Seletti brilliantly breaks boundaries of contemporary decor with a range of typically common objects cleverly reimagined with an assertive and beautifully realized nod and wink.
From conversation starting lamps in the form of peeled bananas to flying monkey sculptures, take a cue from the glorious free-spirited nature of Seletti's collectible objects and approach artistic interior design ideas with a similar playful, joyous sense of freedom by sourcing pieces that while humorous, are defined by impeccable craftsmanship.
Image via Seletti
Fornasetti
Often referenced as the man who created a thousand decorative black + white plates featuring the face of the same woman wearing the same expression with bursts of color, Italian painter, sculptor, and engraver Piero Fornasetti established an enduring reputation as a designer with a style that was distinctly his own.
Though another household name among design-minded fiends, Fornasetti's work has become frequently more attainable thanks to a series of scented candles and a range of smaller objects that allow you to add a touch of the surreal in even the smallest of spaces. By looking for classic silhouettes, say a rounded urn or a typical teapot decorated with unexpected illustrations, you'll be able to inject various areas throughout your home with a hint of humor and provocation when considering artistic interior design ideas that are easy to maneuver for any budget.
Image via Homes & Antiques
Lead image via Homes & Antiques