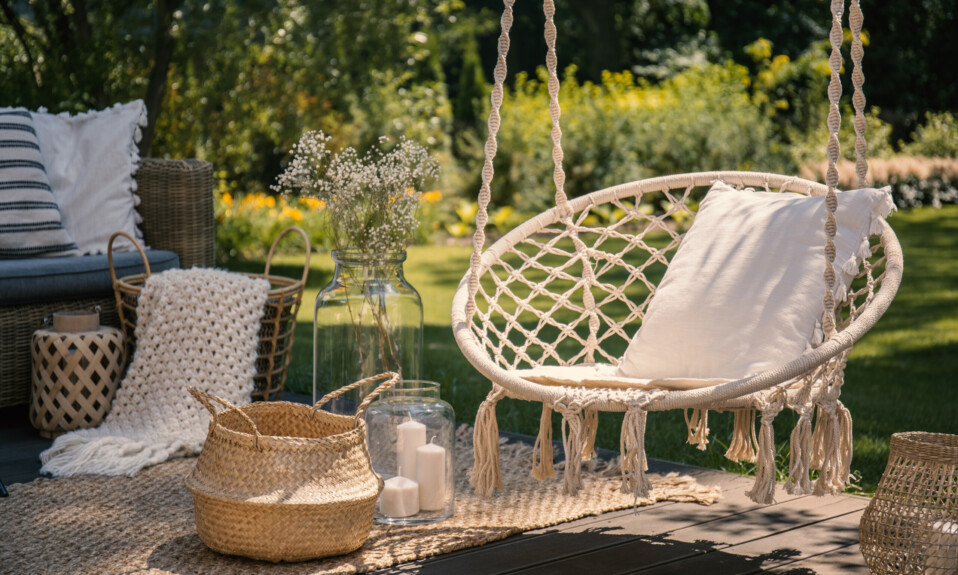 So, you've got a small garden and you're looking for savvy small garden design ideas to help inspire you to create the perfect green oasis? If you do have a challenging small garden, you might be holding yourself back when it comes to exploring ideas similar to larger gardens nearby.
To prove you wrong and get you on your way to conjuring the ultimate outdoor space, we tasked our renovation experts to come up with essential tiny garden ideas to help you make the most of your small outside space with creative gestures. Here's our 10 favorite small garden ideas that are worth the investment to transform your space into a lush, luxurious area, no matter how limited in size.
Use Your Intuition
Like with any aspect of your home or daily life, trust your initial instincts to guide you through the process of realizing stunning small garden ideas. Step back to consider the space you have to work with with fresh eyes, then simplify and plan accordingly.
Though tackling your outdoor space may seem challenging, narrow in on the essential elements you want to see changed most.
Think Big Or Stay Indoors
Broad pathways and cozy gathering spaces alike will always feel inviting, and larger features in them will always feel intriguing in even the smallest of spaces.
Maximize the livability of your small garden and create segments by using changes in terrain to your advantage to create ample living areas. And just like in the interior of a home, by segmenting a small garden, you'd be surprised at how much larger it appears.
The key here is to start by working on the view from inside your home first. As unfortunately during winter months and rainy seasons, most of the joy your garden elicits will come from observing it from inside – something to prioritize when approaching small garden ideas.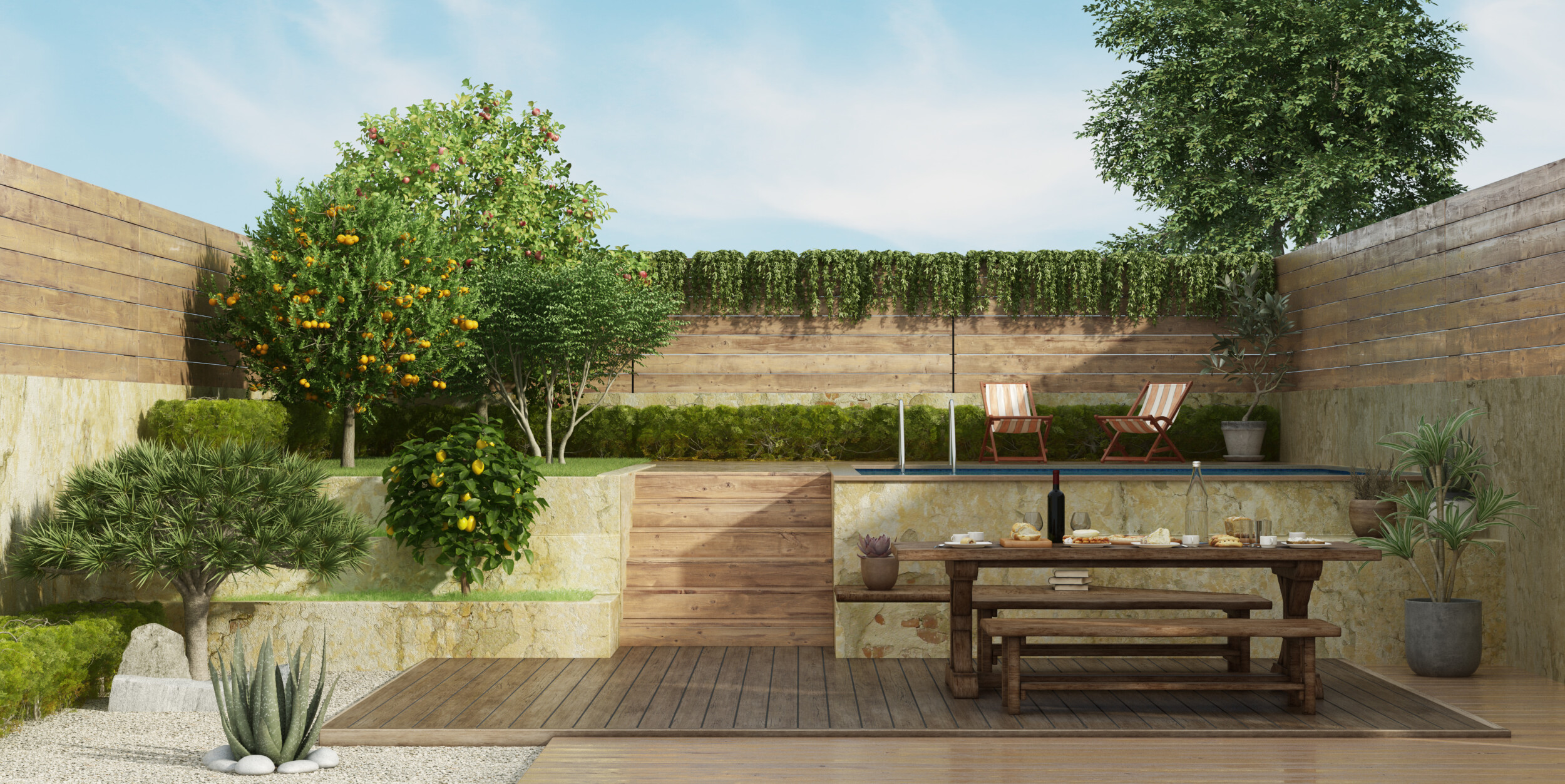 Rule Of Three
Always keep it simple and stick to the golden 'rule of threes' – even for your garden. That said, stick to using a maximum of three types of anything, from flooring materials to types of flowers to construction materials like stone, brick, and wood. By sticking to this rule, you'll have an easier time lending your small garden a cohesive and consistent feel while keeping the eye entertained yet focused.
And while it is entirely possible to create a great looking garden with a wider ranges of materials, it's also much more challenging to perfect with much more room for error.
And do keep in mind that this rule also goes for the colors you use for painting the fences, plants, for accessories, and for furnishings.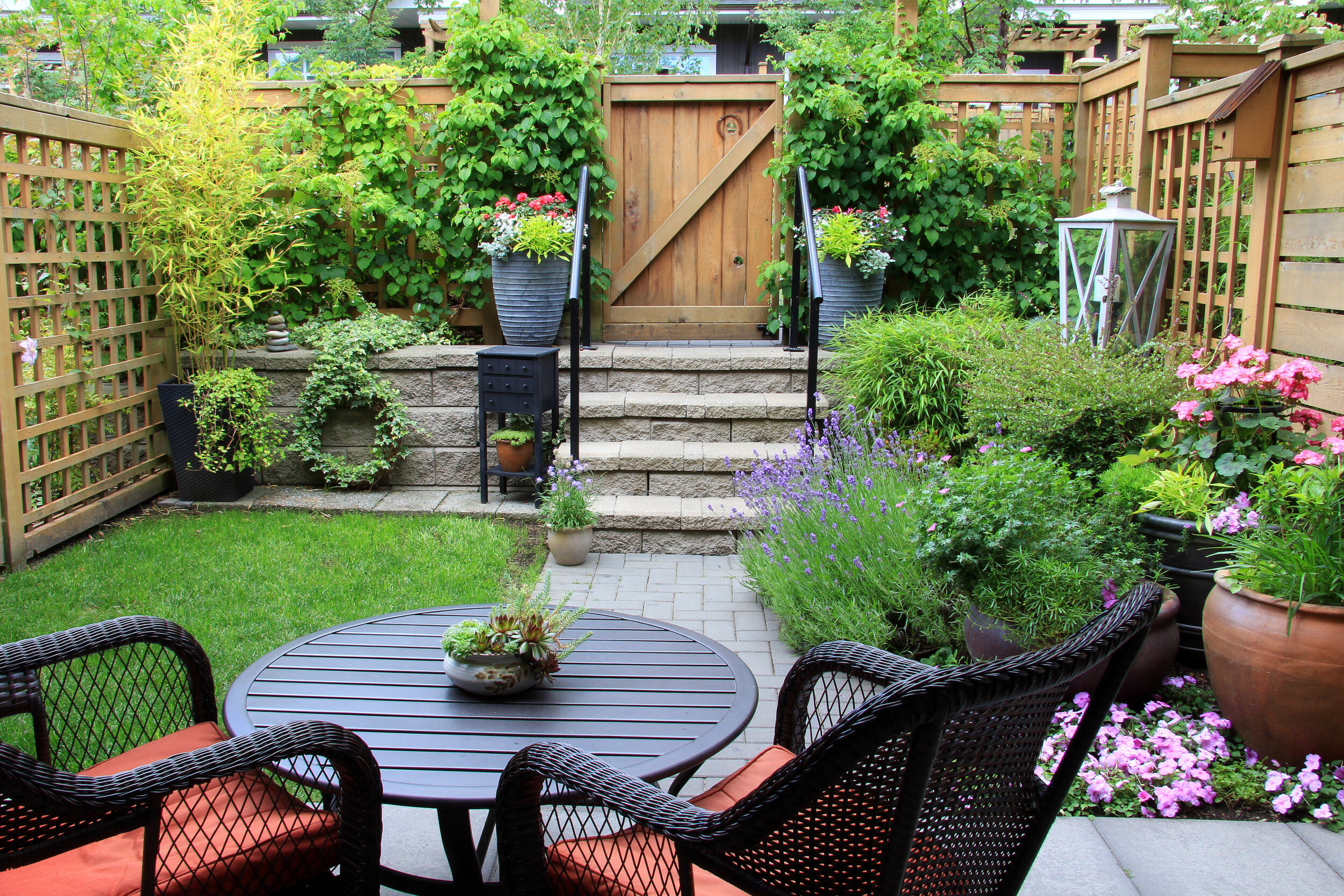 Fill It To The Brim
If you have a small garden without any grass or room for a flower bed, fill the available space you do have with a variety of pots wherever you can. Pots are great as they require less work than flower beds (perfect if you dislike weeding) and they brighten up a small space with minimal effort or expense. Plus, you can move them around to change the look of your garden quickly while creating the look of extra height with larger pots.
Get creative and explore interesting vessels to use for planting greens – they don't always have to be terracotta. Try to source fun alternatives to be used as planters in vintage and antique stores. And voilá – fill your pots with luscious greenery and bright colors to liven up your outside space with impressive vibrant hues.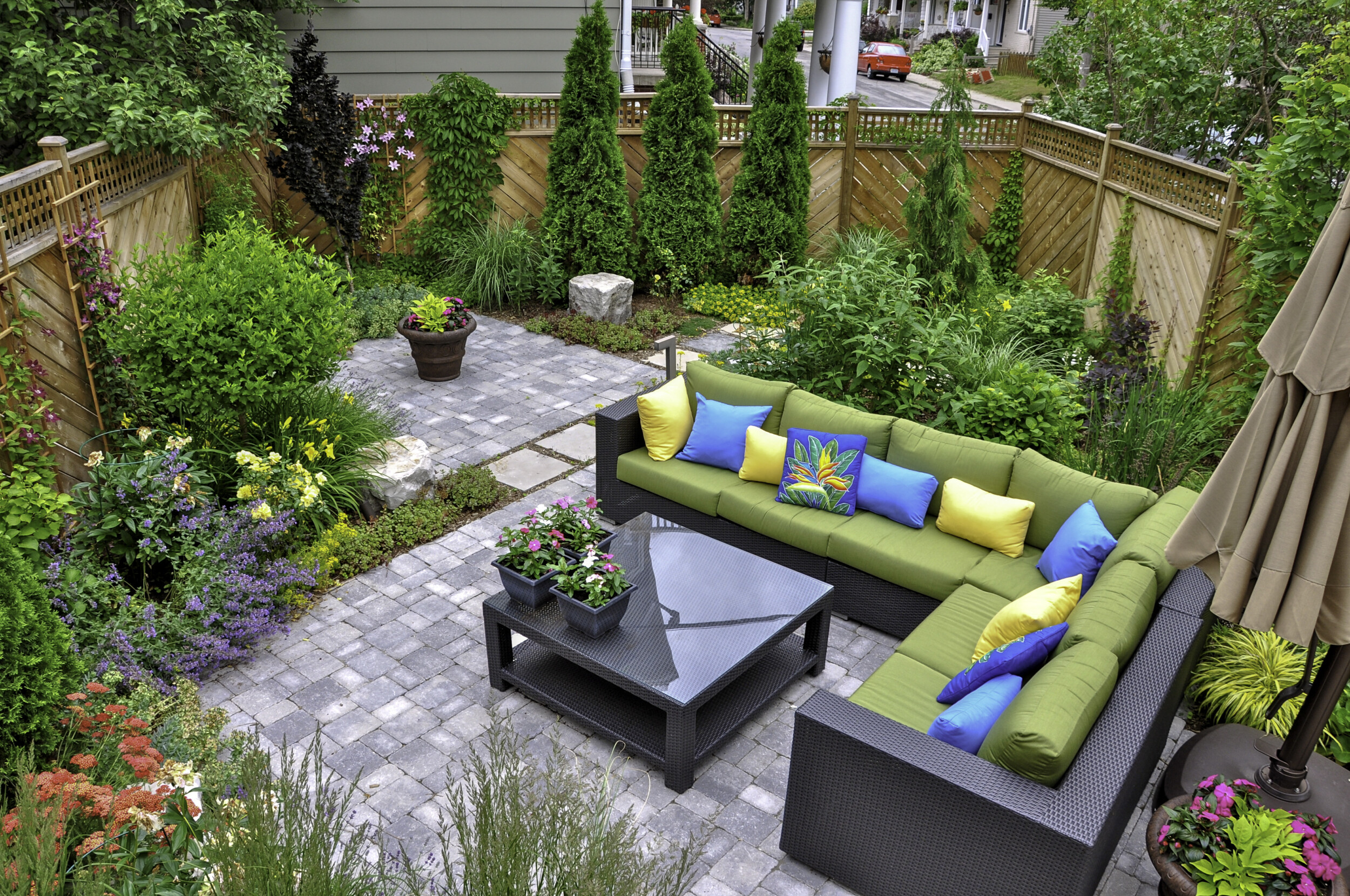 Bring In Planters
Vertical planters are an excellent way of making the most out of a small space, meaning they are perfect for tiny garden ideas. They give you room for multiple pots, without taking up more space than one pot would (depending on the size of your planter). You can paint your planter in contrasting or coordinating colors or go for something more neutral to blend in with the background.
You can use also take advantage of this idea to highlight your creativity and stay within budget, because if you are looking for small garden ideas on a budget, vertical planters are a winner, as you can fashion them yourself, even without a green thumb.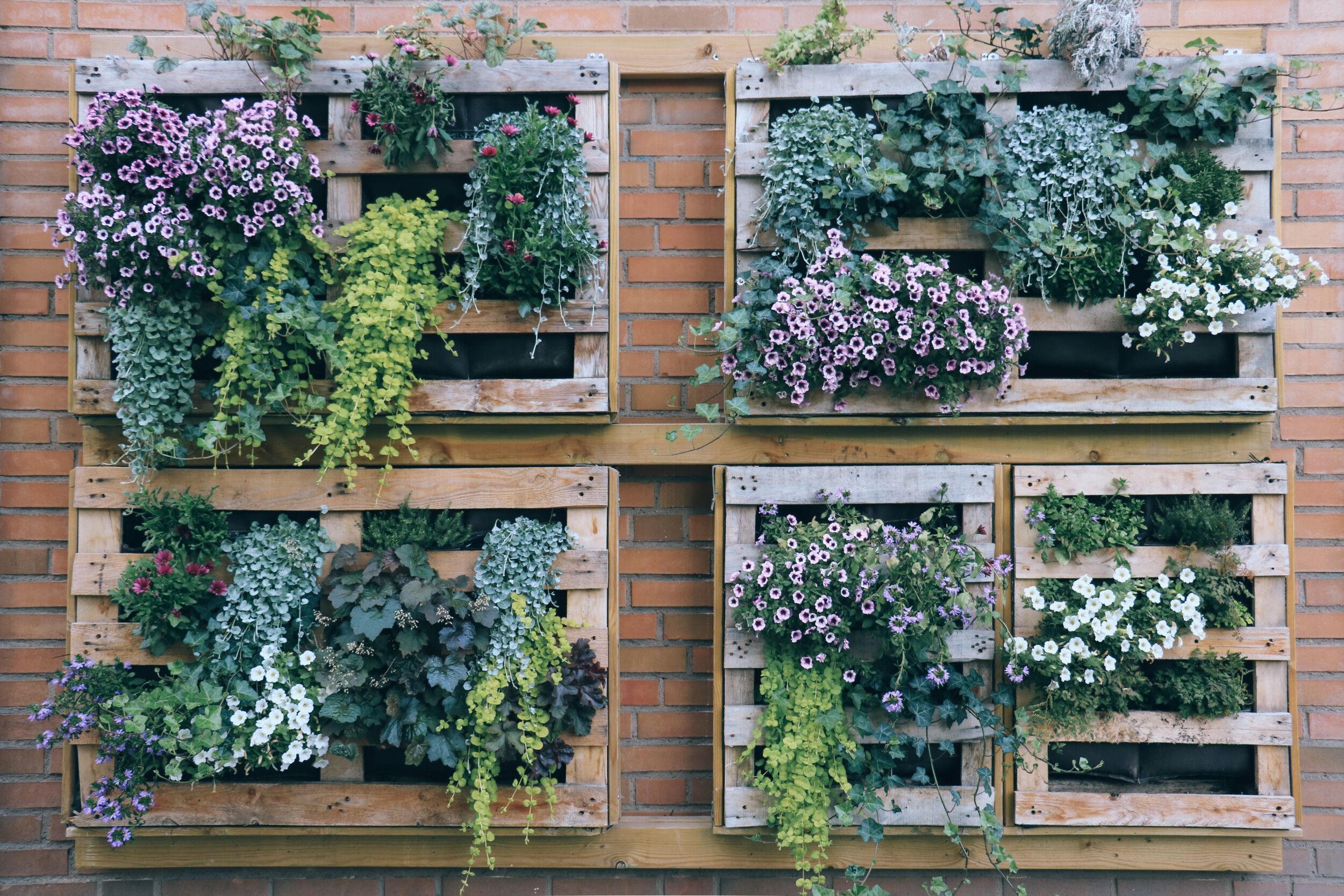 Raised Beds
If you love growing botanicals but you don't have much space, instead of taking up tons of extra room with a vegetable patch, invest in raised beds. Not only do they tend to take up less space, but you can add smart storage underneath them. Plus, they are much easier on your back since they aren't completely on the ground.
With raised beds like this, there is plenty of room for gardening equipment storage – so you don't need a shed to house your gardening tools, pots, and bags of compost. If you are in the mood for some DIY ideas and have a deft hand at woodwork, you could construct raised beds yourself – perfect for small garden ideas on a budget.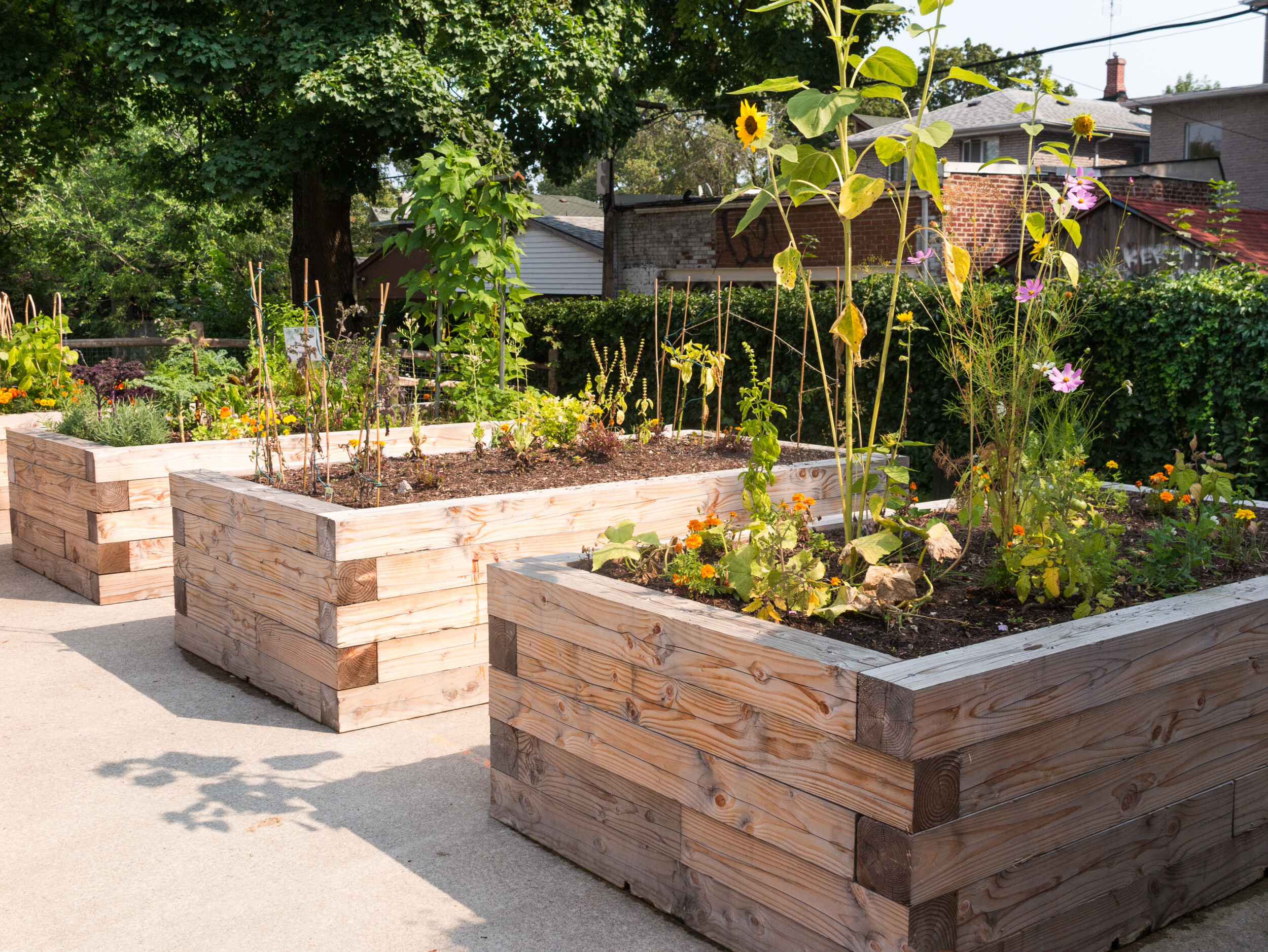 Hanging Greens
In small garden design, floor space often comes at a premium, meaning there isn't always space for planters and flower beds. If this is the case in your small garden, make the most of the vertical space you have available to you with stunning hanging baskets filled with a languid assortment of flowing greens.
You can attach hanging baskets from hooks placed on your ceilings or from brackets on walls or posts. There are some beautiful hanging baskets available at the moment to help you bring your small garden ideas to life.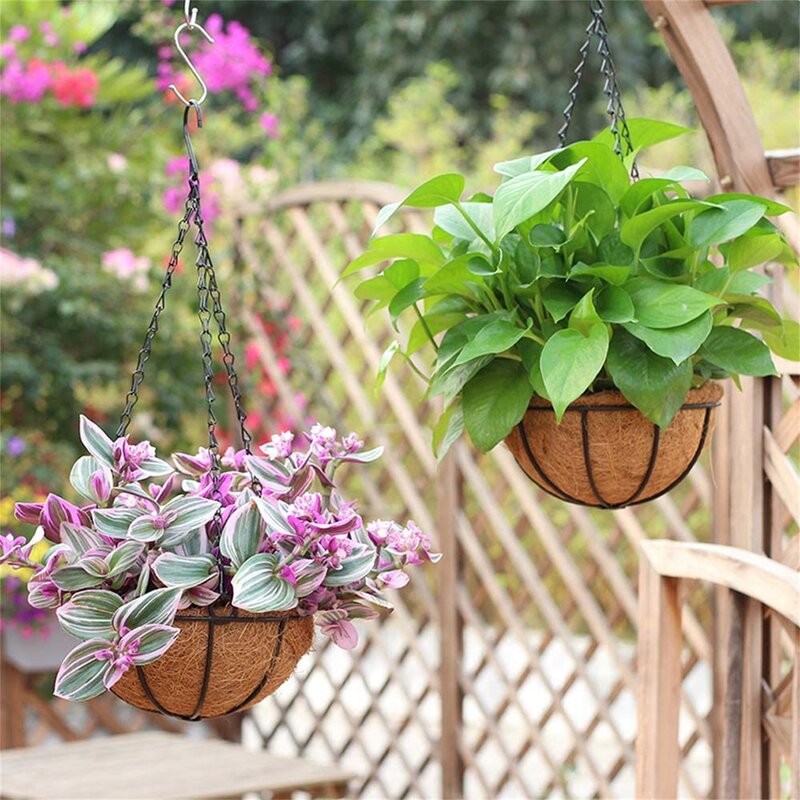 Floral Borders
Most gardens are surrounded by fencing (even a small garden) and you can use this surface space to introduce some color, greenery, and pretty flowers. Small garden design is all about making the most use of the space you do have available, make the most of your fencing with a trellis to be covered with vines and ivy.
A trellis is great for growing climbing plants and helping you make the most of the uninspiring necessity of fencing. If you choose a fast-growing climber, your small garden design ideas will come to fruition in no time. Once the flowers blossom, you'll have walls of beautiful floral foliage.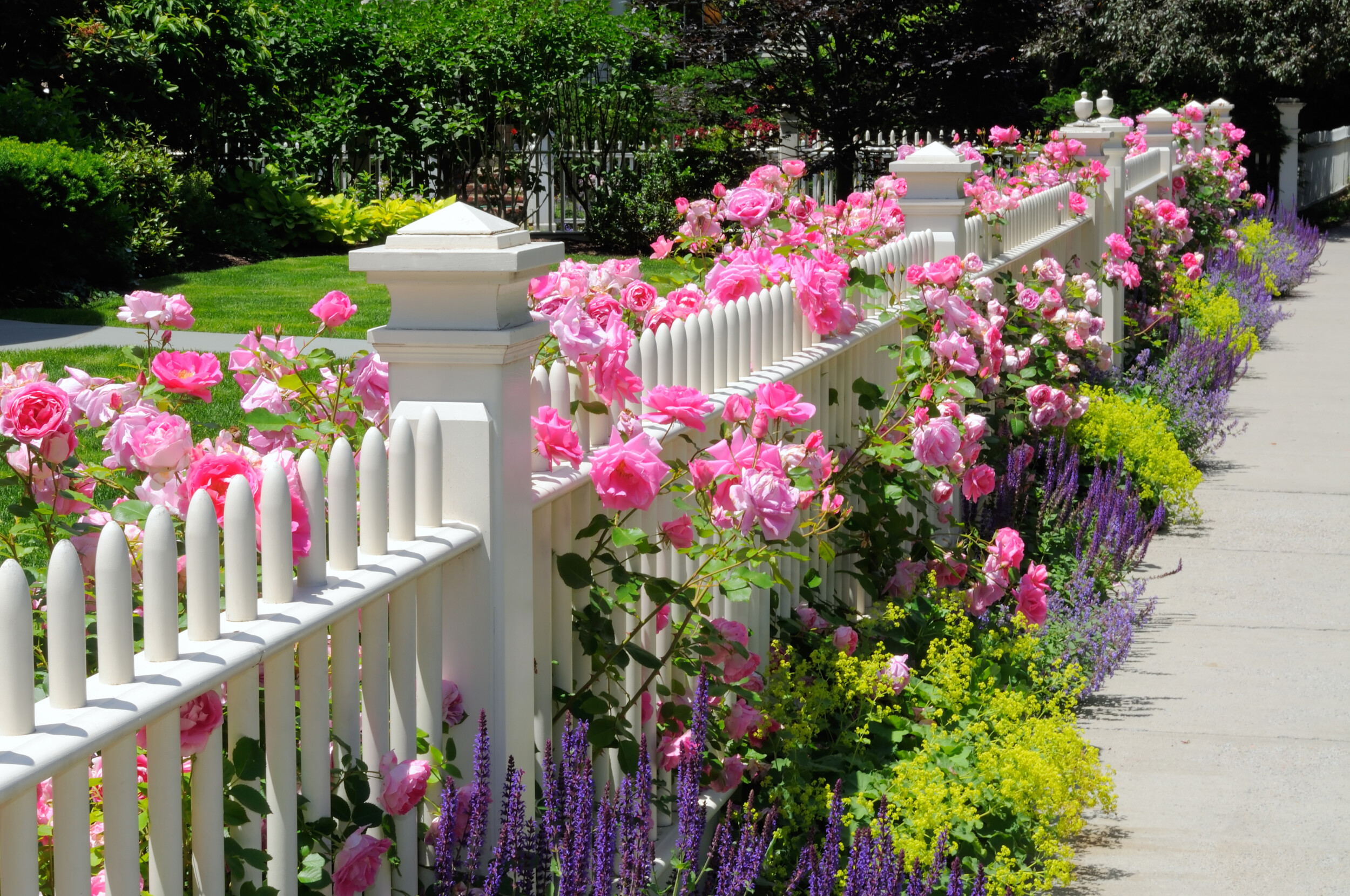 Take Advantage Of Windows
If you are short on space and need ideas for a savvy small garden design, then how about window boxes? These can either rest on your windowsill or be placed on brackets attached to the wall below your window. You'll be surprised at how much you can grow in a small planting space like this – as they are exceptionally effective for herb gardens as you easily can grab the herbs you need through the kitchen window while you are cooking.
Fill window boxes with trailing plants and add some extra height in there too for added dimension. You can choose a selection of green foliage or opt for bright and impactful colors.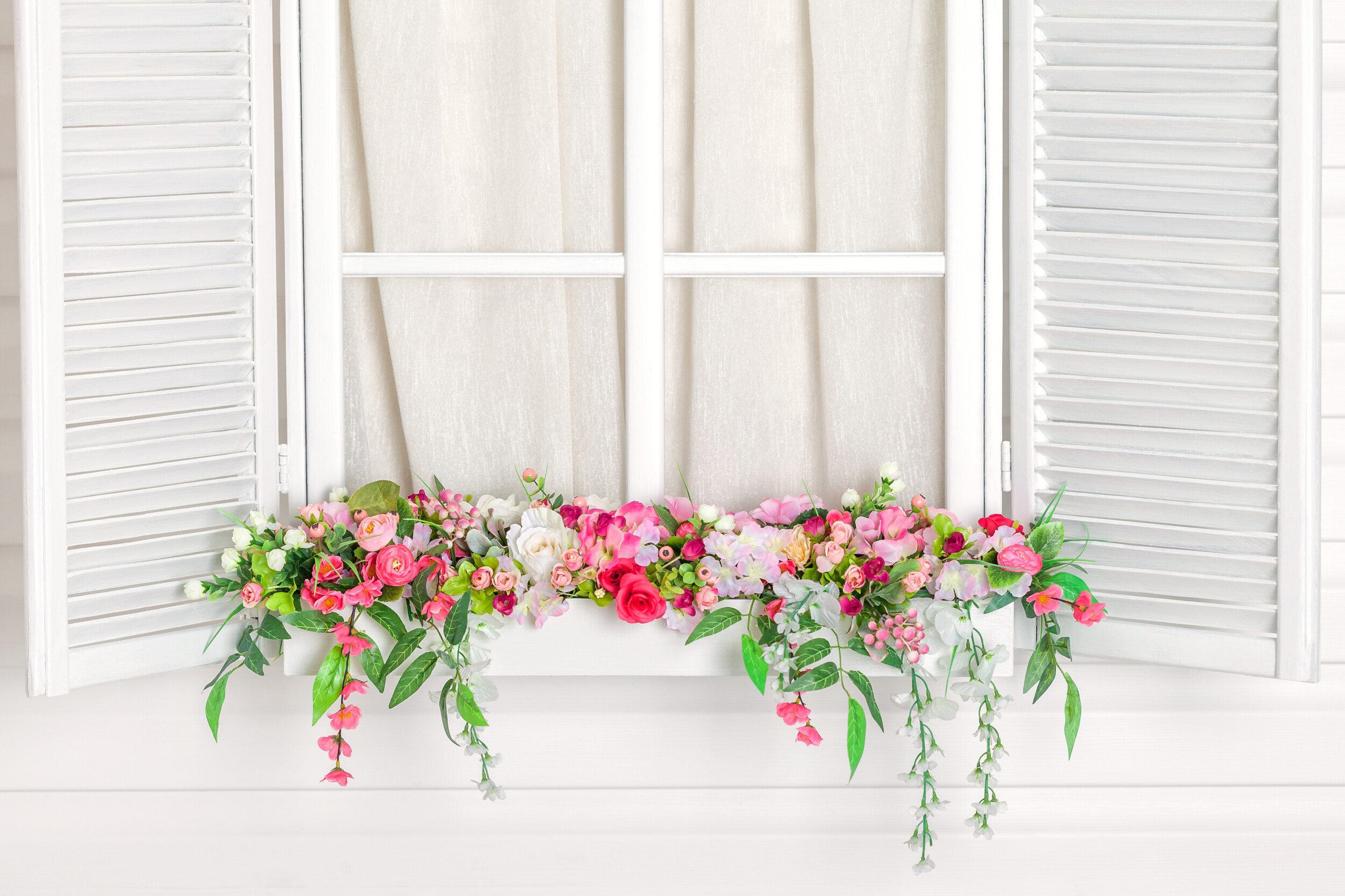 Go Up
To make the most out of limited garden space in a small garden, take advantage of bordering walls with ivy growing up them. Or you can stack pots on top of one another to create a pretty tiered planter. Start with a large pot and stack a smaller pot on top of it, getting smaller and smaller as you work upwards. Fill the space with plenty of plants, to make for an interesting small garden design idea.
You can coordinate your pots with similar designs and colors or be bold and contrast them. This is one of the most simple (yet effective) small garden ideas, and luckily, it works in all garden spaces – no matter size.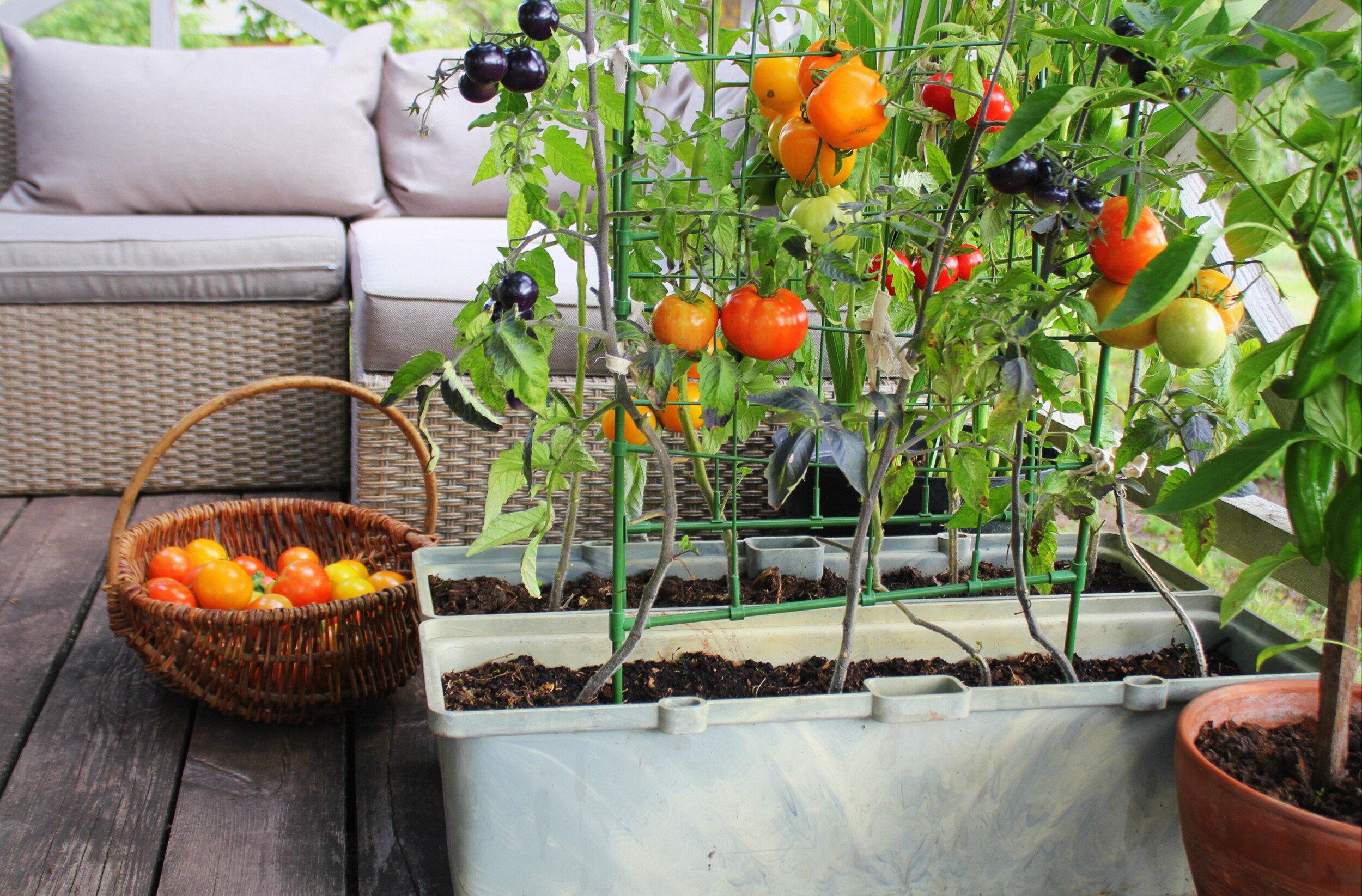 Use Your Walls
If you are looking for small garden design ideas that are low maintenance but have a high impact, then succulents may be what you have been looking for. You can make a succulent planter to be hung on the wall out of a sturdy box with some wire mesh, creating a living wall which will brighten up your space without the extra weeding and watering.
You can make these as large or as small as you like and have as many or as few as you want – it's completely up to you and what will help define your space. There are loads of different succulents available in different shapes, sizes, and colors. Vary the sizes and colors of your succulents in each box to create interesting plays on texture and color combinations (perfect if your garden comes off as a bit dull).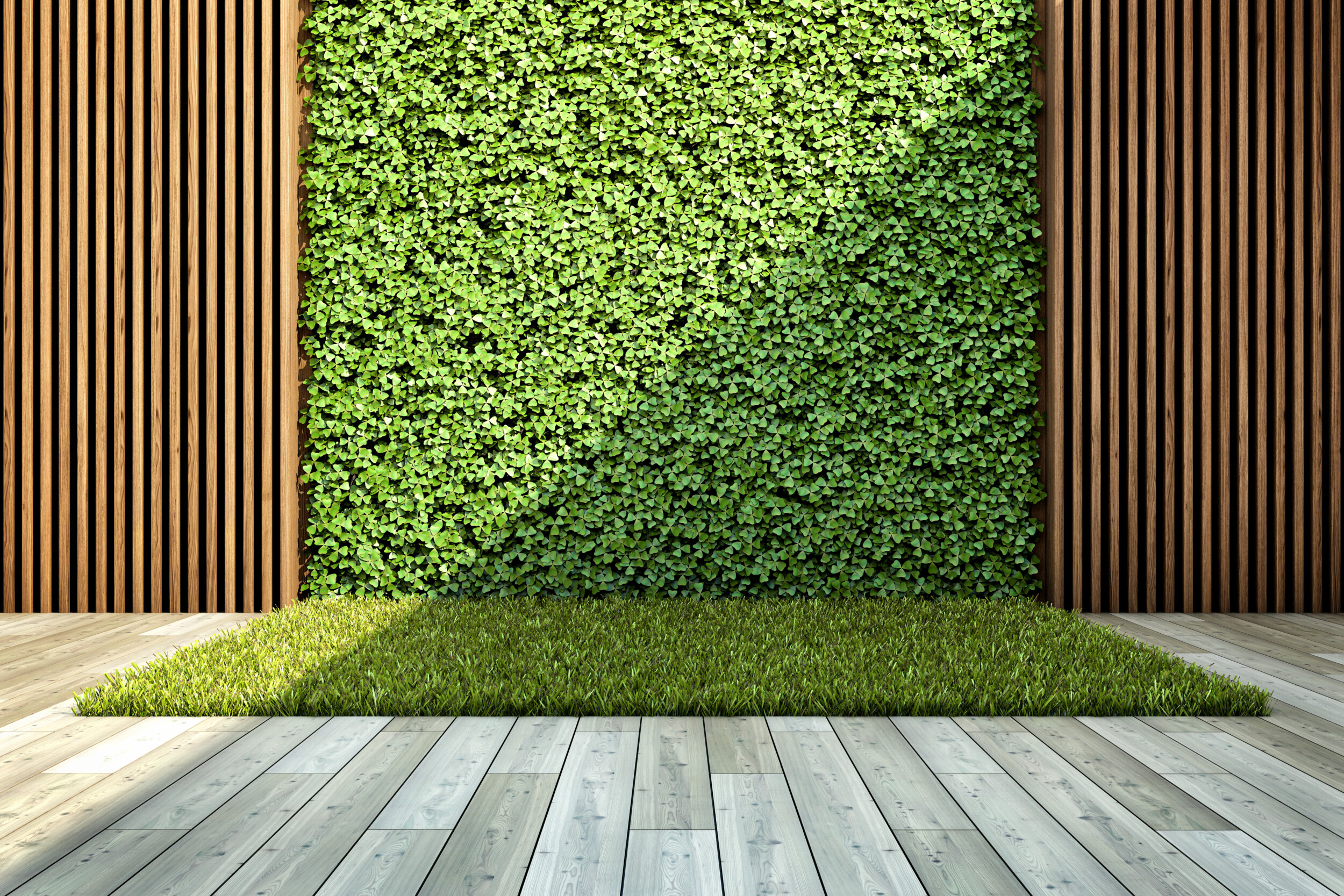 Get Creative
Making a planter out of a pallet is great for small garden ideas on a budget; it's practical, cheap, space saving, and can be stylish to boot. All you need to do is get hold of a pallet and set about attaching small pots to the pallet with steel cable ties and some nails to keep the pots in place. You can keep it simple with traditional clay pots or go bold and bright with colorful and patterned pots.
These can be leant up against walls and fences for an effective way to make the most of your small garden. And this is a great idea for an herb garden, kept just outside your kitchen door, against the house.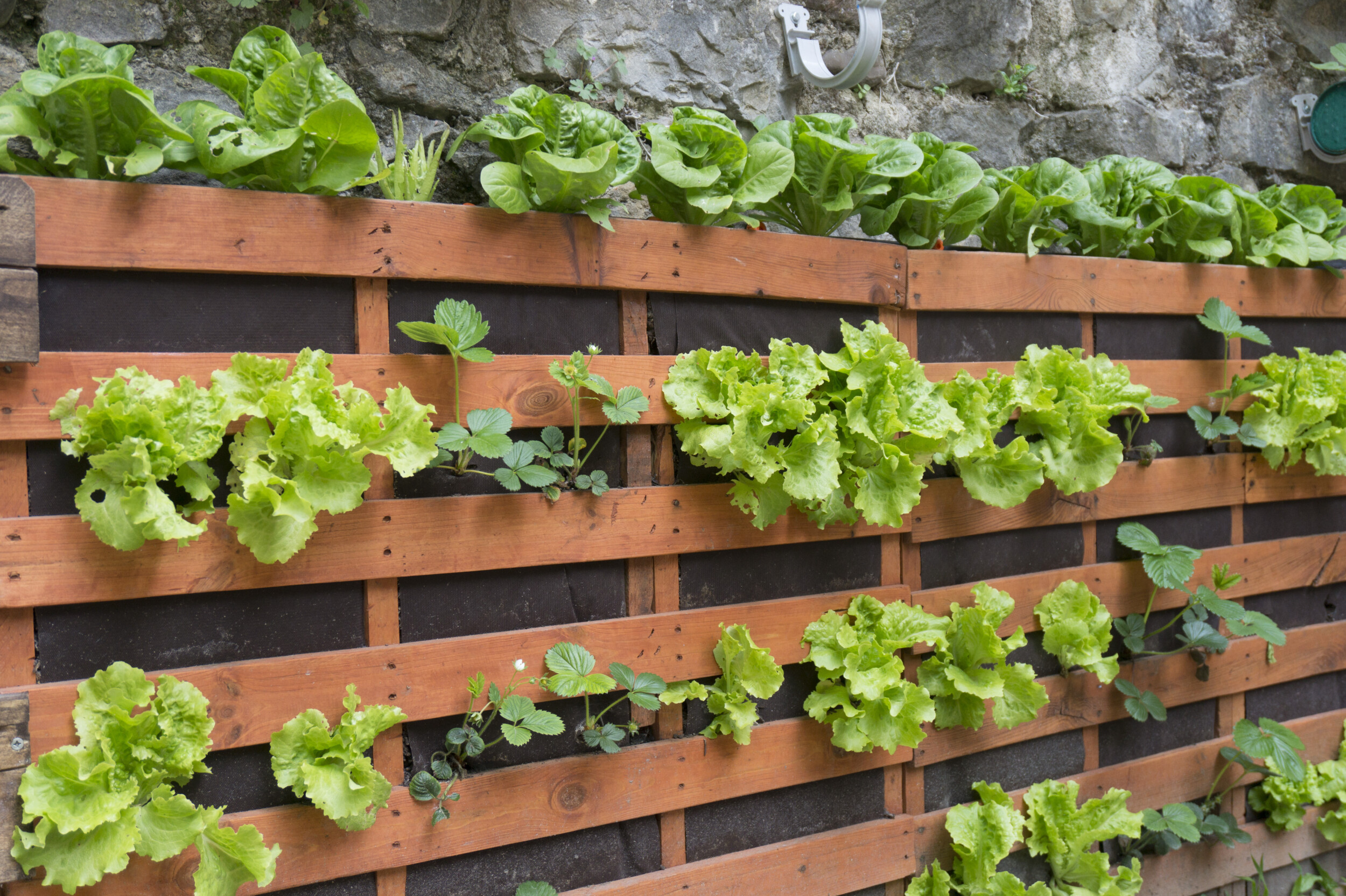 DIY Solutions
You can make planters to fasten your wall or fence out of pretty much anything you can find in your garden. As long as there is some space available for greens and you have a way of fastening it to the fence, then you can make a planter out of it.
Part of small garden design is having fun with it – you can't make a small garden bigger, but you can have plenty of fun with your small garden ideas.
Multiple Focal Points
Just like you would in a small room, when it comes to designing small gardens with limited space for major focal points, create several visual points of interest within your garden in every direction to keep the eye moving while using plants as a foundational starting point.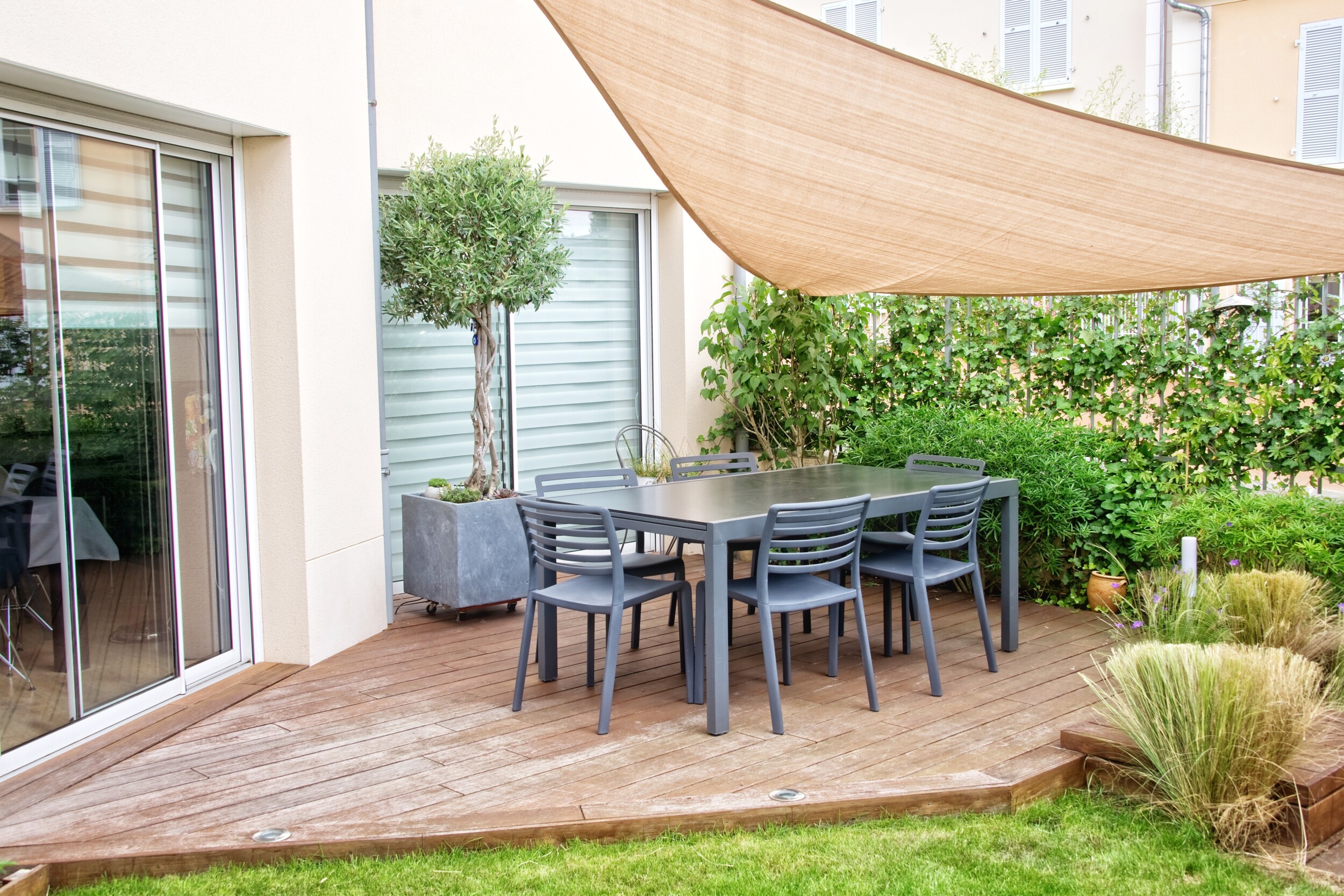 Mirror Your Interior
For consistency inside and out, let your small garden mirror the look and feel of your home's interior design while expanding on its style with more functional purpose while working to make the small space feel larger.
And if you're planning on entertaining outdoors, place furnishings and plants along the outer edges of your garden to create a dedicated area for guests to mingle in the center of your small garden.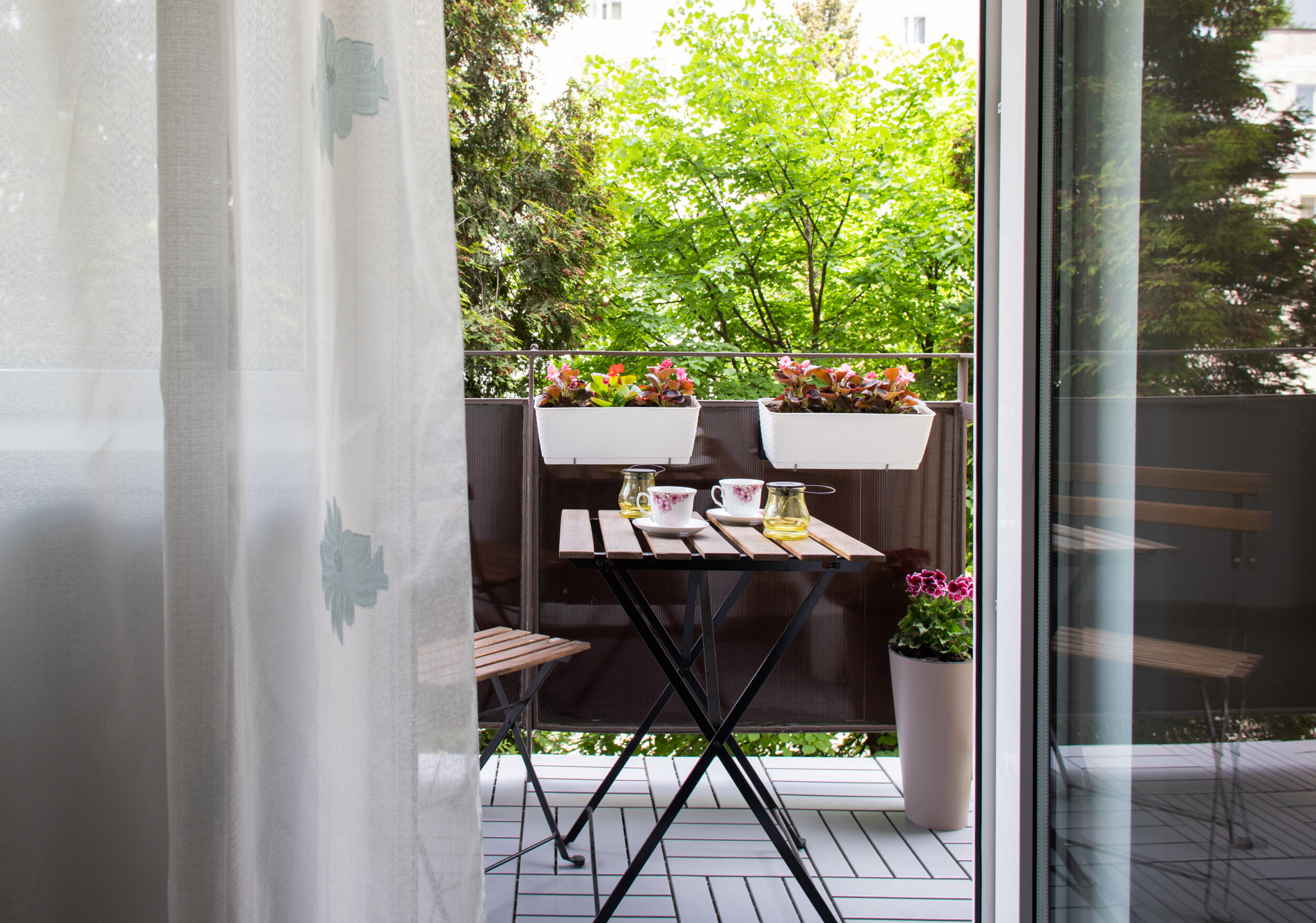 Go Tonal
When considering plants for your small garden or outdoor space, our interior designers suggest using caution when it comes to riotous color — they recommend opting for a monochromatic color scheme featuring calmer tones like powdery blues, pinks, yellows, and subtle greens — otherwise your small garden may come off as heavy-handed, too loud, and worst of all, cramped and confined.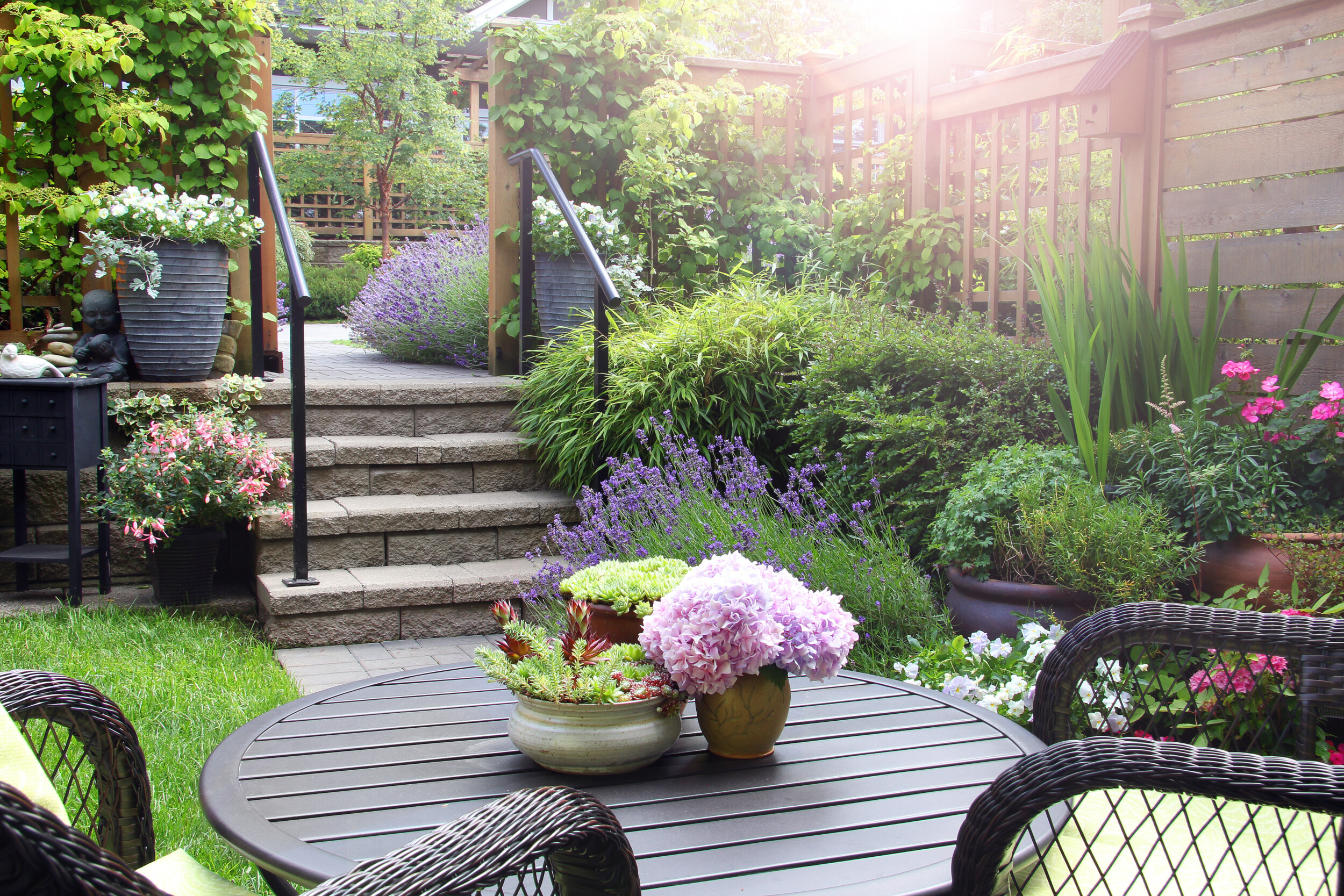 Don't Overlook Lighting
Because people often associate the great outdoors with bright, natural daylight, don't forget the importance of lighting when looking to extend the use of your outdoor area into the night with ease.
And when it comes to entertaining at night, lighting is not only essential, but it can also make a transformative difference. And that's not only for when you're outside, but also for the view we mentioned earlier from inside your home. Lighting allows for your garden area to look impressive no matter how dark it is outside. And for a more dramatic ambiance, layer your lighting choices for a unique look. The first layer of lights should be reserved for practicality: light your walking path, conversation areas, and steps. After that, light the special signatures of your small garden like water features, medium sized plants, and any interest hallmarks you want to highlight. Complete the look by adding a subtle layer of light just a few inches off the ground to create a warm glow throughout your outdoor space.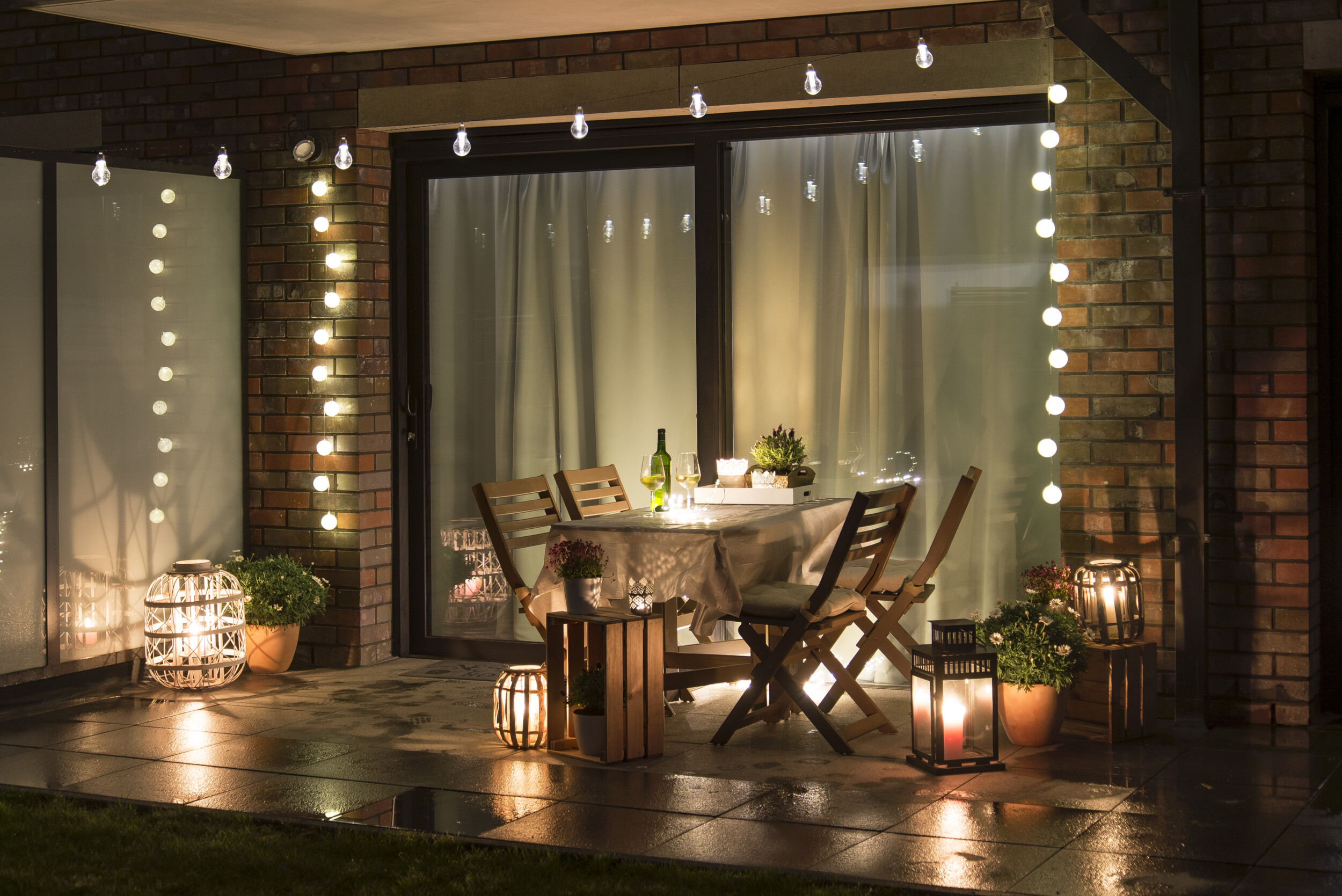 Save Space With Built-Ins
Just because you're outside doesn't mean you shouldn't think about space saving solutions for your outdoor area. To make the best use of every aspect in your small garden, a built-in bench is a smart option for a small garden as it won't take valuable extra space like chairs spread about would.
Use Silhouettes As A Starting Point
To maximize your small garden, our interior designers suggest coordinating the shape of your table to mirror the shape of your patio. If the dedicated area is square shaped, go for a square table placed centrally for a consistent look.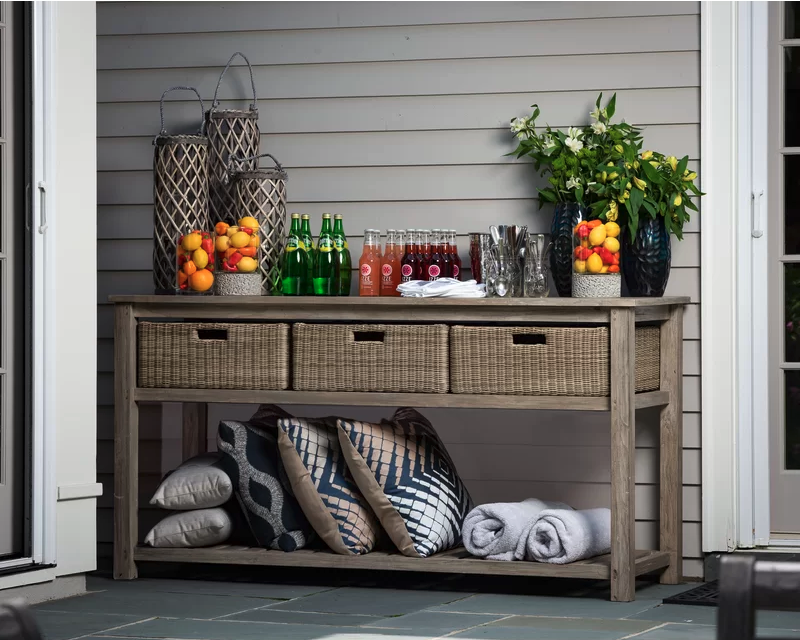 Bring In Color
Unlike larger gardens, bright hits of color can look brilliant in a small garden without feeling overwhelming. That said, use a mix of heady hues to beautifully echo your home's exterior styling so nothing comes off as random.
Space-Saving Furnishings
To prevent wasting valuable space lost behind furniture, place garden seating in one corner, backed against the perimeter. This kind of furniture arrangement will provide plenty of space to bring in additional pieces when you entertain and have more guests over than usual. Ottomans and glass-topped tables are also great for maximizing outdoor space as they also don't visually block anything.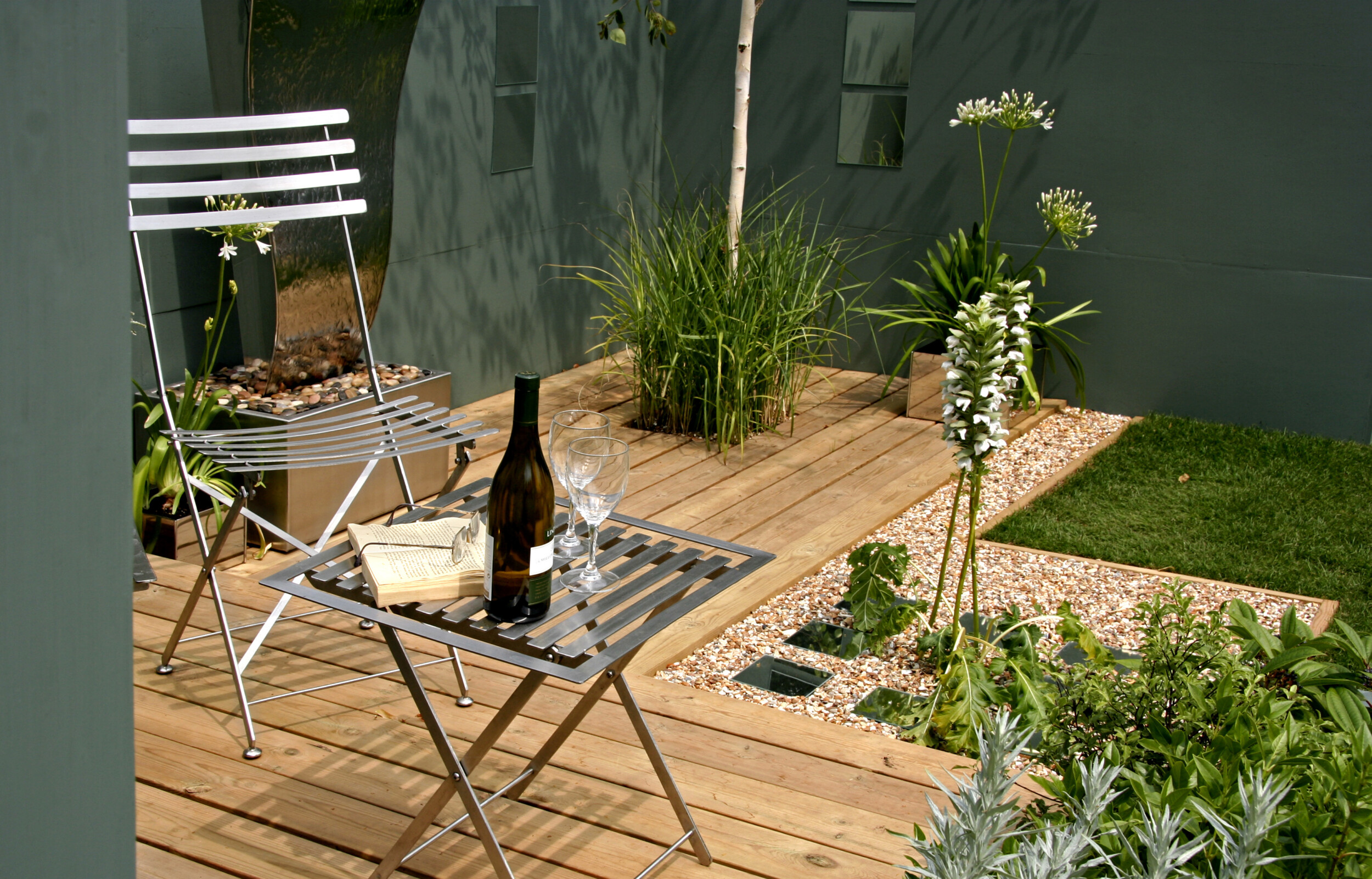 Use Nature To Your Advantage
This should go without saying but don't forget to integrate nature throughout your small garden as other design styles may come off as ill-conceived or unnecessary. This could be via a few well-placed potted plants, a single tree, or even dramatic fresh-cut flowers.
Play With Exposure
To keep the space feeling open, source open backed seating options to ensure that the space feels visually uninterrupted and in turn, larger. And keep your color palette subtle and simple, and more importantly, consistent. Using only the same colors and fabrications throughout.
Stick with straight lines as they are less of a challenge to master with confidence. As we've seen time and time again where clients mistake curves as bringing softness to a small garden, but to the contrary, outdoor areas can actually soften up easily and often the best design styles play with a juxtaposition of contrasts highlighting the organic softness of plants played against the clean lines of straightforward furnishings.
Narrow Area, Narrow Furnishings
In a narrow outdoor space, bring in a long and narrow table paired with matching benches to save space without losing valuable seating.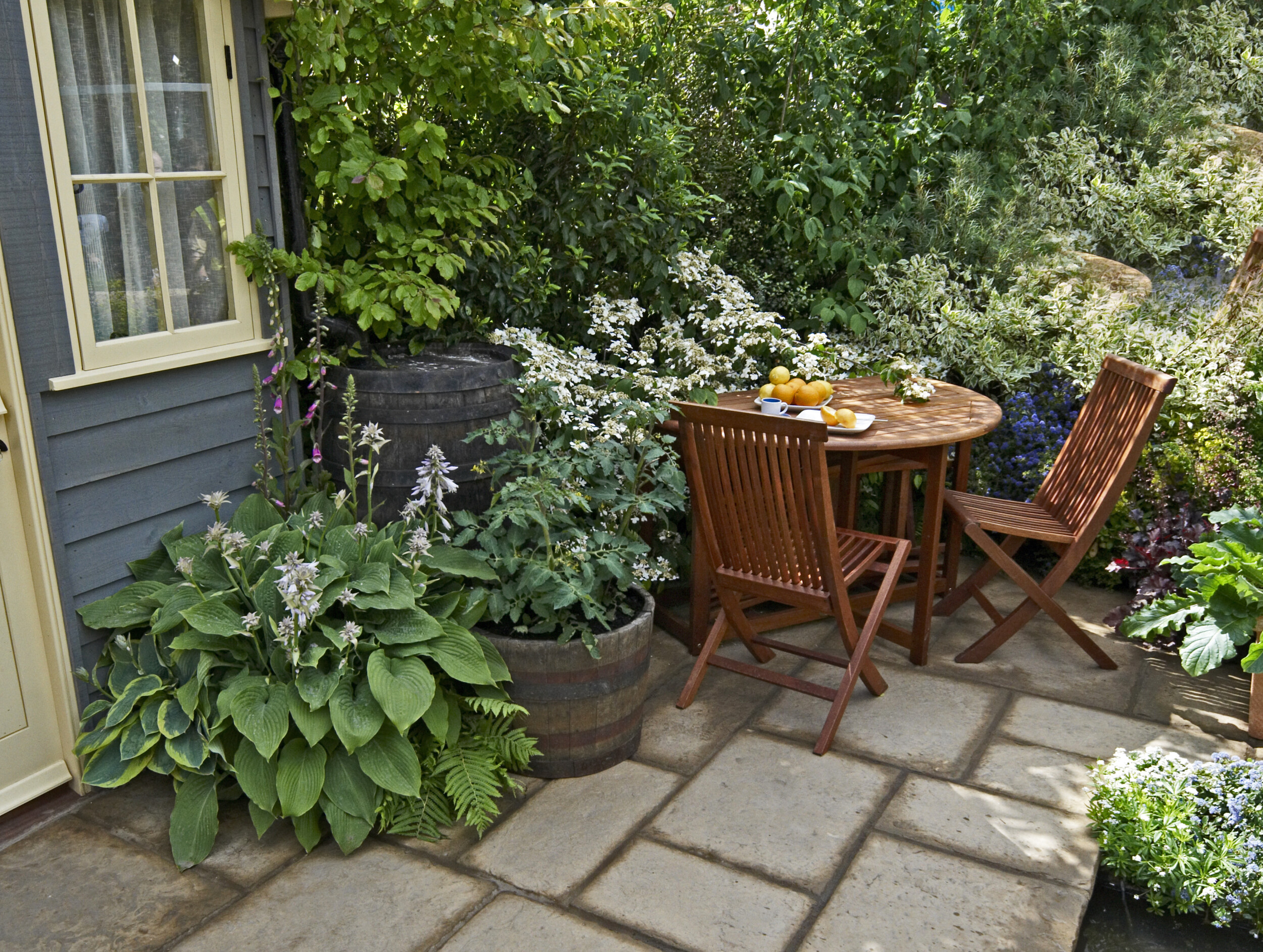 Layer Away Greens
For added depth, layer plants around the perimeter of your small garden to create the illusion of more depth while making it look and feel more expansive and luxurious. Keep in mind that taller plants make the most sense placed behind smaller ones to keep the look simple and to maintain an open and airy feel.
Skip A Table
Because they take up a ton of space when not in use, either forgo a table altogether and bring in smaller side tables, or source an outdoor dining table that can be folded easily and stored away.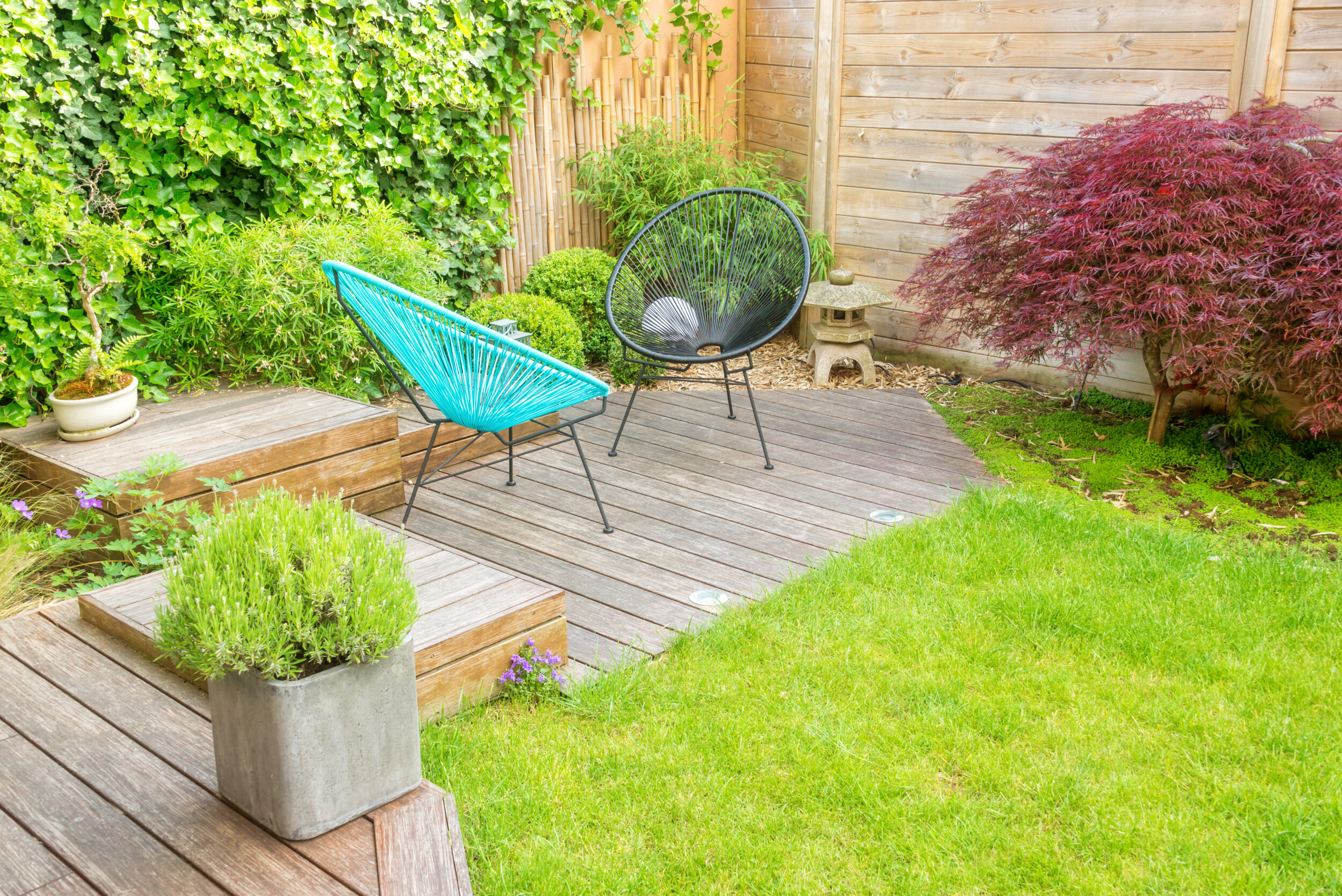 Add A Colorful Foundation
Like you would indoors, start decorating your small garden from the ground up. A vibrant outdoor rug will help to bring life outdoors and make the area feel complete while tricking the eye into thinking the space has more square footage than it really does. That said, go for simple patterns or neutrals to keep the look feeling clean, uncluttered, and fuss-free.
Don't Forget Privacy
To keep the feel warm and inviting, pay attention to privacy. To achieve the best amount of privacy, think about where you install your outdoor sitting area as there just might be a concealed corner of your small garden that's completely private.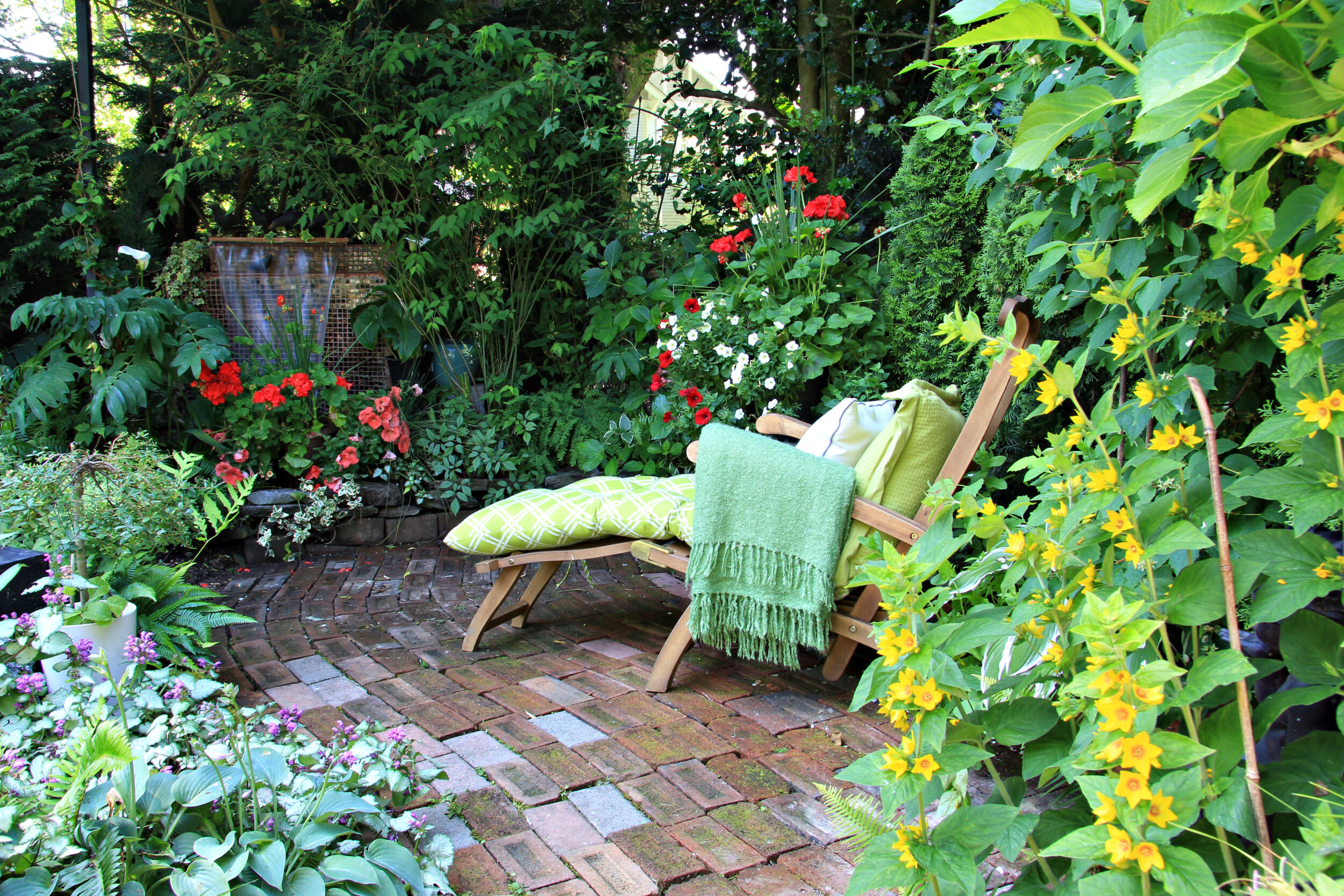 Floral Wall-Art
Celebrate the beauty of lush greens in your small garden with a wall planter, floral tapestry, or even a mirror for an added glamorous statement.
Use Negative Space
Use negative space to your advantage to provide needed balance to your small garden as undecorated spaces can lend a powerful contribution to the overall look.