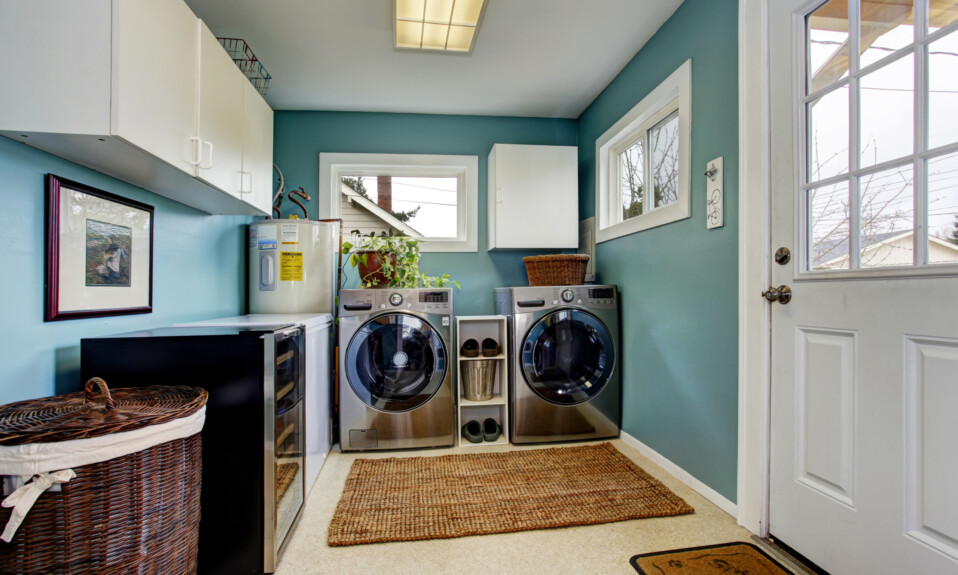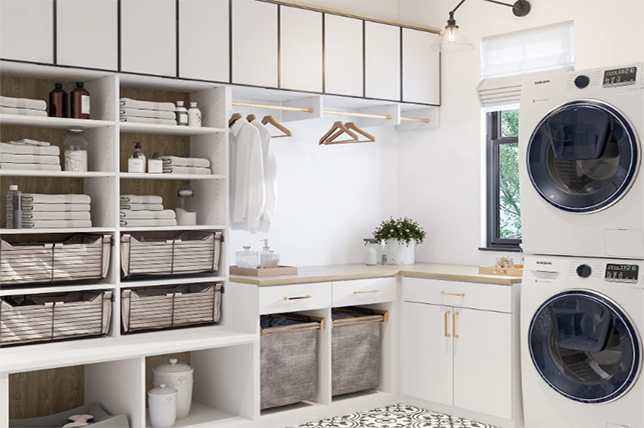 Everyone has to do laundry, and we all know laundry isn't the most fun task in the world, and that you'd probably rather be spending your time someplace else than your laundry room. But, it's a necessary evil and if you're going to have to do laundry, then how about doing it in a functional, enjoyable space? These savvy laundry room ideas from our decorators will help you better organize your space to make the most of it, make it an enjoyable space to be in. Because if you have to do it, you might as well do it in style, right?
HANGING RAILS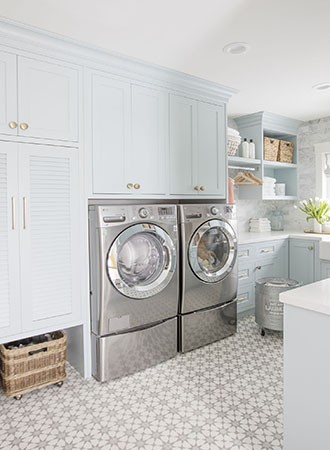 Whether your laundry room is big or small, there is always a way you can introduce laundry room storage, by way of a hanging rail. This is perfect for hanging out garments once you have ironed them, or for leaving them to dry while you get on with your next task.
Even if you only have the smallest of spaces above a sink, or in-between a couple of cupboards, hanging rails can be made to fit even the tiniest of spaces – perfect for large or small laundry ideas alike.
PULL OUT DRYING RACK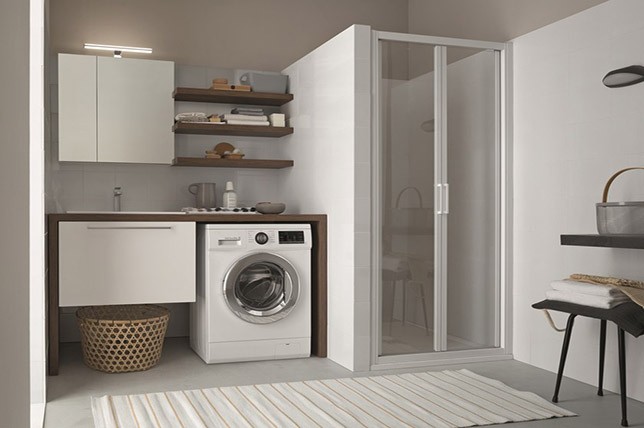 If you really don't have the wall space in your laundry room for a hanging rail and there's no way you can fit it into your laundry room ideas, how about a pull-out drying rack? This is perfect for increasing hanging space as well as negating the need for a bulky airer.
This hanging rack just slides straight back into your cabinets and looks like a regular drawer. Have a few of these going all the way across the top of your fitted cabinets to make the most of the space you have in a discreet and clever way.
FOLD DOWN IRONING BOARD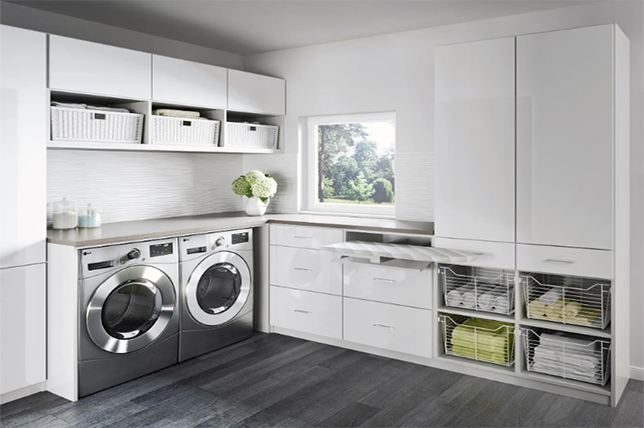 Coming up with a laundry room storage solution for your ironing board can seem impossible; they are an awkward shape and size and once they are out, they are often left out. One way around this is to have an ironing board hidden away in a cupboard which folds down when you need it.
A wall-mounted ironing board is the perfect solution for the eye-sore that is the traditional ironing board, and you can use the rest of the cupboard space around it to store your iron, stain removers, and extras you can't find a home for.
UNDER-COUNTER STORAGE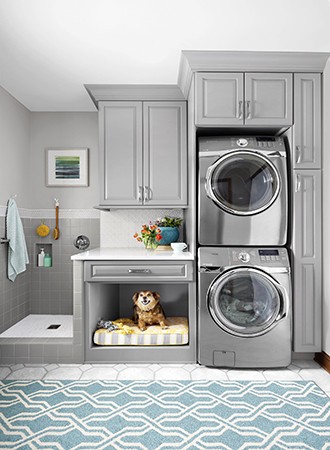 One of the hardest things to stow away in laundry room storage, is laundry baskets. They are aggravatingly bulky and forever difficult to find a place for; one of the best ideas we've seen is a large drawer under the counter.
You can make it look as if it's just another cabinet but having a drawer there instead will give you the perfect storage place for bulky laundry baskets. Laundry storage ideas like this are not only handy, but they look great too.
RETRACTABLE CLOTHES LINE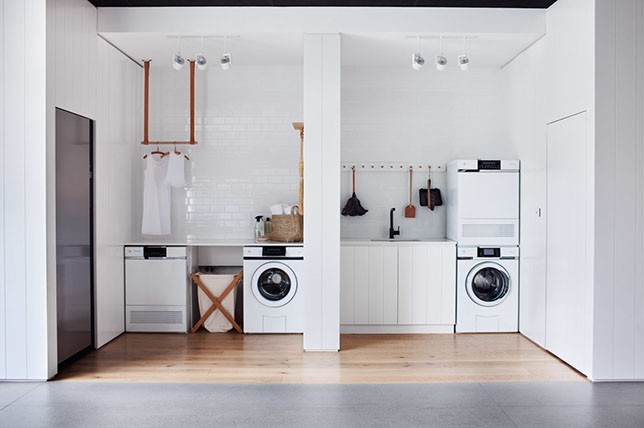 If you have a lot of clothes to launder and an airer isn't going to cut it, a retractable clothes line is great for small laundry room ideas. If you can have it so it opens out near a window, this will help with drying time. Once you are done drying your clothes, you can retract the clothes line and it will be out of sight until the next time you need it.
Laundry room ideas like this are great if you can't close the door on your laundry room and you need small laundry room ideas that help keep it presentable.
OVERHEAD STORAGE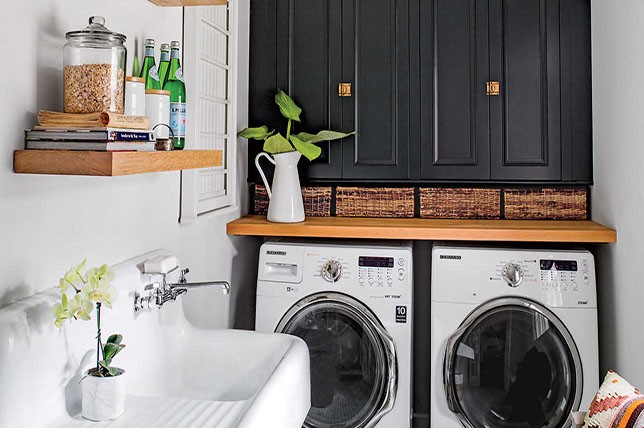 This is one of our favorite laundry room shelving ideas because not only does it give you extra storage, it saves space by allowing you to put your bulky items (such as laundry baskets) up on the wall and out of the way. Because they will be slanted towards you, this makes them easier to reach and easier to get down from the shelf without stretching or it being dangerous.
Having them slanted towards you also means you can sort your laundry into the baskets/dryer without having to keep moving them around or trying to find somewhere to balance them.
WALL-MOUNTED STORAGE BINS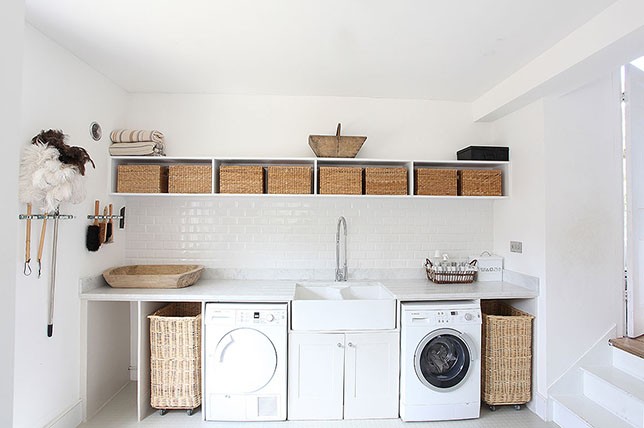 Another space saving laundry room storage idea, having storage bins mounted on the wall means you save cabinet space and you don't need to keep bending down either, so it's easier on your back.
These storage bins are perfect for laundry materials, detergent pods, dryer sheets, and anything else you need quick access to.
HANGING LAUNDRY BAGS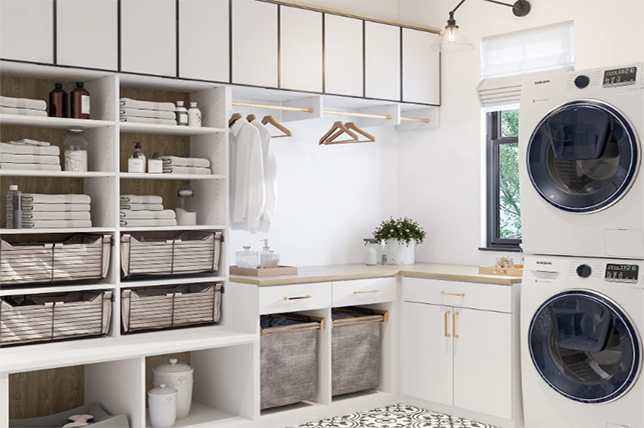 Hanging laundry bags on the wall is a great way to help you sort colors in a way that looks great, as well as being practical. You can have laundry bags personalized so they come in the color that goes with your laundry room and with the right descriptive words on the front to help you sort laundry.
You could even have them hanging from pegs, so you can put them away once you are done with them.
SECRET FOLDING SPACE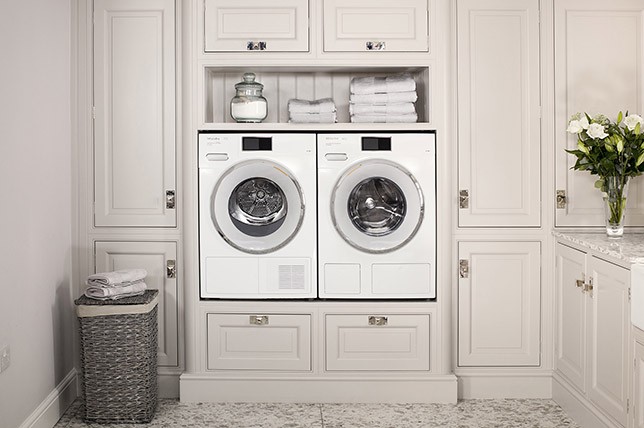 If you aren't blessed with ample counter space in your laundry room, consider space saving laundry room ideas which will give you a space to fold clothes. You can bring in pull out surfaces that look like they are drawers; a whole row of these across your floor will give you extra room for folding and sorting.
WALL HOOKS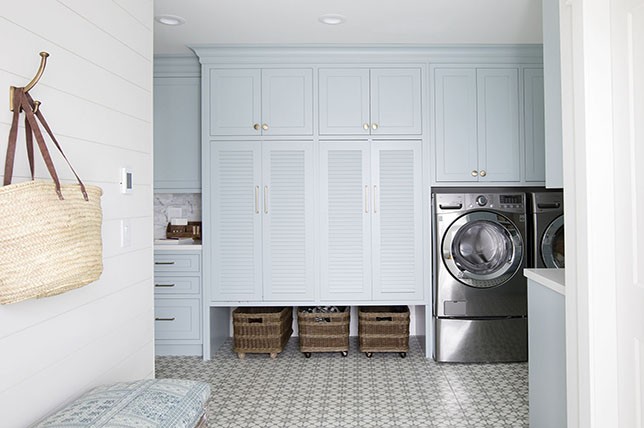 The laundry room always seems to be full of awkwardly shaped and sized items which are hard to find a home for, from a dustpan and brush, to a mop, to spare hangers. One of the best laundry room storage ideas to keep all of these pieces out of the way, is a set of hooks on the wall.
You will get the most out of your hook storage if you space them out at different heights; this way, you can fit even more on your wall hooks while mastering small laundry room organization.
ADJUSTABLE SHELVING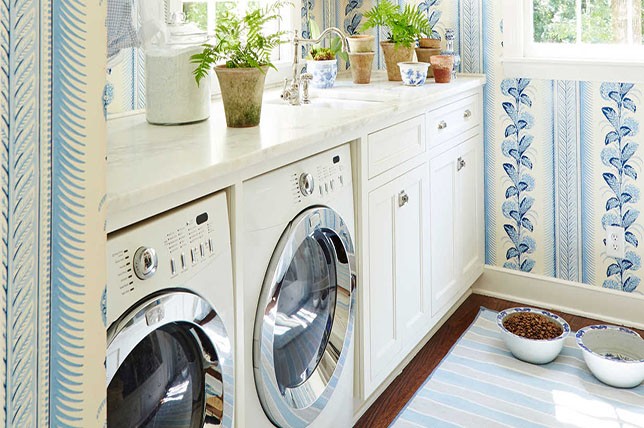 If you have extra space between your washer and dryer, why not add a pull-out shelving system on wheels for detergents? This savvy idea means you get to use the entire space to your advantage, and it frees space for everything else.
This is perfect for a small laundry room. The great thing about these, is since they are on wheels, you can easily move them and put them wherever is most convenient, making them perfect for small laundry room organization.