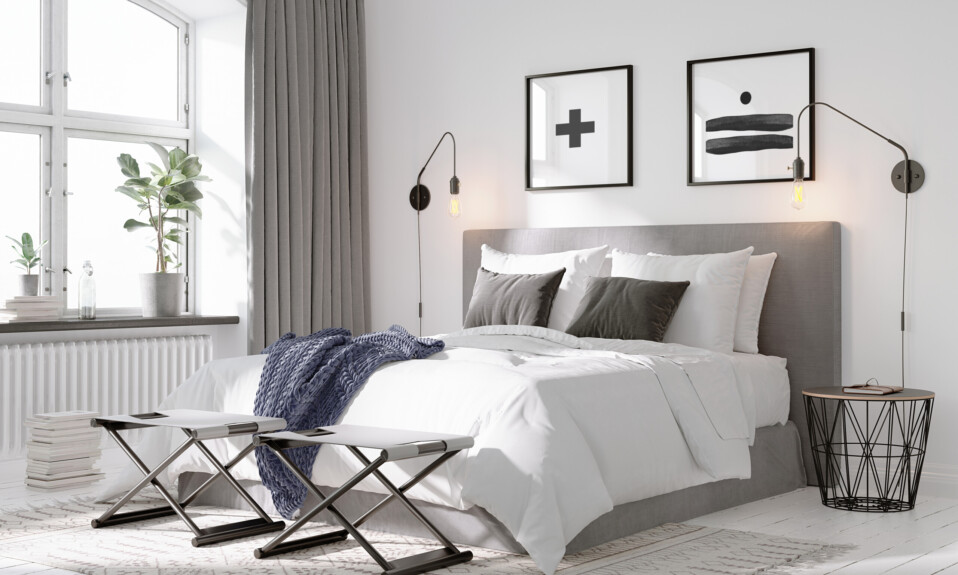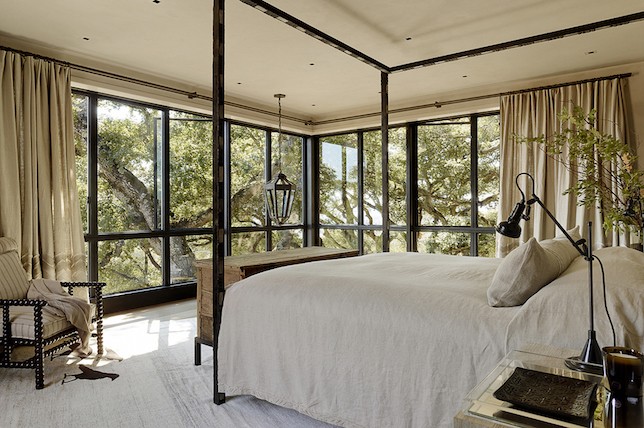 Getting bedroom storage right can be tricky since the space is normally taken up by a large bed and is small, to begin with. You want to keep your bedroom a relaxing space and bedroom storage ideas can often be anything other than 'zen'. You should want your bedroom storage ideas to compliment your room while providing enough storage space for all of your clothes, accessories, and pieces.
From fun to easy bedroom storage ideas, with some that disguise themselves as anything but storage along with some takes on how you can make your bedroom feel more spacious, there's a smart bedroom storage idea out there for you that will work for you and your space.
SLIDING DOORS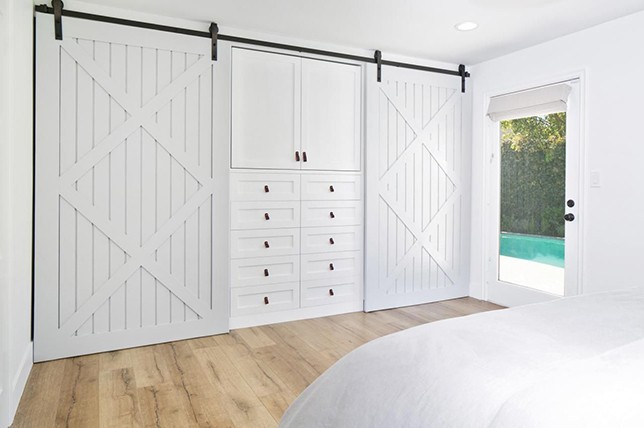 A wall boasting concealed storage features always makes for the ultimate of all bedroom storage ideas as the look is minimal while the feel is pure luxury. Even better if your's has pocket or sliding doors to save floor space when open.
MODERN MURPHY BED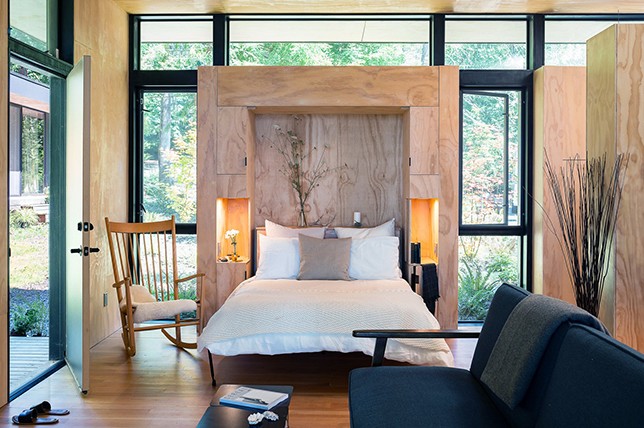 When it comes to bedroom storage ideas for small spaces and studio apartments alike, nothing beats the timeless appeal of a stowable Murphy bed that will easily create more floor space when needed which will allow for more storage space throughout.
GET SMART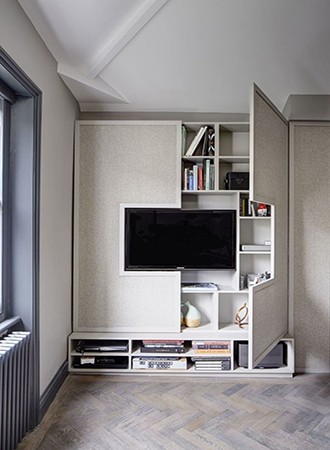 If you've got the budget to work with along with a reliable and gifted renovation specialist in tow, why not consider something really clever, like a concealed unit that will help your bedroom remain clutter-free day after day?
PLATFORM TRUNDLE BED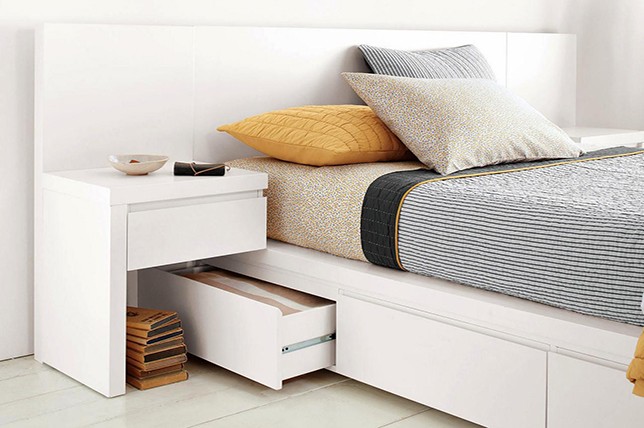 Take a cue from children's bedroom furniture and consider sourcing a chic trundle bed to gain more storage space. This will, in turn, be much more visually appealing as when it comes to bedroom storage ideas, they often lack great design qualities.
PICTURE RAIL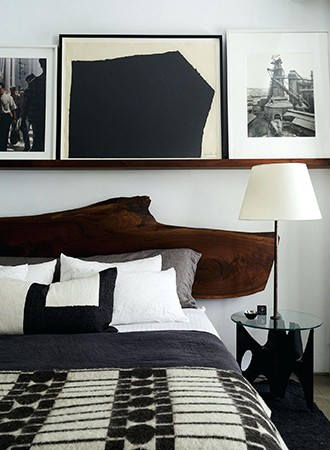 If you're on the hunt for stylish bedroom storage ideas, a slim picture rail is a great addition for displaying art and cherished finds without taking up too much valuable space.
AN ARMOIRE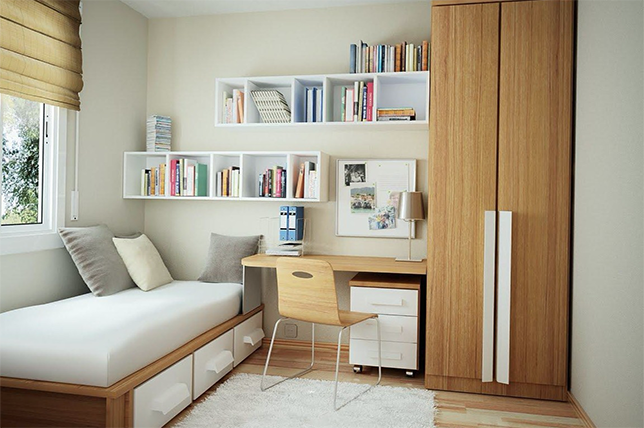 A chic and practical armoire is one of the most timeless bedroom storage ideas of them all, and you can easily find beautiful vintage and antique ones affordably at estate sales and vintage shops for a unique, one-of-a-kind feel.
BASKETS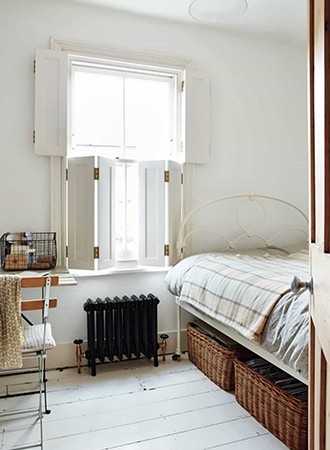 One of the most affordable bedroom storage ideas of them all are some handy holdall wicker or metal baskets that you can put just about anywhere for a stylish statement. They're perfect for storing sweaters and bedding alike and won't cost a small fortune.
ABOVE THE DOOR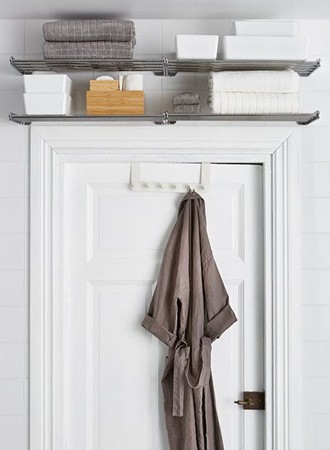 Another frequently neglected space that you should reconsider is that dead space above the door and even behind it. Instead of letting it go to waste, have some handy shelves installed above head and add some wall hooks behind the door.
This is a great space for storing bed linens and bedsheets along with robes that you can easily reach while also keeping them out of sight when not needed.
RAISED LOFTED BED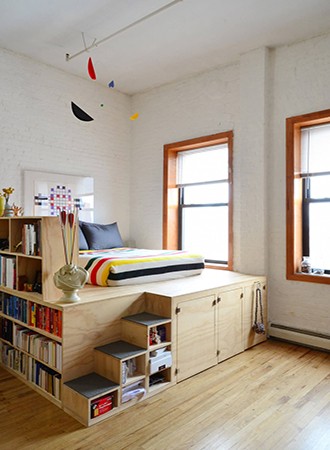 A lofted bed is another clever take on bedroom storage ideas as it again, helps you make the best use of otherwise neglected space and this custom built option does just that while boasting the ease of reach so your bedroom will be easy to keep tidy.
Even better is the fact that a bookshelf takes up most of the unit as it will help when it comes to privacy, and avoiding any potential falls since the bed is raised so much higher than a standard frame.
STORED TO THE CEILING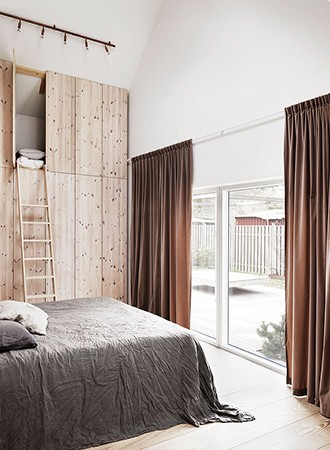 Like we've said before, there's often dead space in every room in a home and this bedroom with a vaulted ceiling is a perfect example. Instead of letting that space go to waste, the homeowners were savvy enough to have a striking storage cabinet wall installed.
By doing so, they not only punctuated the look of the room with an unexpected material, but they also worked to make the best use of otherwise dead space that would have gone to waste.
BENCH STORAGE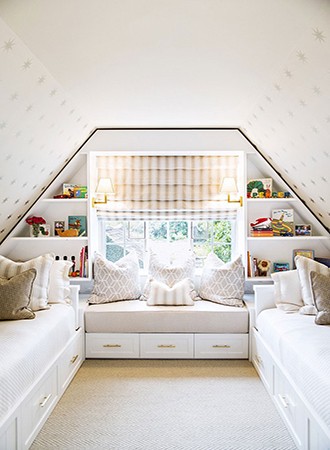 Create a dreamy reading nook by having a custom-made storage bench installed underneath a light-soaked window for the ultimate in comfortable and cozy areas. Not only will it add to the resale value of your home, but it will also help to make the best use of the space while being unique to your home.
OVERHEAD SHELVING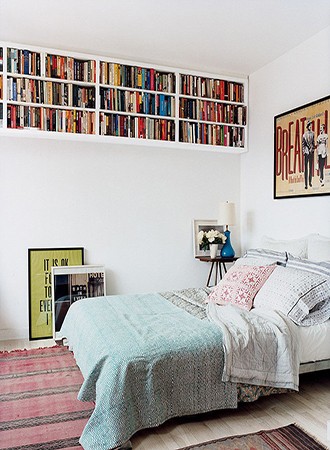 When it comes to savvy bedroom storage ideas, more often than not, people don't consider all of the dead space they have to work with, such as higher up on the walls. Instead of letting that space go to waste, use it to your advantage with bookshelves installed as high as possible.
This will make for a great idea even in the smallest of bedrooms. That said, just be sure that you aren't holding on to things you don't need just because you do have that extra storage space.
FLOATING SHELVES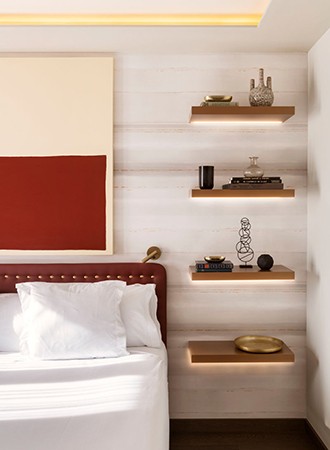 If you are looking for bedroom storage ideas for a small room, then floating shelves are a great, stylish solution. Floating shelves blend seamlessly in with your walls, allowing your shelving to impose as little as possible in your bedroom.
Floating shelves are great for making as much use of the vertical space you have to work with as possible, so you can put in plenty of stored items without creating too much of an impact in your space. Bedroom storage ideas like this allow you to keep your drawers completely free for clothing while displaying cherished collectibles and keepsakes for everyone to see. Plus, they're affordable and easy to install.
CORK BOARD JEWELRY STORAGE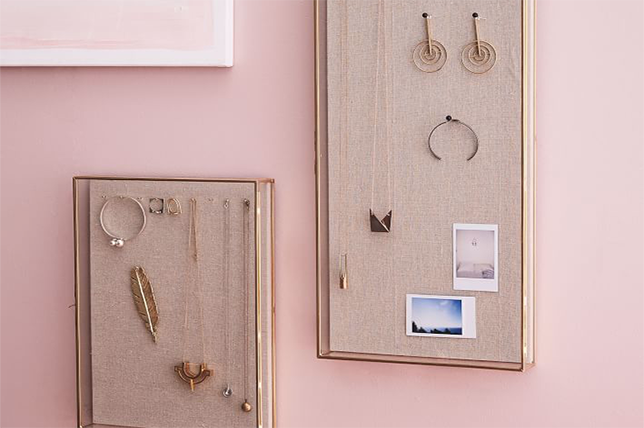 A cork board is a great idea for jewelry storage. Jewelry boxes can take up a lot of space and having your jewelry put away in a box often means you don't end up wearing most of it. Bedroom storage ideas like this allow you to see all of the jewelry and accessories you have so you can easily pick and choose between them and quickly put them away.
You can style up this bedroom storage idea with a pretty picture frame to surround the cork. And best of all, hanging necklaces can help keep them tangle free.
ARTFUL SHELVING DISPLAYS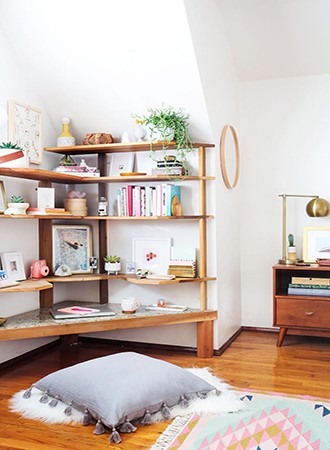 Shelving doesn't have to be straightforward and all about function as you can make the most of your storage and use your possessions to make an artistic display. Whether it's books, art, trinkets or treasures, with a little thought, you can create a stunning presentation of items which would usually go unnoticed in a bedroom.
Toiletries, plants, perfumes and makeup will all come together to create a lovely display for your bedroom shelving, and bedroom storage ideas like this are both stylish and practical.
HANGING RAILS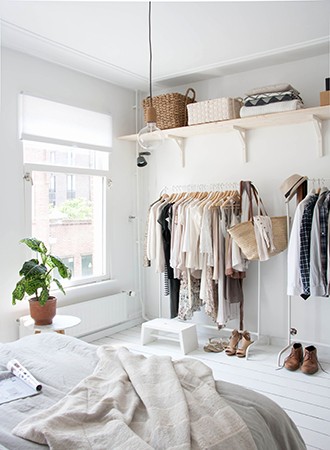 If you don't have much closet space in your room, you probably already know how much extra space a wardrobe can take up. Hanging rails are a great solution for this, as you get way more hanging space out of the same area with a hanging rail, in comparison to a bulky wardrobe. Suspend your hanging rail from the ceiling to make the best use of your space without taking up any valuable floor space.
Pop a dresser underneath your suspended hanging rail to maximize your bedroom storage ideas. And do consider arranging your clothes by color in order to make a concise feature out of your tops and trousers.
STACKED SUITCASES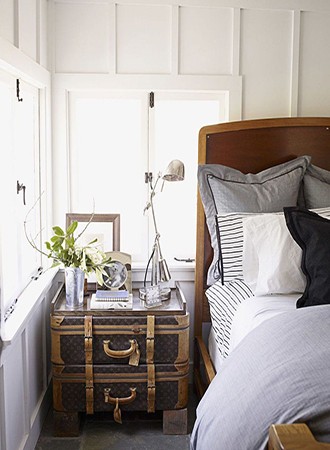 Stacked vintage suit cases or a large vintage trunk will be sure to be an unexpected alternative to your usual nightstand. Decorative bedroom storage ideas like this will also add a nice finishing touch to your bedroom while providing extra storage for infrequently used items.
And they're also great for lending the space a rugged sense of charm along with a vintage spirit and can easily be affordably sourced.
BUILT-IN STORAGE SPACE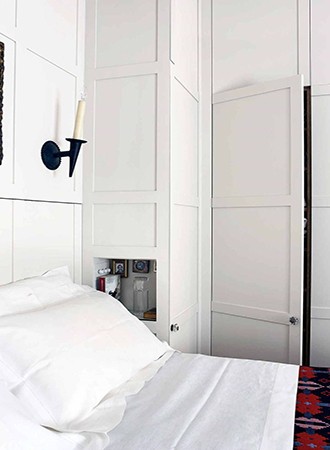 There is a reason that built-in storage is a Décor Aid favorite when it comes to savvy bedroom storage ideas. Built-in storage makes the most of the wall space you have, providing you with customized options to have all sorts of different storage solutions worked into your space.
Whether it's extra shoe storage, accessory storage, hanging space or shelving, the possibilities are endless with built-in storage. You can essentially have it however you want, so it's perfect for awkward spaces or for bedroom storage ideas for a small room, as there's no wasted space. Plus, they'll be sure to boost the resale value of your home when created soundly.
CLEAR UP CLUTTER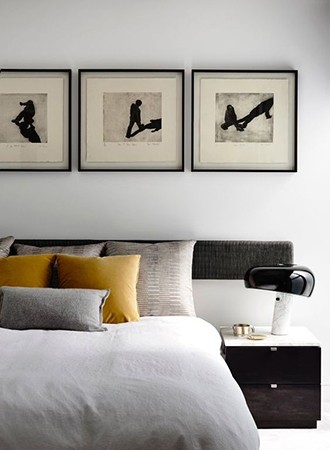 Introducing new bedroom storage ideas is often about creating more space and giving everything a place. One of the best ways to do this (and certainly one of the easiest and simplest) is to get rid of some of the clutter in your bedroom.
Be ruthless and rid your bedroom of anything you don't need or use anymore. You'll be amazed at how much space this can create in your bedroom and how much more relaxing you will find your space without so much clutter around. If you are looking for storage ideas for small bedrooms on a budget, then this is the best idea going, as it's completely free.
PERIMETER SHELVES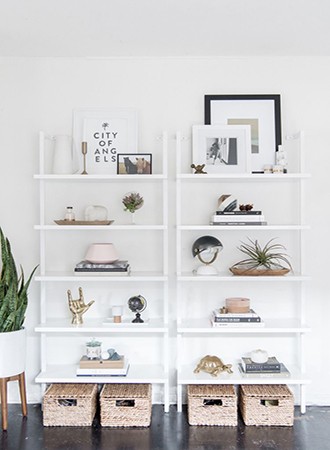 Shelving around the perimeter of your room is a great way or storing items that you don't need all the time and want to get out of the way. Storage like this doesn't impose upon the rest of your room and it creates a huge amount of storage space out of an area that doesn't get any use at all.
Use this shelving to store books, to display photos or whatever you have in mind. It doesn't cost much either, so it's perfect for storage ideas for small bedrooms on a budget.
BUILT-IN SHOE STORAGE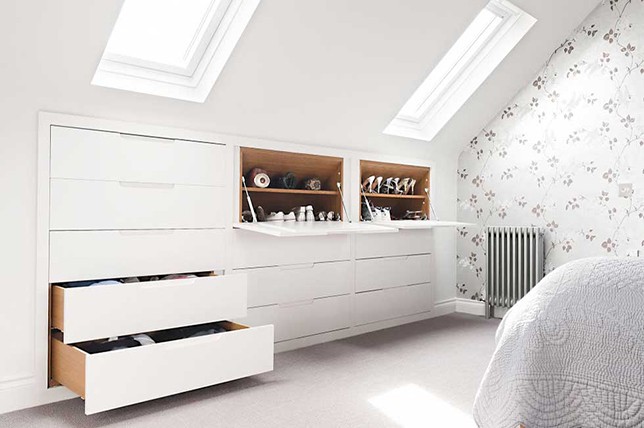 Built-in shoe storage makes for a stunning way of creating needed shoe storage with it being concealed within the rest of your room. It shouldn't impose on your room as it hardly takes up any space and it will make for a great way to keep them out of sight.
Even better if you can use dead space to your advantage here, like seen above as what else could have worked better there?
STORAGE HEADBOARD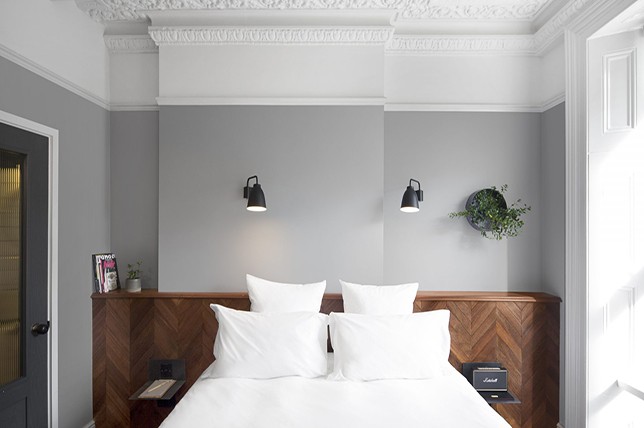 A storage headboard is about as smart and practical as it gets when considering the best bedroom storage ideas. They are a great way of creating additional storage space that doesn't impact in a noisy manner your bedroom at all.
Secret storage allows your room to stop feeling cluttered and closed off. Whether you want to use this space for books or personal everyday items, it will provide you with an entire length of additional storage.
STORAGE LADDERS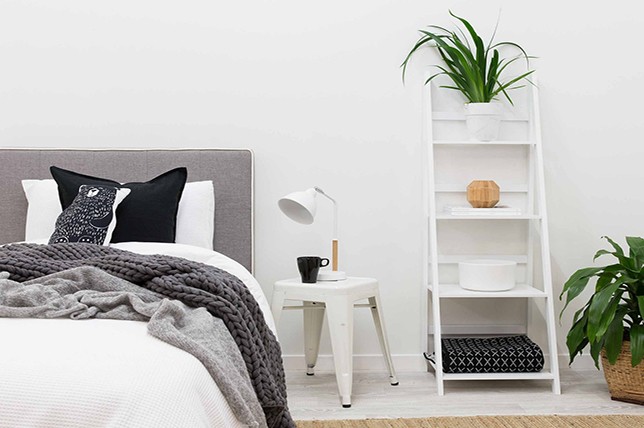 Storage ladders are great for the bedroom – they provide you with plenty of storage space for those awkward items, like scarves, belts, and necklaces, freeing up other storage space for your bulkier and easier to store items.
Bedroom storage ideas like this allow you to make a feature out of your accessories, putting them on display and showing off their vibrant colors and patterns. Ladders make for easy bedroom storage ideas, as they are no hassle to install and they hardly take up any space.
RADIATOR COVER SHELVING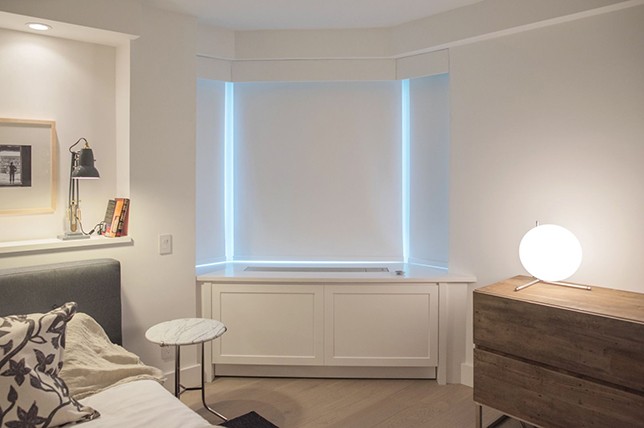 A radiator cover is a clever way of adding some extra shelving and storage space in your bedroom. You aren't losing any space by adding a radiator cover over your radiator, but you are adding a new shelving unit in your bedroom.
Radiator covers have the added bonus of looking great and disguising what can be an undesirable feature in a bedroom, so they are an easy bedroom storage idea choice to consider.
UNDER BED STORAGE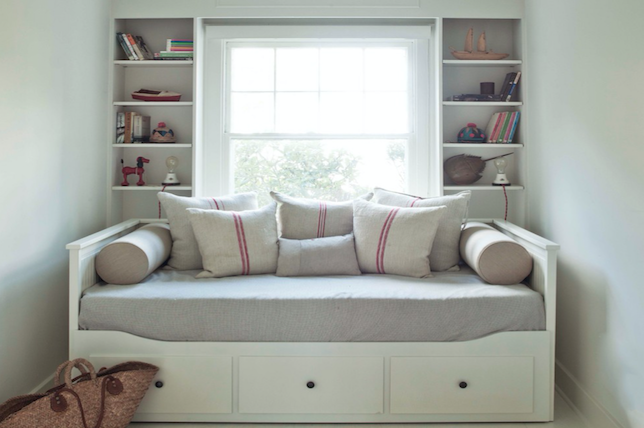 Under bed storage is another great way to add additional storage in your bedroom without taking up any extra space. Under bed bedroom storage ideas provide you with loads of additional space for clothes, shoes, bed linens – whatever you need to keep out of the way.
A double bed has space for plenty of additional storage and you are missing out if you aren't using it to your advantage. Not only that, it's a simple solution and one of the easiest bedroom storage ideas of them all.