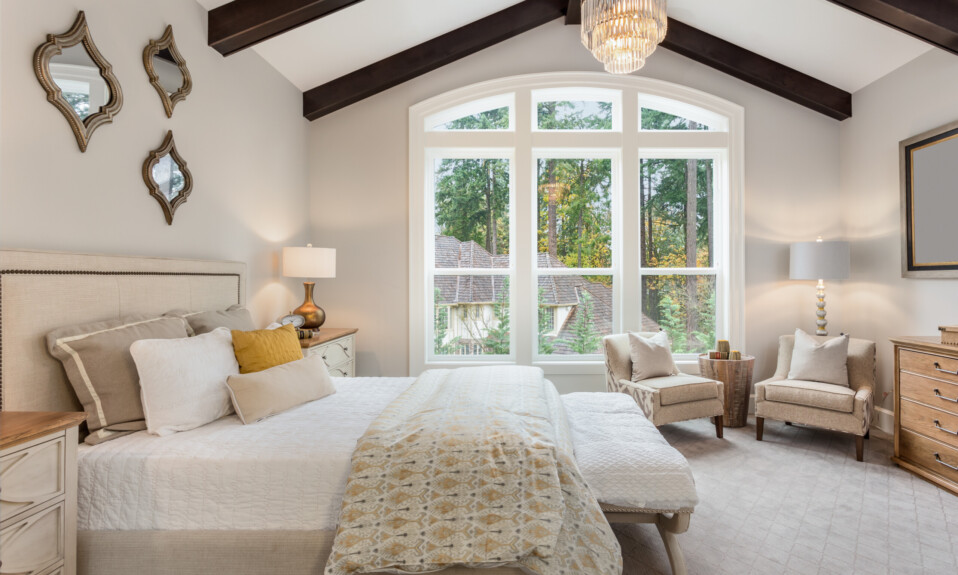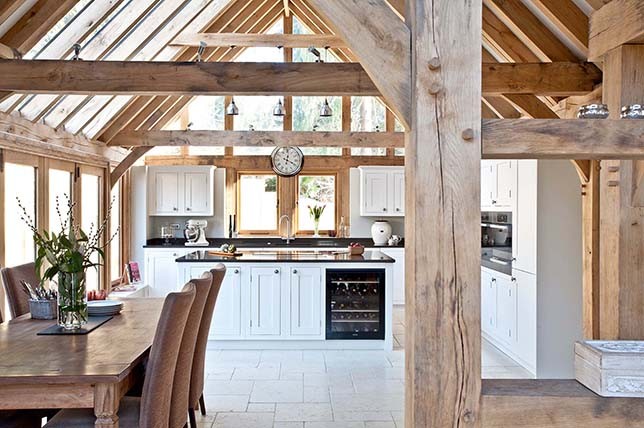 If you're on the hunt to add truly inspiring drama and a sense of unforgettable magic in your home, vaulted ceilings certainly aren't the usual when it comes to ceiling design ideas. To help you better understand them for your home, we thought we'd take you through exactly what a vaulted ceiling is, what style options you have for your home, and how you might design or decorate your ceiling to make the most of your space and lend your home a different look with an endlessly elegant feel.
That said, they can be a costly and time-consuming project to undertake, so how do you get the look right? To get you started, discover the ins and outs of vaulted ceilings along with vaulted ceiling inspiration that'll leave you enviously calling your local contractor before you finish reading.
WHAT DEFINES A VAULTED CEILING?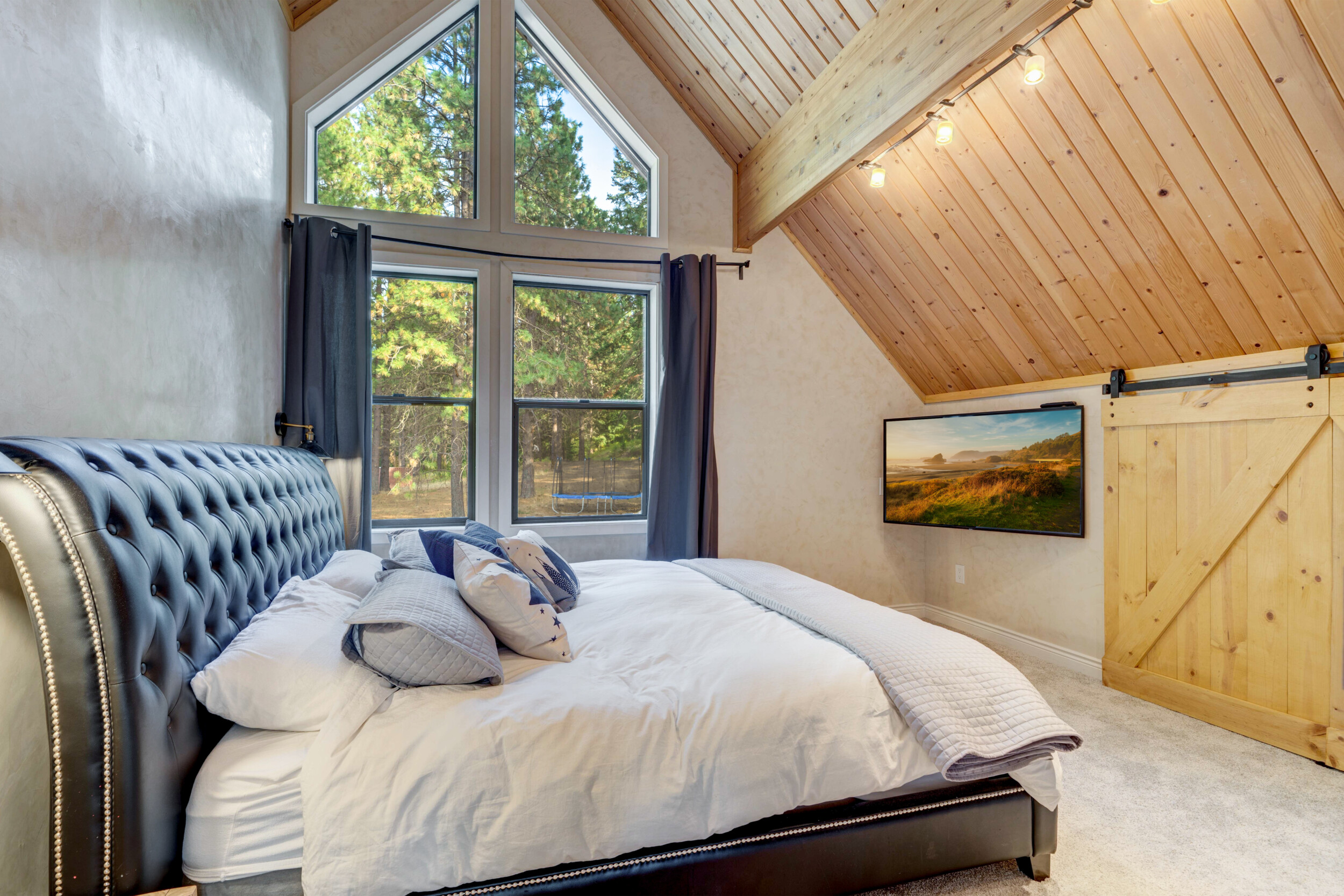 A vaulted ceiling is generally an arched ceiling, the kind of ceiling you might see in a structure like a cathedral or a church, and because of that, they are sometimes known as cathedral ceilings (as you can see why).
Particularly high, or raised ceilings are also known as vaulted ceilings. They are substantially higher than the average ceiling found in a traditional home – this usually means that the ceiling would be 8 feet or higher. And they feature sweeping, dramatic, sculptural curves and swoops that help them lend any room a sense of elegant drama instantly.
WHAT ARE THE TYPES OF VAULTED CEILINGS TO KNOW?
Lucky for you, vaulted ceiling ideas come in all different shapes and sizes as the vaulted ceiling has evolved over time, with the look and the feel changing as tastes have become more modern and building technology has greatly advanced.
So, before you begin exploring a vaulted ceiling for your home, here are the types you should know, and where they'll work best in a home so you can get the most for your time and investment.
DOMED VAULTS
Domed vaults are often referred to as beehive vaults because of their design and the way they look when completed. They don't necessarily lend themselves to an incredibly high ceiling, but they do make for a nice and more cost-effective alternative when it comes vaulted ceiling ideas for petite spaces.
That said, they're great for smaller rooms in your home that you want to create an elegant statement in, like a powder room or guest bedroom or entryway.
BARREL VAULTS
A barrel vault gets its name as it looks like a barrel cut in half. It's a simple design that will have a huge impact on your space, looking endlessly inspiring and impressive.
They also resemble the sensual arch of a subway tunnel and lend themselves well to the creation of some incredible design features with ease. Even better if you go for brick or glossy tile construction to really highlight their natural drama.
RIB VAULTS
Ribbed vaults are perhaps some of the more architecturally impressive of all the modern vaulted ceiling ideas to consider. Rib vaults look incredibly complex in terms of design, but they are essentially a domed vault, paired with stunning detailing to give off a sculptural ribbed effect.
They are incredibly statement-making as the ribs technically appear to contradict one another, adding to the complex look of a rib-vaulted ceiling. That said, they aren't for small spaces since the detail and work gone into one won't be highlighted effectively. So be sure to keep them in mind for larger, sweeping rooms to highlight their drama beautifully.
GROIN VAULTS
Rather unfortunately named, a groin-vaulted ceiling is created when two barrel-vaults intersect. They give a surprisingly cozy feel for a high-ceilinged vault and they aren't as aggressive or as lofty as some of the more open designs.
You can opt for a graphic, symmetrical finish with an Art-Deco feel to really create a distinctive sense of play that's undeniably over-the-top. Or, you could keep it Neo-Classic with exposed dark wooden beams that will highlight the complexity of construction beautifully. But our bets are more on a timeless route with undeniable cool allure by going for a smooth and soothing concrete finish to emphasize a dramatic, ultra-modern cathedral feel that will never look out of date.
WHY HAVE A VAULTED CEILING CONSTRUCTED?
Vaulted ceilings add dramatic vertical space to your home, giving you the feeling and illusion of more floor space, even though that might not be the case. They provide your space with a certain grandeur and they certainly aren't shy on impact, creating a real, unforgettable wow-factor.
With the addition of a skylight or a pane of glass, your vaulted ceiling can also allow plenty of natural light to filter into your space, making your vaulted ceiling lighting being a feature all by itself. The increased height of your room will provide you with additional wall space, where you can install impressive windows, have a Tiffany glass mural custom-made, or install some glorious oversized art.
It probably goes without saying that vaulted ceilings are also incredibly aesthetically pleasing. And if you go for a more natural feel, exposed ceiling beams will make for wonderful additions to your home, opening up an entire host of design opportunities as well as adding room-defining character. Ceiling beams will also enable your home to feel more regal and allow you and guests to feel like you're being transported to a grand estate from a past time, with a more traditional feel. Trusses also make incredible design features and they will make your home feel one of a kind – again, they open up tons of design options and they are sure to emphasize the enviable essence of vaulted ceiling ideas brought to life.
IS A VAULTED CEILING POSSIBLE IN YOUR HOME?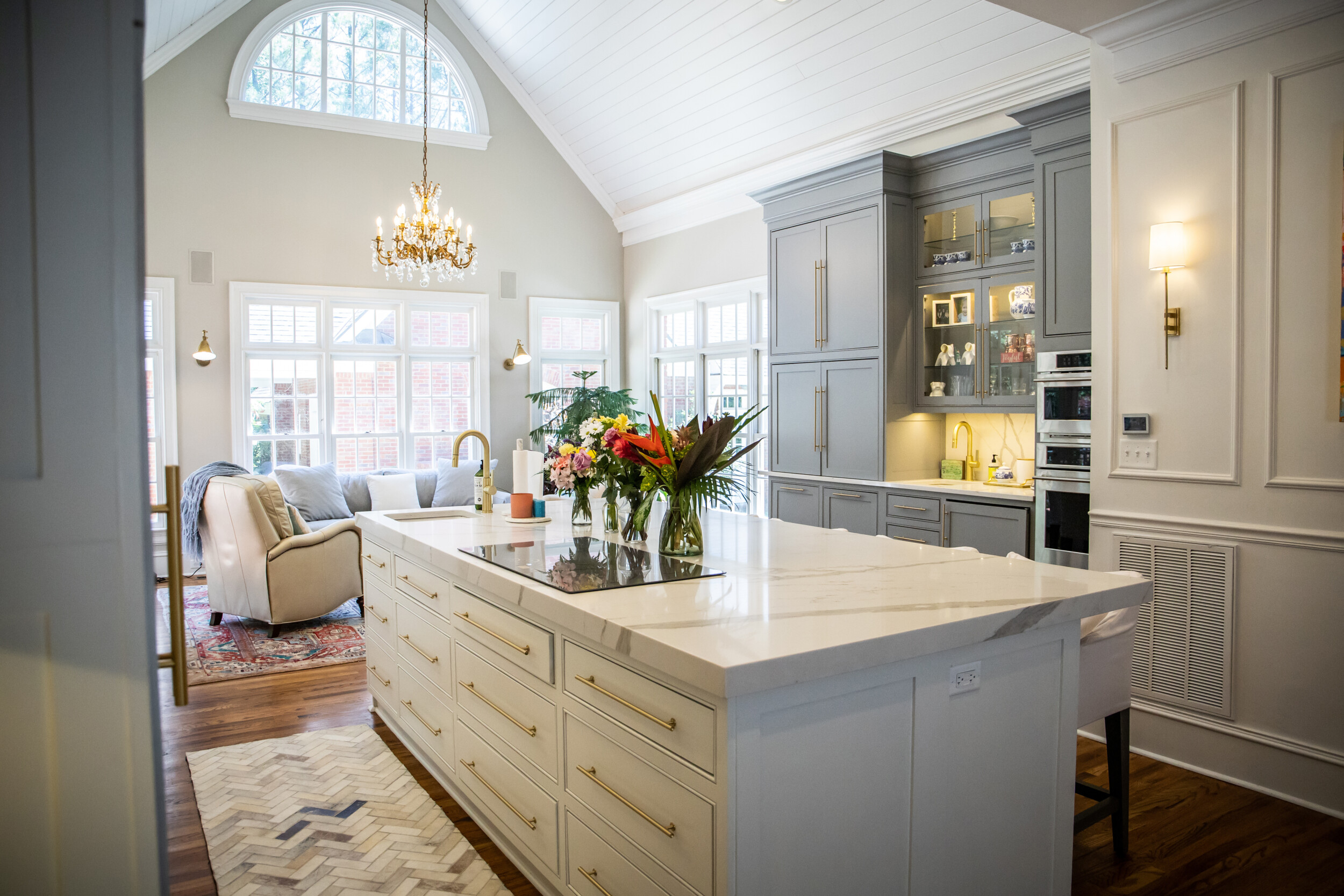 Vaulted ceilings can be costly and tricky to have properly constructed as water drainage can be a serious issue when the structure isn't effectively planned and built. It's much easier to build a house with a vaulted ceiling than it is to try and add a vaulted ceiling at a later date (in fact this is incredibly hard and you'll be hard pressed to find a builder who will do it for you), not to mention that it would be very expensive to have done.
If you have a tight budget, then a vaulted ceiling might be too difficult to create, but if you have your heart set on the look, then you may have to consider installation hacks like faux rafters and faux wooden beams.
These installation shortcuts can give you the look and the feel of a vaulted ceiling, without the impracticalities or headache-inducing construction practices. However, if you do go for a vaulted ceiling in your home, we can guarantee you will take pride in it for years on end and that it will make your home all the more unique and valuable when its time to resell.
IDEAS AND INSPIRATION
So, you've taken the plunge and you've decided to go for a vaulted ceiling in your home. But what kind of vaulted ceiling will work best for your taste and style, as well as your space? And how will you ensure that you go for an option that will stand the test of time stylistically speaking?
To give you a larger scope at what's possible, here are some of Décor Aid interior designers favorite vaulted ceiling ideas to get you started.
EXPOSED WOOD BEAMS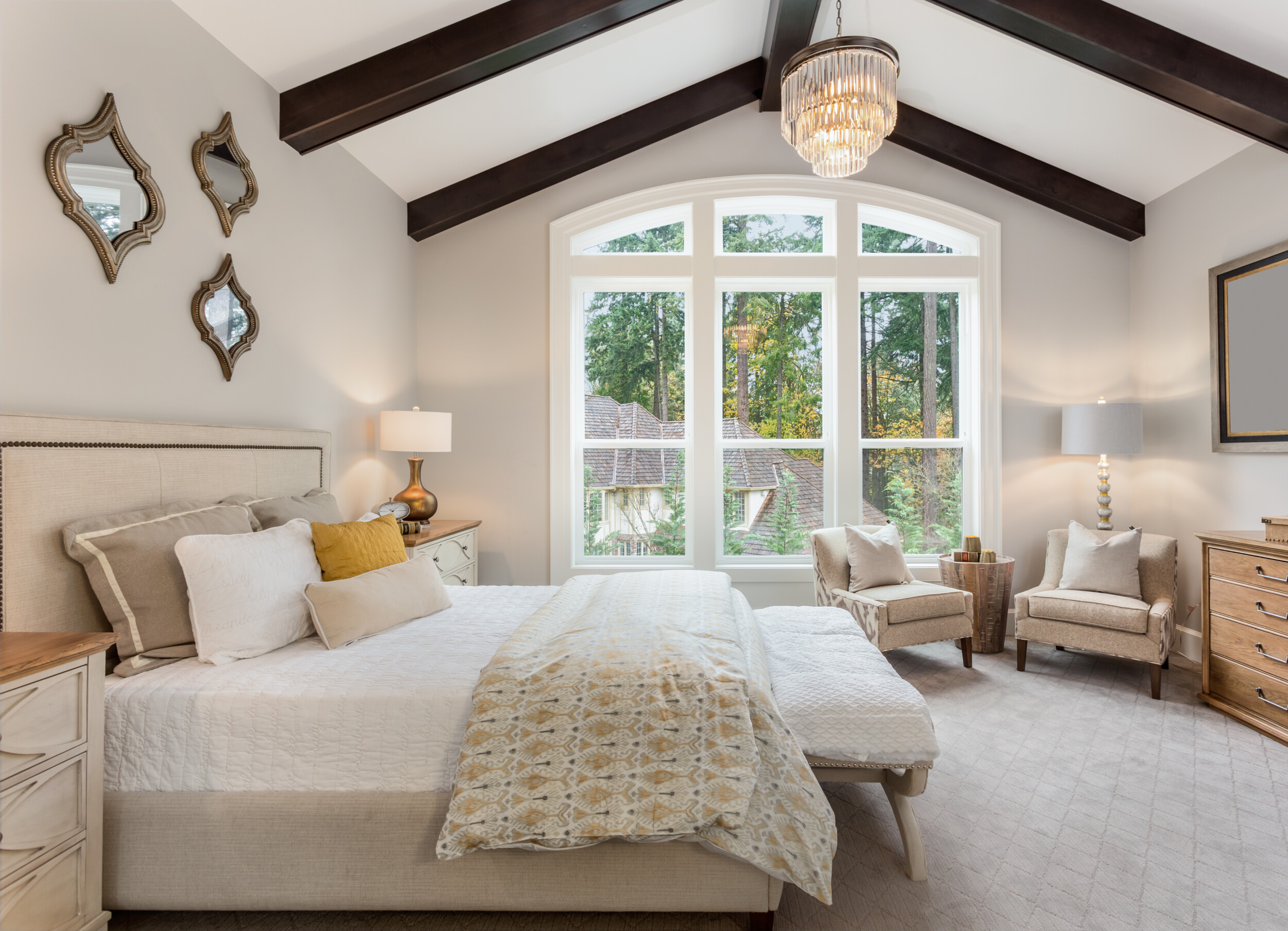 In more traditional homes, vaulted ceilings are known for their exposed dark wood beams, paired with contrasting white paint for extra depth and emphasis. This contrast adds a sense of grace to the already dramatic cathedral-like effect a vaulted ceiling has in any home, drawing your attention upwards and highlighting the epic drama of space above you.
It's a classic and refined look and you can style your space beneath more in tune with your own personal style. From the traditional to the minimal, exposed beams will never look out of place as long as the scale is timeless and left unexaggerated. to keep the look contemporary, choose some suspended vaulted ceiling lighting to help draw the eye upwards while highlighting the height you have to work with for a grand gesture.
NATURAL WOOD PANELING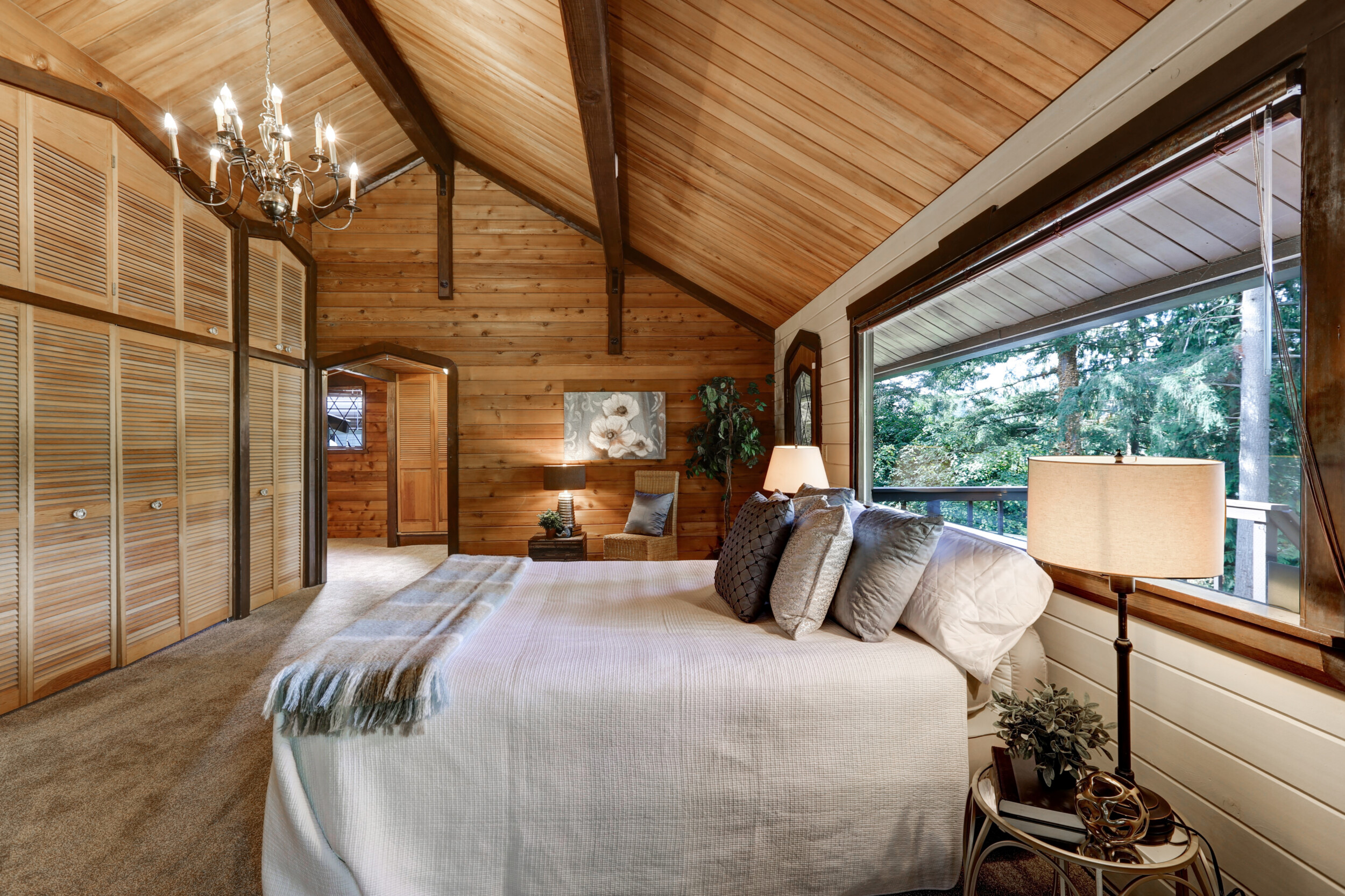 If you want a natural look for your home, then a natural-toned wood paneled ceiling will do just the trick. The extra height of your vaulted ceiling will make sure your room doesn't feel closed off or claustrophobic, allowing your space to feel comfortable and cozy – almost like an Alpine chalet.
And since its a classic route that allows you to bring a sense of the rustic in a home boasting any design style, its a can't-go-wrong option. Even better if you go for a more minimal direction like the wonderful vaulted ceiling featured above. Its ceilings clean feel and soothing lines will keep it looking modern no matter what the trends of the moment call for.
WOOD BEAMS OR A PANELED FEATURES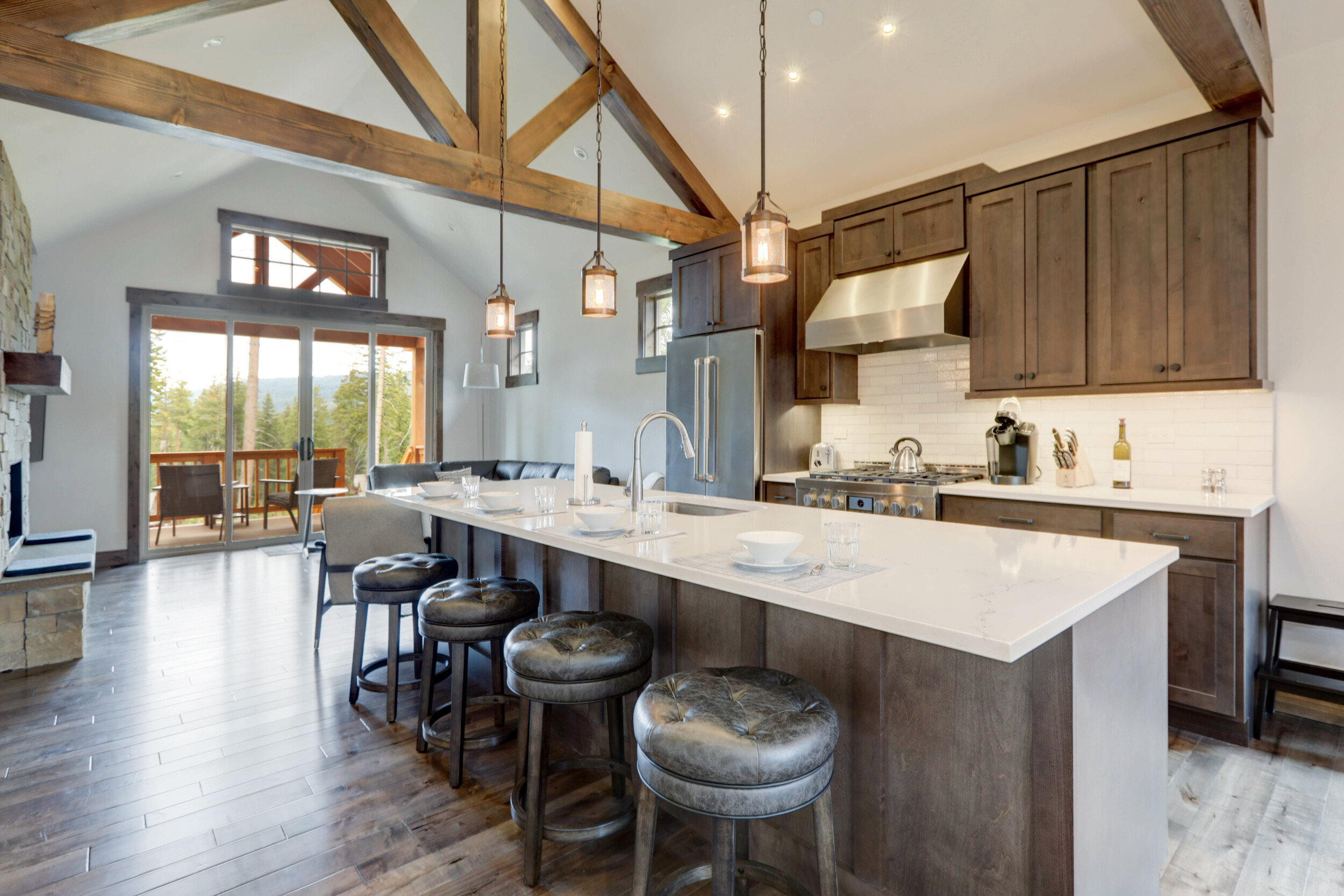 Forever on-trend, there's no denying the handsome appeal of exposed wooden beamed ceilings and elegant wood paneling treatments. Here, the look is all about celebrating the natural strength and beauty of the wood as architectural elements.
Besides being a timeless vaulted ceiling option, light or dark wooden beams will lend a sense of visual interest to an expansive vaulted ceiling that lighting options alone simply can't do. And when it comes to paneled vaulted ceilings, go for a medium shade natural wood finish to add depth while not making the space feel too closed off with a too dark tone. That said, if you're on a tight budget and want something different with a graphic touch, shiplap, with its horizontal seams, makes for an affordable solution.
ALL-WHITE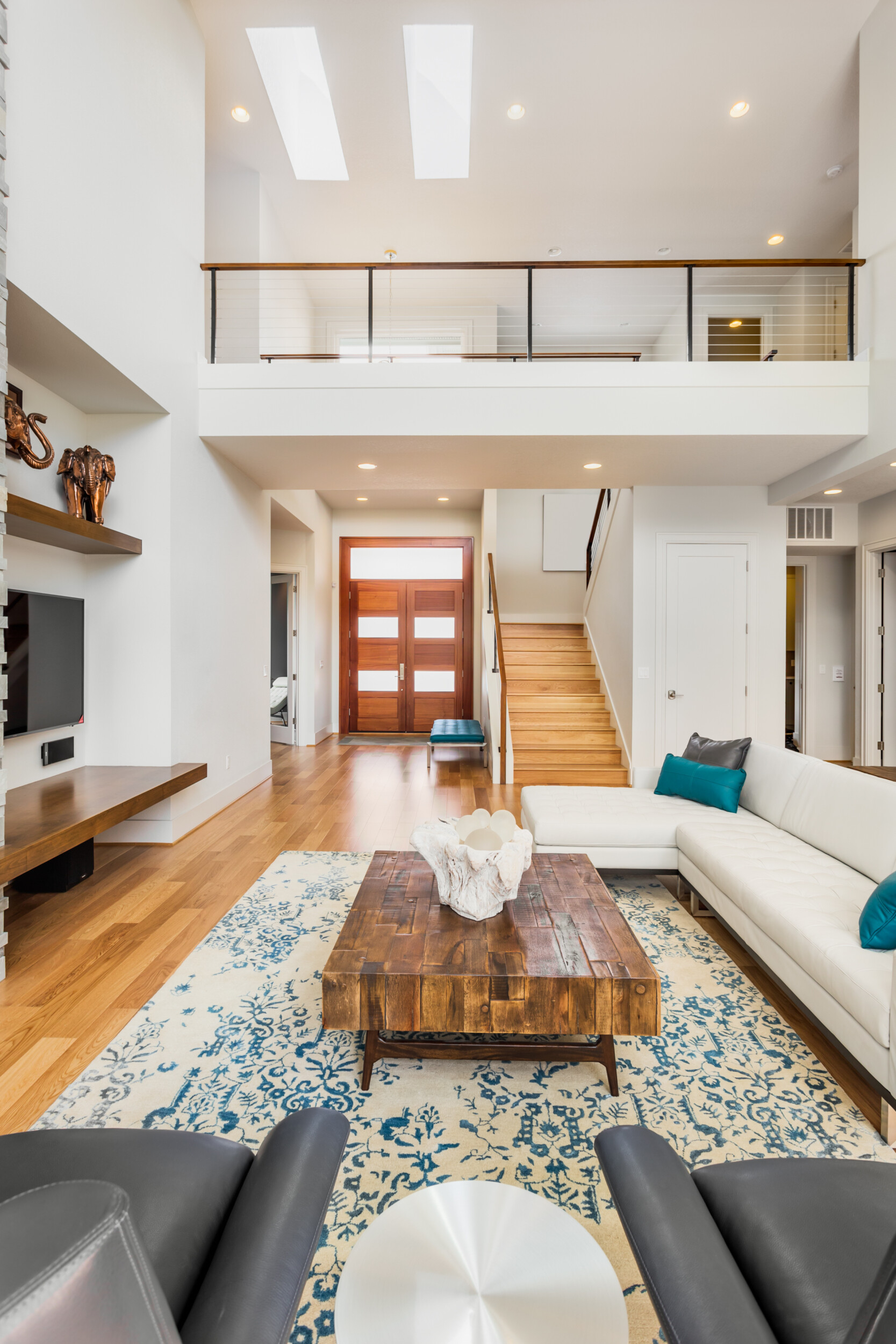 If you really want to make the most of the vaulted ceiling in your dining room (or wherever else it may be) then an all-white color scheme is certain to make it pop and move all eyes up towards it. A crisp all-white color scheme will help your space feel as expansive as possible and will make your ceiling look as high as possible. Giving the room an airy quality that you can't achieve with another color, especially a deep one.
And since a bright optic white is great for catching light, an all-white vaulted ceiling will be filtering as much natural light in as possible to help your space feel all the grander. Even better is the fact that an all-white ceiling will help you have to avoid a room repaint when you are looking to resell your home as it'll remain impressive and luxurious for years to come.
NATURAL LIGHT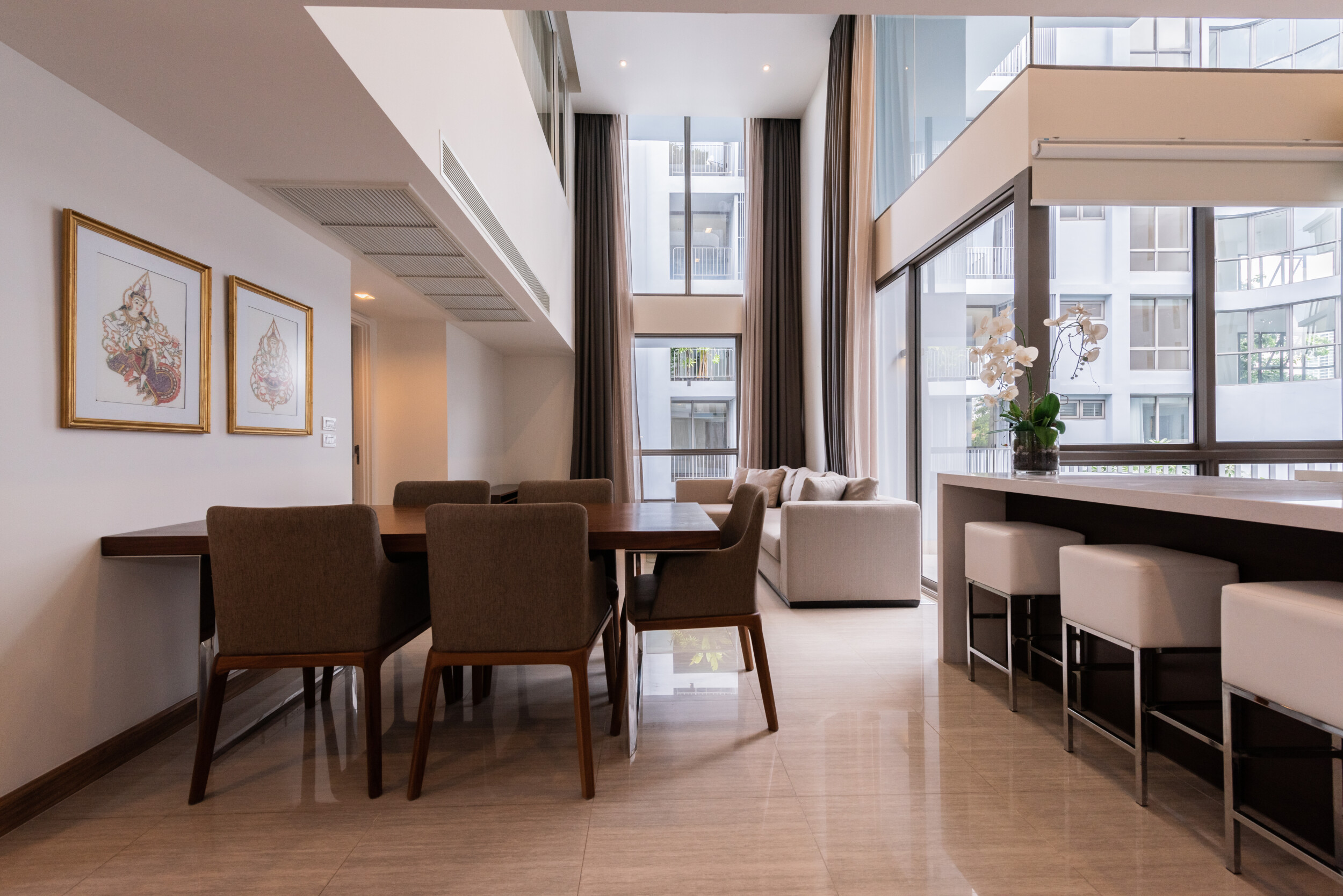 Allowing as much natural light to flood into your space as possible will highlight the wonderful qualities of your vaulted ceiling. Skylights and tall windows placed higher up are the best way to add the natural light you crave, and you can use them as design elements in their own light.
Architectural domed skylights will make for a stunning feature, as will arched windows following the curves of your vaulted ceiling. The best thing about placing accent windows higher up is that the light coming in will be much brighter than ground level. And you'll still be provided the same sense of privacy as a regular closed off wall.
SOFT NEUTRALS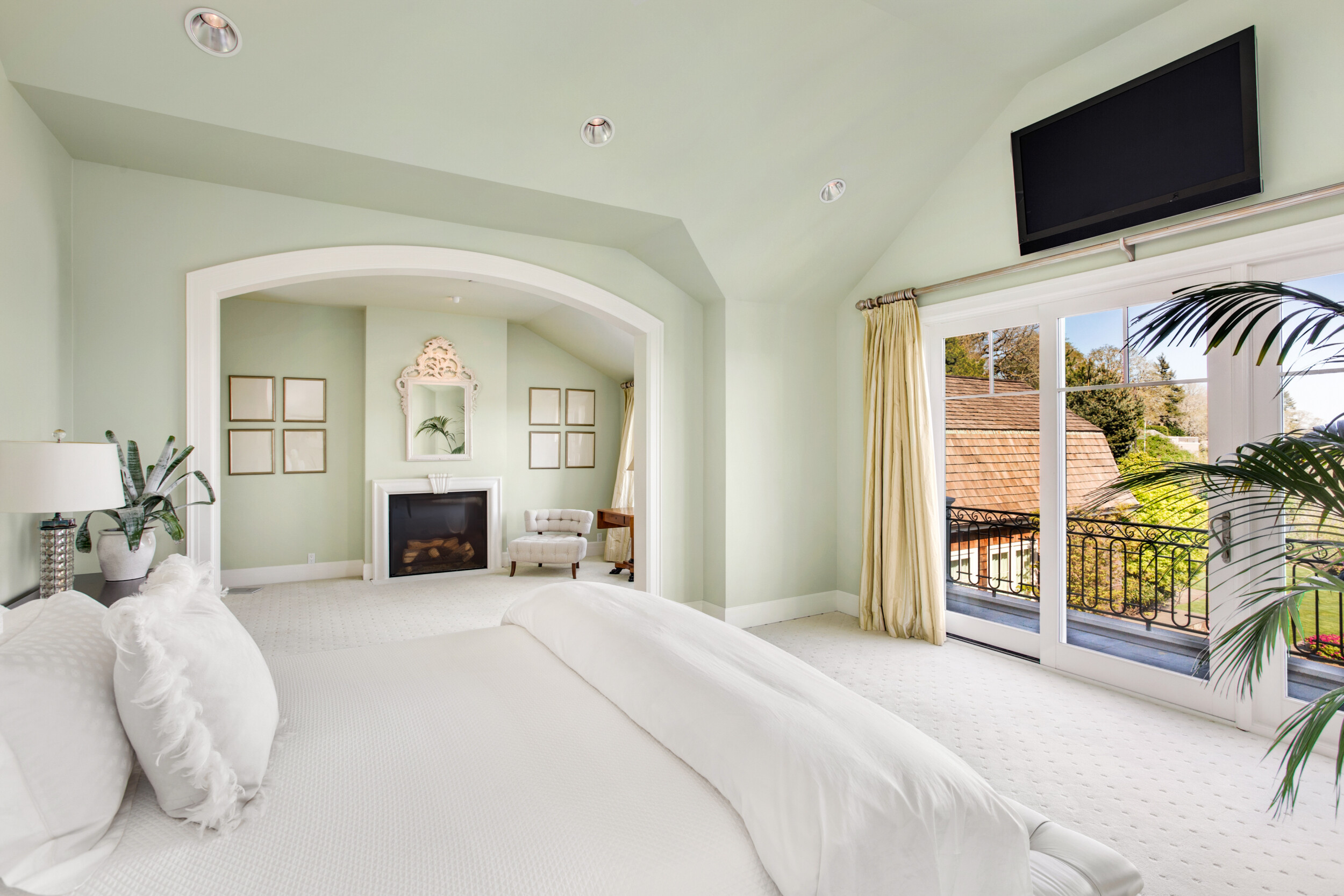 A high ceiling affords you the opportunity to choose a more comforting and cool color scheme, without losing the visual feeling of added height and space in any room in your home. Classic bright white might be too clinical and a softer and more muted color scheme boasting neutral shades like taupe, eggshell, off-white, and khaki make for great alternatives – there are plenty of great neutral paint alternatives to make it work.
It will allow your room to feel warmer and more intimate, as high ceilings can have the tendency to make a room feel particularly spacious and grand, and a bit overwhelming. Plus, you can't go wrong with cozier neutral paint colors since they pair well with anything and every other color, and they're timeless to boot.