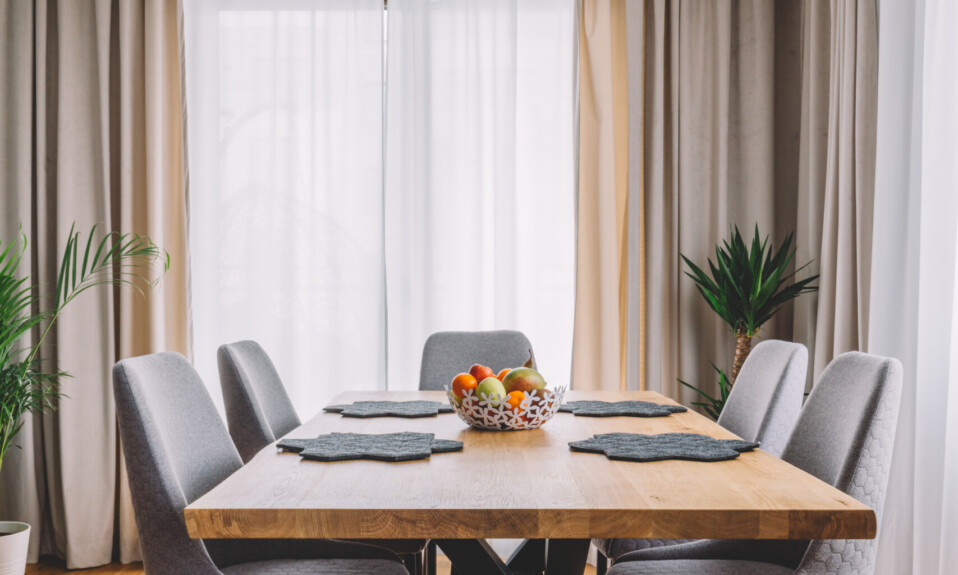 No matter the size of your home, it goes without saying that some of the most memorable events in your home happen at your dining room table. Remember all of those great nights eating in surrounded by loved ones, working, talking, doing projects, and catching up with friends. But how do you find the best dining room table?
Think about it this way, besides your sofa or your bed, no other piece of furniture reflects your lifestyle and times any better. So finding the best dining room table is essential in creating a comforting and inviting scene. You should want your dining room table to be attractive, sure.
But you should also be on the hunt for a dining room table that is comfortable, one that reflects your personal style, and one that will last for years to come. To help you find the best dining room table sets for your home, we asked eight Décor Aid interior design professionals for their takes on the best dining room table to consider.
BUT BEFORE THAT, HERE'S WHAT TO REMEMBER: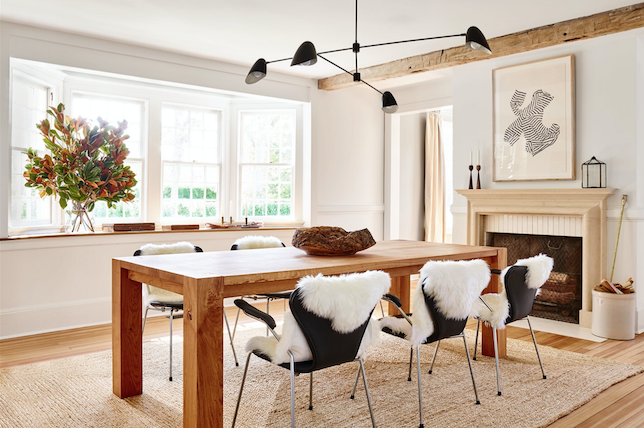 A dining room table may be the ultimate in oversized statement-making furnishings, but it also has to be functional and comfortable.
Scale is crucial to get the look right so keep dining room table height and dimensions in mind as you shop.
In essence, scale and function are key to get the look and feel right. Think about how many people will be seated at your table at any given time and if there is enough space between the legs to accommodate everyone?
Will you need leaves or panels that will allow you to easily extend the table to make it fit more guests?
When it comes to dining room table chairs, are you a mix + match person or are you more for uniformity?
When it comes to defining a room, are you looking for a conversational piece or something more subtle in design?
And finally, look for tables with inspiring yet durable materials. Ask yourself what would work best in the space you have to use. Would a glass-topped table be better for keeping the space looking lighter and brighter? Or would a classic wood table do the trick?
HERVE VAN DER STRAETEN DINING ROOM TABLE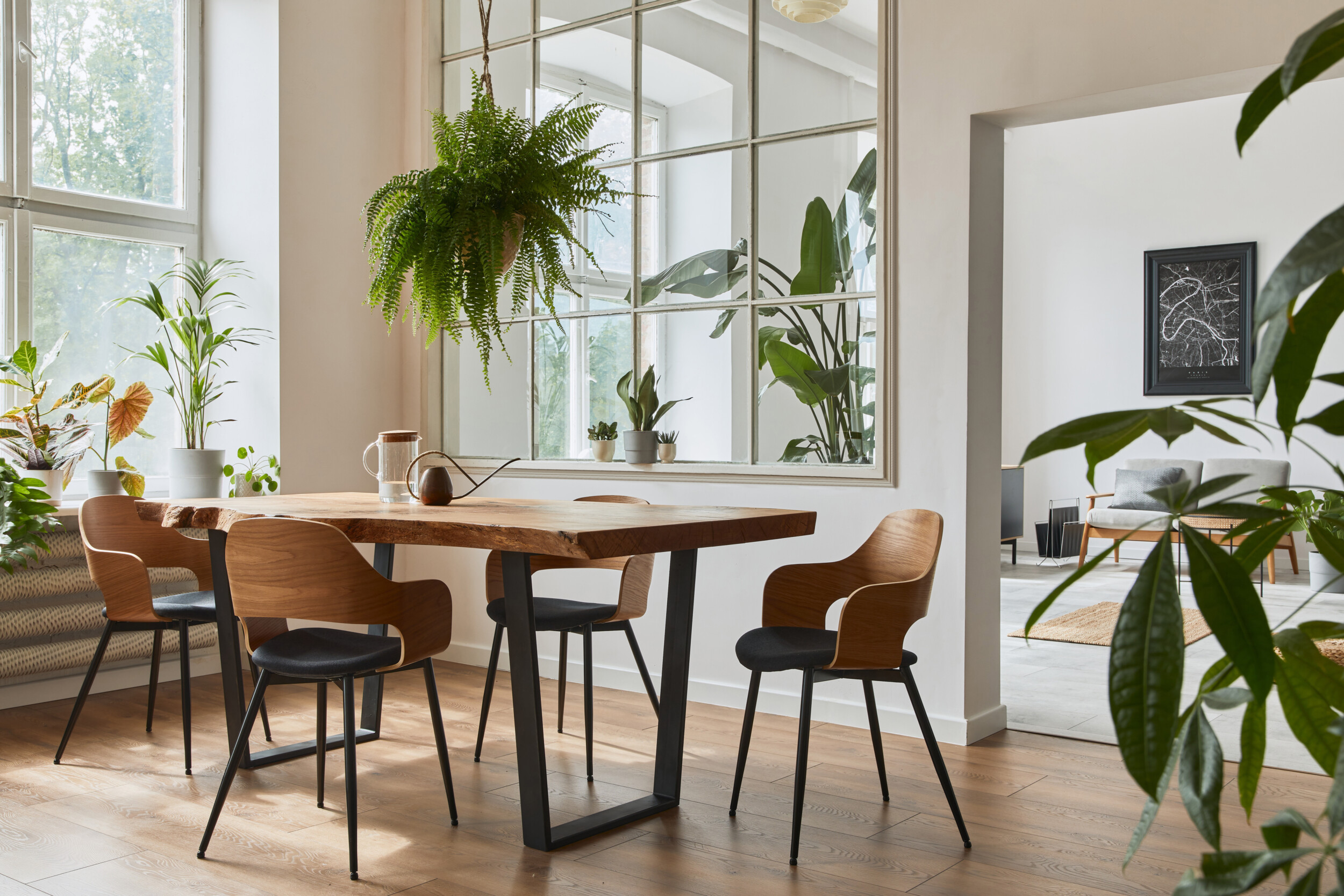 'Since they can be an investment well worth consideration when looking for the best dining room table for your budget look towards trusted and respected brands and furniture makers whose work never loses value over time.
Take multi-media artist Herve Van Der Straeten's work for instance. As a dining room table from his eponymous label will make your dining room all the more unique and unforgettable for years to come. In fact, a dining room table from Van Der Straeten will be certain to work as a foundational conversation-starting piece that will have everyone talking in awe.' – Décor Aid interior designer Kevin L.
KELLY LAMB GOD'S EYE DINING ROOM TABLE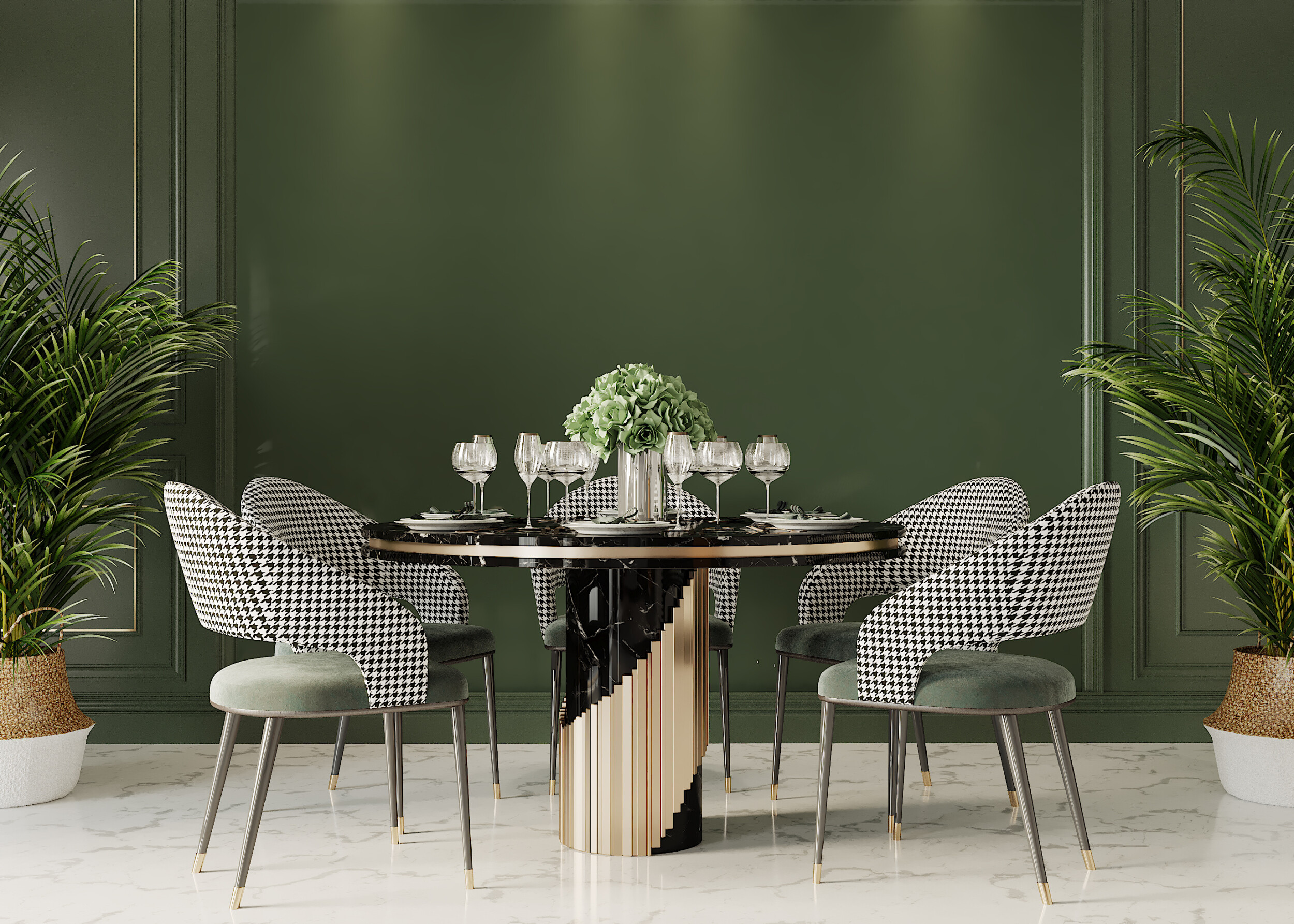 "I always tell our clients to think of a dining table as a statement piece when entertaining at home, but that said, you should never overlook that it needs to be functional and comfortable.
What always attracts me and our clients is an unexpected mix of materials and pieces that are methodically handcrafted by master designers. This approach makes for a feel that is both elegant and luxurious while remaining edgy at the same time.
And Kelly Lamb's meticulously crafted dining room table boasting stained oak with hand-laid copper inlays that create a graphic yet minimal sense of play, will be sure to delight for generations to come thanks to its timeless appeal.' – Décor Aid interior designer Ali R.
VINCENZO DE COTIIS DINING ROOM TABLE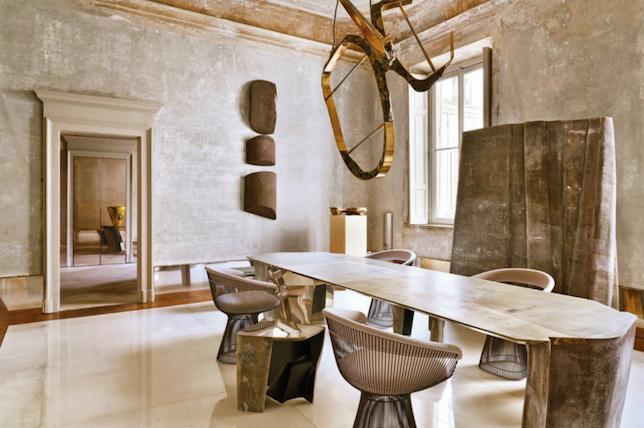 "Since I am more of the 'go big or go home' inclined, I often tend to refer my clients to either a very sculptural dining room table with loads of unmistakable presence or a major iconic vintage table that is still approachable and casual.
And if I had enough resources to bring in the best dining room table that money can buy into my own home, I'd opt for a Vincenzo De Cotiis piece that boasts loads of enviable charm and character to better define the space.
Even better is the undeniable fact that almost no one in town will have a similar one or even be able to say that they've seen it before – they are that unique and rare!' – Décor Aid interior designer Deanna C.
ANOTHER COUNTRY OAK FOUR DINING ROOM TABLE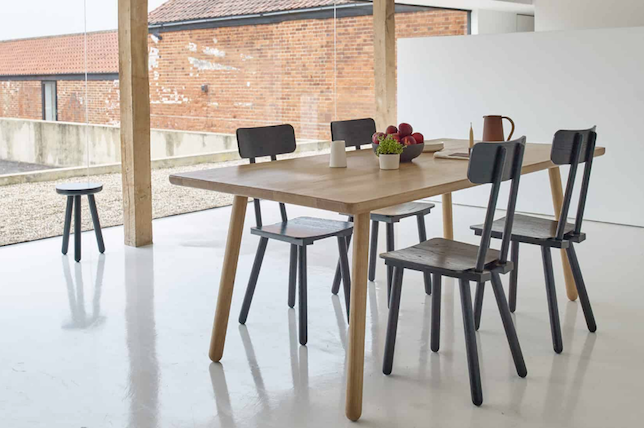 "Think of a great dining room table that is both spacious and stylish to boot as the ultimate gathering space when entertaining or not. And Another Country's Oak Four dining room table will be sure to work as the heart of your home and one of the most commonly used pieces of furniture in your home in no time.
No matter the size of their space, I always suggest that clients think about a dining room table that offers plenty of breathing room for themselves and guests alike. Think of it this way; there should always be ample room for unexpected extra guests and dishes and accouterments without making smaller groups feel overwhelmed by a table that is too large.
The furniture firm's modern yet classic Scandinavian-inspired solid oak dining room table features clean, architectural lines and combines the best of English and Dutch construction details and design, with cleated ends and Rietveld-inspired leg detail work.
Plus, it pairs well with just about any design style so if you update your dining room in the near future, this style will look viable no matter what direction you go. Which in my books, makes it one of the best dining room tables to consider.' – Décor Aid purchasing dept. lead Abby K.
KALON STUDIOS DINING ROOM TABLE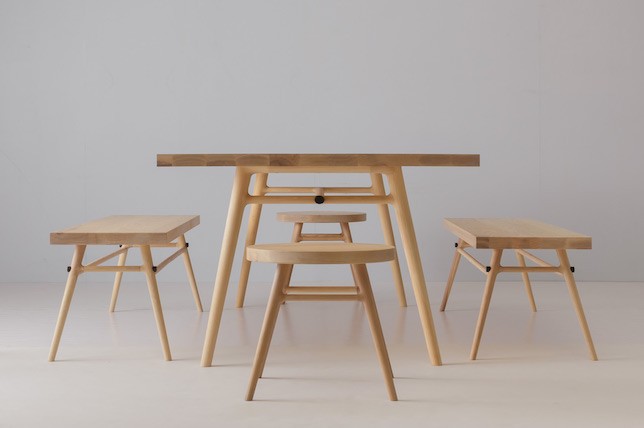 'Kalon studios Bough table is a graphic and expertly crafted trestle table constructed of ultra-smooth solid American Ash wood, making it a timeless investment. It also boasts chic black steel hardware detailing on the cross beams of the table and coordinating benches.
The Bough table rethinks beautifully plays against the juxtapositions between the traditional and the modern, between delicate sensibility and strength. What initially caught my eye was the striking tension the firm achieved through combining heavy slabs of wood with more slender, sculptural legs.
The overall look and scale of the Bough table evokes the functional beauty of Japan's sashimono tradition; the collection's simplicity comes by complex, concealed joints boasting surprising strength. Even better is that each exacting detail is executed with the highest levels of craftsmanship to emphasize the beauty of the solid ash used to produce these future heirlooms.' Décor Aid interior designer Wendy M.
ROSIE UNIACKE DRAPERS TABLE
'When it comes to finding the best dining room table for clients who want a subtle yet beautifully stylized feel, I always suggest Rosie Uniacke's Drapers dining room table. And it goes without saying that they are instantly drawn to its lightly finished oak top that stands on a pair of patinated steel x-frame trestle supports which lend it a stark, graphic look.
The Drapers table is built to last a lifetime with several natural iterations. It's tabletop surface is given only a light oil or waxing, which allows for wear and tear, spill's, and natural aging to help it build up an irresistible patina over time. In fact, as it beautifully ages, it might even be mistaken for an irresistible antique.' – Décor Aid interior designer Jackie K.
NOW BEFORE YOU GO SHOPPING FOR DINING ROOM TABLE SETS, HERE'S WHAT TO REMEMBER AND TO AVOID: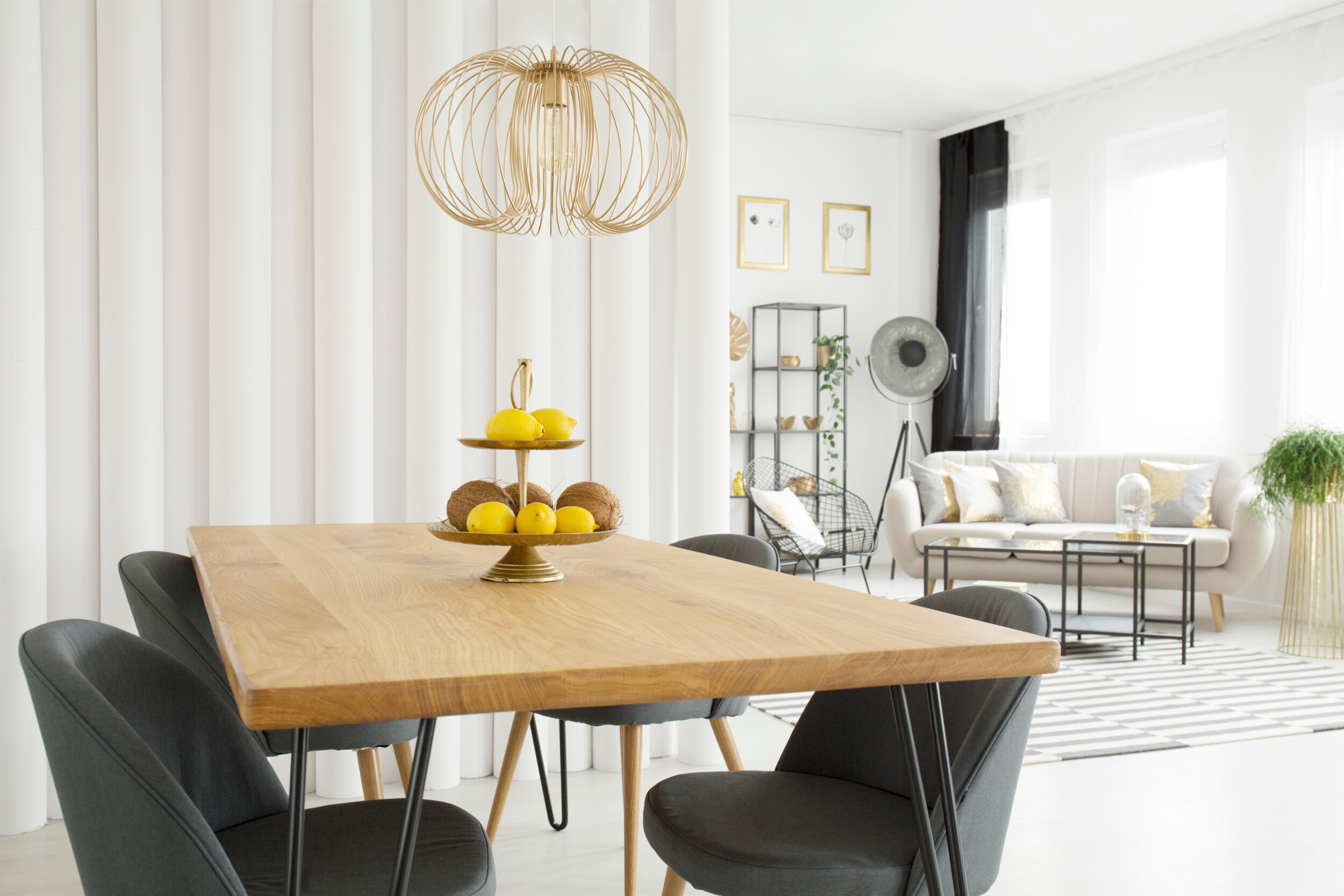 Like we said before, dining room table dimensions are crucial to understand when trying to make the best use of the space you have to work with. Go too small and your table will look inadequate and random. Go too large and your dining room will feel uncomfortable and overstuffed.
Make sure that if you go for mismatched chairs that you keep your dining room table dimensions in mind as even if they don't match, the chairs you do bring in should work comfortably with your dining room table.
However, if you do go for dining room table sets, do opt for a minimal or traditional one so it won't feel tired or go out of style anytime soon since you can never go wrong with a classic.
When it comes to mismatched dining room table chairs, go for ones that share a similar scale and one that also boast a common design feature so the look doesn't come off as random or haphazard.