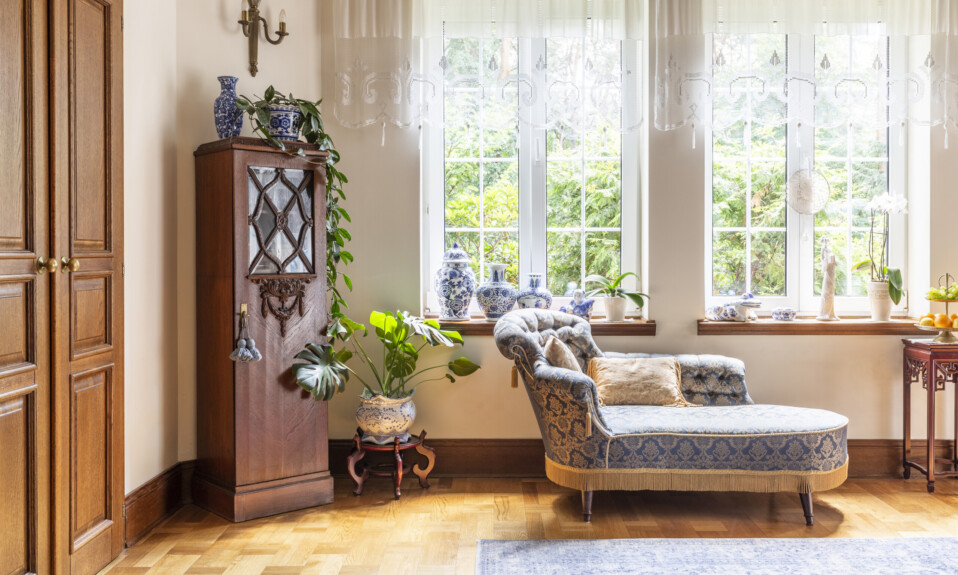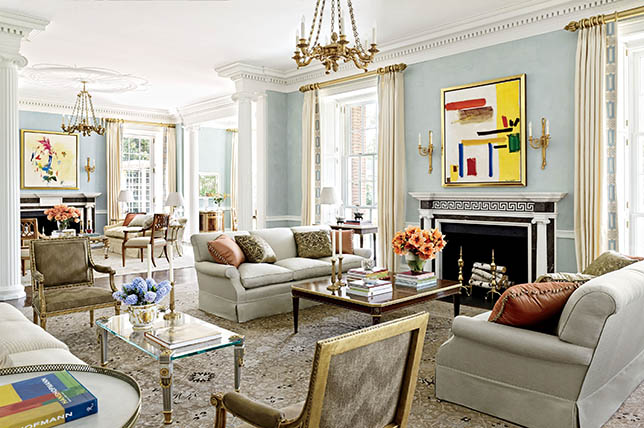 One of the most popular and enduring yet frequently dismissed design styles of them all, traditional interior design is an effective way to kit out a home with brilliant style while paying homage and celebrating highlights of past eras and design movements.
To help inspire you in bringing traditional design into your home, we surveyed Décor Aid interior designers for their takes on defining American traditional style interior design, and for effective strategies for getting the look right with confidence.
WHAT DOES TRANSITIONAL DESIGN STYLE MEAN?
Traditional interior design is a general term that takes in varied design styles and era's that aren't devoted to one particular direction or spirit.
Traditional design celebrates the long, rich history of the past by juxtaposing it with more modern elements for a decidedly elegant spin on sophistication while highlighting 18th and 19th-century European decor. It's a timeless go-to style that exudes easy elegance and comfort and is a great route for those who appreciate antiques, classic art, symmetry, and design rich with history.
WHY YOU'LL LOVE TRADITIONAL INTERIOR DESIGN?
Traditional style boasts a rich, warm and inviting feel.
There's plenty of room for interpretation to allow you to create a unique well-judged traditional style home.
The design style appeals to all ages and personalities as it features the familiar.
Traditional interior design is elegant and comforting at the same time.
Since you're highlighting the best in design styles all at once, the look will never feel tired or go out of style.
HOW DO YOU CREATE TRADITIONAL STYLE HOMES?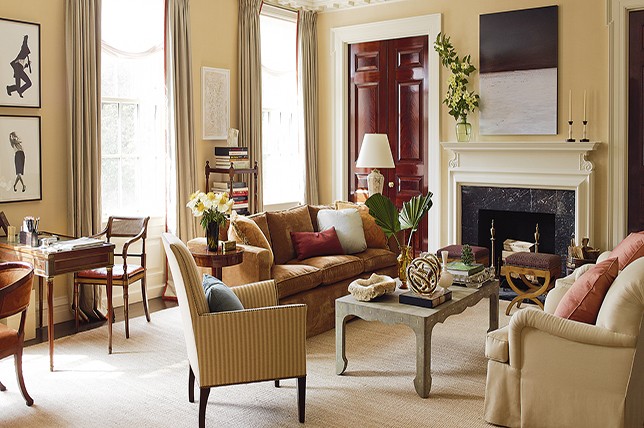 Here's a quick rundown of the details to get you started on mastering traditional interior design for your home with ease:
Traditional interior design is an all about a serious mix of extraordinary finds, so have fun and be adventurous.
The best traditional style homes aren't married to one particular style as no era or design should overrule another.
Symmetry is key in creating a vibrant somewhat maximal tableau.
Patience as no home can ever be decorated overnight and sometimes finding the right pieces may be more trying than say going to a showroom and sourcing everything from one select brand.
TRADITIONAL DESIGN COLORS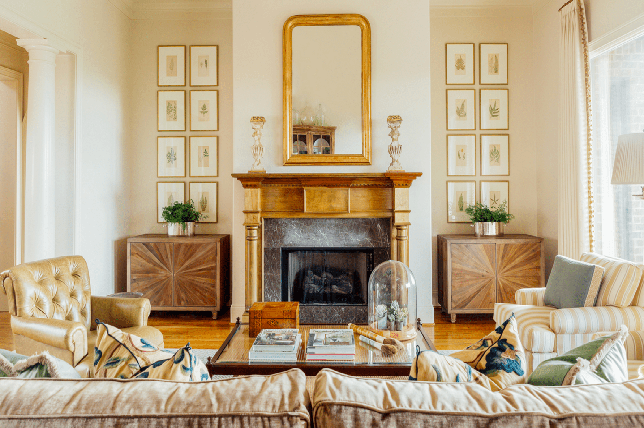 You just might be surprised to know that traditional interior design brings with it a lot more freedom to be experimental and even playful, especially when it comes to colors.
Do move on from lifeless white walls and opt for powerful hues as a foundation from room to room and keep the sometimes random mix of furnishings cohesive by combing just a handful of colors that suit the spirit you're aiming to evoke. That said, our designers suggest steering clear of too much white or black and too many shocking, substantial colors as they'll overpower the eclectic mix you've created to bring your traditional living room to life.
TRADITIONAL INTERIOR DESIGN FURNITURE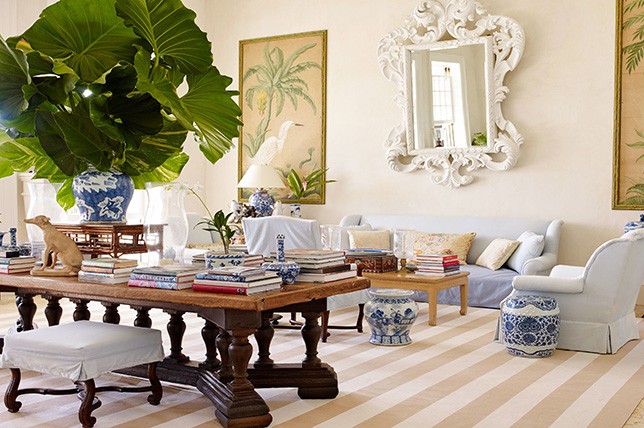 As we've said before, traditional interior design is not exclusive to one particular style or era as its all about an eclectic yet harmonious mix with the ultimate common denominator being a luxurious nod to history and a celebration of beautiful design.
Start by clearing out furnishings that have no defined period style or ornamentation, and rid your home of overly minimal modern pieces that are simple in silhouette and pared down in spirit. Swap these out with period pieces that you find captivating and full of character and unique quirk and design around those while highlighting architectural elements like molding and fixtures. Complete the look with a lively mix of compatible finds from other periods for an eclectic symphony of traditional design.
And be sure to avoid anything made of lacquer, veneer, or laminate.
TRADITIONAL DESIGN TEXTILES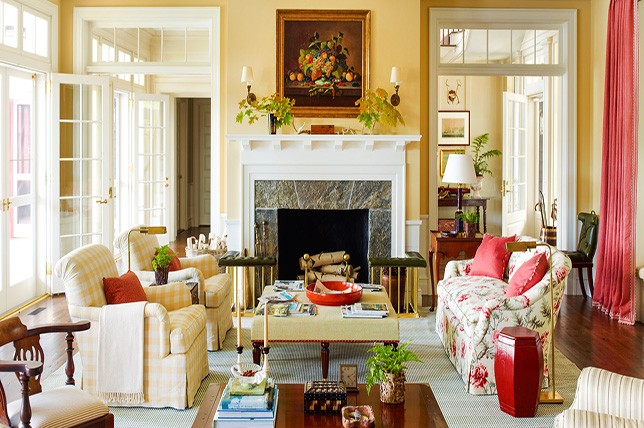 Traditional design style textiles can be rich and varied resources for injecting riotous yet classic color and pattern throughout your home and ultimately, the sky's the limit. From antique tapestries to fresh gingham to Laura Ashley conjuring florals and chintz, there's plenty of joy and freedom to be found in the vast selection of traditional interior design fabrications.
Go for nature scenes for upholstery and cushions and juxtapose them with bold stripes while avoiding geometric shapes or designs, which are too sterile for luxe traditional style interior design.
TRADITIONAL DESIGN ACCESSORIES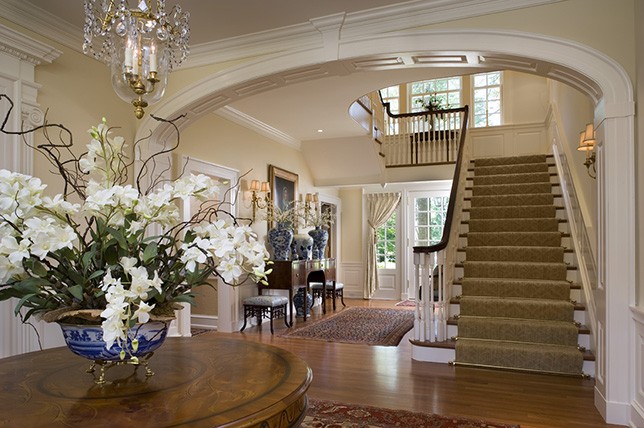 As you can imagine, accessories for this melange of design styles boast endless options all while celebrating traditional design signatures. Like with furnishings, traditional interior design accessories can run the gamut from a mix of mid-century modern to classical Chinese motifs – here, it's all about placement.
And by placement, we mean captivating and dramatic flourishes that play with major scale and highlight decadent accents as almost all traditional style homes you'll come across researching provide just that – rich, intoxicating vignettes of goods uncompromising in quality and ornate design.
TRADITIONAL STYLE WINDOW TREATMENTS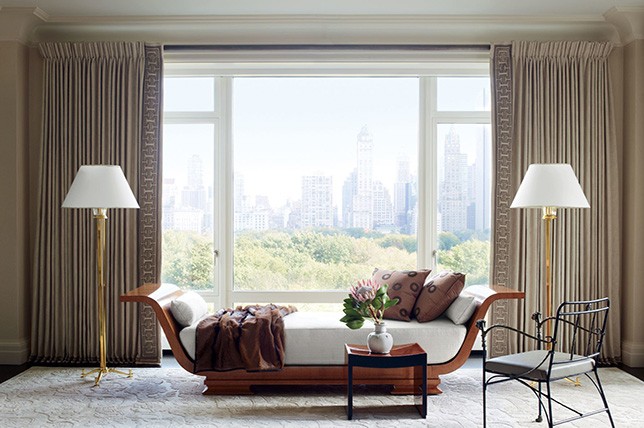 As you can imagine, window treatments and coverings should also feature classical traditional design for grown-up appeal and easy elegance. Go for dramatic Austrian shades, floor to ceiling neutral toned drapes, and decadent velvet curtains in rich jewel tones as no traditional style homes are complete with bare windows.
And though we bet you're surprised to hear this, consider topping off window treatments with a boxed valance featuring a Grecian key motif or embroidered border for the ultimate in savvy traditional interior design.
TRADITIONAL DECORATING STYLE ROOM BY ROOM:
As we've broken down and defined what makes traditional decorating ideas so timeless and viable for now and beyond, let's take a look at how you can make it work in your home seamlessly.
From breathtaking traditional bathroom ideas to what it takes to create a warm and welcoming traditional kitchen, here's what you need to know to master the look throughout your home.
Traditional Kitchen: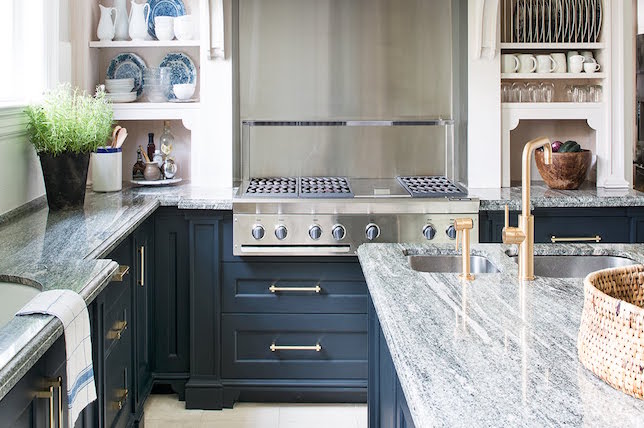 The enduring style of a traditional kitchen is not to be confused with country though the two styles share warm, classic elegance, and French and English vibes. And unlike minimal style so popular today with bright white spaces, kitchens boasting traditional interior design often tend to lean towards subtle, muted creams, taupes, light grays, and greens.
And since you're likely to spend a large amount of time in this often used common room, create an eclectic feel by mixing contrasting decor elements and bring in a sense of nature with patterns and prints that evoke the great outdoors with playful flora and fauna. Do avoid contemporary details that aren't of a distinct style genre along with streamlined hardware. And be sure to select fixtures and other hardware, such as lighting, that have alluring silhouettes and details.
Traditional Style Dining Room: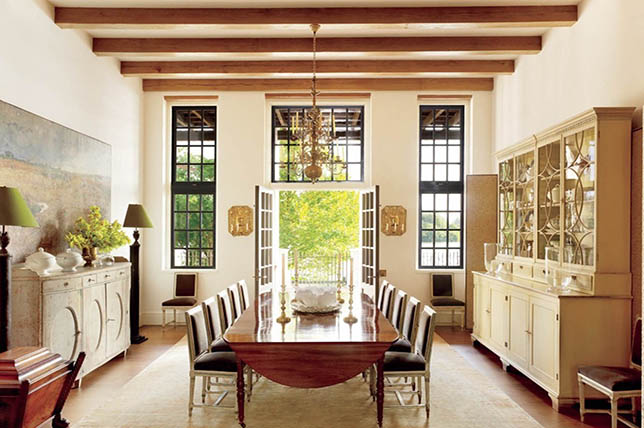 Unlike more relaxed decor styles, dining rooms that radiate old-school sophistication and polish are a major feature in traditional style homes due to their considered formality.
And just as the grand dining room above illustrates, master traditional interior design in your home by keeping symmetry a major note to tie everything together and opt for clean, straight lines and practical furnishings that are also timeless and undoubtedly beautiful. Think inlaid wood, crystal decorative pieces and fixtures, polished silver, a handsome buffet, and a formidable China cabinet with everything perfectly arranged for impromptu entertaining.
Traditional Living Room Decor: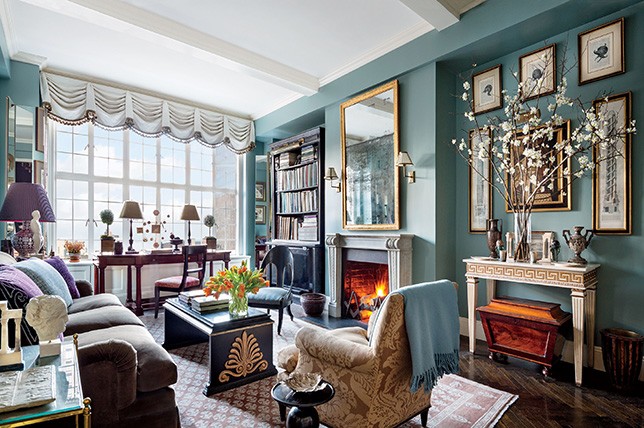 Traditional living room decor is again, all about a well-articulated combination of design styles and eras that work together with a consistent approach to placement and harmony found in the juxtaposition of decorative elements.
Create a traditional living room like the one above by highlighting a collection of mismatched yet nevertheless gorgeous, statement-making finds that keep the eye moving throughout the room for a dazzling, stimulating effect.
Start with a powerful base color and work around it by adding an array of antique pieces, contemporary scores, and ornate extras featuring hues unique to them for a plush and inspiring take on traditional interior design.
Traditional Style Bedroom: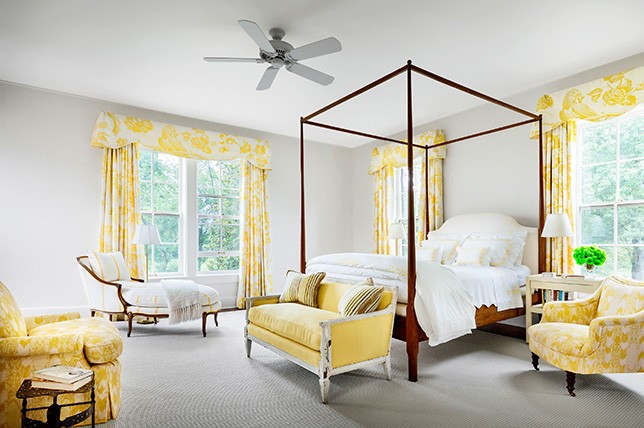 To create a comforting traditional design style oasis of a bedroom, take a cue from the room above and keep flooring and walls in an almost no-color hue like the calming putty color used here.
By starting with a soothing foundation, you'll be able to inject traditional interior design into your bedroom with ease as it'll allow you to bring in more vibrant elements chock full of personality. Plus, you'll ace traditional style interior design by using a strong main color to tie disparate design styles together for a cool, cohesive look.
Traditional Bathroom Ideas: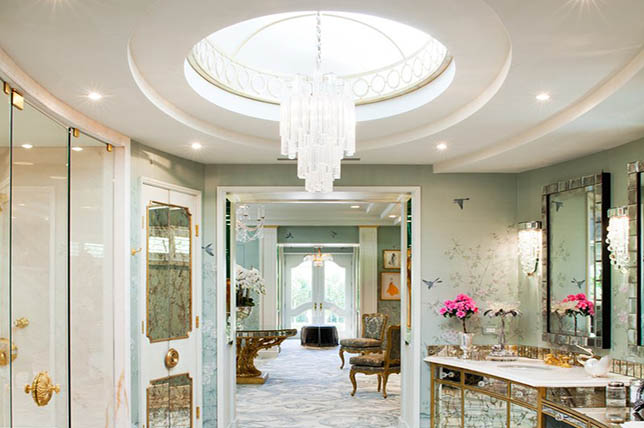 Because traditional bathroom ideas are great for creating sumptuous private zones, consider ways to create a lavish, fabulous effect for your bathrooms.
From gilt and filigree detailing, to crystal features, to Art-Deco inspired elements, and mesmerizing wall coverings, bring in a sense of everyday glam traditional interior design by going over the top for a space that's opulence speaks for itself.