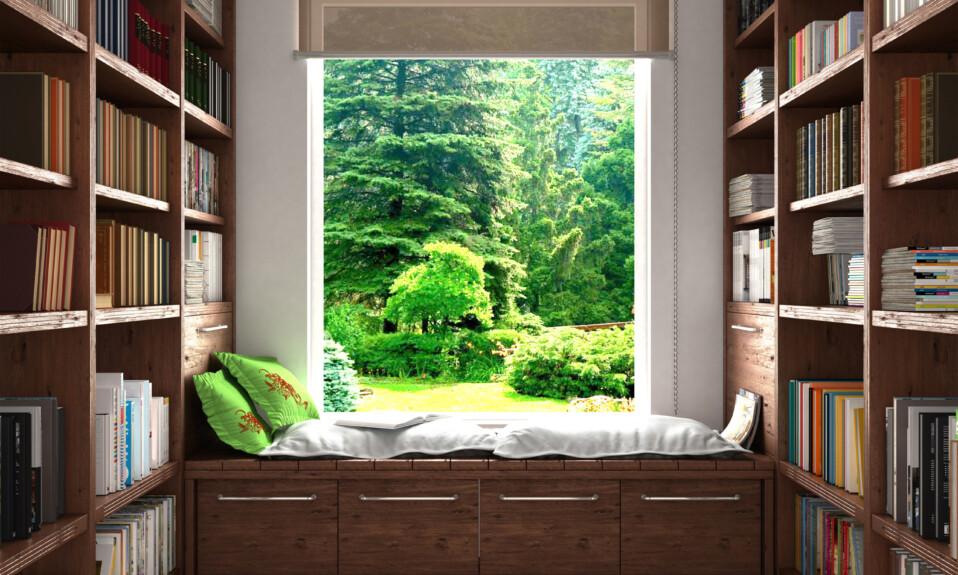 If you are an avid reader who finds joy in reading while being surrounded by books you've taken pride in collecting, have you ever thought of creating your own dedicated personal home library? Why not surround yourself with the comfort of knowing that those books that you find value in, are neatly organized and displayed in your home where you can stylishly keep your books in one go-to spot? But by now you're probably already declaring that you don't have the space for one. But, in fact, creating your own oasis is much easier than you think, especially with these brilliant home library ideas to get you inspired.
Home libraries of the past may have developed a reputation for being dark, dusty, and opulent places with very low lighting. And there's this tired cliche that home libraries are simply straightforward study areas that do not necessarily need to be stylishly designed. However, there's a lot more to consider to make your home library feel modern, elevated, and beautifully designed.
With these practical contemporary home library ideas culled from Décor Aid interior designers, you'll be able to beautifully create your own beneficial set-up that makes functionally key to ensure that your books are well-placed for easy access. These should come as great news for book lovers and collectors since with these home library design ideas, you'll be able to stylishly create a home library space that won't cost a small fortune or take a ton of valuable space.
Here are some beautiful small home libraries ideas that are sure to energize and inspire your next DIY home project.
USE COMFORTABLE SEATING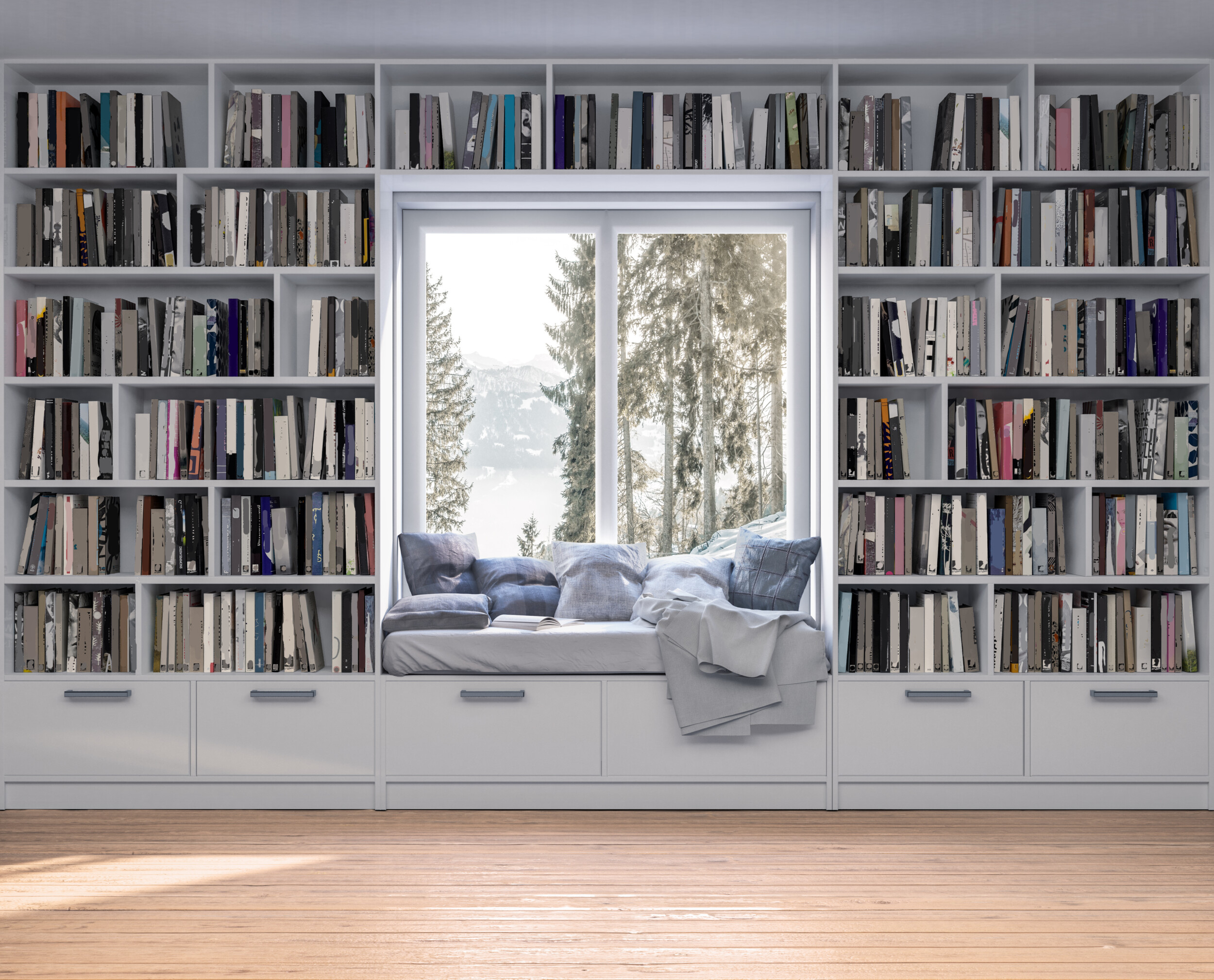 We all know there is no better feeling than sprawling out on a cozy sofa while reading or curling up with your favorite book in a comfy chair, so it makes sense to include comfortable seating in your home library. We will recommend going solid-neutral for your furniture so that they won't be seen as 'competing' with the book spines. A soft, comfortable reading chair, a built-in reading nook or a bench are all good home library ideas.
MAKE USE OF VERTICAL SPACE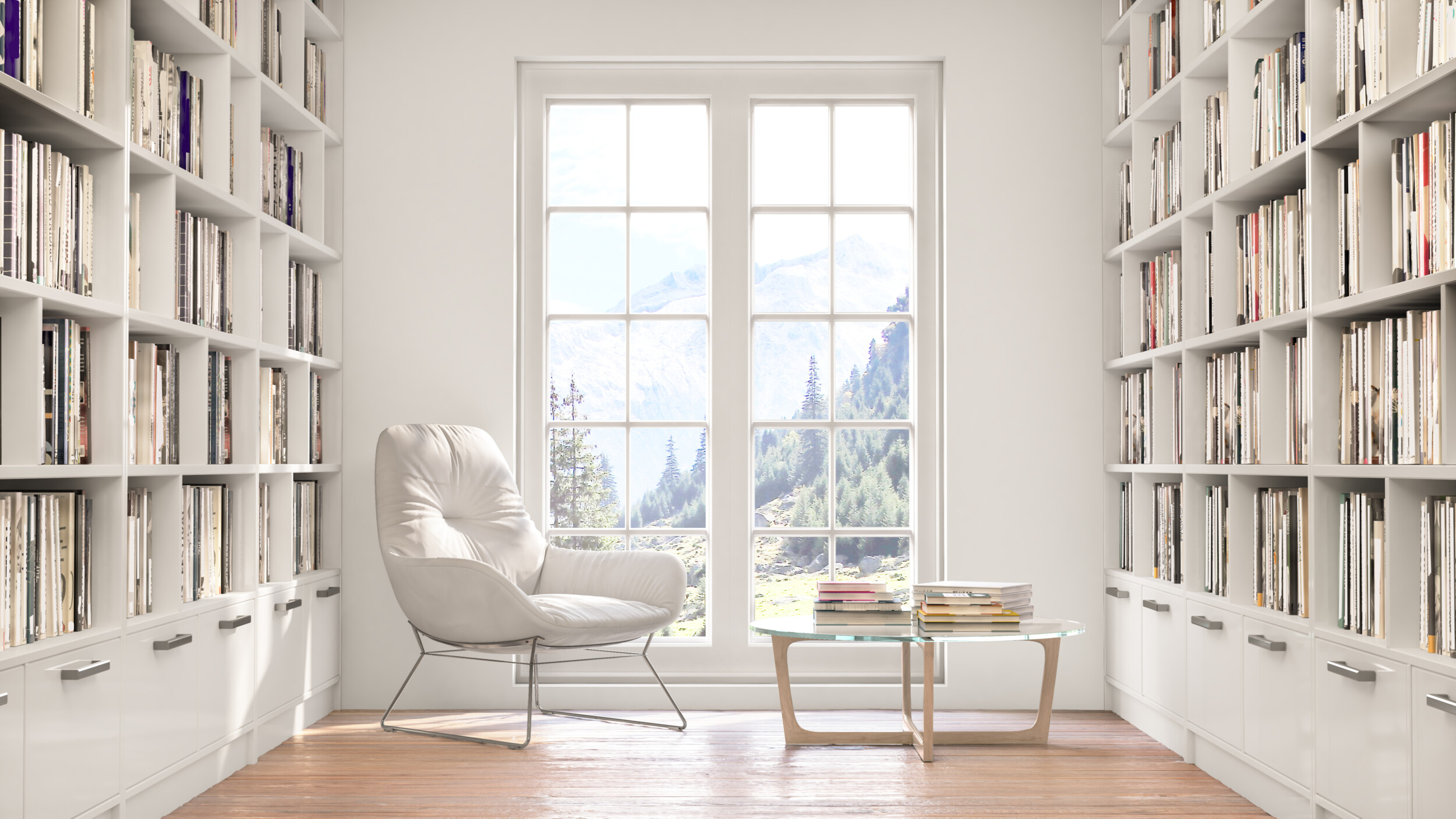 Whether you're short on space or not, almost any room in a home boasts tons of wasted vertical space that you should be using to your advantage.
Instead of creating home library shelving that sits along the floor, make a dramatic and beneficial statement by going up as far as possible. By doing so, your home library will take up less space since you've used the space as smartly as possible. By going higher, it will, in the end, make your home library look all the more sophisticated and grand.
GET DECORATIVE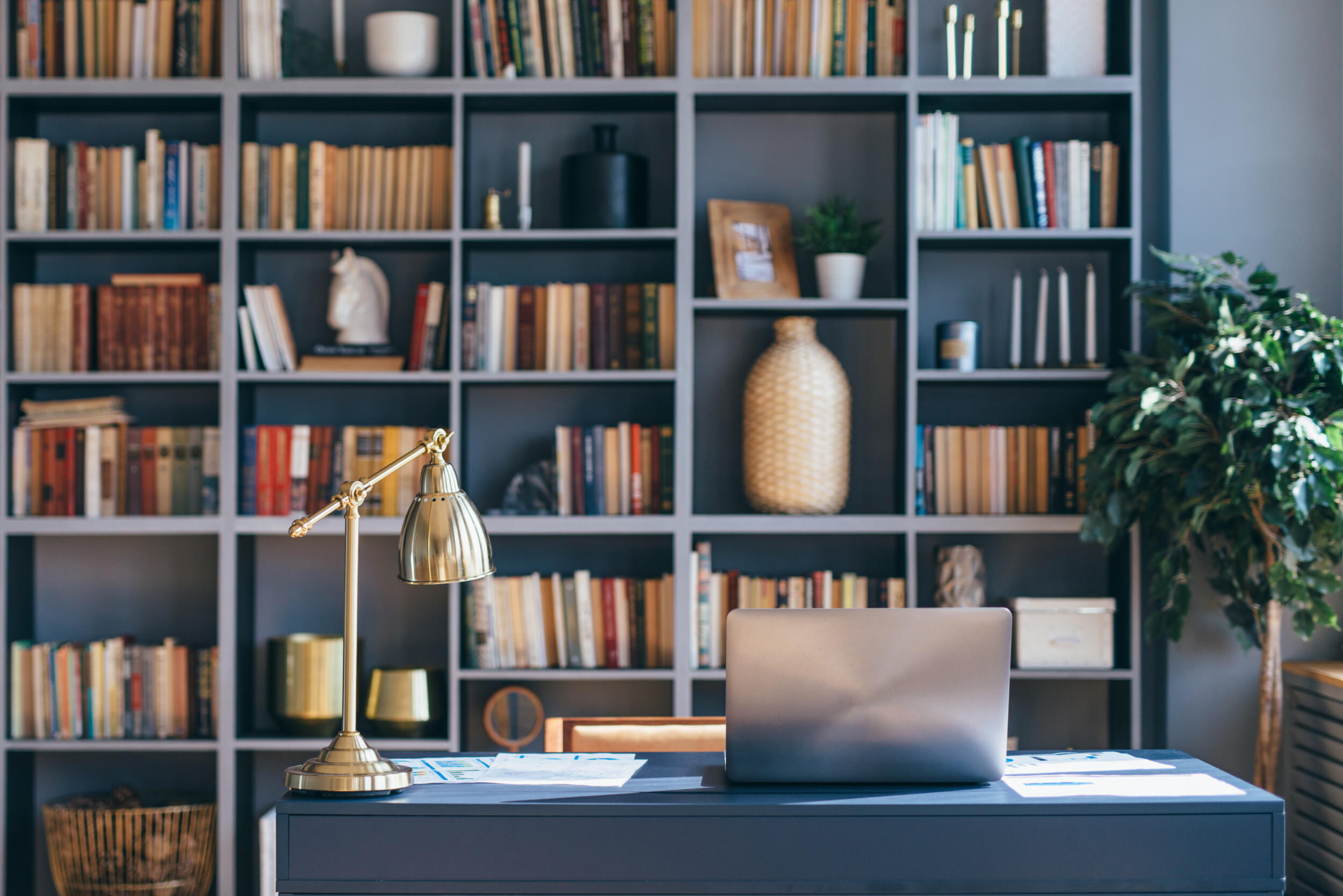 Who says that home library design ideas should be literally literary-related and nothing else. Just like you would in any room in your home, do get decorative with your home library and layer away.
Think gorgeous add-ons like sculptural artworks, framed prints, figurines, and decorative objects to inject your own personality throughout your home library.
BE DARING

Just because these home library design ideas call for practicality and straightforward design doesn't mean that decorative accents should be completely looked over.
Instead of going with standard white or wooden details and features, bring your home library to life by going for unique finishes, treatments, and colors. We love how handsome the high-shine black home library featured here looks. It's at one time dramatic and boasts plenty of nods to old-world libraries to keep you inspired for years to come.
DON'T SKIMP ON COLOR

Again, think outside of the box when considering home library design ideas that will be sure to give yours an unforgettable and unique feel. Maybe bright shelves aren't for you and your home, but you can still bring in pops of color even in the smallest doses via bold and patterned accessories that will lend your home library needed depth and energy.
SHOW OFF YOUR COLLECTIONS

If you've got a cherished personal collection think about adding them to your home library design ideas to lend the space a joyous sense of personality while injecting it with objects that'll be sure to intrigue and start conversations.
Do use your shelves to highlight and display your collections and to break up the bulky feel of rows and stacks of books. And do move everything around from season to season for a quick room refresh that won't cost a cent.
ADD A LADDER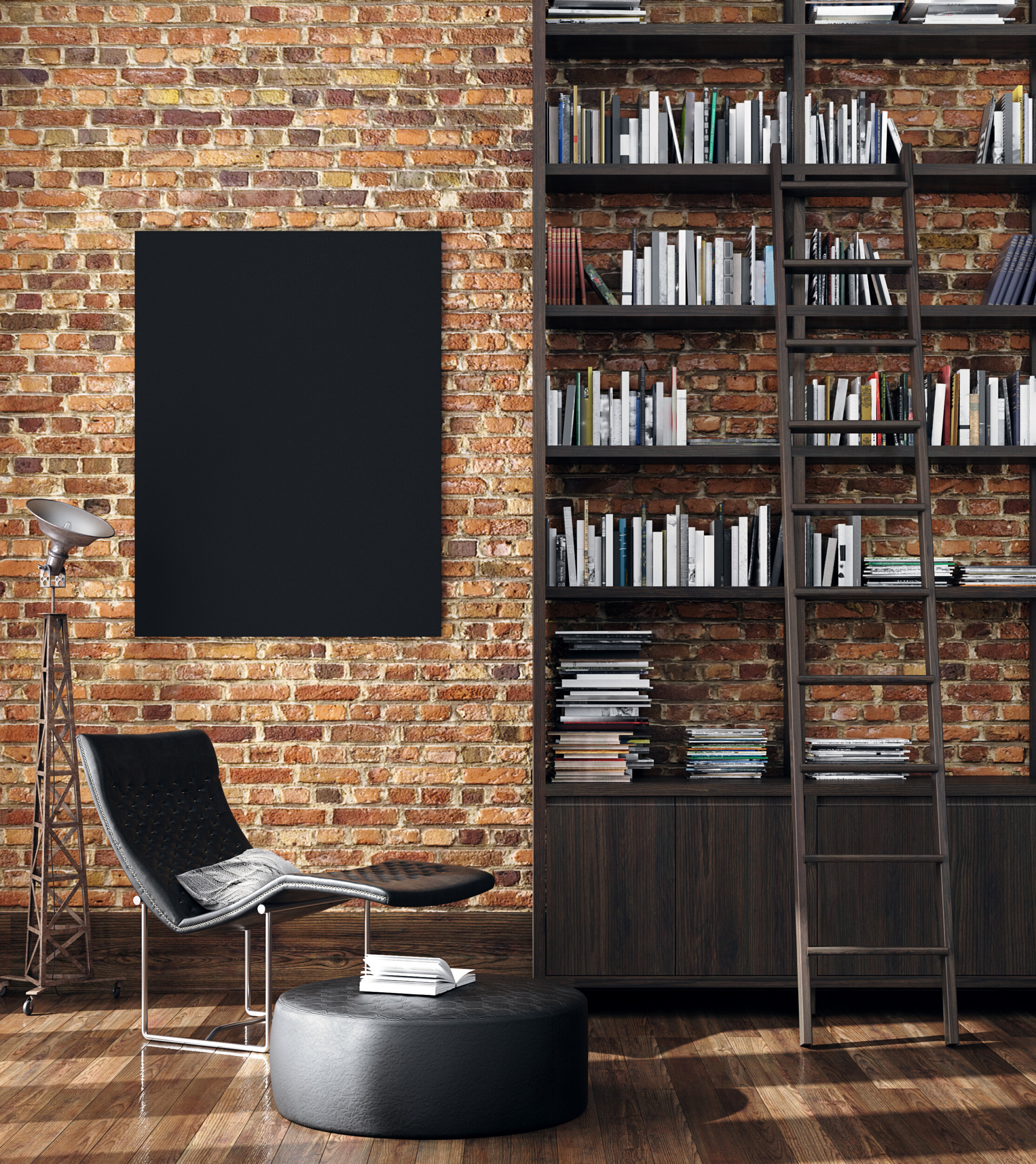 There are numerous design ideas for bookshelves in modern home libraries, but if you are considering home library ideas on a budget, you should know that a classic floor-to-ceiling design is a great route when looking to create one affordably. That said, if your shelving extends to the ceiling or is very high, you should consider incorporating a rolling ladder into your library design. You will find that it makes retrieving books effortless when you need to take books off the highest portions of a shelf.
To make your ladder look customized, we recommend painting the ladder appropriately. Consider going with a color or finish that matches that of the flooring or the walls of the room.
ARRANGE BOOKS BY COLOR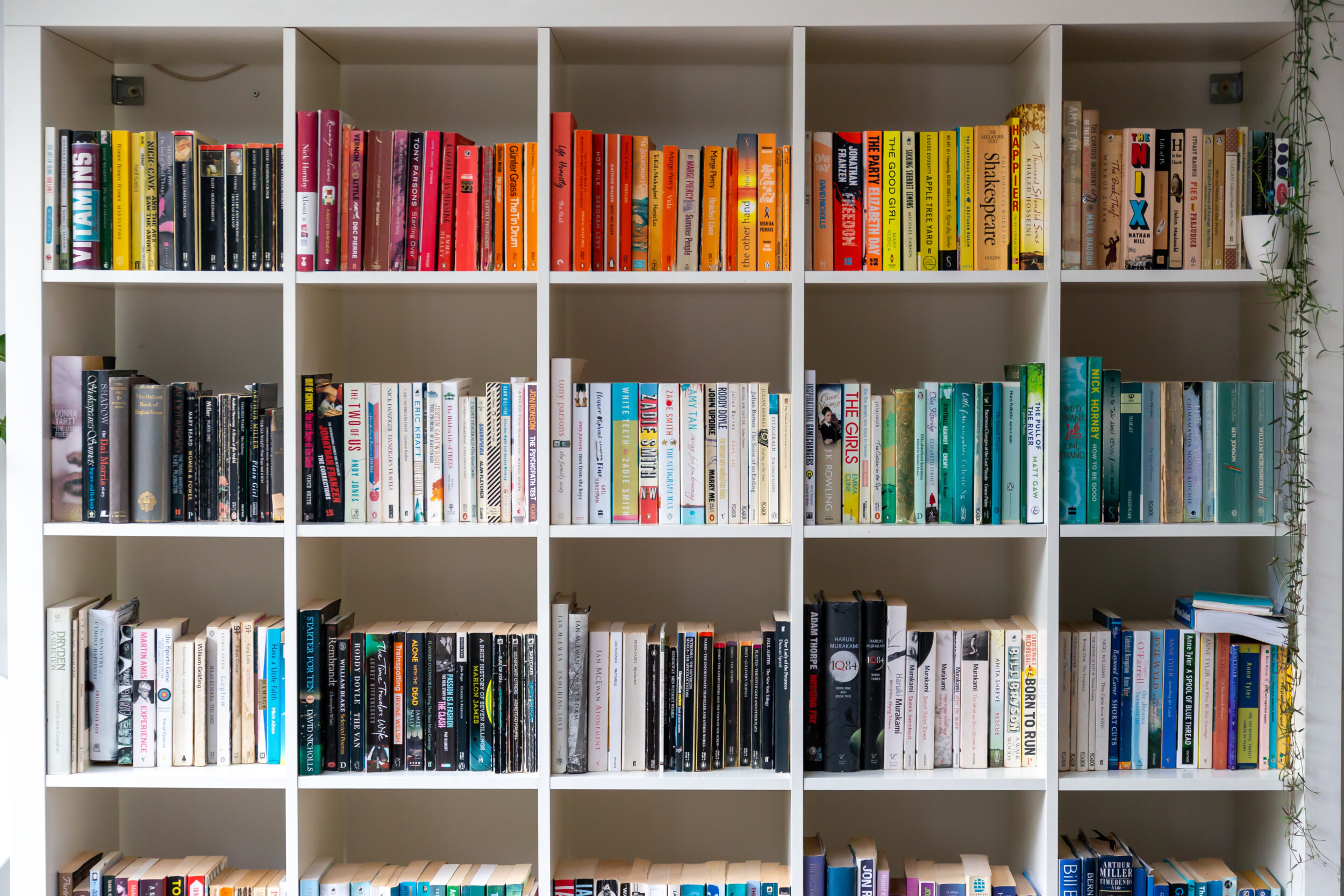 As human beings, we are influenced when we see expert organization; so why not keep your bookshelves organized and inspiring by color-coordinating everything on them? This strategy could turn a stack of overloaded objects into an orderly and bright decorative visual treat. As one of the best home library design ideas, we recommend using white bookshelves because they have a way of setting off the colors and design of each book while keeping everything defined, yet individually striking.
Try this organizing trick and you'll be sure to know where everything is and goes, while keeping the entire area easy on the eye and easier to keep tidy on a regular basis.
USE A STUDY TABLE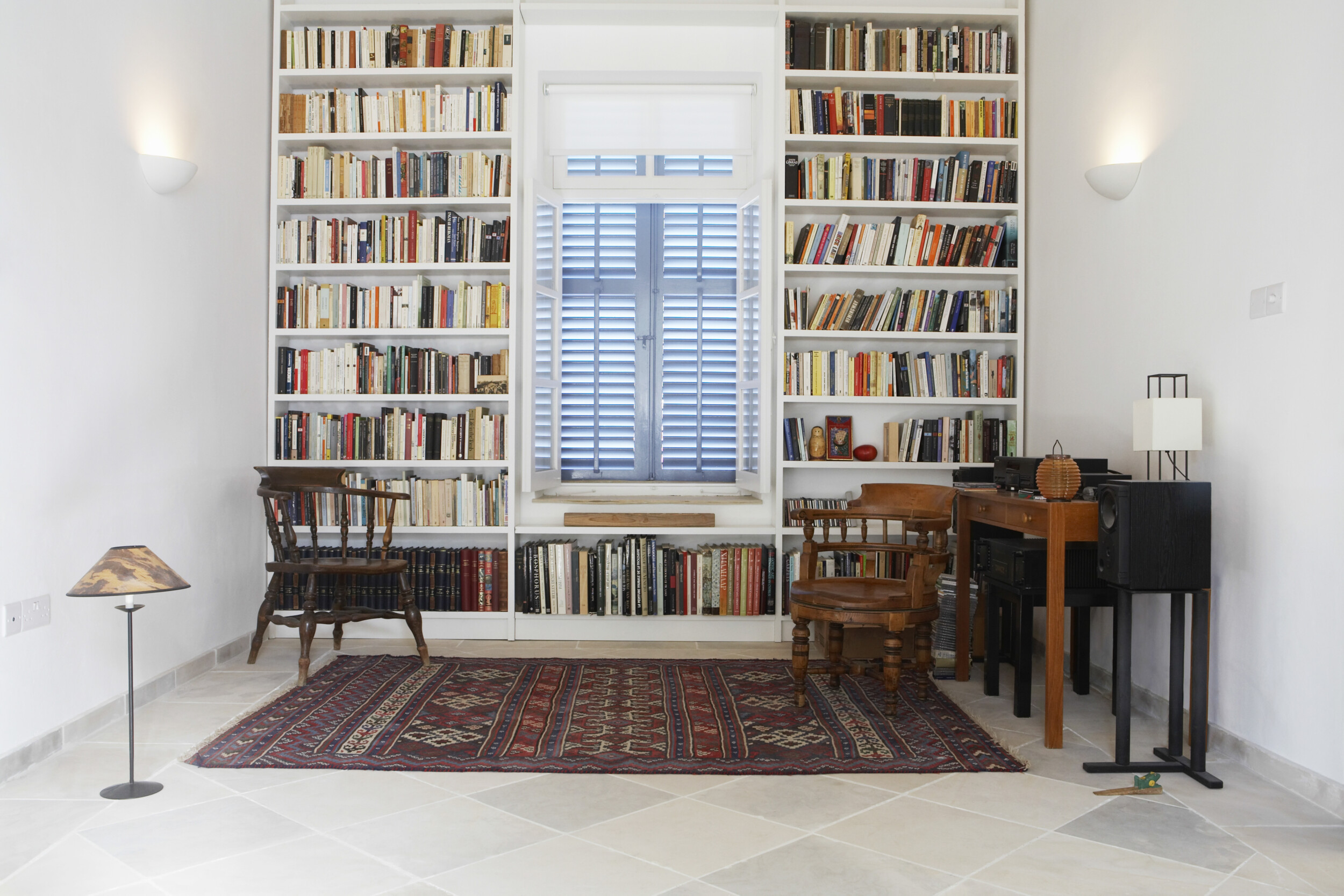 The need for a reading table should also be considered when thinking about home library ideas for small rooms. Incorporating a study table into your library can make spending time in it all the more productive. A study table can allow you to sit back and read and study in numerous positions simultaneously while maintaining an upright position.
Plus it can make for a handy surface to work on or to use to your advantage when you need to use the area for another purpose.
WALL LIGHTING
A lot of factors affect the lighting choice for your home, and this includes the availability of space. Also, the size and placement of your library bookshelves could play a huge role in creating a brilliant lighting scheme. Have you heard of art lighting or display lighting? They are great for home library ideas on a budget as they come ready to easily install and provide the right kind of ambient lighting.
Try them for your library, and they'll instantly make all the difference. Display lighting should be installed at the tops of your shelves to give your home library a unique and sophisticated feel, in addition to helping you locate your books while being able to read more easily. And do create a warm and inviting feel by installing lighting units and features at different heights.
CONSIDER THE WHITE SPACES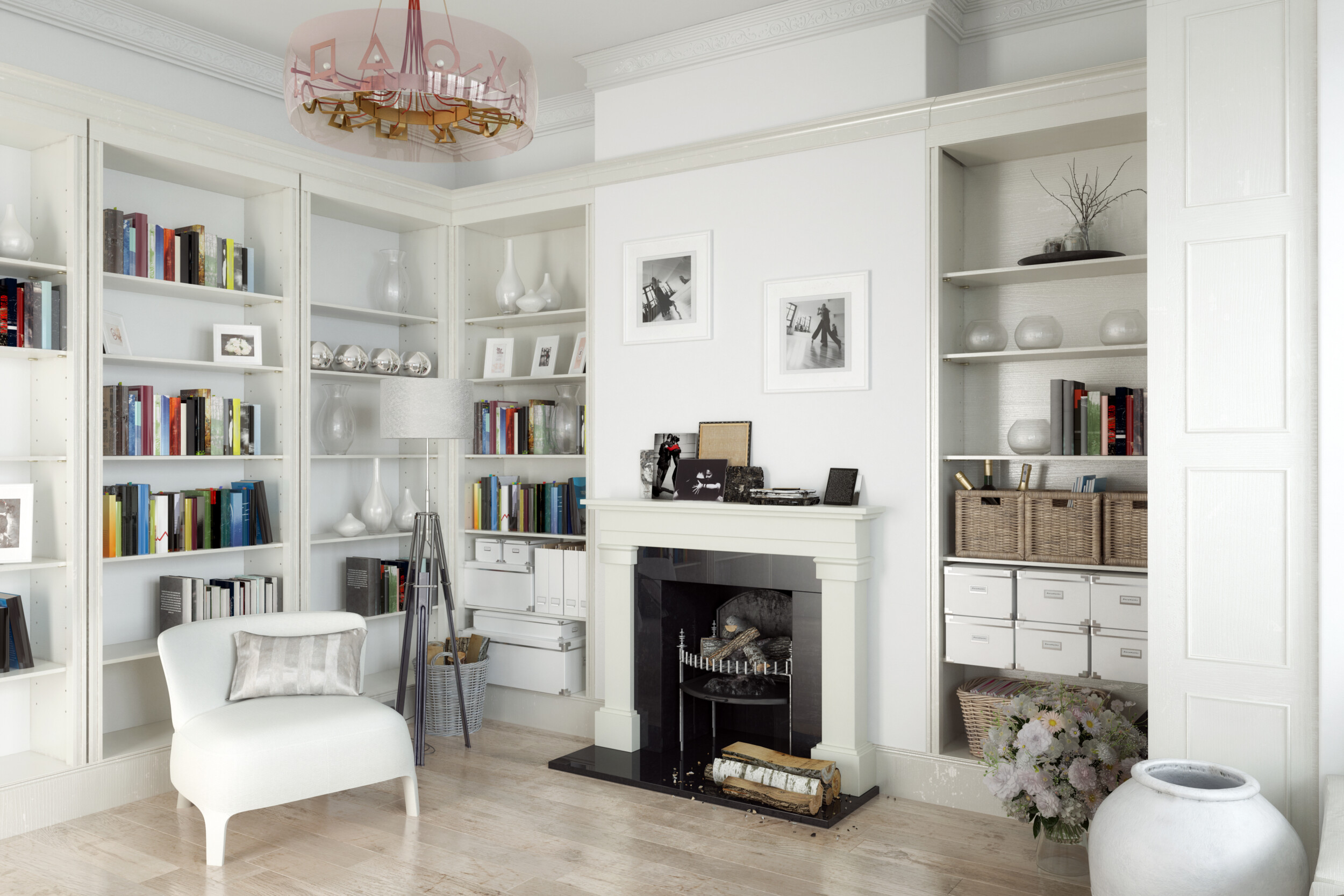 Most home library ideas should include leaving a few spaces empty intentionally or sparsely decorated in your bookshelf. This has a way of giving your library some breathing space while keeping it looking well-edited. Your eyes will also thank you for breaking up the visual mass that a cluster of book spines can create.
So when considering the best home library ideas for a minimal home, do leave some spaces blank to keep the eye traveling around the room – not distracted.
INSTALL CREATIVE SHELVING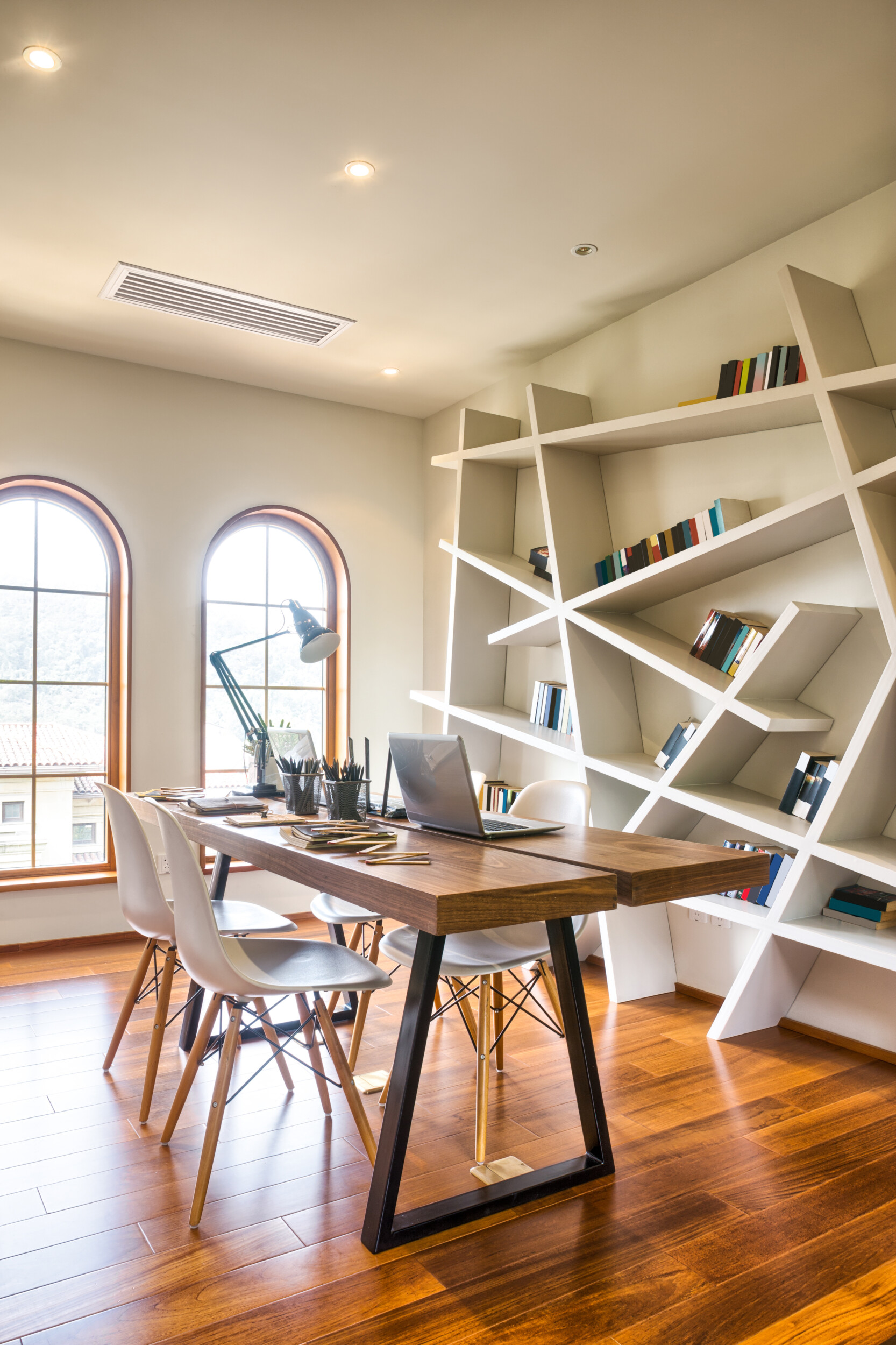 Sometimes searching for unique home library design ideas online can yield results that are too DIY and crafty, or too impossible to consider. Instead of getting lost searching for unattainable home library design ideas, get creative and pull ideas from several sources so you can build a home library that will remain unique to you that boasts plenty of visual interest.
It might just be a wall in your sitting room, and an outside-of-the-box shelving design could be the key to turning your library design ideas into an unforgettable reality. Think uniquely shaped shelving units, intriguing finishes and colors, and plays on scales to really make a statement with your shelving units. And if you've got a healthy budget, we love the hidden features of the wall unit pictured above.
INCORPORATE LIVING ROOM DETAILS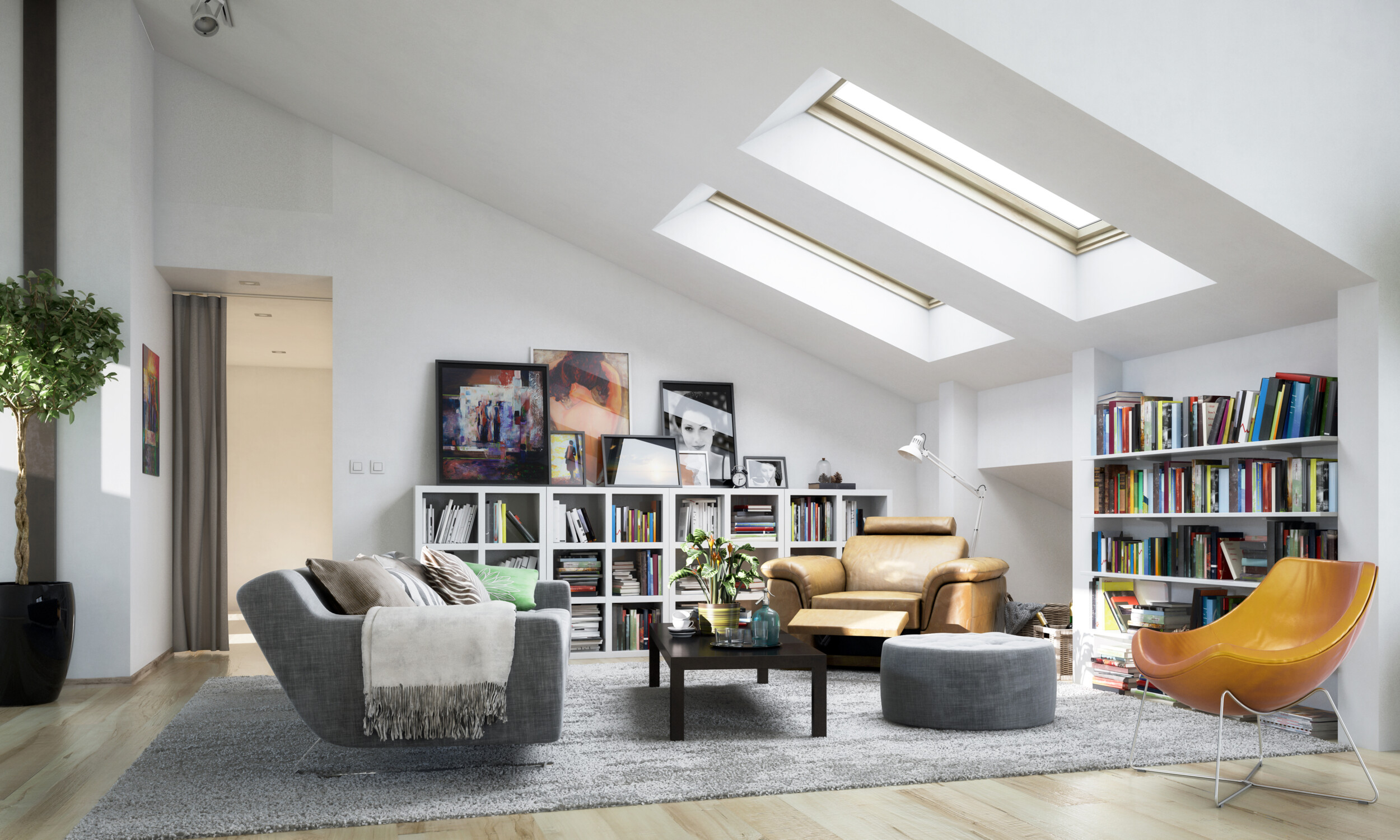 Some of the features that make our living room as comforting as it is can also be incorporated into your home library to give it that sophisticated and well-judged feel. Fresh flowers, plush armchairs, and a rug are just some of these said features that will make your home library stand out as a vital aspect. Plus, they are perfect for making home library ideas cheap look all the more elegant.
Irrespective of your budget, they'll be sure to work wonders on the look and feel of your library and should be considered essential extras to bring in.
CREATE A HALLWAY HOME LIBRARY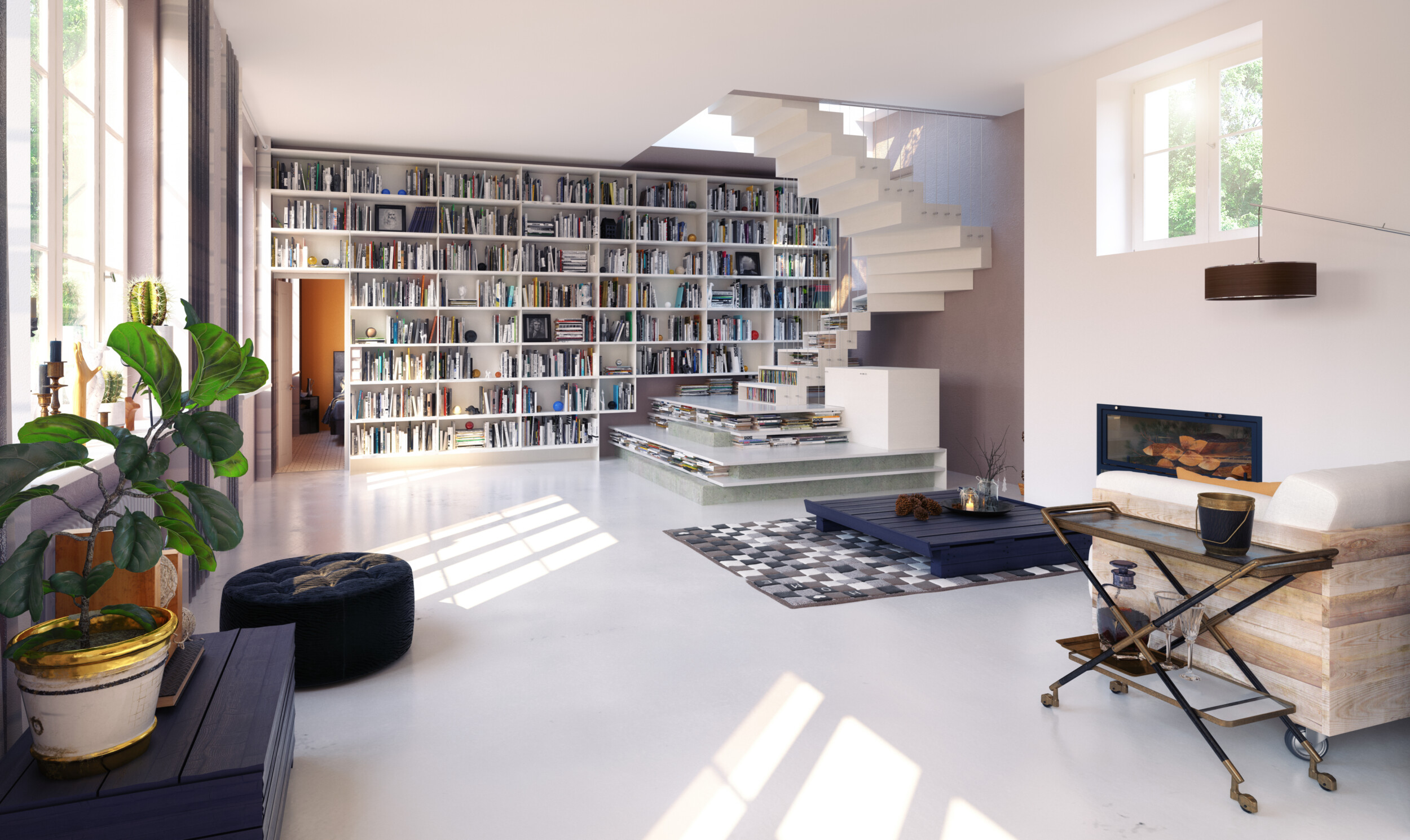 This depends on the space you have. If you have a long hallway, you could incorporate different library styles with bookshelves displayed on both sides. But if you want to save some space, consider building your library from the floor-to-the-ceiling on only one side.
The wall just adjacent to the staircase could be useful for this purpose too. Either way, this makes for an excellent example of using dead or wasted wall space to your advantage. Otherwise, what else would you be using the area for?
MAKING USE OF WASTED SPACE AT HOME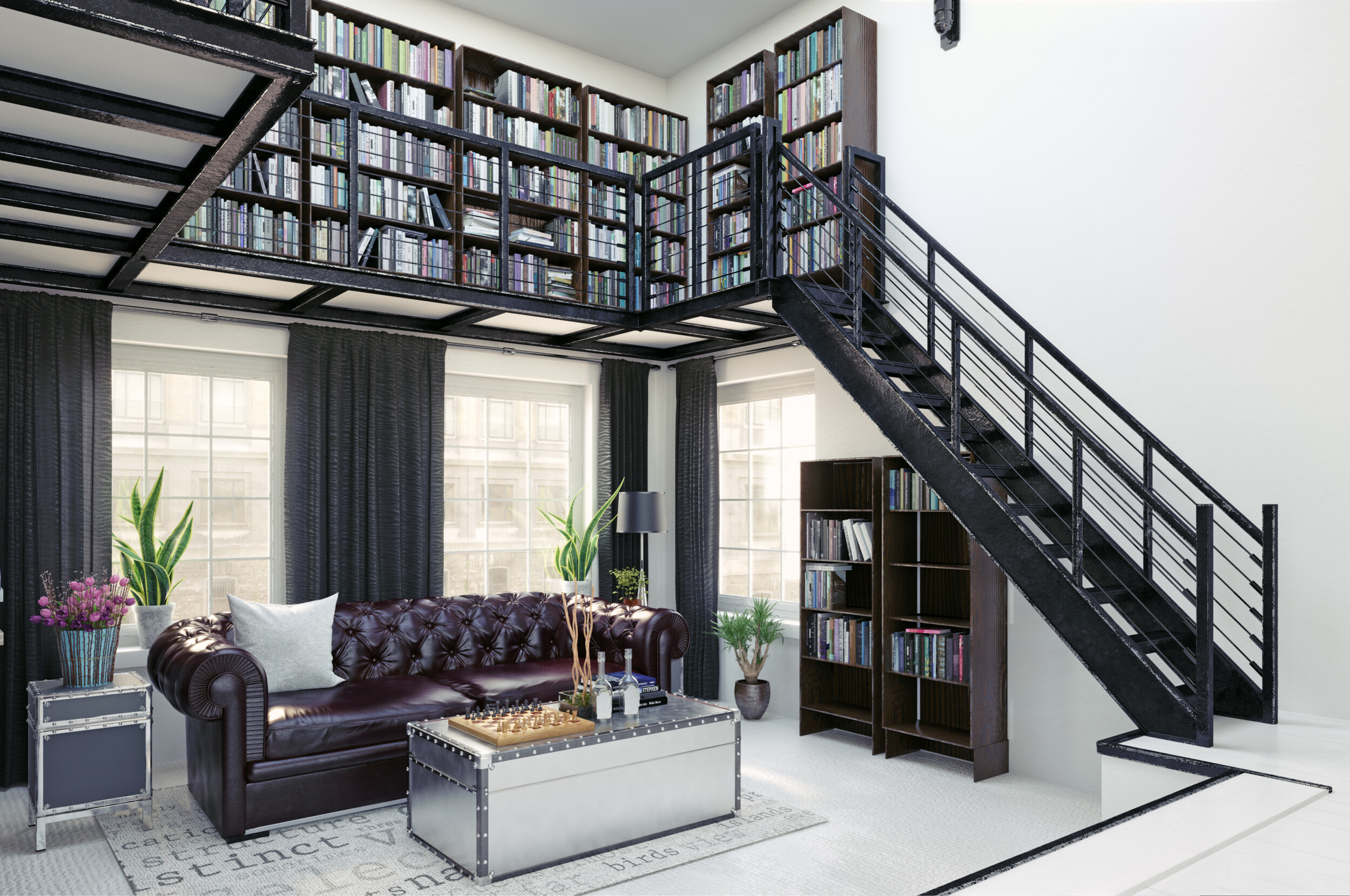 If an enclosed part of your home is to be used as a home library in your house, it may not give you enough space for convenient reading or smart storage features. And again, when it comes to affordable home library ideas, sometimes all it takes is some clever creativity.
Wasted space like underneath a staircase and less used rooms can be used for housing book shelving which can, in turn, give you the convenience that is needed when reading. We love this the use of the stairs featured in the home library and reading nook as seen above.
MAXIMIZING WITH SHELVED DOORS
The use of the white space and the creative shelving are perfect for home library ideas on a budget, and you might also want to consider cabinet storage. They'll give you more space for other books and accessories that you don't want to be shelved while consuming less space.
Plus, lower cabinet portions will make your home library ceilings look higher while also giving the eye a break from floor-to-ceiling shelves.
A LARGE WINDOW IN THE LIBRARY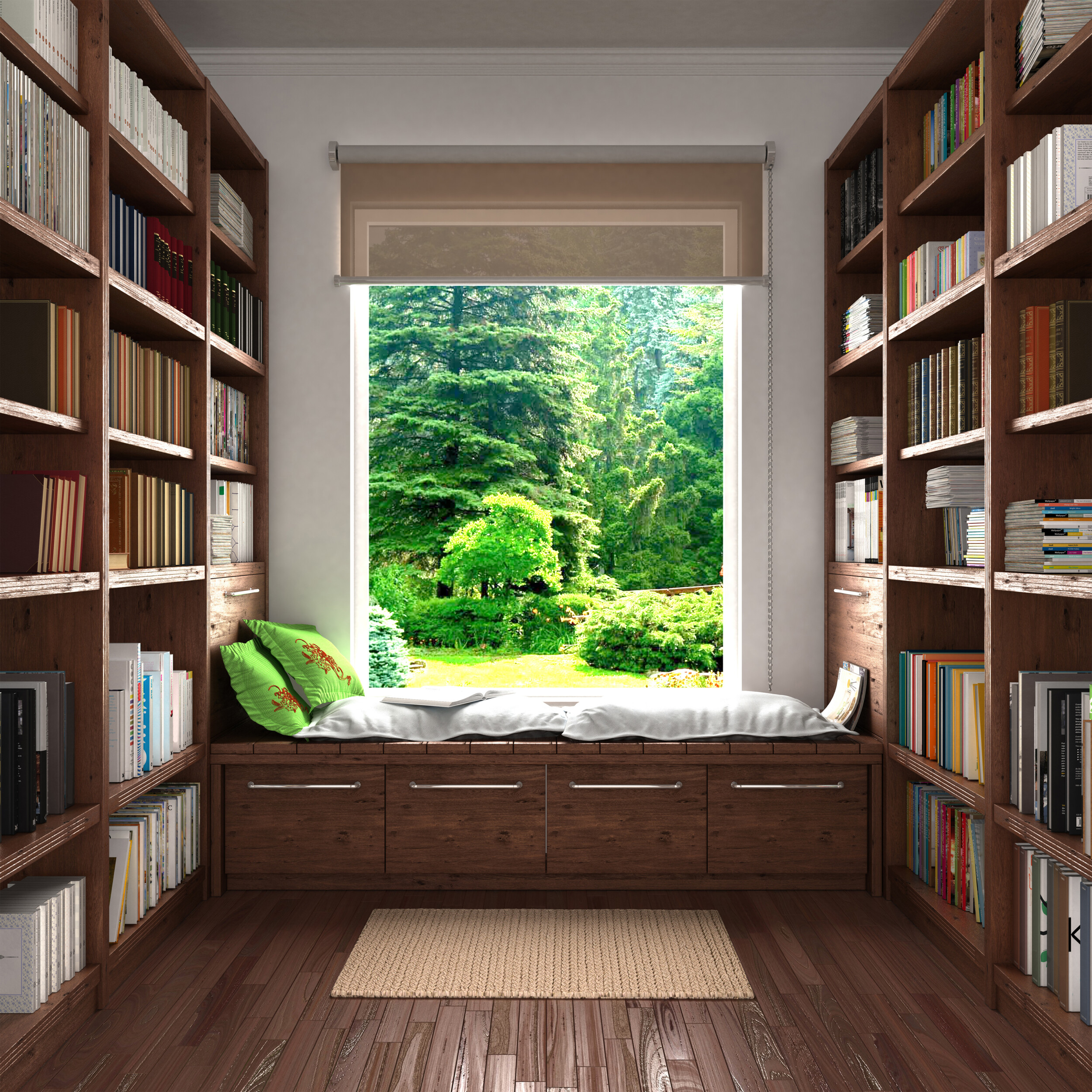 By centering your home library around a large window, or near one, study lamps may not be necessary during the day, which will help you conserve power since you can make the best use of natural light coming in. Even better if you can build or bring in a window bench to relax and read the day away on.
The sun can also improve your mood as you are reading, and during the summer, the cool breeze and fresh air coming in from open windows can make the setup feel all the more comforting.
CREATE A SPACE FOR LITTLE FUN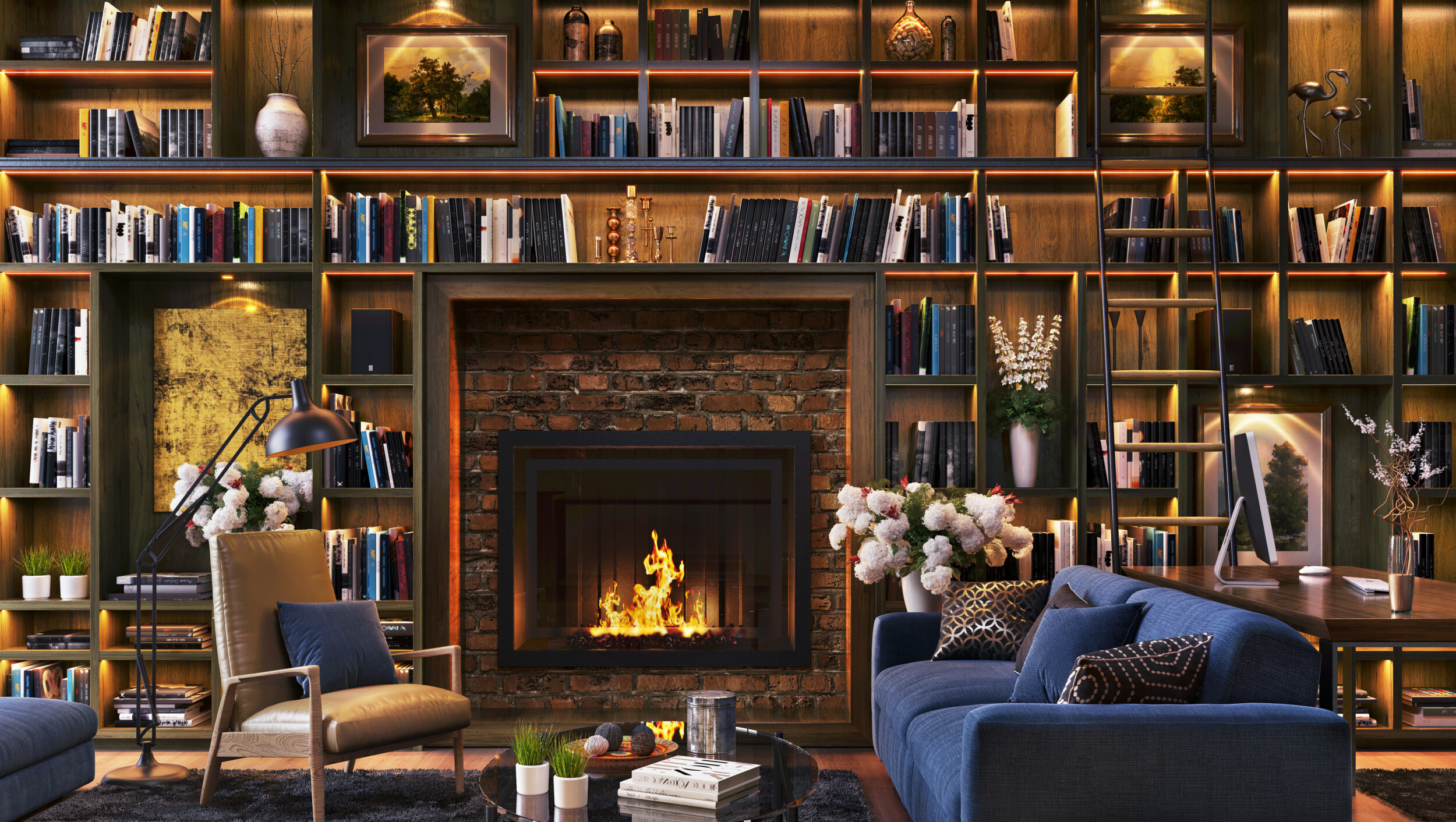 Not everyone that has a home library is a total bookworm. As part of home library ideas, a space for a bit of recreation such as a fireplace, a small bar for drinks, and entertaining areas should be considered. After all, you might want to do something fun and recreational after long hours of reading and studying.
You can save a lot on costs when you consider these home library design ideas to help you design a comfortable, sophisticated, well-furnished, and properly lit home library that will be sure to help you maximize the space you have to work with without costing a small fortune.