As an interior design company servicing both commercial and residential design projects throughout The Hamptons area, we're constantly on the hunt for the town's best interior design talents while looking at The Hampton's casually sophisticated style for inspiration. 
And in a locale as varied and vibrant as the The Hamptons, we've gathered our go-to local decorators to help you upgrade your home with the top 10 Hamptons interior designers and decorators to consider for your next project.
Décor Aid
Décor Aid is modernizing the old school art of interior design. As one of the nation's leading interior design firms, Décor Aid is transforming the industry by making luxurious design effortless and accessible.
During your free in-person consultation, your designer will help you define your needs and offer guidance on how to move forward with a detailed proposal with no minimum purchase. Our world-class team of interior designers were selected from the country's most distinguished firms, and they bring an unparalleled level of expertise and personalization to every project.
Clients get full access to Décor Aid's exclusive trade-only discounts, which range up to 50% off retail prices, and these cost savings often exceed our design fees.
Décor Aid's incredible home makeovers have been featured in ELLE DECOR, House Beautiful, New York magazine, and more.
Mabley Handler
Mabley Handler Interior Design was founded in the Hamptons when Jennifer Mabley, already an accomplished interior designer in New York City, was commissioned to design and decorate a house in the estate section of Southampton Village. The client had spent many summers visiting her grandparents at their home in Southampton, and yearned to return to her Southampton roots.
To capture the essence of the client's childhood memories, the inspiration for the house was the classic traditional shingle-style that Southampton was so well known for. Ms. Mabley worked hand-in-hand with a local architect to ensure that the house, situated on one of the village's most picturesque tree-lined streets, truly paid homage to Southampton homes of the past.
Tamara Magel
Tamara Magel is an award-winning international designer based in the Hamptons whose luxe urbane interiors radiate with a decidedly modern narrative where fine finishes interplay with organic elements, artisanal detail and always a delightful touch of whimsy.
Tamara's relaxed elegance is the signature of each unique collaboration from full consultancy on design/build projects to interior restorations of all shapes and sizes. Her diverse portfolio includes a breadth of work that includes sprawling coastal retreats, classic country residences and chic metropolitan apartments. Tamara deftly curates personalized interiors that gracefully balance space, light and proportion. Layered with textural fabrics, custom finishes and elements both refined and rough-hewn, Tamara's interiors evoke the enduring character of a fine European country manor. Every project exudes a warm vitality and energy.
Barbara Feldman
Barbara Feldman Interior Design creates home environments that make Hamptons living easy and fun. From kitchen and bath design through living areas and bedrooms, her distinctive and sophisticated style is often described as "stylish yet comfortable" –  in other words, quintessential Hamptons style. 
Barbara's unique abiity to see the maximum potential in every home has made space planning one of her greatest strengths, and her ability to coordinate the layout with the desired aesthetic is what makes her interiors look great and work well.
Amy Hill Designs
Amy Hill Designs is a full service residential interior design firm located in Quogue, NY, servicing Manhattan and the Hamptons. From fabrics, furniture and floor plans to windows, walls and accessories, they work closely with clients to create interiors specific to your lifestyle and taste.
Balancing innovative ideas with practical execution is the key to creating a unique, comfortable home environment. Amy Hill Designs has the experience and passion to execute design plans with the care and attention you deserve.
Bjornen Designs
Bjørnen Design constantly strives to create personalized homes for their clients. At once beautifully evocative and thoroughly comfortable, Bjørnen's designs above all reflect each homeowner's point of view and lifestyle. Whether designing a timeless shingled Hamptons manse, a modern Florida beach cottage or a stylish NYC aerie, Bjørnen Design customizes each residence with elegant proportion, gracious scale and approachable luxury in mind.
The crux of Bjørnen and his Design Team's approach is to achieve a symbiotic relationship between interior and exterior, keeping the structure in harmony with the land, and thoughtfully reflecting the client's perspective at every step of the process. From the soft hand of just the right fabric to the subtle patina of a rare tile or the perfect bronze hardware, each detail is an opportunity to add resonance to the environment's visual dialogue. This holistic approach ensures each room is in tune with the home's broader setting – capturing the rhythm of the water, the calm of the trees or the passion of the ever changing sky-scape in every carefully considered design decision.
Alicia Murphy Designs
Alicia Murphy Designs is an interior design studio in the Hamptons. They aim to connect natural surroundings, design and architecture in order to create living environments that make people happy. They shine when working alongside architects and builders throughout the entire span of a home construction or renovation.
Debra Geller
From early planning and building stages, designing all cabinetry and finishes for the entire project, to the selection of furniture and accessories, Debra Geller custom-tailors each project for every individual client. By forming a creative team of architects, interior designer/construction designers, builders, and clients, she will take your ideas and dreams from concept to completion. She is a hands on designer, involved in all facets of your project. She will manage every aspect, from interior to exterior, as well as landscaping and pools. She works closely with each client to create a sophisticated, warm and functional space that reflects each of their individual needs and personality. Her goal is to create a timeless environment, in an organized and well thought out manner, making the process enjoyable and successful. Her passion for design will make it incredible.
Elsa Soyars
ELSA SOYARS interiors are the epitome of elegance. She mixes the most luxurious fabrics and textures inspired by her European heritage, to achieve rich layered interiors that are inviting.
The services she and her firm encompass are all aspects of interior design including architectural consulting and coordination, construction management, bespoke furniture design as well as landscape consulting and implementation.
Elsa is completely involved in the building of a new house or renovating an existing residence from the outside in, for her clients to live in and enjoy for years to come.
Betty Wasserman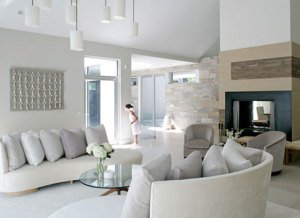 Wasserman has designed some of the most gorgeous homes in the Hamptons. She has been repeatedly covered by Hamptons Cottages & Gardens and Hamptons Haven for her award-winning designs. Beyond local recognition, Elle Decor's Metropolitan Home Magazine awarded one of Wasserman's Hamptons interior designs as Best of Year for 2007. Home design journalist, Elaine Green, describes this project as "decorating with appealing restraint to harmonize quietly with the nearby woodlands, pastures and seashore, the rooms show lots of natural wood and stone along with plant motifs in the art and some of the textiles."
Edging toward a color cousin, Wasserman included a red chair and a cranberry glass chandelier." Whereas much of Wasserman's Long Island work has been done in the Hamptons, particularly Southampton, East Hampton, and Bridgehampton, she also has created stunning vacation properties for those escaping Manhattan for the weekend in Sag Harbor and other in-land locales.